Situated in the heart of downtown Salt Lake City stands Jeanie's Smoke Shop. First owned by a non-smoking, God fearing, Mormon woman named Jeanie, this cigar shop has weathered the last 73yrs remarkably well. Of course, the shop has seen a lot of changes in that time. Not the least of which (excluding the current global pandemic, of course) has been the state of Utah making it illegal to smoke inside. While this may not be a unique to Salt Lake City, you cannot smoke indoors, close to an exit, or in a workplace. Thus, you can not smoke what you purchase in Jeanie's Smoke Shop. 
The fact that you can not smoke inside Jeanie's Smoke Shop does provide some challenges for doing a lounge review. For one, there is no lounge to actually review. However, Jeanie's Smoke Shop is like walking into a time capsule…if you weren't allowed to smoke in the past. Regardless, there is enough history and in those four walls that it demands a review be done on it. 
ADDRESS:   156 S State St, Salt Lake City, UT 84111
PHONE #:   (801) 532-9001
HOURS:   Monday – Saturday 8AM-8PM
                  Sunday 10AM-6PM
BOOZE AVAILABLE:   N
DRINKS AVAILABLE:   Water & Canned Soda
FOOD AVAILABLE:   N
SMOKING LOUNGE:   N
WALK-IN HUMIDOR:   N
SPONSORED LOUNGE:   N
OUTDOOR SMOKING AREA:   N
MEMBERSHIPS AVAILABLE:   N
Jeanie, the original owner and founder, was of the Mormon faith and a non-smoker.
Jeanie's Smoke Shop has been around since 1948 and was Utah's first smoke shop. 
The building that Jeanie's is in was reportedly a brothel.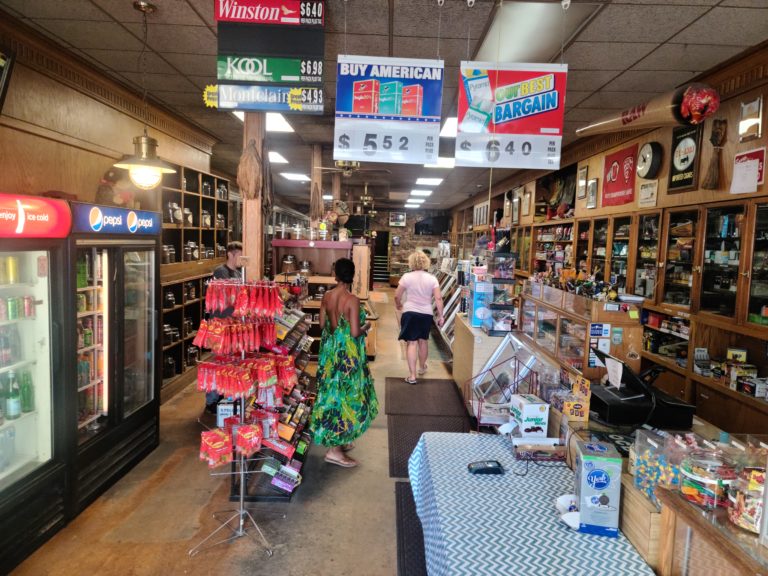 When you walk into Jeanie's Smoke Shop you can immediately feel the history. From the brick outside to its long and narrow interior, Jeanie's is dripping with nostalgia. Sure, the inside shows its age just a bit, but that shouldn't stop you from wandering inside whenever you're in downtown Salt Lake City. Parking is a breeze anymore, given that you can pay for your parking online. 
As you walk in, you're greeted by the register, a couple of coolers, snacks, and then pipe tobacco. It harkens back to the "good 'ole days" of mom and pop stores, complete with wood floors and jars of candy. As you venture deeper into the store, you'll notice their flavored cigar selection is kept in a separate display case across from their larger humidor. They have two free standing cabinet humidors, and tucked away in the far corner is a rather large selection of pipes.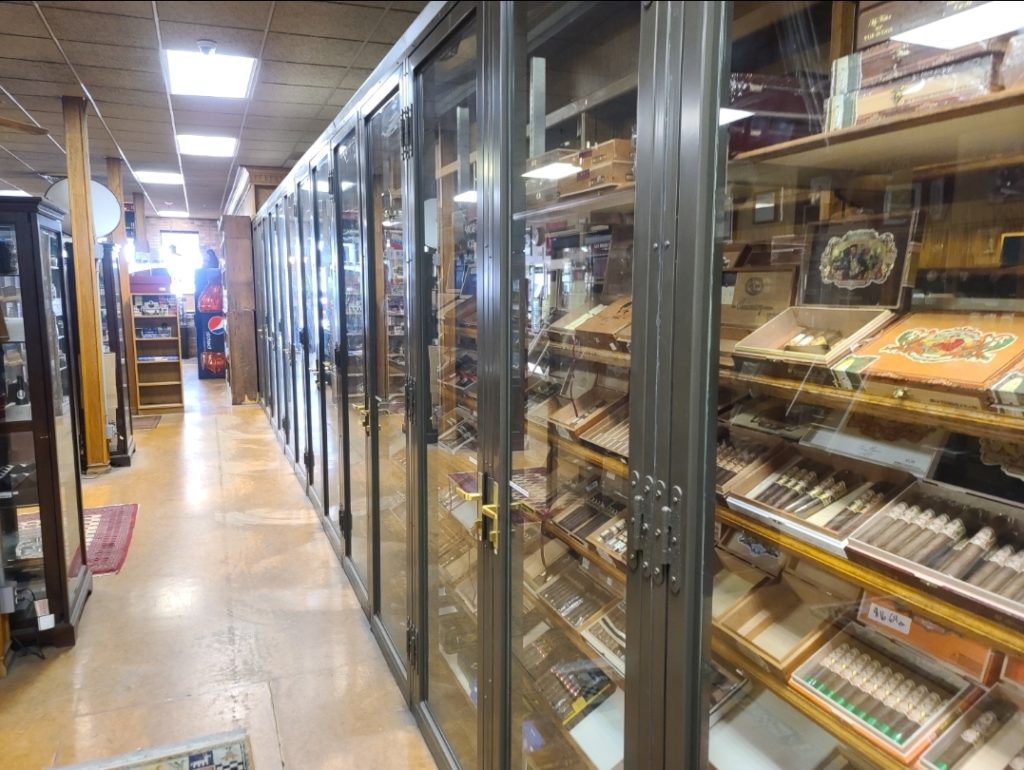 SELECTION/HUMIDOR SIZE
Do not be fooled by the nostalgia or the patina of the building. Jeanie's Smoke Shop is a proper cigar shop. The large humidor is modern and spans almost the length of the store. It's also deep to accommodate for  a large amount of inventory. While modern, the aesthetics of the humidor fit right in with the throwback feel of the shop. Their selection is deep and runs the gamut of the usual suspects like My Father, General Cigars, Altadis Cigars, and Arturo Fuente, Drew Estate, and Padron.While you may not find the more boutique cigar brands, its shops like this where you will find those hidden gems that were once thought to be extinct in the wild. For example, I found two boxes of Tatuaje Michaels. 
More importantly than those hidden gems is that they have a large selection that caters to a wide variety of palates. With a selection of cigars this size, they truly have something for everyone.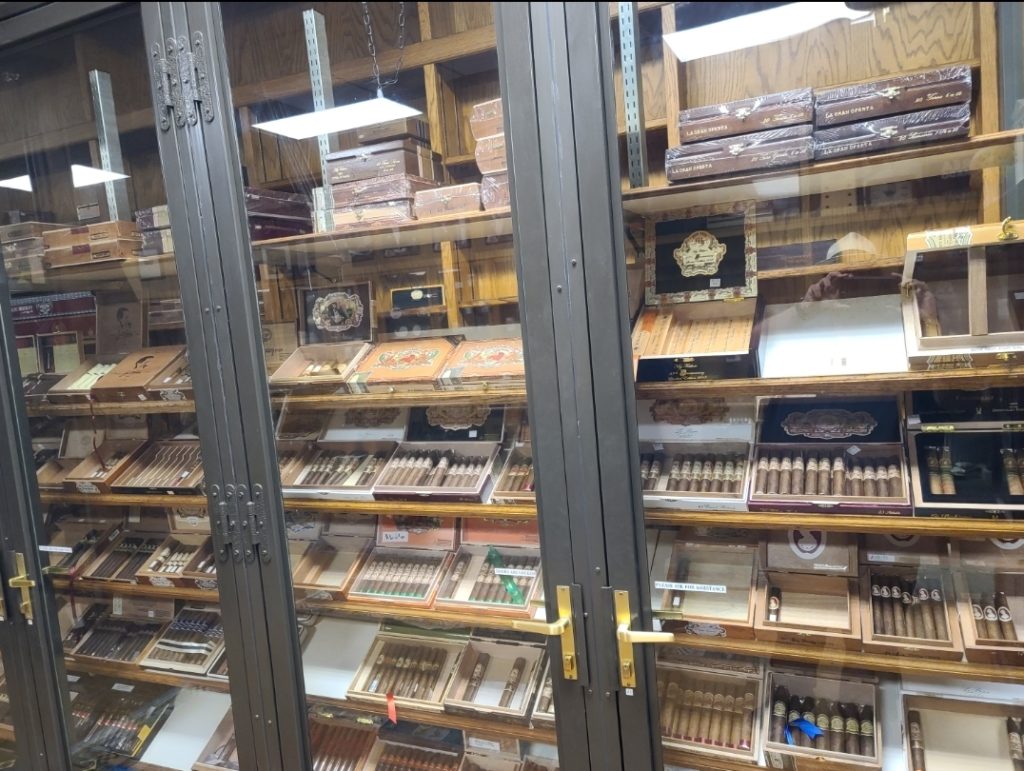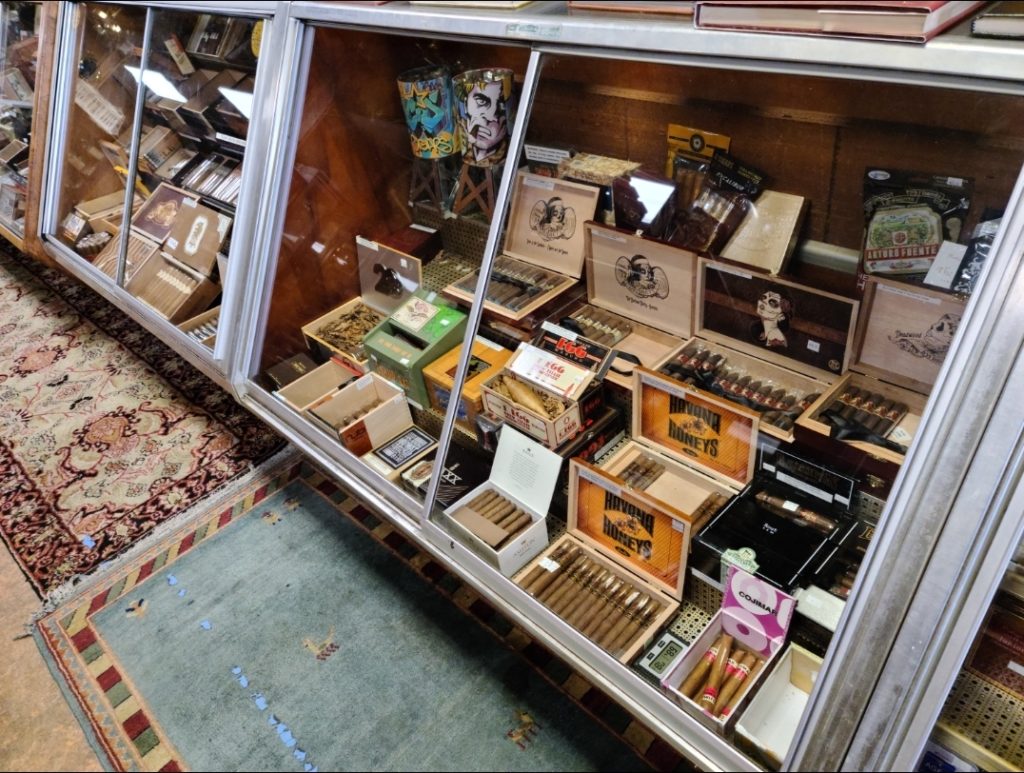 HUMIDOR MAINTENANCE
I looked high and low at their entire stock and did not see any mold on any of their inventory. Their humidors are kept away from the front of the store and, thus, out of direct sunlight. What's more is that their flavored cigars are kept in a separate glass case/humidor next to the registers at the front of the store. I also smoked two cigars from their stock that same day and both burned like a dream. Everything was well taken care of and faced professionally. There was no inventory on the ground and nothing was out of place.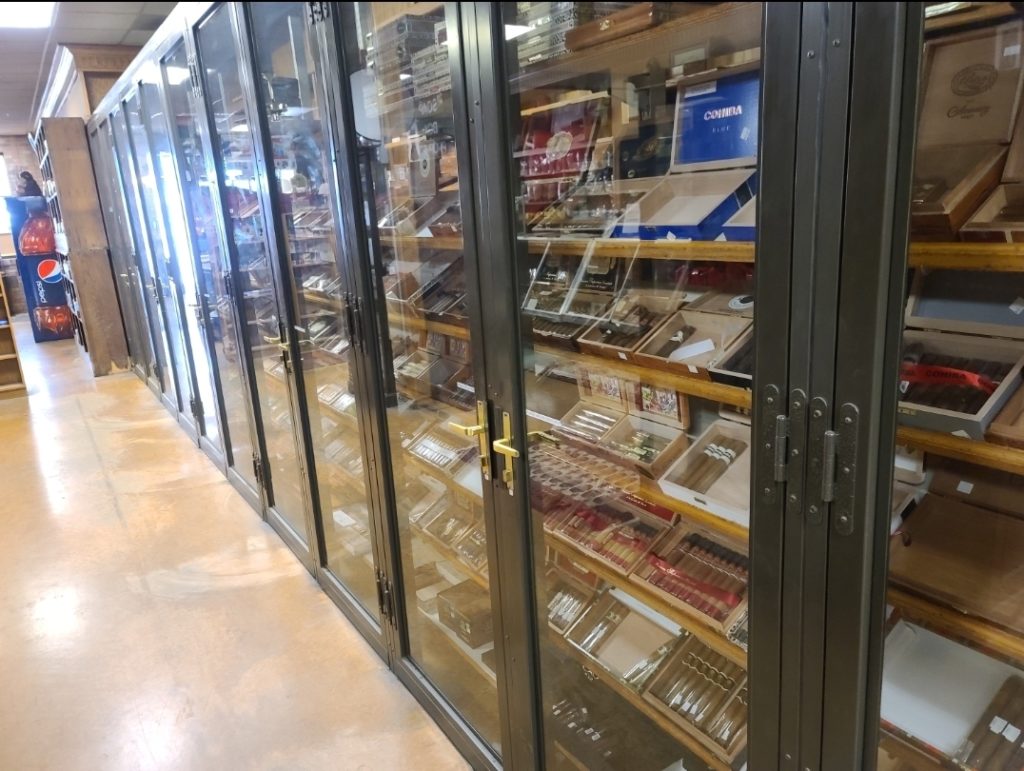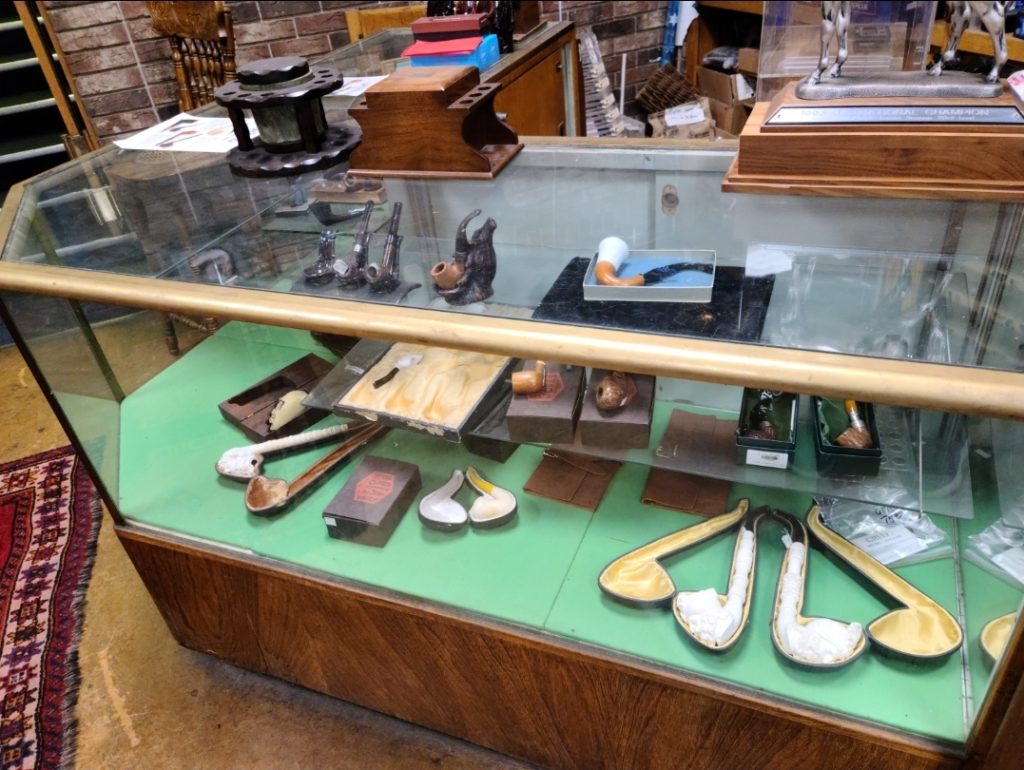 CUSTOMER SERVICE/STAFF KNOWLEDGE
As I've said before in these lounge reviews, this is the area where I pay particular attention. The staff at Jeanie's Smoke Shop was, quite frankly, awesome. I was greeted immediately when I entered the shop and asked if there was anything they could help with. After introducing myself, the staff allowed me to walk the store, unhindered by a constant shadow. Instead, he told me that if I needed anything to just ask. We talked a bit about business and COVID-19 and, of course, cigars. What impressed me most was that the staff was doing inventory and still took the time to make sure that I was greeted, found out if I needed help, and still made small talk.
LOUNGE SIZE
Because there is no "lounge" to smoke in, this will be a bit difficult to score. However, the size of building would lend itself to having a lot of room for a smoking lounge, should the laws be changed.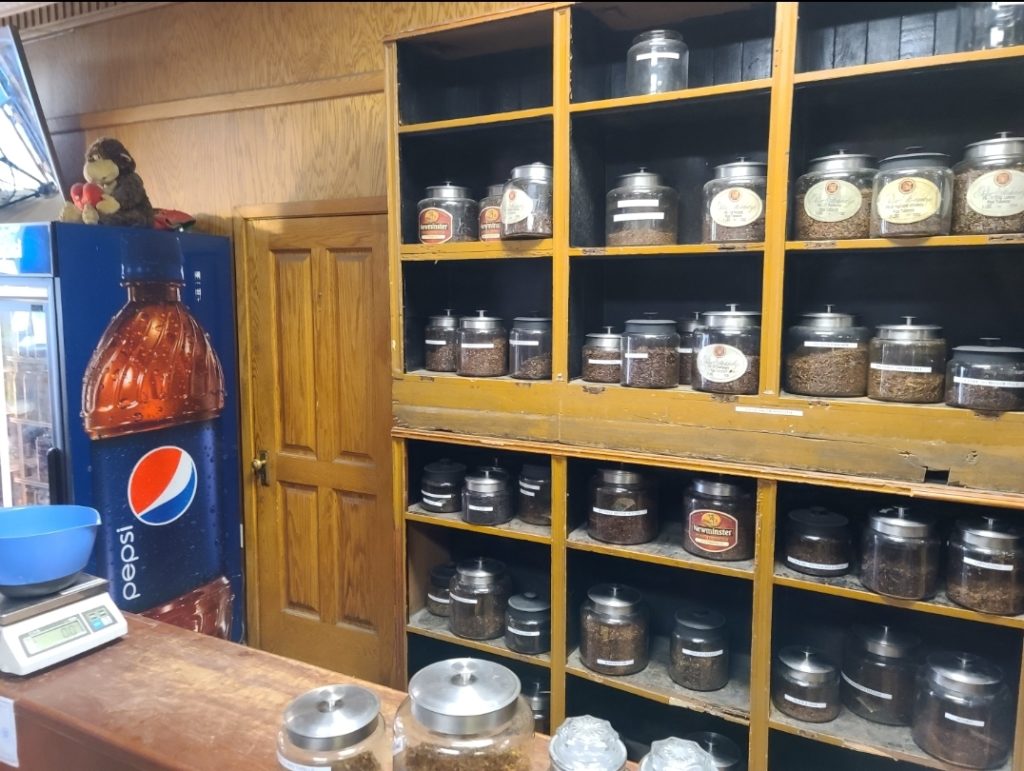 AMBIANCE
No televisions. No chairs. No frills. Just tobacco. There is something to be said about a straightforward shop, especially a shop that drips with nostalgia at every turn. The history of Jeanie's Smoke Shop oozes from every corner. It has touches of modern throughout (the humidor, Point of Sale, etc…), but for the most part it's like stepping back in time…and I mean that in the most flattering of ways. 
HUMIDOR EXPERIENCE
I felt like I hit the jackpot when I saw two boxes of the Tatuaje Michaels, but even if they didn't have a few hard-to-find gems the humidor experience was phenomenal. No hovering or pushy sales folks, properly humidified cigars, and a great selection make the humidor experience at Jeanie's Smoke Shop top notch.
LOUNGE EXPERIENCE
While it's disappointing that Jeanie's Smoke Shop no longer has a smoking lounge, it is hardly their fault. They're still fighting the good fight and providing their customers with a fantastic experience and a great selection.
RATING BREAKDOWN
2.89 / 3.00 … Customer Service/Staff Knowledge
2.90 / 3.00 … Selection/Humidor Size/Humidor Maintenance
3.00 / 3.50 … Ambiance
0.25 / 0.50 … Lounge Size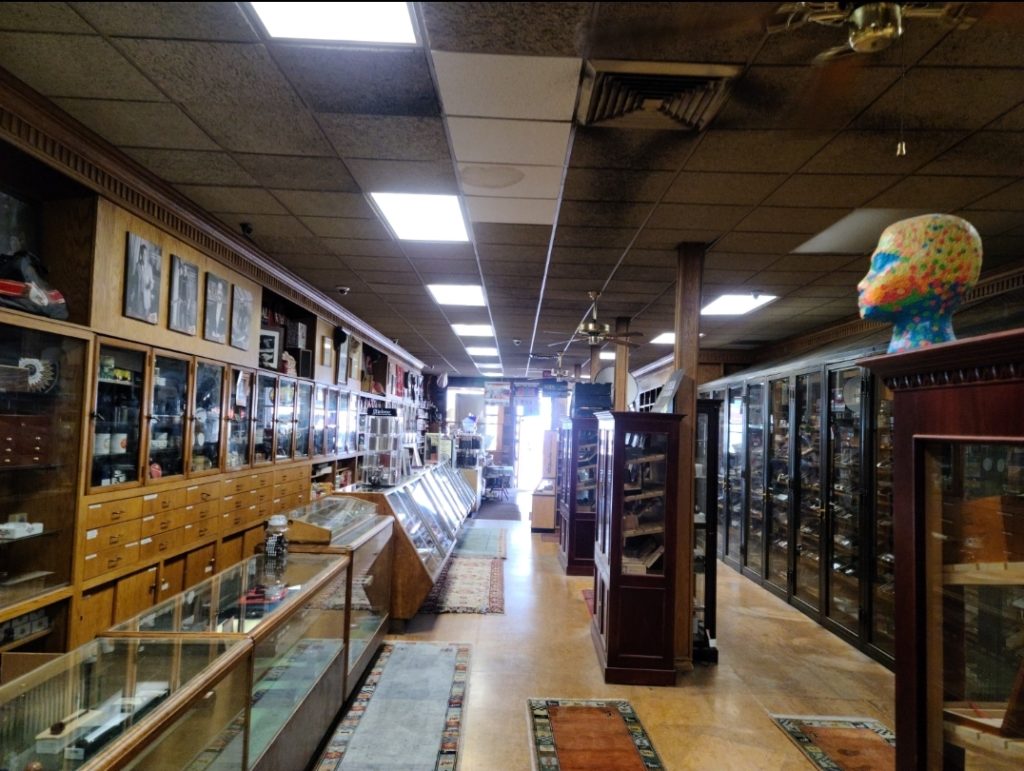 HISTORY IS WORTH THE TRIP.
When you find yourself in Salt Lake City, Jeanie's Smoke Shop is the place to stop. You can feel the history resonate through you as you walk into the long, brick building. The long wooden cabinets, the vintage display cases, the cabinet humidors, and the tile floor all tell a story. They tell the story of tobacco in the state of Utah. The modern humidor doesn't seem out of place as the staff deftly field questions from novice smokers and experienced aficionados alike. Their selection of cigars is up-to-date and they have a wide variety of pipes and pipe tobacco…if you're into that sort of thing. If you won't be in Salt Lake City any time soon, give them a call and they'll be happy to ship your order.
SIMPLY STOGIES RATING:  9.04 / 10.0