VITOLA:   Gran Toro
SIZE:   6-3/4″ x 54
ORIGIN:   Nicaragua
FACTORY:   Micallef Cigars S.A.
WRAPPER:   Nicaraguan Maduro
BINDER:   Sumatra
FILLER:   Nicaraguan and Dominican
STRENGTH:   Medium
SOURCE:   
Micallef Cigars
WHERE:   
Deck at home
WHEN:   
April 7, 2020 @ 1:00pm
DRINKS:   
Ice Mountain bottled water
WEATHER:   
Mid 70's – warm and mostly sunny
WHAT'S ON:   
Metallica Mix
RELEASE TYPE  Regular Production with Special Initial Release
ORIGINALLY RELEASE DATE  March 2020
TOTAL PRODUCTION
Typical Box Size:     Unknown
Production Totals:  Unknown
VITOLA BREAKDOWN
o  Gran Toro (6-3/4″ x 54)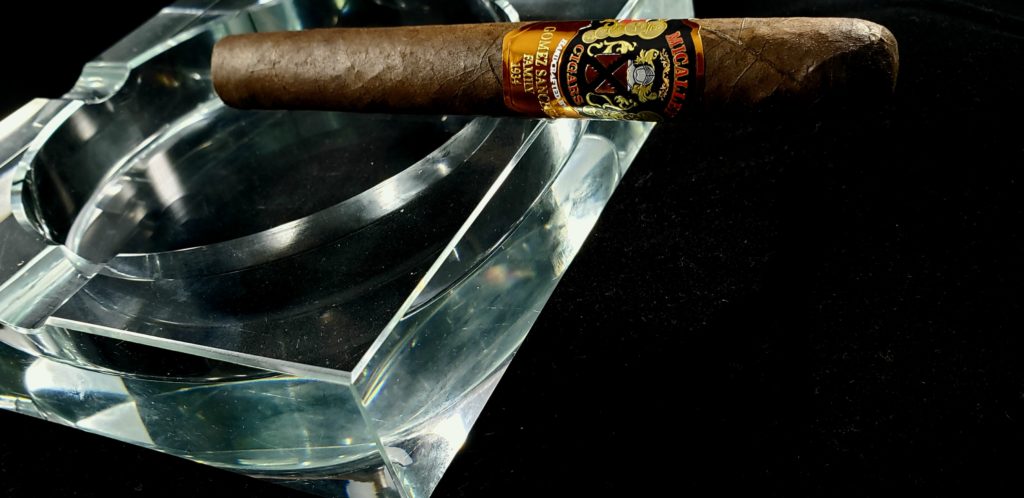 RESEARCH & BACKGROUND INFO
This is James' first attempt at a review.
Micallef Cigars released this cigar without a name and ran a contest, for those who participate in their Brand Ambassador Program, to name this maduro.
James is a Micallef Brand Ambassador.
Unsurprisingly, the Micallef Ambassadors chose the name "The Ambassador" for this cigar. 
The name has been passed on to Micallef's Legal Department.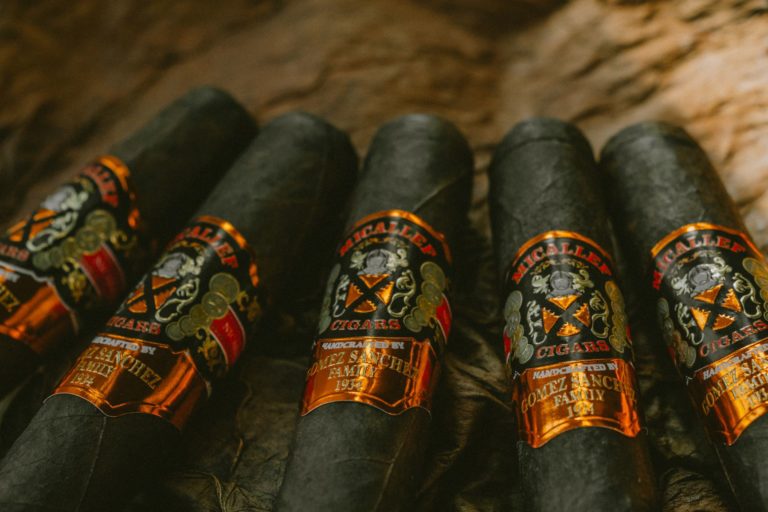 The band immediately grabs your attention. The metallic orange band pops against the dark and rich Nicaraguan Maduro wrapper. The now familiar Micallef logo, featuring their coat-of-arms adorns the top of the band. It is not a boring band by any stretch of the imagination.
The bottom of the band announces what fans of Micallef Cigars already know; this cigar, like all Micallef Cigars, was handcrafted by the Gomez Sanchez family. There is a great story behind this partnership between the Micallef and Gomez Sanchez family that you can hear here.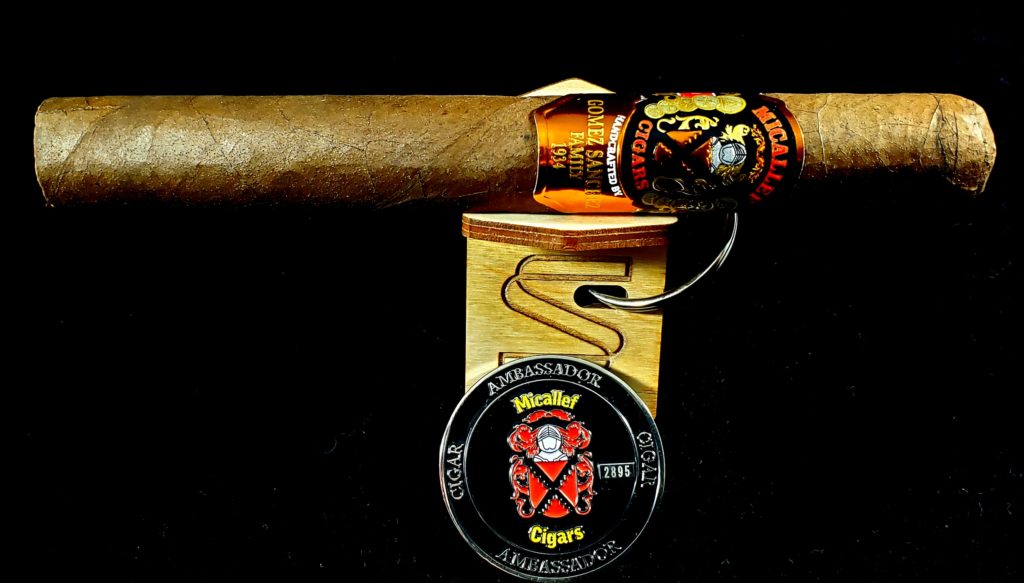 CONSTRUCTION
The Nicaraguan Maduro wrapper is rough to the touch and is a stark contrast to the smooth, metallic orange band. The wrapper looks dark, rich and very toothy. There is a slight oily sheen on the wrapper.
The cigar looks very well constructed, which is to be expected from a Micallef cigar. There are visible veins, but nothing out of the ordinary or concerning. The head of the cigar is wrapped looks to be applied expertly, with the shoulders well done and straight. 
The cigar is firm but does have a bit of give when pressed. I am excited to try this!
AROMA
This cigar smells like tobacco and cedar. Nothing out of the ordinary. 
COLD DRAW
I use a straight cut and go in for the cold draw. I'm instantly hit by a very unique flavor that I can't place right away. It's a sweet floral note that mixes well with hints of tobacco and grass.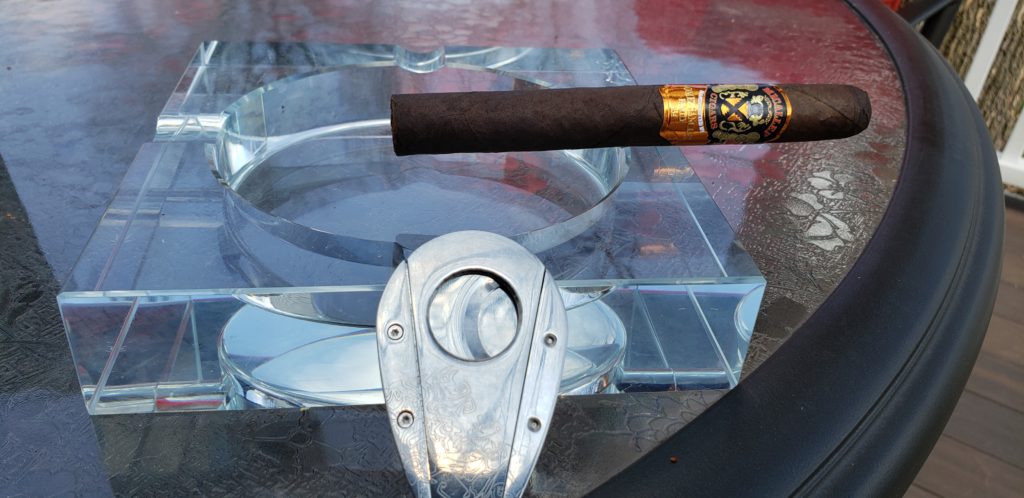 LIGHT & DRAW
Cut:  Xikar Xi1
Fire:  Xikar Allume Double
I use the Allume Double to effortlessly toast and light the foot. No issues.  The draw is very open and the foot begins to burn very uneven, but nothing that will adversely affect the experience. There is zero harshness or off-putting amounts of pepper to start; instead, I am met with the perfect amount of smoke and notes of baking spices. This "To Be Named" Maduro is off to a great start.
Second stick update: The draw was very tight and, again, produced an uneven burn.
Third stick update: The draw was just right, though the burn was less than razor sharp to begin. 
SMOKE
As I said, this cigar is putting out the perfect amount of smoke for me. It has a great mouth feel with an almost, dare I say, buttery component to it. 
FIRST THIRD
>> citrus, leather, pepper, nuts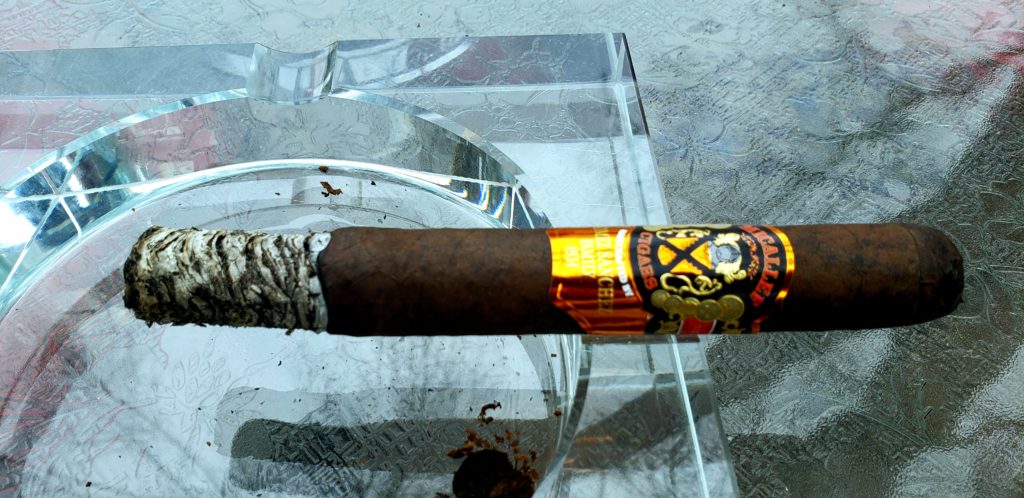 I have seen and heard many reviewers use the term "citrus" to describe a tasting note in a cigar. Honestly, up until I smoked my first Micallef "To Be Named" Maduro, I thought they were full of it. I was wrong. This "To Be Named" has a strong floral note to it. It took me smoking three of these "TBN" to identify it as citrus. It is different than anything I've tasted in a cigar before…and different isn't bad. I am more than digging it. Accompanying the unique floral notes are leather and baking spices. On the retrohale there is a superb nuttiness that is coming through. 
The ash is tight and looks like a stack of nickels. It has a nice "salt and pepper" look to it as strands of black wind their way through the stack of white ash. It holds on brilliantly until almost reaching the second third. 
The only disappointing aspect, through the first third, is the burn. It is less than razor sharp. In fact, it required a touch up before it got out of control.
Second stick update: No touch up required.
Third stick update: No touch up required.
SECOND THIRD
>> floral, sweet bread, pepper, leather, mineral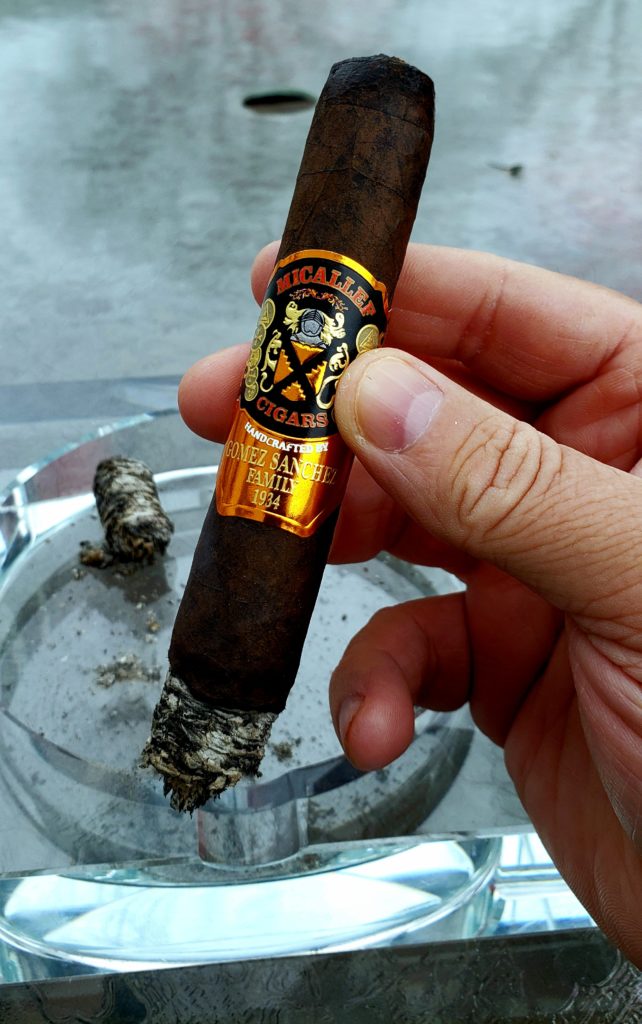 The second third is where the floral note from the cold draw comes back. It is an extremely unique taste that I cannot put my finger on. It's followed by a sweet component that compliments it greatly.
As the second third goes on, notes of coffee and sweet bread begin to come through. Pepper becomes very prominent on the retrohale.
This cigar is not boring. Leather and an earthy mineral note make an appearance. The citrus note begins to weave in and out as the floral note drops off.
The ash does not hold on like it did in the first third. While disappointing from a picture standpoint, it has no ill effects on the experience. The ash continues to be tight and not flaky at all. The burn has corrected itself.
FINAL THIRD
>> mineral, leather, red pepper, coffee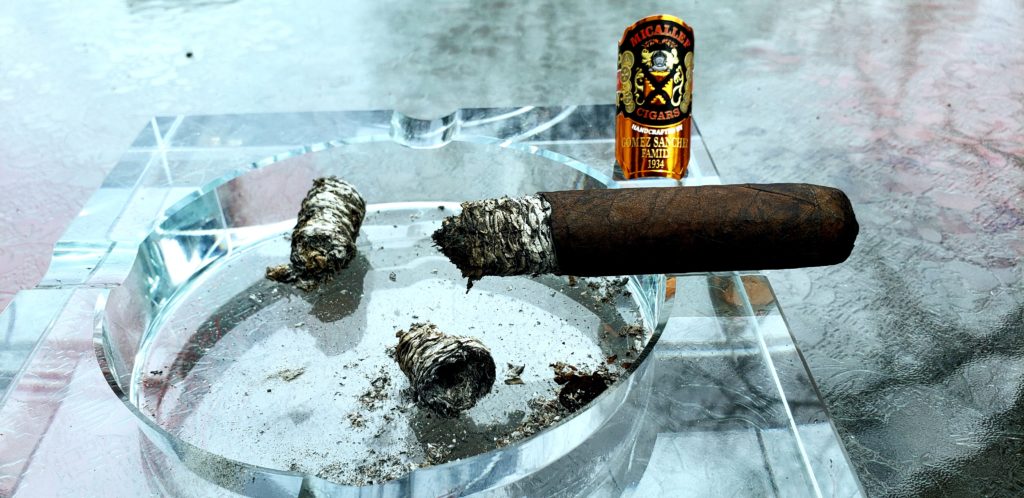 The flavors start to build in strength for this final third. The mineral note takes the spotlight now and is being backed up by a quartet of citrus, leather, red pepper, and coffee. This has been a wonderful building up to the medium-full crescendo. 
The final third does have a hint of harshness that should fade with just a bit of rest. 
I tempt fate by removing the band while the ash hangs on, and I am rewarded with no ash in my lap and a complete band for my collection. The ash has been fantastic. While the above picture looks like it is flaky, I can assure you, it was not. Do not let your eyes fool you! That is carnage from the ash falling just as I was returning the cigar to the ashtray. The ash held its form when it fell on its own.
As I nub this cigar the baking spices reemerge and dance on my tongue.
FLAVOR PROGRESSION
This cigar is anything but dull. It runs through a litany of different flavors and tasting experiences. Buttery, citrus, leather, mineral, coffee, nuts, pepper; and all seem to compliment each other as you smoke it.  
BURN EXPERIENCE
This is the area where I'm torn. In each of the three cigars I smoked for this review, there were burn issues. Thankfully, there was no need for a re-light, but one did need several touch ups. However, the ash on each one was tight, a nice black and white, and never flaky. They just burned to varying degrees of unevenness. That said, they almost always corrected themselves by the last third.
RATING BREAKDOWN
0.77 / 0.80 … Craft & Aesthetic
0.49 / 0.50 … Pre-Light Characteristics
0.50 / 0.50 … Lighting Process
6.90 / 7.70 … Smoking Experience
0.48 / 0.50 … Personal Enjoyment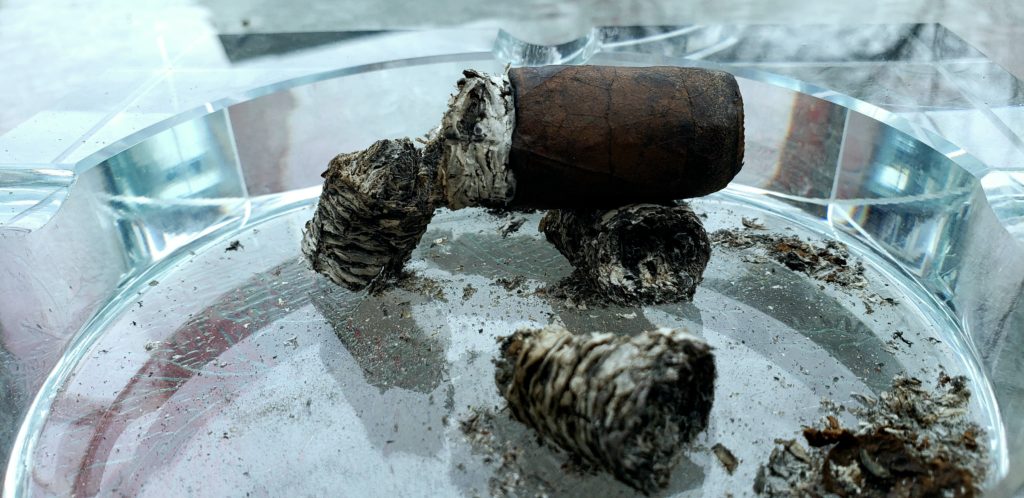 THE AMBASSADOR IS MORE THAN DIPLOMATIC.
What a cigar to start my reviews on! The "To Be Named" Maduro (or The Ambassador as it will likely be called) is, in my humble opinion, a great entry point into Micallef Cigars for the uninitiated. At $7.50 MSRP, you can't go wrong here. While the burn issues are disappointing, they aren't going to break the experience of this cigar. Firmly in the Medium to Medium-Full range, it's a complex cigar that will keep your palate more than entertained for almost two hours. While this cigar may be hard to find at the moment, you should begin seeing these once the name clears any legal hurdles and the global pandemic winds down.
SIMPLY STOGIES RATING:  9.1 / 10.0