The Evil 3mpire Cigar 5ociety is also apart of another cigar review program with Cigar Worlds "Testing Lab" We figured why not knock out 2 birds with one… review? Whatever the case, the premise of the program is to be able to try new blends that brands will be putting out soon or looking to have tried before being put out. Plus it gives the consumer the chance to be involved in the process of new blends. For this review we were sent a Partagas Cortado to light up and give our thoughts.
VITOLA:   Toro
SIZE:   6″ x 52
ORIGIN:   Nicaragua 
FACTORY:   STG Estelí
WRAPPER:   Ecuador (Connecticut)
BINDER:   Indonesia
FILLER:   Honduras, Mexican (San Andrés) & Nicaraguan 
STRENGTH:   Mild-Medium
SOURCE:   
JR Cigars
WHERE:   
Garage (E3C5 Set)
DRINKS:   
Water
WEATHER:   
Disgusting Wisconsin Cold, 70 in the garage
WHAT'S ON:   
NHL: Washington Capitals vs Anaheim Ducks 
(Go Caps)
RELEASE TYPE  Regular 
ORIGINALLY RELEASE DATE  Summer 2021
TOTAL PRODUCTION
Typical Box Size:     Boxes of 20
Production Totals:  Unknown
VITOLA BREAKDOWN

Presidente (8 x 54) 
Toro (6 x 52) 
Corona (5 1/2 x 42) 
Robusto (5 x 50)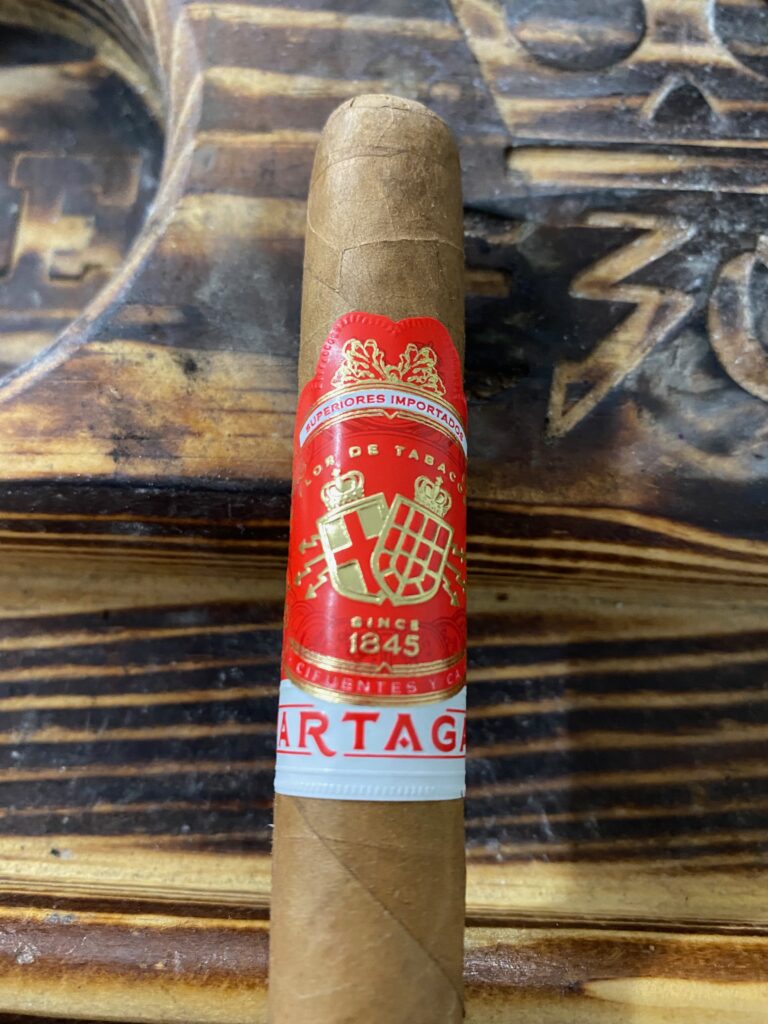 The band really gives a great nod to the iconic Partagas bands of years past. The logo pops with the shining embossed gold. Then surrounding the gold writing and logo beams bright red and white colors with the Partagas brand name. The name wraps around the entirety of the cigar with bold red letters.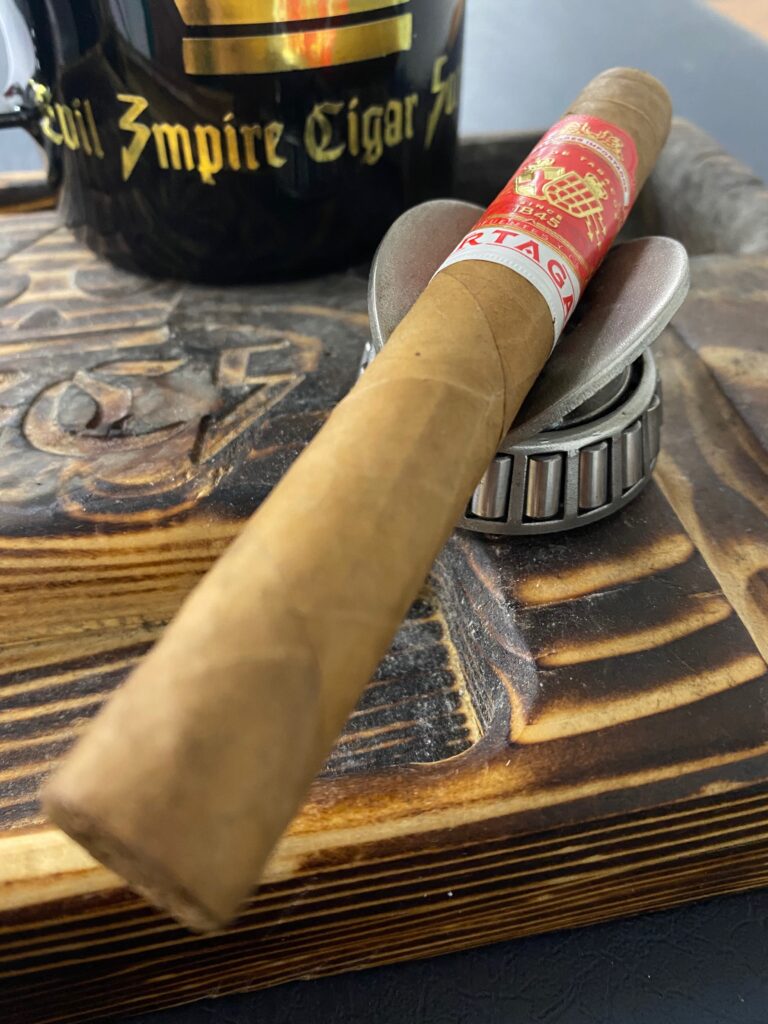 CONSTRUCTION
A light brown wrapper with a veiny leaf encompasses the cigar. It has a smoothness to it that gives it an elegant look at the same time. 
AROMA
Very strong roasted almonds mixed with some cedar.
COLD DRAW
The cold draw gives off a nuttiness, almost like a peanut.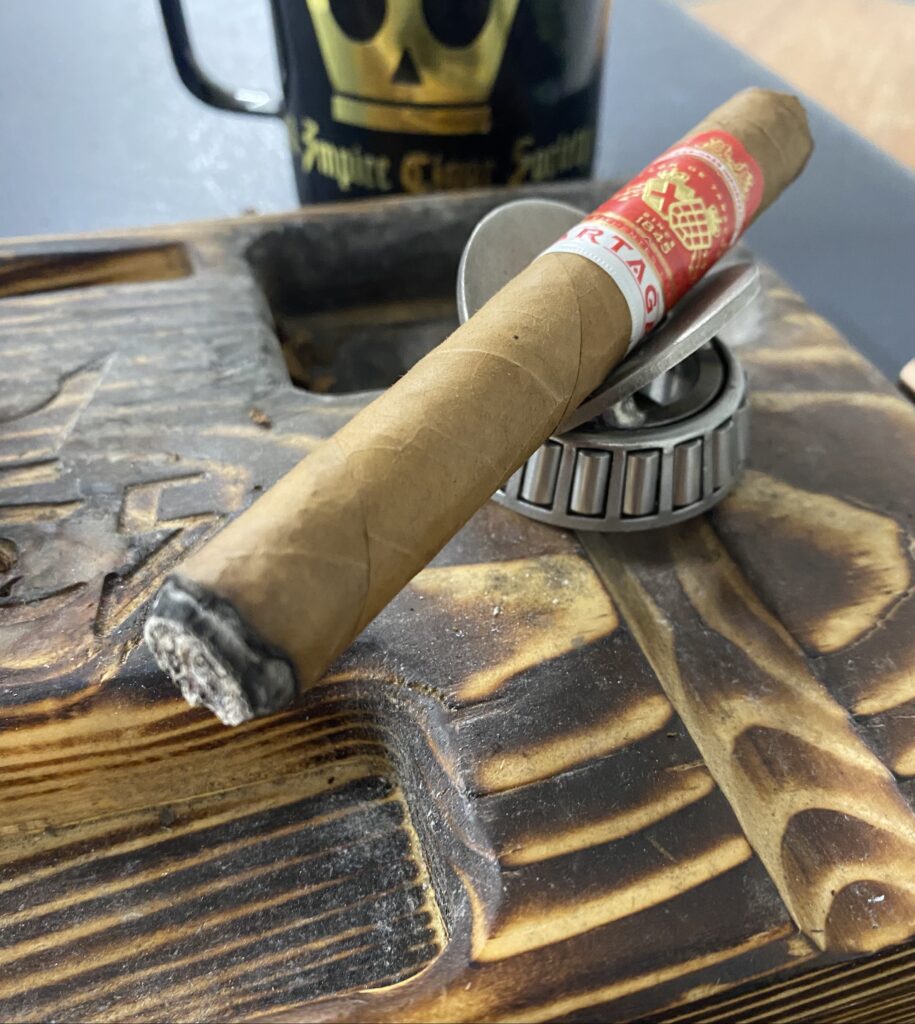 LIGHT & DRAW
Cut:  3mpire Crown Cut
Fire:  Espinal Puro Watch Lighter
The start of the light gives a great cedar aroma along with a super cedar first draw. My mind is taking me to a traditional Connecticut stick but I can tell its going to give something more than your father's Connecticut of the old days. 
SMOKE
The smoke output is really great off the light and is a very milky white flowing smoke. Theres something about an iconic brand like Partagas that gives you something to look forward to. Usually, for me, its the smoke output. 
FIRST THIRD
>> Dried Nuts, Wood, Cream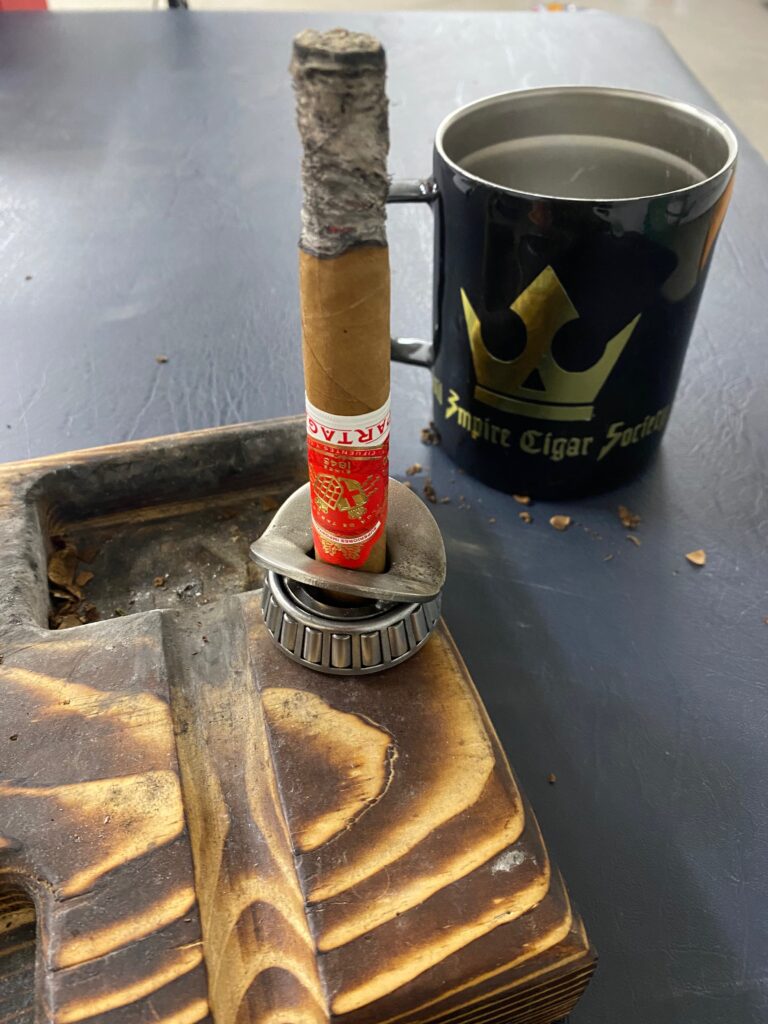 The first third starts off with a dried woody profile that I have come to expect with a lot of Connecticuts. It started with a little bit of a wonky burn but began to correct on its own. Towards the end of this section it starts giving a cinnamon profile that's a nice little hint of a cooking spice.
SECOND THIRD
>> Wood, Cinnamon, Creamy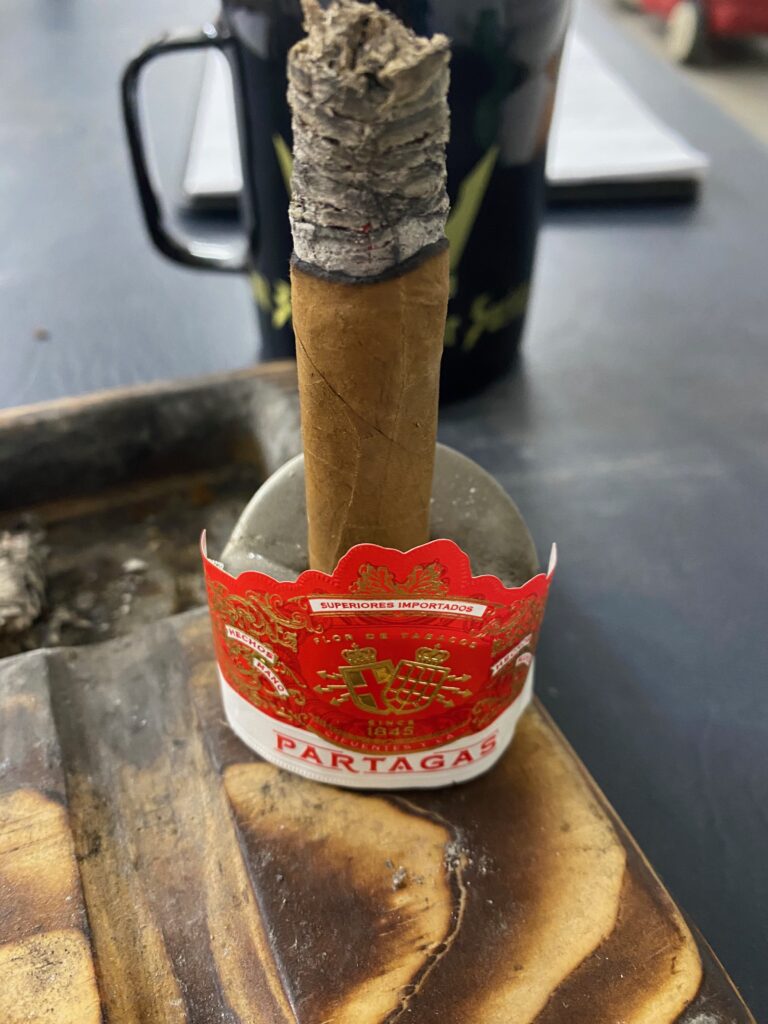 The ash fell just as the second third started, but it still has the smoke output from the beginning. The retro to this point has been salt and pepper which is what I really enjoy about a good Connecticut wrapper. Starting in the middle of this section theres a slight pepper profile added in. 
FINAL THIRD
>> Cinnamon, Pepper, Cedar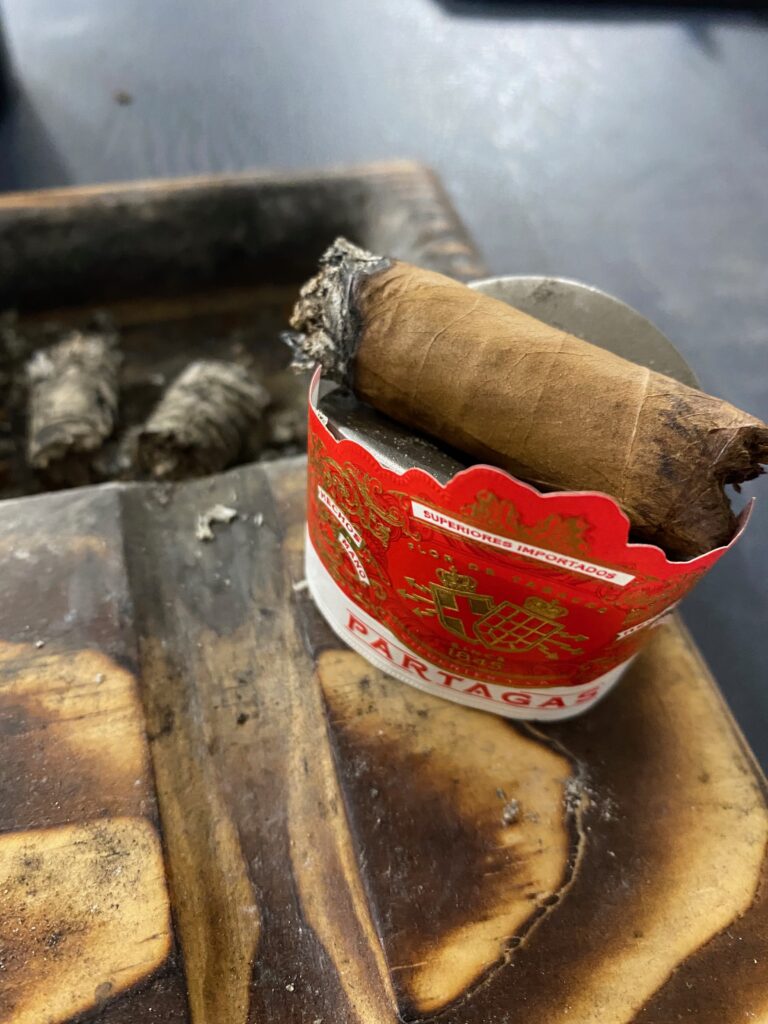 The wonky burn from the beginning has returned in the last third and the retro has turned to a cedar from a pepper. The oils seem to have sank back to the end and have given it a little more kick to it although its become a slightly sour. This is also where the cigar ended and went out for me. So this was a bit disappointing end to a pretty good cigar. 
FLAVOR PROGRESSION
The profiles went from a woody creaminess with a some cinnamon sprinkled in to a some pepper and sourness at the end. There were definite transitions thoughout, which let it not become boring or one dimensional. 
BURN EXPERIENCE
The burn in the beginning was good to start but then started to get wonky. The good news was at the end of the first third it corrected itself. The second third was a good burn though but then at the final third the uneven burn returned before it went out. 
RATING BREAKDOWN
0.75 / 0.80 … Craft & Aesthetic
0.49 / 0.50 … Pre-Light Characteristics
0.50 / 0.50 … Lighting Process
6.9 / 7.70 … Smoking Experience
0.40 / 0.50 … Personal Enjoyment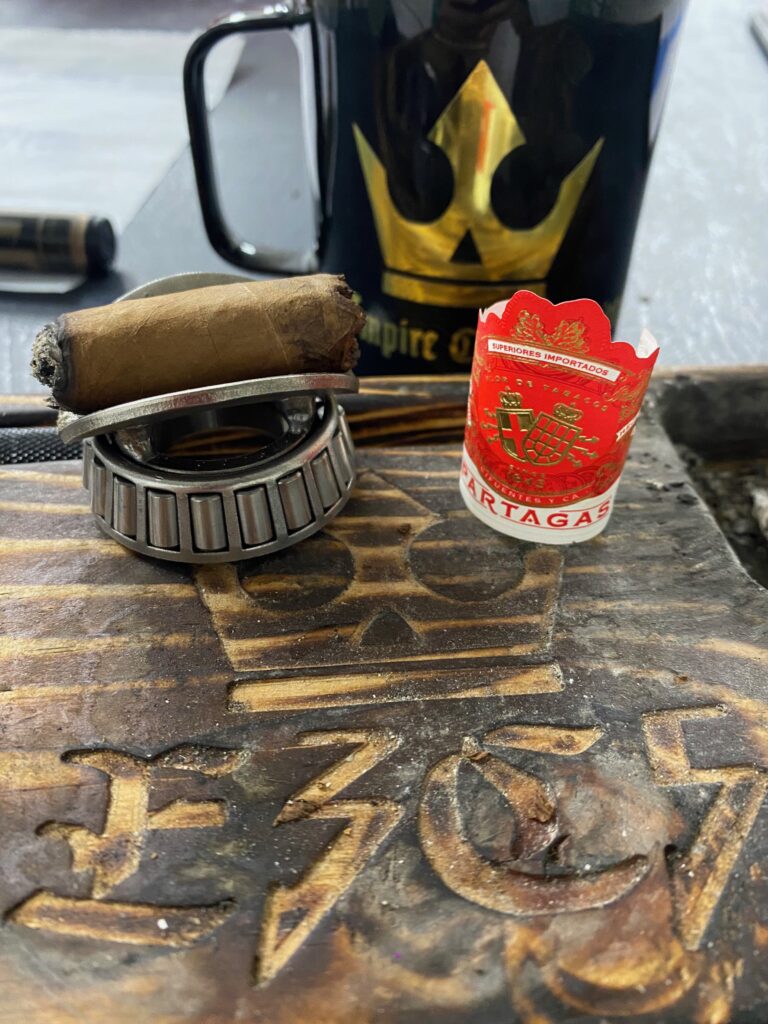 Not Your Granddad's Connecticut 
A good cigar that we were graciously sent by Cigar World to help Partagas get an understanding of where consumers see this stick. This was better than expected on the profile side as Connecticuts are not usually a go to for us. Good transitions make this cigar a good choice if you are wanting to get something a bit more complex. The one aspect this cigar could be improved was the burn. Other than that it was enjoyable. I would give it a "buy a couple for the humidor"
SIMPLY STOGIES RATING:  8.37 / 10.0