Shemp. Pete Best. Benjamin Harrison. George Lazenby. Dark Fired Kentucky. What do these all in common? 
Dark Fired Kentucky is the often forgotten pipe tobacco group. I'm guilty of it myself, I'll list out the basic food groups Aromatic, Burley, English, and Virginia. Um, oh yeah, I guess Dark Fired. In part, this is because DFK, as it's frequently called, is pure burley, smoked in the style of Latakia, but producing something quite different. Additionally, DFK is  most often used as a condiment, so there are few blends where DFK is out in front. MacBaren's HH Old Dark Fired certainly aims to correct that. Let's see if the smoked leaf is up to the spotlight, or return to their career as a backup singer.
BULK or TIN:   Bulk and Tin
SIZE:   Bulk, 50g, 100g, and 1lb boxes
ORIGIN:   Denmark
BLENDING HOUSE/PRODUCER:  MacBaren
BLENDING COMPONENTS:   Dark fired Kentucky, Burley, Virginia

STRENGTH:   4/7
SOURCE:  Smokingpipes.com
WHERE:   
Low Eastern Mountains
WHEN:   
September 2021-March 2022
DRINKS:   
water
WEATHER:   
Summer, Fall, and Winter
WHAT'S ON:   
Weedeaters, rakes, snow shovels
RELEASE TYPE  Available
ORIGINAL RELEASE DATE  2012
AGE WHEN SMOKED  5-6 years old
SPECIAL RELEASE  N
AVAILABILITY BREAKDOWN
o  Bulk  
o  Tin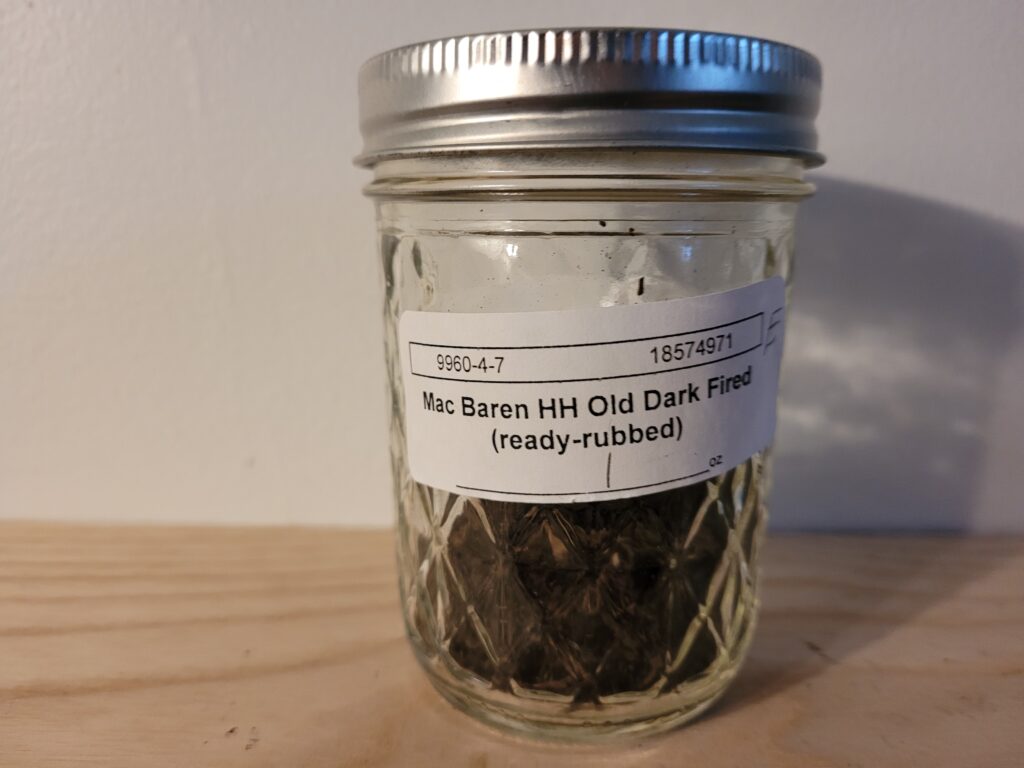 RESEARCH & BACKGROUND INFO
The third of the superlative MacBaren HH line
Has appeared in 3 different forms:

Broken Flake
Cut Flake
Uncut Plug in a limited release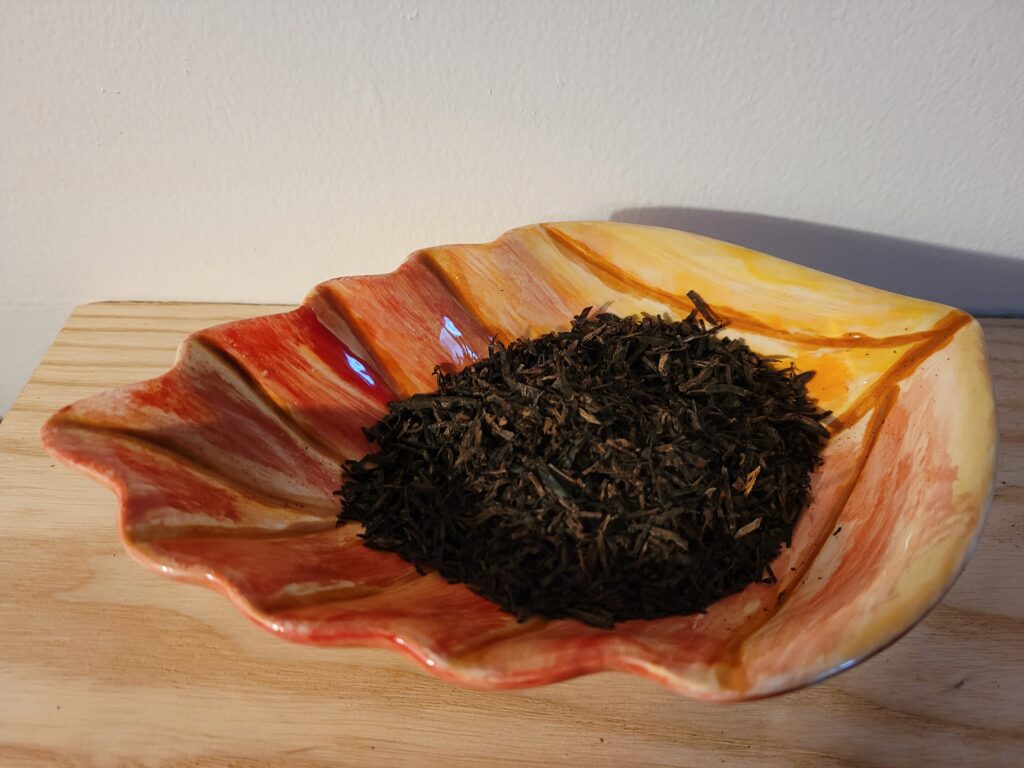 LOOK & FEEL OF THE LEAF
The ready rubbed version of Old Dark Fired is made up of fairly dry, short, thin ribbons that feel like little sticks. It seems like they used a machine to roughly chop the flake, or more practically, these are the off cuts while making those beautiful MacBaren Flakes. This leaf needs no drying time.
TIN AROMA
This has a rich mesquite and hickory aroma, with a striking sharp vinegar note, with some earth and coffee lurking underneath.
LIGHT & DRAW
Packing Style:  There's little to do with this weird cut but to smash a clump into my pipe. I guess that's a one pinch pack but it feels different.
Fire:  Cosmic Taco Bic
SMOKE & ROOM NOTE
While the smoke itself is on the thin side, Old Dark Fired has an oily, even greasy mouth feel to it. The tin aroma of hickory and mesquite continues right into the room note.
FIRST BOWL
>> Dr. Grabow Duke, No dry time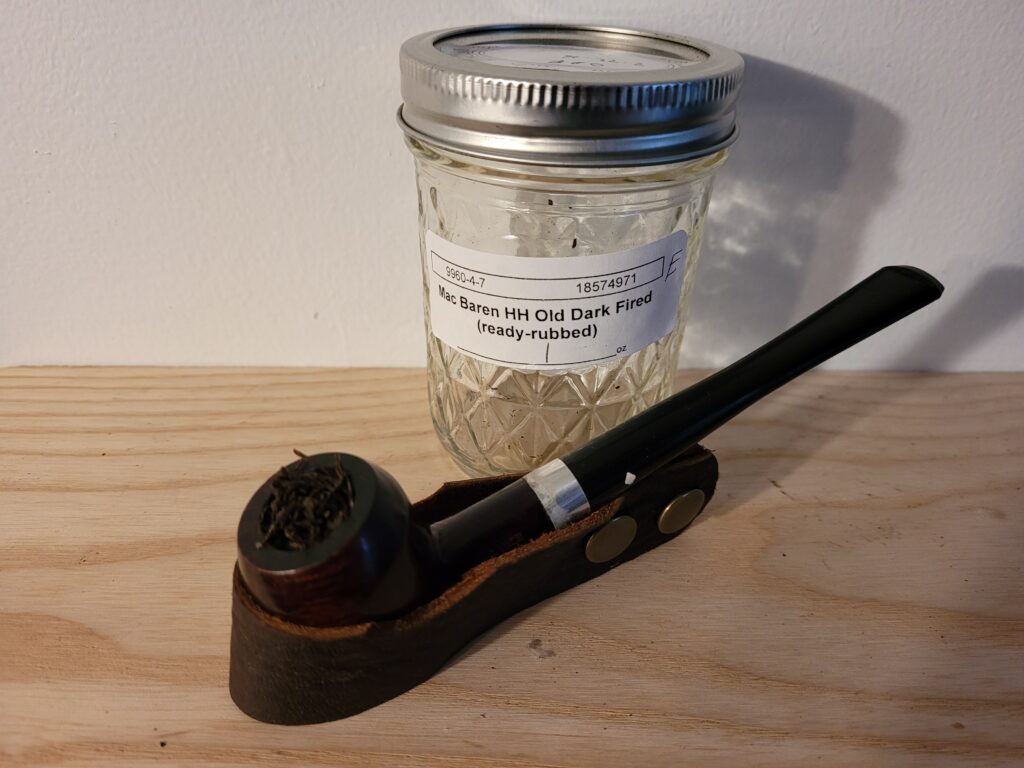 Sweet mesquite smoke. Barbeque brisket with a heavy hickory smoke. Nutty cocoa underneath. Hefty cayenne spice. Some salt and a bit of vinegar. Some round creamy flavors. Metallic when pushed. Flavors rotate but are otherwise the same through the bowl.
Right from the first bowl this is a rich, tasty Kentucky forward blend. I smoked this in my smallest bowl to start as I was afraid of the potentially heavy nicotine hit DFK can land, but while it has a punch, it's not much past medium. I'll try this in a bigger bowl next.
SECOND BOWL
>> Missouri Meerschaum Dwarf Cobbit, No dry time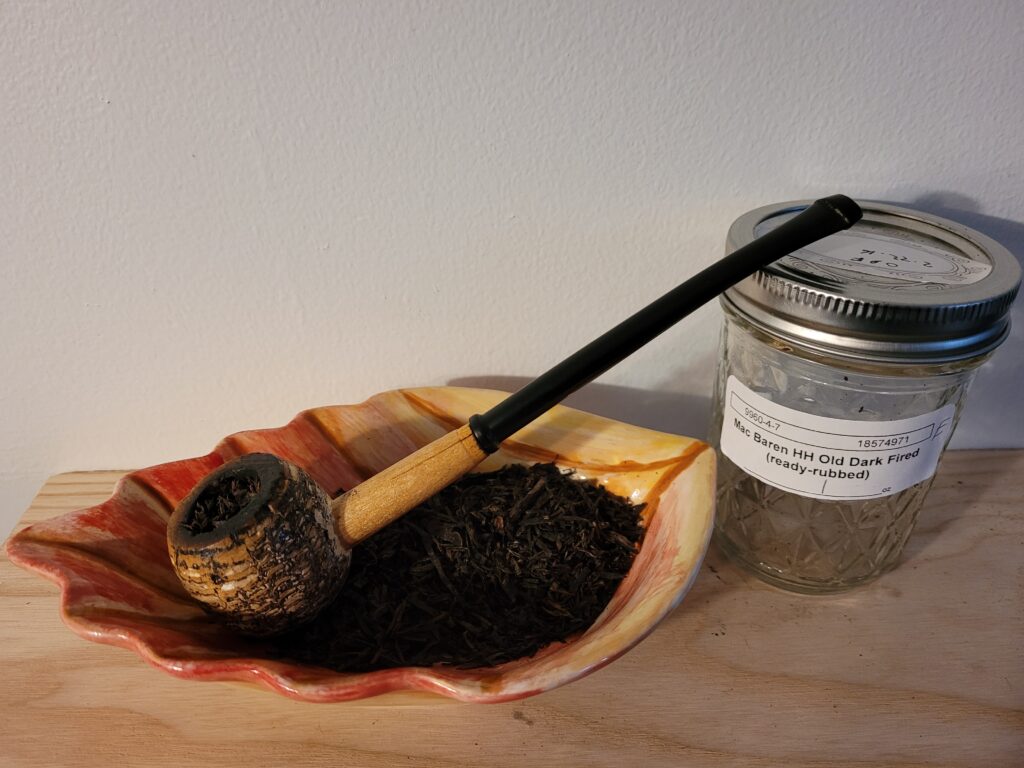 Sweet barbeque sauce. Heavy vinegar and hickory smoke, with brown sugar and salt. Bready and nutty with cocoa underneath. The smoke is quite oily. Pepper shows but it's light. Fruity. Very bready, with that nutty cocoa push. Ketchupy pops, no, it's really quite like Stubbs BBQ sauce. The pepper has grown but it's not as overwhelming as bowl one. Rich bitter cocoa coffee.
In the larger and wider bowl it seems the nutty-cocoa-bread from the burley and the vinegar-fruit from the Virginia comes through stronger. For the final bowl I'm going to try a narrower bowl to see if that will elicit a different experience.
THIRD BOWL
>> Big Ben Dublin, no dry time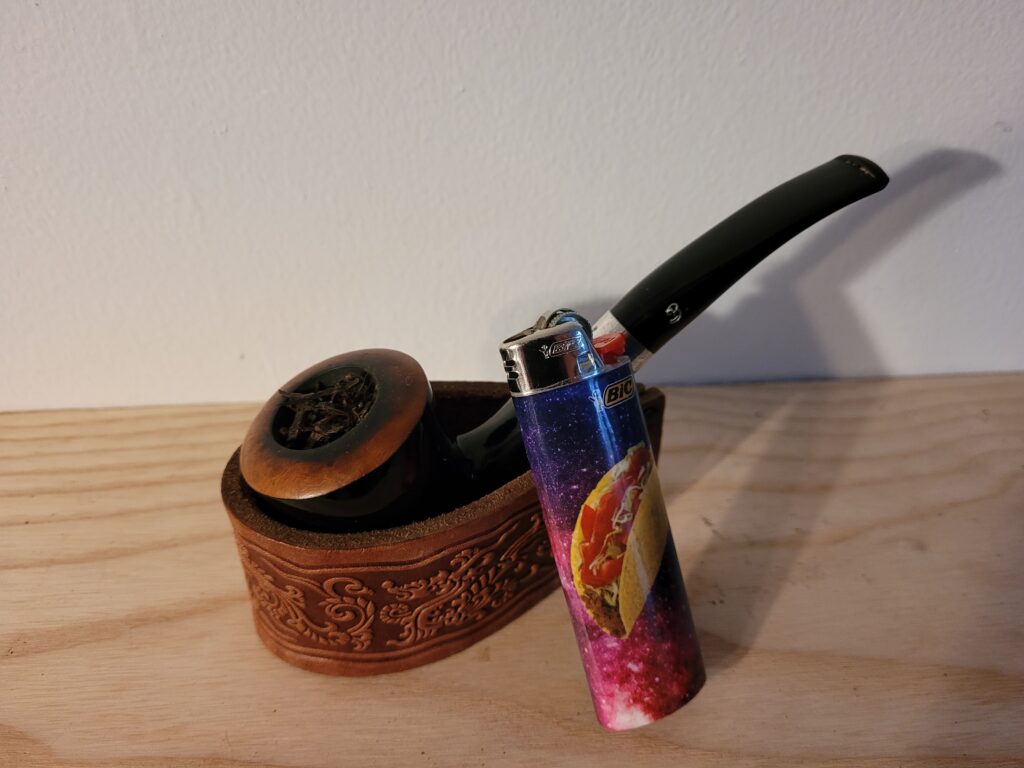 Starts with a mellow whole wheat bread sweetness. The mesquite and hickory jump right out. The smoke is so oily. There's a touch of vinegar. It plateaus there for a bit. Some coffee comes through in the base. Salt and pepper comes through. The flavor is huge and impactful, coating your tongue with every puff. It's sweet, salty, vinegary with barbecue smoke. A bit of lemon and strawberry is added to the above. The pepper grows. An anise note makes the peppery greasy meaty smoke tastes like eating Chorizo sausage gravy with a cup of coffee. Just past halfway through there is a shift, some sweet hay appears, pushing down the barbecue flavors, replacing hickory with oak, the pepper continuing on strong with strawberry notes, the light coffee rounding out the base, with a subtle mesquite finish. Towards the end goes full Virginia with sweet lemonade, with tart vinegar, salt, and just a pinch of pepper.
As expected switching to a Virginia style Dublin pipe with a tapered bowl shape really brings out the Virginia in this two component blend.
FLAVOR PROGRESSION
In a wider bowl, Old Dark Fired is quite consistent top to bottom. However in a conical bowl it started mesquite and hickory heavy then shifting into a quite enchanting smoky-hay-lemonade Virginia.
BURN EXPERIENCE
The crispy stick format of the leaf makes it a bit strange to load the bowl. I tend to underpack which means I have to relight, tamp, and relight in several rounds, but once it's going it burns easy enough to the end.
SIMILAR BLENDS
In a a small or wider bowl this was most similar to Rattray's Stirling Flake, a pure Dark Fired blend. In the narrower pipe it was more reminiscent of it's sibling MacBaren HH Burley Flake which is a Virginia, Burley, Dark Fired blend.
RATING BREAKDOWN
0.30 / 0.50 … Craft & Aesthetic
0.40 / 0.50 … Tin Aroma
0.30 / 0.50 … Lighting Process
7.60 / 8.00 … Smoking Experience
0.50 / 0.50 … Personal Enjoyment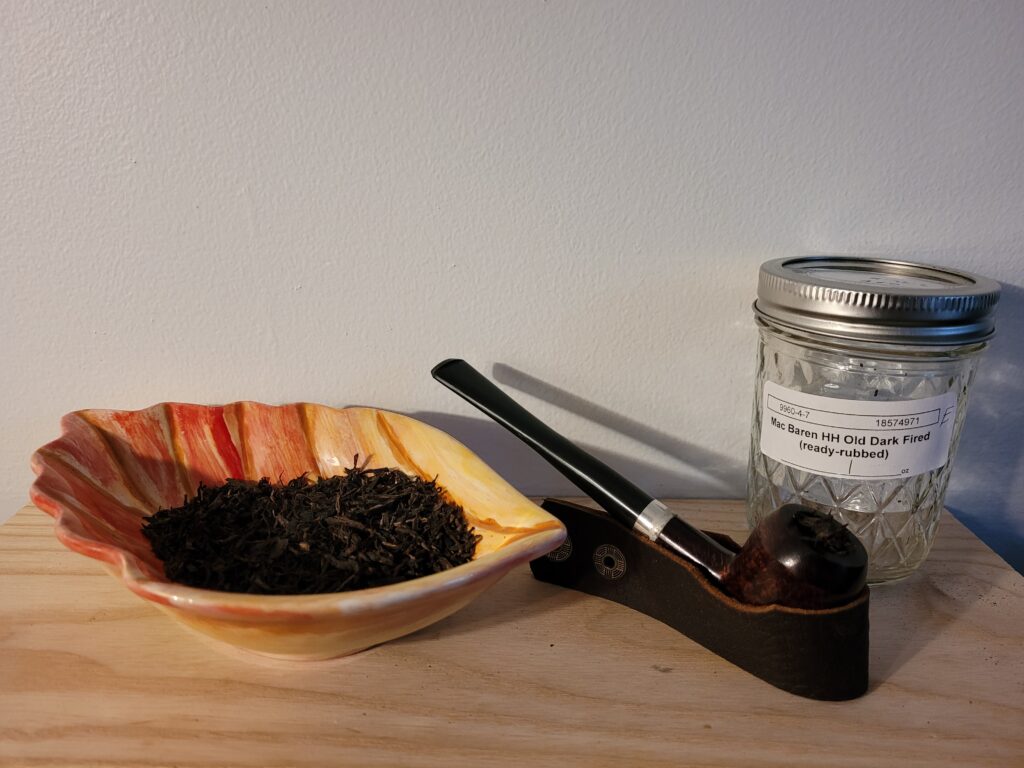 UNFORGETTABLE.
After neglecting this type of blend for years, and after neglecting this particular blend for years, MacBaren's Old Dark Fired has been a delightful experience. This Virginia-DFK broken flake offers an intense barbecue inspired taste profile with nuances and complexities wherever you look. Available in any form might want in a pipe tobacco, Old Dark Fired is a great introduction to an often forgotten blend type, and for fans of DFK, it is bound to be a perennial favorite for years to come.
SIMPLY STOGIES RATING:  9.1/ 10.0