"Alma Fuerte" translates to "strong soul" and the company has exhibited just that throughout it's long history. In 1865, Don Eduardo Plasencia left the Canary Islands in order to start growing tobacco in Vuelta Abajo, Cuba. In 1978, due to political turmoil, the Plasencia family's tobacco farms were burned down, forcing the family to move to Honduras. Then, the family went back to Nicaragua and raised their production to 33 million cigars a year. In 2015, Plasencia became the largest grower of tobacco in the world with more than 6,000 employees, 4 factories, and 8 plantations in Honduras. Now, the Plasencia family has its own cigar brand and they introduced the Alma series. 
VITOLA:   Salomon (Figurado)
SIZE:   7″ x 58
ORIGIN:   Nicaraguan
FACTORY:   Plasencia Cigar Factory in Esteli
WRAPPER:   Nicaraguan
BINDER:   Nicaraguan
FILLER:   Nicaraguan
STRENGTH:   Medium-Full
SOURCE:   Plasencia Cigars
WHERE:   David's Fine Tobaccos/At My Home
WHEN:   February 1-March 12, April 3, 2022
DRINKS:   White Chocolate Mocha;  Coronita
WEATHER:   Sunny and then Rainy
HOW MANY CIGARS SMOKED:   4
RELEASE TYPE  Regular
ORIGINALLY RELEASE DATE  October 2016
TOTAL PRODUCTION
Typical Box Size:     Boxes of 10
Production Totals:  Regular
VITOLA BREAKDOWN
o  Plasencia Alma Fuerte Nesto IV (6-1/4 x 54)
o  Plasencia Alma Fuerte Sixto II (6 x 60)

o  Plaencia Alma Fuerte Generacion V Salomon (7 x 58)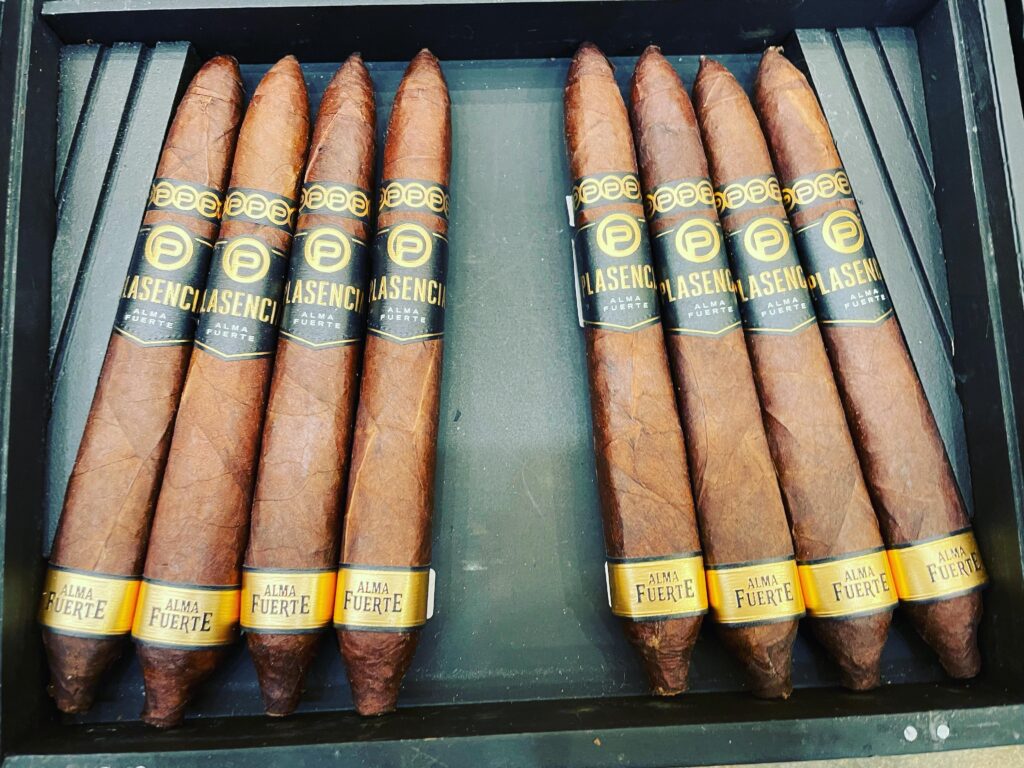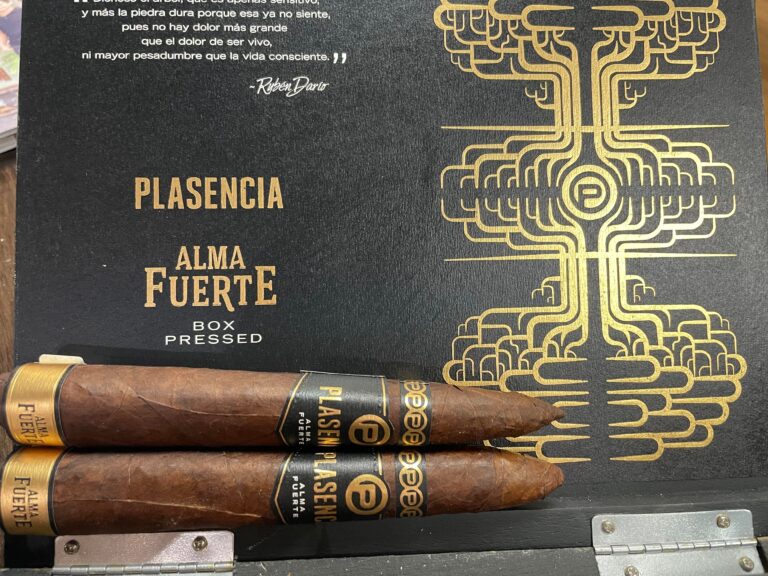 As the youth of today would say, this band is "lit". The Alma Fuerte Generacion V Salomon is tripled banded in black, white and gold. The upper most band is the iconic encircled "P" emblem about the ring of the band. The Middle band is wide and also shows the encircled "P" emblem on top with "PLASENCIA" written in gold lettering below and then "ALMA FUERTE" in white above a v-cut bottom with a line of gold – all against a black background. The final, bottom band is shiny gold with black banding and "ALMA FUERTE" in black lettering. The box itself has a very cool "lineage"/"tree of life" design on it in gold with the "P" emblem in the middle.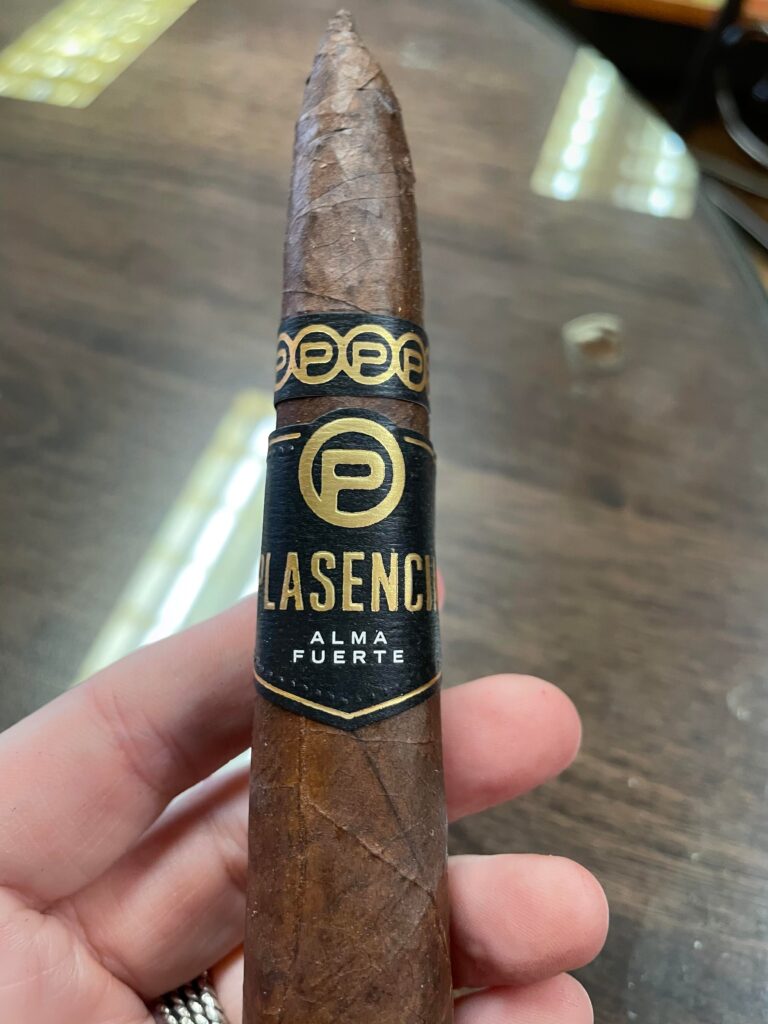 CONSTRUCTION

The binder and filler are enveloped in a dark, oily, shade-grown wrapper from Jalapa. Prominent veins are threaded throughout the stick from cap to bottom. While I'm not a huge fan of box-pressed cigars, this one is still presented nicely. The foot is well cut and packed while the triple cap is well put together and little flaking occurs when cut. 
The shape of the cigar is just beautiful. The taper from smaller ring gauge cap to a nice "thicc" (technical term also used by the youth) by the key-hole foot is elegant and smooth and consistent among sticks. 
AROMA

Off the wrapper, I immediately encountered an umami or "meaty"-type aroma and a whole lot of earthy/leather intonation. The foot is similar in aroma to the cap as well as the body. 
COLD DRAW

Cold draw was full of leather, earth, and meat. Very pleasurable and I was ready to light up!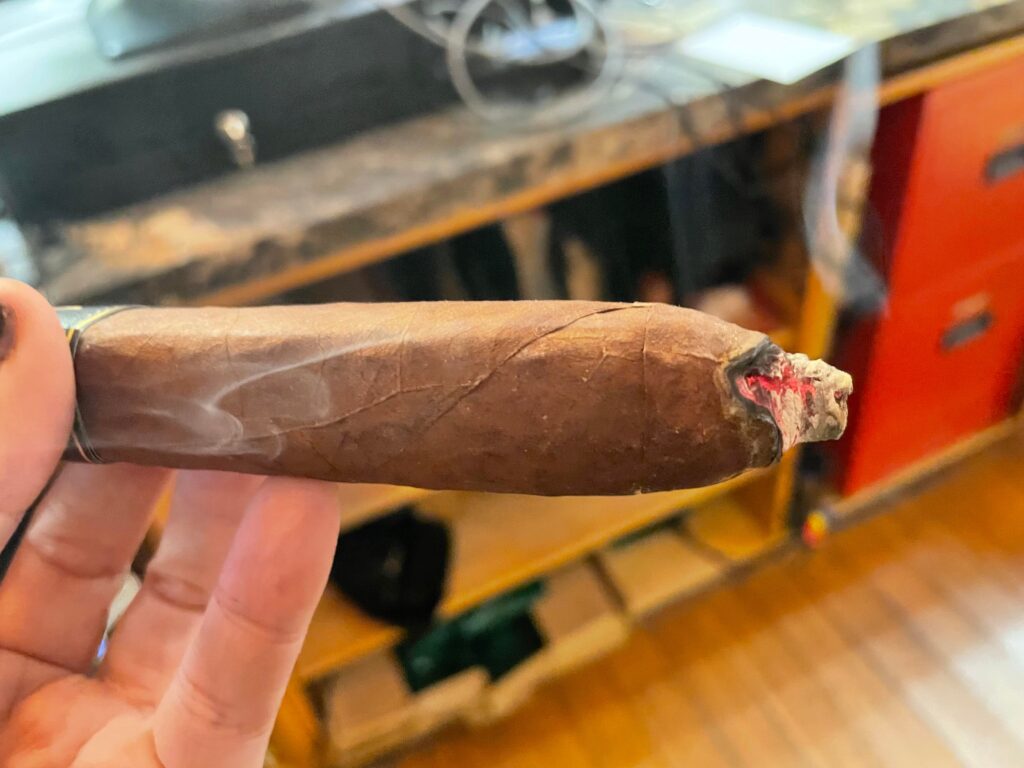 LIGHT & DRAW
Cut:  Standard desk cleaver with different gauges and cuts – I choose several for different sticks tested. 
Fire:  La Gloria Cubana table lighter
The little foot lit well and quickly. A nice, bright red cherry developed off the tip and continued into a consistent circumference for the immediate gauge change into the body. 
This stick had a great, full draw. The veins were a little off-putting as there were notable heat/draw/light differences when I pulled and encountered one. Even though the Alma Fuerte collection is all box-pressed, these veins are just a bit much and I recommend selecting a stick that has as few of them as possible when shopping. 
SMOKE
Yes, it has a tiny foot, but the Salomon shape emitted clouds of smoke right off the bat from the foot and cap. The trails of puff were a yummy smell packed with leather and just plain old fresh dirt. This is a cigar made to smoke in the spring when all the new budlings are cropping up. 
FIRST THIRD
>> Leather, Earth, Butter, Meat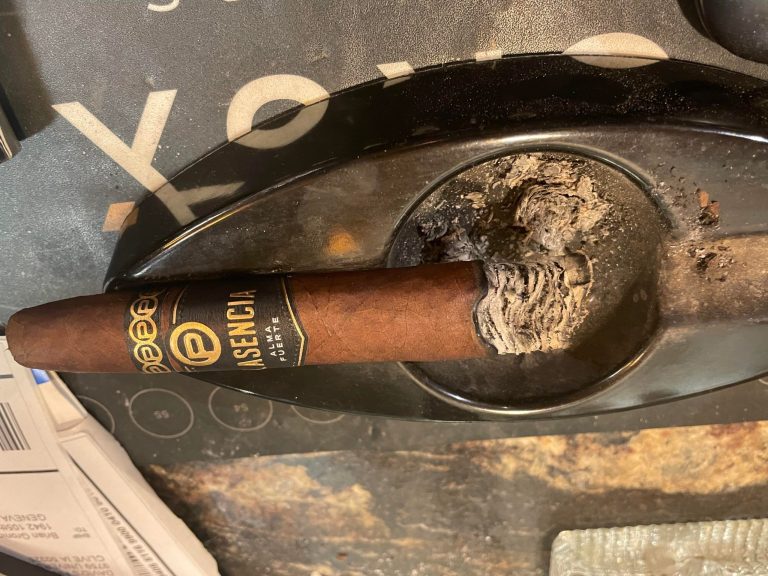 The first third went down smoothly and softly. There was a little kick of spice, but it wasn't enough to list in the flavor profile specifically. The buttery-ness was unusual and enjoyable. As the ring gauge changed, there was a noticeable flavor change as well which I looooove. Excite me! Change for me! Dance little (largish) stogie! We went from spicy/butter to full-on leather and earth. I'm not sure why, but it appears that I gravitate especially to these types of cigar flavor groups. If you enjoy leather and fresh dirt with a whole lot of smoothness, you will enjoy this stick  most greatly. Because of the shape, price tag, packaging, and the general, overall enjoyable-ness, I would recommend this cigar as a go-to special occasion cigar.
SECOND THIRD
>> Bold Meat, Leather, Brownie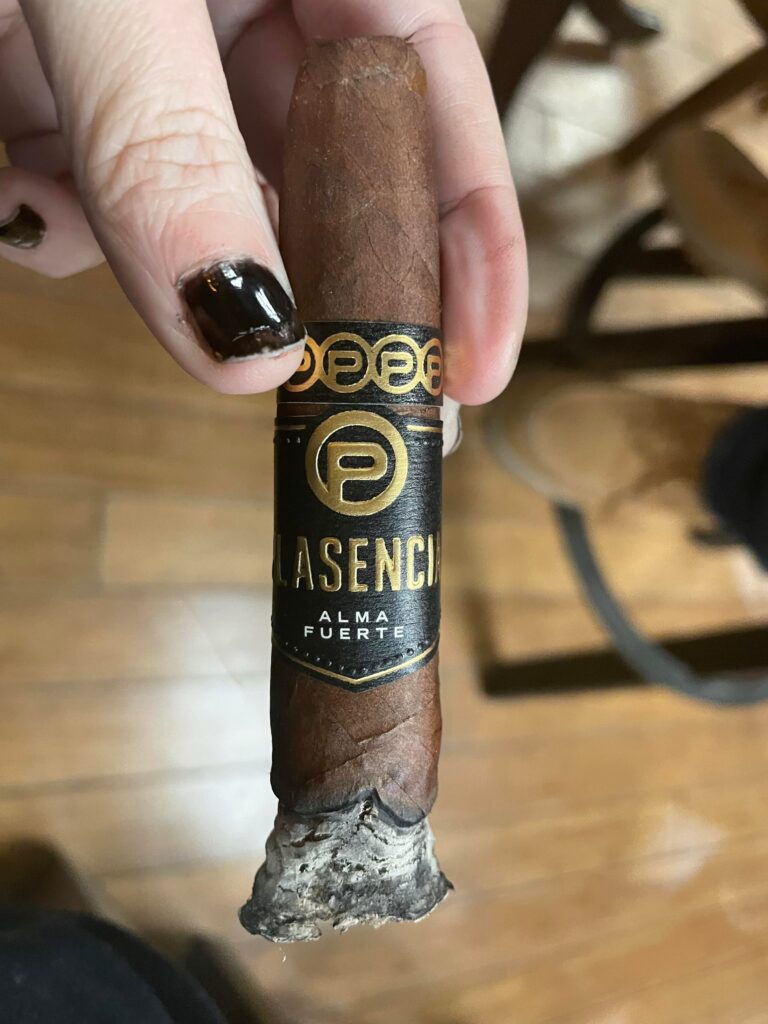 The second third introduced a level of sweetness I did not expect and was not entirely delicious as the first third. I'm all for a little bit of sugar, but this was enough to give me "the diabeetus". No, thank you. Thankfully, it was short-lived and transitioned into a more endearing flavor of earth and leather with just a top layer of sweetness that was reminiscent of a chocolate brownie. You know what? go ahead and have a chocolate fudge brownie with this cigar. Now, do I think it's appropriate at any time of day or night to indulge in a brownie? Sure. But really though, try it with this stick. I think you will like  the play on flavors. 
FINAL THIRD
>> Leather, Earth, Light Brown Sugar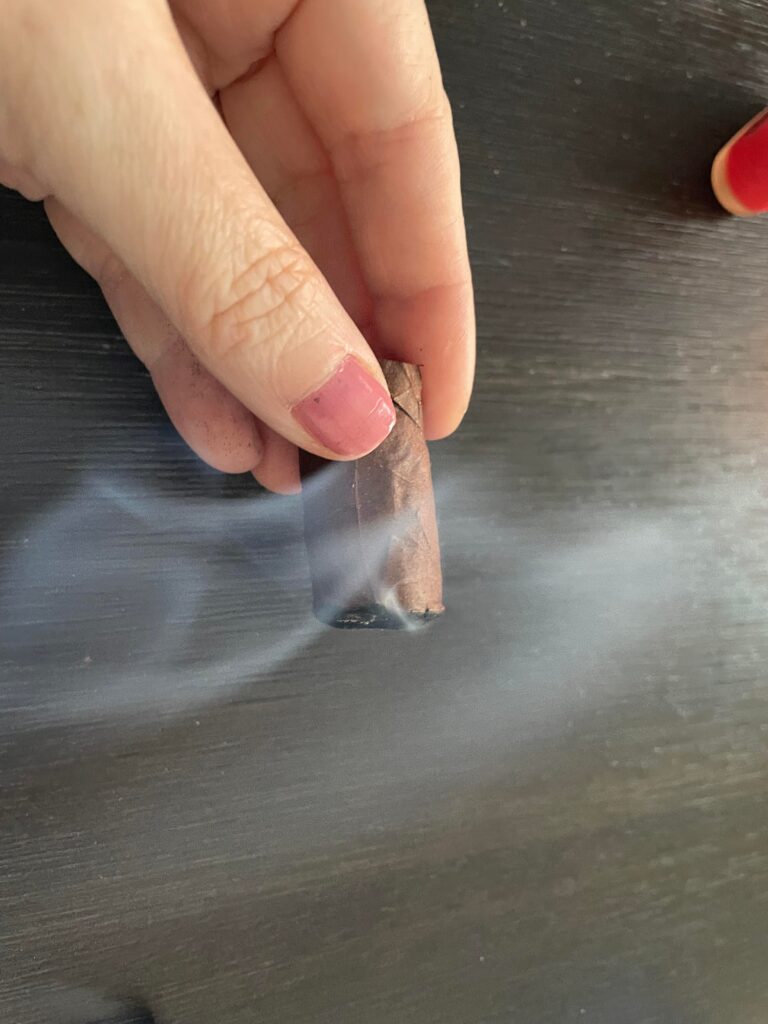 Have you ever taken pizza rolls/pockets out of the oven and instead of waiting for them to cool like an adult, you pop them in your mouth like a fat-kid and go "HA-TA-TA-SHA-HA" as you breathe in? The final third is jut like that- hot hot hot! The heat was nearly unbearable on my palate and fingers, but I was still in it-to win it until the nub. I noticed a twist in flavor from the second third though it was very nuanced: instead of heavy earth/brownie combo, the profile became more leathery and "barn" tasting. I liked this final bit, but again, the combustion was NOT at ALL even with the first two thirds. Watch out for your finger tips and tongue. 
FLAVOR PROGRESSION
Man, I love a good figurado no matter the brand. As the ring gauge changes, the flavor progression (should) similarly change in some way. The Plasencia Alma Fuerte Salomon does just that as described above. We start with a more mild, woodsy and tobacco flavor to a bold earth and brownie, then to a lighter leather/coacoa ending.
BURN EXPERIENCE
The burn is consistent and predictable until the very end. Once in the final third, the flavor and the burn become harsh so take that into consideration while smoking.
RATING BREAKDOWN
0.60 / 0.80 … Craft & Aesthetic
0.40 / 0.50 … Pre-Light Characteristics
0.40 / 0.50 … Lighting Process
6.70 / 7.70 … Smoking Experience
0.40 / 0.50 … Personal Enjoyment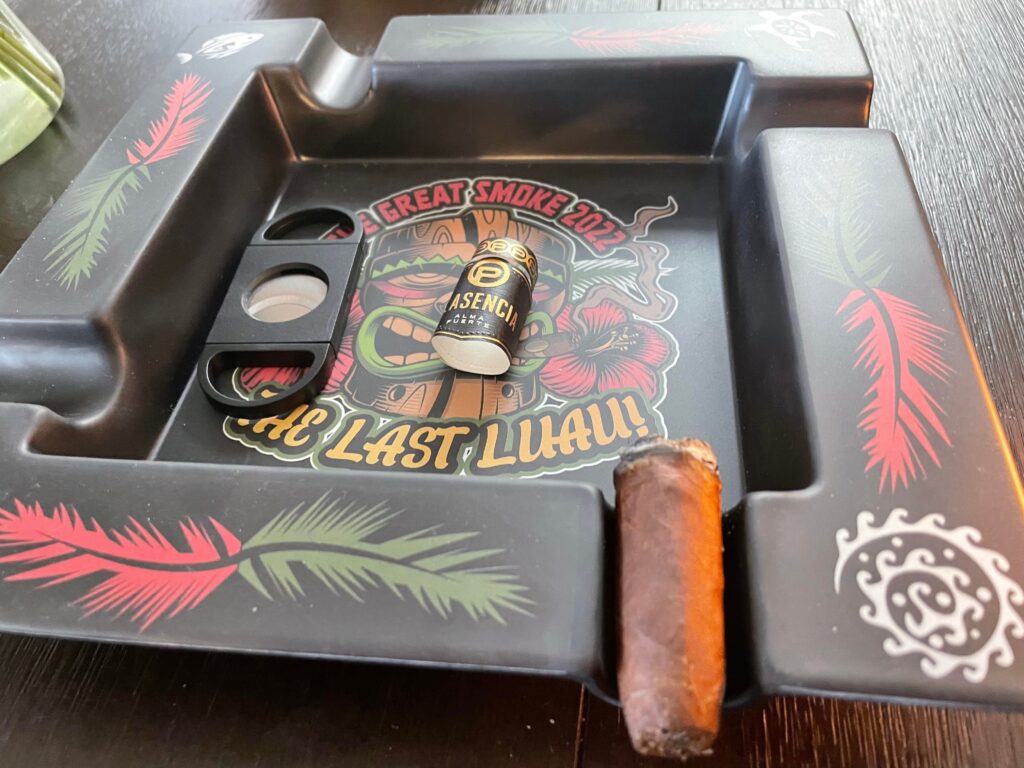 Treat Yo' Self! The Perfect Special Occasion Cigar.
From weddings, to births, bat/bar mitzvahs, graduations, break ups, make ups, divorce finalizations, or you just want a good smoke, the Plasencia Alma Fuerte Salomon delivers. The stick is a bold and flavorful figurado you do not want to miss out as a gift for yourself. Here's an unexpected twist: the lid doubles as an ashtray. Once you remove the top of the box, you can flip it around and the first thing you see is a branded pewter plate surrounded by four deep grooves to hold your cigar.
SIMPLY STOGIES RATING:  8.5 / 10.0