Cigar smoking is about slowing down, relaxing, socializing with other people of the leaf, and shutting out all of our daily distractions. We don't want to think of the smoke and smell that can linger afterwards; which is why most of us smoke at a lounge or outdoors. But what about when you can't? There are a lot of air purifiers out there that claim to reduce the smoke/haze from the room but do little for the lingering smell. Others claim to take out the stale smoke smell but do nothing for the odor. The Rabbit Air A3 is a bit different in that it claims to not only reduce the smoke/haze from your smoking room, but it will also reduce the odor from cigars…and a whole lot more. I decided to put that to the test in this review of the Rabbit Air A3 Air Purifier.
*NOTE* The Rabbit Air A3 Air Purifier was provided by Rabbit Air for this review. It was used in a 20'x15'x8′ (300sq. ft.) room, with 2400 cubic feet of air. 
PRODUCT TYPE: Air Purifier
PRICE: $749.95
STILL IN PRODUCTION: Yes
CLAIM/GIMMICK BREAKDOWN:
o  "Covers 1,070 sq. ft. by filtering 8,560 cubic ft. of air in 30 minutes"
o  Reduces Haze/Smoke
o  Reduces Odor
o  "Whisper quiet"
o  Plug and Play
o  Can be mounted anywhere
o  Low Maintanence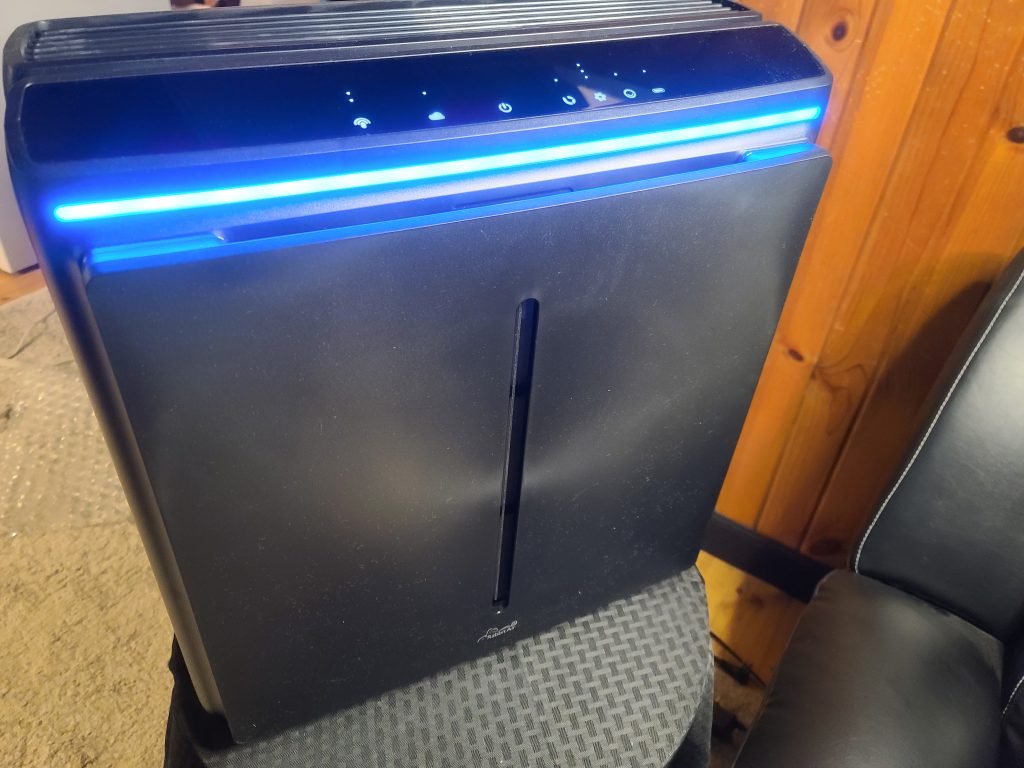 PRODUCT DESIGN & OBSERVATIONS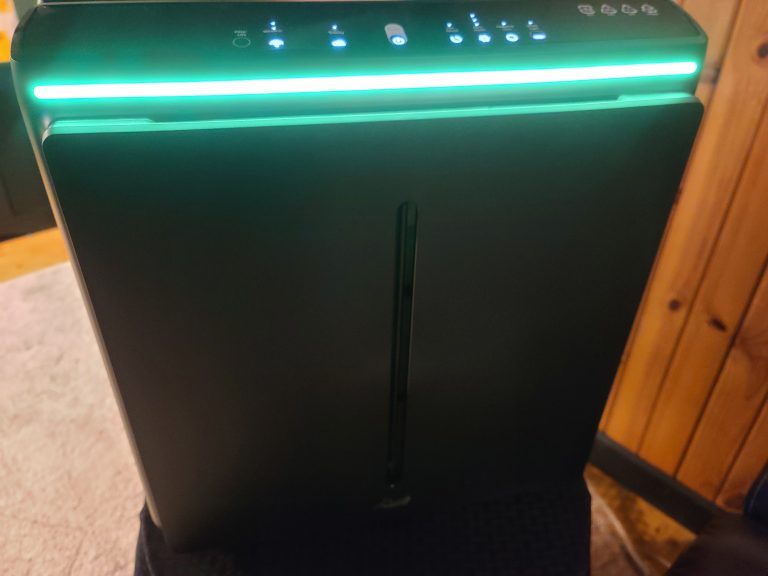 The Rabbit Air A3 Air Purifier is designed to be a modern looking piece of technology that can be placed almost anywhere in any room. The mounting brackets included with the Rabbit Air A3 make it easy to do so. Their website has quite a bit to say about where to position your air purifier. Obviously, you want to position it "[as close]…to the contaminant" as possible. That can be a bit of an issue for cigar smokers; unless, of course, you want to sit right next to the air purifier. According to their website, you also want to keep it away from large electronics like televisions, microwaves, etc…, but smaller appliances like computers are fine. So depending on your space, finding a good location for your A3 can be a bit of a challenge. However, their claim of purifying over 8,000 cubic feet of air every 30 minutes should give most cigar smokers some piece of mind, no matter where they decided to place their A3.
Once you find the perfect spot for your A3, you need to set it up. Rabbit Air says that their A3 is "plug and play." I would say that is true, for the most part. Plug in the A3 and you can control the air purifier from the touch screen on the unit. This is great if you want to "set it and forget it," and if you've placed your A3 somewhere that's easily accessible. But what if you didn't? Not to worry, Rabbit Air has an app you can download to your phone that allows you to control your A3 via a 2.4Ghz wireless network (which most households have today via their wifi router). The setup does take a little bit of time and isn't quite "plug and play" but it does allow for full control and monitoring via the app.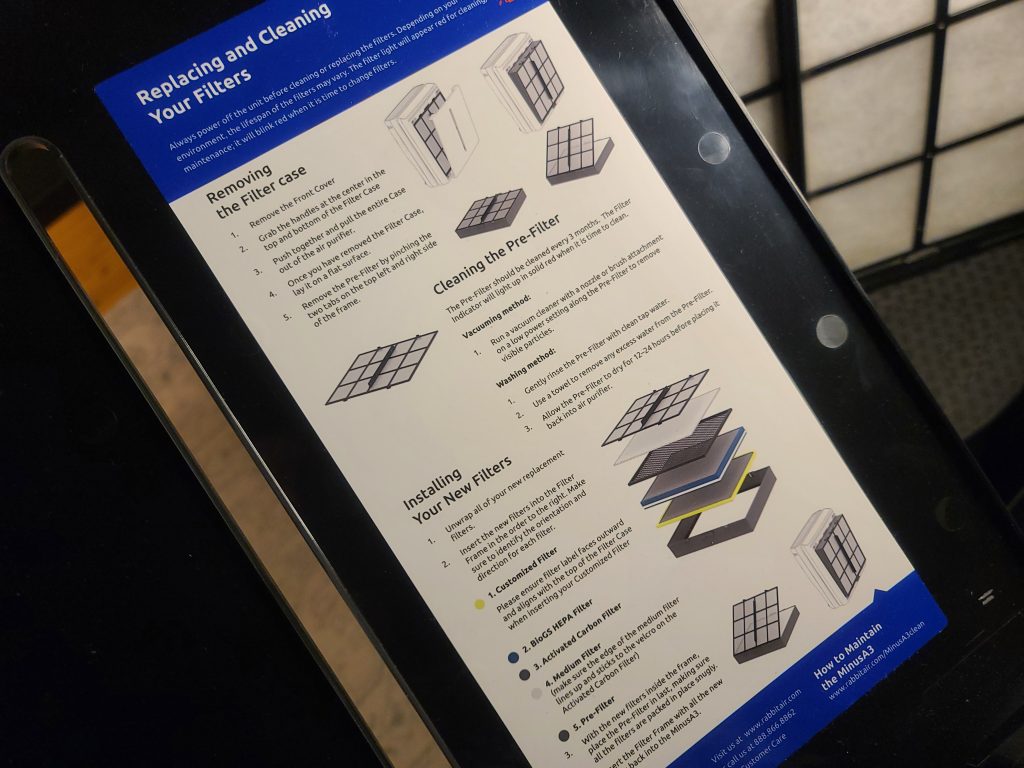 While the A3 Aire Purifier app allows for remote monitoring and control, it does fall short in that you can not see the air quality history of the room. While not a major drawback, it would be nice to see how smoking different cigars affects the air quality of the room and how quickly the A3 actually purifies. Sure, you can monitor this in real time on the app but that does take away from the smoking experience. However, the app lets you manually set the fan speed, use "Auto Mode" to automatically adjust for air quality, and set the sensitivity of the unit. 
Another great feature of the Rabbit Air A3 Air Purifier is that you can change the ambient colors on the unit. You can set the "Mood Light" to any color on the spectrum shown below. Or you can simply turn off the "Mood Light" with a simple press of a button, if having your A3 unit lit up just isn't your thing. The app also allows you to set timers for your unit, if you don't feel the need to run it constantly. You could also use the app to set up schedules for when your A3 unit should run. 
The A3 does have a lot going for it. Namely its 6-stage filtration and deodorization. The A3 comes with a pre-filter, a medium filter, an activated carbon charcoal filter, a BIOGS® HEPA filter, an odor removing filter, and the unit produces negative ions. While I could go in depth with what each filter is designed to do, the Rabbit Air website does a very good job of doing that already. What I think is important for smokers is the odor removing filter and negative ions. The odor removing filter is one of four different filters you can choose from (the others being a germ defense filter, a toxin absorbing filter, and a pet allergy filter). 
The setup is relatively easy and there is a lot to like, on paper anyway, the A3 Air Purifier from Rabbit Air. But the question is: "How well does it work?"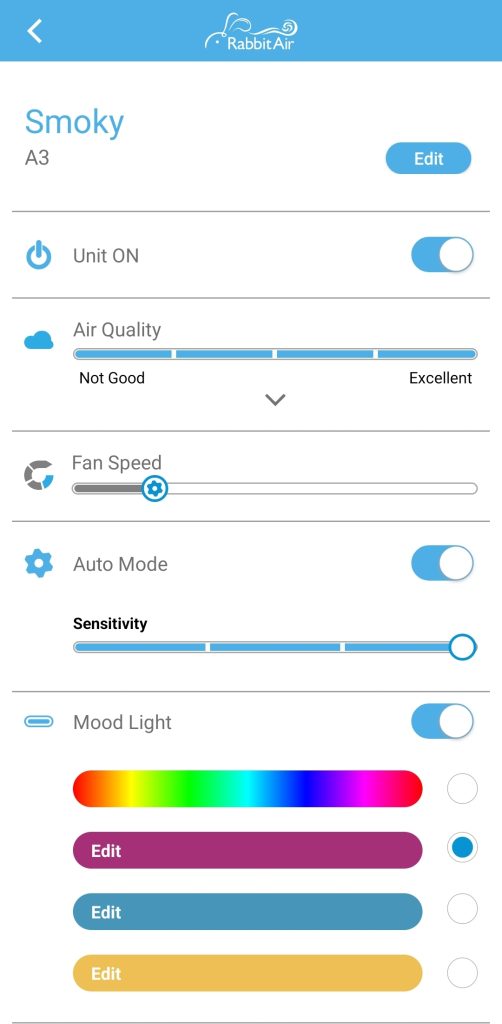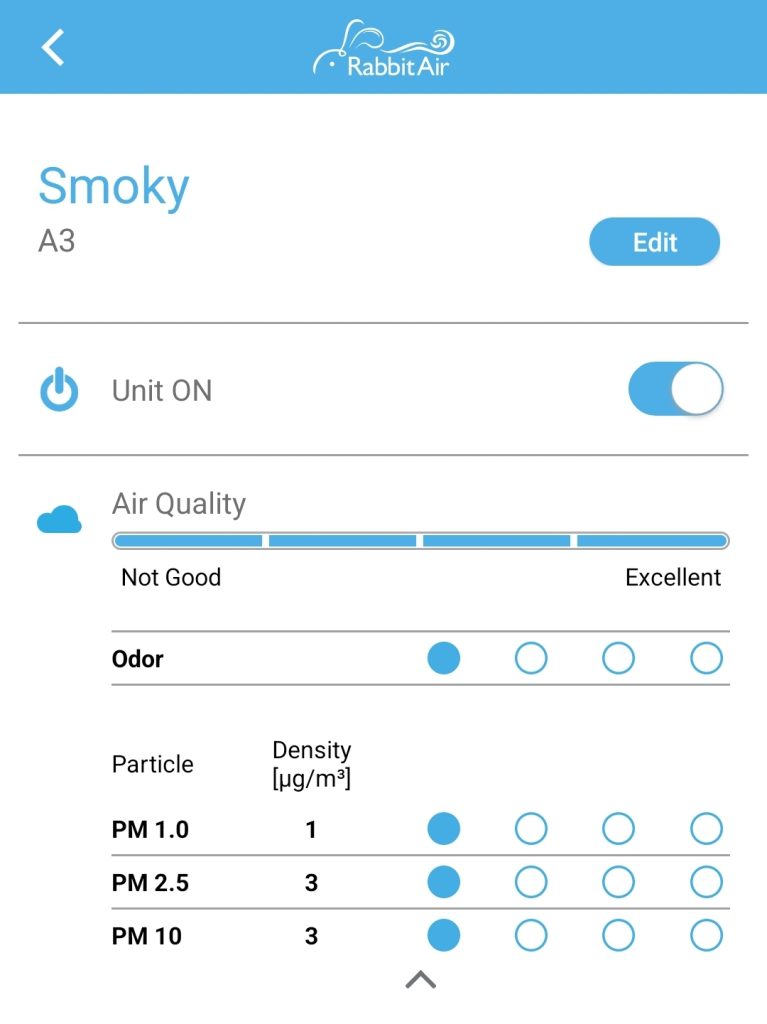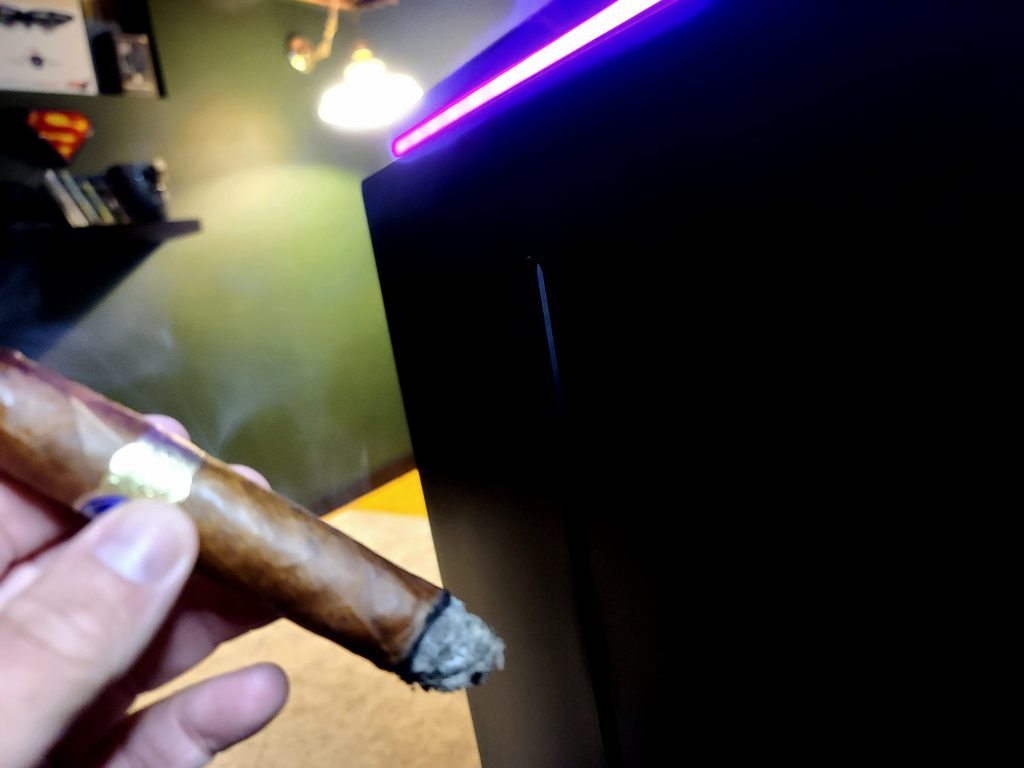 COVERAGE

As I said at the beginning of this review, I set up the Rabbit Air A3 Air Purifier in my 20'x15′ basement. This means that my smoking room is 300 square feet. That's more than 1/3 less than what the A3 is capable of filtering in a 30 minute period. When you add in my 8′ ceilings, I have a room with 2,400 cubic feet of air. Again, well under Rabbit Air's claim of "cover[ing] up to 1,070 sq. ft., filtering 8,560 cubic feet of air in 30 minutes." Given the claim, I was pretty excited to turn this on and get going.
I plugged it in, downloaded the app, connected, and had everything set up in about 20 minutes. So far, so good. I set To make sure that this was going to be a fair test, I allowed the A3 to run until the air quality in my room hit excellent. It took the A3 unit about an hour to take my air quality from two bars (just ok) to four bars (excellent). What's great is, the app also tells you the odor level and particle density of the room. How accurate it is, I couldn't say. What I can say is that for a 300sq. ft. room it took less than an hour to change the air quality to excellent and filter out the old, musty smell of the basement.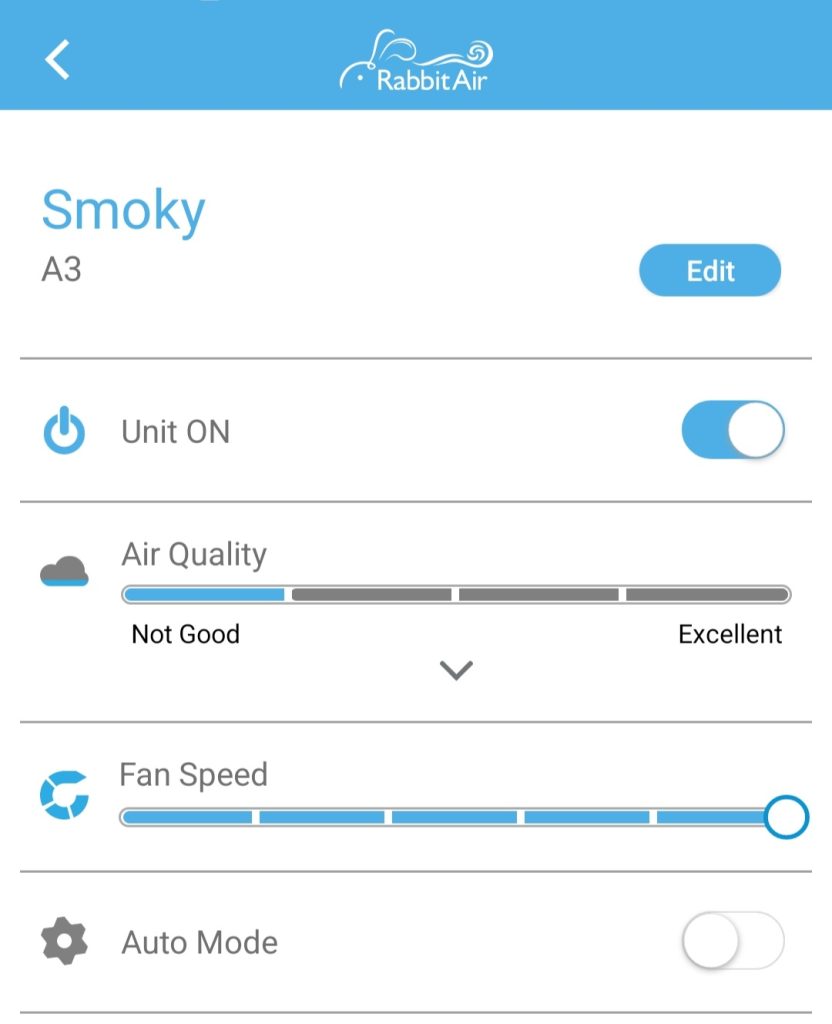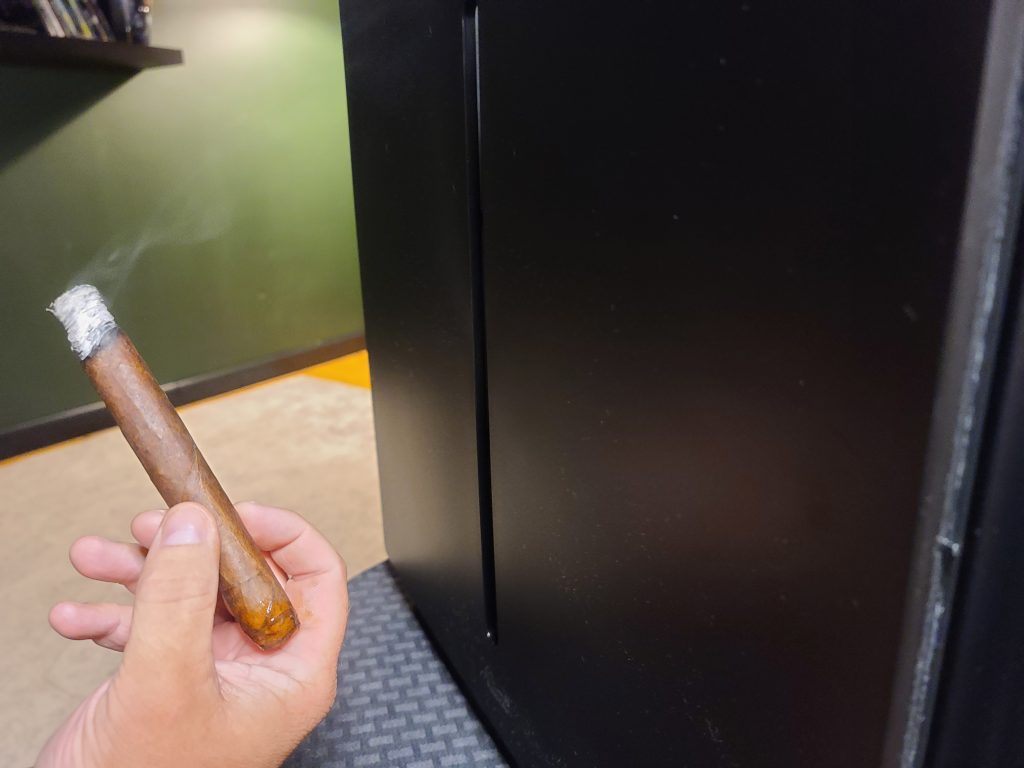 SMOKE REDUCTION

This is what cigar smokers really care about: smoke reduction. How does the Rabbit Air A3 Air Purification do when you're smoking a cigar? Now, I've seen other reviewers fill their space with fog or smoke, to the point of ridiculousness, and allow time for a smoke eater to clear the room. That seems counterintuitive, unless you're going to have 10 cigar smokers in one room. 
Instead, I sat in the room close to the unit and lit up a cigar. The smoke was pulling right into the A3 when the cigar was at rest. Every ounce of smoke was immediately sucked towards the front and side vents of the unit. However, I did turn the fan speed to maximum. What was a whisper quiet machine suddenly roared to life. It was a dull roar, but a roar nonetheless. This makes using the A3 while recording content, somewhat problematic if I want to have the unit close to where I am.  Even then, with every draw I blew out or retrohaled, some of the smoke seemed to "get away." Not enough to fill the room with smoke, but certainly enough to linger for a minute or two.  
ODOR REDUCTION

I'm not quite sure what I was expecting when it came to odor reduction, but the A3 did work…with a caveat. As any indoor smoker or cigar lounge owner will tell you, it's not the smoke as much as the smell. There's nothing worse than the smell of stale smoke. With the A3 activated charcoal filter and odor reducing filter I was hoping for a more robust odor reducing experience, especially with the unit set to maximum. Instead, it took around 12hrs for the cigar smell to leave the room. To be fair, I did  leave the ash in the ashtray. But after 12hrs, the smell was gone. That's fairly impressive given the amount of odor that a cigar puts out.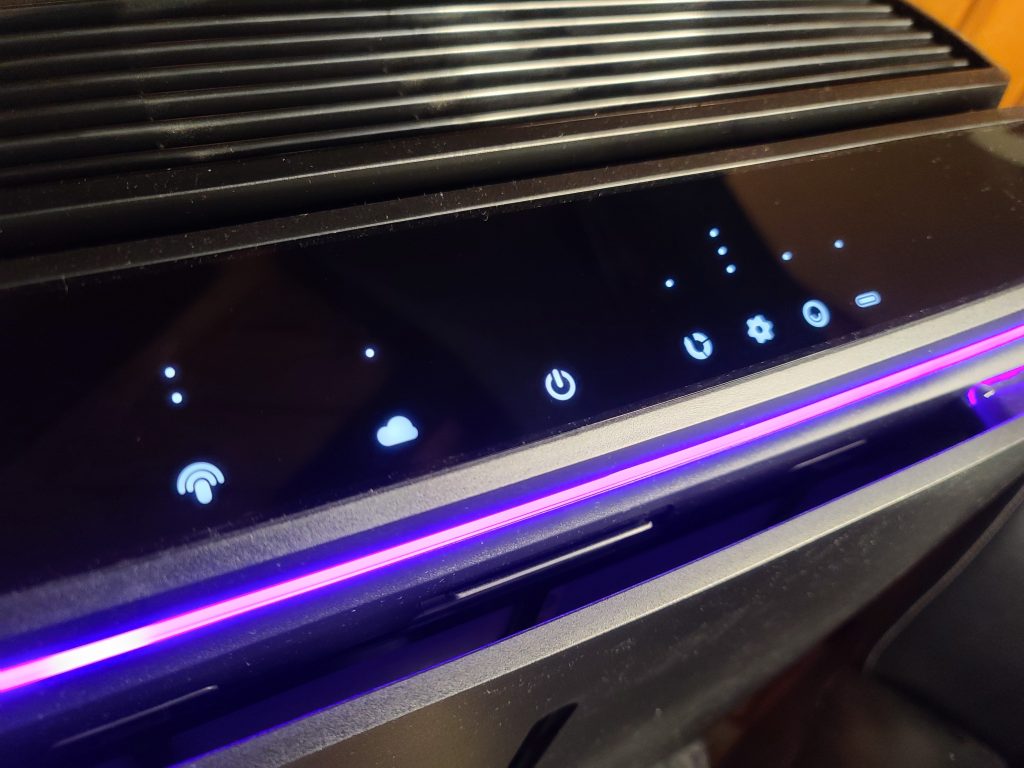 PRODUCT PERFORMANCE

The Rabbit Air A3 Air Purifier is a high end smoke eater. End of story. It is boasts a beefy résumé that begs cigar smokers to give it a try. Their six stage purification and deodorization filters out everything from dust mites and pet dander to mold and viruses out of the air. The A3 unit has a modern and sleek design, considering all it can do, and is very quiet when the fan is running at lower speeds. The ability to be mounted almost anywhere gives the A3 a distinct advantage over bulkier models. 
REAL WORLD EXPERIENCE

The experience of this reviewer has to be taken in context: the room is less than a third of the size that the A3 can handle and…well…I'm a cigar smoker. The Rabbit Air A3 did exactly what it said it would do. It purified the air, took the smoke out of the air, and eventually deodorized the room…just not perfectly. I don't believe there is the perfect product for cigar smokers. However, the A3 kept smoke out of other electronics in the room and from clinging to the walls and furniture. While the cigar odor took some time to come out, it was eventually gone.
RATING BREAKDOWN
Product Design  ………………………………………………  0.5/ 0.5
Product Usefulness  ………………………………………..  0.8 / 0.8
Setup Process  ………………………………………………..  0.4 / 0.5
Product Experience  ………………………………………..  7.0 / 7.7
Personal Enjoyment  ……………………………………….  0.4 / 0.5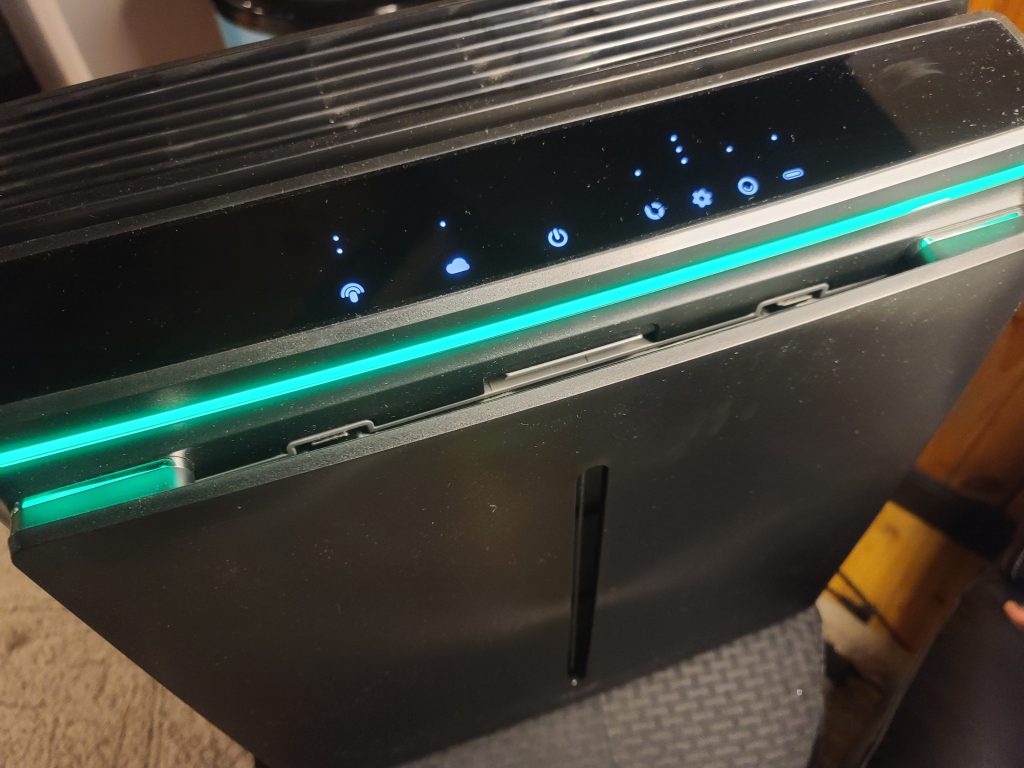 AN IMPERFECT SOLUTION FOR AN IMPERFECT WORLD.
The Rabbit Air A3 comes with a hefty price tag of $749.95, but you get a lot for the price. If you're a cigar smoker thinking about making a smoking lounge in your den or office, this is a must-have. The A3 will keep your cigar smoke from getting into your electronics and from clinging to your walls and furniture. It's a no-brainer. Does that mean that you'll only need an A3? Probably not. If you smoke 1 or 2 cigars a week, it will work perfectly for you (assuming your smoking area is sealed off or away from your main living space). If you smoke more than 1 or 2 cigars a week, you're going to need something to help remove the odor, like an ozone generator. You may also need to invest in an exhaust fan and, depending on the size of your smoking space, an intake fan to bring in fresh air. Regardless of your set-up, the Rabbit Air A3 Air Purifier should be an integral part of your smoking lounge set-up.
SIMPLY STOGIES RATING:  9.1 / 10.0