The Room101 Doomsayer limited edition cigars were released in two types, Aggressive and Passive, in June 2019 as part of the IPCPR trade show from brand founder Matt Booth. The Aggressive features a dark maduro wrapper of unannounced origin while the Passive, which we are reviewing today, has a Ecuadorian Habano donning its exterior. Both use Indonesian binder with a blend of Nicaraguan, Honduran, and Pennsylvanian leaves in the filler. Oddly they were sold in hefty 55 count boxes at a whopping retail price of $412, which comes out to about $7.50 each. I obtained a ten pack of these cigars through CigarBids, so I really had no idea what I was getting into, though my experience with Booth's Room101 cigars have been mostly positive in the past.
Apparently this cigar is called the Doomsayer because it's supposed to be the first "horseman" the signals the "end of mediocre cigar experiences." Hilarious, except that the pleasant floral band belies its foreboding moniker. In the Doomsayer, I found a very pleasant, almost elegant cigar with a solid foundation, a forgettable middle, and a rebounding finish that left me wanting another. Except, I'll wait to see if more humidor time will improve its flavors over the next few months.
VITOLA:   Toro
SIZE:   6″ x 55
ORIGIN:   Dominican Republic
FACTORY:   Tabacalera William Ventura
WRAPPER:   Ecuadorian Habano
BINDER:   Indonesian
FILLER:   Honduran, Nicaraguan, Pennsylvanian
STRENGTH:   Medium – Full

SOURCE:   CigarBids
WHERE:   
The mancave aka my garage
WHEN:   
August 31, 2020
DRINKS:   
Firestone Walker Propagator Series Citra Single Hop Hazy IPA, a fine local craft beer
WEATHER:   
A cool late summer night in Southern California with a hint of a breeze
WHAT'S ON:   
The late few minutes of Houston-OKC Game 6 playoff game, followed by Inside the NBA with Shaq, Barkley, Ernie, and Kenny Smith. Eventually settled into episodes of Star Trek: Picard.
RELEASE TYPE  Limited Edition
ORIGINALLY RELEASE DATE  IPCPR 2019, June 2019
TOTAL PRODUCTION
Typical Box Size:     55
Production Totals:  Unknown
VITOLA BREAKDOWN
o  Toro (6″ x 55)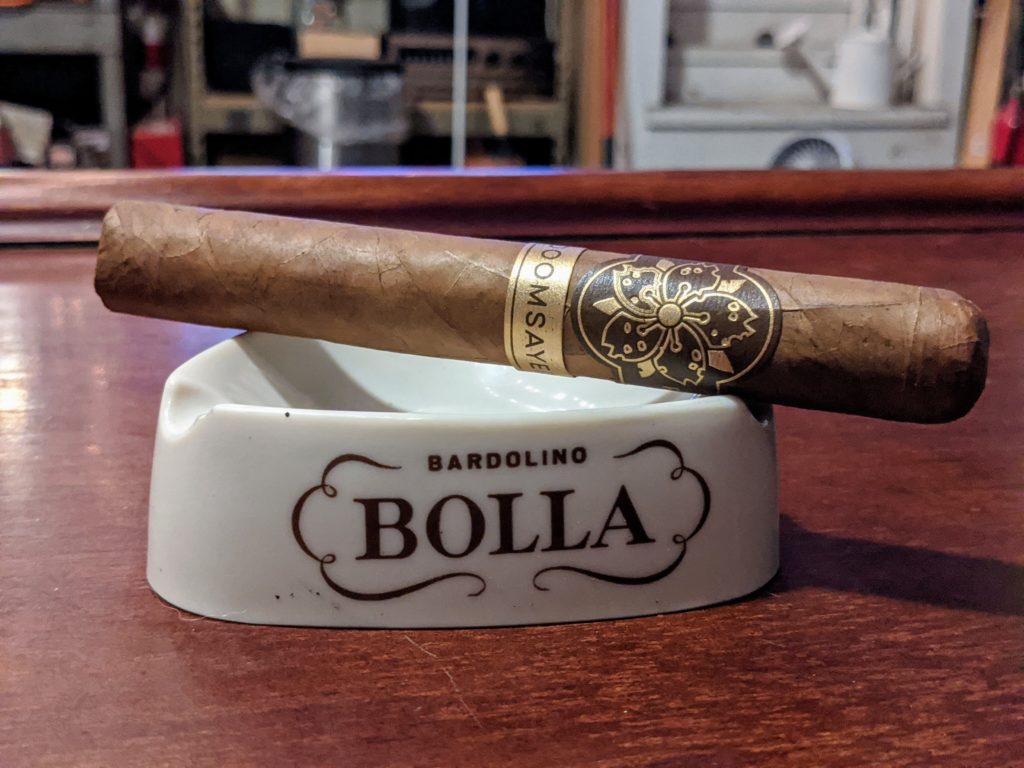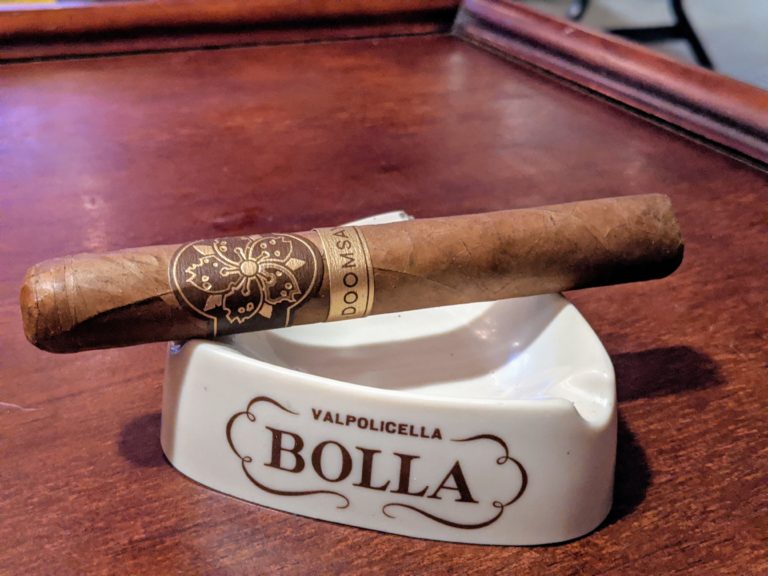 The band is a supersized version of the floral embossed Room101 design on a dark chocolate brown wrapped with a textured matte finish and gilded accents. The golden Doomsayer band beneath features Room101's modern all caps typography, giving this cigar a decidedly boutique feel. Band designs like this feel understated by still conjure a smaller production cigar that lives in the century, versus a design that harkens a bygone era. 
CONSTRUCTION
The proportion of this cigar is a bit unusual for me. At 55 ring gauge t's heftier than I would like, though the smooth habano wrapper does a nice job of giving it a refined, Cuban-esque appearance. There aren't any major veins and the cigar feels very well packed. The only negative might be a 1 inch tear in the middle part of the wrapper that I discovered upon inspecting the cigar that might have happened on transit. Either way, it didn't make a difference in the smoke as the binder wasn't punctured. 
AROMA
Extremely sweet and pleasant aromas from the foot to the head, reminding me of an elegant Cuban, except with much better generation fit and finish compared to something that was actually made in Cuba. The smell has a faint raisin note, making me wish I had paired this with a tawny port wine.
COLD DRAW
The first draw with a little tight, a credit to the well-packed leaves. More of that raisin-y note with a pale grass flavor that's typical of medium to mild Cuban cigars. A bare hint of the spice that hits almost immediately upon lighting.
LIGHT & DRAW
Cut:  Straight cut with a big Vertigo steel double guillotine I picked up at Total Wine for $5
Fire:  Vertigo triple-torch butane lighter I bought at Binny's in Chicago for $7 like six years ago. Clearly I like buying random cigar accessories at liquor stores. 
The foot took a decent amount of flame to light, longer than my usual smokes. I'd be sure to have a hefty flame or at least zero-to-no wind while trying to light this bad boy.
SMOKE
Smoke output was excellent from the start. Throughout the experience smoke output was ample, though not phenomenal, which is to my liking anyway. The 55 gauge and straight cut was more than enough to produce even smoke that bordered on wispy compared to particularly dense. This is a terrific after dinner cigar whose smoke won't overwhelm anyone else you happened to with. 
FIRST THIRD
>> Hints of dried fruit, black pepper, a bit of green pepper in the finish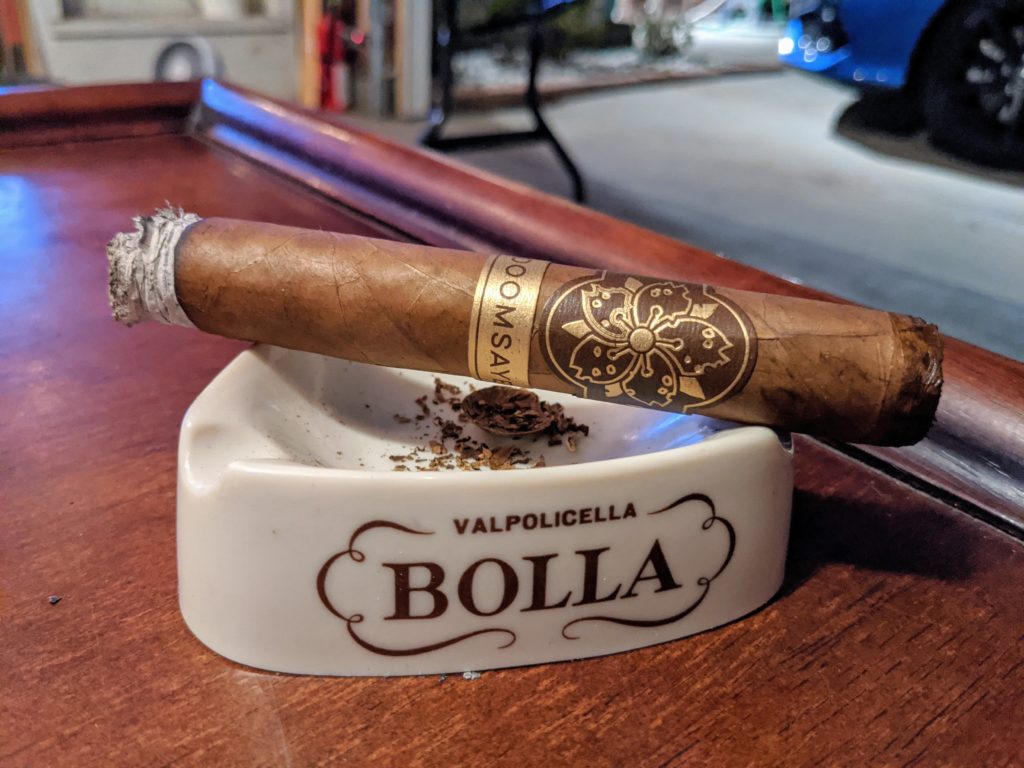 The first third starts out with a nice hit of pepper spice, mellowing out into some dried fruit and medium-to-dark roast coffee. The strength starts at a medium and progresses to a medium-full, making this a better post-prandial pick than pre-dinner. I'm told to expect some cocoa notes but instead I'm getting woody notes on the palate with a sweeter oak on finish on the retrohale toward the end of the first third. So far a nice first showing though I'm not quite blown away yet. I only touch up the cherry once after the cigar slips out of my mouth after 10 minutes or so (my fault). The wrapper splits further but the cigar still smokes fine as the binder is intact. I'm back to some of those dried fruit flavors on the finish, which I really like. Maybe my brain is confusing the berry notes of really good cacao here (like a 72% or higher chocolate bar). I'm excited for the middle third.
SECOND THIRD
>> Cedar, oily, hints of dark roast coffee and a tiny bit of chocolate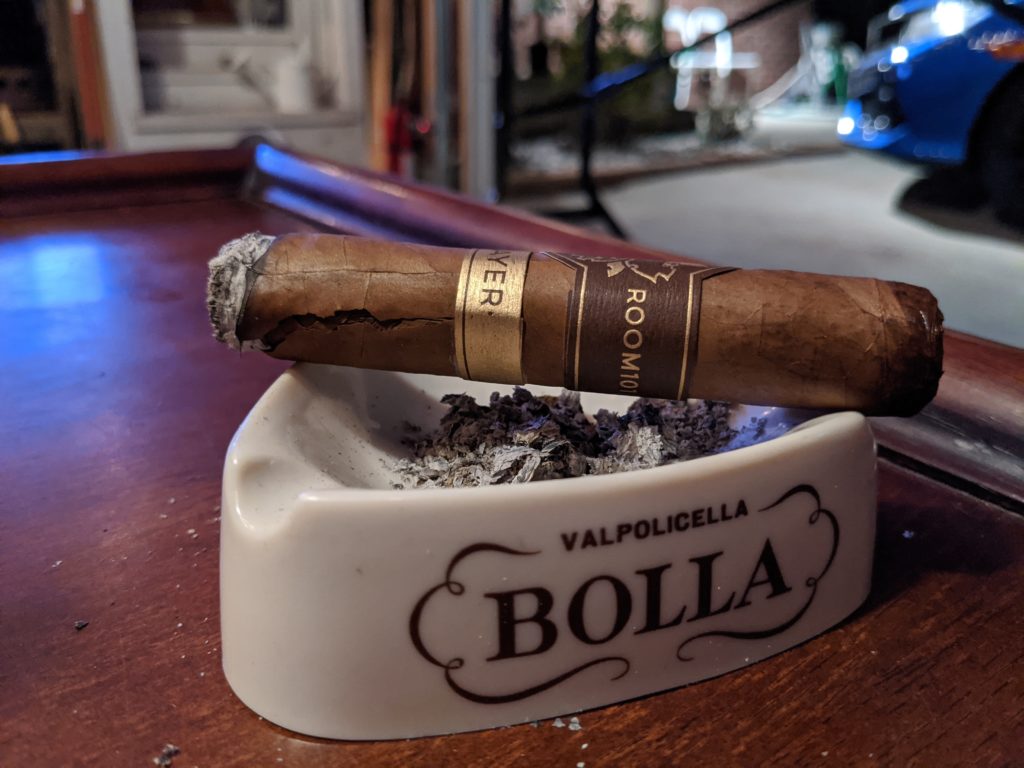 The first part of the second third settles into a bit of a boring saga. More of the woody, cedar flavors, settling into a darker roast of coffee, almost espresso. I'm not a huge fan and the oils of the cigar start to build at this point. Strength wanders into a medium before a bit more dark chocolate (just a tad) rises toward the end of the second third. I'm starting to doubt this cigar but then things begin to intertwine and enmesh in a way good cigars do. I blow out to redistribute the oils and I get a thin, vapor-like smoke that really conjures a mid-range Cuban without the pepper spice, which has all but faded at this point. I'm hoping the final third rounds out into fuller flavors. The burn line suffered a bit from that wrapper rupture so I corrected with my lighter. The ash collects like shards, not really a dense ash one would expect considering how packed the filler was initially.
FINAL THIRD
>> Sweet cherry wood, white pepper, cacao fruitiness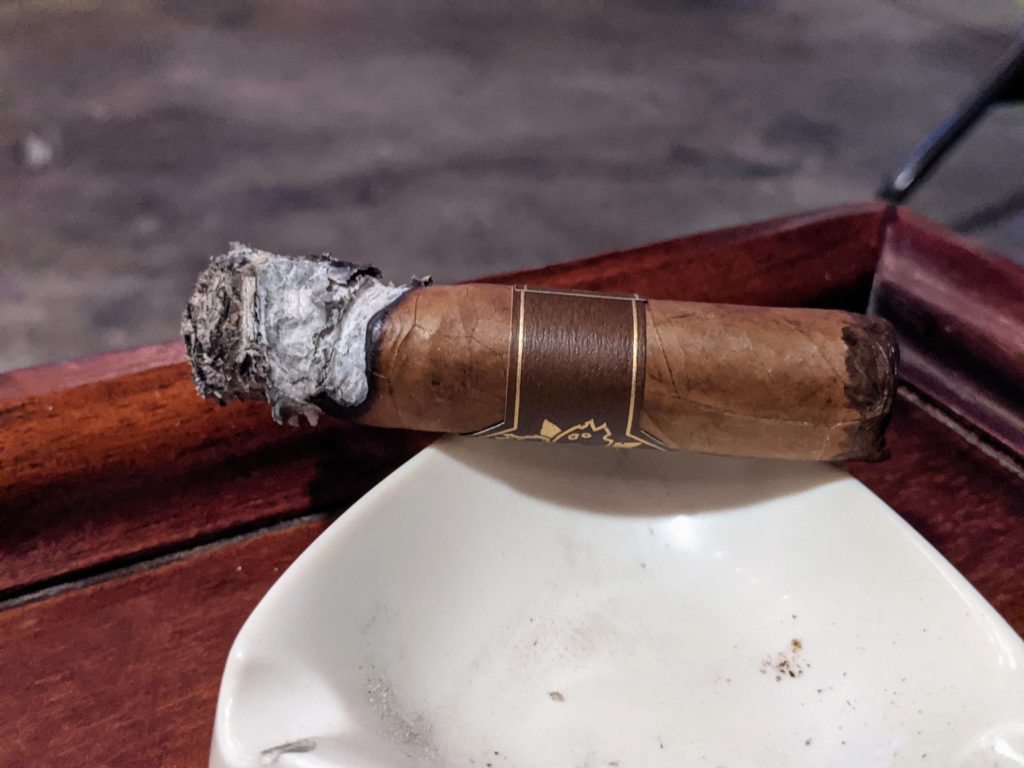 It's hard to pinpoint what's happening here, but the smoke has gotten really elegant. The stodgy cedar and oak of the latter third has developed into sweet cherry wood, which I really enjoy. The smoke has tightened, yielding copious amounts and making it really easy to blow smoke rings (I blew almost ten perfect donuts in succession…). The oiliness has disappeared, giving way to more of the dried fruit sweetness of the first third. This has turned out really good — this is a truly fine cigar that demands attention, and I'm inclined to say it's one of the better cigars I've had during this wretched pandemic. I'm getting a cotton candy-like syrupiness that's really wonderful. I'm honestly shocked that it took this turn, especially with the white pepper finish it's picked up. Even the ash is tighter. It's like Room101 put all the quality into the finish, which is a smart move.
FLAVOR PROGRESSION
The Room101 Doomsayer Passive Habano lives up to its name, starting with strong cohesive sweetness and wood flavors before taking an unwelcome detour into a mudane middle third. It finishes with a refined final third of pepper and sweeter cherry wood that made this feel like a mid-range Mozart piano concerto. 
BURN EXPERIENCE
The burn line was slightly erratic, though that might've been because of a small tear in the wrapper (not anyone's fault really). It only required a few corrections, though, and the smoke output only got better as it progressed.
RATING BREAKDOWN
0.70 / 0.80 … Craft & Aesthetic
0.40 / 0.50 … Pre-Light Characteristics
0.45 / 0.50 … Lighting Process
7.00 / 7.70 … Smoking Experience
0.35 / 0.50 … Personal Enjoyment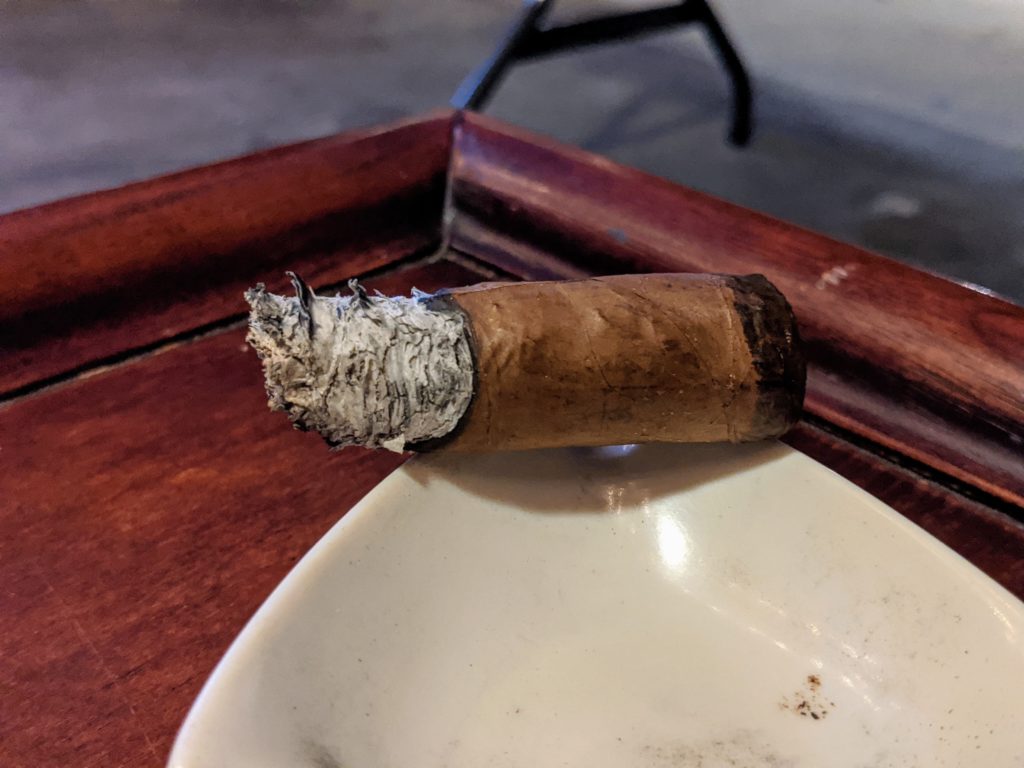 Doomsayer "Passive" Habano Gets a B+
This is a very good cigar right out of the gate. I suspect the flavors will only get better over time as it's only been in production for a little over a year. One wonders if it'll actually be limited, but its $7.50 price makes it a very easy pick for a humidor filler. I found it much cheaper on CigarBids, but I might have just gotten lucky. I've only seen a small handful of reviews on these, but I suspect it'll garner mid-to-high 80s point ratings by other publications. If it weren't for the weaker middle, I'd push this over the 9.0 mark, but for now it lives just under. I'll update this review if my second and third cigars give me different impressions.
SIMPLY STOGIES RATING:  8.90 / 10.0