In 1865 the longstanding pipe tobacco company of Kendal, UK, split into two, Gawith and Hoggarth, and Samuel Gawith. These companies developed their own style and specialties over the decades. G&H, as it's often called, is well known for very strong tobaccos, notably their ropes. Samuel Gawith is better known for well balanced English blends and a handful of the most respected Virginias in the entire hobby. Both companies also produce a number of tobaccos known as Lakelands, after the district where they are based. Lakeland tobaccos are some of the earliest aromatic tobaccos. As English purity laws did not allow for chemical flavorings, these tobaccos use natural flavorings. Natural flavorings which are polarizing. Some find them delightful. To me, they taste like candle wax and drugstore perfume. But not in a good way. 
Why is this pertinent to this review? In 2015, 150 years after the split, the two Gawiths rejoined, moving into the Gawith and Hoggarth factory. Samuel Gawith had a good reputation for containing the Lakeland essence to just the tobaccos they flavored. G&H did not. Numerous blends not supposed to be Lakeland flavored have found to be so by reviewers over the years. This is troublesome enough that I personally eschew any non-rope G&H tobacco. So when the merger occured there was a worry that some of those highly regard Virginias would start tasting like Lakeland blends – sugar and vinegar giving way to the particular weirdness of the floral additives. So today we'll see if the venerable Samuel Gawith Best Brown is untainted, how it smokes, and what it tastes like.
BULK or TIN:    Tin and bulk box
SIZE:   50 g tins, 250 g box 
ORIGIN:   United Kingdom
AGE WHEN SMOKED:   Roughly 3 years

BLENDING HOUSE/PRODUCER:   Samuel Gawith
BLENDING COMPONENTS:   Brown Virginia, which we've learned is just another word for Orange Virginia

STRENGTH:   3/7
SOURCE:   Second hand from a box
WHERE:   
In the low Eastern Mountains
WHEN:   
February-March 2023
WEATHER:   
Snow squalls and Sunshine
WHAT'S ON:   
The hum of the neighbor's diesel pickup
RELEASE TYPE  Widely  Available in the UK, Harder to find elsewhere
ORIGINAL RELEASE DATE  I can never find good info for these, but this goes back decades, if not more than a century
SPECIAL RELEASE  N
AVAILABILITY BREAKDOWN
o  Bulk Box 
o  Tin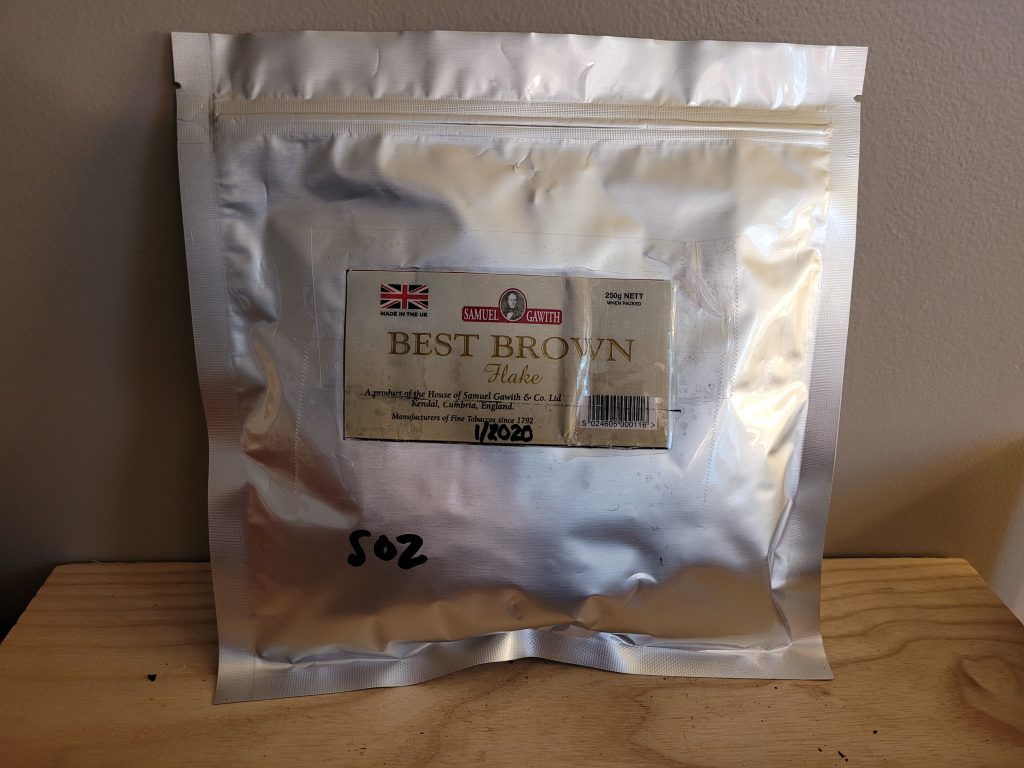 RESEARCH & BACKGROUND INFO
Best Brown, like all Gawith tobacco, is pressed and cut on the original machinery from the 1790s
Best Brown is pressed for 28 days before cutting
There are no additional flavors beyond the basic casing added (intentionally) to the tobacco
This is the base tobacco for Samuel Gawith's Blackberry Brandy Aromatic Firedance Flake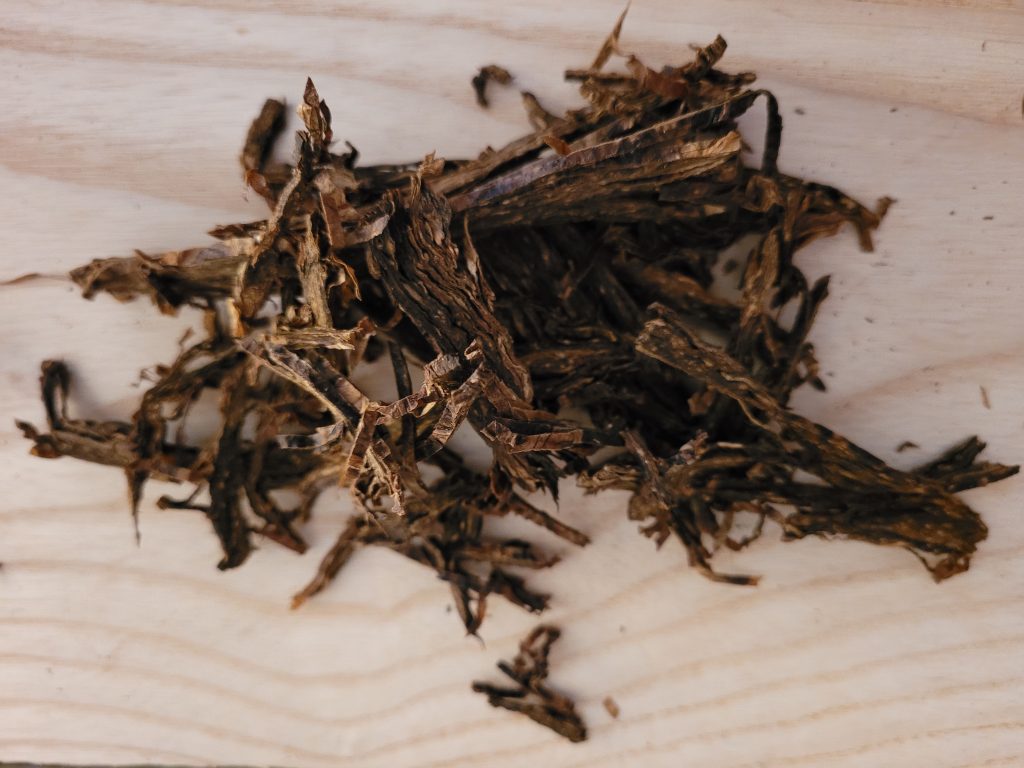 LOOK & FEEL OF THE LEAF
Best Brown comes as a long, almost stringy broken flake. If it were another manufacturer I would be tempted to just curl this into a ball and stuff it into a pipe. My familiarity with the brand and the feel of the flakes warns me off that approach.
On a scale of moisture from the Gobi Desert to Samuel Gawith Virginia Flake, this is certainly towards the latter end. This is a trademark of their house style, incredibly wet flakes that some folks, including yours truly, will dry out for days. Or set under a heater. Or a lamp.  Or just chuck into the microwave to finally coerce some moisture from the stuff. 
There is a school of thought that 'the manufacturer knows the moisture their tobacco should be smoke at, just smoke it directly from the tin'. Which I find to be naïve and generally unhelpful. There are instructions on how to make microwave ramen right on the package but following those will lead to a mediocre experience at best. But you know what, let's try it, let's try to smoke some of this wet leaf without letting it dry longer than rubbing it out and stuffing into a pipe.
TIN AROMA
Raisins, figs, prunes, hay, musty earthy, a touch of minerality, chocolate syrup, amaretto. It smells like Tobacco, classic, and pure. No whiff of wax or floral elements.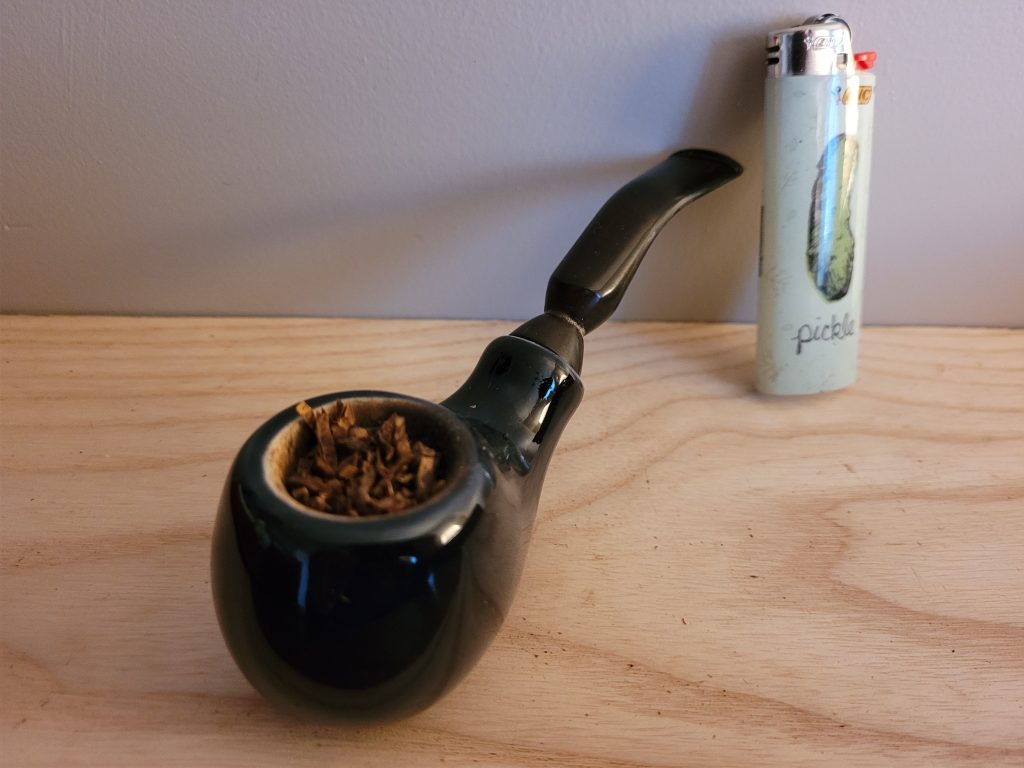 LIGHT & DRAW
Packing Style:  I started by rubbing this aggressively and implemented the Frank Method to pack. In subsequent bowls I still tried to reduce flakes to shreds, then used the palm swirl technique
Fire:  Pickle bic
SMOKE & ROOM NOTE
Best Brown has an average smoke density for a Virginia which is pretty light as things go. However like any good VA even at it's wispiest you can still draw tons of flavor. The smoke feels wonderfully oily and heavy in the mouth though.
The smoke has a cigarettey edge, with cocoa, toast, and baking spices to blunt the otherwise unpleasant aroma.
FIRST BOWL
>> No dry time, heavy rub out, Frank Method Pack, in the Brigham Voyageur 47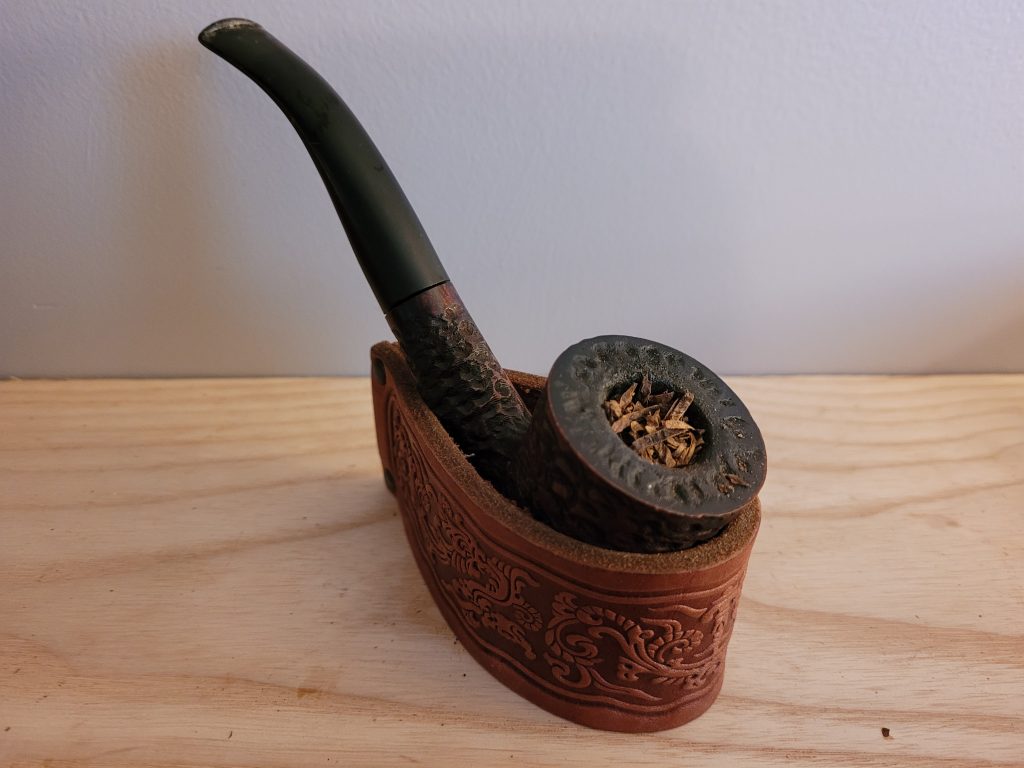 Nutty, leather, cinnamon, cream, and nutmeg to start. That tastes like Orange Virginias to me. Salty and slightly vinegary. Candy sweet, and hay, well more like shredded wheat. This is a saltlick with a wicked vinegar finish. Vague fruits come through, berries, or apricots. The smoke feels oily. Nutmeg, cinnamon, cream, sugar, salt, and vinegar dominate the palate. Leather, earthy, and bread base notes provide some balance. The fruits return giving it a sort of berry bread feel. A faint hint of candle wax. And I'm out. 
I got about 3/4s of the way through this bowl but I'm not risking ghosting my pipe with wax again. This is my best Virginia pipe but it was a poor idea to start with this to be honest. 
While the flavors were excellent I had about 20 relights in about 20 minutes. That's not an exaggeration. It was nearly impossible to try to get this thing to burn. I thought I got it going about the 10 minute mark when I got a nice even cherry, but that lasted about 3 minutes, and then I didn't put my lighter back in my pocket again.
I'll break out a more ghost resilient pipe. And start the drying experiments.
SECOND BOWL
>> 4 hour dry, well rubbed, Clay, Frank pack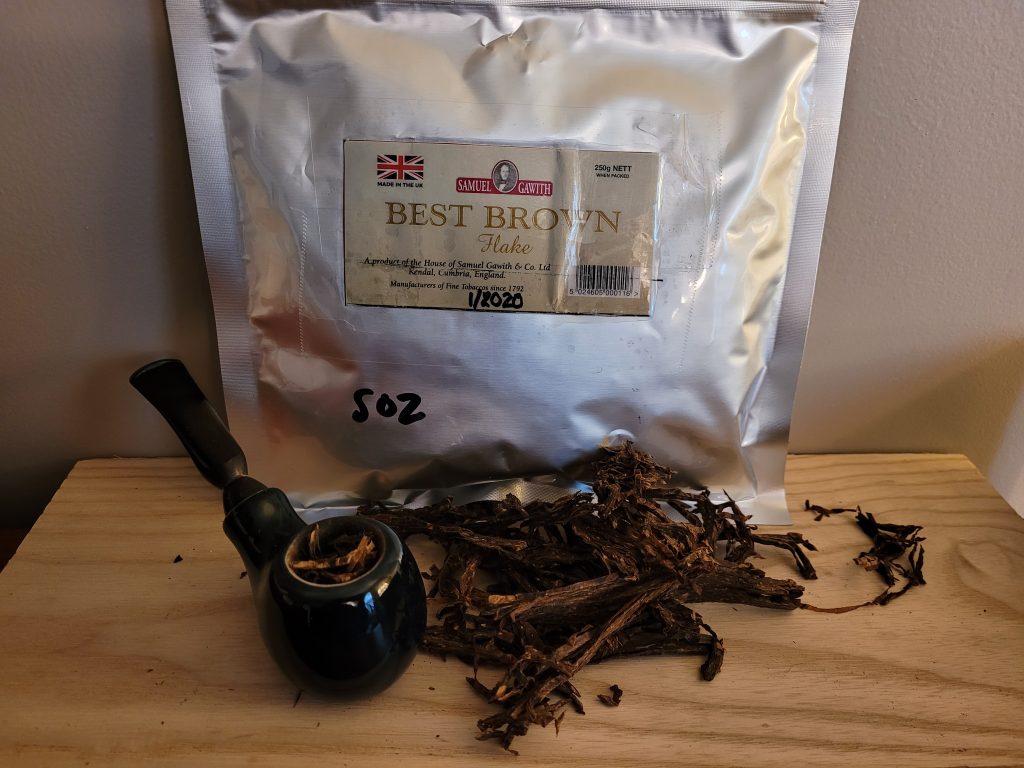 Bready, raisins, sweet. Malty and earth. It's a rustic wheaty brown bread. Vinegar and salt add zip and balance. It's got a lovely oily rich taste. A hint of sulphur and the salt revs up. Nutmeg, cinnamon, and cream. That's orange Virginia indeed. Vinegar, sulphur, sugary, salt bomb. It's intense, the salt is mouth puckering and the vinegar bites. Lemon oil. Malty, musty, bready, and earthy. A whiff of mineral-florality. Rather rich. Strawberries. Wheat toast. General berries. It's at a medium sweetness. Oak. Hmm, some wax but not strong, I'll let it go. The vinegar and salt are still there, just constants driving this whole thing. A hint of orange and even more sulphur. Cherry. Lots of fruits in this bowl. Now it's at sugar mill sweetness. With salt, leather, malt, and lingering vinegar finish. Nutmeg comes in strong with a hint of clove, a hit of pepper. Heavy cream with a float of nutmeg. Raisins. Licorice.
This was still a bear to smoke but the drying time made it somewhat better and brought out some amazing flavors. The struggle to get this going and keep lit cannot be exaggerated, but the flavors it delievers makes it otherwise a masterpiece. 
THIRD BOWL
>> 2 hour dry, palm swirl pack, clay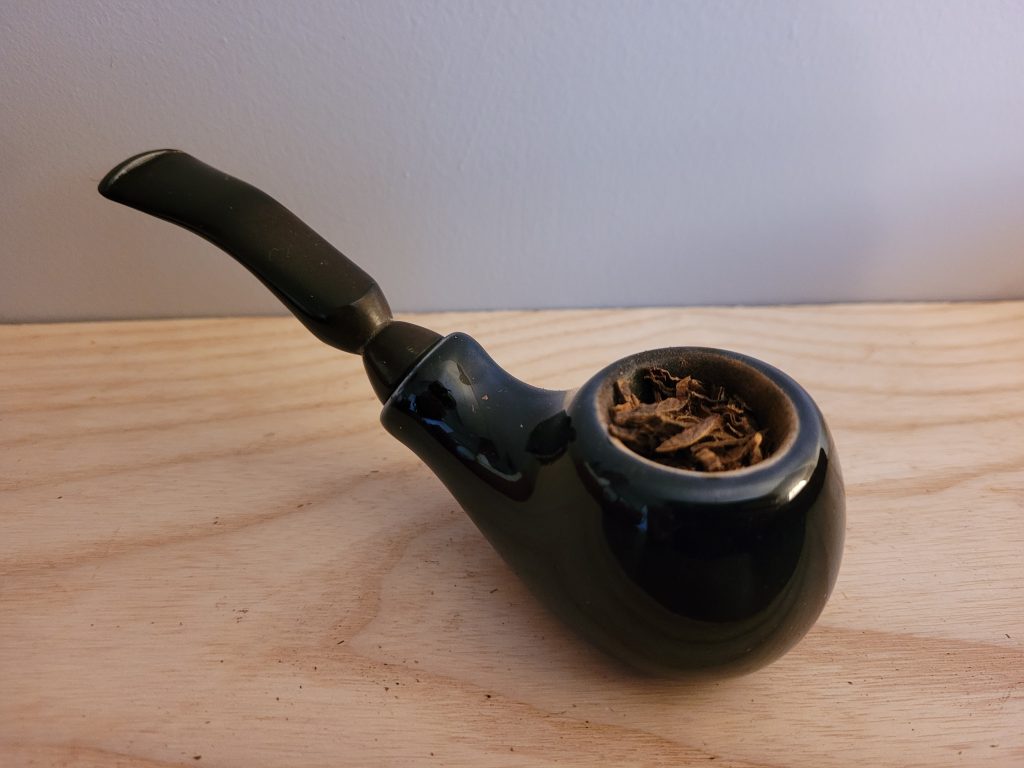 Sugary, vinegar, salt, wheat bread, earth, leather, and raisins. Lemony sugar. Vinegar. Oily richness. That's the real beauty of this blend is this subtle cigar like richness that lays on your tongue. Salty and fatty lemonade. With a bit of dirt in it. Raspberry, lemon oil, cocoa, and raisins. I wouldn't eat anything like this but smoking it is amazing. Again the salt and vinegar punch through almost ever puff. Hay, strawberry, and pepper. Tannic, toast and black tea. With some citrus peel. The sugar fades a bit while minerals and earth come to the fore. Cinnamon, nutmeg, clove, with earth and leather. Dark bread, strawberry, lemon oil, vinegar, earth, with a pleasant cocoa-mineral finish. Stays in that zone for a good while. A waxy touch comes through. A hint of flowers with some minerals. Grows more chocolatey. Then turns to toast with a mild sweetness, heavy salt, vinegar-lemon, with notes of cumin, hay in the middle, with that minerally-cocoa fade.
That was hard to get going again, but it actually took light, and had about 1/3 as many relights as the previous bowl, about 5-7, we can call that a rousing success.
FLAVOR PROGRESSION
There is a marked progression from the bright vinegar-salt-sugar, to fruits, toast, and tea, then growing more earthy-chocolate-minerals. 
BURN EXPERIENCE
Not good. I smoked several more bowls of this beyond just what is recorded above so it actually took more work to get to a point where it was just a bit of a pain to smoke. I think if I smoked on this for another few months I might figure it out but as delicious as this is I'm happy to smoke something that's not afraid to catch flame.
SIMILAR BLENDS
The closest thing to this is Watch City's Simply Orange, which only comes out once a year, so it's even scarcer on the ground. It's also remniscient of those great McClelland Orange VAs that drive Beacon, Blakney's Best Acadian, and others. For similar, more accessible blends there's the fruity-spicy Astley's 44, the savory GLP Union Square, the sweet-savory Savinelli Brunello Flake, and the cocoa-VA mixture in C&D Exhausted Rooster.
RATING BREAKDOWN
0.40 / 0.50 … Craft & Aesthetic
0.50 / 0.50 … Tin Aroma
-0.50 / 0.50 … Lighting Process
7.00 / 8.00 … Smoking Experience
0.40 / 0.50 … Personal Enjoyment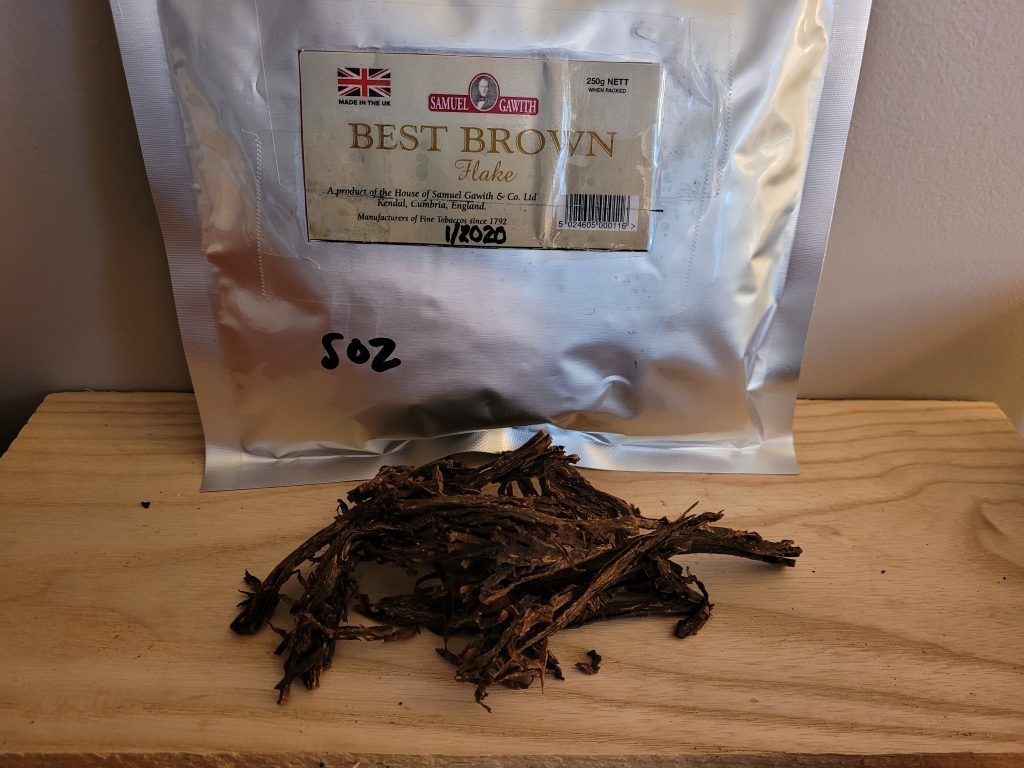 SOGGIEST BROWN.
While there is the odd hint of wax and floral notes, any cross contamination with the Lakeland soaked tobaccos is at a minimum here. However, that's something you can only take confidence in for this particular run, you never know batch to batch what was in last in the machines. This is something those of us who are lakeland flavoring averse will keep an eye, er, tongue – ew – pay attention to and publicize over the years.
I believe that Samuel Gawith's Best Brown now takes the prize for the narrowest positive flavor to struggle ratio. The taste of this smoke is amazing. It's got fruits, dark bread, cocoa, earth, leather, and rides on a heavy wave of sugar-vinegar-salt. Buuuuutttt…it's a bear to get lit and it doesn't stay lit. Even the best bowls I had of this were in line of the worst bowls I've had from other manufacturers. I did something groundbreaking here at simplystogies, I gave the lighting process negative points, to highlight the fact that the difficulty of smoking Best Brown actively detracts from its other qualities. 
Yet despite the difficulty of the smoking this. Despite the difficulty of finding this in stock. Despite the score you  see below, Samuel Gawith's Best Brown is a must try for any serious devotee of Virginia pipe tobacco. Full Virginia Flake, is the far more famous blend from Samuel Gawith, but as good as that is, I think Best Brown is better. It's range of high and low notes, well integrated, with a cigar-like richness makes it an absolute classic. Just dry it out and keep your lighter handy.
SIMPLY STOGIES RATING:  7.8/ 10.0