Growing up my family traveled constantly. We drove from the east coast to the west, from the gulf to Edmonton, up and down the rockies, blue ridge mountains, catskills, and sierras. Invariably we'd pass a truck stop that was bustling and my mom would say "Must be good if they're that busy". Solani Virginia Flake with Perique 633 is a very busy truck stop, that is, it seems perpetually scarce. But just like my mom's old line, being popular is no guarantee of quality. I know of numerous tobaccos and whiskeys that are always hard to get that are pretty underwhelming. Let's see if 633 stands up to the reputation it's quietly garnered or it has just become a victim of pipe tobacco collection culture.
BULK or TIN:   Tin
SIZE:   50 g
ORIGIN:   Germany
AGE WHEN SMOKED:   7 years

BLENDING HOUSE/PRODUCER:   K&K
BLENDING COMPONENTS:   Virginia, perique

STRENGTH:   4/7, right in the middle
SOURCE:   smokingpipes.com
WHERE:   
One block from the city and one block from the country
WHEN:   
May-July 2023
WEATHER:   
Cool and crisp, and then hot and muggy
WHAT'S ON:   
Robins and sparrows twittering 
RELEASE TYPE:  Seasonal. This should be widely available but it sells out fast, so you have to wait for the next shipment for it to be in stock
ORIGINAL RELEASE DATE:  2000
SPECIAL RELEASE:  No
AVAILABILITY BREAKDOWN
o  Tin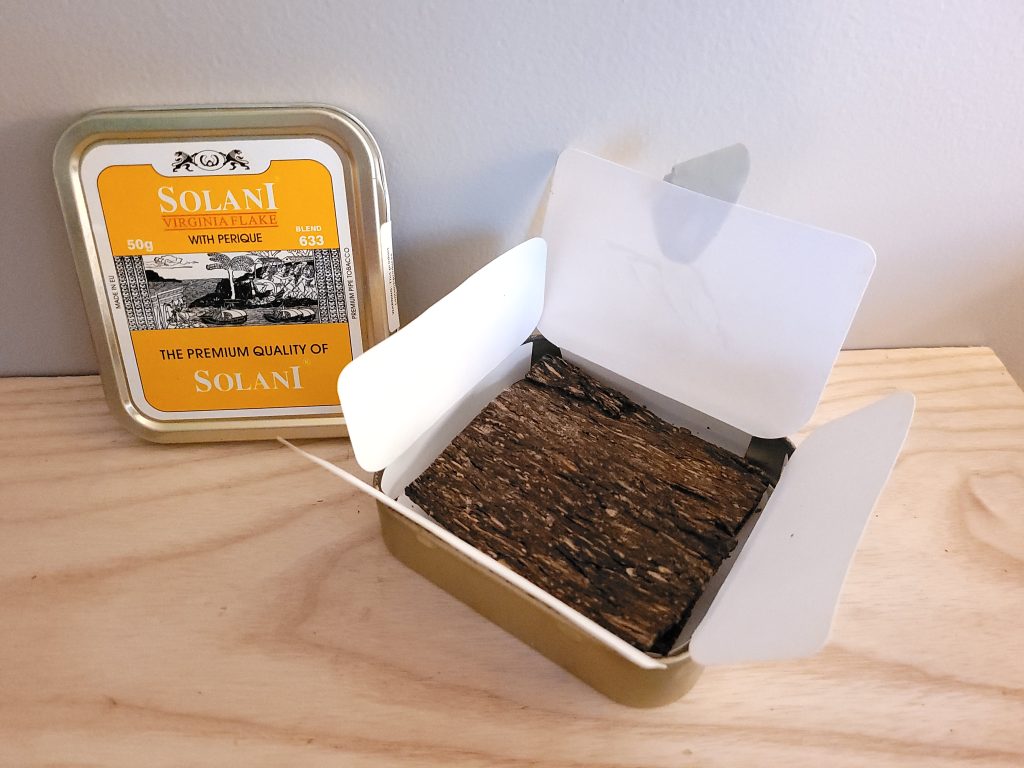 RESEARCH & BACKGROUND INFO
Solani is part of the Rudiger Will family of tobacco brands
Rudiger Will produces Solani and Reiner
Solani comes from the latin word for Nightshade plants, Solanum 
Solani is the premier line showcasing their best tobaccos, founded in 1997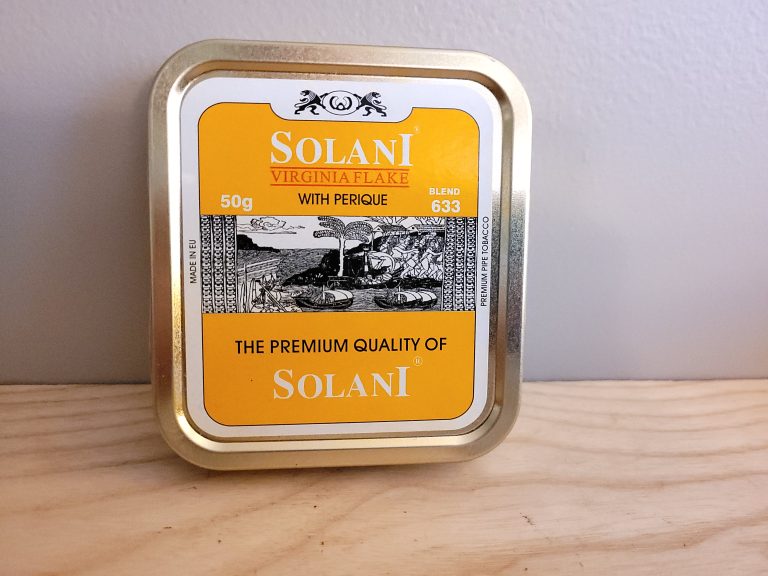 Solani 633 follows the brand style of a black and white line drawing of masted ships sandwiched between color. The drawing depicts tobacco being shipped during the colonial area I presume. The old tin I have has the square style which has been replaced by the far more reliable round tin.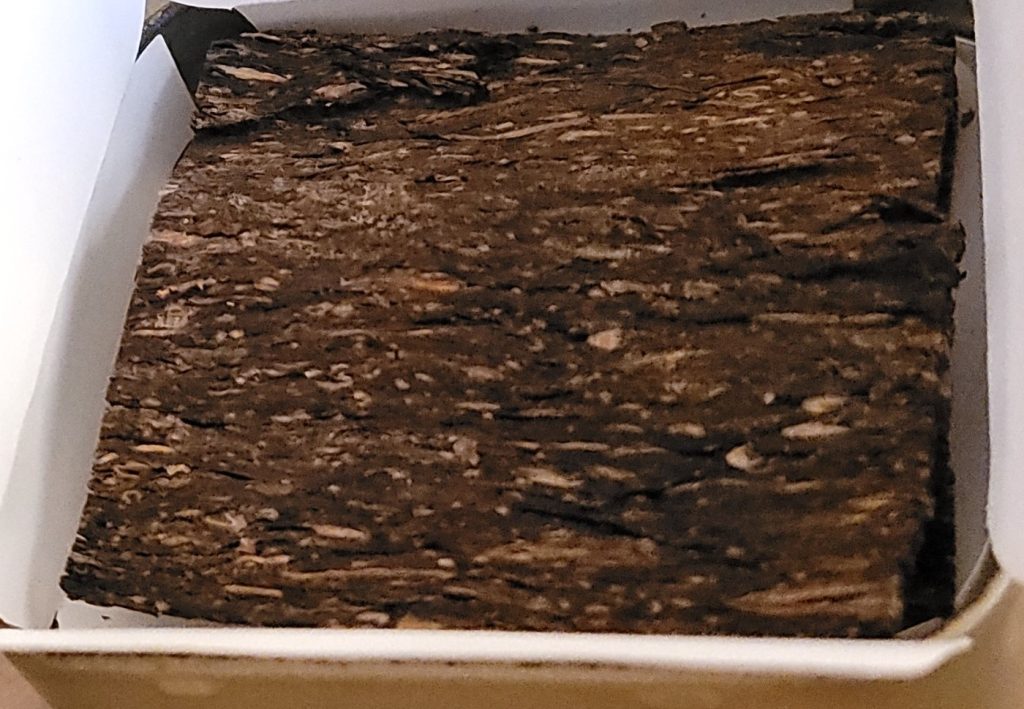 LOOK & FEEL OF THE LEAF
Solani Virginia Flake with Perique, as you can see, is a thin dark chocolate brown flake with pretty long golden stripes. In the hand it feels light and very pliable which just encourages you to grab the flake, stuff it into a pipe, and light it.
TIN AROMA
633 is has a rich aroma of raisins, chocolate, honey, fermented soy sauce, and hoisin sauce; it's salty, sweet, a bit vinegar-sour, and funky. I spent several minutes just huffing the tin.
LIGHT & DRAW
Packing Style:  I tried one fold'n'stuff for science sake, but after that I went with rub and gravity fill
Fire:  Pickle Bic
SMOKE & ROOM NOTE
Solani Virginia Flake emits a medium weight smoke, just heavier than most pure Virginias but still somewhat wispy. The room note is very cigarette like and generally objectionable. Smoke this one away from your loved ones unless you are having a tiff.
FIRST BOWL
>> No dry Fold'n'stuff, Brigham Voyeageur 147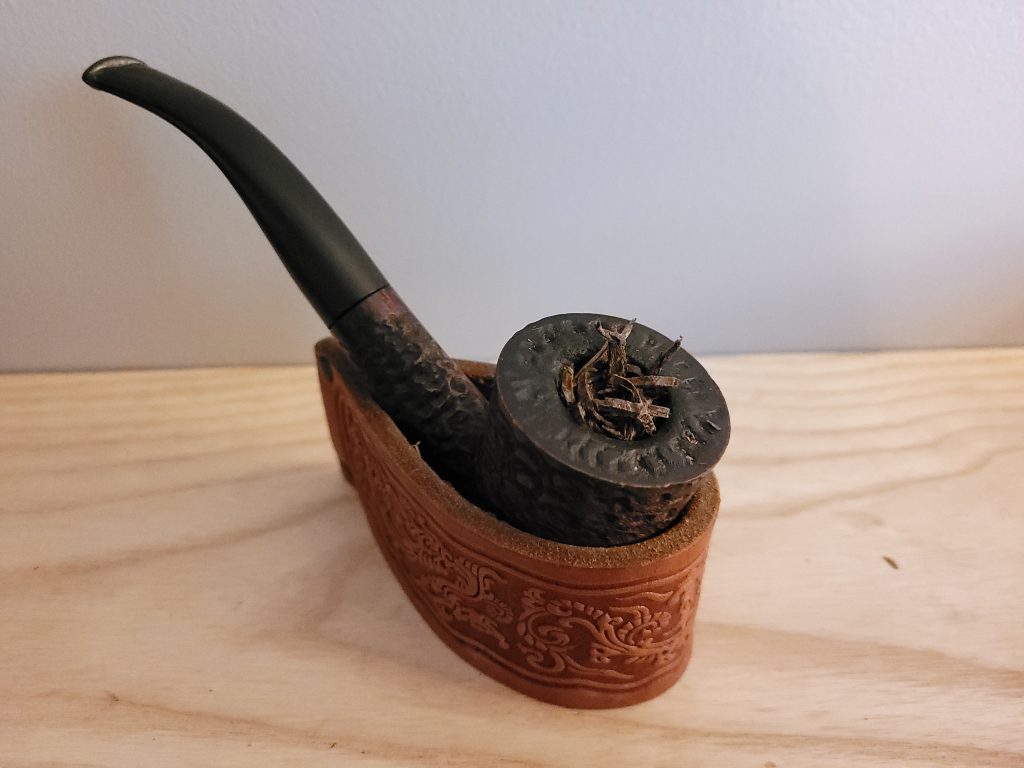 Hay, earth, and sweet raisins. Peppery. They really shouldn't put the perique in smaller font on the tin as it certainly dominates the flavor. Sweet and fruity. This blend is rather spicy. Hay, and butter, it's rich but kind of cigarettey. A hint of red wine vinegar. Pepper, raisins, and figs. Woody. The vinegar strengthens and the hay sweetness intensifies. It's consistently sweet but never outright sugary. Quite buttery. Some white vinegar comes in to up the tang. Strawberries and a lick of malt. The pepper rises and falls between completely gone and quite spicy. Malt and bit of Worcestershire sauce towards the end.
There is a whole lot of perique in there. I want to attribute this to age, as blends like Orlick Golden Sliced start off mellow then get peppery with age, but a quick check of existing reviews indicate it's even spicier when young. For VaPer aficionados this is well above Elizabethan and Escudo, falling somewhere between the fruity spice of Anniversary Kake and the mouth wrecking intensity of Bayou Morning.
I was happy with the fold'n'stuff performance. Typically that is quite easy to pack but difficult to smoke. There were a few relights but it was pretty well behaved. With a bit of a dry I think it could be quite a pleasant way to smoke this stuff.
SECOND BOWL
>> 3 hour dry, well rubbed, Brigham 147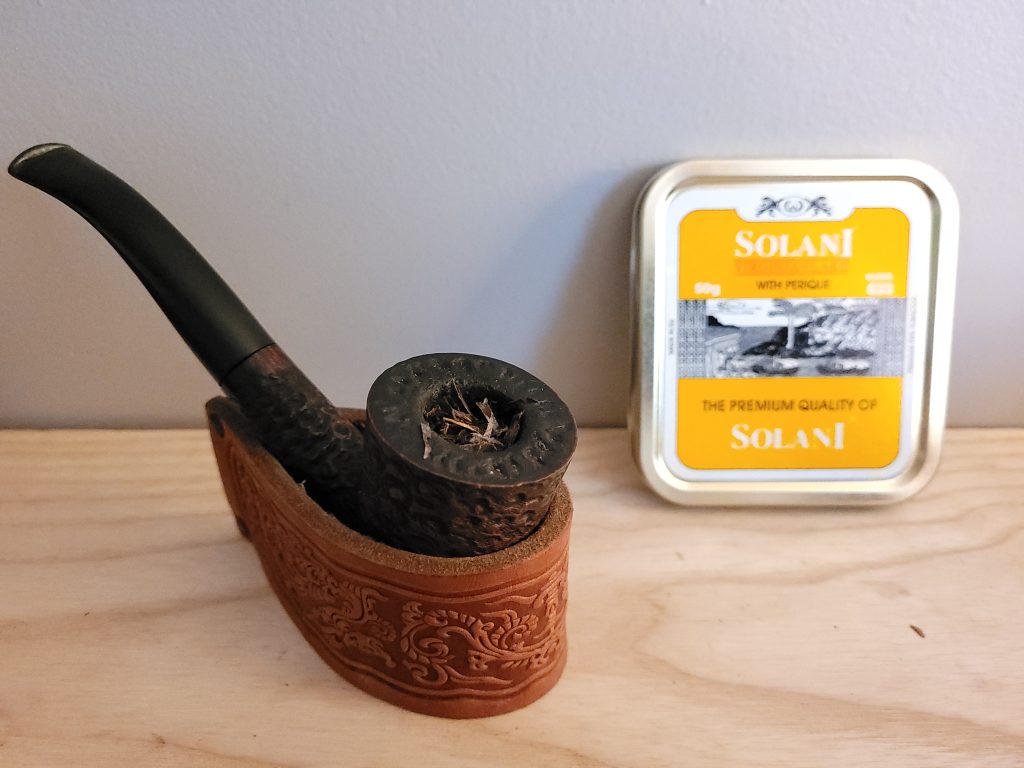 Brown sugar and cloves – this is another Orange Virginia centric blend. Pepper. Interestingly the smoke is oilier this time, with a richness to accompany it. Light oak and just a bit sweet. It settles quickly into that groove. After awhile dried fruit, hay, and butter come through. Apple cider vinegar and salt fold into the brown sugar, cloves, pepper, oak, and oiliness. Again it settles here for a good stretch of the bowl. Towards the end strawberry comes through and the pepper picks up a little.
There were fewer relights so it was easier to smoke, but more than that, the drying time also brought out a bigger range of flavors, and a heavy richness to the blend.
THIRD BOWL
>> Half dried, half undried, in layers, Big Ben Ebony Bent Dublin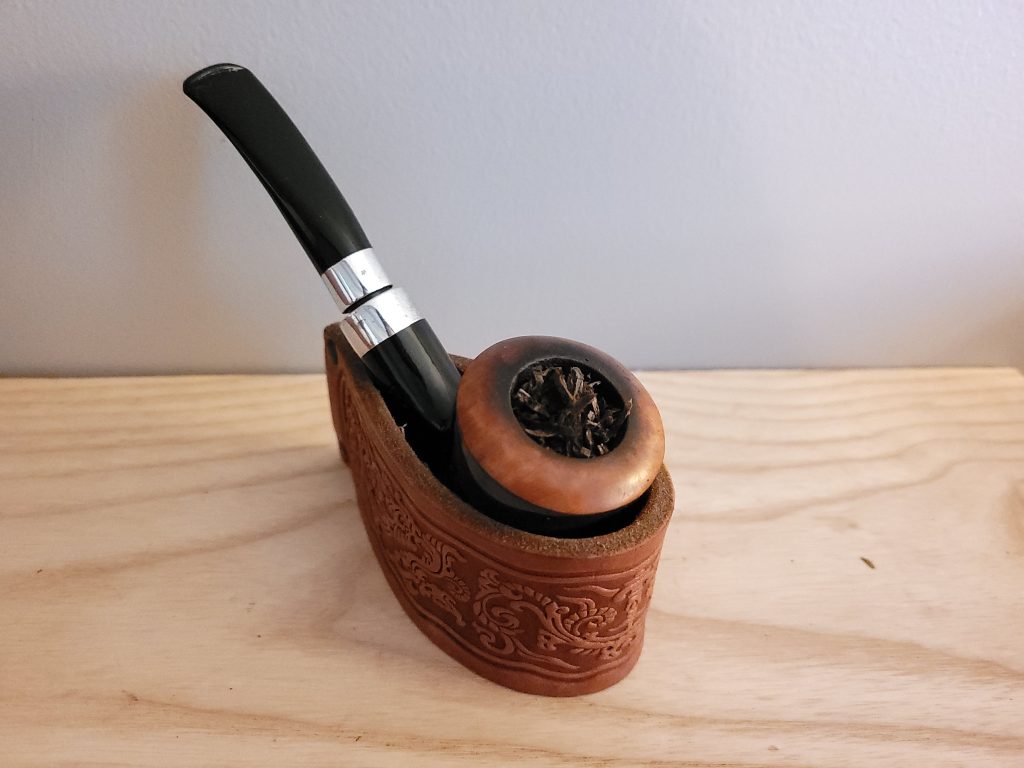 Hay and very woody. Butter, pepper, apple cider vinegar, and brown sugar. Quite spicy, in fact it's spicier than previous bowls. Brown sugar, cloves, wood, and pepper are the heart of this blend. Lime joins in and the apple cider vinegar flavors grow. The hay and butter returns, a mellow contrast to all that spice and acid. The oak surges and recedes in waves, but other than that again 633 remains fairly consistent. The expected strawberry hits a bit earlier, maybe around the halfway mark. Then some salt comes through which leads to some blissful minutes of the classic Virginia salt-sugar-sour combination on an oaky-spicy-clove bed. It sticks there to the end.
This is one of my favorite VA flake preparation styles as it tends to create excellent performance while also retaining any flavor that might be lost due to an extensive drying time. This bowl had the best burn of any I smoked, but for my preferences I think the cigarettey flavors of hay and butter from the fresh tobacco diminished the experience a bit. Yet neither the full dry nor tin moisture methods seemed to yield any salt, so it's certainly worth trying.
FLAVOR PROGRESSION
Solani Virginia Flake is a rather consistent blend, however it tends to grow with flavor intensity and balance. The only clear flavor change is the strawberry  that comes in the second half to last quarter.
BURN EXPERIENCE
Even without drying, even fold'n'stuffed, 633 performs quite well. If you push it, it can bite you, but it's otherwise a gentle, easy going VA Flake, a wonderful reprieve after Samuel Gawith Best Brown
SIMILAR BLENDS
Solani Virginia Flake is well loved blend and it belongs along the pantheon of the best VaPers ever made. It's most akin to the discontinued McClelland 2015 VaPer Flake with that strong oaky note and hefty spice. In a similar vein, it's close to the also discontinued Sutliff Court of St. James, which got its woodsiness from a pinch of latakia. For attainable, in production tobacco look to Samuel Gawith St. James, 4th Generation Evening Flake, and Dan Salty Dogs.
RATING BREAKDOWN
0.45 / 0.50 … Craft & Aesthetic
0.50 / 0.50 … Tin Aroma
0.40 / 0.50 … Lighting Process
7.20 / 8.00 … Smoking Experience
0.40 / 0.50 … Personal Enjoyment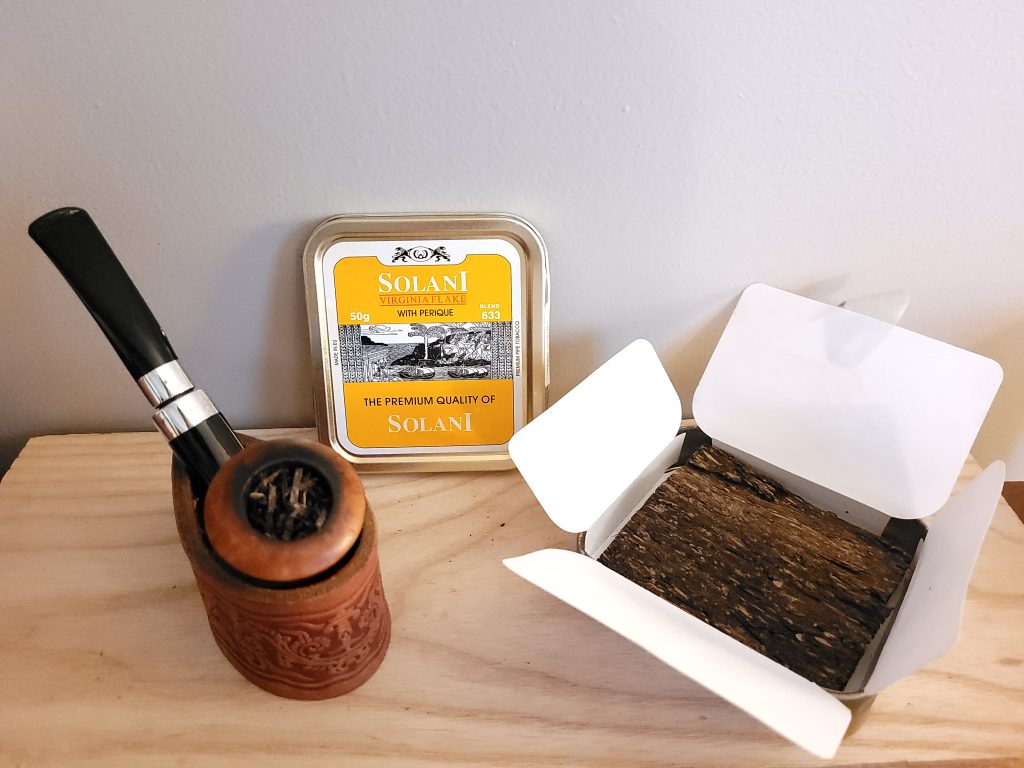 A FLAKEY FRIEND YOU CAN RELY ON.
After smoking on Solani's Virginia Flake 633 for a few months, I understand why this stuff is hard to keep in stock. It is richly flavored, nuanced and bold at once. More importantly it's incredibly easy to smoke. It's been a couple of years since I have attempted a fold'n'stuff bowl but something about these thin pliable flakes made me give it a chance. It worked well with and without drying time too. With a nicotine level right in the middle, this makes 633 a reliable smoke, something you can easily reach for when you have a spur of the moment smoke, are travelling, hiking, camping, or just don't want to fight your tobacco the whole bowl. 
SIMPLY STOGIES RATING:  8.75/ 10.0