VITOLA:   Robusto
SIZE:   5″ x 50
ORIGIN:   Nicaragua
FACTORY:   Tabacalera Flor de San Luis (Esteli, Nicaragua)
WRAPPER:   Mexican San Andres – 10 yr old
BINDER:   Indonesian
FILLER:   Nicaraguan
STRENGTH:   Medium / Full
SOURCE:   
Secondary Market (@shiny_prophet)
WHERE:   
Three-Season Porch at Home
WHEN:   
March 02, 2020 @ 9 PM
DRINKS:   
Water
WEATHER:   
Cool spring evening – no rain or wind
WHAT'S ON:   
Simply Stogies podcast, Episode 24
RELEASE TYPE  Regular production
ORIGINALLY RELEASE DATE  May 2019
TOTAL PRODUCTION
Typical Box Size:     Bundles of 25
Production Totals:  Unknown
VITOLA BREAKDOWN
o  Robusto  (5″ x 50)
o  Toro  (6″ x 52)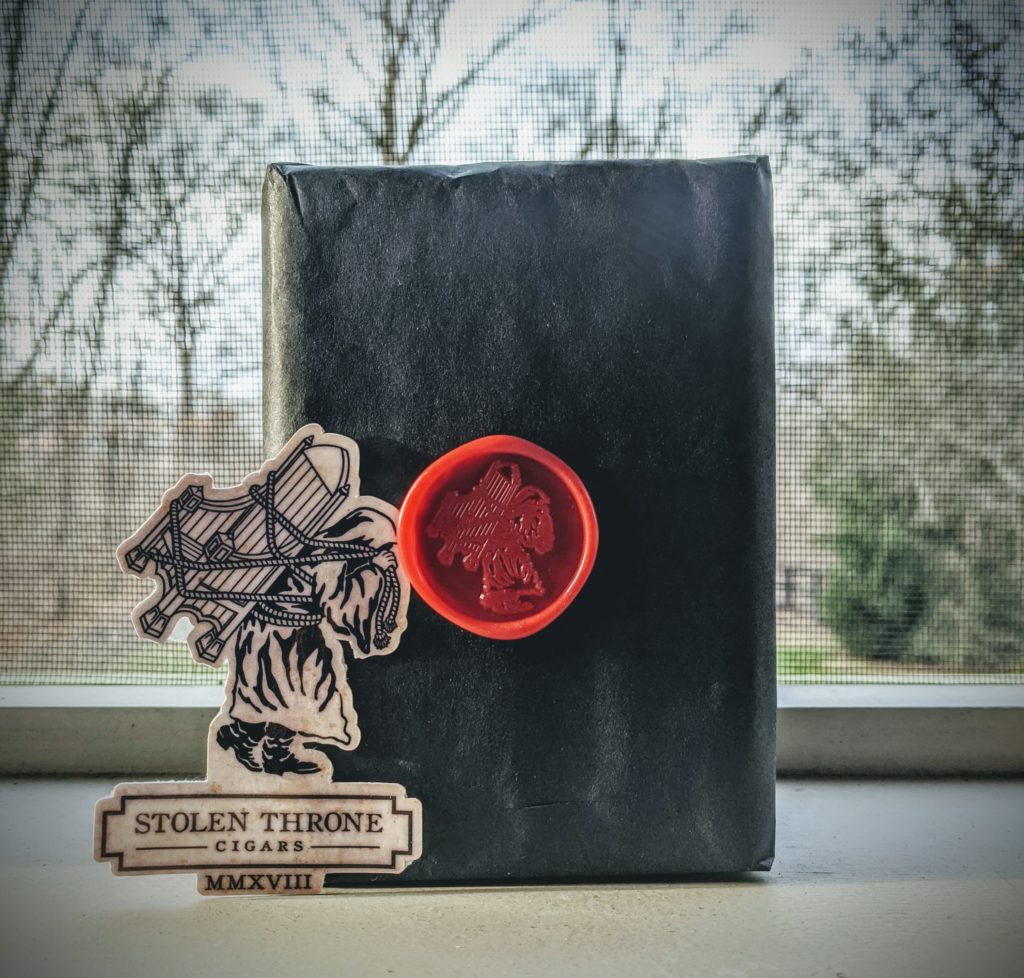 RESEARCH & BACKGROUND INFO
Stolen Throne is a new boutique brand based out of Virginia "dedicated to providing unique flavor profiles through rare and premium tobaccos."
Owned by JR Cannon & Lee Marsh.
Partnered with Noel Rojas – owner of New Order of the Ages factory down in Esteli, Nicaragua.
Rojas has worked with other boutique brands – namely Ezra Zion to produce their All My Exes and Punkin Pie.  Among others, he's also work on some of the blends for Leaf.
Curious about the name?  It's a great story.  As Lee recounted with James on the podcast, he and JR were smoking (and drinking) with some industry guys when the subject of their own potential endeavor arose.  The undisclosed antagonist of the tale told the duo 'there wasn't a seat at the table for them' to which Lee replied "We'll steal one."  After struggling with developing a brand name, they had that light bulb moment and hit on "Stolen Throne."  Great name supported by some great imagery.
No additional vitolas are in the works for Crook of the Crown.  Lee wants a corona but JR squashed it.  Want that corona?  Lee says "Email JR and let him know."
There is a limited edition cigar in the works that JR's pet project.  Anticipated to release mid-sumer 2020 it's a Connecticut petite belicoso but not much more is known.
Lee shared that they've also got a Sumatra blend due for release late March / April 2020 as well.  It's planned for a corona and robusto vitola.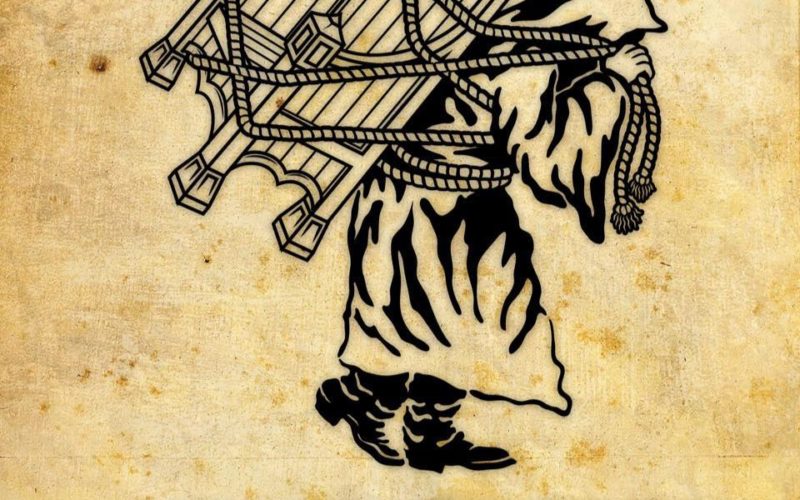 I had the opportunity to spend some time chatting with Lee Marsh of Stolen Throne Cigars. We talked about how Stolen Throne came to...
Read More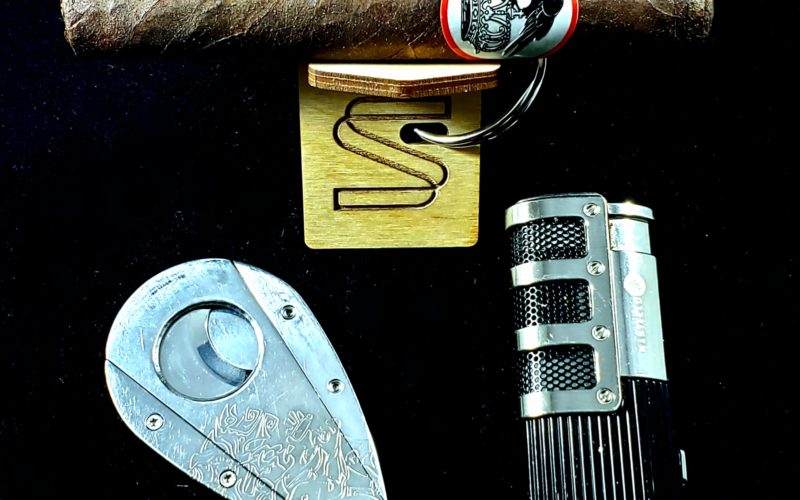 I welcome SimplyStogies.com lead cigar reviewer, Mike Breig, back to the show. Before we dive into our reviews, we discuss Micallef Cigars shipping a...
Read More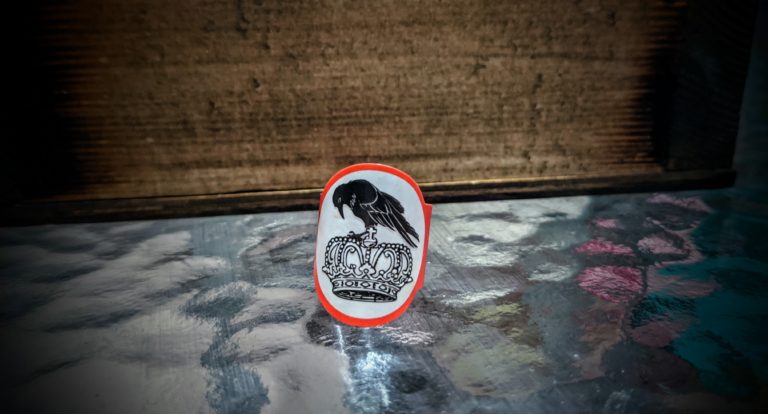 Crook of the Crown's band maybe gives some ideas to Stolen Throne's name origin.  Or maybe not … that's total conjecture.  The band is fairly simple – red outlining a white oval with a crow perched menacingly atop an ornate crown.  It does something any young brand should strive for – instant recognition.   The material of the band itself is unique and not something I've seen often on cigars.  Instead of a more traditional matte paper this is almost like wax paper.  Not sure what the intent is there but overall this is a nice band with no frills.  I'll be curious to see if future blends from Stolen Throne utilize the robed character hauling a chair on his back that is used on the sticker and bundle wax seal.  I enjoy the simplicity of the brand's look and hope it continues.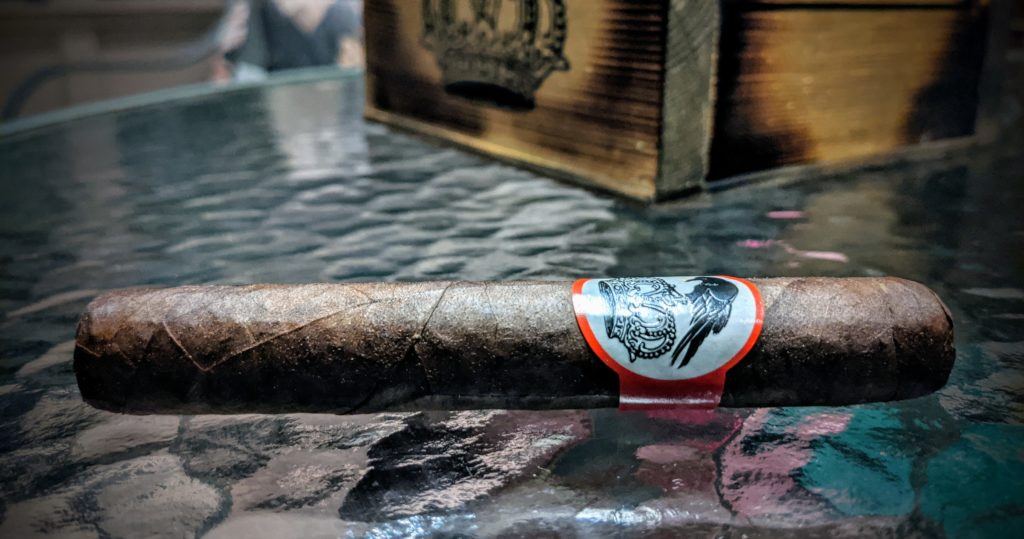 CONSTRUCTION
 The mottled dark chocolaty leaf wrapping Stolen Throne's Crook of the Crown is textbook Mexican San Andres.  For a wrapper with ten year's behind it, it still has a gorgeous, enticing oily sheen.  The wrapper has a healthy amount of tooth to it and is relatively smooth and free of blemishes.  Outside of a few spots, the seams are damn-near invisible and sit perfectly flat.  
These tiny cigars are surprisingly dense.  I did some light squeezing to feel around for soft spots and this thing is solid – yielding almost nothing when compressed.
The cap is a well done triple but the foot is where the fun is at.  I love closed or unfinished feet on cigars.  That first hit of flame gives you so much flavor from the wrapper.  It's beautiful and useful – the perfect marriage of form and function.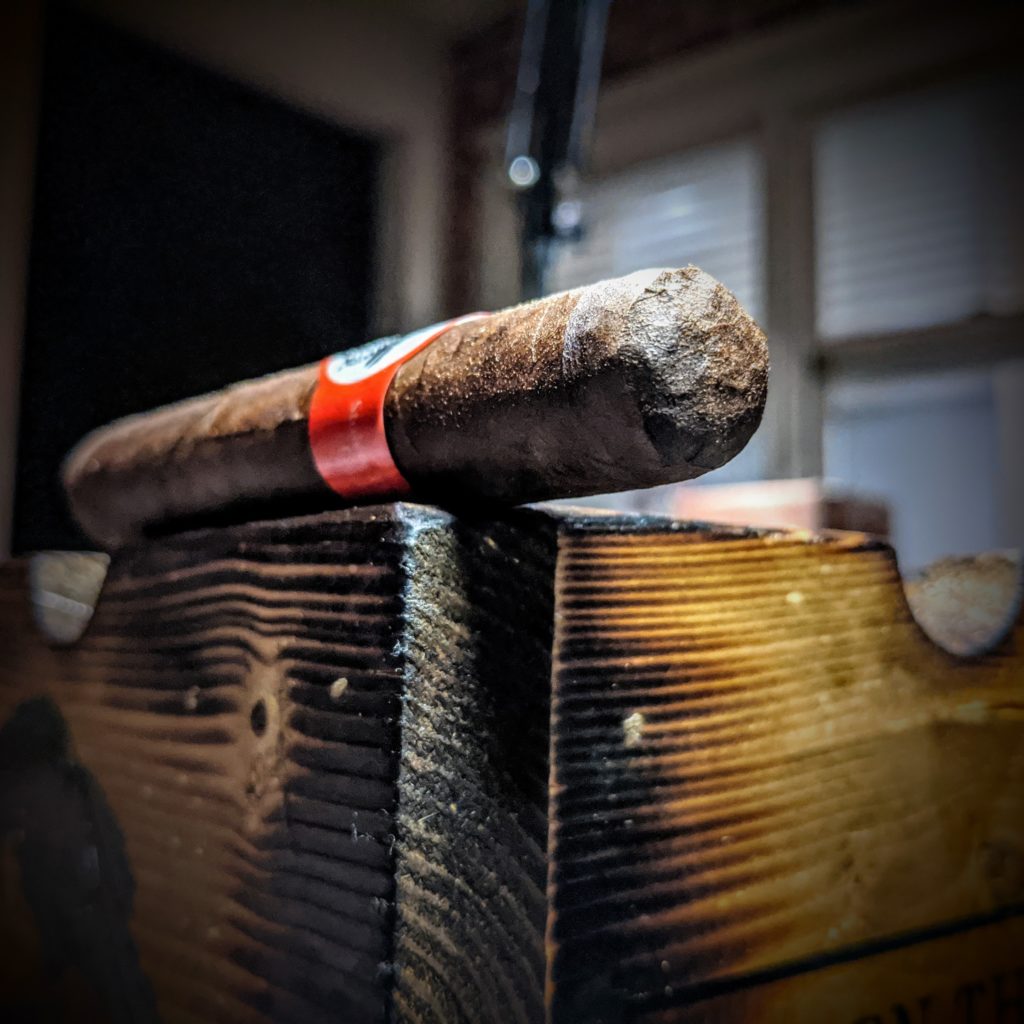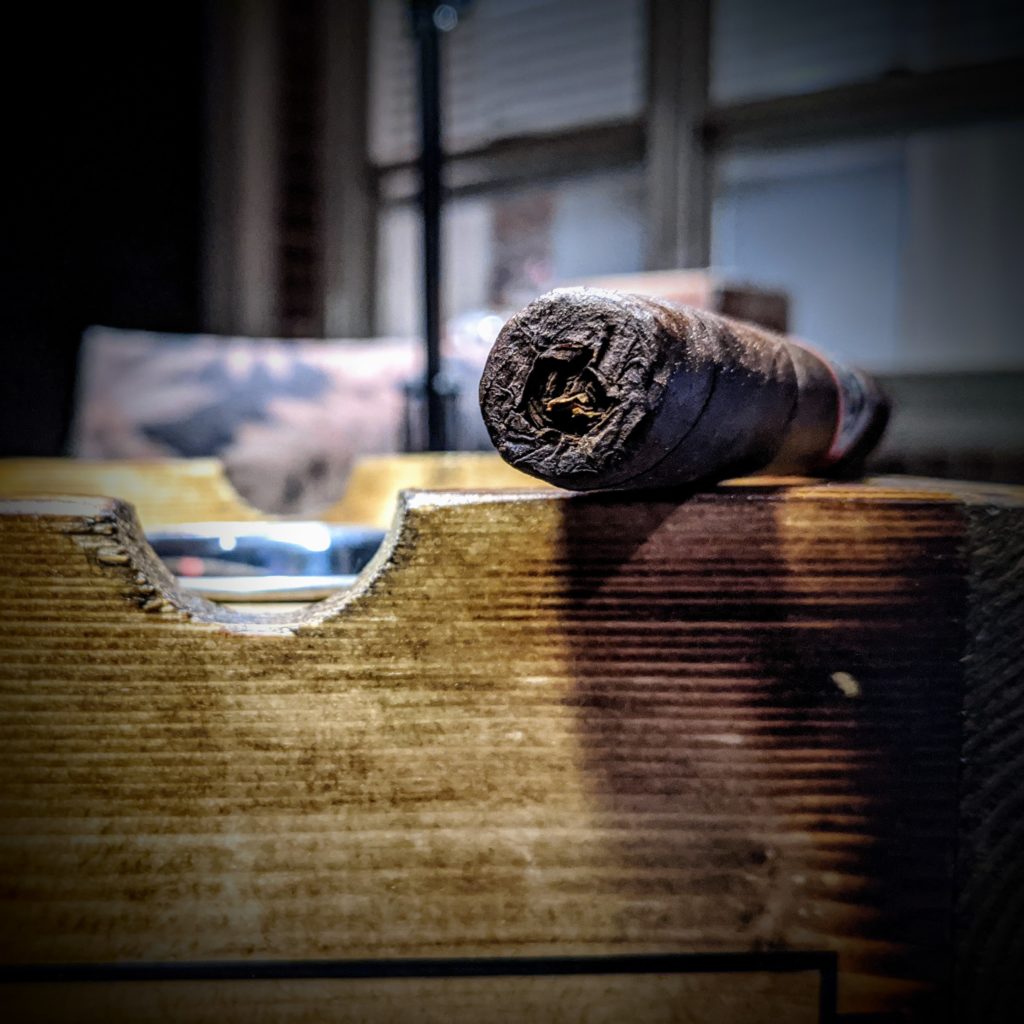 AROMA
If the wrapper is enticing, the aroma is intoxicating.  The chocolate / cocoa stand out with a supporting cast of dates, cream and light coffee.  There's just a nice light sweetness to it.
COLD DRAW
For how dense the Crook of the Crown felt, the draw is shockingly open.  It could offer a bit more resistance but there's a healthy amount of air moving through the body.  Flavors certainly reinforce some of the sweeter aromas but there's an interesting 'twang' to the cold draw – kinda like a good thick, dark molasses-y barbecue sauce – a great mix of sweet and savory.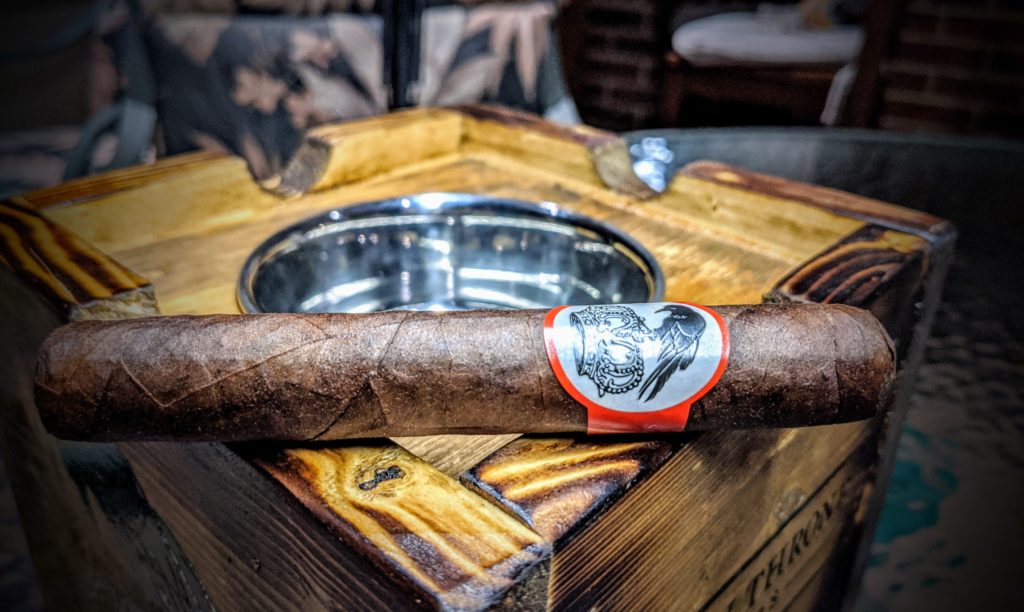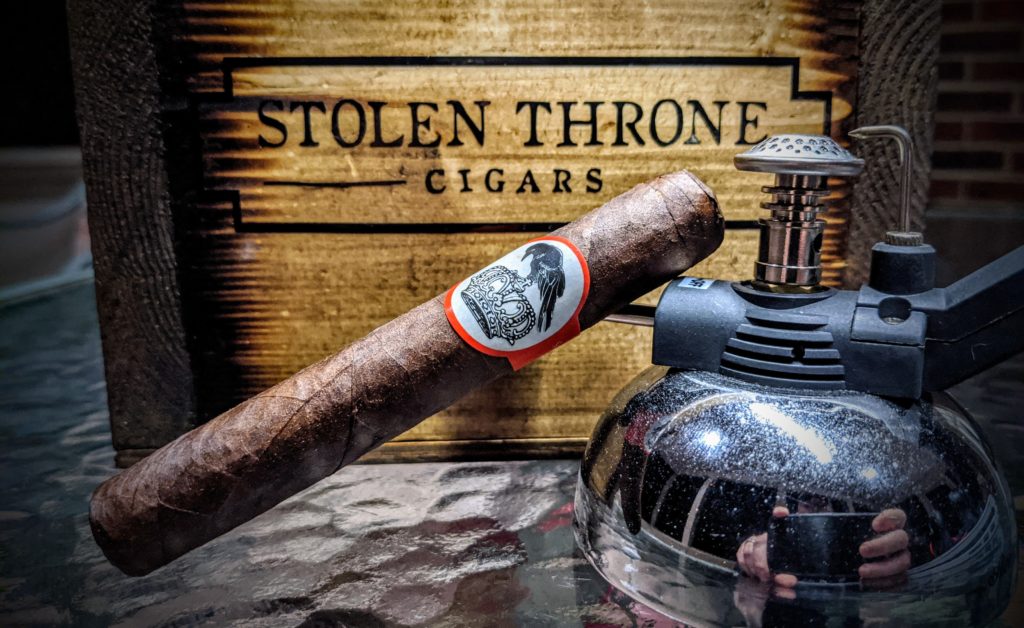 LIGHT & DRAW
Cut:  Colibri SV-Cut
Fire:  Alec Bradley The Burner
The very first light gives an immediately recognizeable flavor – charred marshmallow.  It's gotta be just the foot's unfinished wrapper leaf burning off because the sweet, creamy char is supplanted quickly by a decent amount of spice and fresh peppers.  There's a wonderful mix of bold flavors going on that definitely get you excited for what's to come from this little flavor bomb.  The initial flavors on this really have me curious about how those initial blending puritos smoked – had to have been an amazing crop of leaves to experience.
Like I noted above, the draw is on the open side. It's not bad in any way but I wouldn't mind it being a little more snug.  The burn is impressive – starting a little diagonal but then settling in nicely to a crisp, clean line.
SMOKE
The smoke!  Whoa!  Crook of the Crown is blasting out gorgeous white smoke like a locomotive racing across the Old West.  This thing ain't subtle.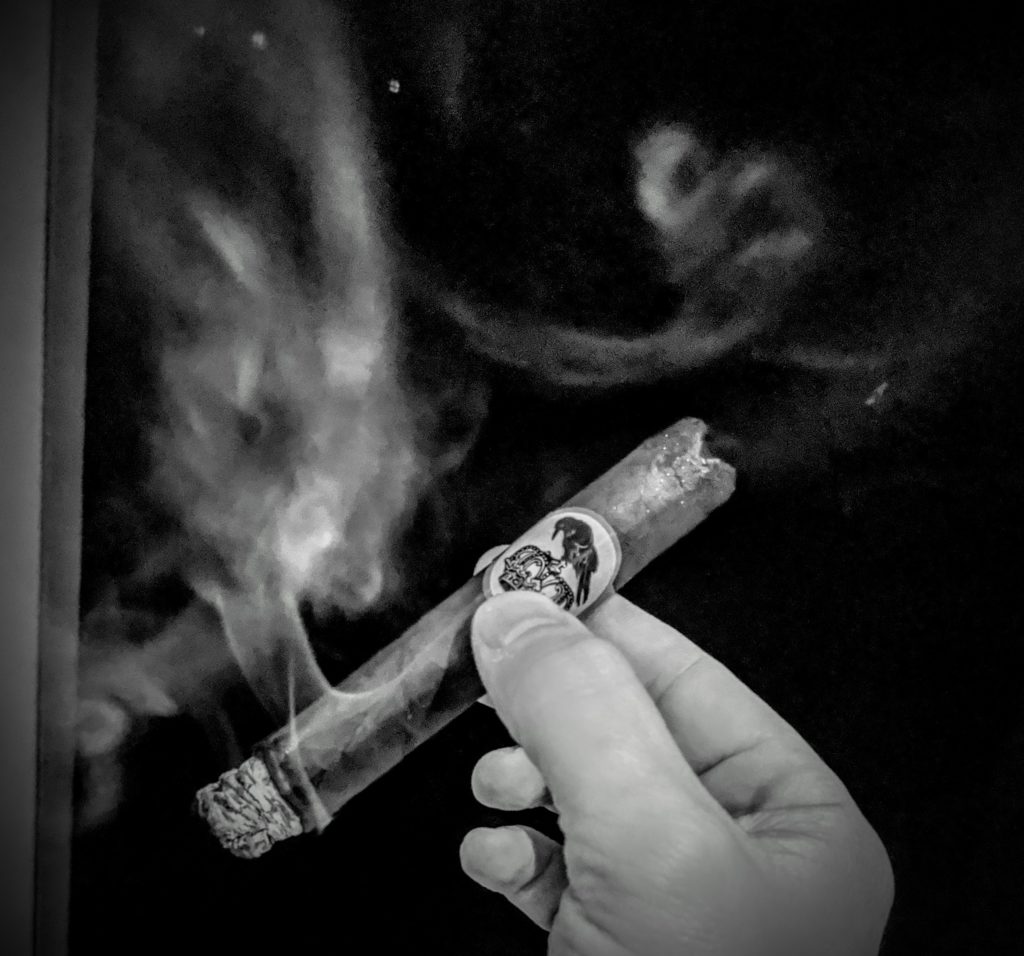 FIRST THIRD
>> pepper, cream, espresso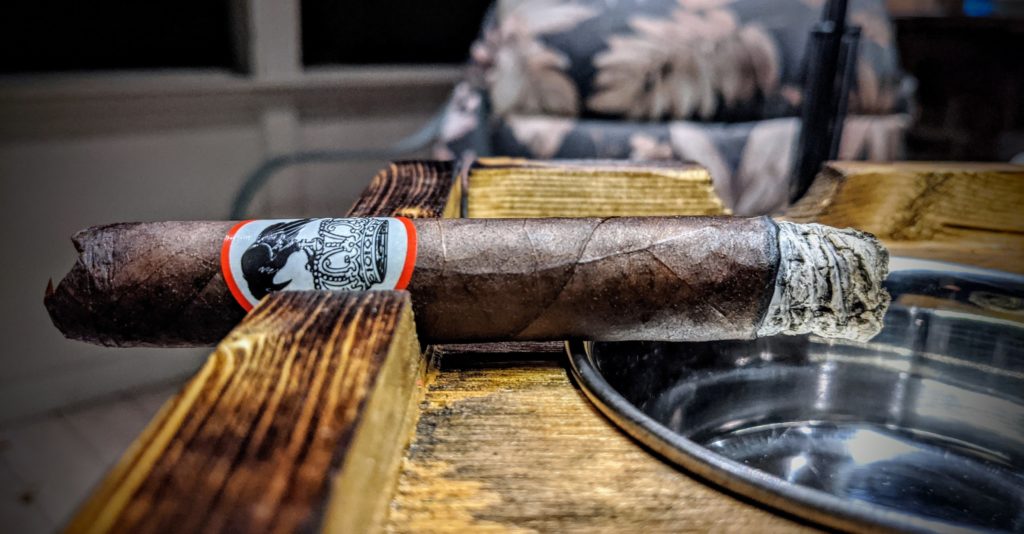 At about an inch in, the flavors are complex enough that I feel like I'm closer to the nub!  There's a deep, rich mouthfeel to the Crook.  A subtle baking spice mix of nutmeg and cinnamon provide momentary highlights against a phenomenal backdrop of creamy, caramely, bitter coffee palate.  Soft pops of pepper show up here and there and provide a nice contrast to the sweeter elements.
Zero complaints on the burn experience so far.  The burn couldn't be better while the draw continues to be easy going.  The ash is nice and neat – ashing easily after about an inch and a half.  Love a cigar that's able to hold its ash and doesn't flake all over the place.  If you're into ash coloration – it's a relatively matte chalky grey color with some white and black striations.
SECOND THIRD
>> cinnamon, toast, chocolate, orange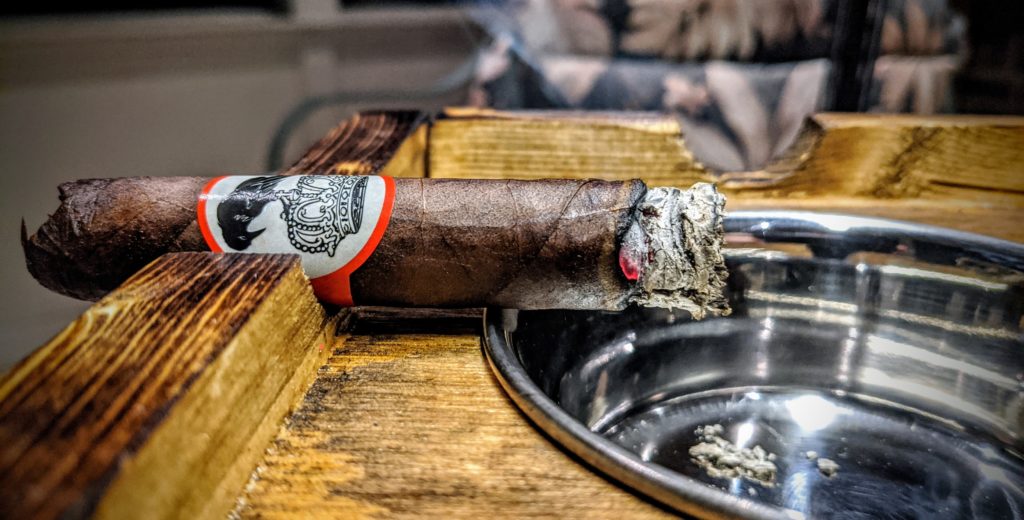 The onset of the second third is punctuated by a peppery punch that cuts through those sweeter notes found in the first third.  That pepper quietly regresses and a fond childhood memory comes to the forefront.  One of my favorite childhood breakfasts was toast lathered with some butter and a sprinkle of cinnamon and sugar.  This is the adult version – offering some light pepper as a nuanced balance.  The cream and coffee of the first third take a back seat but loiter on the palate to help marry these flavors together. One more series of flavors to note – as the smoke leaves the palate and you're sitting in between puffs there's some magic happening – a soft nougaty, chocolatey, orange comes to mind, very similar to those chocolate oranges you whack at Christmas time mixed up the the crunchy bits of a Toblerone bar.
The construction continues to impress me.  It's such an easy to smoke cigar – resting comfortable between puffs with a steady trail of smoke beckoning you to pick it back up.  The draw and burn line are flawless – something I can't really see changing in the second half.
The Crook's strength is becoming more and more evident as I burn it down.  If you shy away from stronger cigars, get yourself some chocolate or a sugary beverage to pair with this one.
FINAL THIRD
>> rich, black tea, chocolate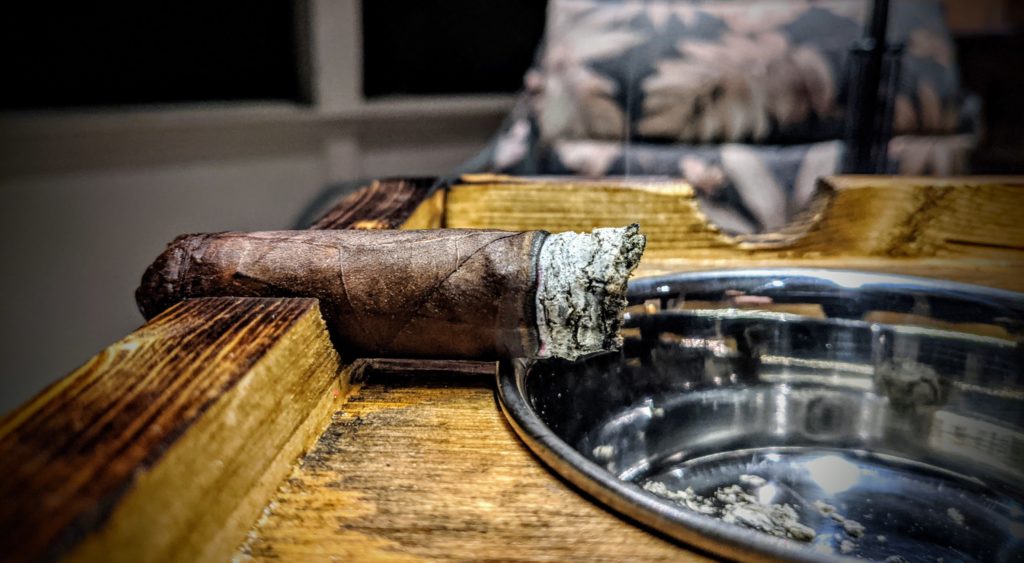 The complexity of flavors have built to a pinnacle – there's a rich, deep well of flavors occurring.  Dark bitter chocolate and coffee are in the driver seat here with a hint of spice-laiden black tea. Some cedar or oakiness is noticeable as well.  Bits of pepper continue to appear here and there as well.  Again, no construction issues to note – a very solid cigar.
FLAVOR PROGRESSION
The flavors found in the Crook of the Crown are vast.  Sometimes cigars with this many flavors can feel aimless but the Crook does an excellent job of staying on target – pepper demarcating certain stages of the experience and always paired nicely with some of those sweeter maduro notes.  This cigar does a lot without trying to do too much.  Nice balance, great flavors.
BURN EXPERIENCE
Noel Rojas is well known for the expert level of craft his factories yield as the Crook of the Crown is no exception.  No relights.  No touch ups.  Just sit back, torch it and enjoy – a beautiful experience.
RATING BREAKDOWN
0.77 / 0.80 … Craft & Aesthetic
0.46 / 0.50 … Pre-Light Characteristics
0.47 / 0.50 … Lighting Process
7.06 / 7.70 … Smoking Experience
0.50 / 0.50 … Personal Enjoyment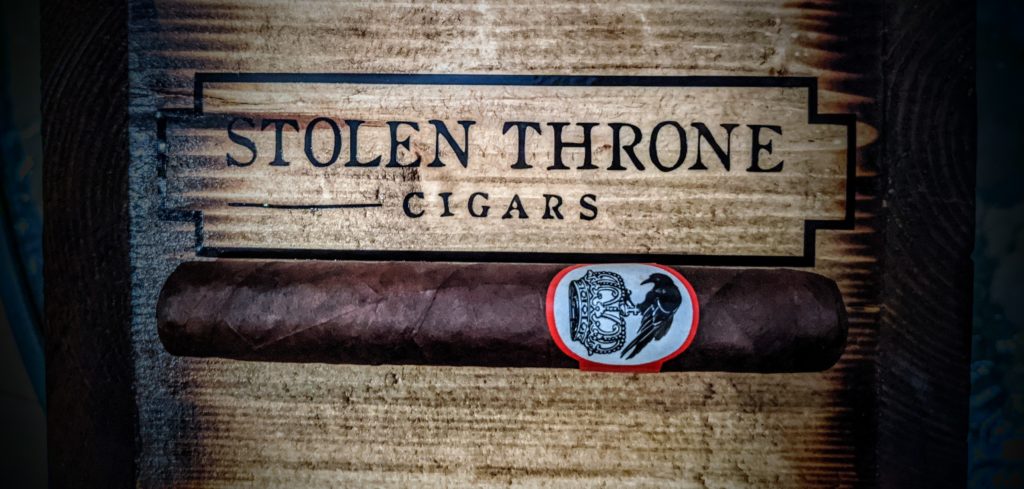 CONSIDER THE THRONE STOLEN.
In Lee's interview on the podcast, he mentioned that he and JR's goal was to create a cigar you could smoke all day, every day and not get bored.  They've definitely come close with the Crook of the Crown.  It's a wonderful experience full of flavor and complexity wrapped into a flawlessly crafted cigar.  This probably is a cigar best enjoyed after a big ol' meal or with some dessert – it didn't feel like a morning coffee type of smoke to me.  I am glad to have a bundle left in my stash and hoping I can make it last for a bit because I think a year or two of humidor time will really be kind to this blend.  Can't wait to see what else those two Virginians got up their sleeves!
SIMPLY STOGIES RATING:  9.3 / 10.0
I love reading other reviewers' thoughts on the cigars I'm smoking and reviewing – it helps to show that no one review is perfect and there's always different opinions and tastes out there.  Here's how my review stacks up with some of the best in the biz.
There aren't a ton of reviews for Stolen Throne's cigars so I am happy to get some info out there for those curious.  Katman gave it a perfect score – which may be a little stretch – but Cigar Score only gave it two cigars – I think they got a young product.  Either way, I was closest aligned with the fellas at Stogie Press.  All good info and happy to build on it.
CIGAR REVIEWS BY KATMAN
STOGIE PRESS
CIGAR SCORE
CIGAR REVIEWS BY KATMAN
STOGIE PRESS
CIGAR SCORE