We are in the midst of a surge of craft spirits. There's a pretty clear pattern established, with most new distilleries starting with vodka, moving to gin, then maybe throwing some raw ethanol into an oak barrel, praying something drinkable comes out the other side a few years later. Assuming the distiller is successful, this strategy eventually puts them in a bind. If you can make a living turning over raw spirits, even if you passion is brandy or bourbon, why bother? 
Pipe tobacco finds itself in a similar quandary. Aged tobacco, like bourbon, develops, matures, and spins off flavors you'd never think possible from the source material. But it comes at significant cost, taking up warehouse space, perhaps it may mold, perhaps it could be damaged or ruined in numerous other ways. And at the end of it, the pipe tobacco market doesn't allow for the sort of markups to make that risk worth it. 
For these reasons, vintage tobacco is a rarity in the pipe world. But somehow for their 2021 release of Cringle Flake Sutliff pulled out some 20 year old red Virginias and 18 year old Perique. And sold it for just a dollar more than their non-vintage tins. Devotion to the craft or holiday gift, either way it was very much appreciated. Now let's see if that patience paid off.
BULK or TIN:   Tin
SIZE:   42g
ORIGIN:   US of A
BLENDING HOUSE/PRODUCER:  Sutliff Tobacco Co.
BLENDING COMPONENTS:   20 year old red Virginia, 18 year old Perique

STRENGTH:   3/7
SOURCE:  tobaccopipes.com
WHERE:   
Middle of Pennsylvania
WHEN:   
December 2021-May 2022
DRINKS:   
water
WEATHER:   
Coldest, Cold, Cool, Almost Warm
WHAT'S ON:   
The slap of wind against my face
RELEASE TYPE  limited run
ORIGINAL RELEASE DATE  December 1, 2021
SPECIAL RELEASE  Y
AVAILABILITY BREAKDOWN
o  Tin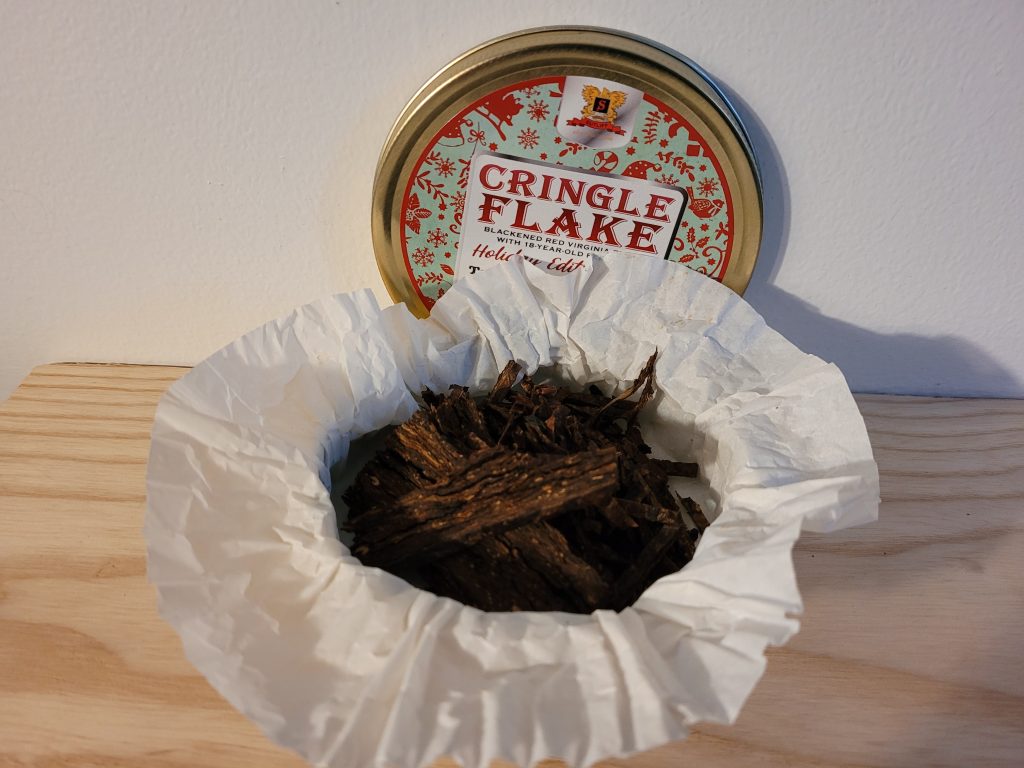 RESEARCH & BACKGROUND INFO
The 3rd annual release of Sutliff's Cringle Flake
First Vintage tobacco from the Cringle Flake series
The red Virginia is all US grown, which has been put through the Cavendish process
The Virginia leaf is has all been aged a minimum of 20 years
The 2003 perique comes directly from Mark Ryan, the man who saved perique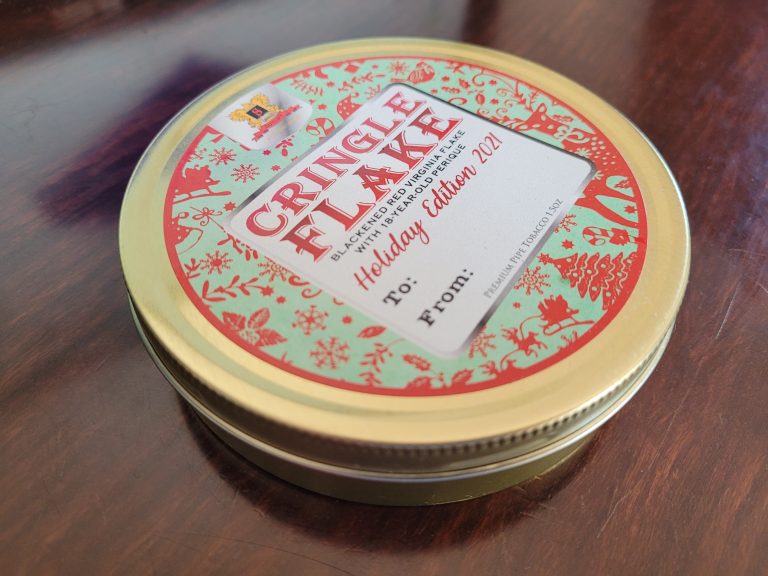 Like the previous iterations, Cringle '21 leans into the holiday motif of red and green coloring on top of a gold toned tin. Looking closer you can see the sleigh, snowflakes, a reindeer, holly, mistletoe, candy canes, and a Christmas tree. To wrap it all together, the label is a gift tag. It's classy and cute all at once.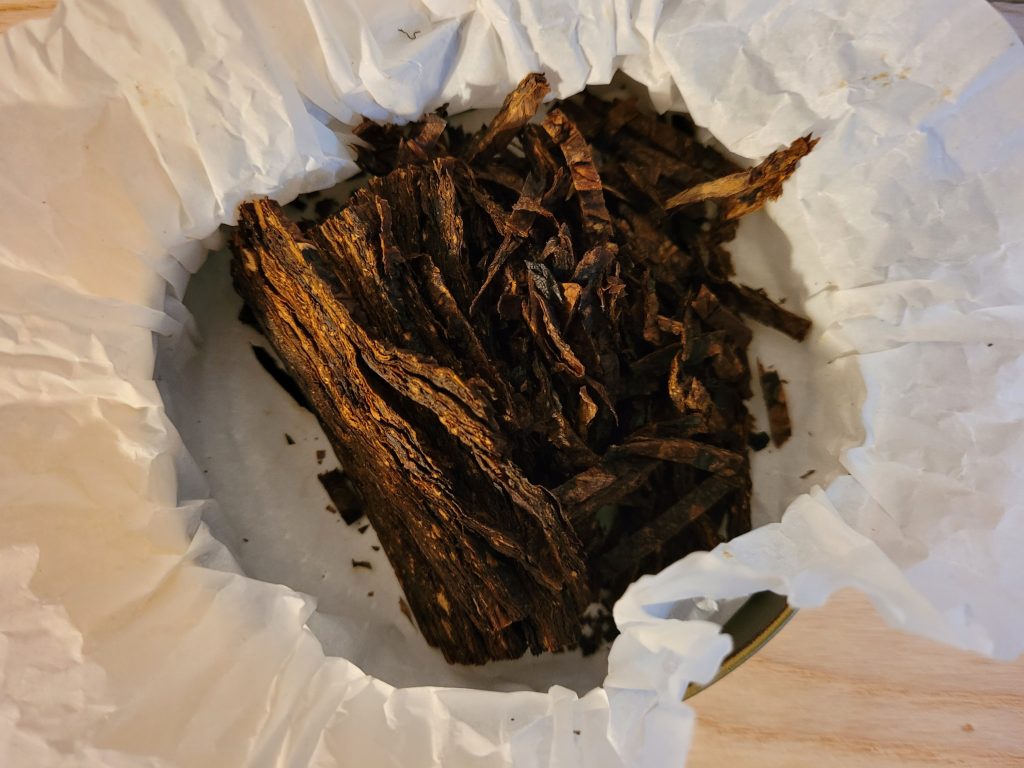 LOOK & FEEL OF THE LEAF
The cut is quite similar to the Sutliff Red Crumble Kake series, which is named much more honestly. These are not flakes formed from raw leaf, but gigantic slabs of pressed ribbon. Touching the leaf it's so wet it almost squelches. This is going to need some heavy drying.
TIN AROMA
Vinegar, mushrooms, man…er barnyard, earth. Quite savory.
LIGHT & DRAW
Packing Style:  I tried using the Frank Method, packing light, and packing heavy. I found it needs a heavier hand and some special techniques to get the best out of it.
Fire:  Cosmic Taco Bic


SMOKE & ROOM NOTE
Like most VaPers, the smoke from Cringle '21 is fairly thin. Also like most VaPers, you are smoking this for your pleasure, not the folks around you – it gives off musty cigaretty aroma.
FIRST BOWL
>> One hour dry, Frank Pack, Brigham 147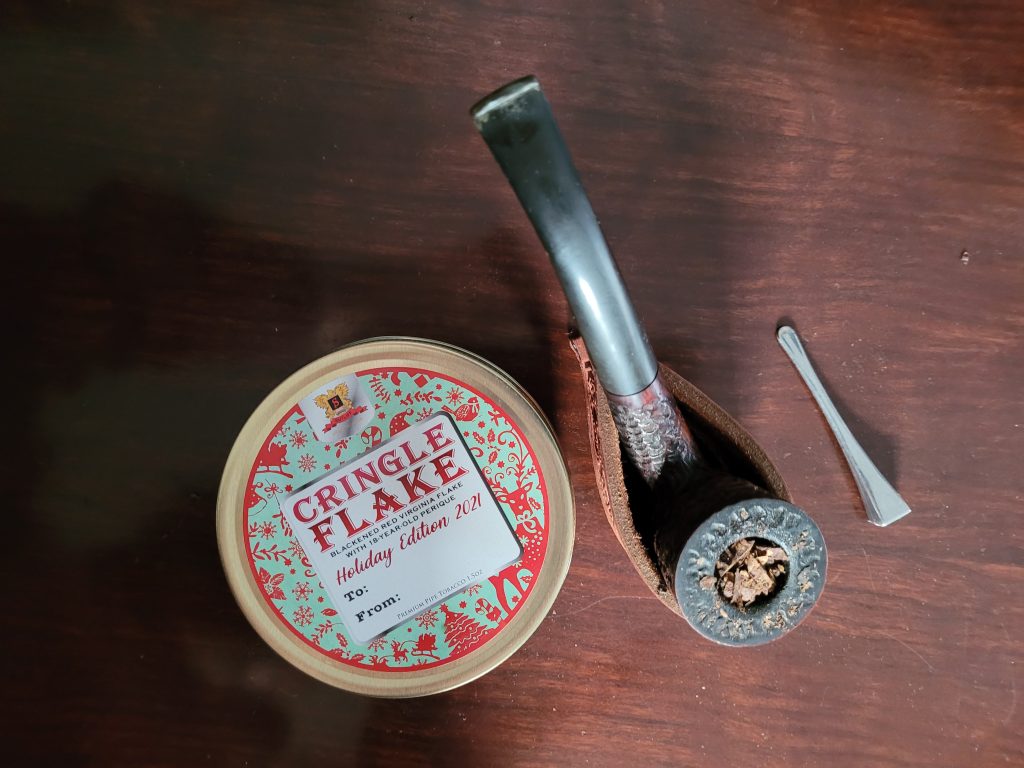 Starts sweet from the first light. Tangy. Dark hay. Worcestershire sauce. Toast and butter. Apple cider vinegar. Settles into sweet, sugar, and salt, hay, and Worcestershire sauce. Wonderfully malty. Tea. Some pepper comes in. Orange zest and a bright white vinegar. Woody and heavy cream. Woodsy, creamy, pepper, with Worcestershire and vinegar finish. Musty plums. Sage and strawberry. It's less sweet now but still at least a medium sweetness. Gasoline and lemon juice. Hay and tea. Apple cider vinegar and a touch of Heinz 57. Malt, cream of mushroom soup, cocoa, earth. It's gotten much darker. The pepper is light and comes in little pops. Its Sugar-salt-and-vinegar with a huge umami foundation marked by mushroomy Worcestershire Sauce.
Even with a one hour dry this was moist and burned poorly. But the struggle was worth it, the flavor was rich in every puff. But let's see if we can make this burn any better.
SECOND BOWL
>> Two day dry well rubbed in my homemade pipe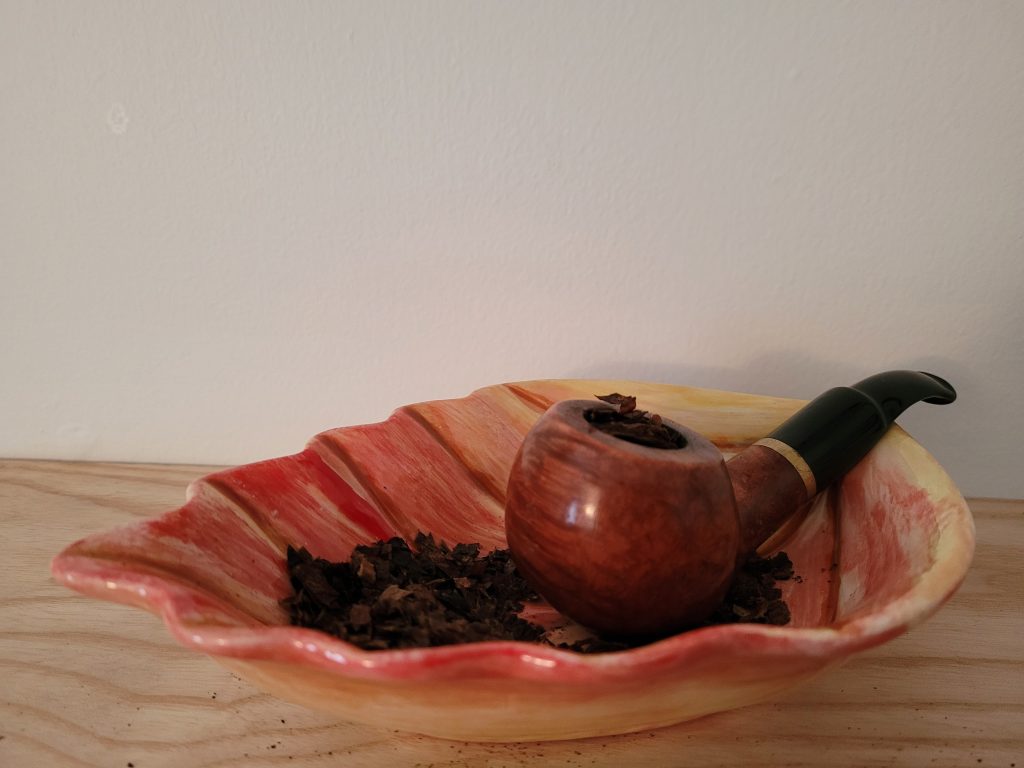 Sulphury, sweet, and salty. Musty, butter, tea, salt. Strong pepper, must, strawberry jam, salty. It's just a touch sweet, with a good amount of vinegar, strong hay, and the must of old house. Quite spicy, intense vinegar, the sweetness grows as does the salt. It gets earthy faster in this drier bowl. Strong black tea. A mellowing heavy cream. Orange zest, leather, earth. The sweetness fades again. Tea, must, and lemon pepper for a good stretch. Towards the end sweetens up with some soft red fruits join the lemon. Ends with orange, vinegar, and wonderfully sweet.
This only needed several relights instead of nearly constant lights like the less dried bowl. But the flavor suffered. The sweetness was less consistent, the more exotic umami flavors did not show, and the pepper came on a little strong. Let's try a more advanced technique to see if we can get a better burn without sacrificing flavor.
THIRD BOWL
>> Delayed Gratification Technique, well rubbed out, Brigham 147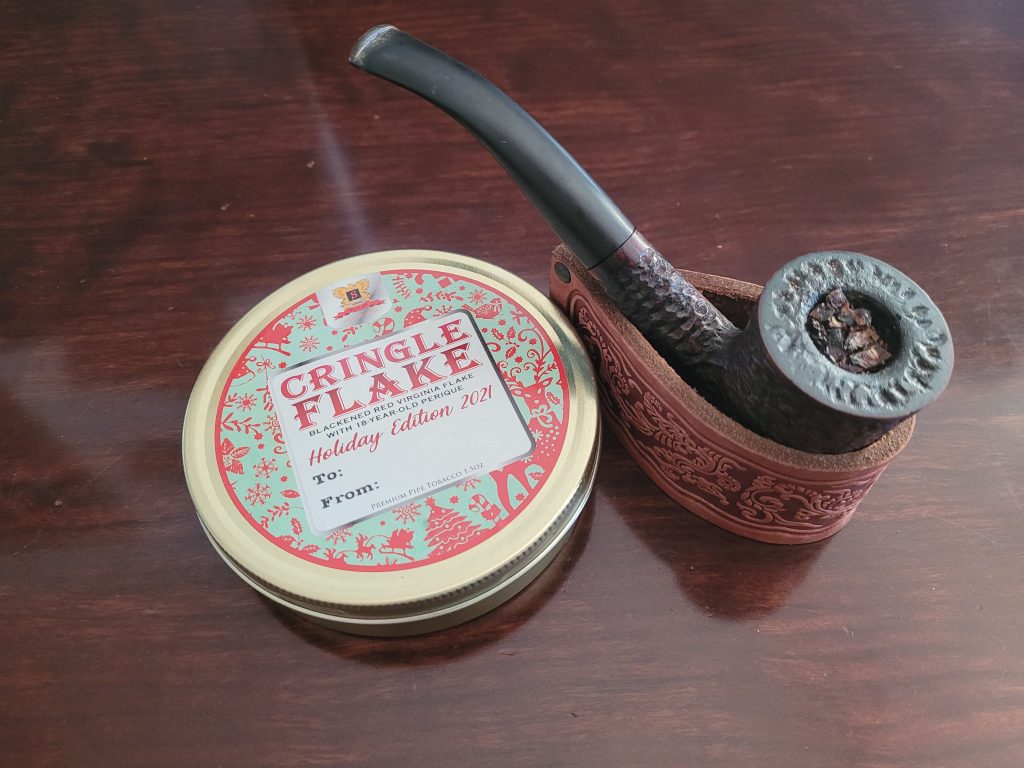 Mushrooms first thing. Raisins, oak, vinegar, a touch of salt, and exceptionally sweet. Worcestershire sauce and apples. Salt lick. Sugary sweet and vinegary sour. Oak, earth, and tea. Sharp as knives with white and red win vinegar. Incense jones the the oak, earth, and tea, and it's still wonderfully sweet. Grows peppery suddenly, with the familiar accompaniment of must and strawberry jam. Green and vegetal, oregano and watercress. Sugary, oaky, berry, and earth. Jammy – raspberry and blackberry now. The pepper creeps up to cayenne levels. Lemon peel adds to the fruity mixture. The middle of the smoke is dominated by a jam, lemon, oak, and cayenne. Eventually the pepper begins to fade but other than that it's as predictable as a Gallagher set. As I hit the bottom quarter it turns earthy again, with mushrooms, oak, bourbon barrel char, raspberry and just a hint of pepper.
The Delayed Gratification Technique (DGT) entails packing the bowl, lighting and smoking it just enough to get it going – then letting it go out. Then you finish the bowl later in the day or even the day after. I was told by a good friend this brought out the best flavor from this blend while improving the burn significantly. He was exactly right. This bowl had even more flavor and needed just a couple of touch up relights.
FLAVOR PROGRESSION
Cringle '21 starts sweet, expands quickly with salty, fruity, and sour flavors. Grows peppery quickly. This is rounded out with tea, earth, and jam in the middle section. The end usually exhibits an uptick in the umami flavors with a pronounced mushroom flavor.
BURN EXPERIENCE
Not good. The tin is just one mass of soggy tobacco which needs extensive drying time, but even that doesn't guarantee a good burn. I highly recommend employing the somewhat fussy DGT approach described above. I now need to revisit the original release of Cringle Flake from 2019, as previously reviewed.
SIMILAR BLENDS
With the savory, sweet, and spicy attack it's quite akin to Dan Tobacco's Salty Dogs. It's akin to Samuel Gawith Cabbie's Mixture as well, but it's much more consistent. The woodsy VaPer reminded me of both the defunct Sutliff Court of St. James and McClelland 2015 Virginia Perique Flake.
RATING BREAKDOWN
0.45 / 0.50 … Craft & Aesthetic
0.25 / 0.50 … Tin Aroma
0.05 / 0.50 … Lighting Process
7.75 / 8.00 … Smoking Experience
0.45 / 0.50 … Personal Enjoyment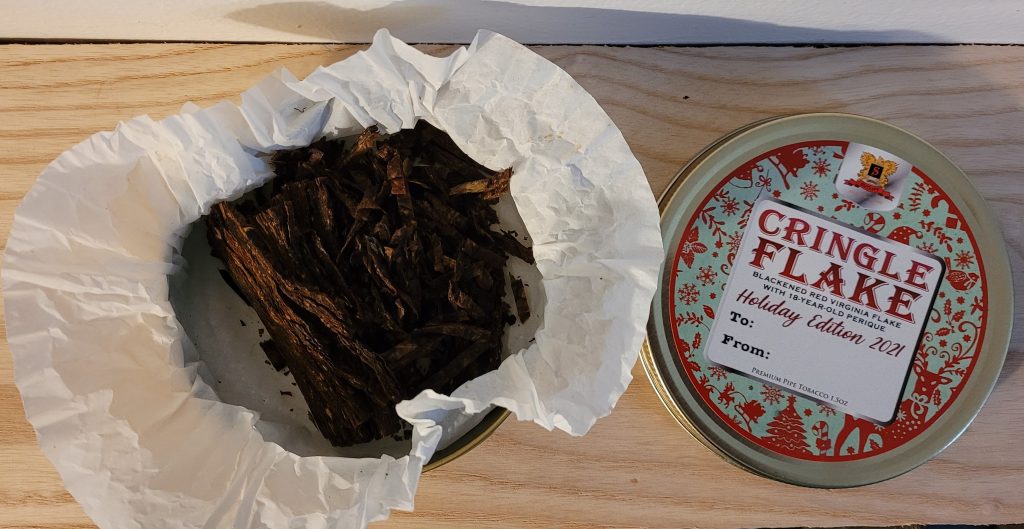 CHRISTMAS IN JULY.
When Sutliff revived the tradition of releasing a vintage Virginia flake for the holidays there was palpable excitement throughout the pipe tobacco community. Yet while they sold out within days each year, there hasn't been a corresponding celebration of the tobacco itself in the previous two iterations. The pure Virginia of 2019 was full of nuance but had distinct burn issues. Sutliff changed to a VaPer in 2020 but few seemed enamored of that either. For 2021 they brought out something incredible, 20 year old Virginias, 13 year old Perique, which drove the anticipation to even higher levels. 
Here Sutliff has something  worthy of all that hype and hysteria. It's still quite difficult to burn, but with patience and work that can be overcome. What you find on the other side of that struggle is a legendary Virginia-Perique mixture. It's not just sweet, sour, and salty all the way through, a fine enough accomplishment, but it's packed with jammy, tea, earthy, and mushroom flavors that makes it stand far above the previous releases of Cringle Flake. And hopefully is a sign for Cringle Flake releases yet to come.
SIMPLY STOGIES RATING:  9.0/ 10.0