Premium Cigar Association 2022 For The First-Timer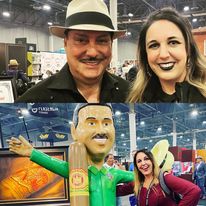 Imagine with me, if you will: I arrive at Treasure Island Hotel & Resort where the wait time for the line to check-in is over an hour with only two desk receptionists working and over 40 people trying to check-in. Behind me, there is a group of gentlemen there to celebrate a bachelor party. I chat with them. They pull out a full bottle of Crown Royal and we start passing the bottle to take pulls of the whiskey while waiting in that damned line. WELCOME TO VEGAS LA'CEE.

DAY 0: Nothing to report. We arrived at the insanely large convention center on Friday and checked-in for our badges. We were not able to access the early-entry on that day however. As such, if you're going to fly in for PCA on Friday and are not a manufacturer or distributor, either plan to lay by the pool and drink giant-sized margaritas that day or fly in on Saturday. We also used Day 0 to regroup in a room and have a short meeting about what to expect and what we would be doing. Nothing, however, could have prepared me for the sheer size and population of PCA 2022. I attended a reception at a hotel bar for PCA participants that night. That's where the real action happens- people set appointments for meeting the next day and exchange information over cocktails. That night, I accompanied my newly acquired bachelor party friends to Fremont Street where we walked about with huge booze-soaked slushies and took in the entertainment. I think I mowed down some White Castle that night for the first time, but, c'est la vie, I don't quite remember.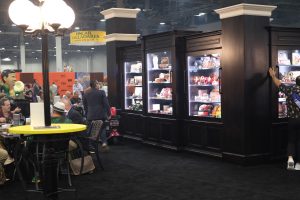 1: Holy. Moly. A large group of us were able to enter right on time and the badge checking people at the front gate take their jobs VERY seriously. Calm down, Janet. When I first walked in, the space opens up into two massive halls that have been connected to accommodate all the display spaces. The "PCA" logo lined the floor and to my right was a lounge showcasing just Ghurka cigars and to my left was Aganorsa Leaf. Hanging from the ceilings were banners for large manufacturers like Plascencia and JC Newman as well as Quality Importers. A little further in, and there's Arturo Fuente's set-up. Oh. My. God. First of all, the areas are mostly all set up not like booths, but as lounges in and of themselves with couches, tables, and chairs. There was a professional pianist playing music and tall display cases of various Fuente memorabilia. Oh, the best part? Carlito Fuente was present and, as usual, he was incredibly gracious in accepting my request for a photograph with him. So Fuente shows up with a grand piano and a pianist? Plascencia brings an entire live BAND. Ok, PCA, this is pretty freaking awesome. The Padron area was larger than my house's living room and decorated/carpeted/display cased much more expensively. I met the Jefe himself!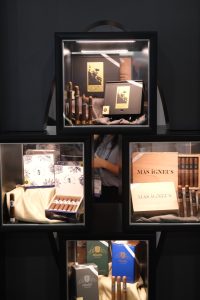 Alright, time to get down to work. I was assigned with shortly interviewing owners at cigar booths throughout the day and to focus on smaller, boutique brands. I asked the owners how/why they got into cigars, about their product and what was exciting for PCA (many, if not all, the manufacturers released PCA-specific sticks), and why they do what they do. My very first attempt to schedule a quick interview was shot down like a tai fighter in Star Wars. Ok, crash and burn, let's try again! There after, every owner was incredibly friendly and excited to be interviewed by us. We walked up and down the many, many aisles discovering new vendors and seeing some friends we met the night before at the reception. Some were used to being interviewed and some needed a little coaching on how to showcase their product. Everyone was, of course, enthusiastic about their brand. Remember to bring cash for snacks and drinks as there is a large area sectioned off as a cafeteria and there are also windows at which you can purchase food and drink. While I did not ask for any cigars, I was readily handed several to try. Everyone in the cafeteria and lounge areas was smoking stogies and it was like one GIANT lounge throughout the halls. AWESOME.  2: This day, I focused on interviewing women at the PCA. This was such an amazing idea had by me. I met Cynn with Dissident cigars, several lovely ladies with Artista, Amanda and Lauren at Micallef and learned that Micallef even has a journal you can use to write about your cigars, learn the basics about cigars, and the back has a list of brands owned by women. Several releases, such as the collaboration between Padron and Fuente were announced this day with confetti and big shows. I believe this was the day Guy Fieri also appeared to highlight his cigar, the Knuckle Sandwich. I tried El Septimo's "Marilyn" cigar, which is supposedly engineered just for women (more on that in another post). That night, I attended a night swim party at Marquee after spending a substantial amount of the late afternoon in a cabana by the TI pool. Just do it. Invest in the shade.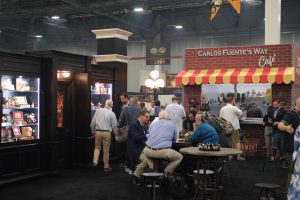 3: No interviewing this day. Just chilling with cigars, friends, taking pictures and videos of the booths and writing. I then went to dinner with all the Protocol Cigars people who are amazing and nommed on Grimaldi's pizza. There were a lot of food options at PCA, but let's be honest, it's VEGAS, get out there and get some good grub. Afterward, we went to the Dorsey which is located within the Venetian. Great spot where you can smoke cigars and there is a green mint drink you simply must try. I spoke with these great people all night and learned more about cigars and cigar production and of course, cigar gossip! They invited me to join their virtual lounge and I love it. The guys and gals are hilarious. 

4-5: Writing, drafting, picture-taking and mingling. If I had not gone to the reception one night, I would not have met Big Ashes and would not have landed an interview with the first booth that rejected me. So GO to that kind of stuff at PCA.
Basic Tips & Tricks – –
1. Don't go to early entry until you're sure you have access.
2. GO TO ALL THE RECEPTIONS/SPONSORED PARTIES so that you meet people! 
3. Stay at the hotel that PCA is being hosted at. I stayed at TI because it was "right across the street." No. No it was not. Technically? Yes, but a Vegas block is nearly a mile and navigating a casino and then convention center was not ideal when you want to be dressed in business causal and its 110 degrees outside before the index. 
4. Bring some, but not many, cigars with you. I only took my small travel humidor and that was not sufficient. While you may be given some smokes at the tradeshow, when you go out to the receptions, cocktail hours, dinners, and parties, you will want to have some good sticks on hand with you – including a cutter and lighter. Yes, other people will have these things but do you always want to be mooching?
5. There is plenty of time to enjoy Vegas but remember to wear comfortable shoes to the tradeshow as you will be walking around ALOT in a GIANT space and then more walking to the after-events. You will be tired, so remember: this is a marathon, not a sprint. Bring the drawstring bag with you each day so you have place to put sticks, equipment, mics (if you're media), business cards, and a change of shoes.