If the band looks familiar, it's because the bright orange label has now garnered international attention from its older brother the Aging Room Quattro Maestro receiving the #1 Cigar of the Year from Cigar Aficionado with a score of 96 points. When the Maestro's award came out, I quickly purchased a box of it with a friend so I could see what the hype is all about. While I plan to review that award-winning cigar, I recently sprung for a ten-pack on Cigarpage for the smaller Espressivo, a very reasonably-sized robusto. In general, I favor lanceros and robustos for their somewhat shorter smoking time and manageable flavor. Plus, I like to have the flexibility of a shorter smoke as most nights I don't want to be out in my garage for more than few hours while enjoying a cigar. 
It probably pains someone who lives in colder weather to hear that here in California, we get very cold when the temperature goes below 60. So something like a robusto is going to be my preferred vitola during the 'chilly' winter months in Los Angeles. For this review, I smoked four of these but summarized my thoughts for my final smoke, which took place just a few days before Thanksgiving. While I have mostly enjoyed the Maestro, I found the overall blend lacking when it came to the robusto. Something about the end of the cigar's flavor falling off in the final third, but read on to see the final review.
VITOLA:   Robusto
SIZE:   5 x 50
ORIGIN:   
FACTORY:   A.J. Fernandez Tabacalera in Nicaragua
WRAPPER:   Nicaraguan
BINDER:   Nicaraguan
FILLER:   Nicaraguan
STRENGTH:   Full
SOURCE:   
Cigarpage.com
WHERE:   
In my smoking lounge aka my garage
WHEN:   
November 22, 2020
DRINKS:   
Boulevard Brewing Modern Times Restless, a bourbon barrel aged coffee porter
WEATHER:   
Cold as hell for California aka about 50 degrees
WHAT'S ON:   
Youtube
RELEASE TYPE  Regular production
ORIGINALLY RELEASE DATE July 2018
TOTAL PRODUCTION
Typical Box Size:     20
Production Totals:  Unknown
VITOLA BREAKDOWN
o  Concerto (Churchill) 7 x 50
o  Espressivo (Robusto) 5 x 50
o  Maestro Belicoso (Torpedo) 6 x 52
o  Vibrato (Toro) 6 x 54
VITOLA BREAKDOWN
o  $10.65 each or $213 for a box at full retail. I paid $5.50 for it on Cigarpage since it was on special, but the price is currently $37 for a fiver, or $7.40 each.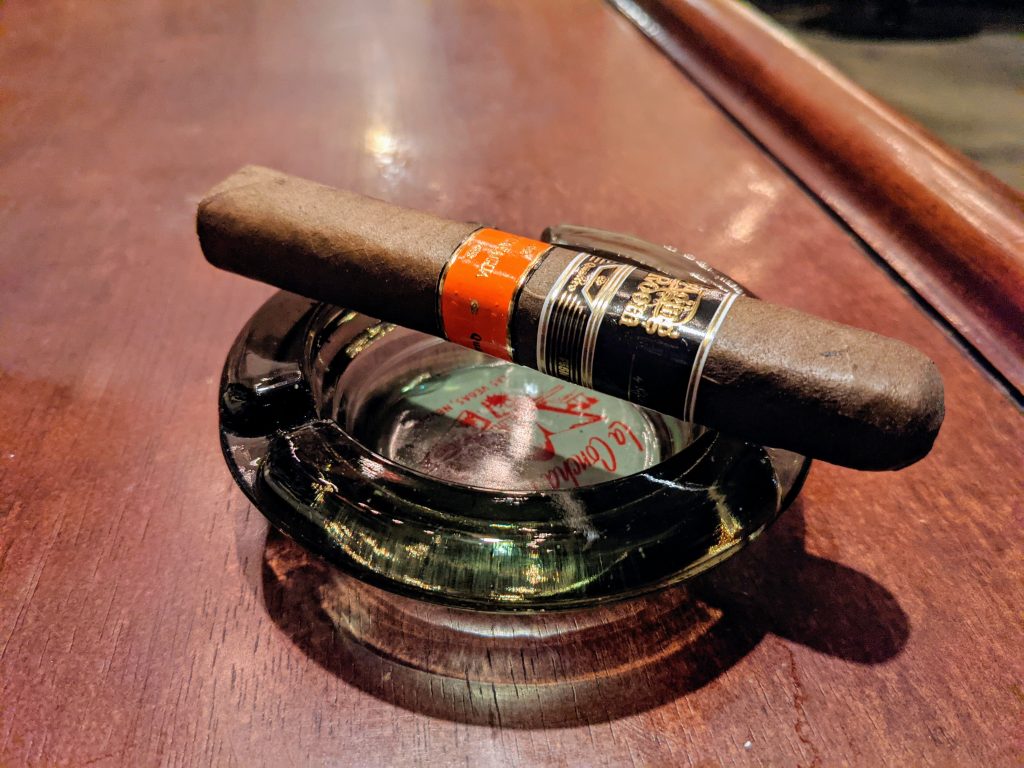 RESEARCH & BACKGROUND INFO
This is a full-bodied Nicaraguan puro that somehow feels skinnier than its listed 50 ring gauge because of a gentle box pressing that makes it slimmer to hold. 
While the strength is listed as full, I found it to be just over medium, making it a pretty solid entry-level smoke for someone who hasn't had that many cigars and is ready to step up a little in terms of strength.
Cigarmaker Rafael Nodal is behind the brand and the blend, though it was done together with renowned blender A.J. Fernandez. Not sure if that duo played up to the hype and recognition for those reviewing the cigar. 
I once enjoyed a cigar at Montecristo Cigar Bar in Caesars Las Vegas during the Big Smoke. At the time, the bartender whispered to me that A.J. Fernandez was at the other side of the room having a cigar and reading the newspaper. I believed him at the time because I didn't know what A.J. Fernandez looked like, but upon looking online, I now realize that the bartender made a mistake: The cigarmaker sitting not far from me was actually…Rafael Nodal. I decided not to talk to him since my español is admittedly a bit rusty.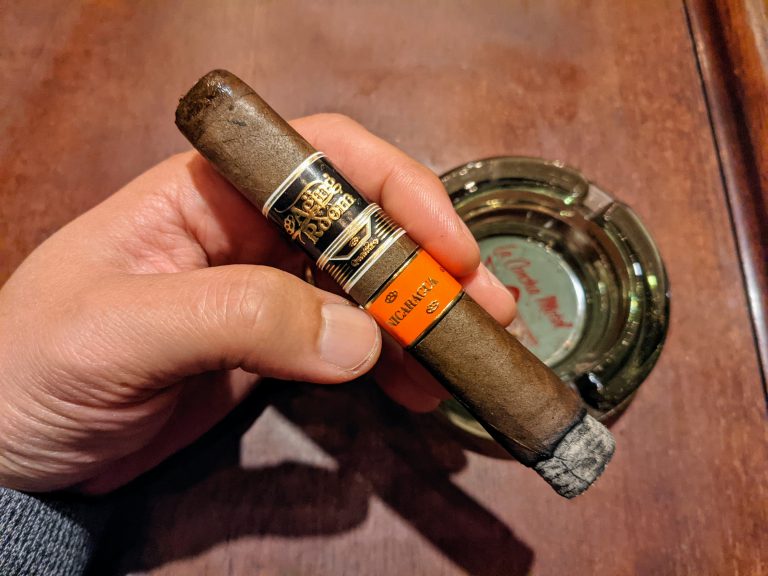 The band design is elegant or tacky, depending on what you think of this bold red-orange color on the secondary band. The main label has a glossy black color with gilded Aging Room logo while the orange band has gold Nicaragua lettering. If I'm honest, the orange helps it stand out and looks pretty darn elegant, but beauty is in the eye of the beholder.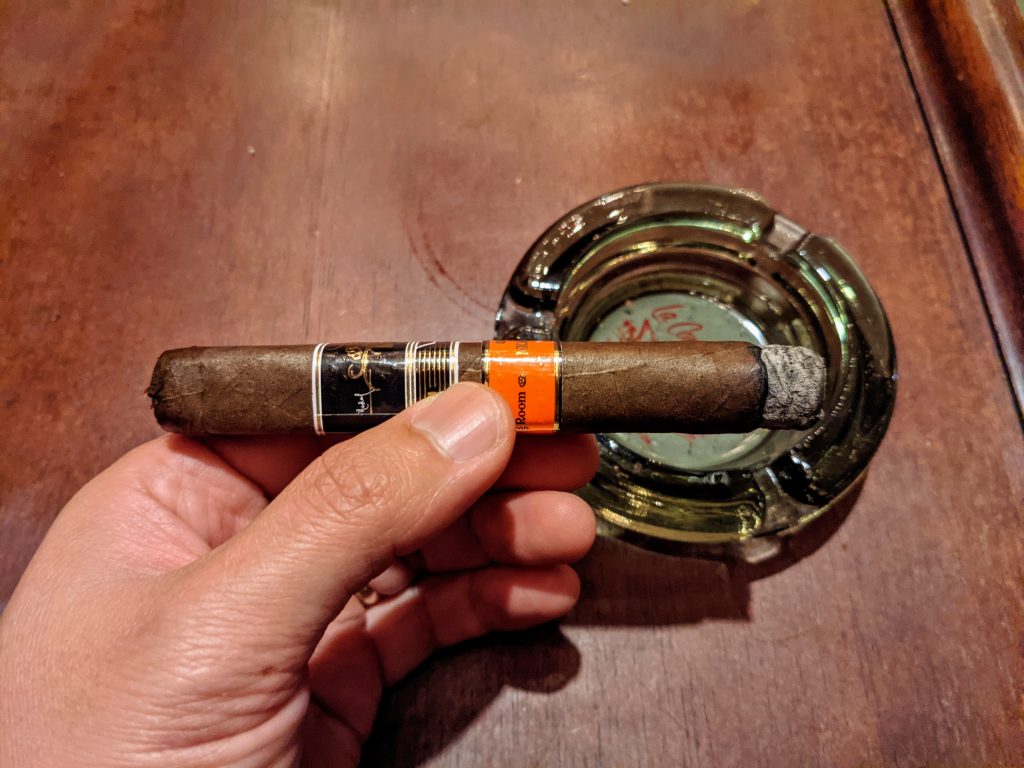 CONSTRUCTION
The construction is pretty fantastic. The wrapper has a toothy, oily sheen with very few visible veins. The box pressing makes the cigar look more expensive than it is, and I can imagine a brand or cigarmaker with a higher profile could probably charge more for a cigar that looks like this. This cigar looks like it costs well over $20 from the construction alone. 
AROMA
I'm getting a dark, musky aroma with Christmas spices/allspice with cacao notes near the head of the cigar. Pleasant though not particularly standout at this point.
COLD DRAW
I'm getting some Padron vibes from the cold draw. Rich and nutty with that patent msk that comes from nicely aged tobacco.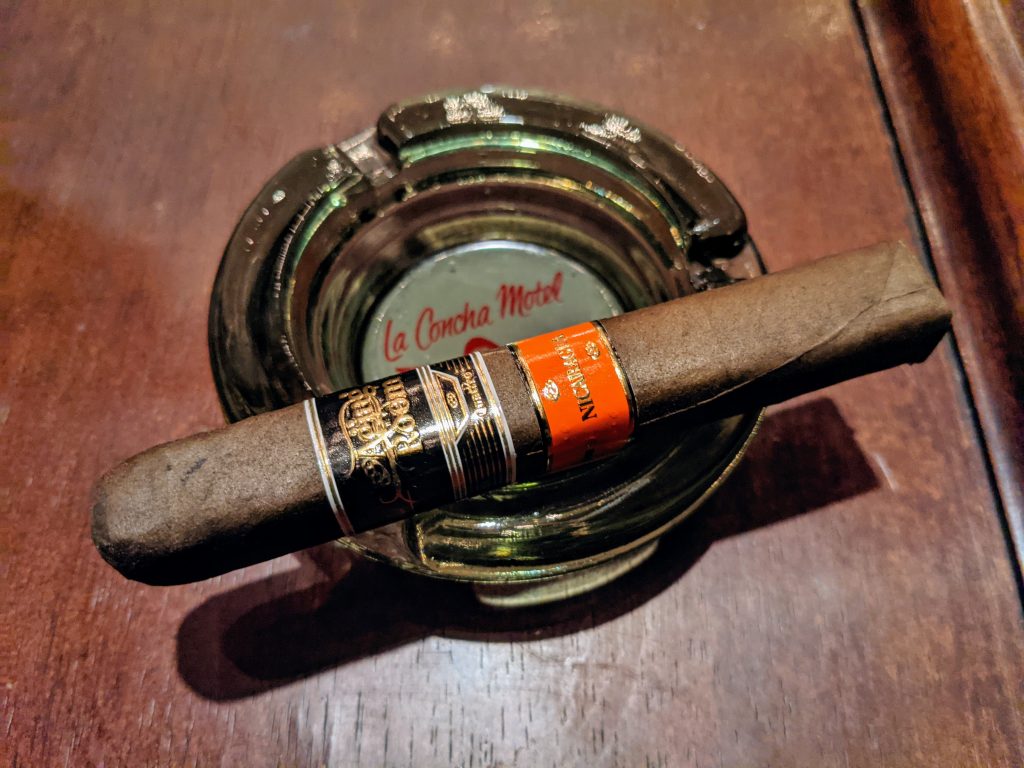 LIGHT & DRAW
Cut: My trusty Xikar Xi1 with matte black finish
Fire: Alec Bradley table cigar lighter

The draw is excellent, with well-packed tobacco. The cigar lights easily with the massive flame that comes from the AB table lighter.
SMOKE
The output is excellent from the beginning. I'm getting an initial rush of black pepper spice and heady tobacco with good age. It's not unlike the belicoso/torpedo vitola that gained all the accolades in 2019. I'm also getting this sense that the playbook they followed was of Padron: dark, aged notes with a density of cacao that's just so pleasing to the long time cigar smoker. Perhaps the main difference with the Aging Room is that the finish has a little more finesse in the smoke than a Padron X000 series. It beckons the smoker for more even though this is a shorter stick.
FIRST THIRD
>> Black pepper, coffee, dark dried fruit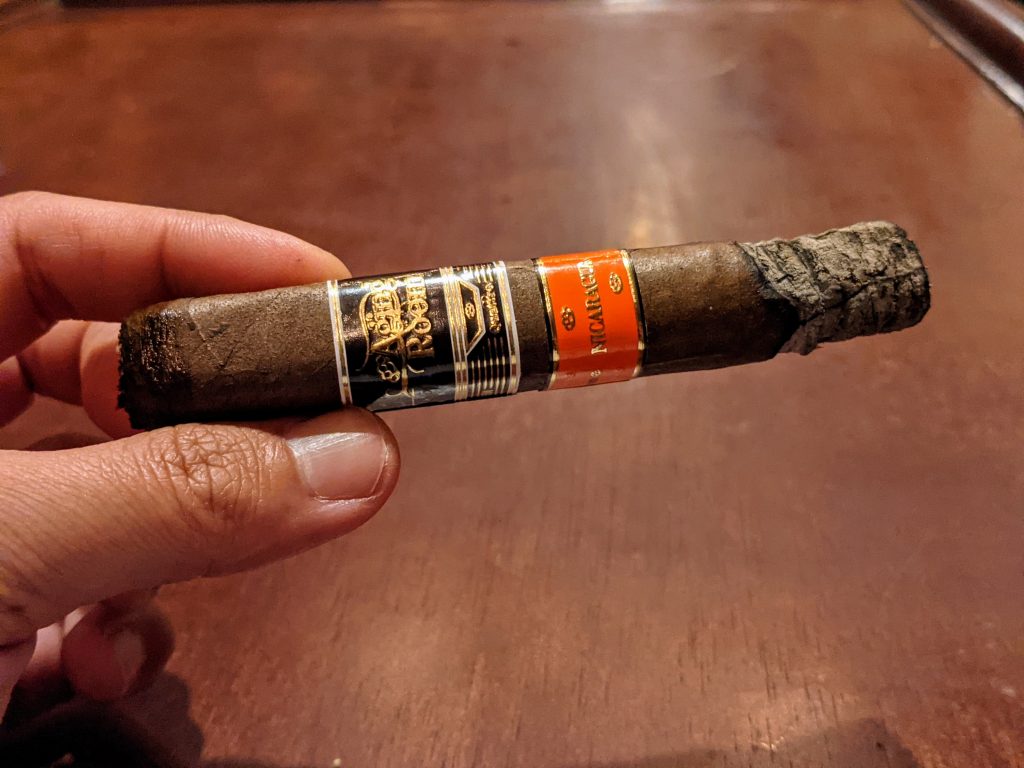 I'm sort of swirling around notes of espresso, dark-roasted coffee, dried figs, and a tempered spice that hits the mid palate. I find this really terrific so far, I might even say this has me feeling pretty impressive in the first third based on the price that I was able to buy it (just over $5). However, I'm thinking the actual retail price puts mix of flavors at about average for the $10 price point. Again, I think Padron's base series was kind of a metric on the blend they wanted to follow with a bit less punch on the finish and more of a soft landing. The ash it very tight with just a few tiny streaks holding it together. As you can see the burn line isn't incredible, though nothing that impeded the enjoyment of the first phase.
As I progress through the first third, I'm feeling very impressive so far. The flavor mix doesn't reach quite the highs of the Maestro (torpedo), which has much more complexity from the get-go, but there's a smoothness here that I really appreciate. It's like a great bass slap rhythm of consistency from puff-to-puff like a Marcus Miller groove. I dig it.
SECOND THIRD
>> Cedar, coffee, mild spice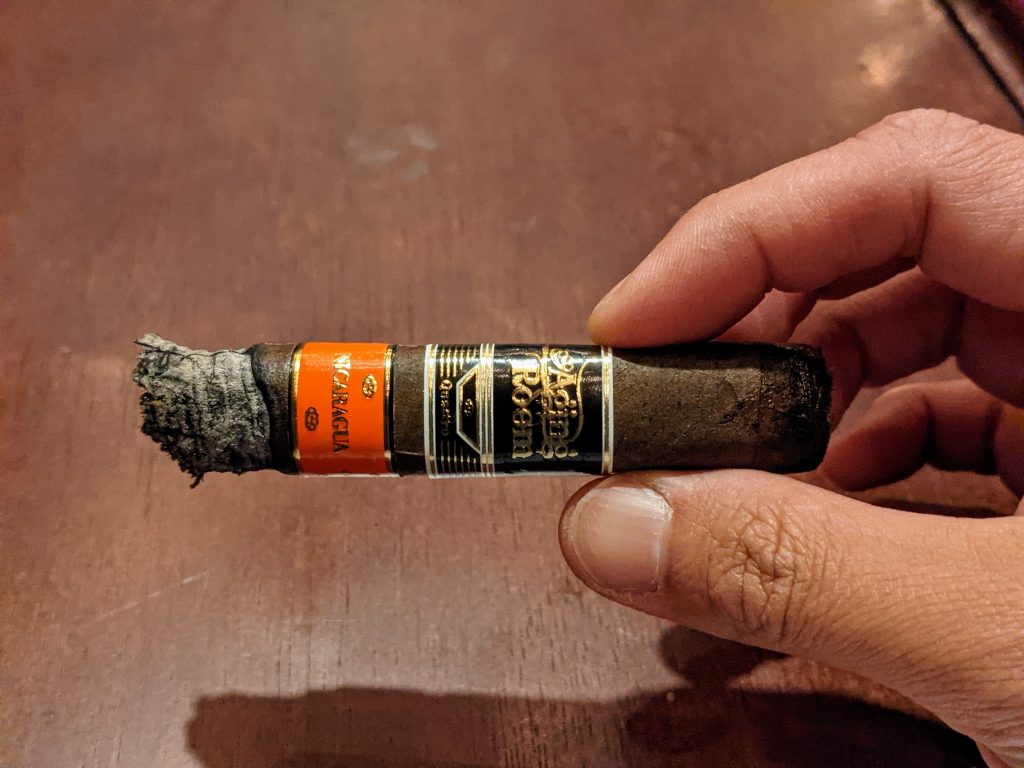 You know those action movies that have an incredible opening but then wanders into something that's trying almost a bit too hard? I'm thinking like Under Siege 2 or XXX or Iron Man 2. There's certainly substance to the first section of this cigar the peters out into something more prosaic, straightforward and mellowed. It's not bad, per se, just well short of the promise of the band promises. Maybe it's the vitola, and the shortness of it, but I found the middle section on all four of my cigars to be just, well, boring. The spice comes back here with a good cedar note. A mid range of coffee and earthy notes keeps it strumming along, but for a robusto, I shouldn't be feeling bored by this point. It's a shame because there's really a lot of like in the first third.
FINAL THIRD
>> Black pepper again, dark chocolate, mild woody notes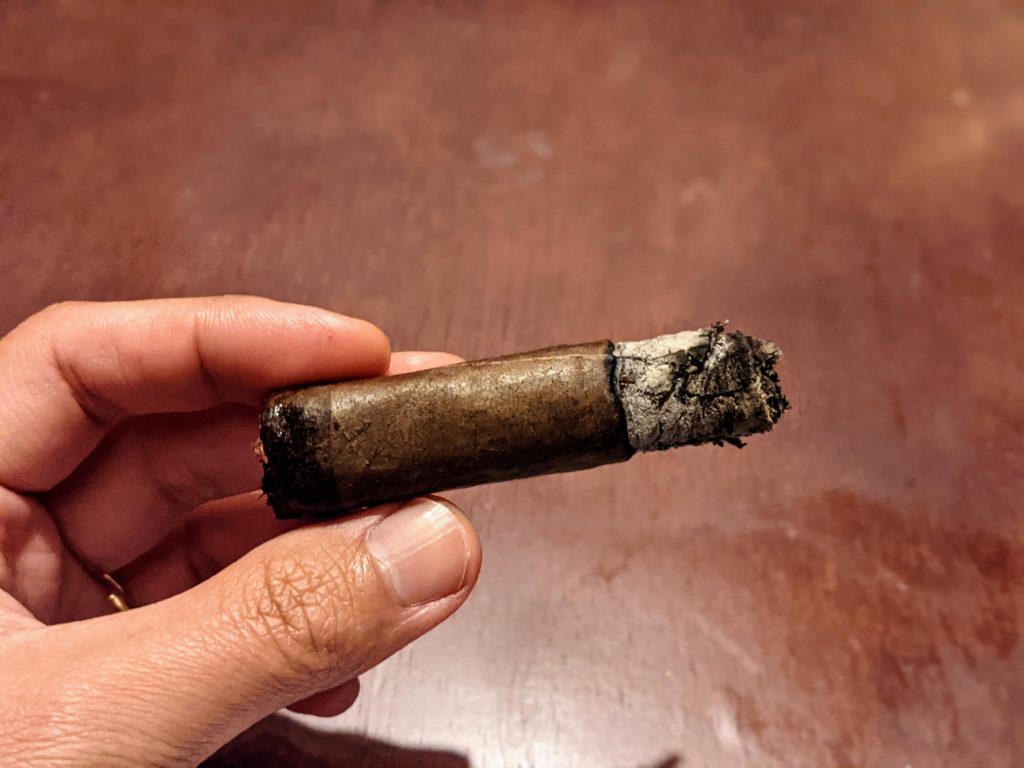 Woof, Icarus just fell down. I haven't had that many cigars that fall off as much as this. I wanted to love it. I was so excited to compare this vitola to the torpedo, which garners a strong score (though perhaps not as lofty as Cigar Aficionado's). The robusto is a downer at this point. More of the same from the second third, and honestly unremarkable to the end. Not the kind of stick you want to have until the nub, though I tried for scientific purposes. I will laud the construction though, as the burn line and ash were pretty excellent until the end. I praise all of the intentions of the cigarmakers here and the blend, but maybe it needs time to figure itself out in the humidor. Maybe this is the kind of thing you buy as a box and put away like a Cuban cigar for a year. I have my Aging Room Quattro Maestros from about a year ago and I'm ready to dive into the second half of what I've put away. But I've now smoked through almost all of these Espressivos. The finish is disappointing, though I wonder if a less experienced smoker would appreciate what this stick had to offer in its opening act.
FLAVOR PROGRESSION
This went from very good to just fine to forgettable. Not awful, which I can appreciate. Not everything in the cigar world can be a home run. I appreciate attempt to fit the blend into this smaller robusto vitola, but it's just not as successful. In fact, I find Aging Room in general to be better in the larger vitolas, like the churchill and toro sizes. With the robusto, I expected a nice sweet graceful finish but instead got a bit of a clunky conclusion. 
BURN EXPERIENCE
From the first light until the last puff, I can say the construction and burn experience was stellar. Ash fell nicely. The burn line meandered a bit mid-cigar but found itself darn straight toward the end. I didn't have to relight, and the box-pressed construction eased the smoke out at a nice rate. It's just that flavor that fell off the deep end, unfortunately.
RATING BREAKDOWN
0.60 / 0.80 … Craft & Aesthetic
0.40 / 0.50 … Pre-Light Characteristics
0.45 / 0.50 … Lighting Process
5.50 / 7.70 … Smoking Experience
0.30 / 0.50 … Personal Enjoyment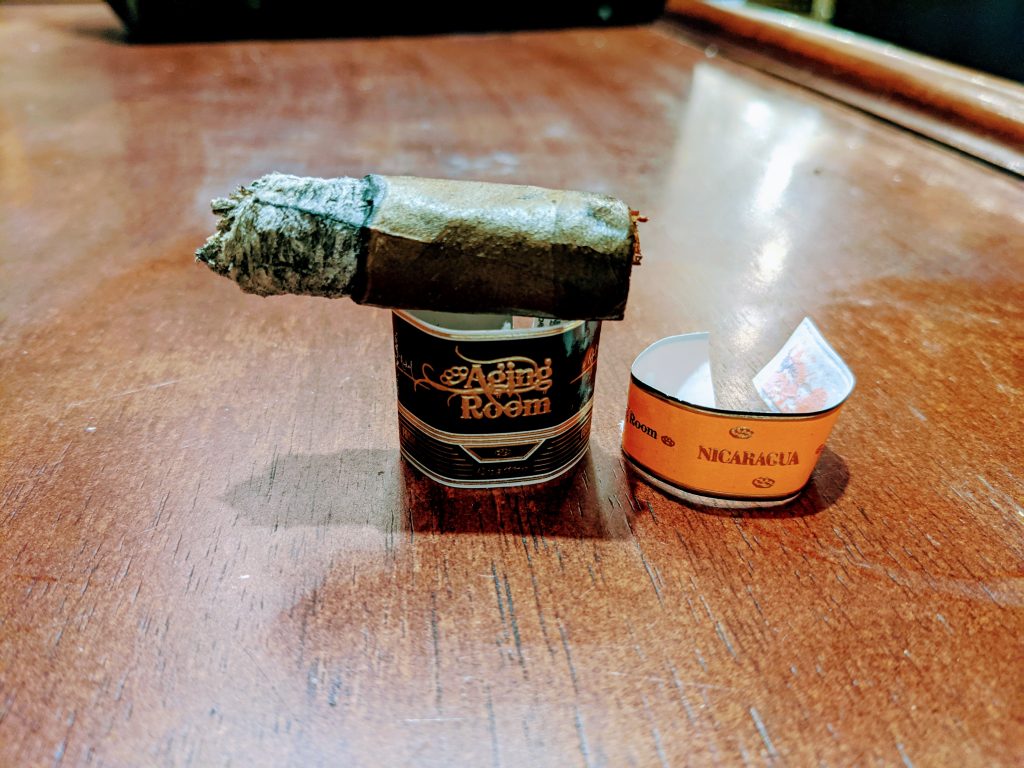 NICE TRY, BUT AS GOOD AS ITS OLDER SIBLING
SIMPLY STOGIES RATING:  7.25 / 10.0
I always find it hard to judge a different vitola from a Cigar of the Year. It's like the cigarmaker might have known that the promising blend of a certain vitola (in this case, the Maestro) was going to shine but that the smaller version (my Espressivo aka robusto in this case) couldn't carry the flavors int he same way. I really wanted to find value here. I can see this as a decent short smoke that peters out into something less than remarkable. Perhaps time in the humidor allows those flavors to find themselves, but even with a few good weeks in the humidor they were less than satisfactory for me.