The guys at bellhopcigars.com (based in Canada) thought it was time to put their knowledge from having imported Cuban cigars for so long to good use, by crafting a cigar of their own. The adventure has since allowed them and even public figures such as goalie Martin Brodeur, to develop a product of their own, after their own taste. 
From the retailer:  "The Liberation Series features the same smoking characteristics as the Commemorative Series. The new 2020 harvest makes the Liberation Series a more complex cigar with a medium-full flavored smoke combined with hints of earth, spices, cedar, coffee and an incredible after-taste."
It actually took less time to get a box of cigars from Canada than some retailers located in the U.S. Armistice has not been around as a brand that long but the people behind it have been in the cigar business for years and have an affinity for Cuban cigars. 
VITOLA:   Double Corona
SIZE:   7 1/2″ x 52
ORIGIN:   Nicaragua
FACTORY:   Undisclosed
WRAPPER:   Habanos 2000
BINDER:   Sumatra
FILLER:   Nicaraguan (Condega, Jalapa, and Esteli)
STRENGTH:   Mild to Medium
SOURCE:   bellhop cigars.com
WHERE:   On the deck 
WHEN:   July 10, 2022 @ 0806
DRINKS:   Black Coffee
WEATHER:   Damp and breezy, 74 degrees
HOW MANY CIGARS SMOKED:   3
RELEASE TYPE  Regular Production
ORIGINALLY RELEASE DATE  Unknown
TOTAL PRODUCTION
Typical Box Size:     Boxes of 10
Production Totals:  Unknown
VITOLA BREAKDOWN
o  Double Corona  (7 1/2″ x 52)
o  Double Figurado  (6″ x 52)
o  Grand Robusto  (5 1/4″ x 57)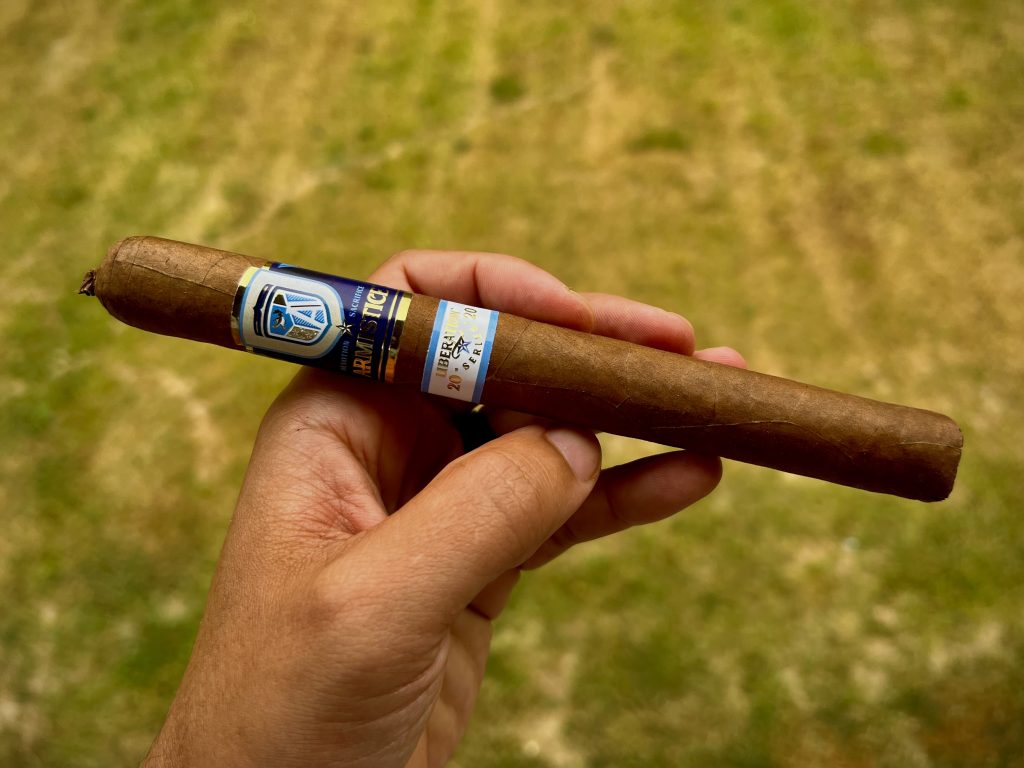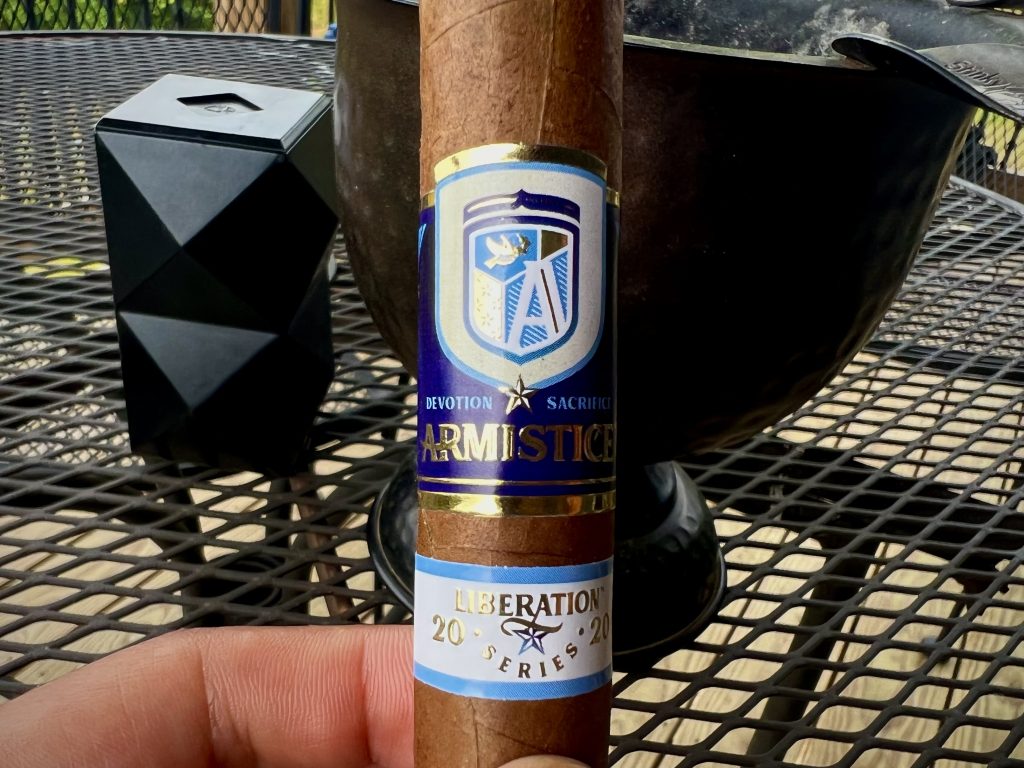 The bands of the Armistice Liberation are more contemporary when compared to the more traditional bands found in Arturo Fuente and My Father. The bold mix of blue shades with gold foil really pops. The overall design is very clean with all the lettering being legible and easy to read.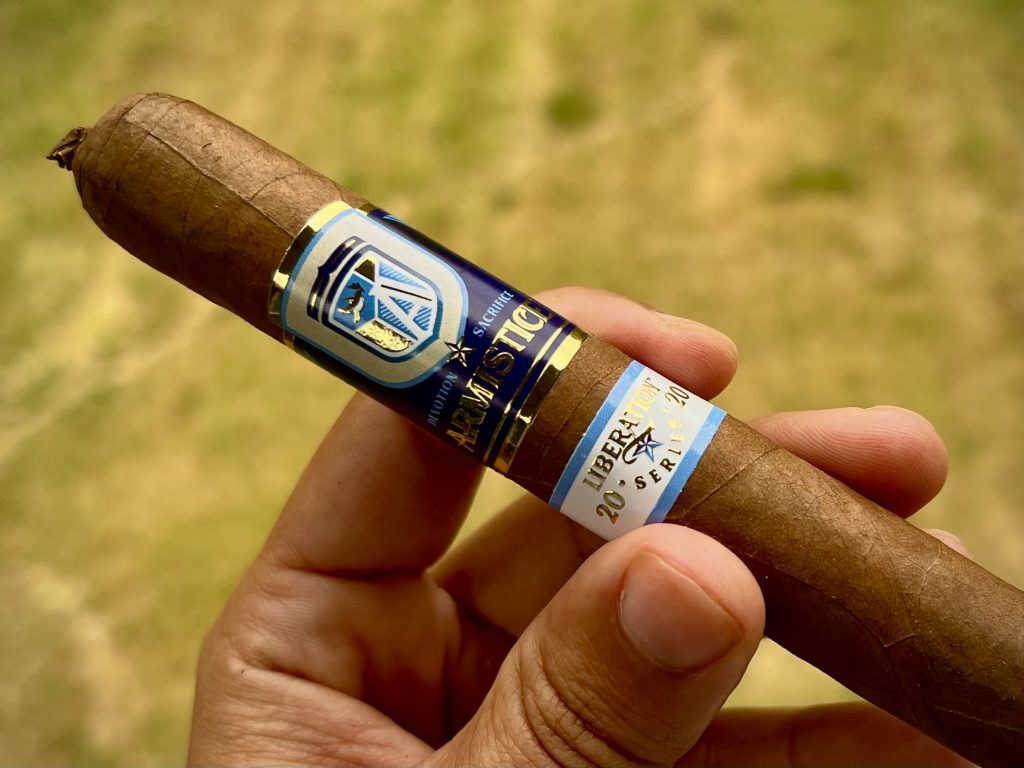 CONSTRUCTION
Latte color, very little variation in color, slightly bumpy, spongy pack that is consistent with minimal veins. The cigar feels light despite being a large size comparable to a Churchill. I recently smoked a Foundation Tabernacle in a similar size and it seemed to have quite a bit of heft when compared to the Liberation. 
AROMA
The only note that really stands out initially is cedar. There is also a little bit of hay and barnyard mixed in there but it is very subtle. 
COLD DRAW
It has a draw that is almost wide open which is to be expected when taking the weight of the cigar into consideration. I would much rather have a draw that is more open than one that is tight but it's weird to experience that in a cigar that is so large. On the palate I get more cedar and a peach ring candy.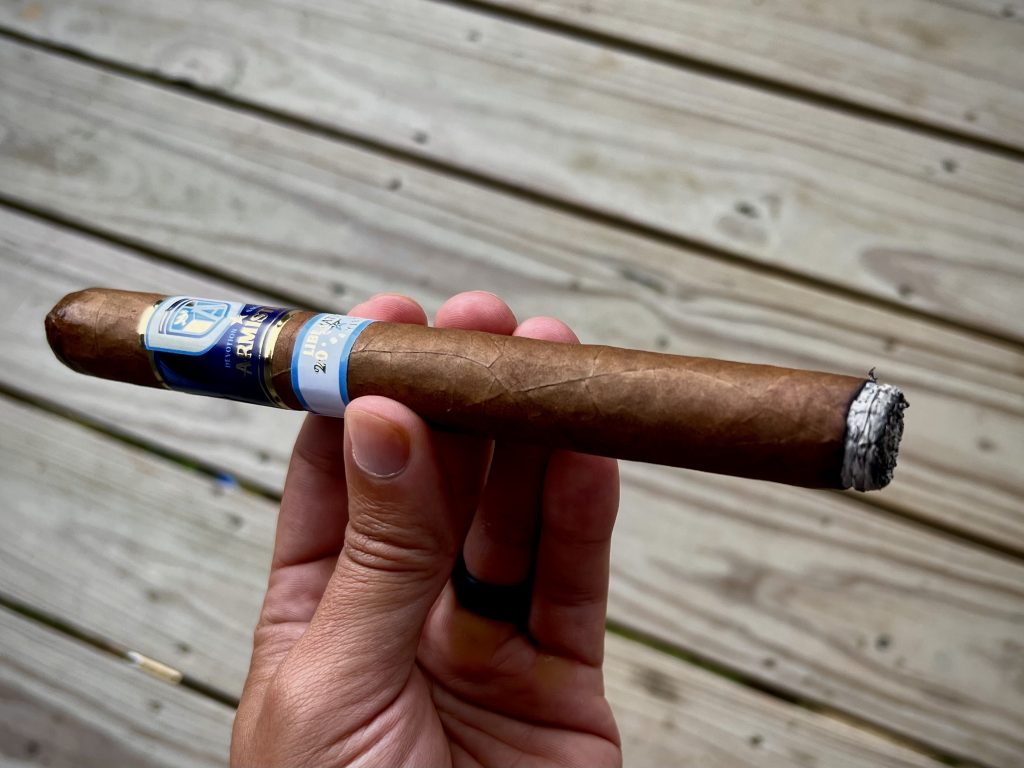 LIGHT & DRAW
Cut:  Straight Cut (I also just twisted off the pigtail in another sample which yielded the same results, draw wise)
Fire:  Colibri Table Torch
The cigar lights quickly, I did not have to toast it very long before I saw an orange ring around the foot. The draw is what I would expect from the cold draw, wide open. Great smoke output with big plumes of smoke. On the palate, just a sweet natural tobacco mixed with cedar. The retro is kind of tarty mixed with a little white pepper. Not overly complex right off of light up and I don't get the bitterness that comes with lighting a cigar with a torch at times.
SMOKE
While the smoke is plentiful, it is light at the same time. If I was one of those cigar influencers that likes to just film myself with smoke pouring out of my mouth trying to look cool, this cigar would not be good for that. 
FIRST THIRD
>> cedar, graham cracker, cream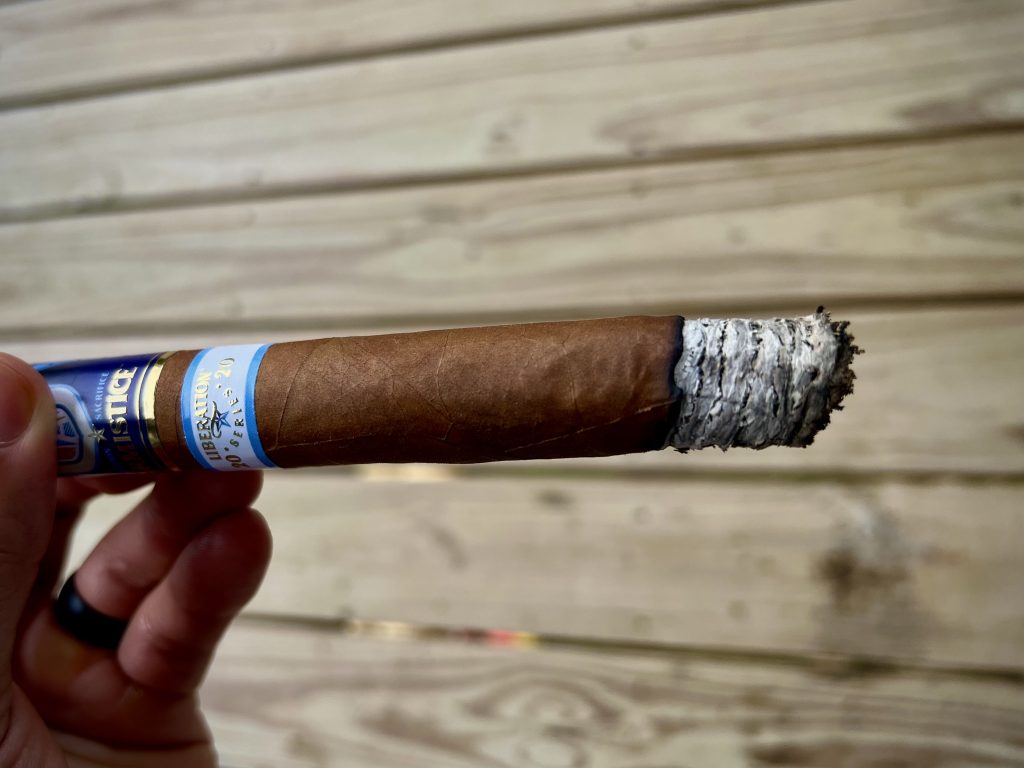 The cigar has a fairly straight burn line with a very fragile ash, it fell off after about half an inch in my lap without warning. On the palate I get a lot of cedar, feint graham cracker, and natural tobacco with cream on the retro that really has no pepper that I experienced initially. The finish is creamy with a couple drops of espresso that fades into a citrus cream on the backend. The smoke output is great, but still not worthy of TikTok cigar influencer smoke falling out of their mouth videos.
SECOND THIRD
>> butter, toast, filipino fruit salad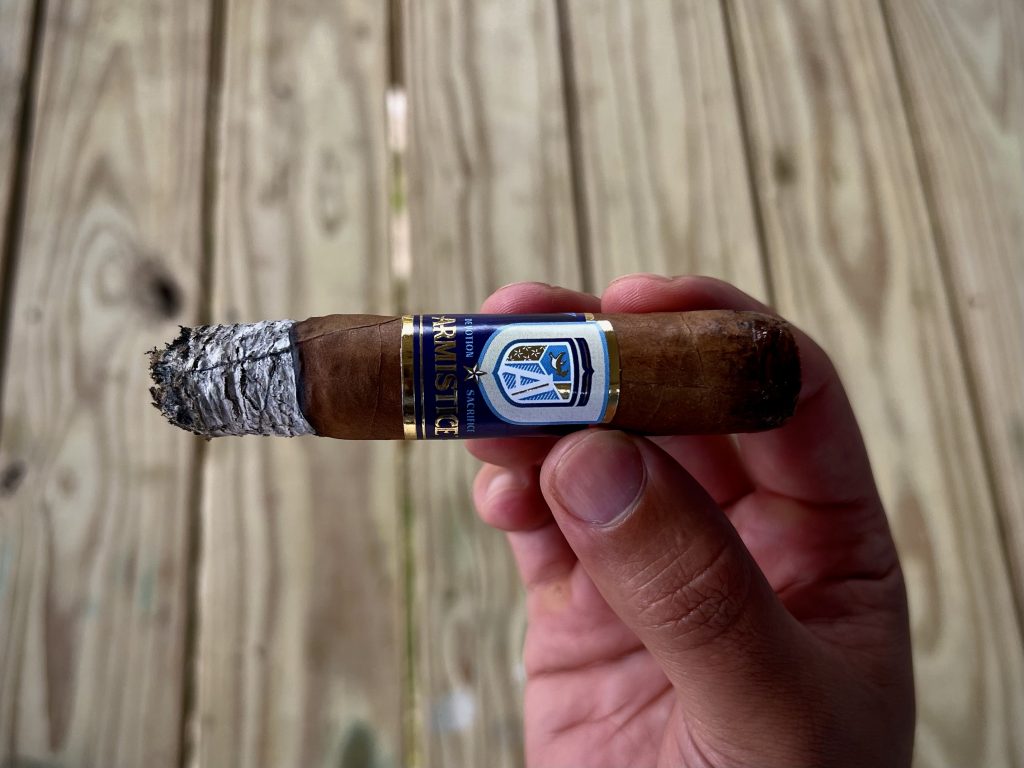 It is wise to ash this cigar often, the ash fell in my lap once again. While it is fragile, it still looks fairly nice with not real flaking. The burn remains semi-straight with no need for touch ups. The flavors on the palate are similar to the first third but there is a really nice buttered toast popping in on a few of the draws. The retro is a light cedar and cream, it's very smooth. The finish reminds me of Buko salad (a Filipino desert with canned mixed fruit, cream, and sweetened condensed milk) but really tamed down like the fruit is almost tasteless with the cream taking the front seat in flavor.
FINAL THIRD
>> earth, cream, oak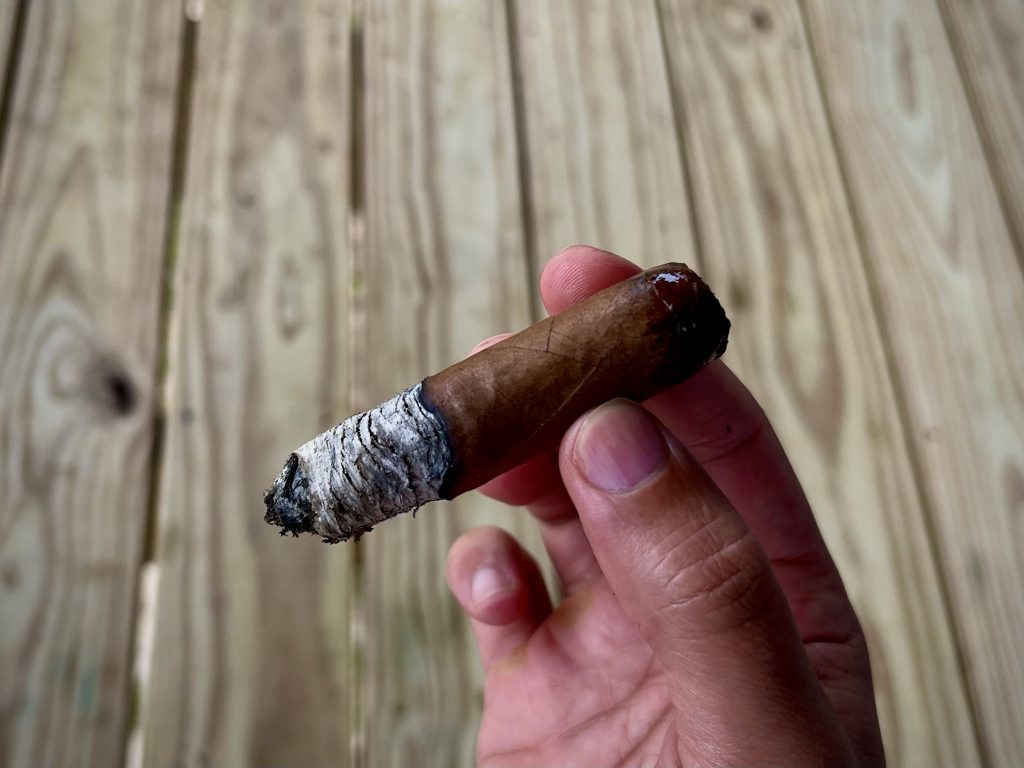 No touch ups through out the entire cigar and the burn remains straight. While this cigar does not transition to much there are some really nice mild flavors. This is not the cigar the retailer describes in being medium to full in flavor. Sweet natural tobacco, dry earth, cream, and oak on the palate. The last third is definitely bolder than the others but this is definitely a stick that falls closer to the mild end of the spectrum. White pepper and cedar on the retro. The finish is creamy with hints of bitter chocolate mixed with more cedar. The citrus fruitiness dissipates between the first and second third.
FLAVOR PROGRESSION
The flavors of the Armistice Liberation are pleasant and follows the logical progression of being a little more tame in the beginning, ramping up with some interesting changes in the middle, and getting a little bolder on the back end. This is definitely a cigar you can smoke at any point in the day, but I would only reach for this smoke in the morning with a cup of coffee. It is not bold enough to satisfy my cravings for rick and deep flavors.  
BURN EXPERIENCE
The only complaint I have about the burn is that the ash is very fragile and falls often. Other than that, I never had to touch up the cigar which is always a good thing.
RATING BREAKDOWN
0.75 / 0.80 … Craft & Aesthetic
0.45 / 0.50 … Pre-Light Characteristics
0.48 / 0.50 … Lighting Process
6.30 / 7.70 … Smoking Experience
0.30 / 0.50 … Personal Enjoyment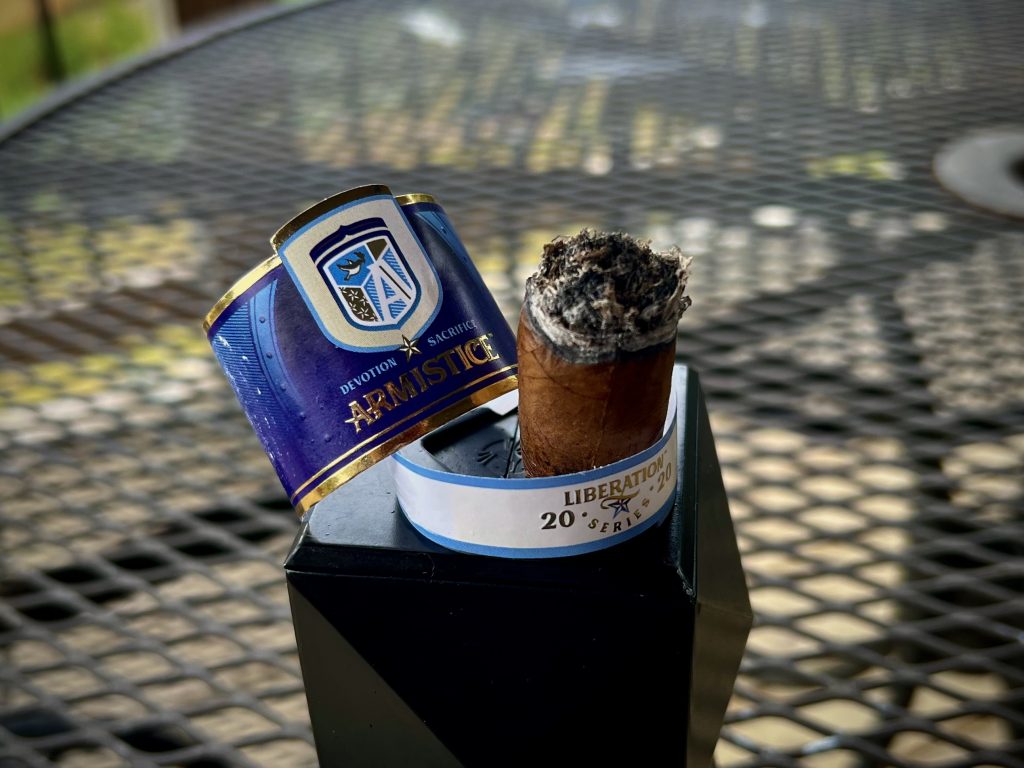 GOOD, NOT GREAT.
I enjoy mild cigars from time to time, and this cigar is ticking just over the mild point with some interesting transitions in flavor. I still enjoyed this cigar but it is not something I would recommend to a seasoned cigar enthusiast. This cigar is more appropriate for someone new to the hobby looking for something that may resemble a cuban cigar.
SIMPLY STOGIES RATING:  8.28 / 10.0