Welcome to the first of many Simply Stogies/E3C5 project partnerships! We are honored to be invited to be apart of this awesome endeavor. We love helping small batch boutique cigar brands get their name out to the community. A brand being ran by one of the nicest people on the planet seemed like a great place to start. We will be reviewing the Bella Dama Ace.
WHERE:   
Garage/E3C5 set
WHEN:   
10/21/21
DRINKS:   
Busch Light
WEATHER:   
65 Degrees Raining
WHAT'S ON:   
Washington Capitals VS Detroit Red Wings
RELEASE TYPE:  Regular Production
ORIGINALLY RELEASE DATE:  August 2021
TOTAL PRODUCTION:
Typical Box Size: No Box, Bundles of 25 or 5 Packs
Production Totals: Unknown
VITOLA BREAKDOWN:
o    (Box Press Torpedo 6″ x 52)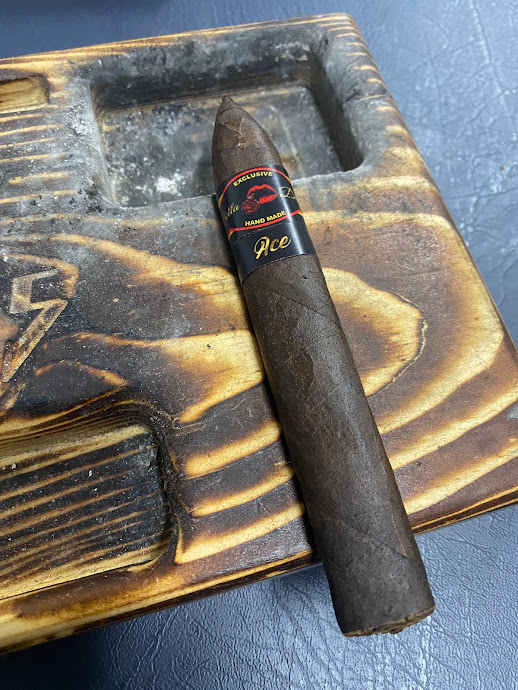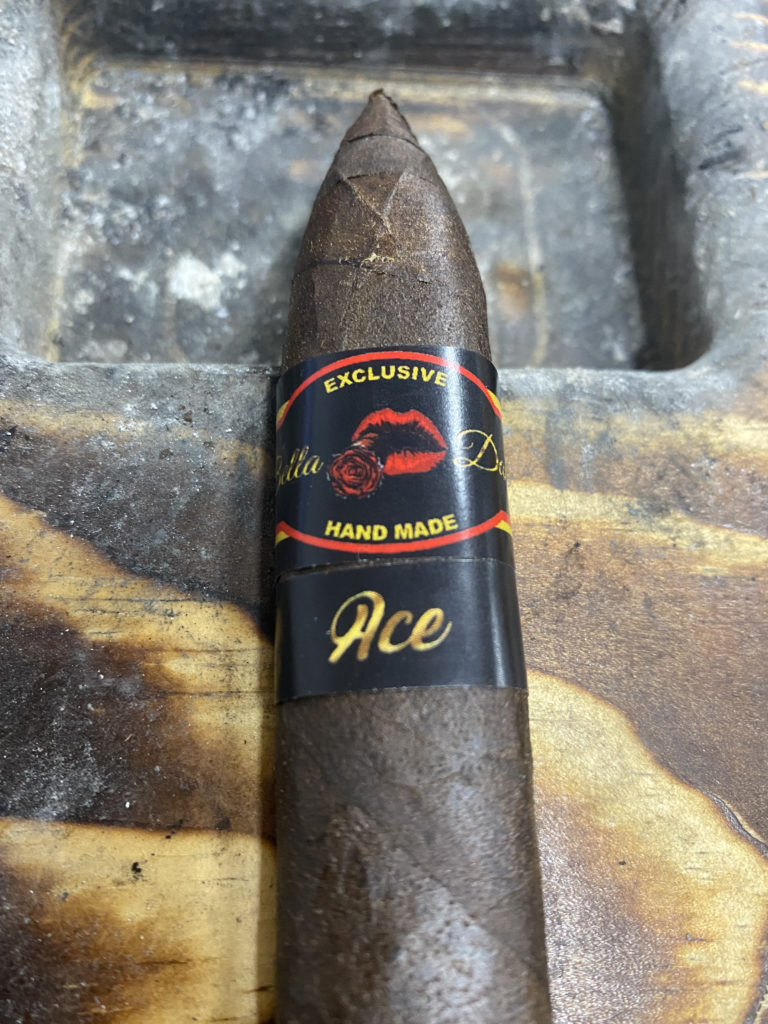 As far as the logo itself, the design is very intriguing as it is a brand headed by a female owner. It gives the band a sexy feel that shows lipstick lips around a cigar while surrounded by the Bella Dama name and "Hand Made" The Secondary band is for the line itself "Ace" in plain writing. The band as a whole isn't anything that will be a giant draw to this stick but it is something that will be easily identifiable to someone seeing it for a second time.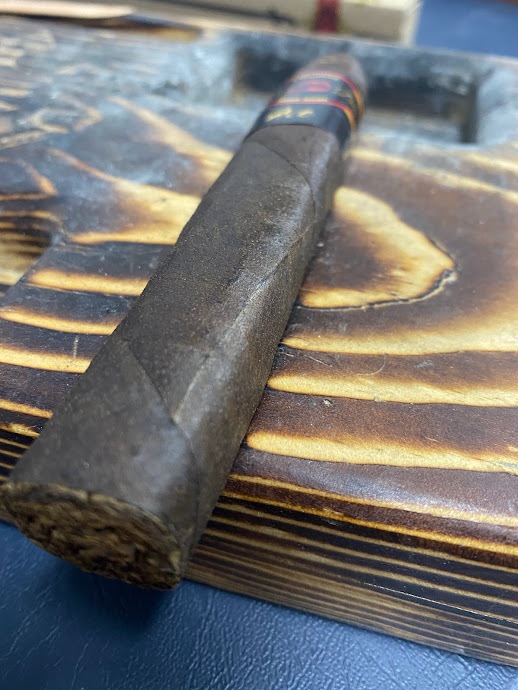 CONSTRUCTION
The Wrapper is rough looking and almost like a sand paper gritty kind of feel. No blemishes of any sort and seems to be well rolled with no veins visible.
AROMA
The smell test gives a super rich dark cooking chocolate aroma that makes me really excited to cold draw it.
COLD DRAW
The excitement I had in smelling this cigar was met with a great brownie with almonds taste that really grabbed my attention.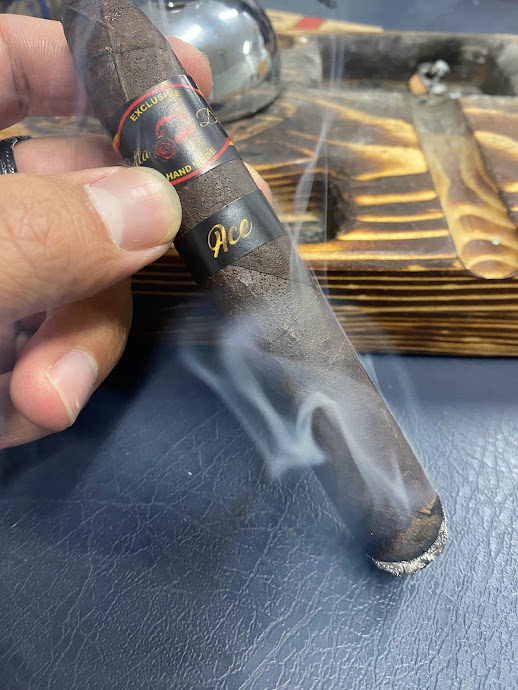 LIGHT & DRAW
Cut:  V-Cut
Fire:  Cigar Reserve Cedar Spill 
A new favorite method of lighting my cigars as of late has been using cedar spills. The Cigar Reserve spills seem to have perfect length and shape to light cigars and give off a pleasant cedar aroma. 
SMOKE
The smoke was super white and just seemed to flow so elegantly from the light up.
FIRST THIRD
>> Dark chocholate, Pepper, Nutty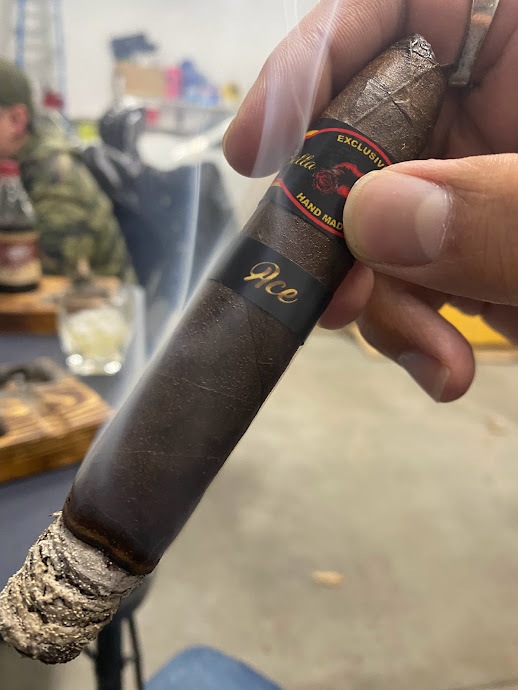 The first few draws you get this explosion of super thick dark chocolate that really envelopes your entire palate. Then after taste in the back of the throat is a tingly pepper profile that isn't over powering but like a small bite you would expect from a good whiskey. On the Retro you get that pepper right away but also a hint of spiced up baking chocolate.
SECOND THIRD
>> Chocolate, Pepper, Earthy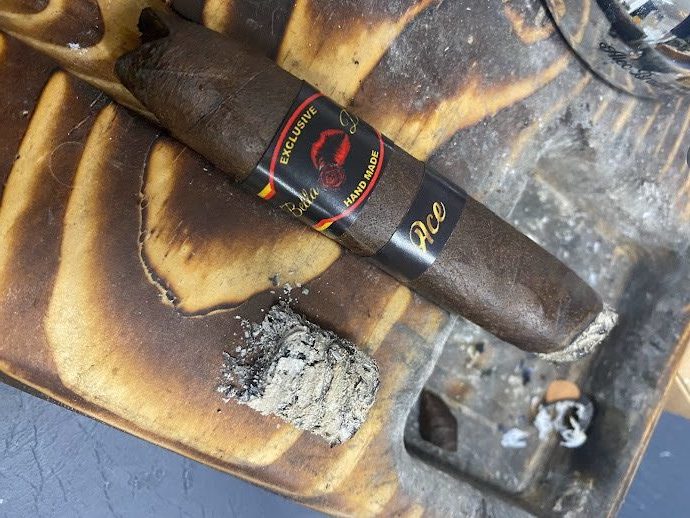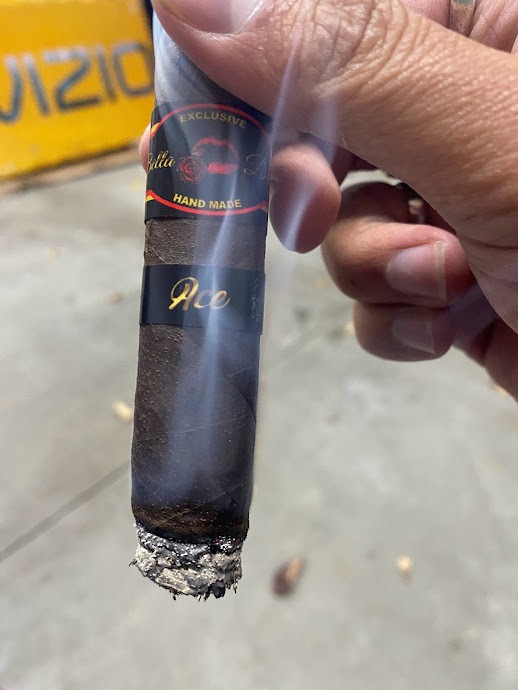 Coming into the second third I am seeing that the construction of this cigar is fantastic. The burn all the way into the start of it has been perfect with no need to relight or touch up the wrapper. The ash itself had fallen off due to cheering for the Caps 2 goals in the first opening minutes. Looking further at the ash it is very solid and exactly what I look for in a great cigar. The profile in the second third hasn't changed much other than the chocolate notes have actually increased. Im all for that!
FINAL THIRD
>> Pepper, Baking Chocolate, Earthy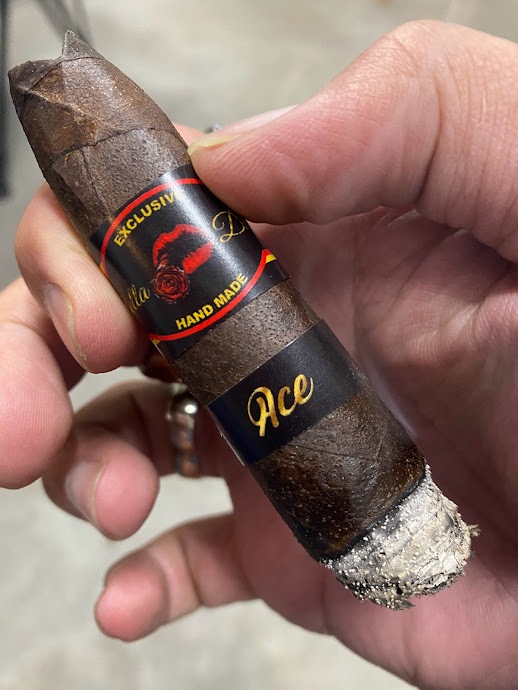 Moving into this final third the pepper kicks up much more and replaces the increased chocolate from the second third. The chocolate still remains but is not as much as the first or second third. It is still very pleasant and hasn't had any bitterness up to this point which gives me the impression the fermenting process was done well and allowed to take its time. This is really hitting all of the points of my palate I enjoy at this section. The more aggressive nature of the Maduro wrapper is living up to the profiles I expected. 
FLAVOR PROGRESSION
Flavor doesn't really change all to much through out but rather gets enhanced and profiles though out in the right order in my opinion. Heavier chocolate then heavier pepper towards the end. 
BURN EXPERIENCE
The burn was perfect through out and was just rolling smoke the whole time. The smoke out put was amazing and what I love in a cigar. 
RATING BREAKDOWN
0.70 / 0.80 … Craft & Aesthetic
0.40 / 0.50 … Pre-Light Characteristics
0.50 / 0.50 … Lighting Process
7.00 / 7.70 … Smoking Experience
0.50 / 0.50 … Personal Enjoyment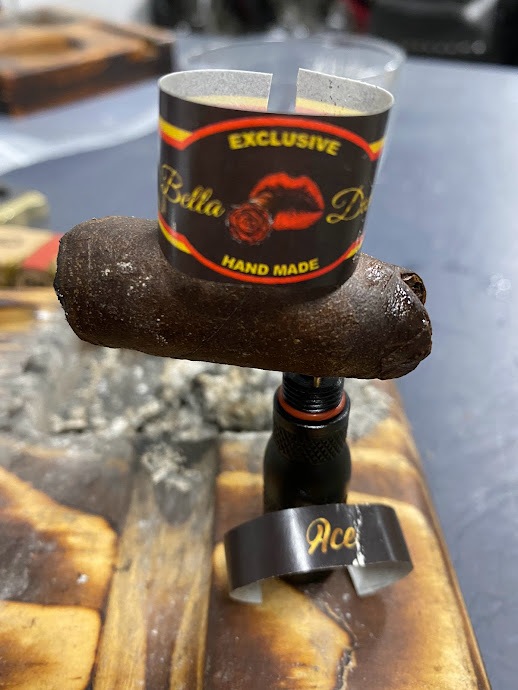 Hitting an Ace with the Ace
Bella Dama cigars has something great with the Ace. As its name suggest its a first class stick that was super enjoyable to smoke. Absolutely loved the entire cigar from start to finish with great rich flavor profiles of chocolate, pepper, earthiness, and nuttiness. Having smoked the other cigars from Chantel's line up. This is the top of the totem pole that took over from one of her other cigars that previously held that spot. This is a well constructed cigar through out that should at least be a "try one" for any cigar smoker.  
SIMPLY STOGIES RATING:  9.10 / 10.0