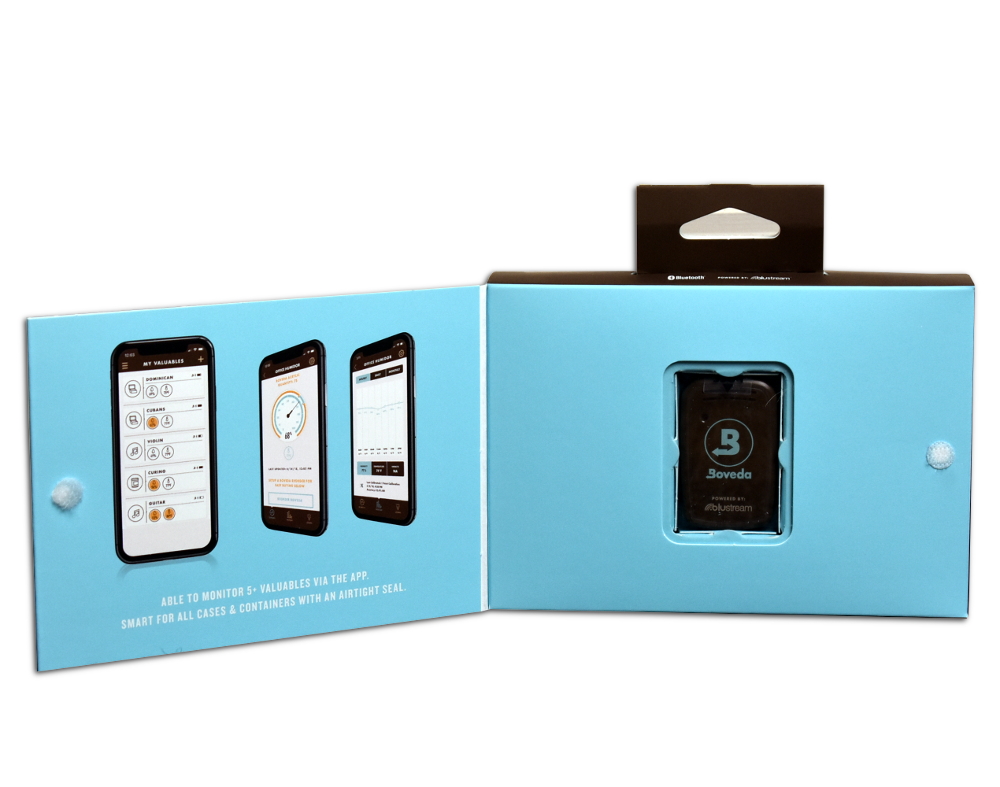 PRODUCT: Boveda Butler
MANUFACTURER: Boveda INC.
PRODUCT TYPE: "Smart" Hygrometer
ORIGINALLY RELEASED: 2018
STILL IN PRODUCTION: Yes
CLAIM/GIMMICK: Total Humidity Management System
BREAKDOWN: Calibration, Setup, Ease of use, and Battery Life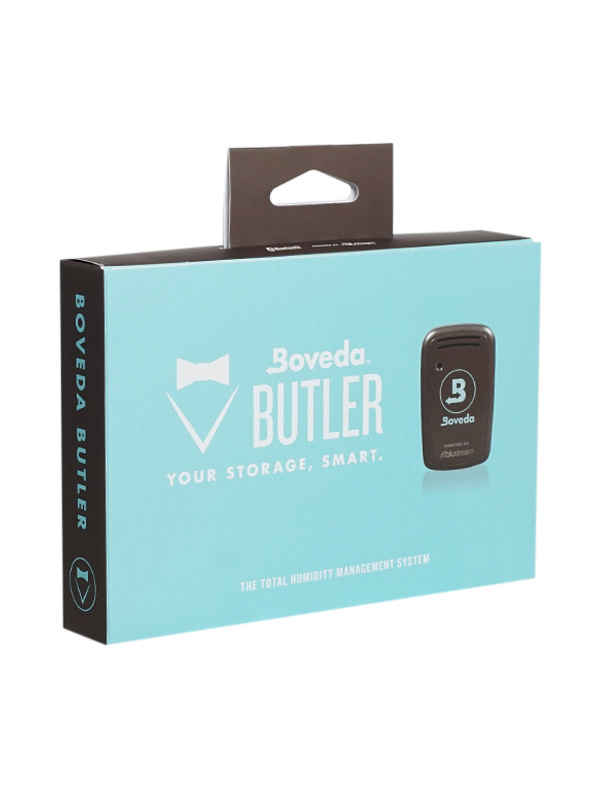 RESEARCH & BACKGROUND INFO
The Boveda Butler was first released under the name "Smart Sensor."
The original price of the "Smart Sensor" was $50.
The re-named Boveda Butler had a price point of $20.
The new "improved" Boveda Butler has a price point of $30.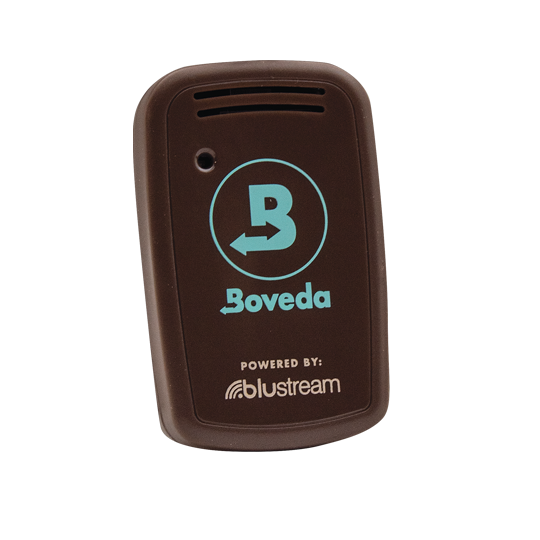 The Boveda Butler is designed to not take up much room in your humidor. It comes with velcro that can be adhered to both the back of the Butler and to your humidor using adhesive. The package also comes with a Boveda One-Step Calibration kit (75% 8 gram Boveda and sealable bag), a User's Guide, a CR2032 coin battery (already installed, and an extra battery.
It is designed to work with an app, via Bluetooth technology. It works on either iOS 10.0+ or Android 5.0+. This design allows you to see the temperature and humidity levels in your humidor without having to get up. The app also tracks those levels for you. The use of Bluetooth technology also means that in order to see your temperature and humidity readings, you need to be within the range of the Bluetooth signal. The workaround for this, is to have a dedicated device (tablet or old phone) with the Butler app always in range. You can then setup a second app on your current mobile device and see the readings remotely.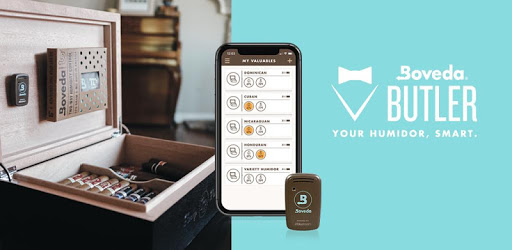 CONSTRUCTION
The construction of the Boveda Butler is pretty straightforward. The Butler is small; it is 2″x1 1/4″ x 1/2″ to be exact. It is smaller than most USB drives, but not nearly as sleek or stylish as they could have made it. The all brown color scheme does nothing to help it's sex-appeal, but it is extremely lightweight. While there may not be any heft to the Butler, it does feel like it could be dropped and come away with no damage. 
The CR2032 coin battery is pre-installed (and an extra provided) and only requires a pull-tab in order to begin set-up with the app. The battery is firmly held in place and can be difficult to move; however, this isn't a terrible feature and lends itself to the durability of the product.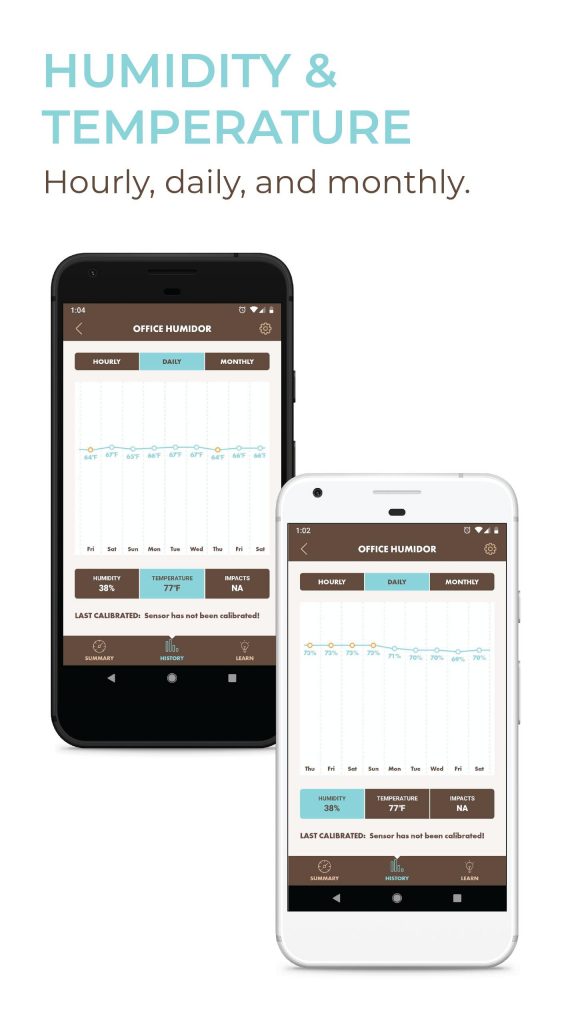 USE
For my review, I used 4 Boveda Butlers, in 3 different storage devices, over the course of several months. It is at this point that I should note, that all four of my Boveda Butlers were second generation.
Setting up the Boveda Butler is as easy as downloading an app and setting up a new device via Bluetooth to your phone. Pairing the devices was a breeze.  Once it was paired, it was time to calibrate. Here is where I first encountered an issue. According to the User Guide, using the One-Step Calibration Kit it should only take 24hrs to properly calibrate your Butler. While this is true, if your Butler becomes disconnected from your Bluetooth device, you must begin the calibration process again. This happened with one of my Butlers…twice. It took 72hrs to calibrate one device.
Once you have properly calibrated your Butler, you have the ability to name each device whatever you'd like. This little feature makes it easy to keep track of which device is monitoring which storage area. You can also set-up the app to alert you when your humidor goes above or below a temperature or RH% that you choose. This is a fantastic feature that is designed to give you real-time, critical feedback to protect your cigar inventory.
PERFORMANCE
Once the Butlers were connected to the app via a tablet I no longer used, calibrated, and placed in the humidors, I downloaded the app on my current mobile and signed in. Immediately, all four of the Butlers showed the humidity and temperature of my humidors. It was glorious. For the first month, I sang the praises of Boveda Butler. I told anyone who would listen that the Butler was the future of taking care of your cigars. I mean, who wouldn't want to be able to check their humidors from wherever you are? Or be informed when your temperature and humidity levels inside your storage device begin to dip below or above optimal levels? The future was here!!
Unfortunately, the future was far from perfect. The Butlers I had were plagued with performance issues. I experienced wild humidity fluctuations in two of my Butlers. I put in properly calibrated digital hygrometers to double check the readings I was getting from my Butlers. On each occasion, I needed to re-calibrate the Butlers using their One-Step Calibration Kit. This became increasingly frustrating each time.
Another problem I had, with each of my four Butlers, was with their connections with the app. Each Butler would randomly disconnect and no longer display or track the temperature or humidity levels in my storage device. This issue happened multiple times with each Butler. I would have to pull the battery out and put it back in, in order for it reconnect to the application. 
This brings me to the batteries. On multiple occasions I was alerted that the batteries were below 25% power; this was happening in month 2. I took the battery out and put it back in and that seemed to fix the issue…until it didn't. I no longer got alerts that the battery was below 25% power. Once this happened, I would change the batteries and they began to work again. The fresh battery did not help any of the four Butlers with their connection issues. 
In May of 2019 I stopped trying to fix them. They worked, on and off, for a grand total of eight months.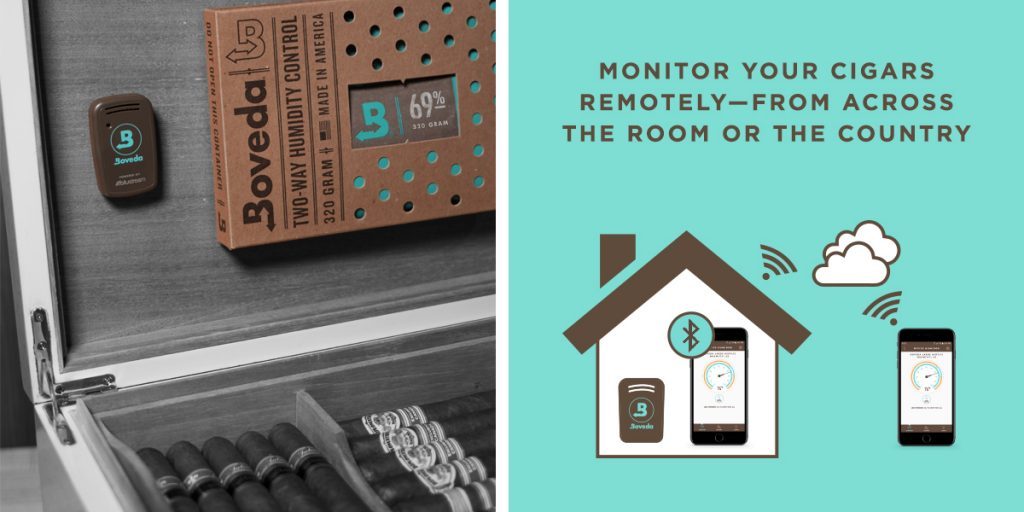 PRODUCT PERFORMANCE
The Boveda Butler's claims and their price point make them very tempting for cigar enthusiasts and aficionados. For $30 (now) they give you the ability to remotely keep tabs on your cigar inventory. In a hobby that can be pretty expensive, finding ways to save money is always a good thing. 
REAL WORLD EXPERIENCE
My experience may not be the typical Boveda Butler experience; however, it is worth noting that Boveda did pull their Butlers from store shelves in early 2019. They are now back in stock but at the $30 price point. In my opinion, you get what you pay for. For all of the reasons listed above, I cannot recommend the Boveda Butler. 
RATING BREAKDOWN
Product Design  ……………………  0.5 / 0.8
Product Usefulness  ……………..  0.4 / 0.5
Setup Process  ……………………..  0.5 / 0.5
Product Experience  ……………..  3.1 / 7.7
Personal Enjoyment  …………….  0.0 / 0.5
 YOU GET WHAT YOU PAY FOR.
Cigars are expensive, so why would you not want to spend a bit more to protect them? Boveda Butler's price point makes it an attractive option for cigar enthusiasts and aficionados who may be looking to save a few bucks. When the Butler works, it's great. When the Butler isn't working, you might as well not have a hygrometer at all. Take my advice and invest in something that will protect your investment with more consistency. Unless the Boveda Butler 3.0, with it's $30 price point, can be more consistent and deliver on the features promised, you'd be better served by saving some money and investing in a digital hygrometer. 
SIMPLYSTOGIES RATING:  4.5 / 10.0