VITOLA:   Londinenses (Robusto Extra)
SIZE:   5-1/2″ x 54
ORIGIN:   Costa Rica
FACTORY:   Tabacos de Costa Rica
WRAPPER:   Ecuadorian (speculative)
BINDER:   Undisclosed
FILLER:   Nicaraguan & Peruvian (speculative)
STRENGTH:   Medium
SOURCE:   
Franklin Cigar – Nashville, TN
WHERE:   
Three Season Porch at Home
WHEN:   
June 06, 2019 @ 11 PM
DRINKS:   
Water
WEATHER:   
Mid-60s, no precip – great summer night
WHAT'S ON:   
Nada
RELEASE TYPE  Limited Release
ORIGINALLY RELEASE DATE  Unknown
TOTAL PRODUCTION
Typical Box Size:     Jars of 24
Production Totals:  On-going production limited to 1,000 jars annually
VITOLA BREAKDOWN
o  Mesolongis – 7-1/4″ x 58
o  Venecianos – 6-1/2″ x 56
o  Habaneros – 6″ x 54
o  Londinenses – 5-1/2″ x 54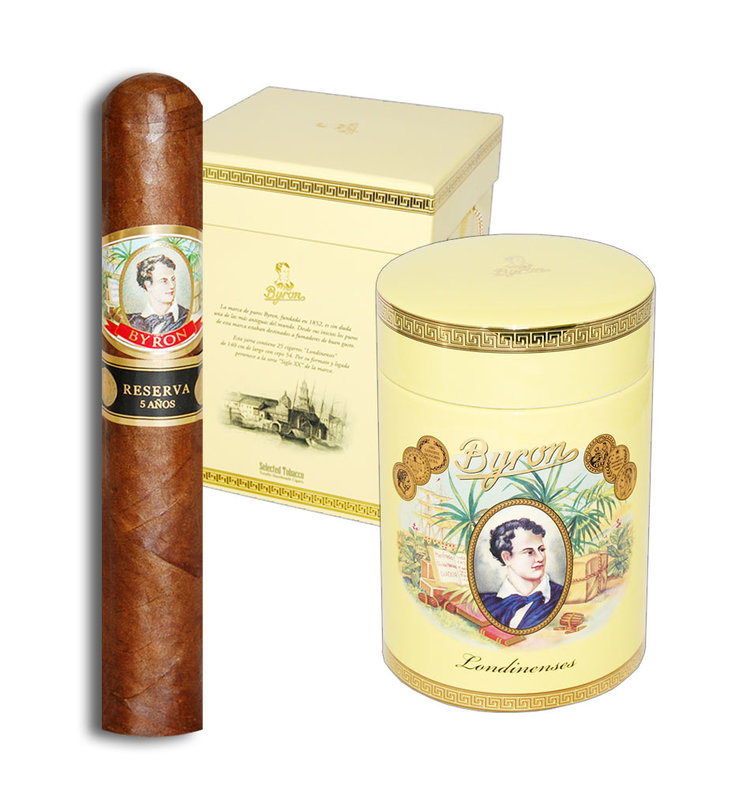 RESEARCH & BACKGROUND INFO
As a brand, Byron draws its origin from a couple cousins from the Canary Islands setting up a small cigar factory on Macias Street of Santiago de Las Vegas in Havana, Cuba.
These cousins and their 12 employees produced cigars from tobacco grown on a couple local farms that each had inherited from their parents.  One farm was located in the same town as their factory while the other was in Tapaste, a small village in San Jose de Las Lajas.
At the time it was trendy to give cigar brands an Anglo-American name to appeal to the growing UK and American markets.  The cousins chose Lord Byron to honor the famous poet – who also happened to be a fervent cigar enthusiast.
The brand was immensely popular and continued to grow until one of the cousin's grandson, Ricardo Alfonzo – a third-generation owner – fell on hard times and was forced to sell the brand to Casimiro Alvarez.
Byron's website notes that Alfonso took out a substantial loan to build a modernized cigar factory – unfortunately the loan fell through due to the lender filing for bankruptcy and Alvarez had to forfeit not only the factory but the brand to settle the debt. This is a little confusing and I wonder if they meant to say Alvarez, not Alfonso?
Fastforward to 1998 — 90 years after the brand was sold and lost – Ricardo Alfonso's great grandson and modern industry icon Nelson Alfonso obtains and resurrects it. If his name sounds familiar, he's the dude responsible for branding Cohiba / Behike but he also dabbled in Montecristo, H. Upmann and Romeo y Julieta.
The modern iteration of Byron uses a small factory in Costa Rica to produce cigars in extremely limited quantities.
Each vitola offered by Byron is a unique blend inspired by a different era of Cuban cigar production – Siglo XIX, XX and XXI – representative of Cuban cigars produced in the 19th, 20th and 21st centuries.
All Byron cigars rest in their aging room for a minimum of one year – although the cigar in this review was aged 5 years.
After aging in the Costa Rican aging room, Byron ships the cigars to a second Costa Rican factory that specializes in packaging. All Byron's packaging is top of the line – jars, patented humi-tubes, etc.
The Byron Londinenses Reserva 5 Anos come in ceramic jars – a dramatic departure from the cardboard packaging the first Lord Byron cigars were sold in.
Byron seems equally proud of their packaging and 'technology' as they are of the cigars they produce – some interesting stuff.
Byron is owned by Selected Tobacco S.A. – which is distributed in the US by United Cigars.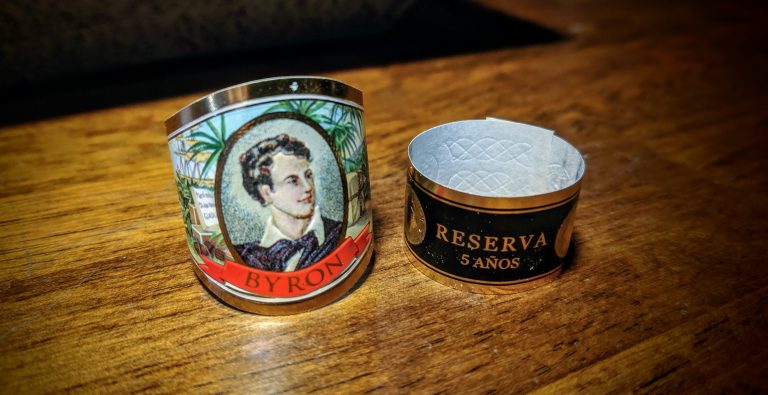 When Nelson Alfonso decides to take on a cigar's branding, you sit up and pay attention.  The man has had significant role in branding many iconic Habanos brands – most notable is probably Cohiba's Behike line.  When resurrecting his great grandfather's brand, Alfonso pulled from the history and lore of that brand – maintaining its homage to Lord Byron.  It's clear the intent is to take the classic imagery used to launch and popularize the brand and bring it to a modern feel while adding some elements you'd expect from a high-end luxury cigar.  Although the classic band is dismissed, the modern band features the same portrait of Byron that graced the interior lids of the old Cuban boxes.  It also adds some gold foiling to the borders – adding that high-end element.  The secondary band utilizes the gold medallions found on the original packaging and shows and interesting details – the back of the bands show off an embroidered pattern.
All in all, Byron did an excellent job using imagery and lore from their past to develop a band that is able to comfortably sit on a $30 cigar.  For the relative youth of the brand's modern iteration, it looks and feels established.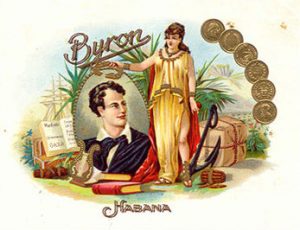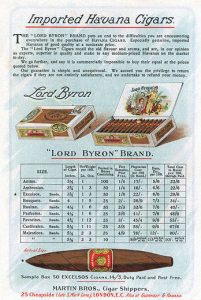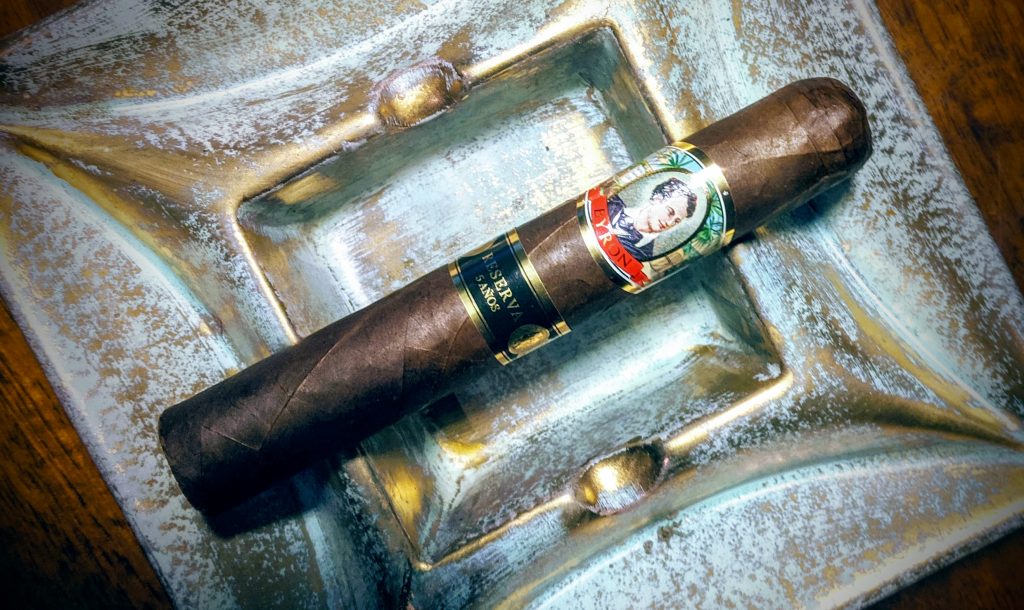 CONSTRUCTION
First things first, this Byron Londinenses is drop-dead gorgeous.  Byron keeps the blend components close to the vest but halfwheel recently reported the 2013 vintage of the Grand Poemas XIX released earlier this year (2019) was comprised of an "Ecuadorian wrapper over fillers from Nicaragua and Peru."  It's purely speculative but it stands to reason that the Londinesnes could use the same wrapper since both belong to the same Siglo XIX family.
Regardless of its origin, the wrapper is stunning – a lustrous oily sheen and chocolate-brown hue so uniform that the seams are well hidden.  There are veins encircling the cigar but they sit almost completely flat – the cigar is exceptionally smooth considering its appearance.  The cigar feels very solid in the hand.  The Londy has a pleasant weight to it and the vitola's slight excess in gauge and length seem to fit the cigar's luxurious status and price point.  Unsurprisingly, no soft or hard spots are found while inspecting the cigar's body.  
The cap appears to be a flawlessly executed triple cap. It's applied with laser-like precision and symmetry.  A diverse array of browns are showcased in the foot. Based on appearance, this Byron appears evenly rolled with no obvious concerns from the foot.  For a $30 cigar, this stogie certainly fits the bill visually.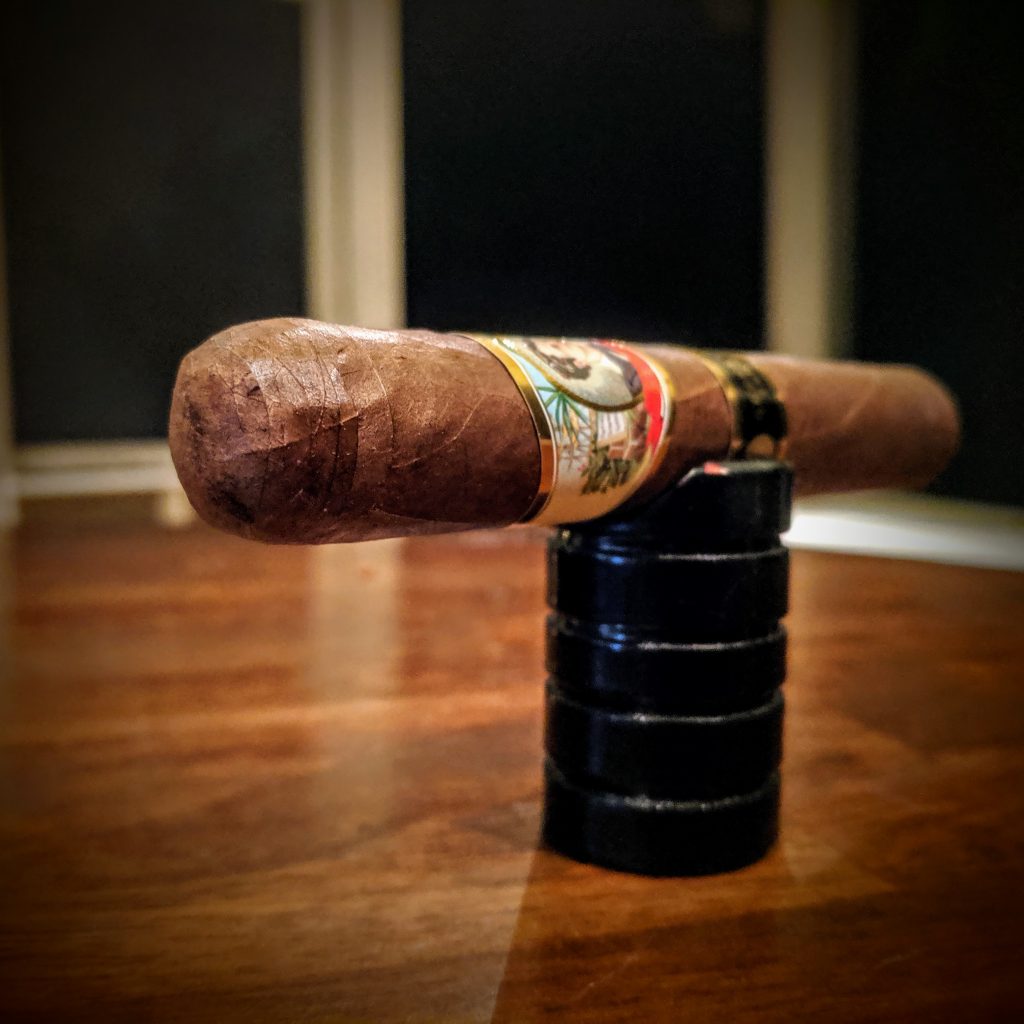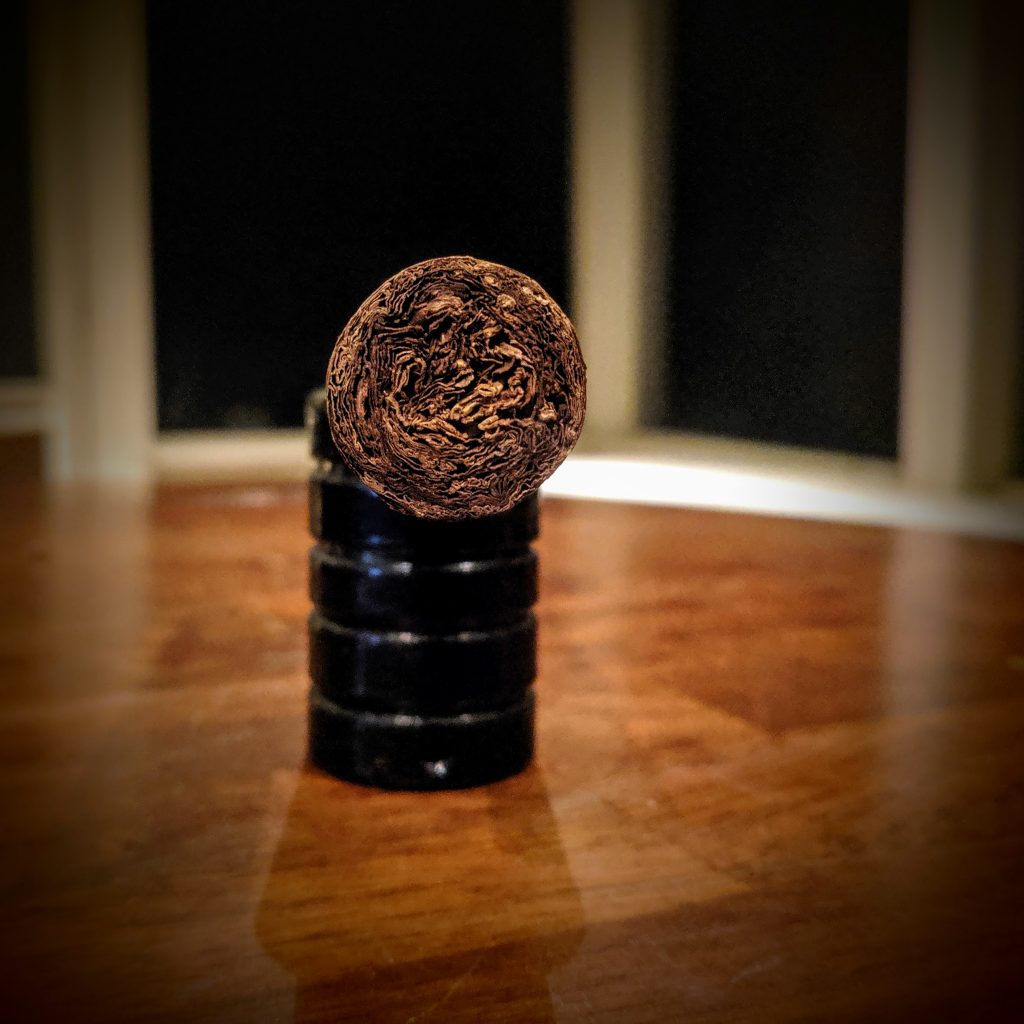 AROMA
Wow – often aromas will underwhelm but Byron emits a fantastic cedar/iced tea smell off the foot.
COLD DRAW
The cold draw is excellent – offering a Goldilocks-level of resistence paired up with some additional cedar and very mild but sweet cinnamon.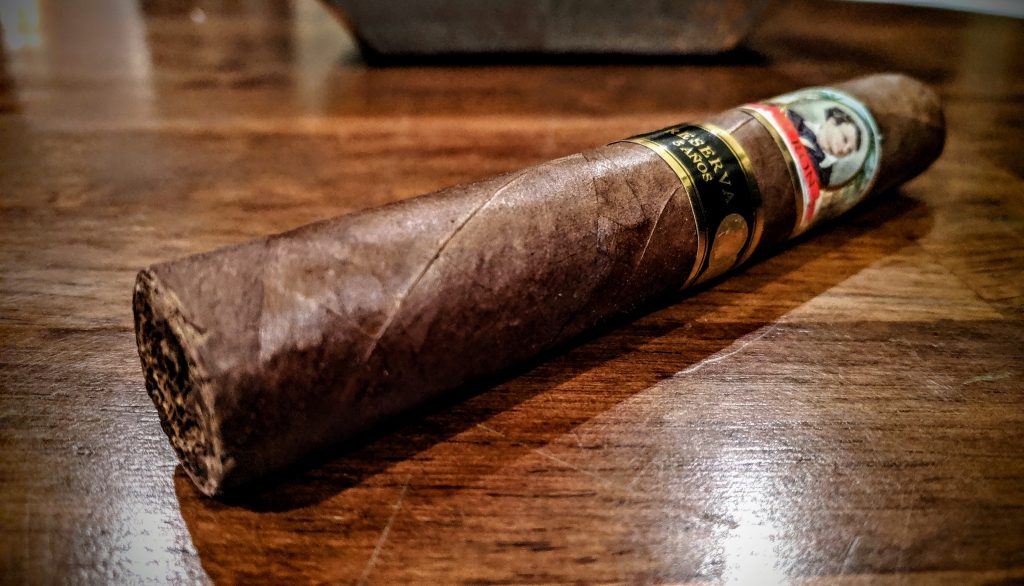 LIGHT & DRAW
Cut:  Colibri SV (v-cut)
Fire:  ST Dupont (soft flame)
The pre-light aromas and tastes that alluded to sweeter flavors are betrayed by the first few puffs of the freshly lit Londy.  The initial flavors are more in tune with muted nut and yeast-like tones.  There's a unifying creaminess and absolutely no harshness to be found.  On the finish a faint, deep pepper shows up – it's not an overt pepper – this feels like a deeper, developed flavor.  For being three puffs in this cigar is very interesting out of the gate.
The draw is slightly snug but definitely nothing to be concerned about.  The cigar lit very easily and evenly – immediately burning to an exceptionally even ash line.
SMOKE
This hefty Byron is conservative with its smoke output.  Each puff yields a minimal yet still satisfying amount of whispy white smoke however a mere seconds after being laid down to rest, the cigar's smoke is completely absent.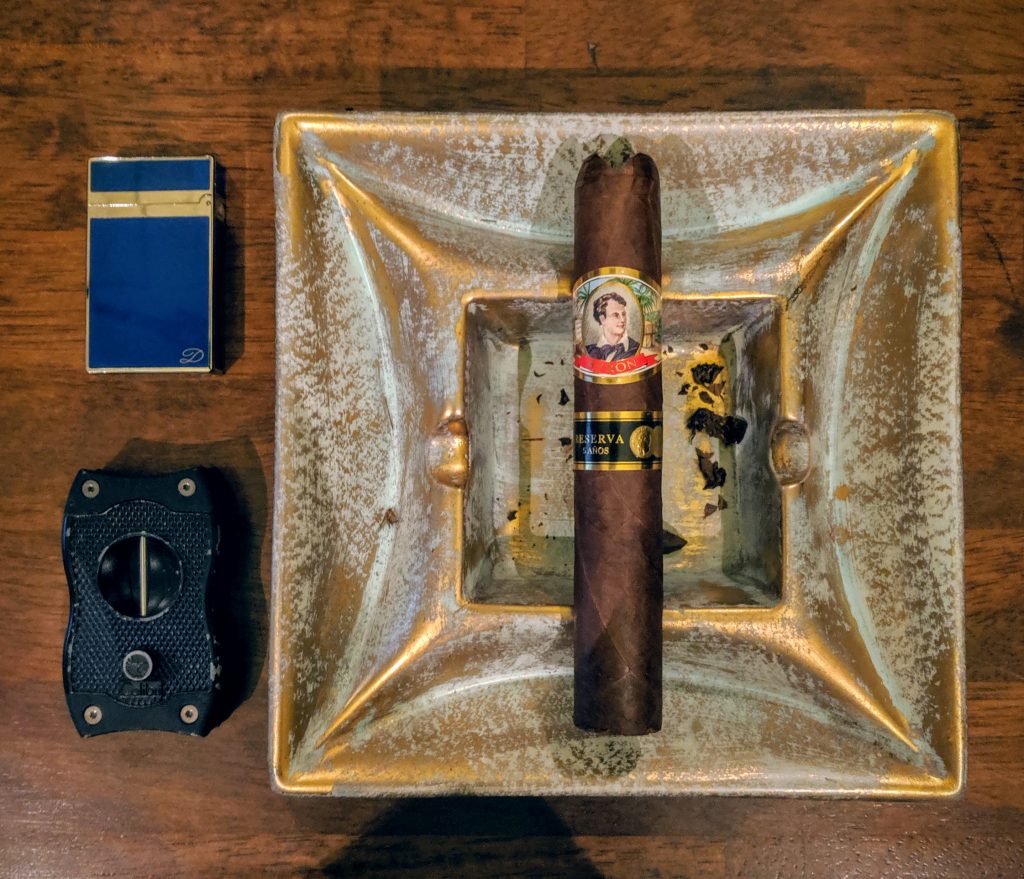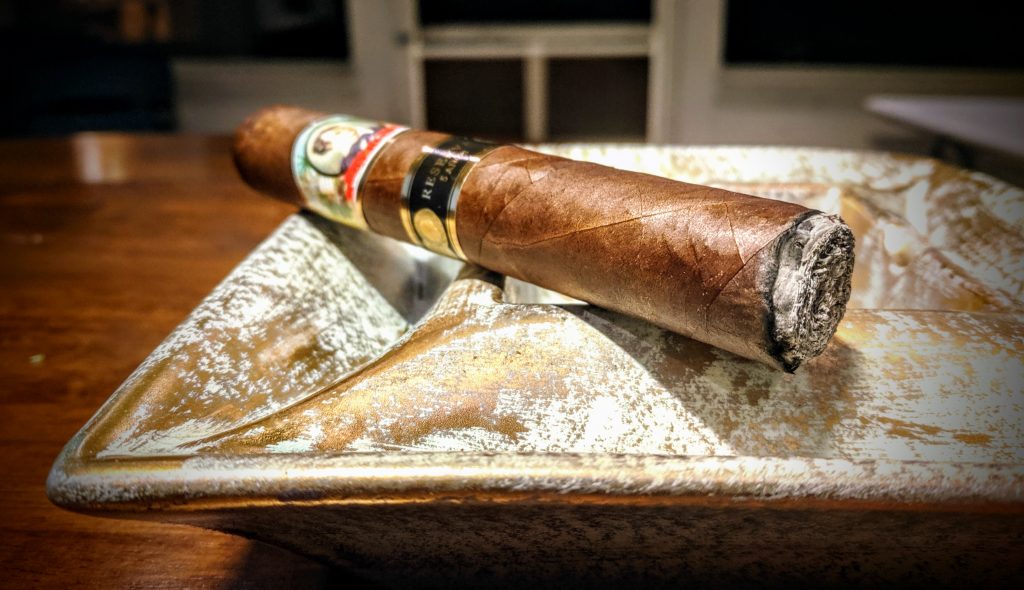 FIRST THIRD
>> Cream, cedar, pepper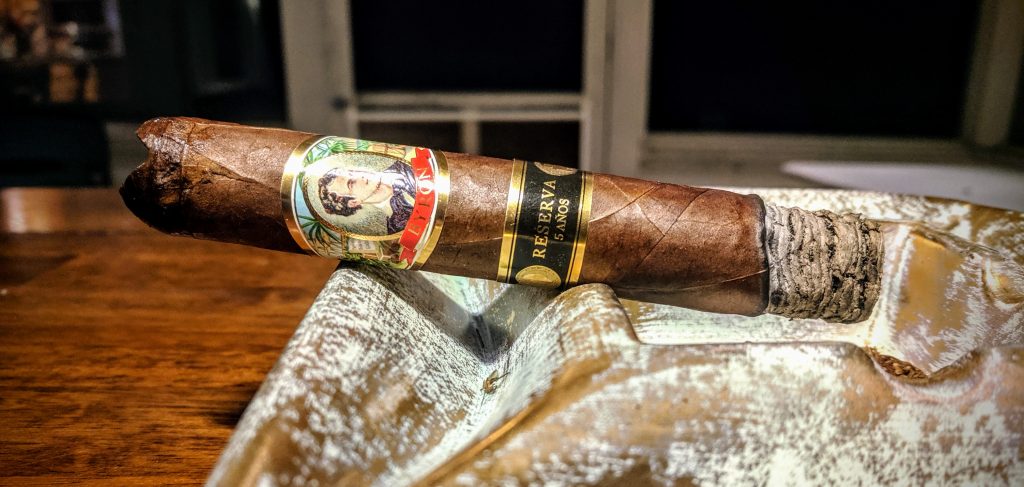 There is a familiar zing with every puff of this cigar – very reminiscent of that Cuban 'twang' to which people often refer.  The twang gradually fades to a peppery tone that coats the palate.  Somewhere in there a sweeter creaminess starts to emerge and compliment the pepper.  Additionally some rich wood tones start to unfold – maybe a little aged cedar.  The retrohale brings out some very prominent citrus – almost like artificially-flavored orange candy.
The draw has opened to perfection.  Speaking of perfection, this burn line is flawless and the definition of razor sharp.  The burn is nice and slow – forcing the smoker to take their time and enjoy this high-end stogie.  Keeping in line with this cigar's stellar performance so far, the chalky grey ash is stacking like a work of art – delicately layered and holding strongly.
SECOND THIRD
>> Sourdough, cream, salt water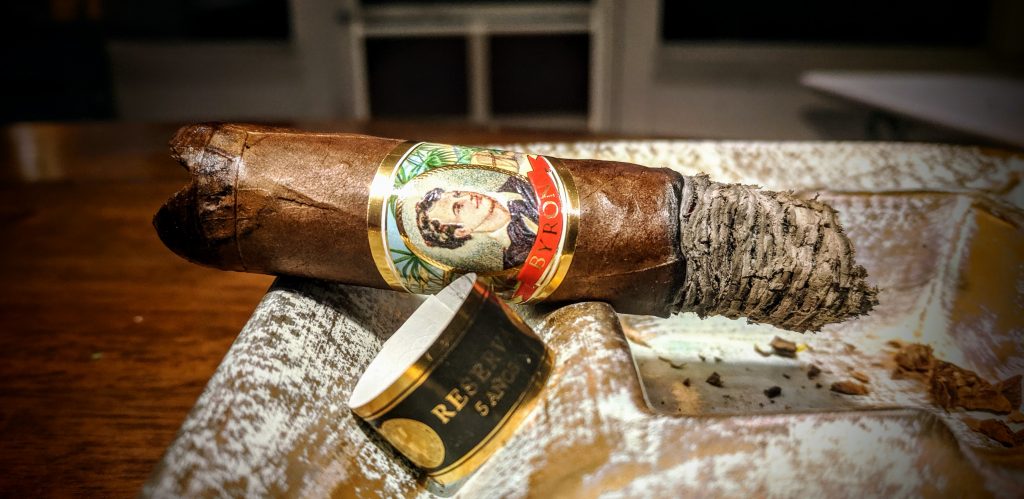 And just like that, the pepper disappears.  That twang that dominated the first third has softened to a sweet creaminess with a hint of red pepper lingering in the background.  The yeast found in the initial flavors has sprung back to bring some sourdough-like pop to the palate.  The finish on this is a texturally soft cream with very slight sweetness and definite lingering saltwater bread elements.  Other flavors found in this third: toasted, butter-laden pie crust, pitted cherry, wood.
Retrohale here continues to bring a little citrus/green pepper but primarily blasts those pepper tones to the forefront.
FINAL THIRD
>> Salt pork, brownie batter, pepper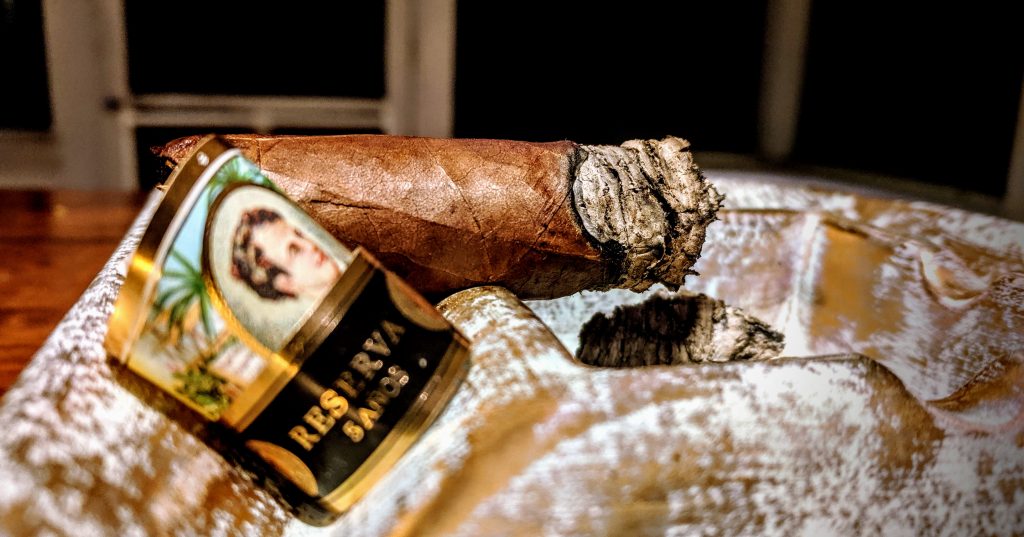 The Londinenses is unbelievably complex – you could really analyze these flavors to the point of exhaustion and still miss plenty.  Sadly I've reached the final third and the flavor dominating the palate at the onset is oceanic saltwater or salt pork.  Oddly enough, and not in a gross way, there is some raw brownie batter/cocoa coming to the palate as well in addition to a return of some pepper at the back of the throat on the finish.  At this point the complexities of the previous flavors continue to build and close out the cigar with a body and strength on the richer/stronger side.
I can't gush about this cigar's physical performance enough.  This is a light and put your lighter back in your pocket kind of experience.  Touch ups are completely unwarranted, the draw never wains from perfect, ash stacks solidly to a couple inches without fail.
FLAVOR PROGRESSION
Byron's Londinenses is a cigar that deserves to have its flavors dissected by the quarter-inch – not by the crude thirds I (and most reviewers) feel compelled to compartmentalize the experience into.  Seemingly every few puffs present a subtle transition to something new that drew its roots in the previous flavor.  This cigar is elegantly balanced for the majority of the smoke however at times the pepper tends to dominate.  Finally, there's an easy to miss smoothness to this cigar – the flavors all just meld together and mesh so effortlessly.
BURN EXPERIENCE
As I stated above, this slow-burning masterpiece needs no attention after the initial light up.  For a cigar asking you to plunk down over $30, it performs perfectly down to the nub.  I also appreciate the pace at which it burns – forcing the smoker to really contemplate the rich, dynamic flavor range it provides.
RATING BREAKDOWN
0.80 / 0.80 … Craft & Aesthetic
0.50 / 0.50 … Pre-Light Characteristics
0.49 / 0.50 … Lighting Process
7.51 / 7.70 … Smoking Experience
0.50 / 0.50 … Personal Enjoyment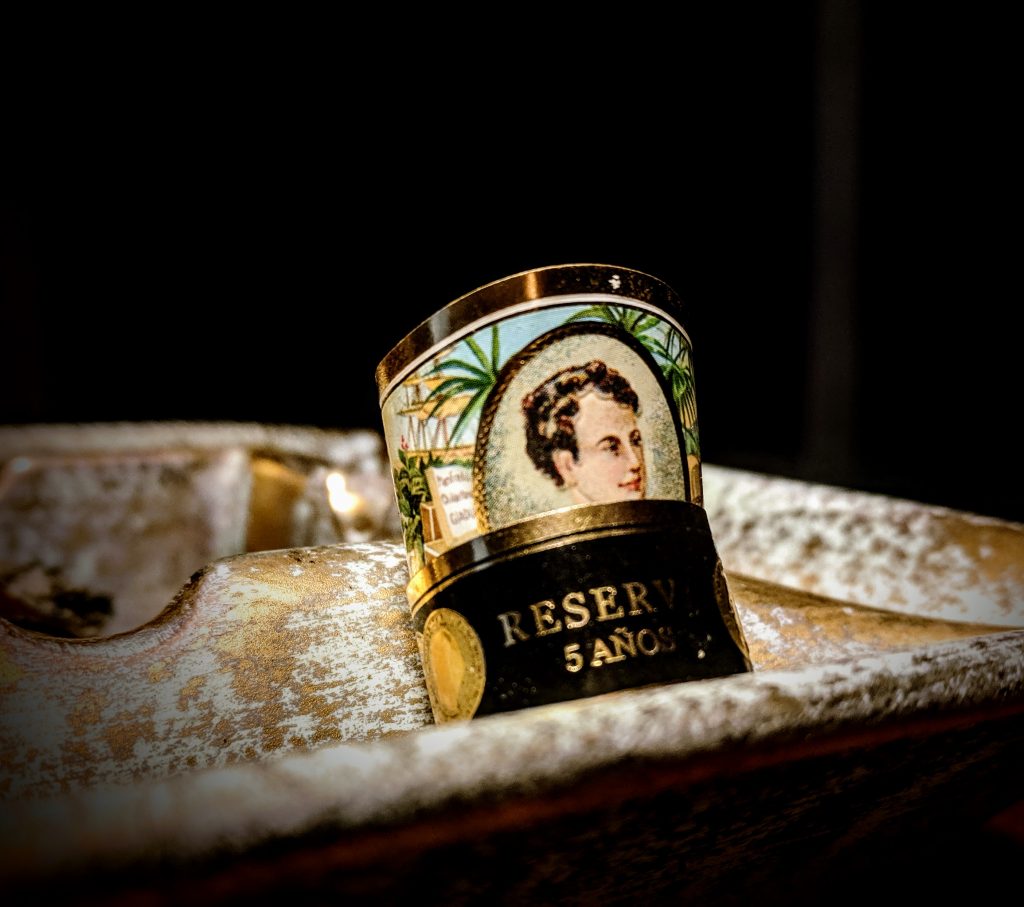 PALATE SCAVENGER HUNT.
Like the beautiful poems for which Lord Byron is known, Byron's Londinenses delivers an elegant range of flavors that will leave even the most experienced smoker baffled to identify.  It's a scavenger hunt for the palate – grab a flavor wheel and see how many pieces of the pie this stogie checks off.  It's complexity brings wood, bread, sweetness of varying aspects, creaminess, fruit at times, multiple salt-based elements … the flavors go on.  Everything is expertly balanced in a medium-strength format that anyone can enjoy.
The price tag delegates most Byron cigars to the occasional or celebratory range and the Londinenses certainly can meet that expectation – especially in terms of craft.  This cigar burned perfectly and certainly is among one of the best rolled cigars my lips have embraced.  If you're on the fence, I recommend pulling the trigger and scooping up some of these to bust out the next time the occasion merits a complex, rich, luxurious cigar. 
SIMPLY STOGIES RATING:  9.8 / 10.0
I love reading other reviewers' thoughts on the cigars I'm smoking and reviewing – it helps to show that no one review is perfect and there's always different opinions and tastes out there.  Here's how my review stacks up with some of the best in the biz.
Byron's Londinenses doesn't seem to draw negative reviews.  A few people question if it warrants its price tag but generally most people enjoyed the cigar free of price consideration.  I rated the cigar a bit higher than the average score of 9.15 but to me the complexity of flavor really drove the higher rating.  Let me know your thoughts!
CIGAR AUTHORITY
CIGAR OBSESSION
BLIND MAN'S PUFF
LEAF ENTHUSIAST
CIGAR NOISE
CIGAR AUTHORITY
CIGAR OBSESSION
BLIND MAN'S PUFF
LEAF ENTHUSIAST
CIGAR NOISE