The "hobby within the hobby," as James puts it, is the collecting of all the essential gear one needs to properly smoke cigars. When we first began the hobby of cigar smoking, we knew we would need a lighter, a cutter, and an ashtray. Little did we know that finding the right type of gear, or the gear that works best for you, could be so time consuming or overwhelming.
There are a plethora of options for new enthusiasts and aficionados to choose from: single blade cutters, double bladed cutters, scissors, v-cutters, soft-flame lighters, torch lighters, double-flame lighters, triple-flame lighters, and too many ashtrays to count. Whether you are a grizzled aficionado or a new cigar enthusiast, our essential gear list will help you find what works best for you. As note, these are not presented in any particular order.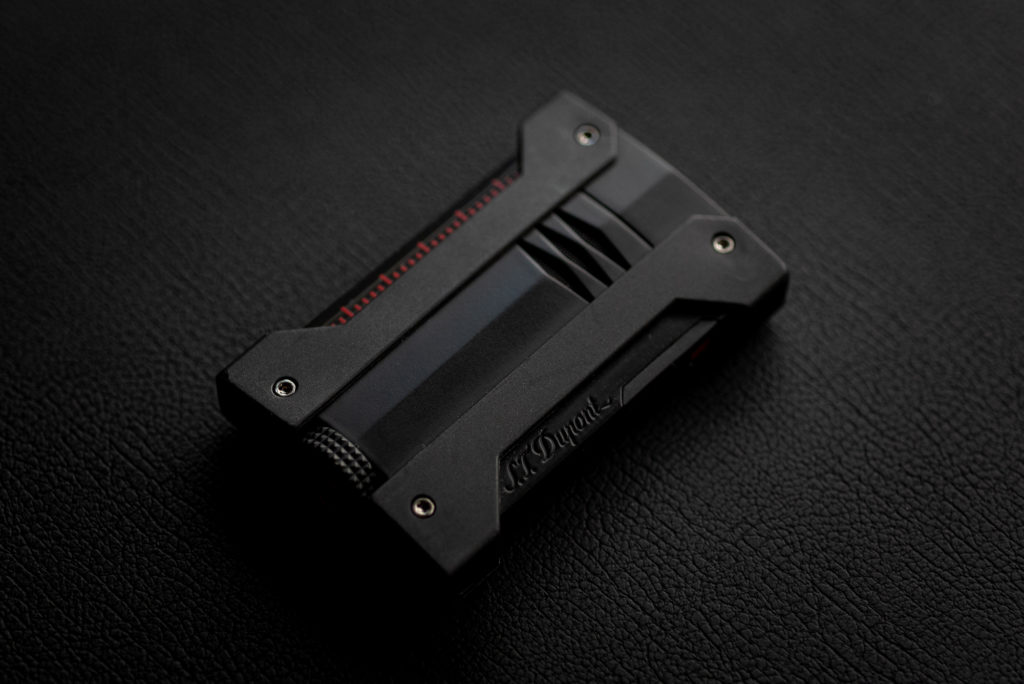 Cutter — Xikar XO Cutter
Xikar is a very well known company in the cigar industry. Their variety models of cutters and lighters are easily found in many cigar aficionados' homes, like Xi cutters. Xikar XO cutter is a fairly new design dual edge cutter from Xikar. I've been using one for over a year and it's just amazing how good it is. Cutting is effortless, thanks to even geared design that equally distributes forces into both blades. Opening the blades is also very satisfying. The Xikar XO Cutter is my go-to cutter.
Honorable Mention : Colibri V-Cut
If you prefer V cuts for your cigars, Colibri V-cut delivers deep and satisfying V cuts.
Lighter — Xikar Tactical One
I hoard lighters. There, I said it. With over 20 lighters in my possession, I must say that my latest lighter acquisition is my favorite right now. Since I saw and read about Xikar's newest tactical series lighter, I was very intrigued. Tactical One, as the name suggests, is a single jet flame lighter. However, not like the traditional single jet lighters, the jet is big. What does that mean for cigar smokers? It has the power of triple jet flames, so you can start up even the biggest ring gauge cigar you can fit in your mouth. It also has the precision of a single jet flame, to make touching up an unruly burn line with ease. 
Honorable Mention: S.T. Dupont Defi Extreme
If you've got the money and want to pursue the quality and style, I really love my S.T. Dupont Defi Extreme. 
Ashtray — Padron Hammer Ashtray
This only applies if you enjoy Padron cigars as much as I do. I feel like Padron's Hammer Ashtray is designed just perfectly. Plenty of space for ash, with enough grooves for 4 people, plus a minimalistic design with gold accent are all the things I love about this simple ashtray. It doesn't need your attention. It will just simply do its job. But when you take a second to look at it, you notice the simple gold design that makes this ashtray look very sexy. 
Case — Project Carbon Travel Case
If you've been around Simply Stogies for a while, you might have already seen my review on Project Carbon Travel Case. (You can read the detailed review here). The case has plenty of space for all the accessories you need to enjoy a cigar away from home. Since it's not an airtight case, I make sure the cigars don't stay in the case for longer than 12 hours after I take them out of the humidor.
Honorable Mention: Cigar Caddy airtight hard cases
Whenever I travel, I always grab an airtight hard case to safely transport my cigars and keep them humidified with Boveda packs.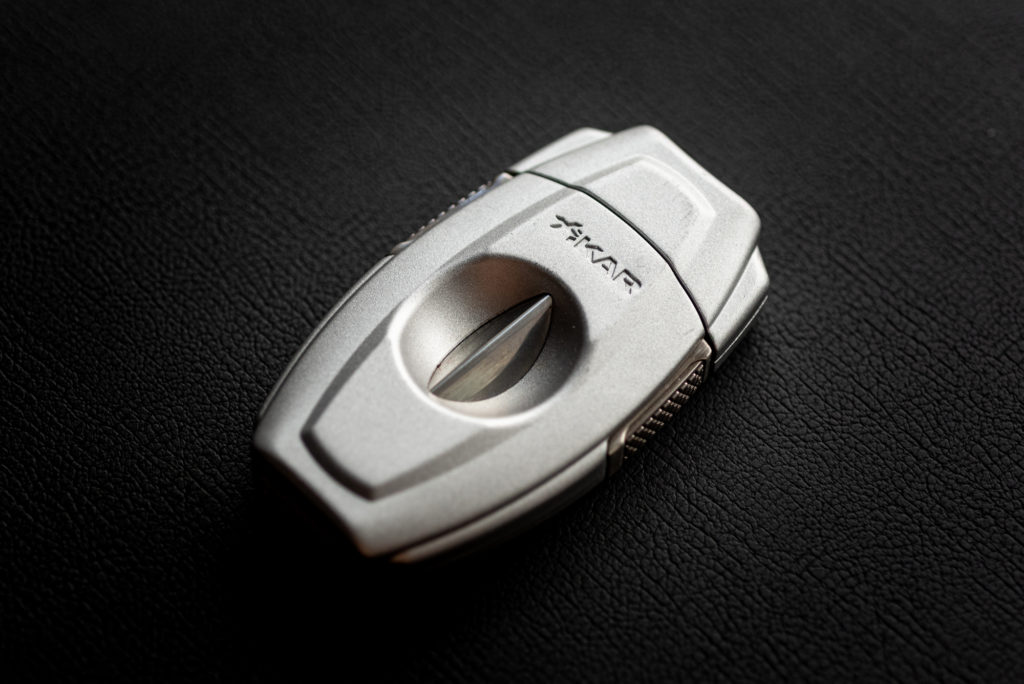 Cutter — Xikar Xi Cutter
Xikar offers 3 different types of cutters in their Xi line, the Xi1, Xi2, and Xi3. While all three use the same type of blades, the Xi is just a bit heftier than the Xi1 and Xi2 lines. I own an Xi1 and it's just too lightweight for me. I always feel like I'll lose it, and it just feels flimsy compared to my Xi3. Personally, I'm of the mind that cigar accessories should reflect the personality of the smoker. The Xi3 comes in a variety of designs and "exotic" components, which adds to the uniqueness and allows a bit of your personality to come through. Xikar's lifetime warranty is just the cherry on top of a great cutter.
Honorable Mention: Xikar Keychain Twist Punch
Lots of people talk about EDC (Every Day Carry) but let's talk about what's practical. Is it practical to carry a full-size cutter around in your pocket every day? It might be for some; for most though, probably not. The solution, for me, is the Xikar Keychain Twist Punch. The cigar punch works with most cigar shapes and having it on a keychain means that you will always have it with you, even when you didn't plan on smoking but end up in your local lounge.
V Cutter — Xikar VX2
A V cutter should be in everyone's cigar toolbox. It is the perfect cut for perfecto, torpedo, and belicoso shapes. The VX2 from Xikar has a nice heft to it. You don't feel like you're going to lose it when you are cutting your cigar. The heft adds to the "heavy duty" feel of the cutter, too. It is designed to give you the perfect V cut every time. That is my favorite kind of accessory…the one that makes it almost impossible to screw up a cut.
Ashtray — Custom Ashtray
There is no better way to let your personality come through than to purchase a custom ashtray. Whether it's wood, metal, concrete, glass, or some other material, a custom-made ashtray is where form meets function and tells other brothers and sisters of the leaf how passionate you are for the hobby.
Lighter — Xikar Double Allume Lighter 
A lighter can add or detract from your smoking experience. When you have a cigar with a large ring gauge and only have a single flame torch, it can be difficult to light. Conversely, if your cigar is a smaller ring gauge and you try lighting it with a triple flame torch you run the risk of burning the wrapper. The Xikar Double Allume is the perfect compromise. It gives you the precision of a single flame, and enough power to easily light the largest of ring gauged cigars.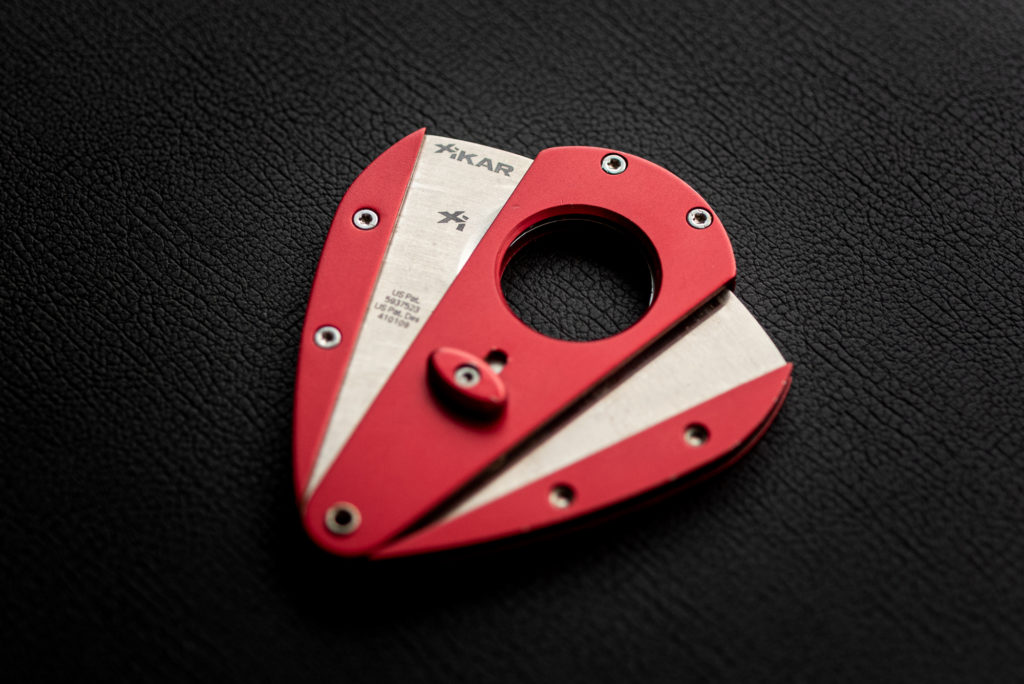 Cutter: Cutter — Xikar Xi1 
I'll be brief with my preferred cutter. To me, the plain black metal Xikar Xi1 is the only cutter you really ever need. It's sleek, extremely sharp, and comes with a lifetime warranty. The double guillotine style blades instill confidence when cutting. The blades just swing open elegantly and click in with a bolt action. It's really satisfying to use, with a quick snap as it opens, then loud click. I have had mine jam up a few times, so just make sure you tap those tobacco shards out of the case after every cut. The smaller size may prevent you from smoking 60+ ring gauge cigars but I smoke those big boys so rarely it doesn't matter. I once lost my first Xi1 at a Vegas casino when I left it at a slot machine (screw you to the person who stole it when I went back to look for it!). Luckily my friend Frank was a good man and bought me a replacement as a gift knowing how tragically I had lost my first one. That's a true friend.
Honorable Mention: Colibri Firebird Nighthawk
 When I don't have the Xi1, which I now tend to keep at home for fear of losing it again, I carry around this very affordable cutter that also works as a makeshift cigar holder due to the ridges on the side of its case. The blades are very good for the price, and stay very sharp. Only one blade actually moves while the other stays in place, giving you confidence as you cut (so you can ground the cap of the cigar on the stagnant blade while you press them together). For $13 or so, I can afford to lose this and not feel too bad about it. As you can tell, I've lost a lot of cutters in my 11-plus years of smoking cigars, so I tend not to get too attached to them or invest too much in cutters. Whatever you do, don't bite cigars. I mean, if you must, go for it, but I just don't enjoy a cigar as much when it isn't cut.
Lighter — Lotus Mercury 63
This is my all-around versatile lighter that has a nice sleek frame, good gripping to keep it in your hand, a fuel indicator, nice strong adjustable double butane jets, and even a handy cigar punch for those times when you don't have a cutter around. I like that the metal latch elevates nicely when you engage the switch, giving this a well-built, high quality feeling. And the lighter old costs about $25. My only qualm is that the fuel tank is not going to last you more than a week of regular smoking, so you'll need to have some butane to keep it charged up. 
Honorable Mention: DJeep Lighter
I love these soft-flame lighters you can find at virtually any smoke shop and even many gas stations. They're big, easy version of Bic lighters but with a more neutral fuel so you don't get that gasoline taste in your mouth when you puff on the cigar. The flame is adjustable, in case you're smoking a bigger cigar and need that flame to cover the foot as you light. The large thumbplate is a hell of a lot easier to use than a Bic, which is great for when you're lighting up a cigar. DJeeps are sort of wind resistant though of course they're not going to work that well in a windy environment. But, they last forever. I've only ever exhausted one of them, at which point you can toss them (I've tried refueling them to no avail). I've never seen a DJeep for more than $3 and they often come wrapped in ludicrous designs and colors, but the best one I've ever had is a carbon fiber one that looks very sleek.
Ashtray — Vintage Glass Cigaretter Ashtray
My wife likes to go hunting for ashtrays in vintage stores and thrift shops for me. A few years ago, she bought me a really nice glass ashtray that was clearly meant for cigarettes, but still worked for cigars. They're not that great actually for holding cigars. The angle downward into the middle means cigars will slide into the thing unless you place it perfectly on the resting part. I also have nicer cigar ashtrays, like a custom hand-carved solid walnut one a woodworking friend made for me, and of course a huge Padron ashtray with gold lettering that you'll often see in lounges. But to me, I love the feel of a vintage glass ashtray that makes me feel like I'm smoking in the Mad Men era. 
Case — Skyway Stonewall Leather
I use sturdy black travel humidors that hold around five to six cigars when I'm going somewhere like Las Vegas for the weekend, but whenever I'm in town and heading to bars or my regular cigar spots around town, I use this affordable leather case by Skyway Stonewall that I picked up on Amazon for around $16 (it's now gone up to $25, which is annoying, but I think the company figured out they were underpriced. There are numerous leather cigar cases on Amazon but few of them look as simple and functional as this while staying fairly well over the past few years that I've used it. The cedar lining inside is probably unnecessary, but the smooth interior does a nice job of keeping cigars safe from falling apart. It's sleek and sturdy enough to keep in my briefcase when I go into the office, and small enough to fit into the glove compartment if I'm driving out to the city for dinner and post-prandial cigars. Nothing is classier than showing up to a herf with a nice leather cigar case.