You may have heard of Iowa and many mid-western states referred to as "fly-over country" in the cigar industry. It's sad, but it's true. In this fast paced world we flock to the big cities engulfed with big brand chains, convenience, and high speed internet. Everything is fast, and we just try to keep pace. We often forget about the small towns that made all of that happen. 
Smoldering Cigar is a cigar lounge in a small town located in north-central Iowa, about 2 hours north of its capital, Des Moines and 35 minutes north of Fort Dodge. The town of Livermore was founded in 1879 and is called home by less than 400 proud Iowans with a rich history in the farming industry.
In Livermore there is one family in particular that you have to meet, The Bolens'. Brian and Seana (pronounced, Shawna) established Smoldering Cigar in 2020. Their goal was to provide an elegant-style space where you can slow down and relax. Everything at the Smoldering Cigar lounge is about the cigar. 
ADDRESS:   411 4th Ave., Livermore, IA 50558
PHONE #:   (515) 320-0551
HOURS:   Wednesday-Sunday: 12pm-7pm
BOOZE AVAILABLE:   No; Customers are allowed to bring their own beverages in accordance with state law

DRINKS AVAILABLE:   Bottled Water

FOOD AVAILABLE:   No; Customers may bring their own food 
SMOKING LOUNGE:   Yes
WALK-IN HUMIDOR:   Yes
SPONSORED LOUNGE:    No
OUTDOOR SMOKING AREA:   No / Future plans
MEMBERSHIPS AVAILABLE:   No / Future plans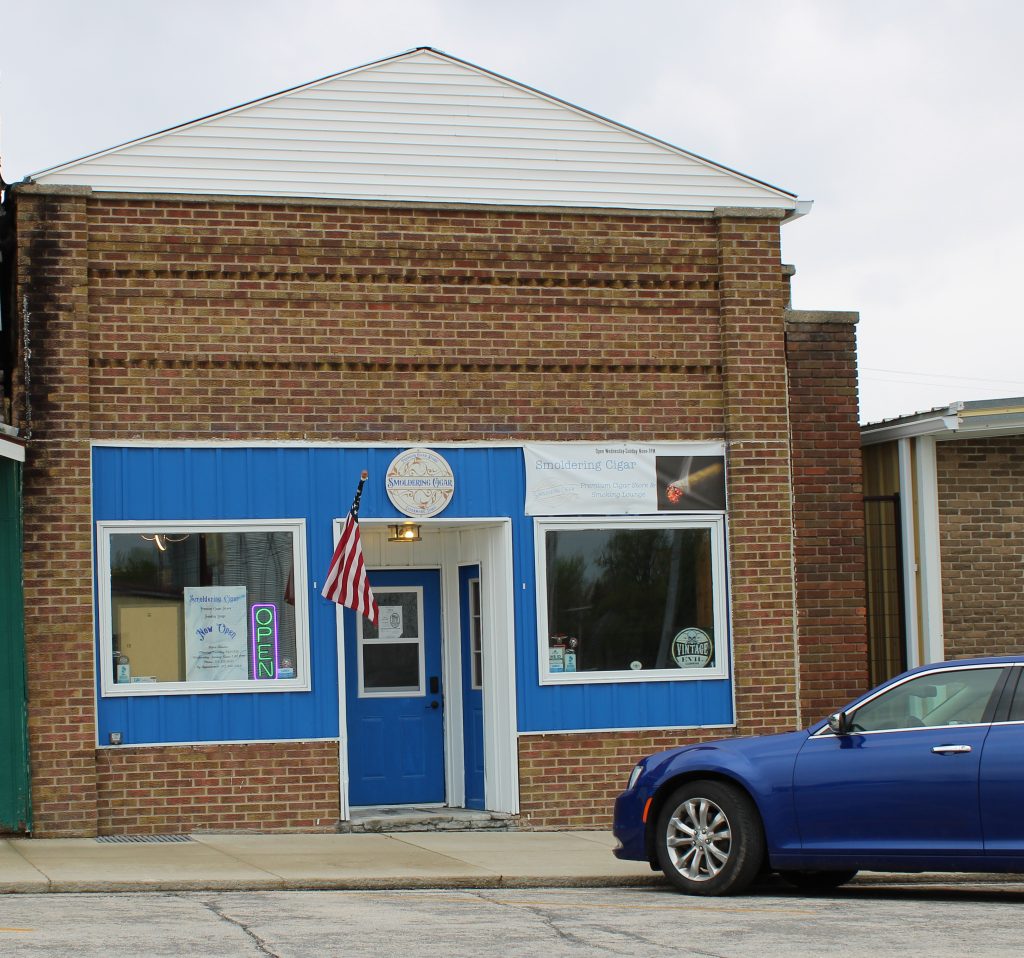 When you think about Iowa, you might think about corn. Though Iowa does have plenty of it, there is a lot more to offer. You just need to know what to look for. The state of Iowa has 99 counties. Each county is home to hand painted "Freedom Rock" by Bubba Sorensen. The Freedom Rocks create 99 piece unique mural across the state dedicated to honoring America's Veterans and to promote tourism in the state, each telling a story. Livermore, IA is home to Humboldt Counties Freedom Rock. It sits almost directly across the street from Smoldering Cigars.
Livermore, Iowa is indeed a very small town. They don't even have one of the states most beloved pizza joints that is conveniently located in a gas station, Casey's General Store. Though there are a few shops in town where you can get the necessities, depending on your particular adventure, you may want to make sure your gas tank is full when you arrive.
SELECTION/HUMIDOR SIZE

Given the location of Smoldering Cigar and the potential population it has within a 50-60 mile radius of commute to support regular foot traffic, the humidor selection is spot on. You are definitely not going to see a selection of unnecessary cigars. Brian carefully selects the cigars that he has on hand and does not typically carry back-stock. You will find big names like Drew Estate, Cohiba, Ghurka, Tatuaje, CAO, and Oliva just to name a few. Don't worry, you will also find brands such as Plasencia, LH Cigars, Blanco, and Martiez. There is a cigar in this humidor for everyone.
The walk-in humidor is much larger than you would expect it to be from the outside. You could easily park a Ford F-150 inside and still have a little room to walk around. Everything inside is exactly as you would expect it to be, very organized and clean. There is still a lot of room left in the humidor for Smoldering Cigar to grow as necessary.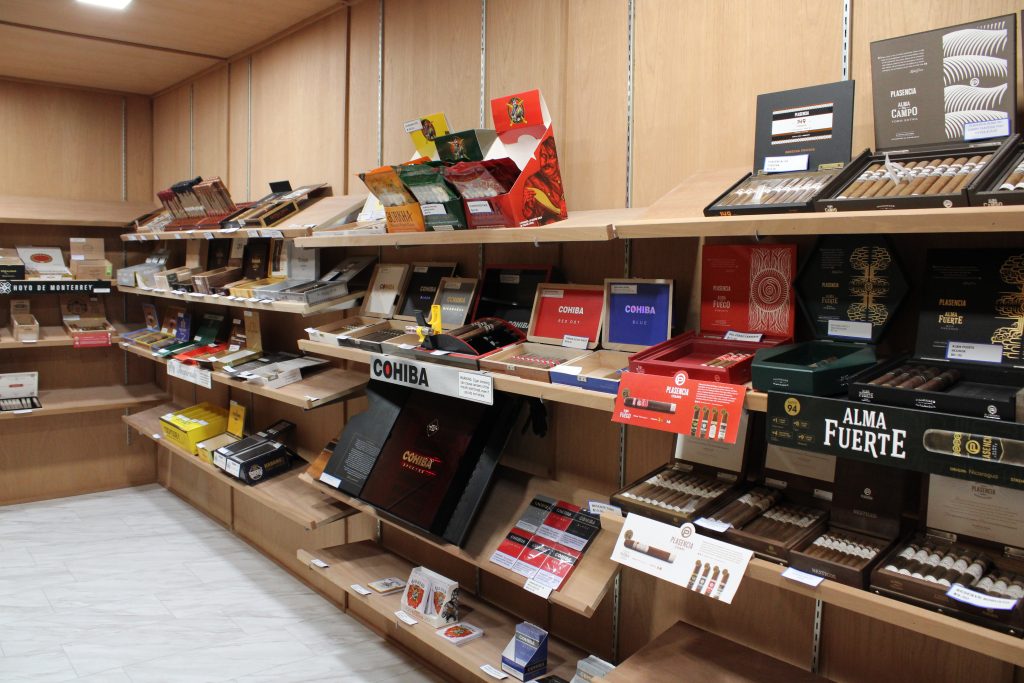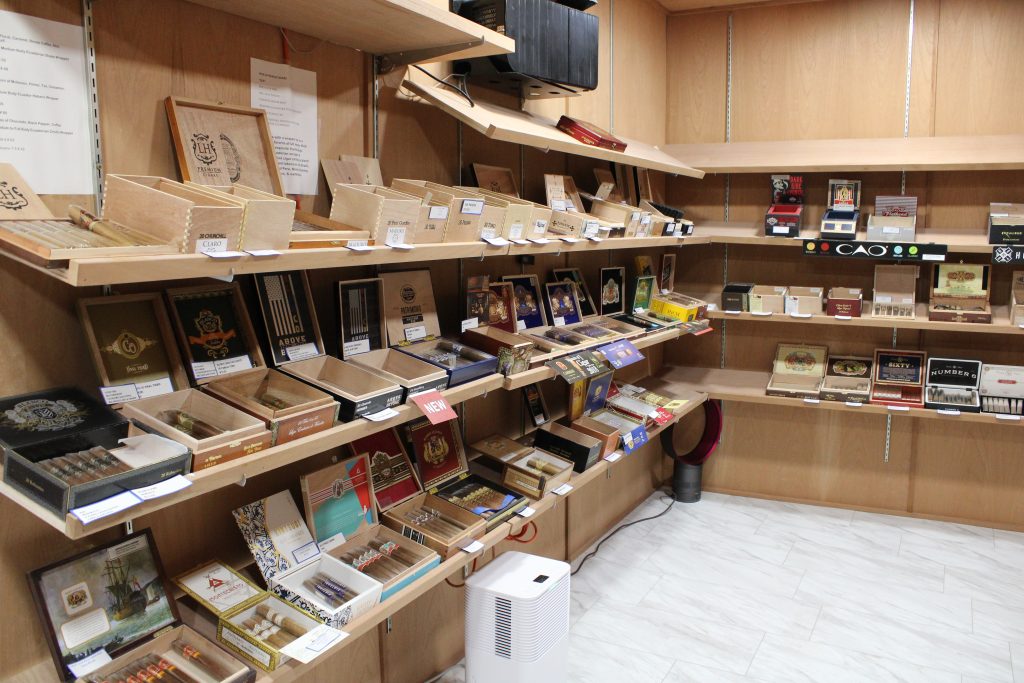 HUMIDOR MAINTENANCE

There is absolutely no doubt that a lot of care and thought was put into every aspect of Smoldering Cigar including their walk-in humidor. As Brian will explain, the walls to the humidor are insulated, covered with moisture barrier, all sealed by moisture resistant dry-wall, and finally covered by imported Spanish Cedar providing three layers of separation from the rest of the establishment.
When you walk in through the glass door that separates the lounge from the humidor you will instantly notice that there is a difference. In fact, if you ever wondered what your cigar feels like while resting in a properly maintained humidor, this is it. The smell of cedar and premium tobacco instantly caress your sense of smell as you enter. 
If you look closely, you will find at least five hygrometers carefully placed around the humidor. This allows Brian and Seana to know what the temperature and humidity is in any given spot within. Humidity is carefully balanced by using an ultrasonic commercial cigar humidifier and a de-humidifier to ensure the humidity is maintained at all times.
Eating, drinking, or smoking is strictly prohibited inside of the humidor. This rule has been put in place to show appreciation and respect to the leaf, processes, and people that helped bring the premium cigar to the market for the consumer to enjoy.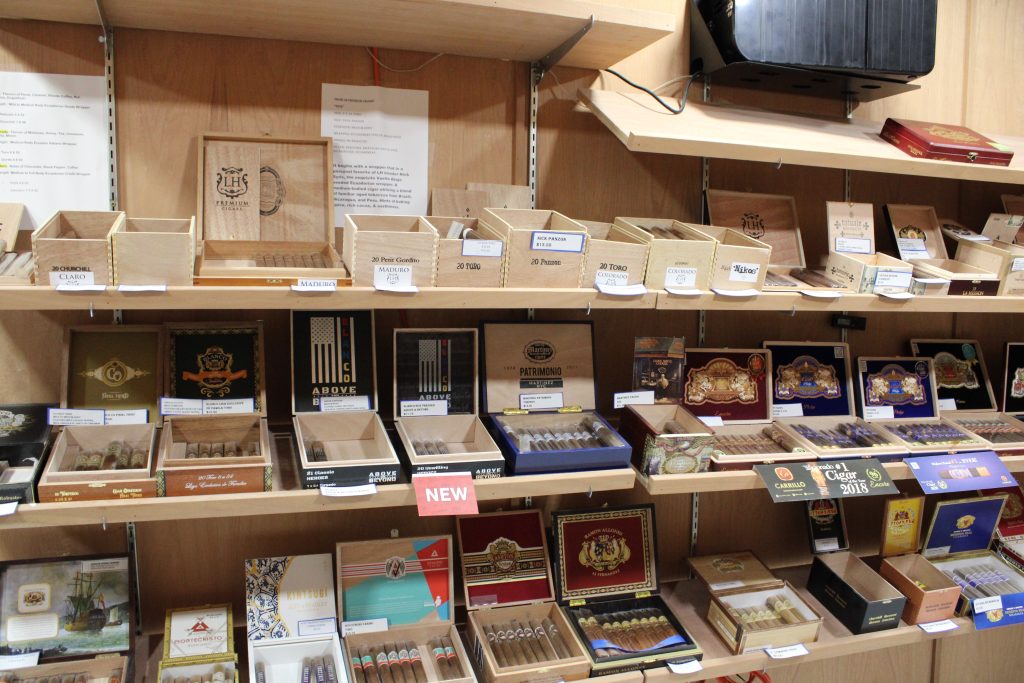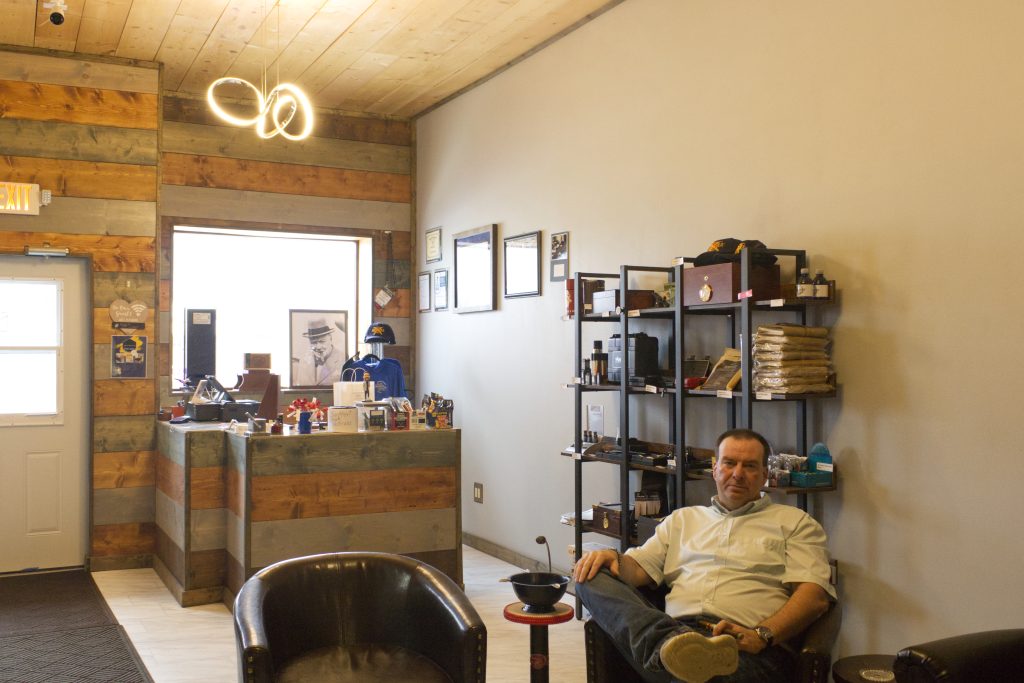 CUSTOMER SERVICE/STAFF KNOWLEDGE

Upon walking in, you will be lucky if you get get the door closed behind you before you hear the friendliest voices welcome you into Smoldering Cigar. It's almost like the scene in Cheers where everyone yells, "Norm!". If you're not used to that, you'll be in for a double shock. The inside is absolutely stunning. Everything inside was done for a reason and care, but you'll have to visit to find out all of the secrets.
Brian knows his cigars inside and out. He walked me through his process of finding the right cigar for the customer. I think he might know my palette better than I do at this point. When I found out that his passion for cigars only started five years ago I was completely blown away. He even took the time to show me a few tricks to help finding notes within my cigar.
In the humidor, you will see note labels attached to the boxes that give you tasting notes to the cigars within. This is a wonderful touch for those that want to know a little more about what to expect from the cigar they choose. For me it resembled the way I choose coffee. 
Seana is an absolute blast! She doesn't smoke cigars on a regular basis, but she does sample every product that comes in the store (and some that do not). Her passion for the industry and the people shine through her personality. She is the type of person that you become instant friends with.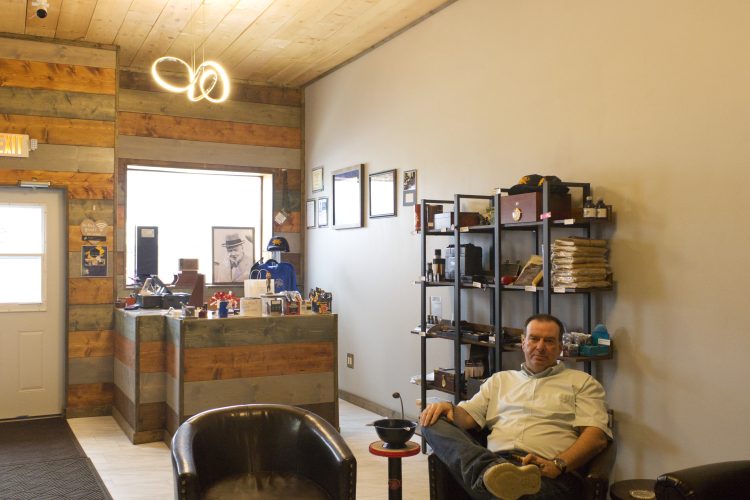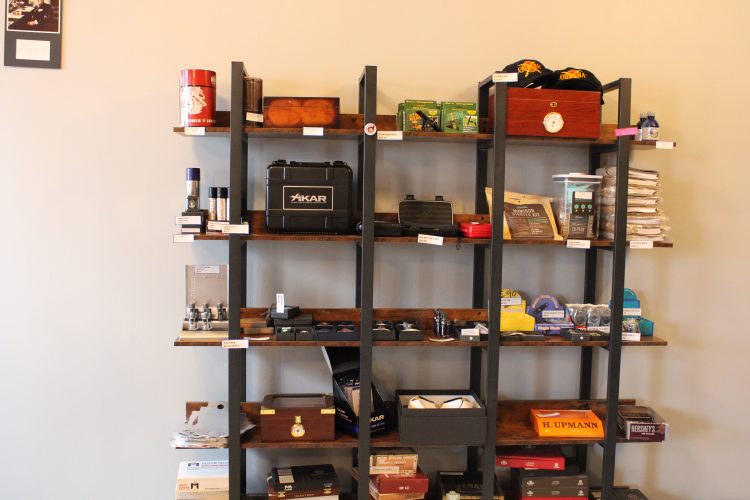 LOUNGE SIZE

Small, but hear me out. When you walk in there is a table with four chairs to your right located in a little nook. This is perfect if you want to play a game of checkers, chess, or even your favorite board game with a few friends. It even works if you want to work on your laptop while enjoying a cigar. A little further in there are four chairs positioned in front of a tv hanging on the wall. Is there room for more than eight people to hang out? Yes. You might not get the ultra comfy chair, but they will find you a chair to sit in.
There is space to grow, and there are plans to expand the lounge into the back half of the building. I was given the grand tour and I'm sure when you visit you can get one too. The lounge in the back half of the building is under construction and when Brian explains his plans it is easy to see his vision. There will also be outdoor patio seating and membership options in the future.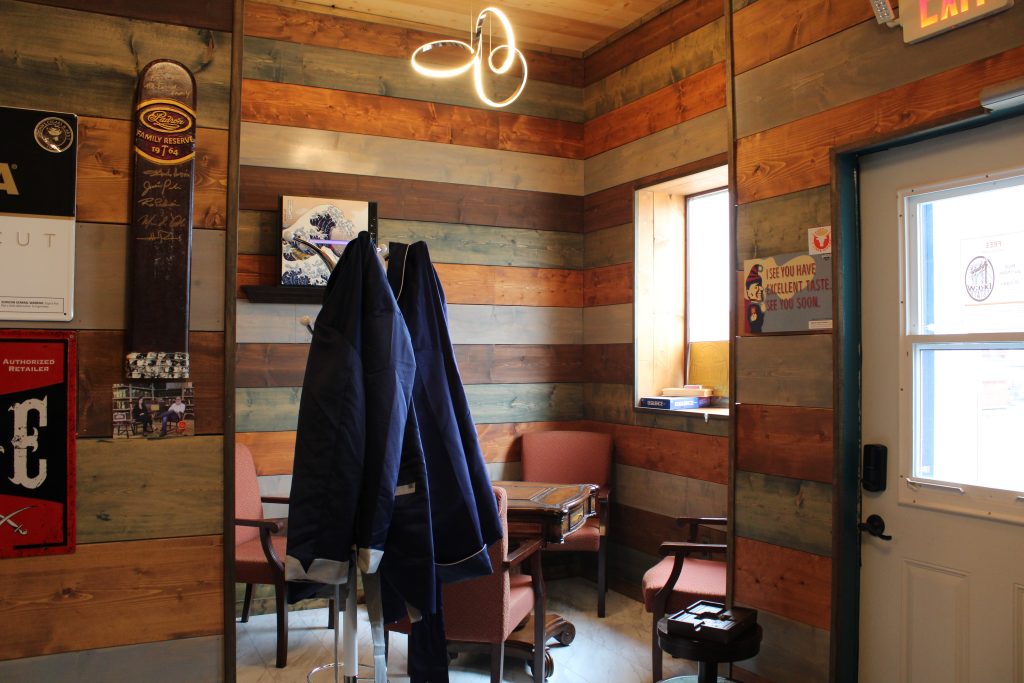 AMBIANCE
Everything you look at within the walls of Smoldering cigar was done with a purpose and has a story. All you have to do is ask.
James and I always say, "time travel is difficult" because we are always working in the future for the present; working in the present for the future. It's confusing. It's chaotic. It's stressful. My smart watch died. There are no clocks on the wall. Looking at my phone felt disrespectful. I had spent seven hours at Smoldering Cigar and when I left I felt better than I had in a long time. 
Brian and Seana provide an environment that truly will allow you escape from the outside world. If you don't look out the front windows you will completely forget where you are. All that matters is that you are in good company with great cigars. 
HUMIDOR EXPERIENCE
If you compare the walk-in humidor of Smoldering Cigar to most big city humidors you might say it is small and even underwhelming. That's not fair. Take into account that it's located within a lounge in the middle of nowhere. Now it's huge, it's bigger than it needs to be. It has plenty of room to grow, and I hope it does. The selection is limited, but it doesn't feel that way. Brian and Seana have done an amazing job at making sure that there is cigar for everyone. 
On a personal note; large humidors stocked to the brim with everything under the sun can be annoying. I find myself going back to "Ol' Trusty" every time. When you have a well curated inventory and know your product, you can become a metaphorical  instructor. You have the ability teach your customer how to properly dance; how to appreciate the art form. I didn't realize this until I walked out of Smoldering Cigars Humidor.
LOUNGE EXPERIENCE
My lounge experience was by far one of the best I've had. I was taken back when I walked through the door. I was greeted before I even noticed a person inside. The aesthetics of the inside was something I wasn't expecting. After a few handshakes and warming welcomes I was taken into the humidor where Brian was helping a few customers. Everyone was happy to be where they were. After selecting a few cigars and checking out I had only a few very nice chairs to choose from. I took seat in front of the single television that wasn't currently powered on. It didn't need to be. 
You can't help looking at everything in the lounge whether it's the light fixtures on the ceiling, the signs on the wall, or the light switches. Every detail was done meticulously. Everything is very clean and feels like home. The air circulation is amazing, better than I've seen in several lounges across the country. You couldn't tell there were three of us enjoying our cigars. It's exactly what I would want my home smoking lounge to be if I could have one.
RATING BREAKDOWN
2.90 / 3.00 … Customer Service/Staff Knowledge
2.30 / 3.00 … Selection/Humidor Size/Humidor Maintenance
3.25 / 3.50 … Ambiance
0.25 / 0.50 … Lounge Size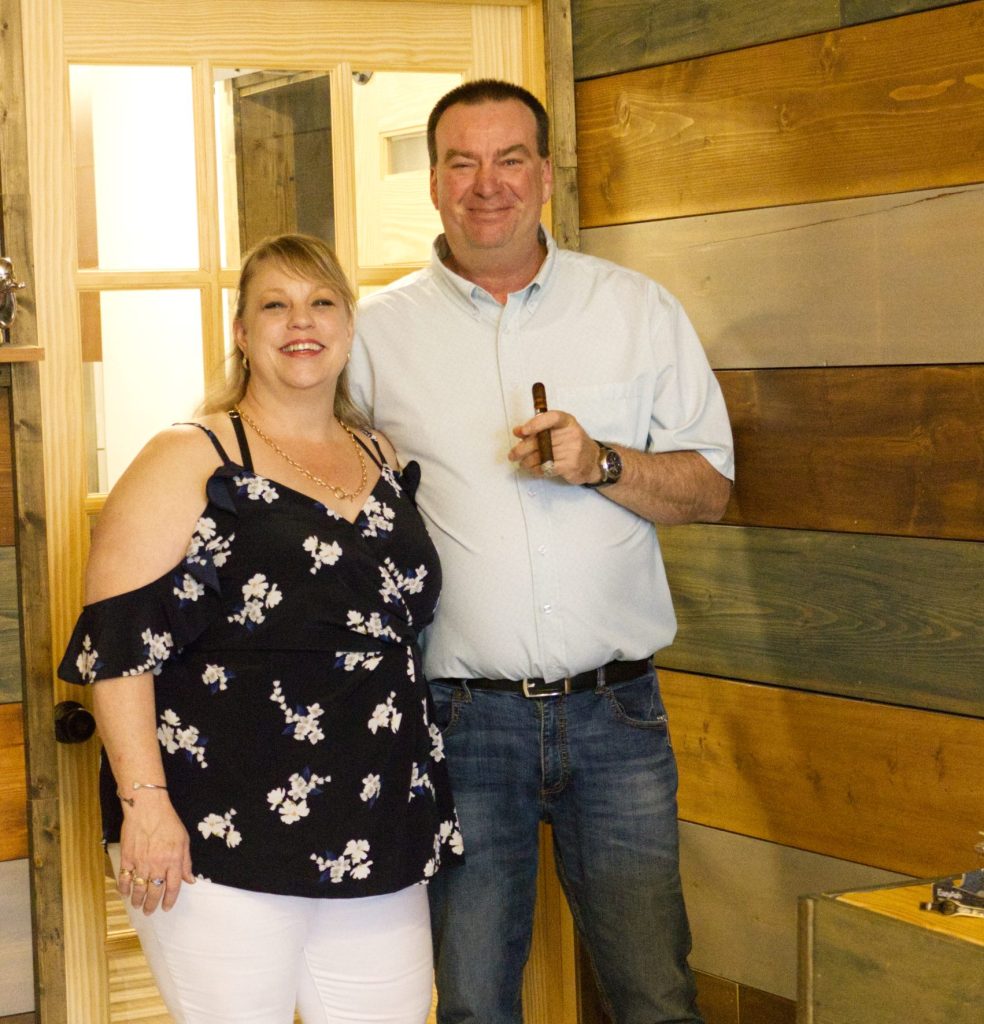 Destination: Now Known!
Smoldering Cigar must be on your special list of destinations cigar lounges. Make a day of it. I did, and I will do it again. I have at least five lounges within 30 minutes of my home and I won't blink twice at making the two hour drive to visit Smoldering Cigar again. Brian and Seana have created a cigar experience outside of the hustle and bustle of the big city that is a breath of fresh air. I'm really looking forward to revisiting Smoldering Cigar after their expansion has been completed.
SIMPLY STOGIES RATING:  8.7 / 10.0