The Black Label Trading Company was established in early 2013 by a couple who have dedicated their brand to premium cigars of supreme quality in small batch, highly limited quantities and maintained a philosophy of focus on "less is more". They recently began to garner quite the buzz in the cigar industry while ambitiously launching six blends. The seventh is called "Morphine int the Works". The Last Rites is a delicious flavor profile filled with notes multiple notes and solid construction, a flavor progression and a smoking experience that will be explained throughout this review.
VITOLA:   Robusto
SIZE:   5×54
ORIGIN:   Nicaragua
FACTORY:   Black Label Trading Company
WRAPPER:   Ecuadorian Habano Maduro
BINDER:   Honduran
FILLER:   Ecuadorian & Honduran
STRENGTH:   Medium-Full 
SOURCE:   Black Label Trading Company
WHERE:   
David's Fine Tobaccos
WHEN:   
January 3, 2022
DRINKS:   
Weller Bourbon – Full Proof
WEATHER:   
Very cold, snowy
WHAT'S ON:   
Hip hip from the 1990's & 2000's
RELEASE TYPE:  Regular Production
ORIGINAL RELEASE DATE:  2013
TOTAL PRODUCTION
Typical Box Size:     Boxes of 20
Production Totals:  Undisclosed
VITOLA BREAKDOWN
o  Gran Toro (6×60)
o  Panatela/Petit Lancero (6.5×52)
o  Robusto (5×54)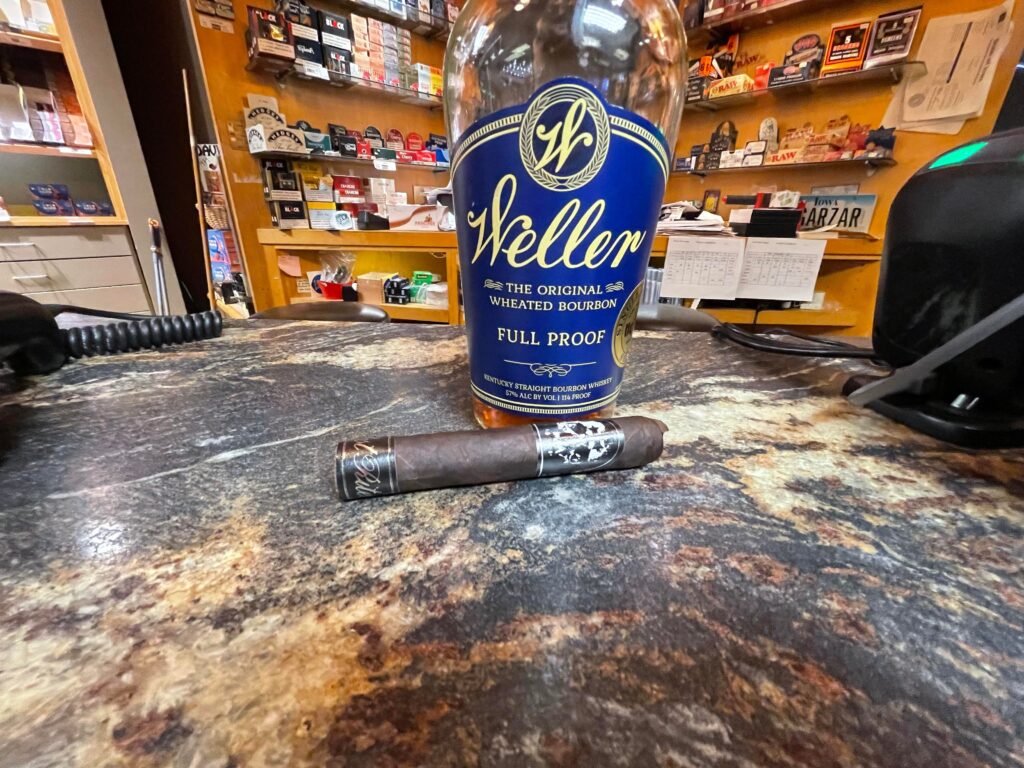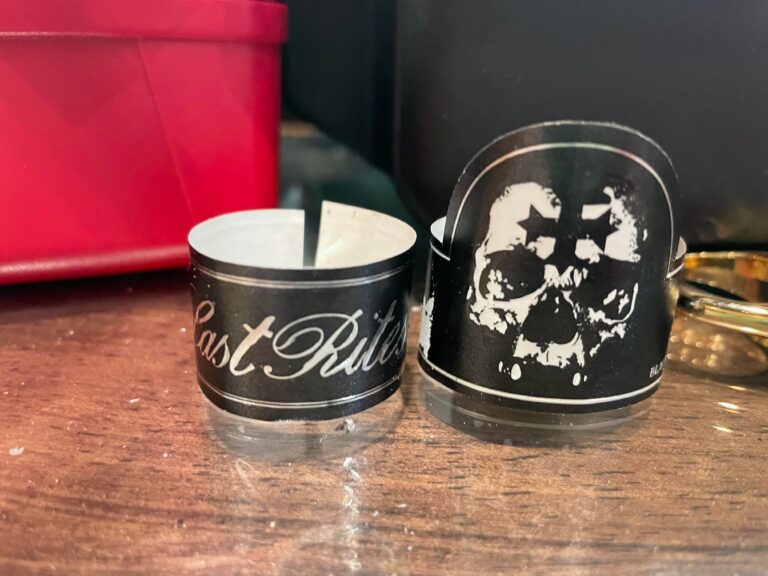 For this cigar experience, I smoked the Last Rites Robusto. The oily classic maduro is double-banded and badass. The primary band is a deep black background with a white script. The center of the band boasts a chipped skull with a gothic-style cross christening its forehead. On the lower band is "LAST RITES" in a similar gothic-style cursive typeface in white against the stark black bordered with lines of white. 
The text is simple enough and states the brand and name of the cigar line – something I can always appreciate. While the band itself seems intimidating and ominous, this cigar is actually quite approachable.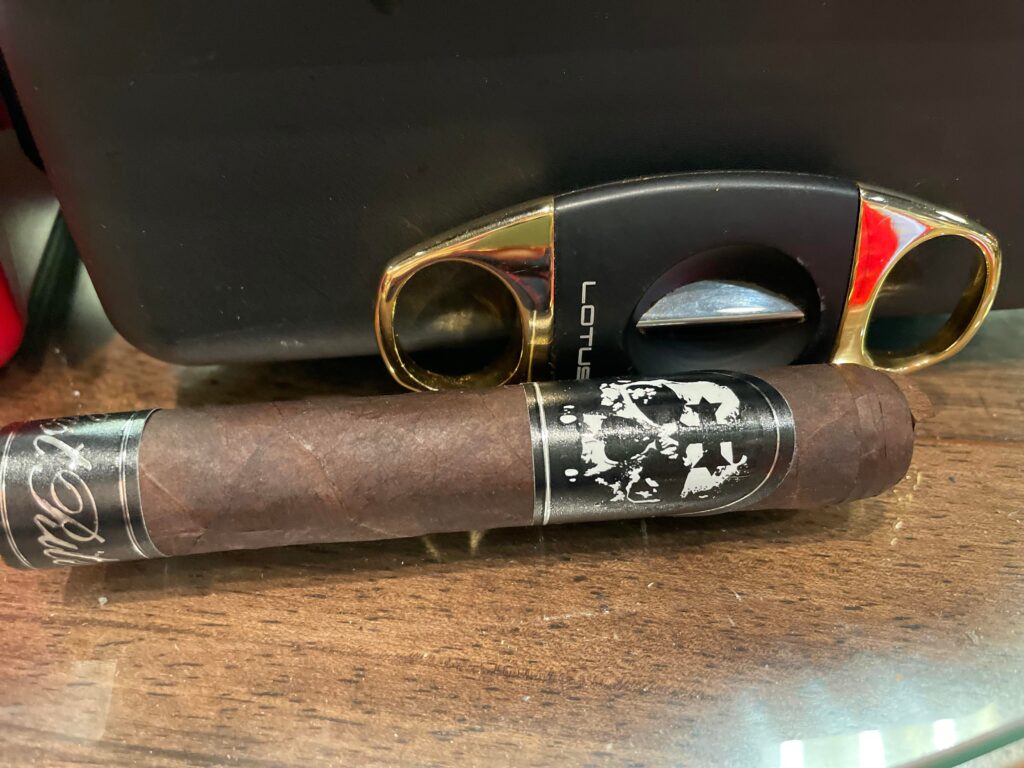 CONSTRUCTION
The cigar is wrapped not too tight, not too loose which, to quote the Goldilocks Bears, makes this stick "just right." The cap does not flake to the touch and neither does the foot. While this may be more likely of a trait of a box-pressed cigar, this particular smoke is well-crafted with the care intended for a good cigar. The quad-cap is perfectly applied to the body of the cigar and I'm just enjoying looking at this brown beauty.
There is little vein apparent, the wrapper is quite smooth to the touch and it is slightly oily as any good maduro should be. The dark chocolately brown is beautifully married with the dark band and I'm very excited to get started. There is a slight squish to the stick so that I know it has been properly humidified. I received this LAST RITES from a friend and he knows how to take care of his cigar babies!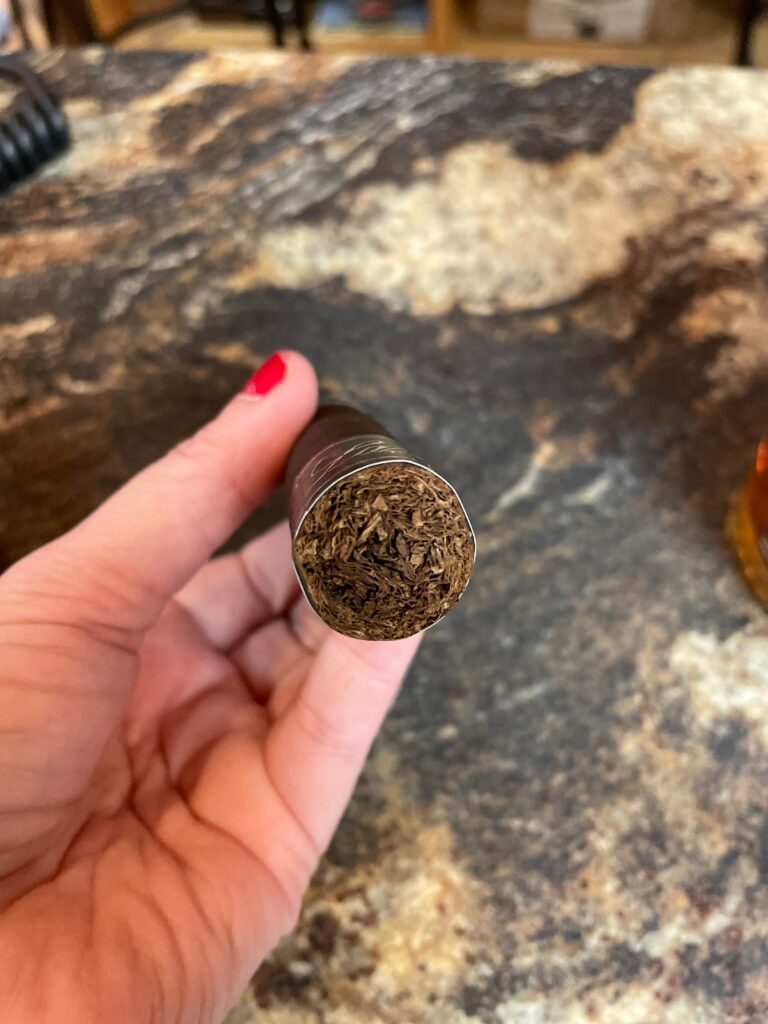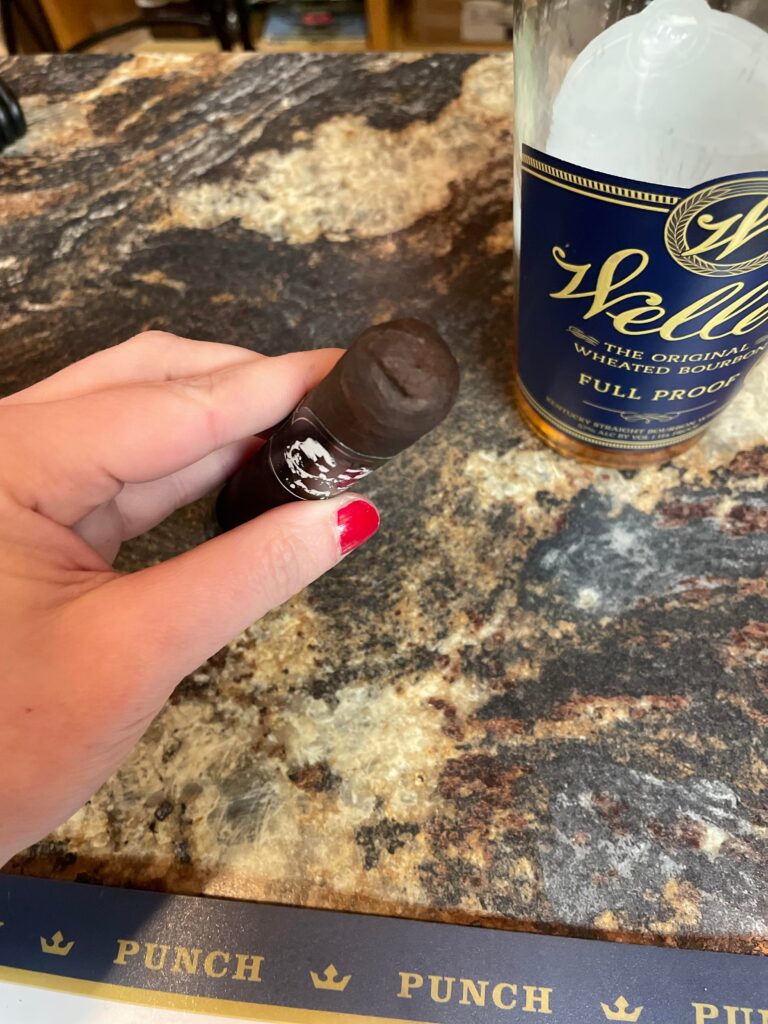 AROMA
Though there is a bit of a leather, nut, and oak sense of aroma, this is faint. While some, more sugary, or treated cigars pack a punch when it comes to the aroma department, the LAST RITES is much more muted and wonderfully so. I personally do not appreciate a lot of aroma when there is little flavor to back up that boast. As such, I am curious to see whether the flavor is as timid as the scent. 
COLD DRAW
Though densely packed filler graces the foot upon a glance, the draw is open and delightful. This is one tasty lady. My tongue senses nut, chocolate, and loads of leather. I am quickly reminded that this is a badass cigar and the flavors all coalesce in a very pleasing, but not TOO bold, combination.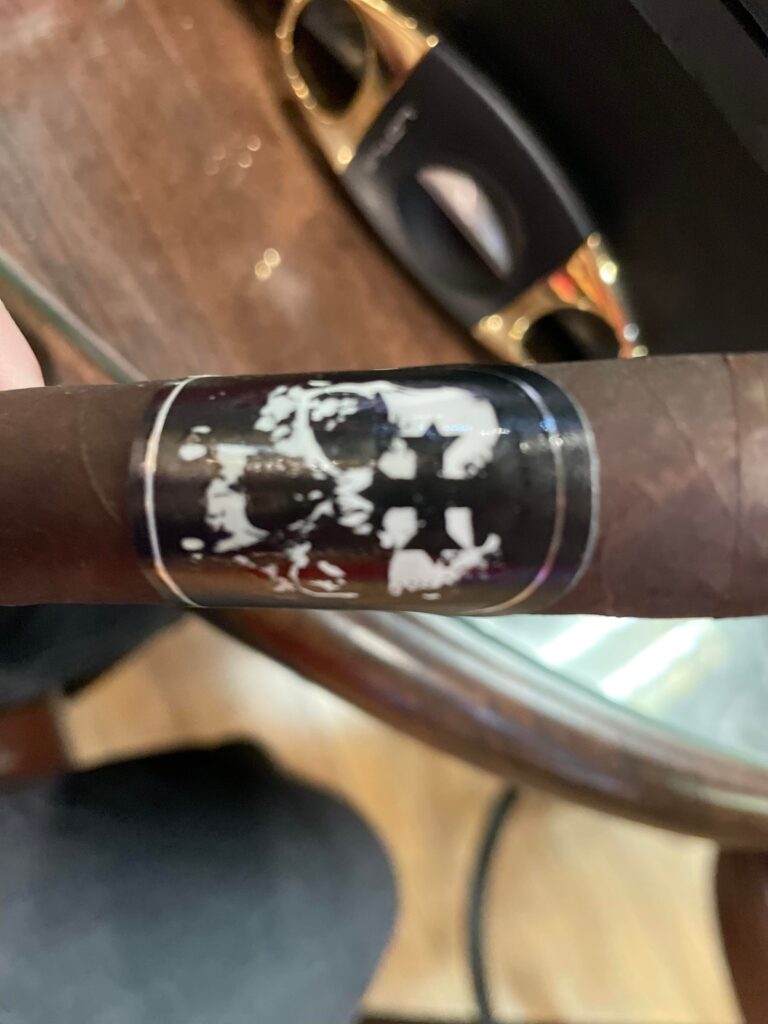 LIGHT & DRAW
Cut:  Lotus V-Cut, black and gold
Fire:  Lotus Vertigo
The burn on the LAST RITES was low maintenance with no relight and  the burn was straight right off the bat. There were no touch-ups required.
SMOKE
Oh my goodness! This little stick smokes like a train! Loads of billowy smoke entrailed from the foot and cap leaving a lasting leather and wood aroma throughout my compatriates around the table. The draw was wide open and produced an upper cut to the mouth of flavor. Burn is still going straight and strong. 
Big, clean, and beautiful, the smoke clouds arose to the ceiling in a graceful dance that was truly pleasurable. If you love lots of smoke production like I do when enjoying a cigar, you'll love this selection. 
FIRST THIRD
>> Leather, Nut, Oak, White Pepper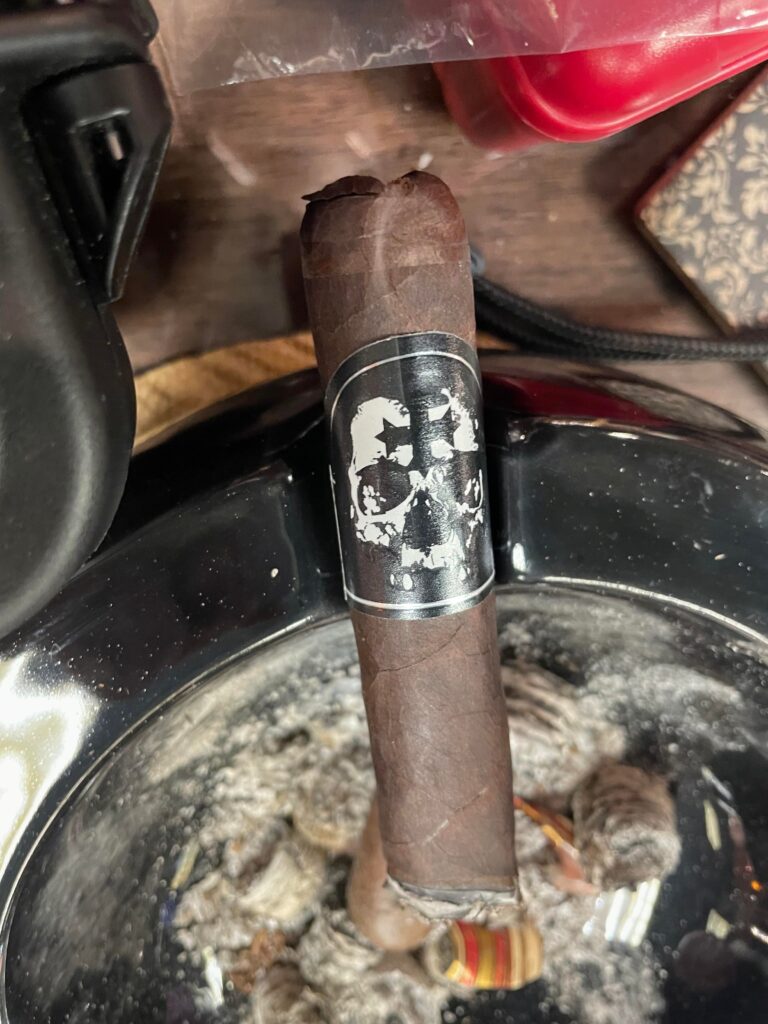 The start to the LAST RITES is a hesitant one. While I very much found joy in the clouds, I was brought back to Earth with my first strong pull. I noticed a nice mixture of nut and woody oak. The first few puffs are a little heady and I don't know if I would pick this stick on an empty stomach. The sweet leather flavor notes provided a nice but not overwhelming complement to the more robust white pepper flavor. The pepper was also very prominent on the retro-hale right out of the gate – but did not remain that way throughout the smoking experience. The pepper settled down on the palette early and moved to a more conservative finish. My first introduction of notes was leather. Let's see what else we find. 
SECOND THIRD
>> Leather, Wood, Earth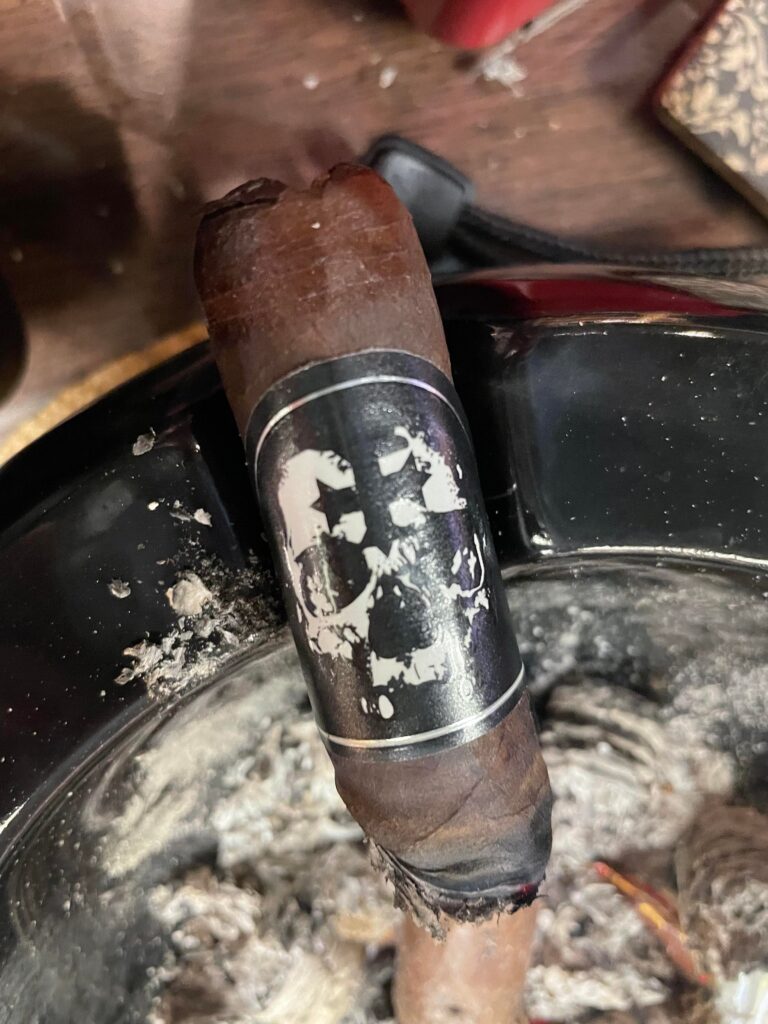 Boom. Leather. And not your grandmother's leather either. This leathery note is of a lovingly tended to vintage saddle about to be polished for show. This third is taking me to one of my favorite places in the United States – my horse barn. I sense earth, wood, hay, and just an overall sense of relaxation and happiness. I'm scooping the stalls to lay fresh cedar bedding and I am oiling up my Western-style tack to gently guide my American Quarter Horse Palomino, Fortune, out of his pasture. I am even reminded of his golden coat with the tastes of cereal and oat. The leather notes took center stage as a primary flavor but there was still just a prickle of pepper on the back of my throat. 
FINAL THIRD
>> Leather, Oak, Cereal, White Pepper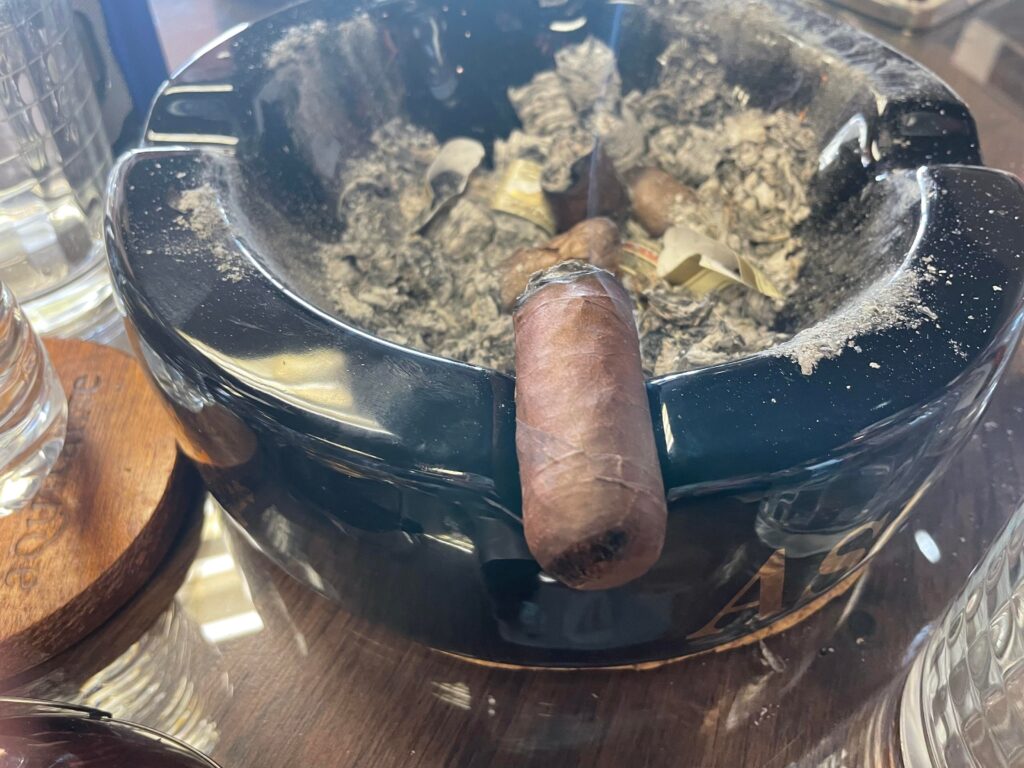 The final third rounds off with a consistent leather and pepper flavor. As the last little nub heats up in temperature, there is more pepper in the forefront as with the first third. Unlike the HULK rollercoaster at Universal Studios Orlando, this has been a fun-filled, sloping ride on the kid's Dragon coaster at Adventureland Park. We accelerated boldly t the first few puffs, came to a happy medium pace in the second third, and then finished strong at the end. 
The earth notes remained ever-present and that tasty leather flavor stayed like a loyal dog. The chocolate notes remained in the background throughout the smoke. This is the way the LAST RITES remained until the very end. Yes, this stick was consistently flavorful afnd I really didn't want the experience to stop. The resulting nub was firm to the touch and cool to the touch. 
FLAVOR PROGRESSION
The flavor progression is an overt, hit you over the head type progression. Now, this is not to say that is a bad thing. You can easily discern the shift from first to second third and its very pleasurable in change. That leather is just top notch and forces you to reminisce. I truly appreciate the seamless movement from one extreme (pepper) flavor to another, more smooth flavor (aged leather). 
I truly do not have any wishes for this stick. Only that there was more of it and it wasn't small-batch production. 
BURN EXPERIENCE
In terms of strength, I did not find the LAST RITES to be a nicotine bomb. I would say, again to quote the G-Bears, this maduro had just the right strength. The burn was even-handed and remained that way throughout. The draw was nothing short of perfection – wide, open, with lots of smoke.
RATING BREAKDOWN
0.80 / 0.80 … Craft & Aesthetic
0.25 / 0.50 … Pre-Light Characteristics
0.50 / 0.50 … Lighting Process
7.70 / 7.70 … Smoking Experience
0.50 / 0.50 … Personal Enjoyment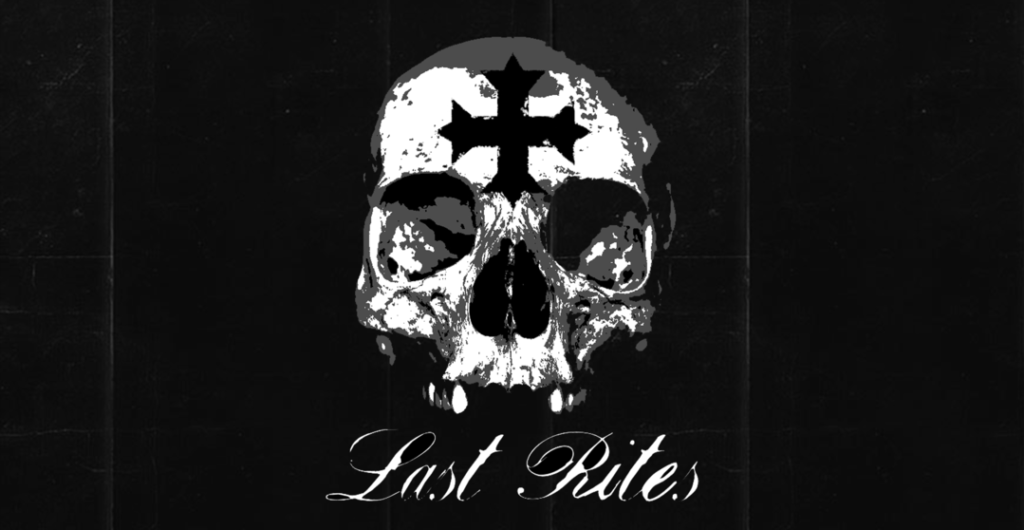 On Your Deathbed? Don't Forget Your LAST RITES. 
Black Label Trading Company hits just the right stride with the LAST RITES. This cigar grew and grew on me from the first third to the last and with each subsequent smoke I had. This cigar would pair great with a hearty breakfast of eggs and crispy bacon and coffee. This cigar lives up to its name – if this were my last cigar, I think I would be very satisfied. The LAST RITES tasted as good as it looked, even though a bit ominous of a band, and the cereal light notes was just delightful. I would recommend this cigar to a novice and aficionado alike as it may look intimidating, it is smoother than glass. This is a cigar I look forward to smoking again, and again, and again.  
SIMPLY STOGIES RATING:  9.75 / 10.0