If you've never heard of the Cigar Clowns before, a word of advice:  get your hands on them when you ca! If you have heard of them or, better yet, smoked one of their sticks, then you know why. They are to me the epitome of the words "boutique cigars". Smaller batch, listed run, and a white collar feel to the brand. They hail from the New York Bronx area and their no "bs" attitude matches their cigars. You know when you light up a Clown cigar it's going to be something completely different from anything else. There's a buzz in the cigar community right now and its saying, "these guys are doing something right." 
VITOLA:   Box Press Toro
SIZE:   6″ x 54
ORIGIN:   Nicaragua
FACTORY:   Unknown
WRAPPER: Habano
BINDER: Unkown
FILLER:  Unknown
STRENGTH:  Medium
SOURCE:  oakglentobacconist.com
WHERE:   
3mpire Home Lounge 
WHEN:   
2/17/22
DRINKS:   
Dr. Pepper
WEATHER:   
Snowing
HOW MANY CIGARS SMOKED:   
1
RELEASE TYPE:  Holiday Release
ORIGINAL RELEASE DATE: 12/11/21
TOTAL PRODUCTION
Typical Box Size: No Boxes, Bundles of 5
Production Totals: Unknown, less than 2000
VITOLA BREAKDOWN
o  Box Press Toro  (6″ x 54)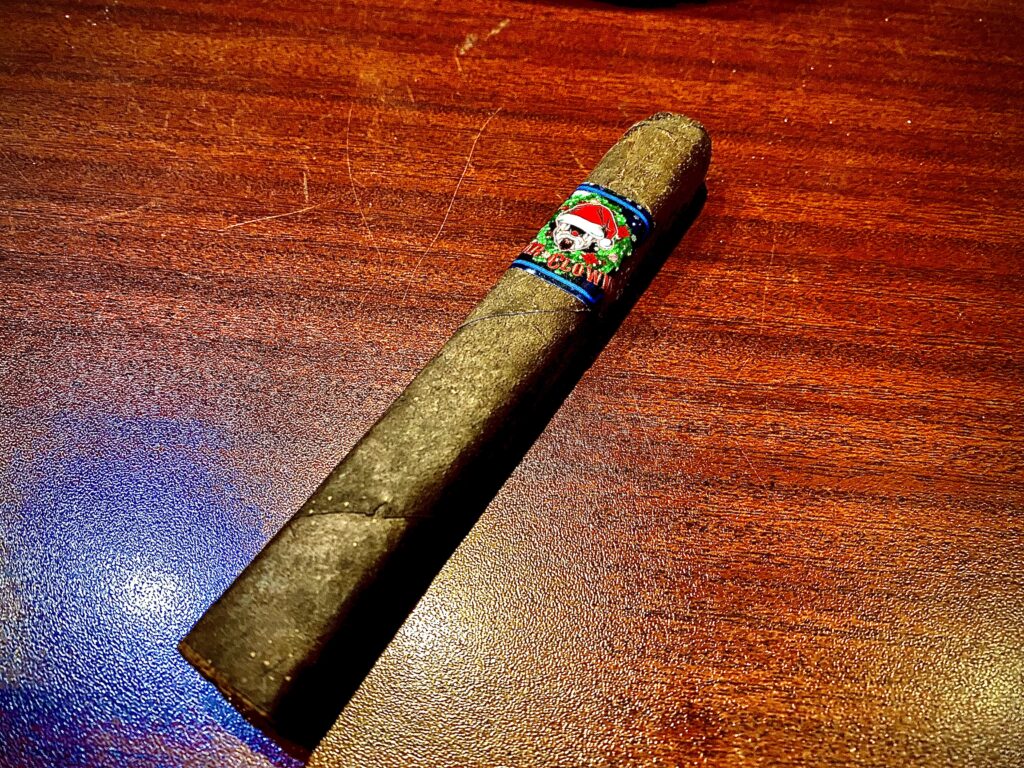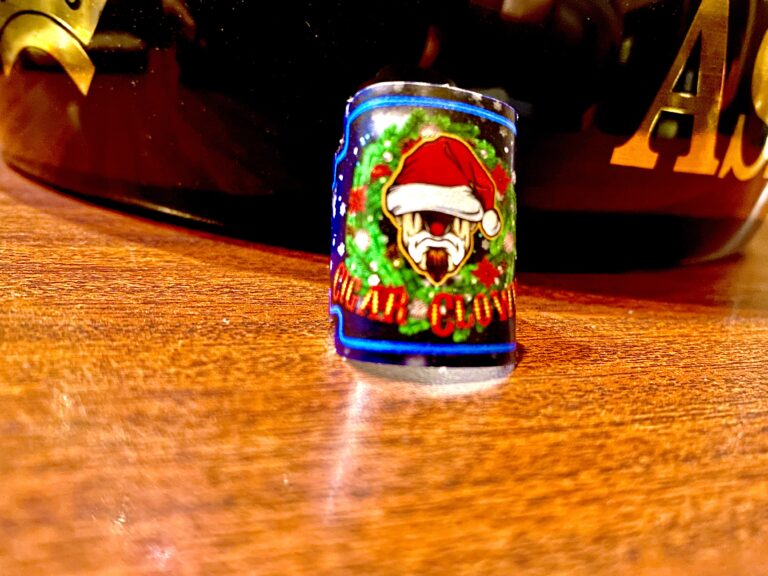 In Cigar Clown fashion, they use the Clown logo with a hung  holiday wreath around it, which is adorned with a Santa hat. This really hits home on the Christmas theme that this cigar was put out for. Super bright colors really make this band pop.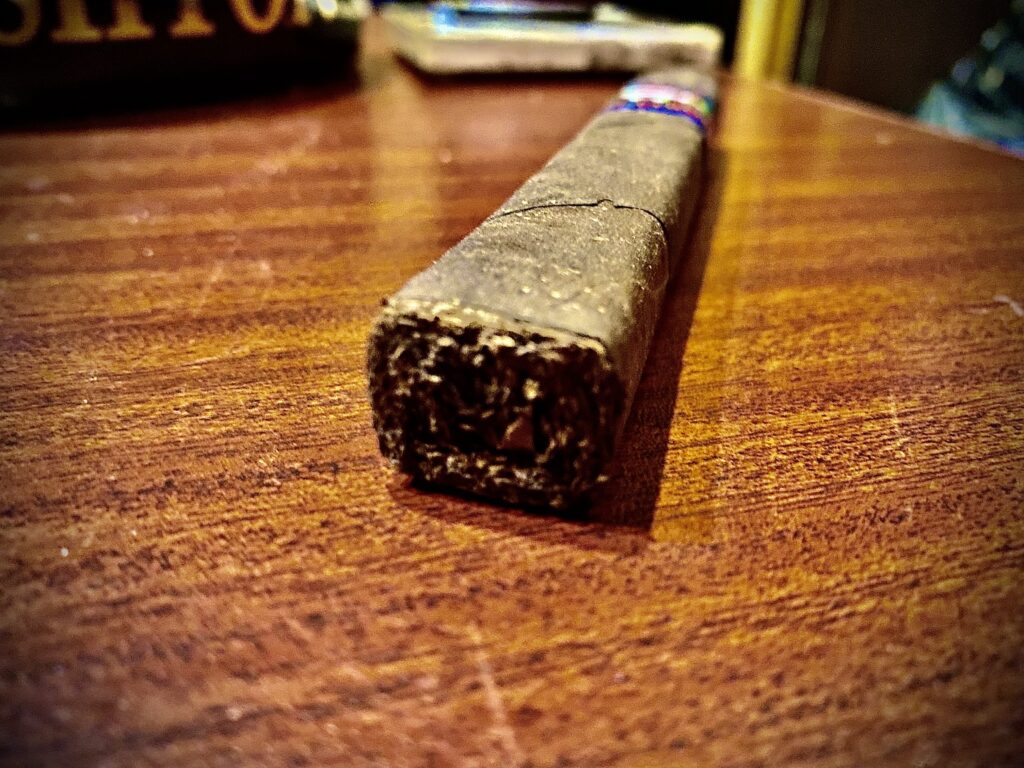 CONSTRUCTION

The construction has an interesting and gritty texture to it, with some light specs throughout. The wrapper has a very slight toothiness, as well. 
AROMA
The smell from this cigar reminds me of a cocoa powder mixed with some raisin. 
COLD DRAW
On the cold draw there's a fruity plum and apricot taste.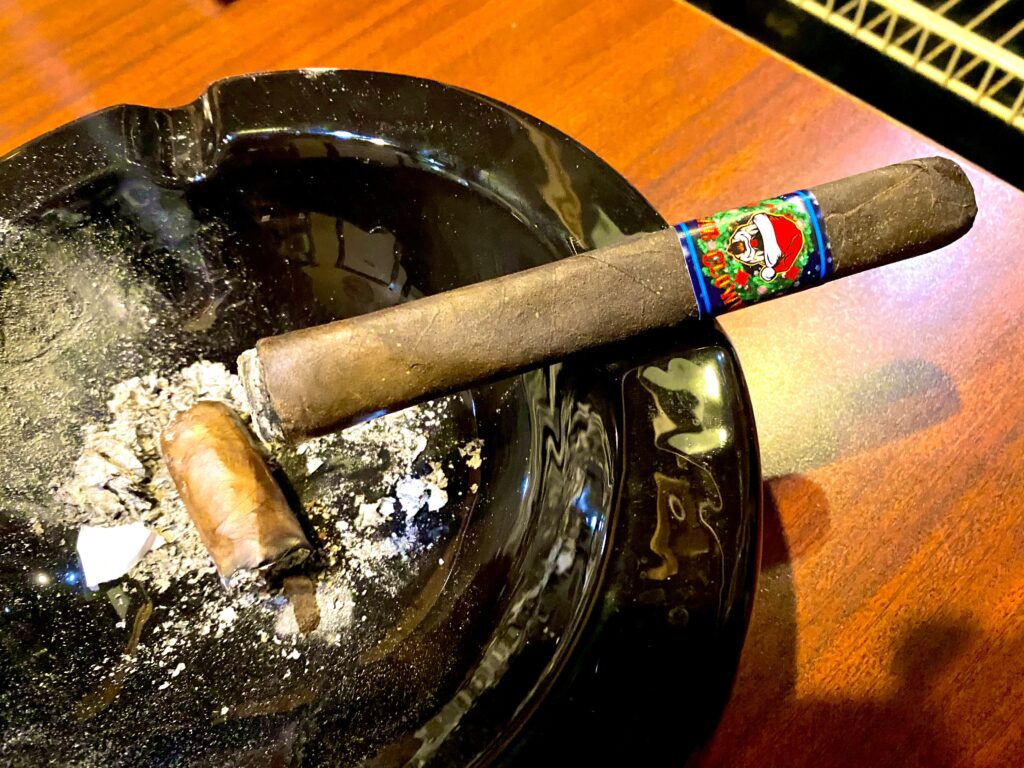 LIGHT & DRAW
Cut:  V Cut
Fire: Lotus Dual Jet
SMOKE
Smoke output is starting nice and has a very white cloud coming from it.
FIRST THIRD
>> Sweetness, pepper, vanilla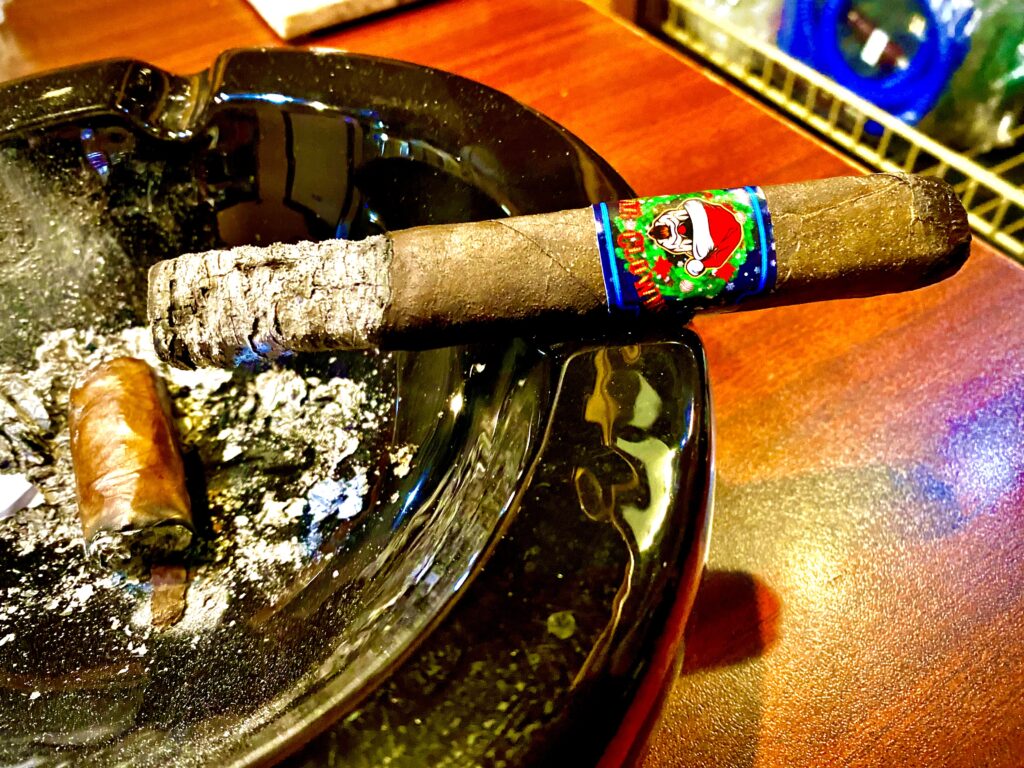 The first third has a consistent note of sweetness to it. The retrohale also has a bit of an apricot note. There's not too much nuance in this third, but there's nothing that would be offensive or overbearing. Hoping it picks up and has more to offer in the rest of the cigar. 
SECOND THIRD
>> Sweetness, Toasted Brownie, Earth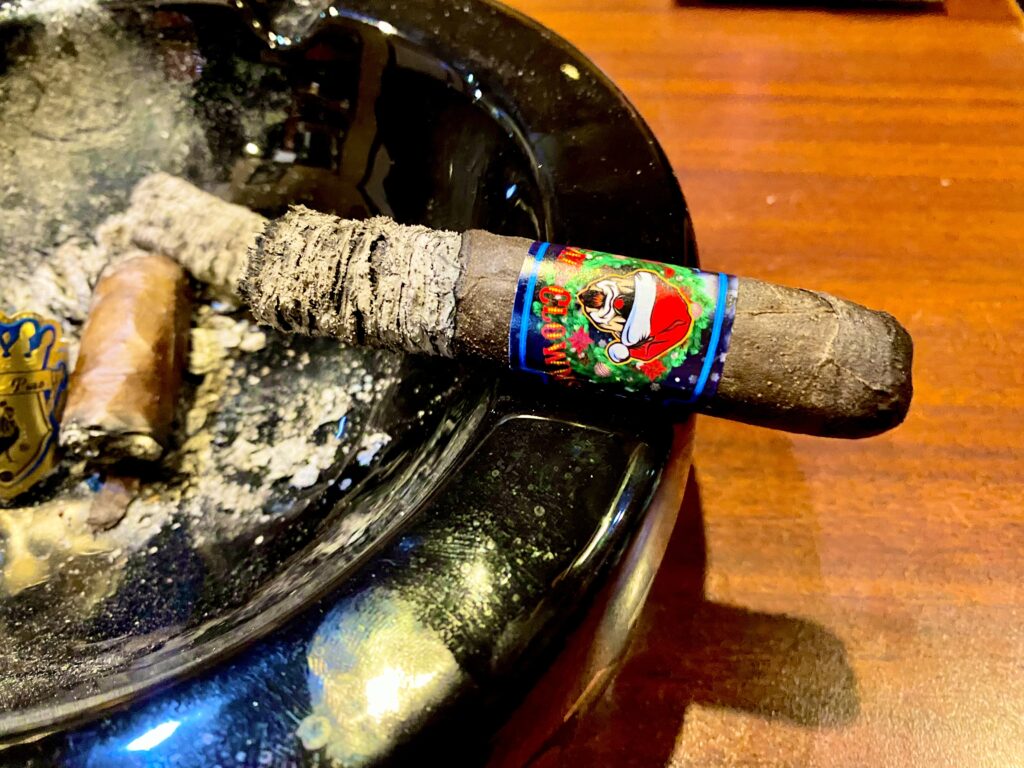 The middle third is where I was hoping to see more from the Festivus and it came through. The sweetness still remains, but it's now giving some toasted brownie notes with a little earth mixed in. The apricot note on the retrohale is still there, as well. The Festivus is becoming a very good cigar and I'm interested to see where it goes. 
FINAL THIRD
>> Toasted Brownie, Earth, White Pepper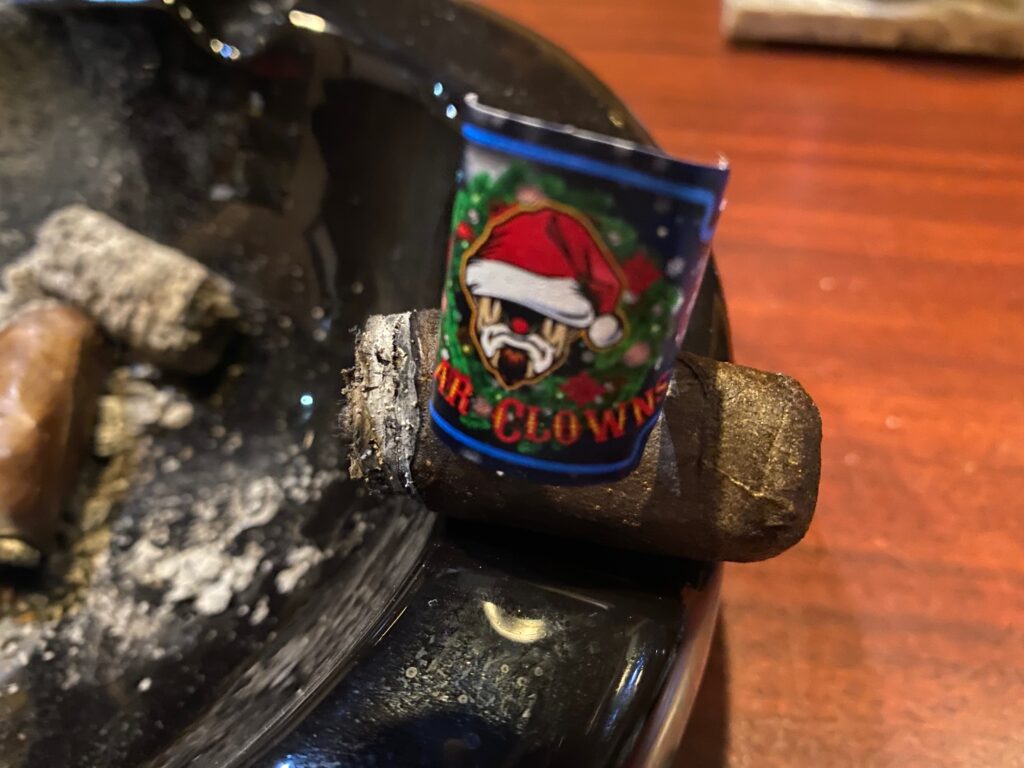 The final third of the Festivus really picked up on the strength end. The retrohale has gone from an apricot note into a spiced up white pepper. The white pepper is also coming through on the regular draws in the back of the throat. There is still a good, solid brownie note that's coming from it and it's really good. The strength increase here at the end has been a nice transition. 
FLAVOR PROGRESSION
The progression was very well done and kind of eases you into the higher strength section of the stick at the very end. It did have some nice changes in profiles as well that worked out nicely. 
BURN EXPERIENCE
There was a section that had a slight runner but nothing major and it eventually evened out. 
RATING BREAKDOWN
0.70 / 0.80 … Craft & Aesthetic
0.45 / 0.50 … Pre-Light Characteristics
0.50 / 0.50 … Lighting Process
6.50 / 7.70 … Smoking Experience
0.40 / 0.50 … Personal Enjoyment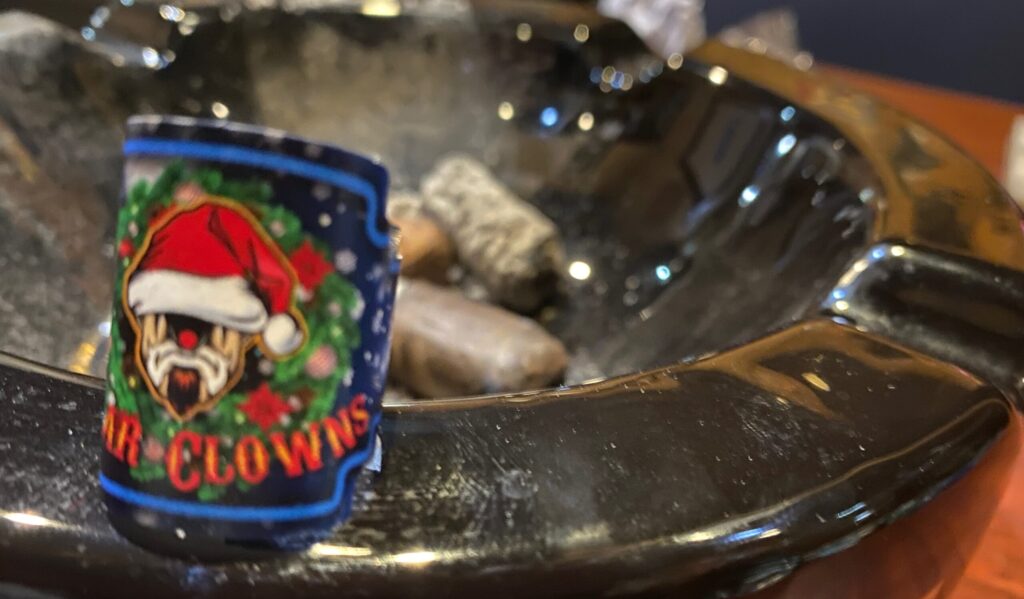 A Clown Christmas Festivus
This is a cigar worthy of the Cigar Clown Band. They have been hitting their stride in the short amount of time they have been putting out cigars. Only time will tell if they bottle lighting in a jar and found a method that will sustain the success they have had so far. The bright spot is if they continue to put out banger after banger of cigar blends the sky is the limit for these clowns with a New York attitude. 
SIMPLY STOGIES RATING:  8.5 / 10.0