Dunbarton Tobacco & Trust (DTT) is a company that has nailed every cigar they have ever release. The "ligador and catador de puros," Steve Saka, is a big part of that with over 20 years of experience in the industry. When I see DTT on the shelves of a brick and mortar, I find myself gravitating towards them. Not just because the flavors are awesome, but also because of the quality. Dunbarton Tobacco & Trust does not have cheap cigars (the Umbagog is cheaper but I still would not call that a budget stick), but this is one of those brands where I truly believe that the price matches what you are getting. The Sobremesa Brûlée is a milder version of the standard Sobremesa.
VITOLA:   Toro
SIZE:   6″ x 52
ORIGIN:   Nicaragua
FACTORY:   Fabrica de Tabacos Joya de Nicaragua S.A.
WRAPPER:   Ecuador Connecticut Shade G2BW
BINDER:   San Andreas Negro
FILLER:   Nicaraguan
STRENGTH:   Mild
SOURCE:   Retailer
WHERE:   Home
WHEN:   26 May @ 3:29 PM
DRINKS:   Janus Coffee Cyclops
WEATHER:   Warm with a slight breeze
HOW MANY CIGARS SMOKED:   2
RELEASE TYPE  Regular Production
ORIGINALLY RELEASE DATE  August 2019
TOTAL PRODUCTION
Typical Box Size:     Boxes of 13
Production Totals:  Unknown
VITOLA BREAKDOWN
o  Toro  (6″ x 52)
o  Robusto  (5-1/4″ x 52)
o  Gordo (6-1/4″ x 60)
o  Double Corona (7″ x 54)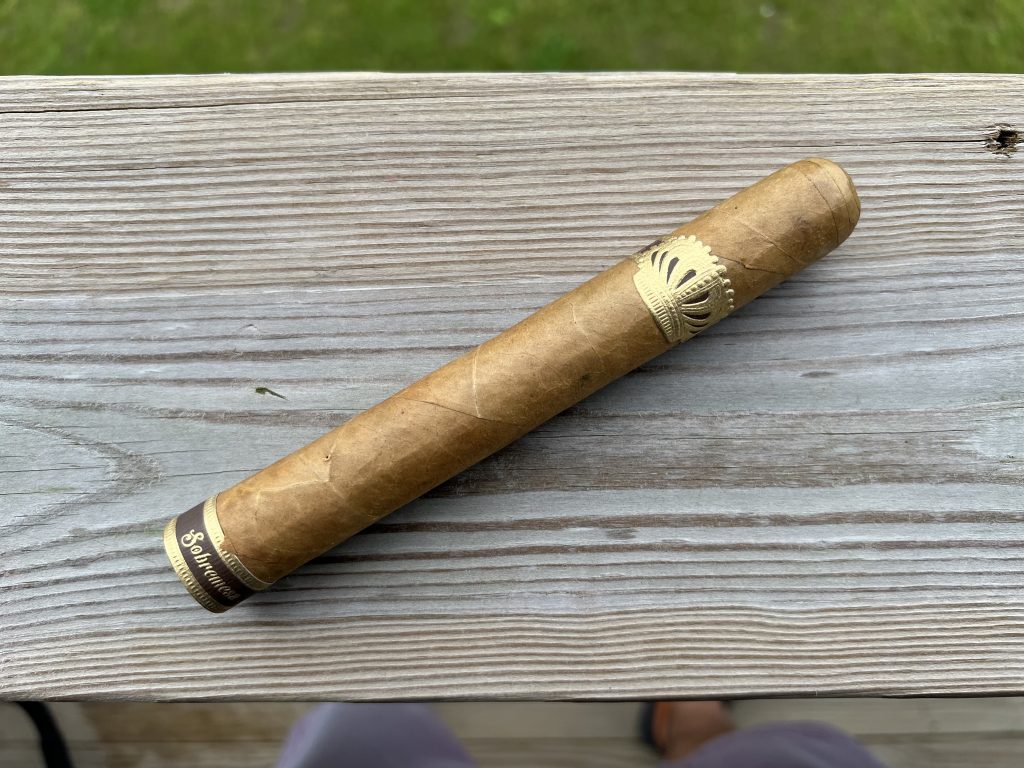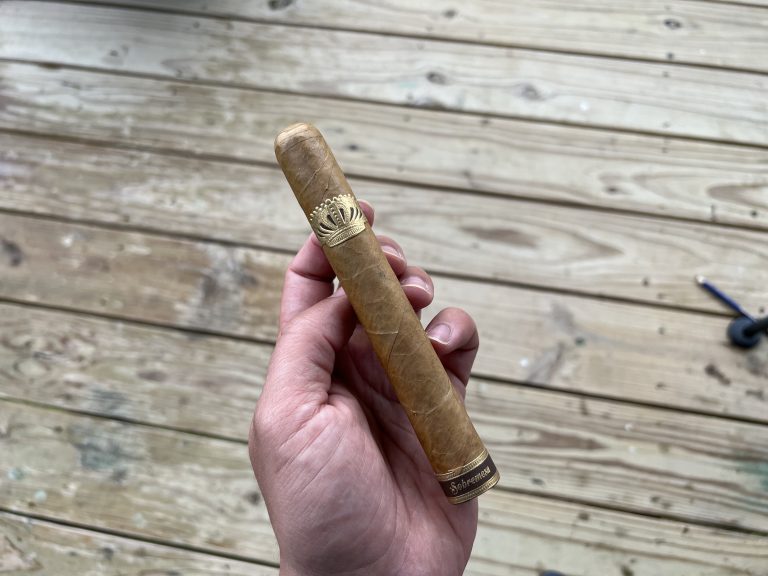 The Sobremesa band is simple but executed in a classy way. Any brand could slap a crown on a cigar and I doubt that it would look as good as this cigar. I will say that the lighter wrapper kind of mutes the band but that does not really bother me. I enjoy the die cut and embossed crown and the foot band does a good job of being mundane enough to keep your eyes drawn to the crown.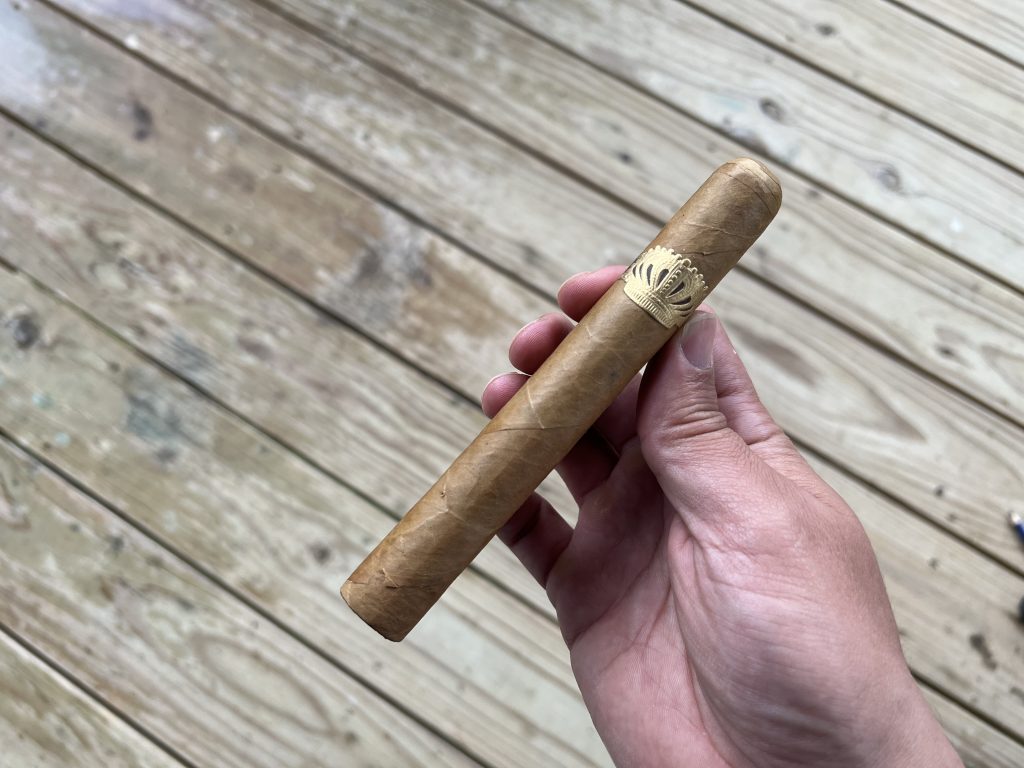 CONSTRUCTION
The cigar has a  warm latte color with some small color imperfections that are a faded green in two spots on this sample. The other sample did not have this issue. The wrapper feels smooth, like velvet, and is just slightly oily. There are minimal veins, and the seams are fairly tight and visible. The wrapper experienced some damage from the foot band, and the pack is slightly spongy but consistent all the way through.
AROMA
I was expecting a grassy smell similar to other Connecticut cigars but there is a strong barnyard funk which is a welcomed aroma for a milder cigar, at least in my mind.  There is also a mix of chocolate, leather, and cedar.
COLD DRAW
The cigar has an open draw and it tastes like the tip is sweetened slightly. There is a really nice peach note that mixes beautifully with cream and hay.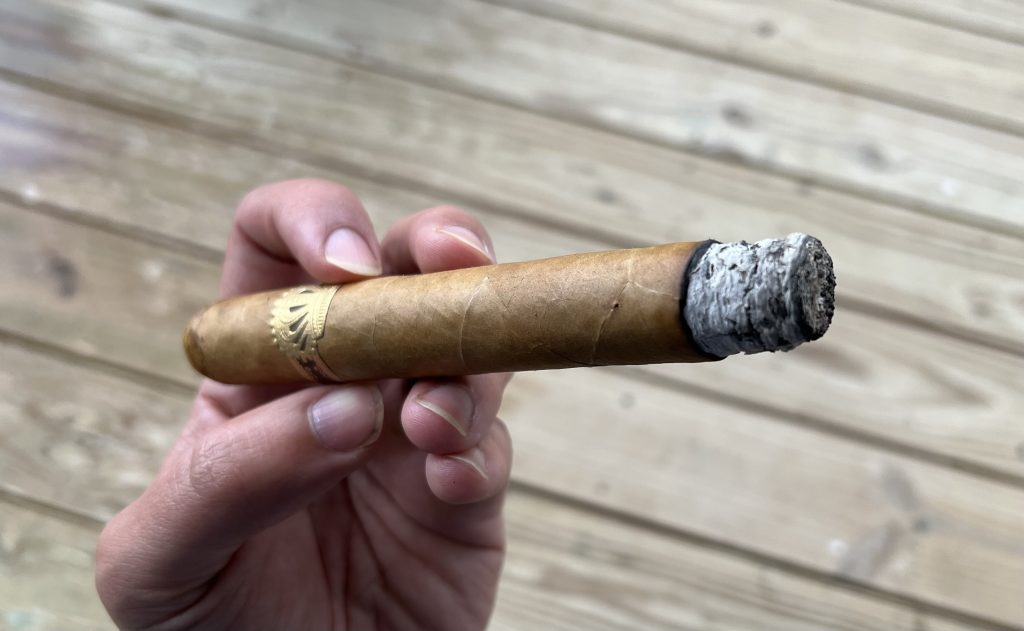 LIGHT & DRAW
Cut:  Straight Cut with Lotus Jaws Cutter
Fire:  Colibri Quasar Table Lighter
The cigar lights quickly and evenly, and the draw is perfect. On the palate there is earth mixed with hay with just a bit of white pepper. The retro hale offers baking spice and chocolate. The finish reminds me of a ginger snap. This is much different than many Connecticut wrapped cigars I have smoked.
SMOKE
This cigar has great smoke output, but do not expect huge plumes of smoke. I did notice that the burn rate at light up  was insanely fast, I could see the cigar burn down with light pulls. 
FIRST THIRD
>> Buttered Popcorn, Horchata, Cedar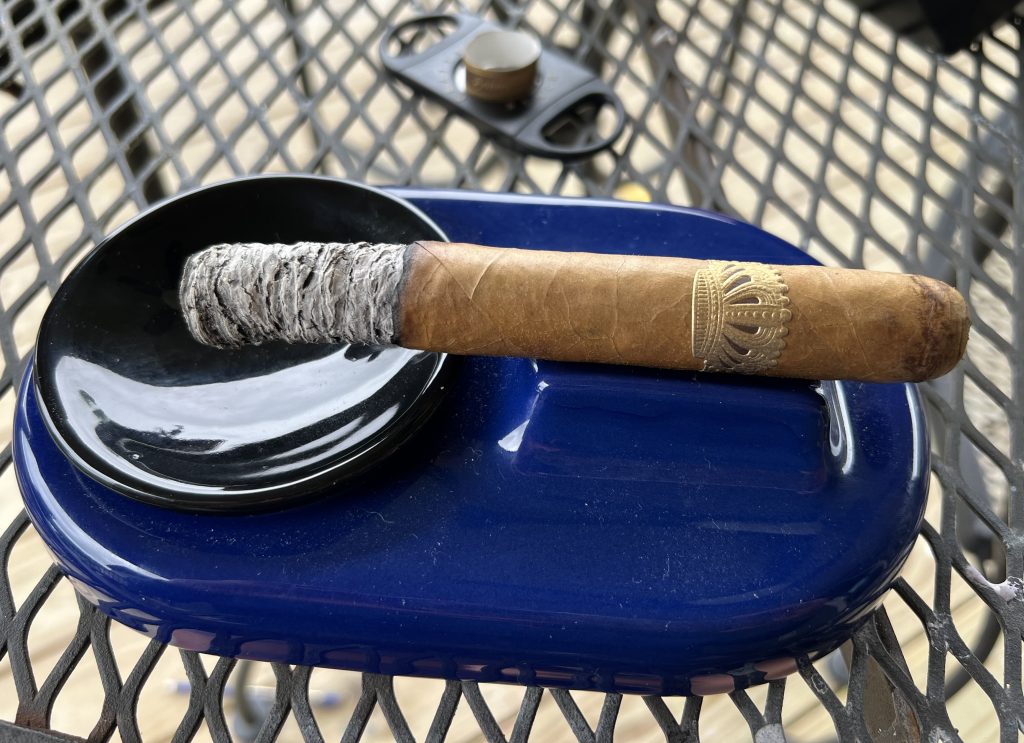 Fairly straight burn line with an ok ash that holds on for a good long time. Notes of horchata mixed with cedar on the palate. I have no clue if this cap is sweetened but this cigar is sweet, like drinking horchata sweet. The retro is insanely smooth with a pinch of nutmeg mixed with a cedar spill. The finish is like buttered popcorn that fades into a a light dry earth. The smoke output is still great. 
SECOND THIRD
>> Caramel, Burnt Popcorn, Sour Strawberry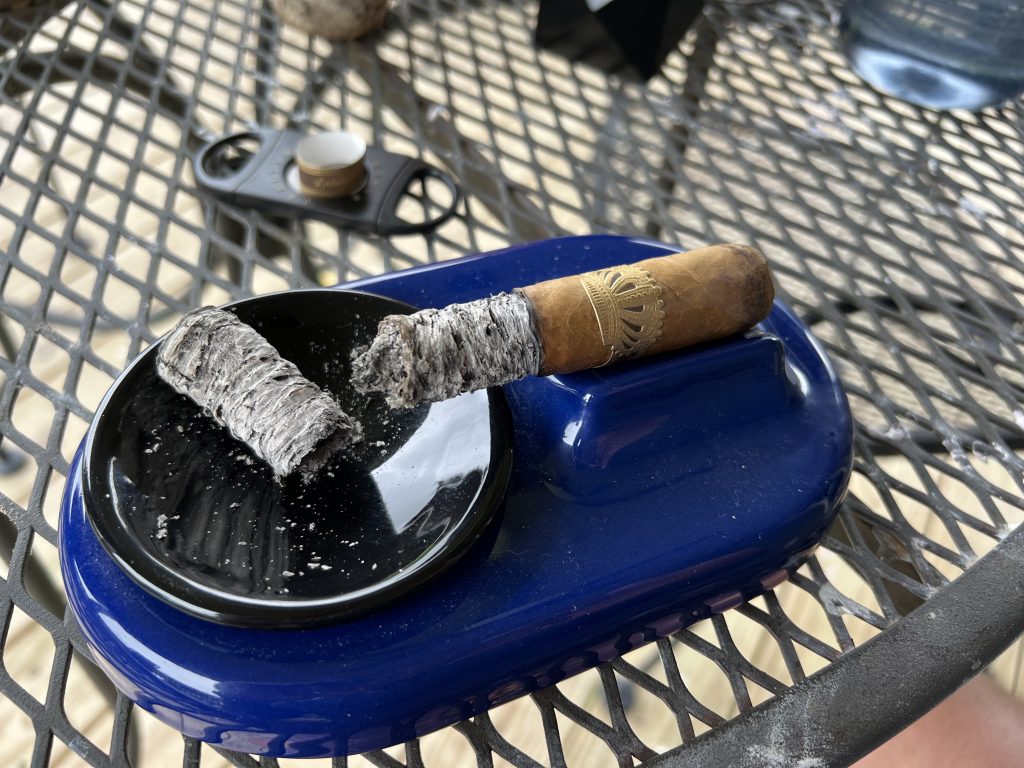 The ash holds on forever and the burn remains straight with no need for touch ups. Caramel with a faint butter note, citrus peel, and smooth cedar mixed with classic Connecticut flavors of hay and cream. The retro is kicked up to a white pepper and hickory. The finish is slowly transitioning from a buttered popcorn to a burnt popcorn mixed with cocoa nibs. Just before the finish drops off there is a tartness that resembles a sour strawberry it hits you in the sides of your cheeks. I enjoyed the first third much more but the transition is keeping me interested. The burn has also slowed down, which is a plus as well.
FINAL THIRD
>> Hay, Leather, Licorice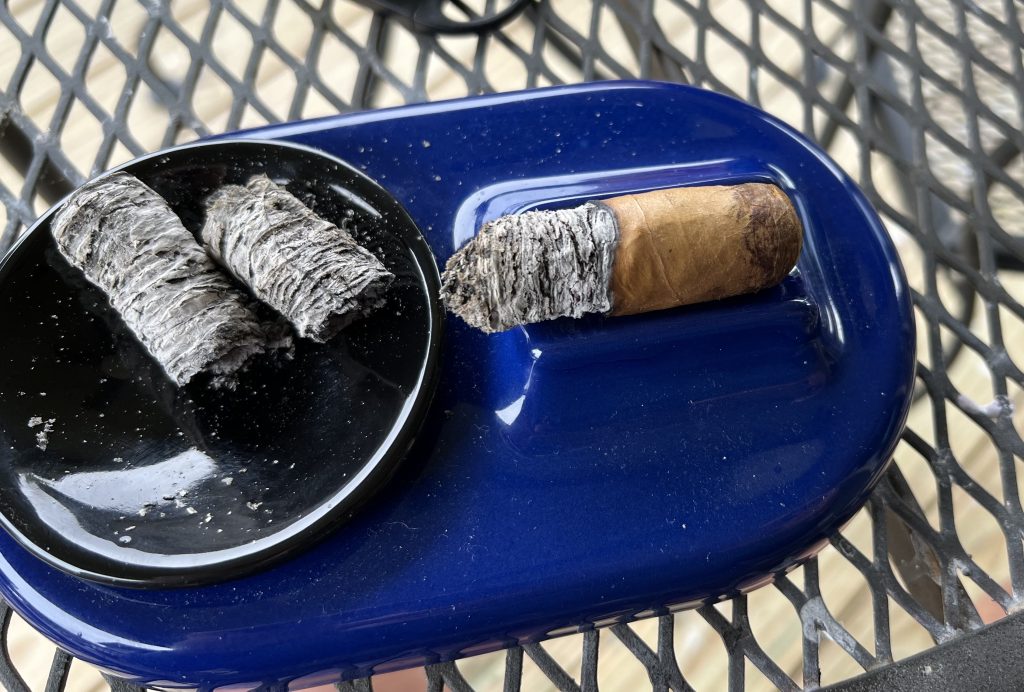 No touch ups are needed and the burn remains straight. There is a very nice transition in the last third with the cream and hay staying but with earth and leather moving in, as well. White pepper, cinnamon and cedar on the retro. The finish builds to a very bold leather mixed with baking spice. There is a hint of licorice as the finish the cigar. The smoke remains cool until the nub.
FLAVOR PROGRESSION
From the cold draw to the nub this cigar remained interesting. As I said before, the cap tastes like it is sweetened and those sweet notes were prominent in the first half of the Sobremesa Brûlée. This cigar is like eating dessert before a meal, super sweet and almost pastry like up front and then ending with something that is a little more savory.  
BURN EXPERIENCE
I was worried about the fast burn rate in the beginning but it did slow down after the first third. The ash was not particularly tight but held on for about and inch before falling off. The burn was straight in all samples and never required any touch ups.
RATING BREAKDOWN
0.73 / 0.80 … Craft & Aesthetic
0.43 / 0.50 … Pre-Light Characteristics
0.50 / 0.50 … Lighting Process
7.60/ 7.70 … Smoking Experience
0.50 / 0.50 … Personal Enjoyment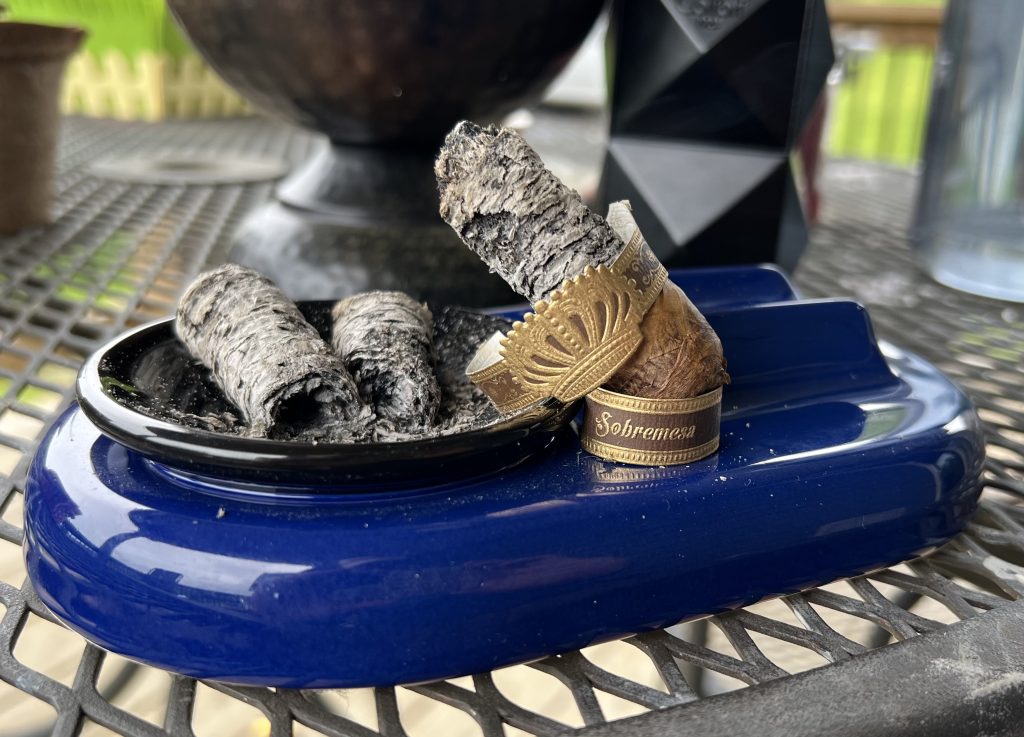 This will be your favorite Connecticut!
This is a cigar that would be appropriate any time of the day. It's a Connecticut cigar for someone who doesn't necessarily reach for Connecticut cigars often as it offers some very interesting and full flavors that are not characteristic of your typical mild cigars. This is my favorite mild cigar 
SIMPLY STOGIES RATING:  9.76 / 10.0