The Mule Kick is a cigar that I look forward to every year. I have hopes that one of these years it will match the greatness that was released in 2012. While I have written about Crowned Heads being a good limited-edition cigar brand in the past, I have found myself smoking mostly Crowned Heads cigars over the summer and most of them were LE's with the exception of Le Patissier (I really enjoy that this is a regular production cigar now). Crowned Heads has been checking all the boxes for me lately with a great balance of cost, flavor, and performance. This year features a completely different blend than the Four Kicks line and is still being produced by Ernesto Perez-Carillo Jr. 
VITOLA:   Robusto Extra
SIZE:   5 7/8″ x 52
ORIGIN:   Dominican
FACTORY:   Tabacalera La Alianza S.A.
WRAPPER:   Ecuadorian Sumatra
BINDER:   Dominican
FILLER:   Dominican
STRENGTH:   Medium-Full
SOURCE:   
Retailer
WHERE:   
Back Porch
WHEN:   
29 October 2023 @ 2:00 PM
DRINKS:   
Water
WEATHER:   
Warm and Breezy
HOW MANY CIGARS SMOKED:   
3
RELEASE TYPE  Limited Edition
ORIGINALLY RELEASE DATE  July 2023
TOTAL PRODUCTION
Typical Box Size:     Boxes of 10
Production Totals:  3,000 boxes
VITOLA BREAKDOWN
o  Robusto Extra  (5-7/8″ x 52)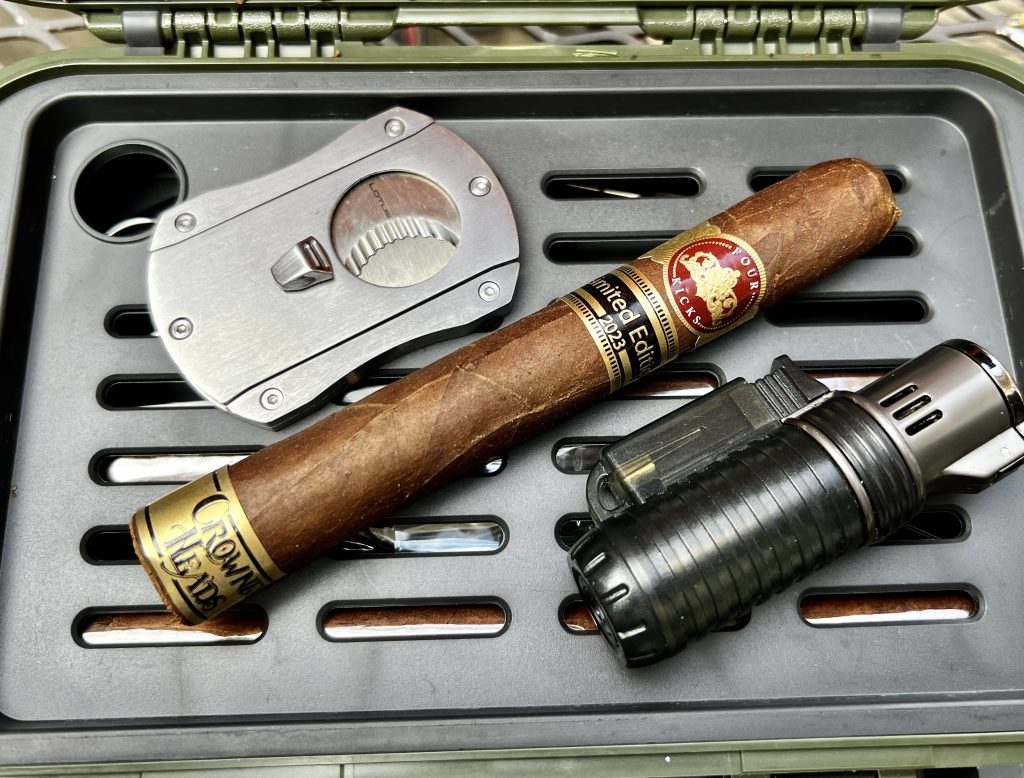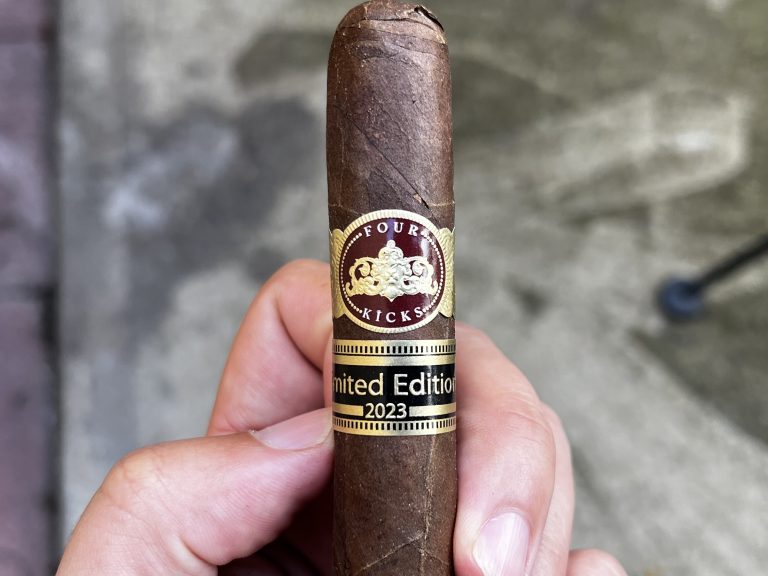 The band is identical to past iterations of the cigar, with the only real change being the year on the limited edition band. I will never have a problem with this, as it makes identifying the different versions very easy. I used to not care for foot bands but the Crowned heads bands are always pretty classy and makes it easier to identify what cigar it is in a crowded humidor.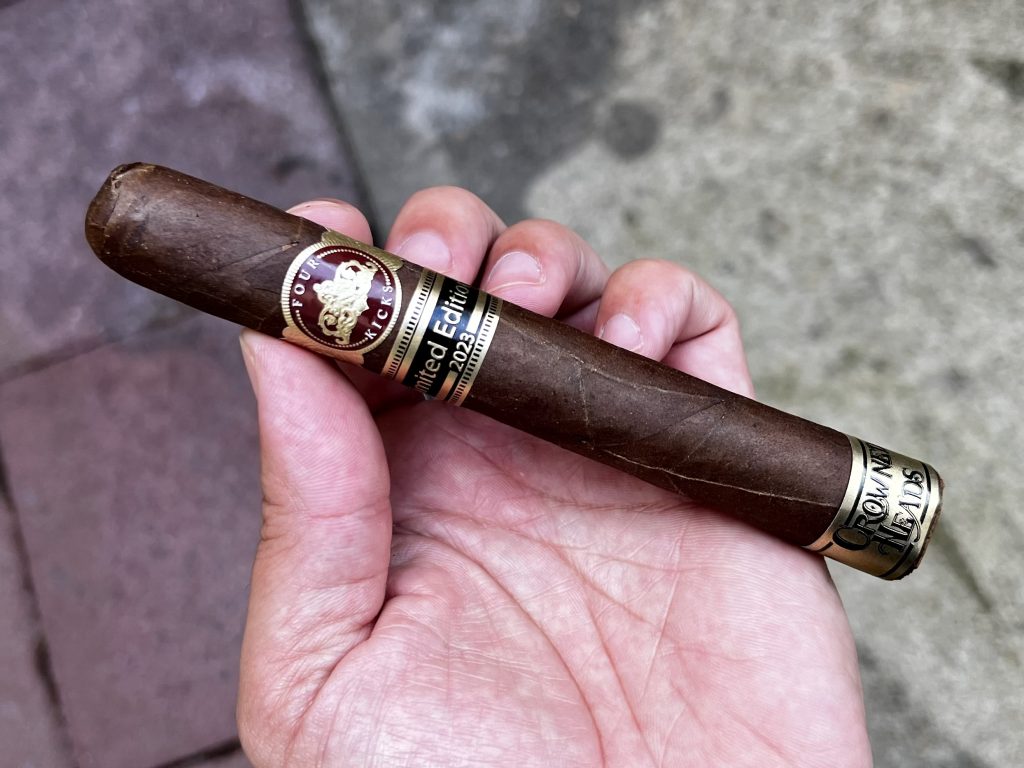 CONSTRUCTION

There are some noticeable veins in the body of the cigar but nothing huge. The head is kind of messy with folds and wrinkles on the top and some of the layers overlapping each other. I have seen more neat construction in the years past but we have to remember that this is a hand made product and not every stick is going to come out looking perfect. I don't know if it's the way I s stored it, but the foot of the cigar is a little misshapen, it's more oval than round. When squeezing around the body there are no real soft spots, except for near the head where it's a little more spongy, and there's a lot more give then the rest of the body. The color of the cigar is uniform milk chocolate throughout with no discoloration.
AROMA

The aroma on this cigar is very subtle and smells like a combo of feint barnyard and cedar with just a touch of citrus peel. I have said this in other cigars but it's this combo that really reminds me of a sour candy. On the foot you get the same with the inclusion of just a little pepper and a more intense Cedar.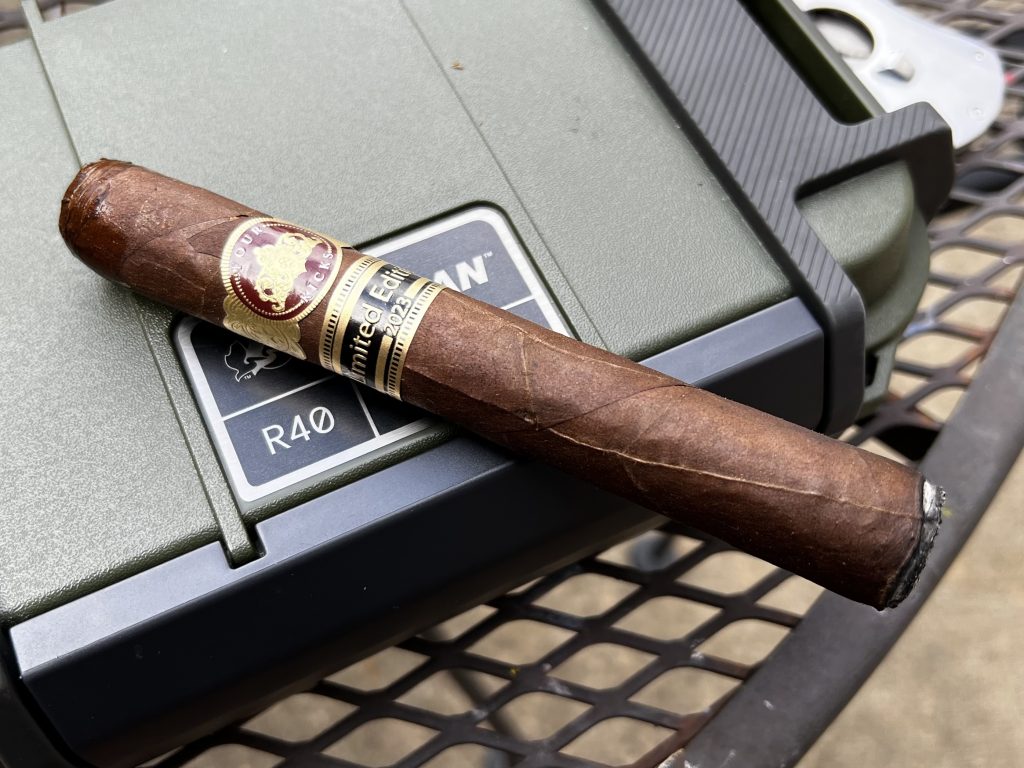 LIGHT & DRAW
Cut:  Straight 
Fire:  Torch
After a wave of ash on the first puff off of lighting the cigar, notes of dry earth and cocoa come through. There is a feint cedar as well but it is so feint that the deep dark flavors of earth and chocolate overtake it. The cedar really comes through on the retro and it is paired with a white pepper. The finish seems like a bitter black coffee at first but morphs into a very classy cocoa dust and cream. Not a bad start for the mule kick at all. The draw is perfect and
I'm getting lots of smoke with each puff. It is thick and hangs around the air for a bit. 
FIRST THIRD
>> Earth, Chocolate, Black Coffee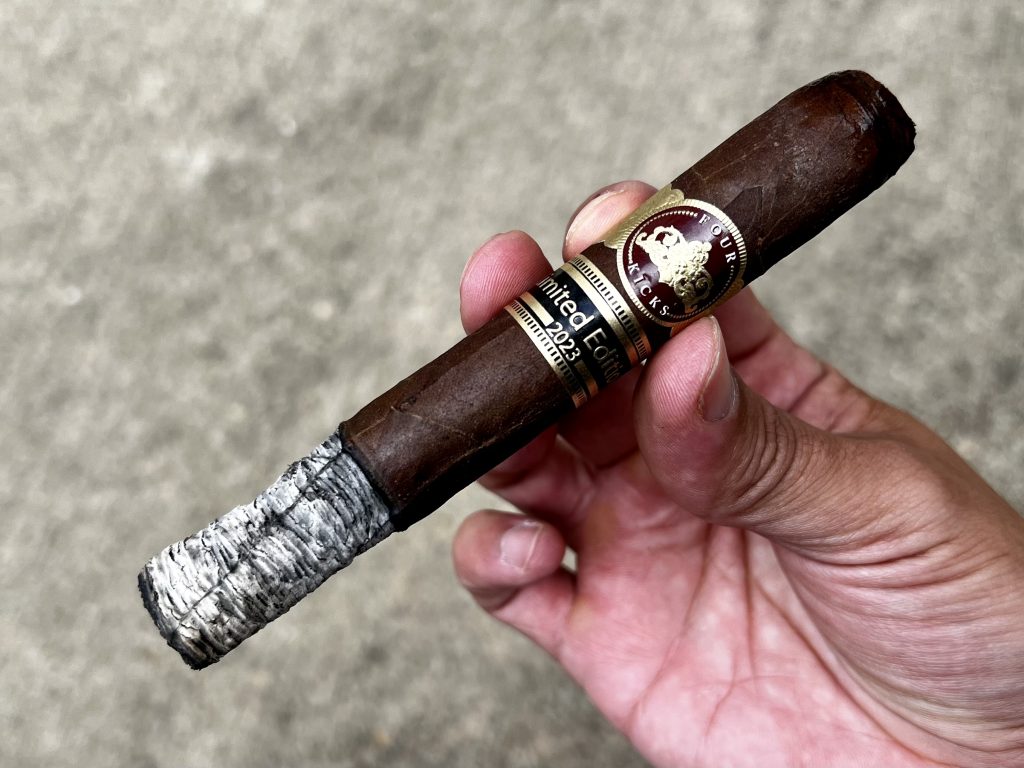 The burn is straight despite the breeze it is exposed to with the ash being tight and compact, no flakiness at all. This is a medium plus bodied smoke with a medium amount of strength so far. The main flavors of earth and chocolate shift a little bit with a milk chocolate moving to the forefront, black coffee, and still a very dry earth. It actually leaves the palate a little dry. The retro offers up tobacco steeped in milk with pepper sprinkled on top and the finish is simple notes of sweet tobacco with some oak. Just when you think this cigar is going to be overly bitter it changes into something that is interesting. 
SECOND THIRD
>> Cocoa Powder, Caramel, Cedar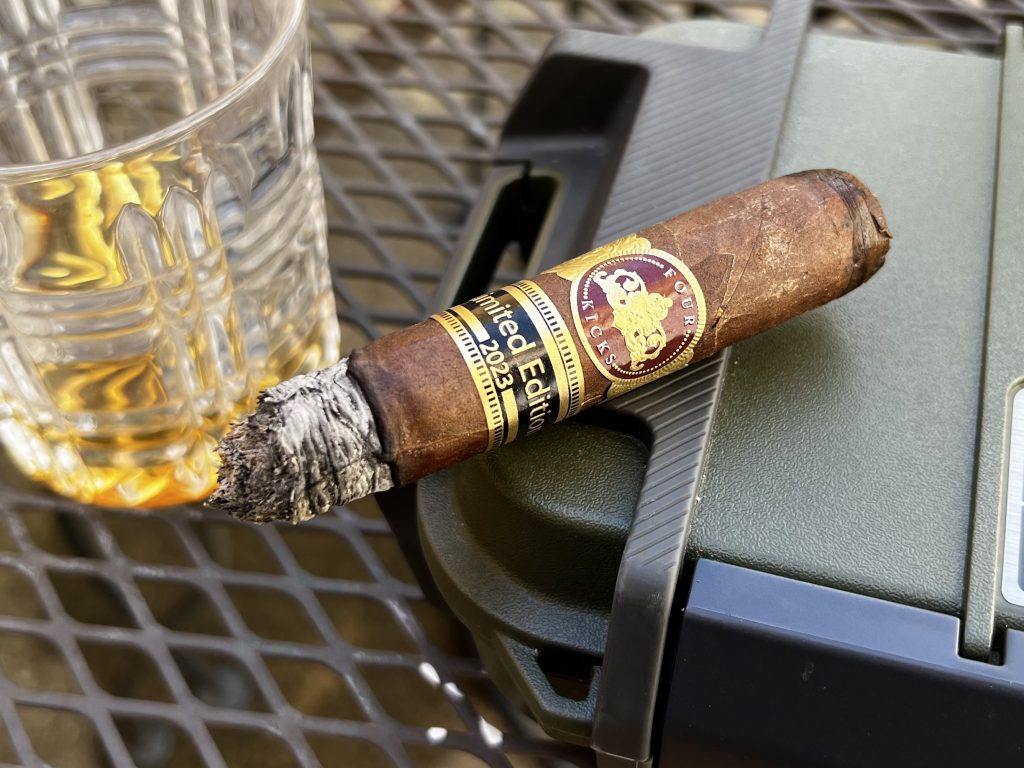 The burn on the mule kick is just impressive. It's razor sharp and looks like a stack of dimes. The ash falls off at around an inch and a half. A punchy leather mixed with damp earth envelops the palate. Cedar makes a comeback on the retro in conjunction with a short lived cayenne on the back end. The finish seems to expand on the leather for a couple seconds and quickly wind down to a cocoa dusted sweet tobacco with a touch of caramel mixed in black coffee. There is something to be said about trying this cigar in a private setting vs in a lounge surrounded by people. In my other samples I did not notice these small nuances. I am always reminded when I notice these differences that I always need to smoke a stick two different times to pass judgement on it. 
FINAL THIRD
>> Pepper, Licorice, Oak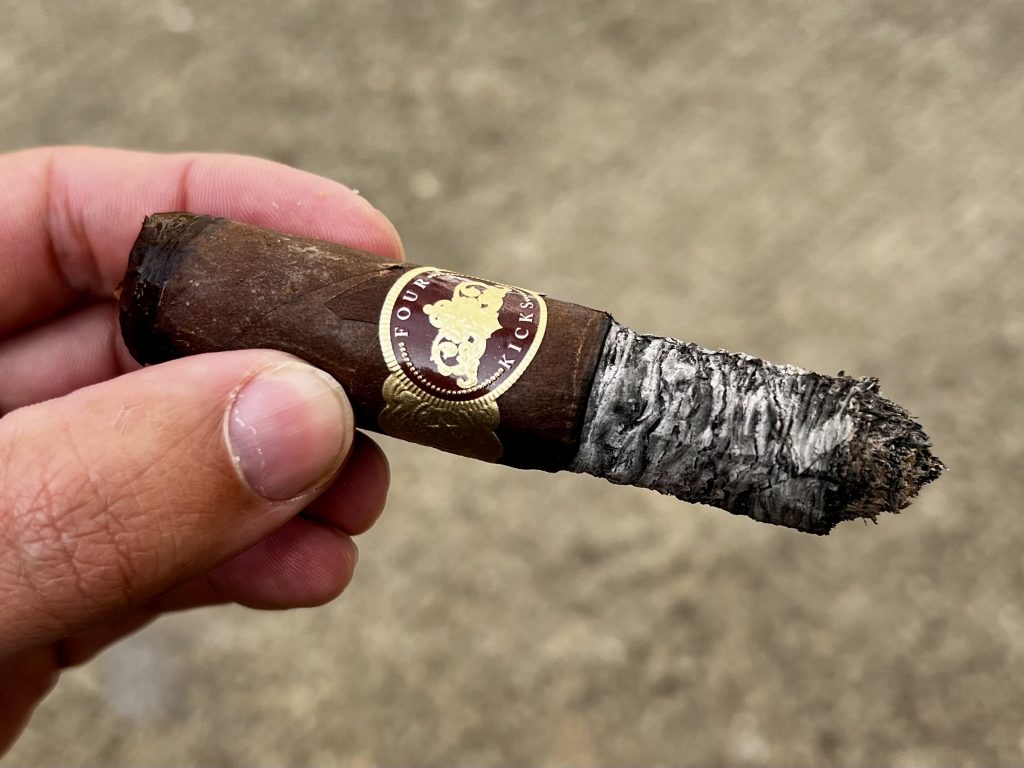 The smoke output really amps up in the last third. A strong oak moves in that meshes well with the deep earthy notes. The oak and earth shift to leather that rides into to the finish along with a nice pinch of pepper and feint licorice. The retro still holds on to the cedar mixed with cayenne at the end. The body of the smoke is amped up as expected in the last third but not to the point where it's unmanageable. The mule kick smokes like a full bodied cigar towards the end and I love it. The flavor and smoke get richer as I wind down. Caramel moves into the finish with the cayenne subsiding revealing a sweeter side under all of the bold finishing notes. What a journey!
FLAVOR PROGRESSION
Flavor progression of the mule kick is great. It starts off as a medium bodied stick that morphs into an in your face and bold full bodied stick. The base of earth remained with the cocoa moving out and shifting to a spicy leather. There were points of sweetness that popped in every now and then. It truly kept the mule kick interesting from start to finish.
BURN EXPERIENCE
While the unlit cigar looked questionable it was flawless when smoked. I don't mind touching up my sticks but the experience is unmatched when cigar burns perfectly and  has no flakes flying off of it. 
RATING BREAKDOWN
0.75 / 0.80 … Craft & Aesthetic
0.40 / 0.50 … Pre-Light Characteristics
0.50 / 0.50 … Lighting Process
7.03 / 7.70 … Smoking Experience
0.32 / 0.50 … Personal Enjoyment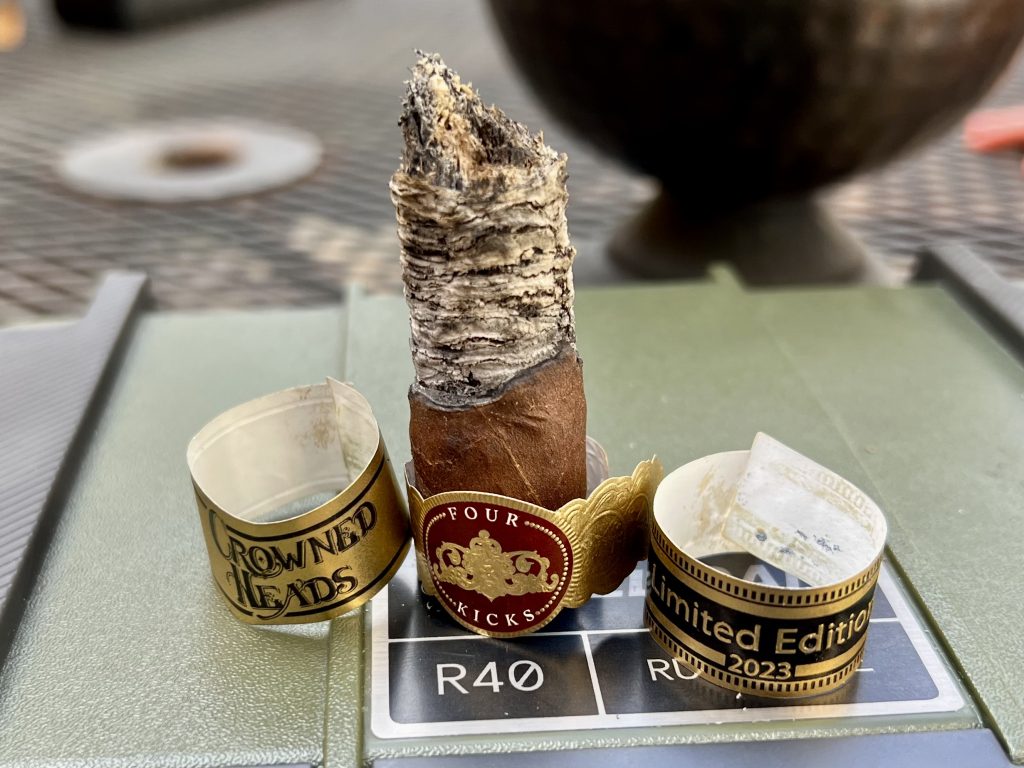 Another great LE from Crowned Heads.
The limited edition lines coming from crowned heads are always initeresting. I find myself gravitating towards the mule kick and las claveras lines. The Sumatra wrapper over Dominican binder and filler is just so different that the regular production stick and I really wish that the mule kick would be the regular production blend. I will say I like the darker wrapper's traditionally found in past iterations of the mule kick and this blend surprised me. CHs and EP Carrillo do a great job with the mule kick year in and year out.
SIMPLY STOGIES RATING:  8.95 / 10.0