The Joya de Nicaragua Ninjaragua is the latest collaborative effort from Cigar Dojo. The Ninjaragua is a Nicaraguan puro that features a dark, rich Nicaraguan habano criollo wrapper over Nicaraguan binder and filler. This extremely limited collaboration came with a commemorative challenge coin in the shape of a shuriken, or throwing star. With only 450 bundles of 6 cigars, these sold out fast. According to Cigar Dojo, the Joya Ninjaragua was their third fastest-selling release. So I got lucky and picked a bundle up in December 2020, and they've been resting in my humidor since.

I am a sucker for limited releases. Honestly, I (and my wallet) wish I wasn't. Joya de Nicaragua has been doing some interesting things recently and I really liked the Bonsai, the Cigar Dojo and Aganorsa Leaf collaboration, which was released in September 2019. In fact, I still have a few of those in the humidor. The Bonsai was a complex short smoke that had the signature Aganorsa Leaf profile of wood and spice and everything nice. When you add in the commemorative challenge coin (a branded coin that can be collected, traded, displayed, or thrown in a box to collect dust) in the shape of a throwing star that came with the Ninjaragua…well, my inner 15-year-old just couldn't help himself. I smoked two of these a couple of days apart for this review and have decided to publish my experience with both cigars. As you will see, they were different experiences.
VITOLA:   Toro
SIZE:   6 x 50
ORIGIN:   Nicaragua
FACTORY:   Fábrica de Tabacos Joya de Nicaragua, S.A. (Nicaragua)
WRAPPER:   Nicaraguan Habano Criollo
BINDER:   Nicaragua
FILLER:   Nicaragua
STRENGTH:   Full
SOURCE:   
Cigar Dojo
RELEASE TYPE  [release type]
ORIGINALLY RELEASE DATE  [OR release date]
TOTAL PRODUCTION
Typical Box Size:     Boxes of [##]
Production Totals:  [totals produced)
VITOLA BREAKDOWN
o  Short Robusto  (4-3/4″ x 52)
o  Corona Gordo  (5-1/2″ x 44)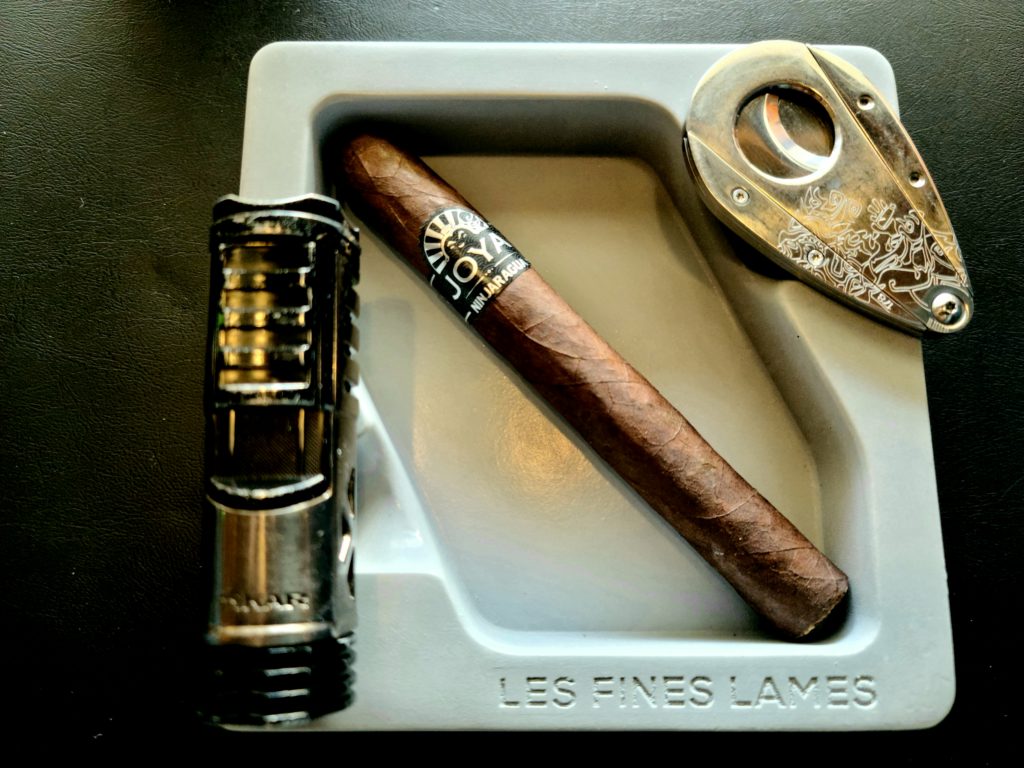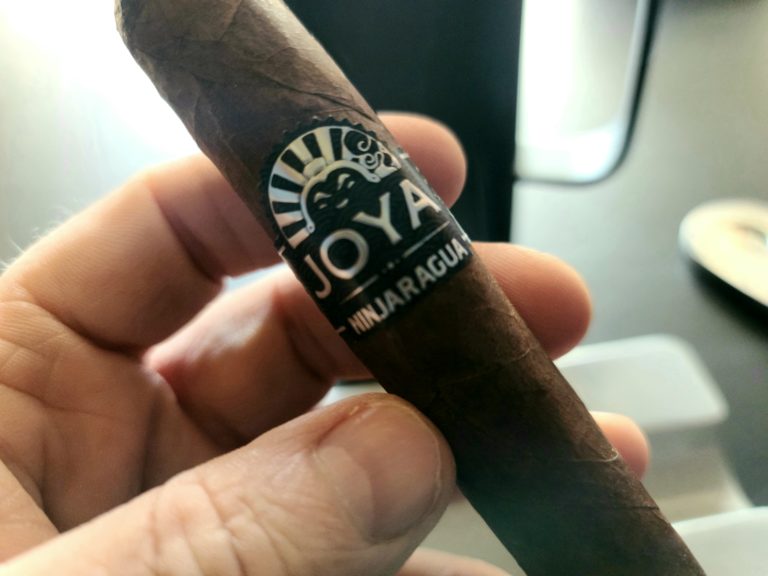 The band is an elegant design that features the Cigar Dojo logo with a large "JOYA" right below it and above the name "Ninjaragua." The black and silver color scheme make for a slick design choice that plays perfectly with the ninja theme of the cigar. The back of the band feature a "CD" on the back that adds a nice touch of class to the already fancy looking band.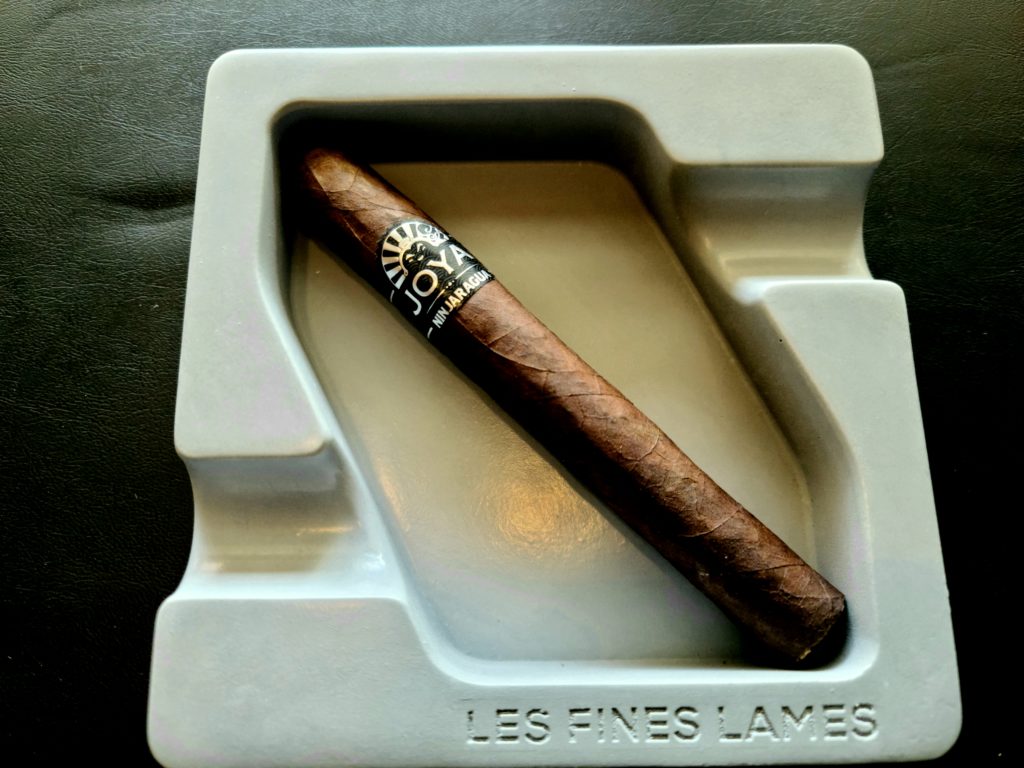 CONSTRUCTION
Visible veins poke through the dark and toothy habano Criollo wrapper, as a sheen of oil slightly glistens in the light. The wrapper is smooth to the touch, which is rather surprising given how veiny this cigar is. My first cigar is built like a tank, and that's not a compliment to its construction. It feels like a small baseball bat. Hard and unforgiving. The second cigar looks just as rich and inviting as the first, but with much more give to it.
AROMA
Both cigars have hints of tobacco, cedar, and barnyard. I've said before how much I love that barnyard smell, as it typically means that a cigar is going to be really good. But my excitement quickly subsides.
COLD DRAW
The cold draw reveals a very tight on the first cigar. It is like trying to suck a rock through a straw. I get notes of barnyard and sweet tobacco but my focus is on how tight the draw is. The second Joya Ninjaragua has a much better draw and I am equal parts relieved and excited because I pick up the same notes of barnyard and tobacco.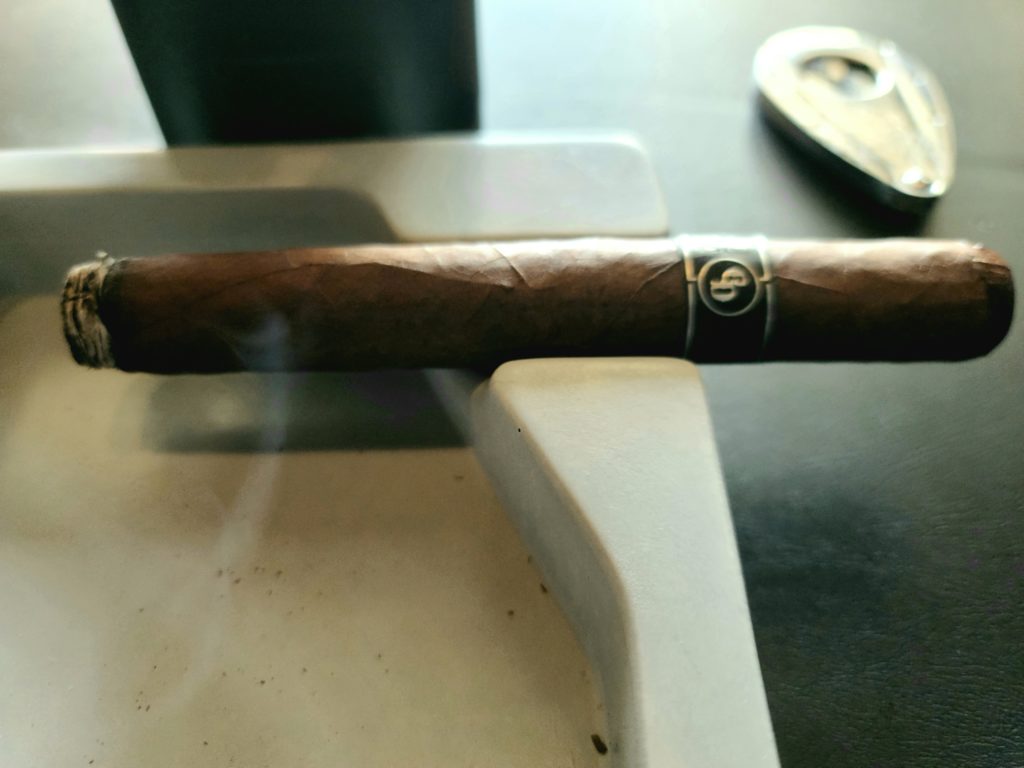 LIGHT & DRAW
Cut: Xikar Xi3
Fire: Xikar Tactical 1
The first cigar lit fairly well despite the draw issues, but the draw is extremely tight.
The second cigar had no draw issues and lit light like a dream.
SMOKE
The first Joya Ninjaragua had almost no smoke output. The second one had plenty of smoke that coated and filled my palate in a satisfying way.
FIRST THIRD
>> Red Pepper, Nuts, Cedar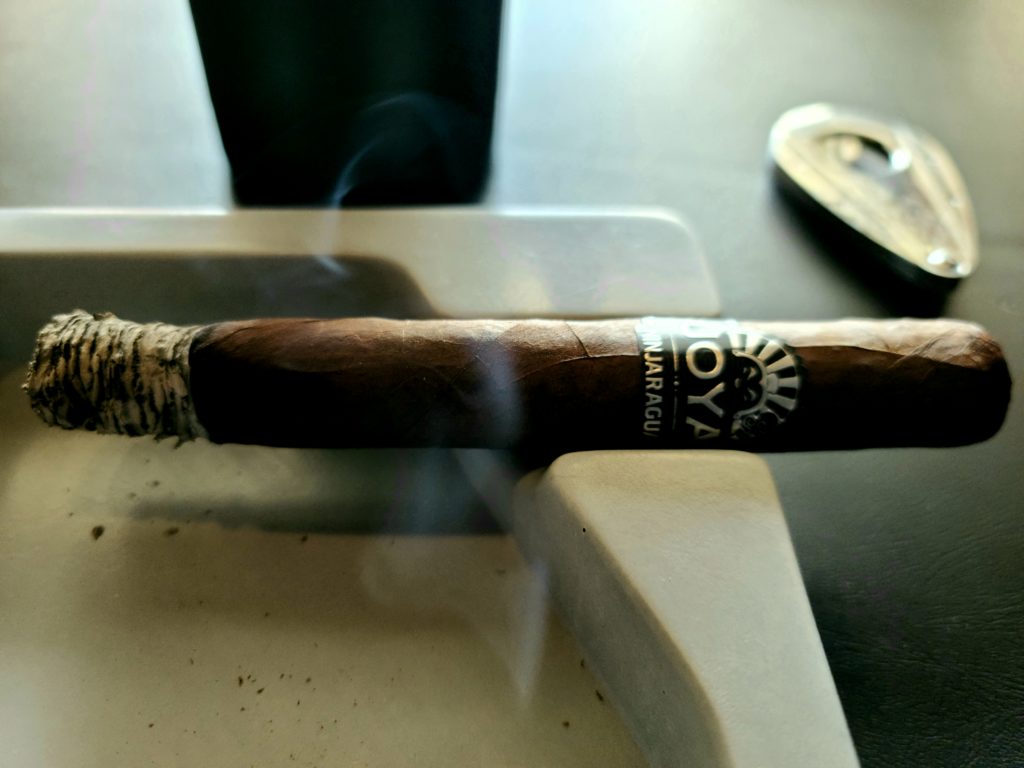 (First Cigar)
I take my first puff and pepper immediately tickles my throat. There is a grassy undertone to the Ninjaragua. Damn, this is like sucking a milkshake through a defective straw. There is very little smoke at first. So far, the Ninjaragua tastes like cardboard and pepper. There is a salty note that comes away with each puff. The smoke production ramps up a bit, but only at the foot. I'm not surprised that smoke can't get through the head of this cigar. Should I take more of the cap off? I roll the cigar between my fingers in an attempt to loosen the multiple hard spots. This is just unpleasant. I decide to take more off the head and straddle the shoulder of the cigar. Thankfully it doesn't rip or tear. I'll say that the Ninjaragua feels fairly rugged for a cigar. Still, it's like sucking dried cement through a tube. 
I finally work the hard spots out as best I can. It helps the draw a bit, but not the flavor. There is a muted sweetness that would bring a whole new dimension to the cigar, but it's barely detectable. The star of the first third is the green pepper on the retrohale. The burn is wonky, but why would it burn straight at this point? It took 5 minutes of fumbling around with this stick just to get something close to a manageable draw. A pleasant grassy note comes forward. It reminds of a youth spent walking through fields on sunny spring days. The draw, however, reminds me of defective straws. I grab my Blue Smoke ATL poker. Ah, the first relight. I stab this cigar like a meat thermometer going into a Christmas ham…over and over and over…and the draw is still terrible. I would have thrown in the towel on any other cigar.
(Second Cigar) 
There is black pepper on the first few puffs and much better smoke production. There is a sweetness that lingers on the palate before turning into a coffee/espresso note. Oh man, I love the red pepper on the retrohale. The spice is absolutely amazing — like biting into a raw pepper. It doesn't stay on the palate long, but long enough to wake you up. I'm glad that I gave this cigar another chance. The smoke is creamy and washes over my palate like waves on a beach. There's a nutty note that mingles with spice and cedar. The burn line is fairly straight and miles better than the first Ninjaragua I smoked. My throat reminds me that this cigar has a spicy kick to it. 
So far, this cigar is good, but not great. It has all the flavors I would have thought it should (wood, nuts, spice, pepper). It isn't blowing my socks off, but it is alleviating my disappointment from the first one I smoked. Perhaps, a third is in order? The flakey ash is grey with black streaks, but it's not too concerning. The construction of this cigar is much better than the first one I smoked. The coffee helps bring out a sweet chocolate note in the cigar, but the red pepper on the retrohale outshines any other flavors that appear. A hint of salted caramel starts to weave in and out as the spice and pepper begin to subside. The cedar note is now the dominant flavor. This cigar, so far, lacks depth. It's certainly not muted but it is lacking that oomph that would make it great. The ash is holding on strong. This has gone from a pepper bomb to barely a noise-maker.
SECOND THIRD
>> Cayenne Pepper, Baking Spices, Floral Note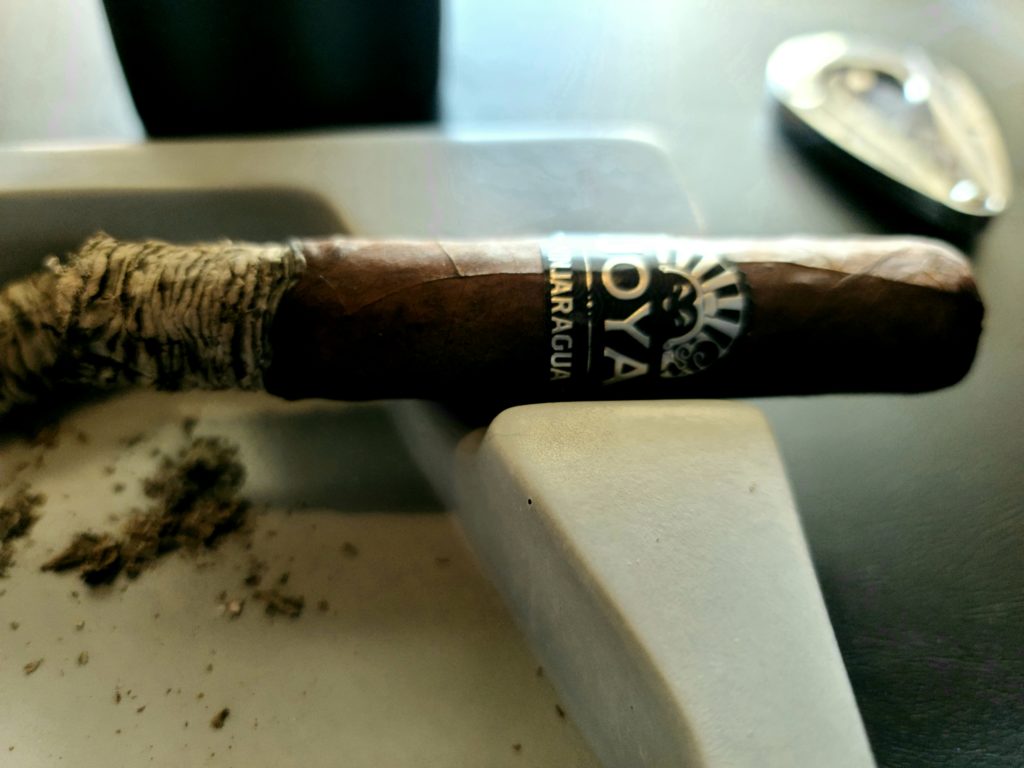 (First Cigar)
The ash is compact. The second third starts with the same draw and sweet note becoming more prevalent. The grass is gone and there is a slight baking spice coming through on the retrohale. This has all the potential in the world. If only it wasn't the most plugged cigar I've ever had. It literally is. This is so muted it borders on mild. I am disappointed and begin questioning my life choices. My day is ruined. The burn is awful, but not anything you wouldn't expect from a plugged draw. Charred wood lingers on the palate. Perhaps that is the point of the Ninjaragua? The flavors are as stealthy as the ninjas it's named after. At this point, I hope the next one I smoke is significantly better. The flavor profile isn't terrible, but there just isn't enough of it. When there is, it is reminiscent of spice, vanilla, and lavender. It's actually quite good. And then just like that, it's muted. Reduced to notes of ash and cardboard.
(Second Cigar)
If the cigar started with a bang, its middle third is starting with a whimper. There's a bit of cayenne pepper and baking spices but nothing that jumps out to me. The ash falls as I move the cigar back to the ashtray. It kept its shape, which is fairly impressive, and wasn't overly flakey. A floral note starts to dance around, but it never seems to stay long enough to become enjoyable. The retrohale reveals charred wood. Campfire is the dominant tasting note. Salty wood is the best way to describe this middle third. It's not flavorless but it is rather unremarkable. The coffee doesn't overpower the cigar and adds a nice contrast of flavors. The cigar itself, however, has become a bit boring. One dimensional would be a great descriptor. The burn line has become wonky since the ash fell. It isn't concerning, just kind of annoying, much like the flavor progression of this cigar. It lacks complexity and nuance. Again, it isn't bad but it's far from great. The smoke production is fantastic and I have no complaints. Salted nuts! Finally, a different flavor. It's a welcome addition to the campfire that has dominated for so long now. It brings a nice sweetness that is complimented by the coffee. There's just no depth here. 
FINAL THIRD
>> Charred Wood, Sweet Cream, Black Pepper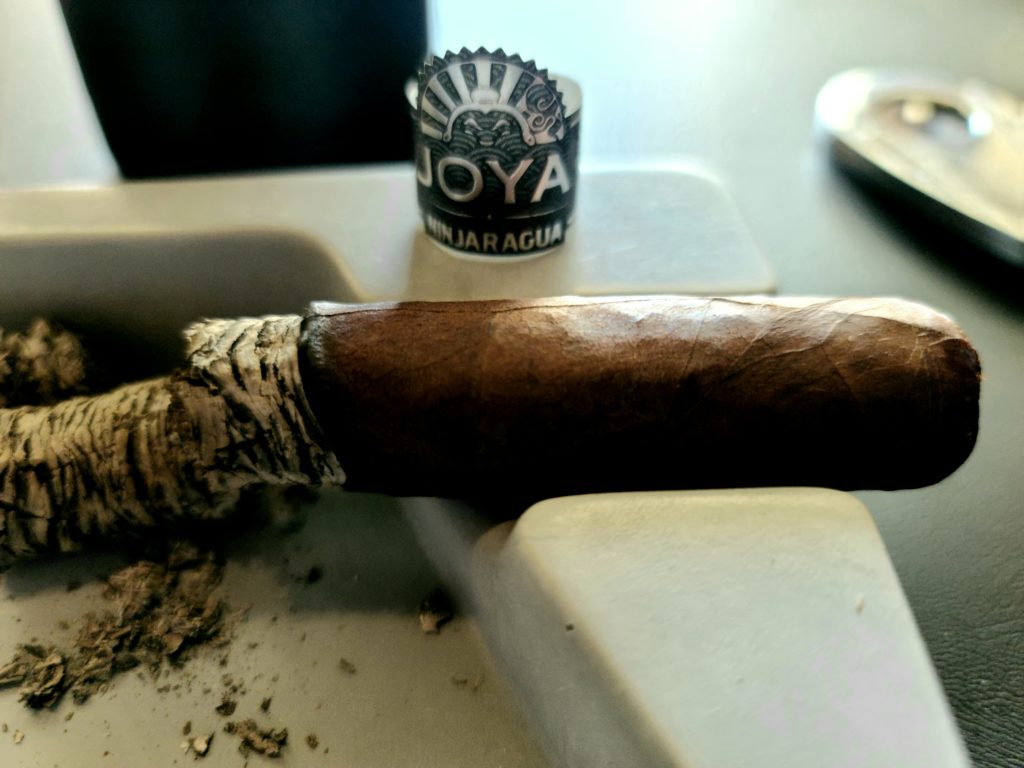 (First Cigar)
The final third begins with bitter espresso and pepper notes. At least I can taste this third. The draw is the same as it was in the first two thirds—bad. I feel like it's plugged under the band but can't seem to reach it with my poker. Again, the flavors become muted. The draw is finally loosening up and that's allowing for better smoke production. The flavors are still muted and mild. Occasionally I'm hit with something more than charred wood and burning paper, but not often. There is a red pepper note that is pretty good when it comes through, but it leaves as fast as it arrived. This Ninjaragua is a disappointment.
(Second Cigar)
The last third begins where the second ended: with a slight sweetness accompanied by burnt wood. What this cigar has going for it is consistency and construction. It isn't bad, but for a limited edition I expect more. Much more. This is like one of hundreds of cigars on the market right now. A nice blast of citrus is coming through now that compliments the baking spices that are becoming prominent. The burn line again goes wonky after the ash drops, but it quickly self-corrects.Is there a glimmer of greatness left in this stick? Sadly, no. The citrus and baking spices once again give way to the charred wood and salted nuts. Notes of leather and earth make for a welcome change of pace. The smoke remains creamy and satisfying. 
This is a slow burner. A point in its favor, and it needs all the points it can get. A sweet cream note and black pepper start to come through with a musty-but-not-quite mushroom flavor. If there was a bit more depth it would be great. Unfortunately, it's just kind of there on the surface. A shadow of what could have been. That seems to be the running theme for this cigar. But, maybe that's the point. Ninjas operate in the shadows, much like the flavors of this cigar. I knock the ash from the cigar to avoid a wonky burn. It seems to have worked. Charred wood and cayenne pepper suddenly appear on the retrohale and it's good. Really good. Where was this earlier? There's a richness to it that has been lacking. That not-quite-mushroom flavor is full-fledged mushroom now and works well with the sweet cream that has hung around. The most disappointing thing about this last third is how good it gets near the end.
FLAVOR PROGRESSION
The flavor progression is almost non-existent with the Ninjaragua. It's as one dimensional of a cigar as I've smoked. The changes are boring and lack any sort of nuance or complexity that you can so easily find in the cigar market today.
BURN EXPERIENCE
The burn was one of the few bright spots the Ninjaragua has to offer. Taking out my experience with the first cigar, which was a dud, the second Ninjaragua burned like a dream.
RATING BREAKDOWN
0.40 / 0.80 … Craft & Aesthetic
0.25 / 0.50 … Pre-Light Characteristics
0.40 / 0.50 … Lighting Process
5.70 / 7.70 … Smoking Experience
0.05 / 0.50 … Personal Enjoyment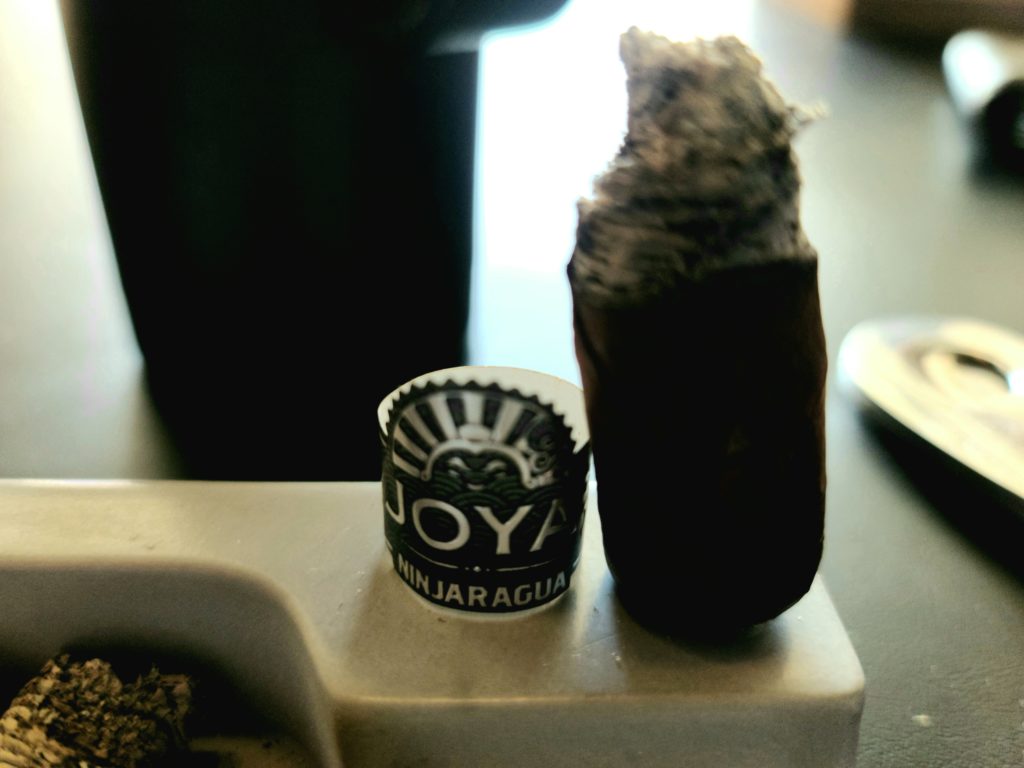 SOMETHING CATCHY.
The Ninjaragua is disappointing and lacks any depth of character. Everything about this cigar can be found on the surface while it clubs you in the head with its simple flavor profile. The final third is the star of the show, but only after reaching the middle of it. By then it is just too little too late. When taking into account my experience with the first Ninjaragua I smoked, this cigar is a miss on almost every level. The best thing about the Ninjaragua is its marketing and the throwing star shaped challenge coin. 
SIMPLY STOGIES RATING:  6.8 / 10.0