The La Historia from E.P. Carrillo has received multiple awards from various media outlets. Most notably, it was rated the #2 cigar in 2014 from Cigar Aficionado in a larger toro vitola rather than the belicoso I am reviewing. I always liked the idea of a belicoso concentrating more of the cigars flavor because of a tapered head but the flavors of one line from vitola to vitola can vary wildly. I was curious to find out if this cigar is really all its cracked up to be so I purchased a box with the intention that I would be getting 10 cigars that are close to their award winning 6 7/8 x 54 brother. 
VITOLA:   Reglias D' Celia Piramides
SIZE:   5 7/8″ x 58
ORIGIN:   Domincan Republic
FACTORY:   Tabacalera La Alianza S.A.
WRAPPER:   Mexican San Andres
BINDER:   Ecuadorian Sumatra
FILLER:   Nicaragua
STRENGTH:   Medium-full
SOURCE:  Retailer
WHERE: Outside Covered Deck
WHEN: March 26 @11:00am
DRINKS: Water
WEATHER: Sunny and breezy
HOW MANY CIGARS SMOKED: 3+
RELEASE TYPE  Regular Production
ORIGINALLY RELEASE DATE  August 2015
TOTAL PRODUCTION
Typical Box Size:     Boxes of 10
Production Totals:  Unknown
VITOLA BREAKDOWN
o  Regalias D' Celia Piramides  (5/78″ x 58)
o  El Senador  (5 3/8″ x 52)
o  Dona Elena  (6 1/8″ x 50)
o  E-III  (6 7/8″ x 54)
o  Parientes  (6 3/4″ x 43)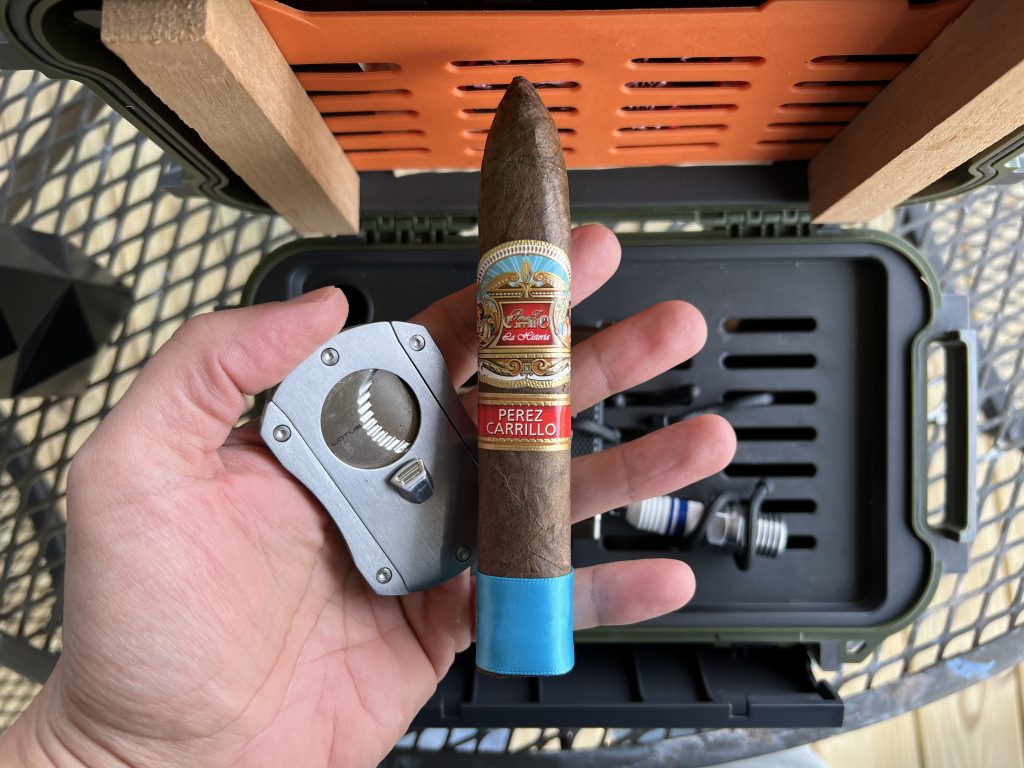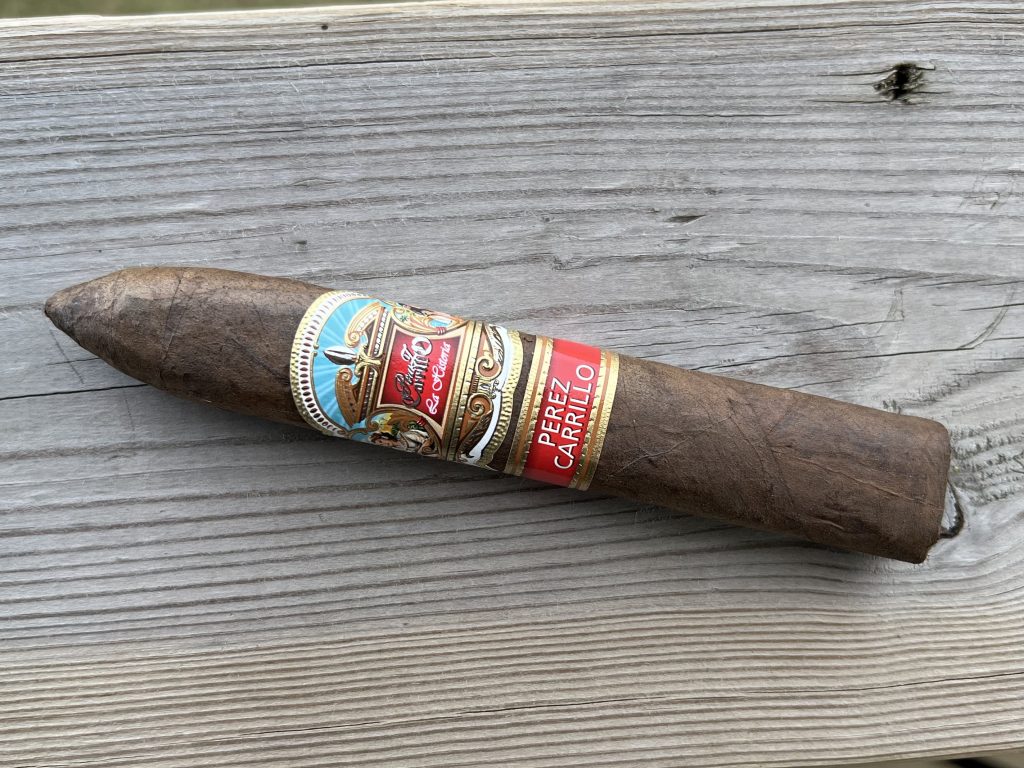 All of the E.P. Carrillo lines have great band designs but out of all of them I find myself more attracted to the La Historia because of the vibrancy and contrasting colorway. Splashes of red and light blue mixed with  gold and silver foil accents that dress the band nicely. I could care less about foot bands in general but they do serve a functional purpose if you drop your cigar on the foot and the color contrasts from the wrapper so much that you really get hyper focused on how nice the cigar looks. The band is extremely intricate with two pictures of Ernesto Perez's daughter and mother on each side, the family members that inspired the cigar.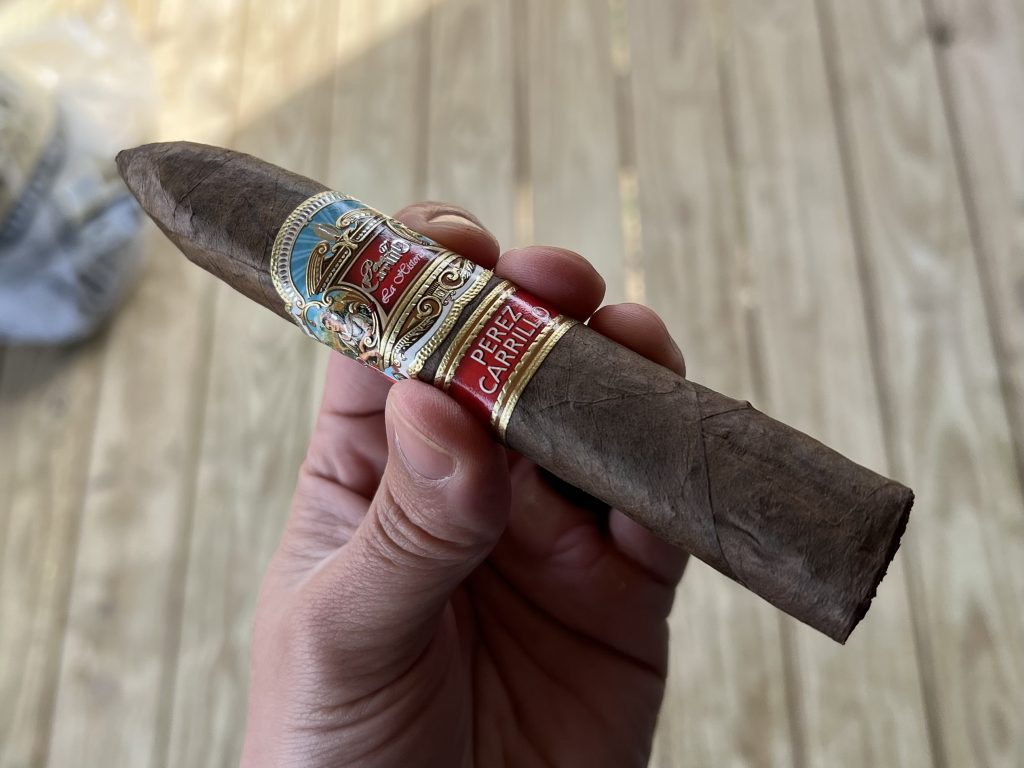 CONSTRUCTION

The wrapper has a dark milk chocolate brown color. It looks way darker with the foot band on. There is just a  slight tooth and mottling with a few bumps here and there. While the pack feels nice and compact, there is some shriveling on the wrapper that the foot band covers. This may be yet another reason why foot bands are used, to hide ugly feet. To top off the cigar, there is a large triple cap, so no one should have issues cutting this up at all.
AROMA
The cigar has a pleasant floral scent with a slight barnyard funk, it almost reminds me of a strawberry fruit leather. 
COLD DRAW

The cold draw offers very little resistance. On the palate, chocolate and raisins mixed with sweet tobacco and oak.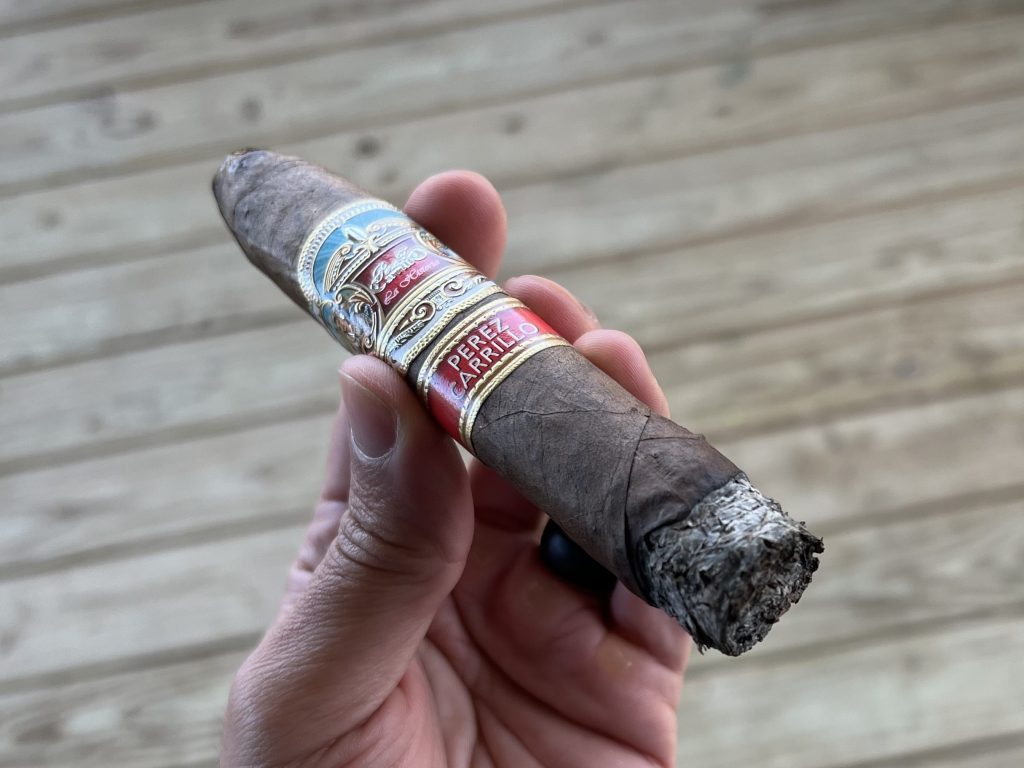 LIGHT & DRAW
Cut:  Lotus Jaws Straight Cut
Fire:  Colibri Quasar Table Lighter
The soft box press foot takes a little bit to light, it is fairly large . Once lit, the draw is wide open which is expected after the cold draw but weird because the cigar is so compact.  
SMOKE

Right after light up on the palate is earth, minerals, and char with black pepper on the retro hale. The smoke is thick and has a very earthy odor. The finish is more of the same with the addition of coffee grinds, those flavors last for around 8 secs and drop off abruptly. Before I realized I should take a picture right after light up, it had burned down at a rapid rate that I did not expect.
FIRST THIRD
>> Burnt Toast, Dirt, Cocoa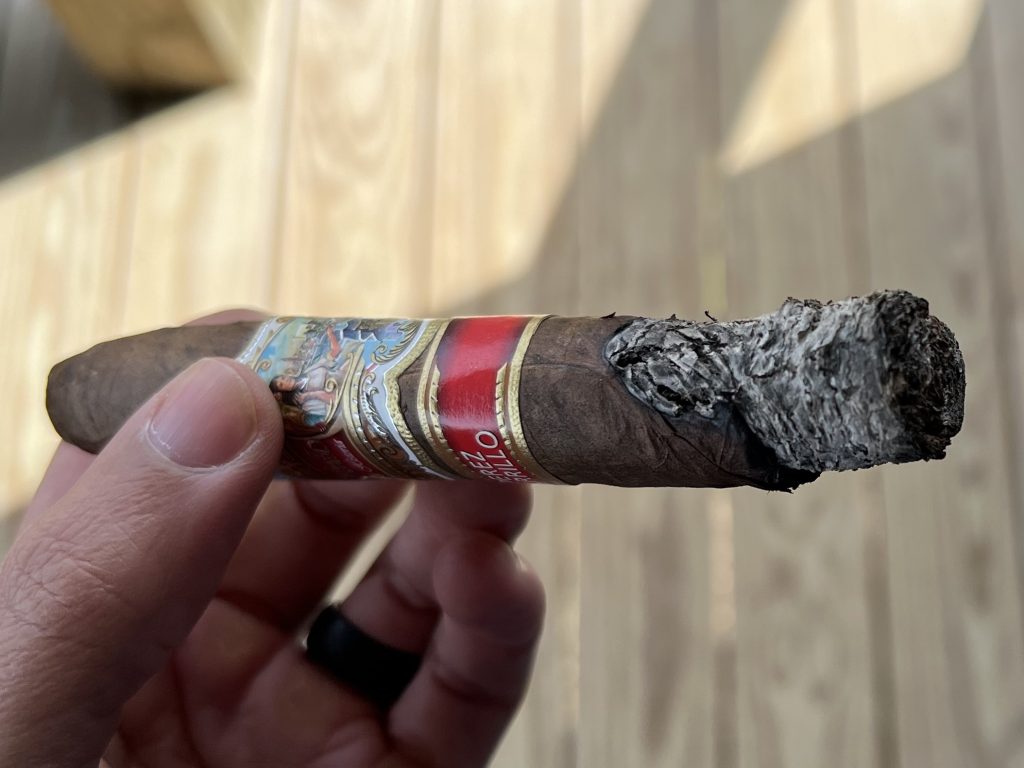 I noticed a crack form on the wrapper just above the burn line as I burned through this cigar. Some serious canoeing  occurred and the rapid burn rate continued even with about a minute between draws. On the palate, burnt toast with dirt sprinkled on top.  A slight coco with oak on the finish. The retro is smoother with barely any spice, but no real pronounced flavor besides aged tobacco. Good smoke output. Ash is loose and gray; I am annoyed.
SECOND THIRD
>> Cocoa, Dry Oak Chips, Minerals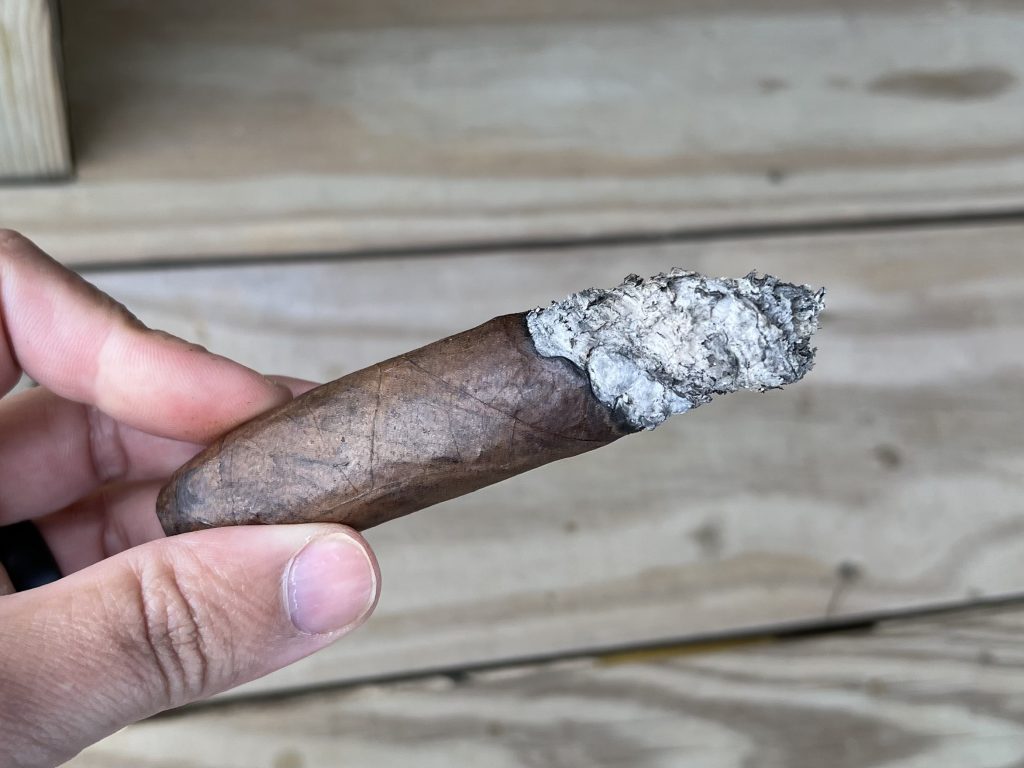 I decided that I had to finally touch up the La Historia, and it was a big one. Then another small one. I am hoping that there are no more touch ups needed outside of these two. More coco and dry oak chips on the palate move in the second third with a smooth and creamy retro ending with a touch of red pepper. On the finish, a dry coco powder with a strong minerality. The burn is wavy and remains that way after the touch ups and heading into the final third. 
FINAL THIRD
>> Burnt Chocolate, Caramel, Hay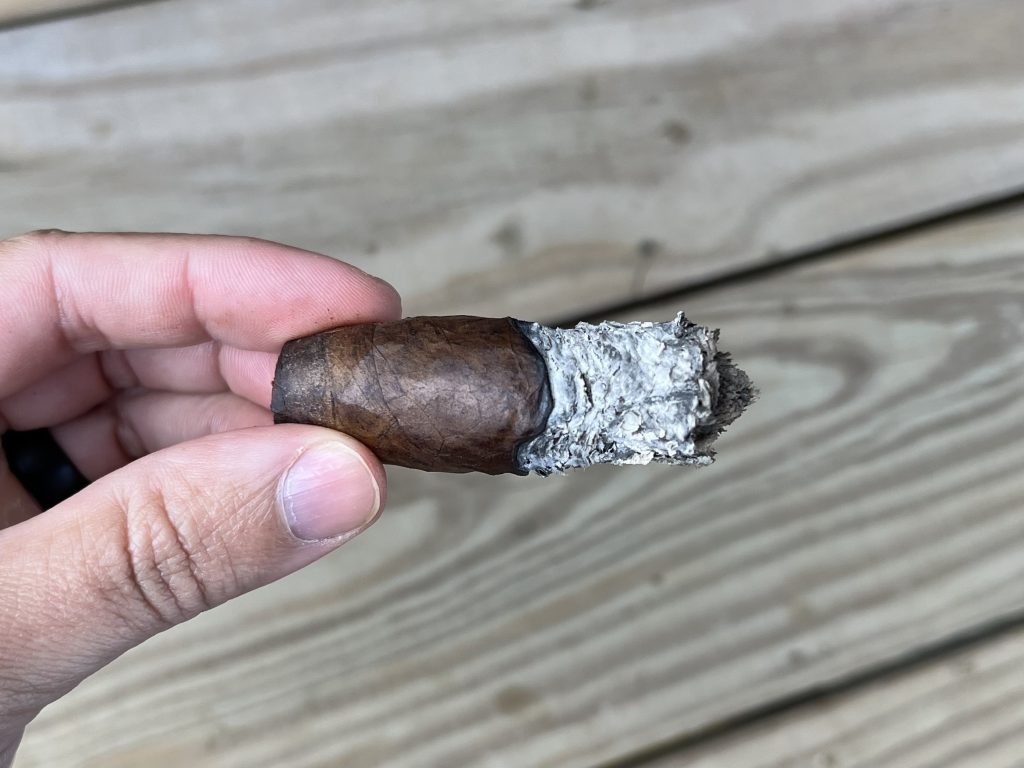 More babysitting the burn with another touch up. It really is unfortunate because this is not the only sample that had a burn issue. The previous samples burn were not as bad as this, but bad burns are something I've come to expect in this vitola. 
This cigar is like…if you deep fried a piece of dark chocolate in burnt oil, then sprinkled dirt and cocoa right when it comes off the fryer. There is a slight hint of caramel sweetness and retro is cream mixed with hay and cocoa. The finish is a coco cream with a sweet aged tobacco that lasts a little longer than the first 2 thirds. There is also a blip of odd chemical bitterness that reminds me of a non-organic celery after taste, which is awful. 
FLAVOR PROGRESSION
The flavors of this cigar do not change a lot as the cigar progresses. More recently, I have liked the Mexican San Andres wrapped cigars that I have smoked but this one reminds me of the days when I did not like the wrapper at all. There is a lot of burnt toast, dirt, and minerality in this cigar and it is overpowering the better flavors. 
BURN EXPERIENCE
The burn on this cigar is the worst I've seen from any cigar in a long time. While previous samples were not as bad, they still had some issues with only 1 out 5 having a semi straight burn.  
RATING BREAKDOWN
0.77 / 0.80 … Craft & Aesthetic
0.50 / 0.50 … Pre-Light Characteristics
0.48 / 0.50 … Lighting Process
6.00 / 7.70 … Smoking Experience
0.30 / 0.50 … Personal Enjoyment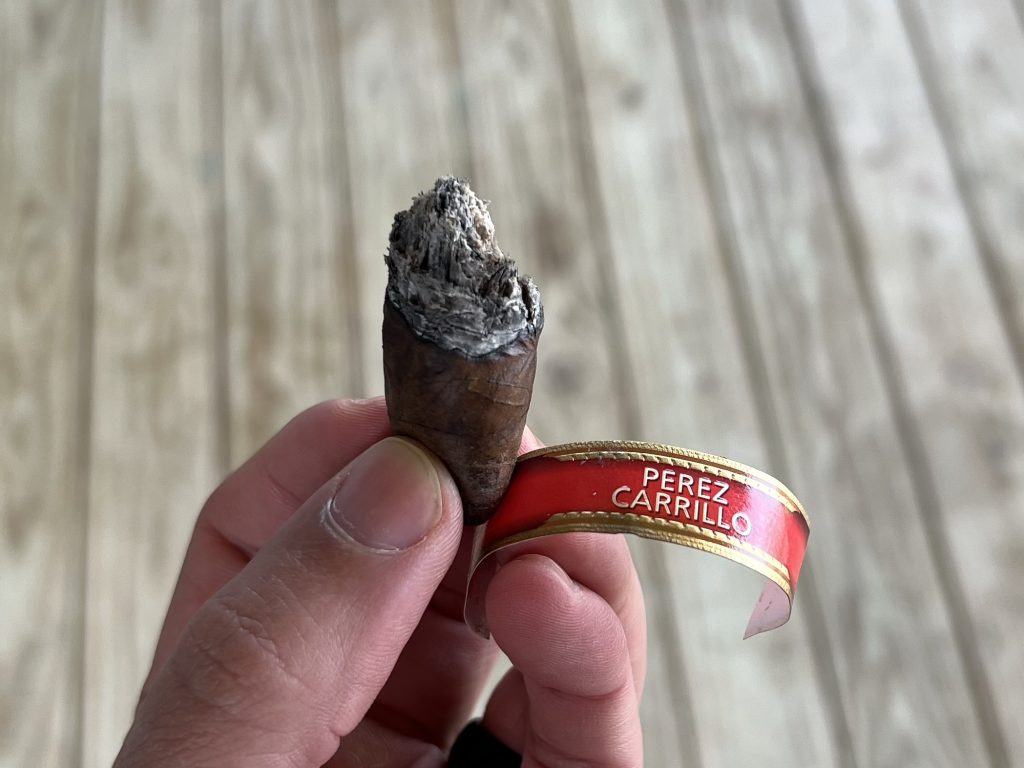 I GUESS SIZE DOES MATTER.
I have smoked this cigar in another vitola and it was actually very good. The belicoso is not impressive in the least bit and at 8.05 out of 10 I feel like I am being generous. The bad burn and burnt toast flavor are huge turn-offs for me. If you do buy this cigar buy, any other size.
SIMPLY STOGIES RATING:  8.05 / 10.0