As another year passes, the cigar community is treated to yet another limited edition cigar from Crowned Heads. The first cigar I had from the series was in 2018 and since then it has generated cult following among fans. While there are some good regular production choices, the limited edition lines always seem to outshine them. The 2021 Las Calaveras (LC) had also came out of the My Fathers factory and featured an Ecuadorian Sumatra Oscuro wrapper, it was  my favorite LC to date. This year is the first time the cigar has been blended entirely with Nicaraguan tobaccos.
This year, like every year, the cigar has been dedicated to close friends of Crowned Heads that have passed. The initials of these individuals can be found on the band of the cigar where the gold coins are located on the sides of the main logo. When translated from Spanish, Las Calaveras means the skulls. The series is named after a zinc etching by José Guadalupe Posada named Las Calavera Catrina. 
VITOLA:   LC46 (Corona)
SIZE:   5-3/4″ x 56
ORIGIN:   Nicaragua
FACTORY:   My Fathers Cigars S.A.
WRAPPER:   Nicaragua (Corojo 99)
BINDER:    Nicaragua
FILLER:   Nicaragua
STRENGTH:   Medium 
SOURCE:   Retailer
WHERE:  Outside
WHEN:   December 19, 2022 @ 1200
DRINKS:   Water
WEATHER:   Cool misty rain
HOW MANY CIGARS SMOKED:   3
RELEASE TYPE  Limited Edition
ORIGINALLY RELEASE DATE  July 2022
TOTAL PRODUCTION
Typical Box Size:     Boxes of 24
Production Totals:  38,500
VITOLA BREAKDOWN
o  LC46  (5-3/4″ x 46)
o Petit Lancero  (6-1/2″ x 40)
o LC52  (5″ x 52)
o LC54  (6-1/2″ x 54)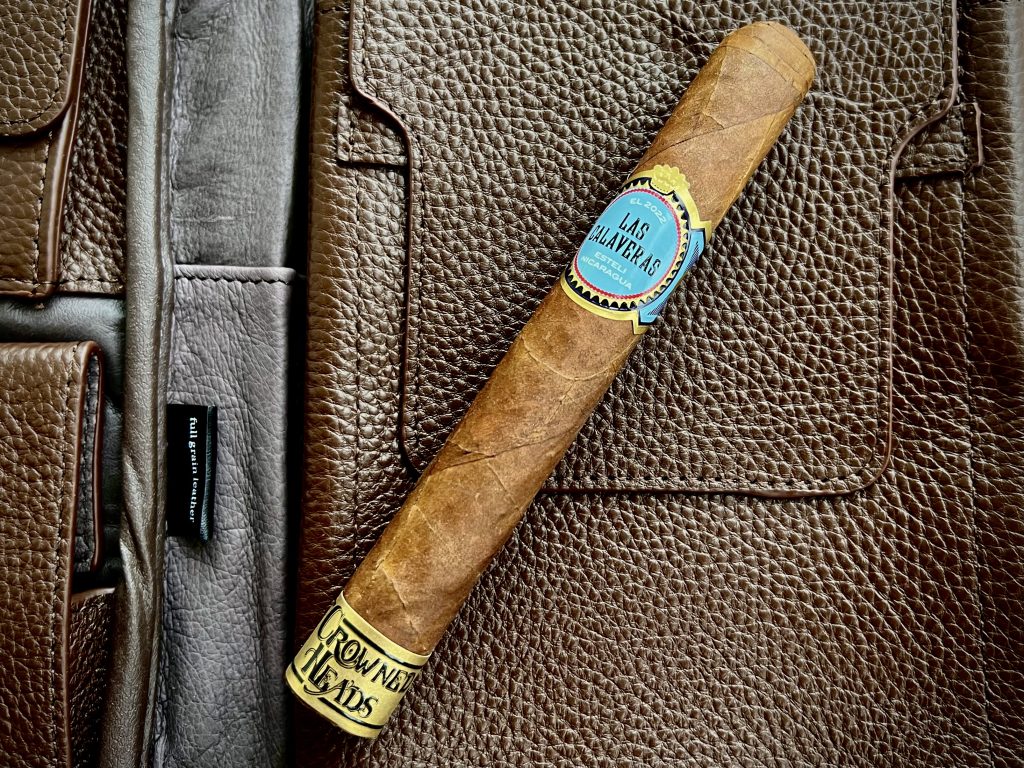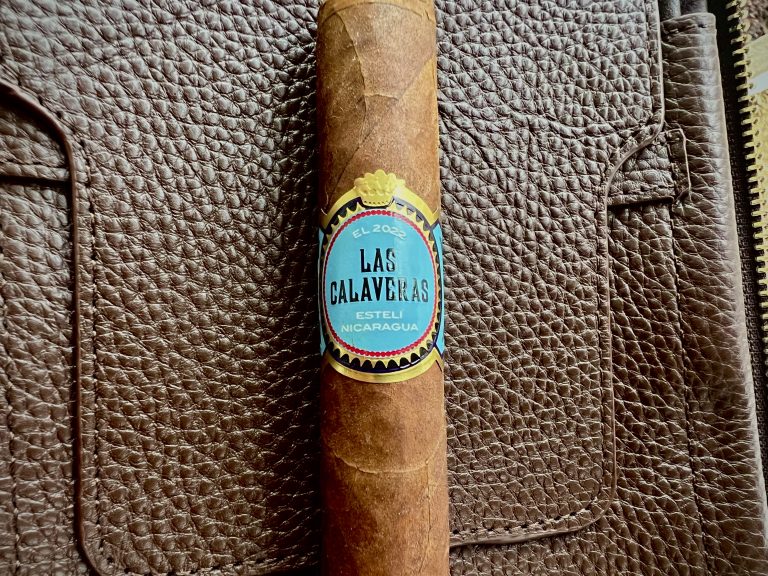 One of the major changes from year to year in the LC series, is the color of the band. This makes it easy to differentiate between each year, I can appreciate this because I often find myself looking for a color at my local lounge when passing through the Crowned Heads section and telling myself, "I need more of the yellow one in my life".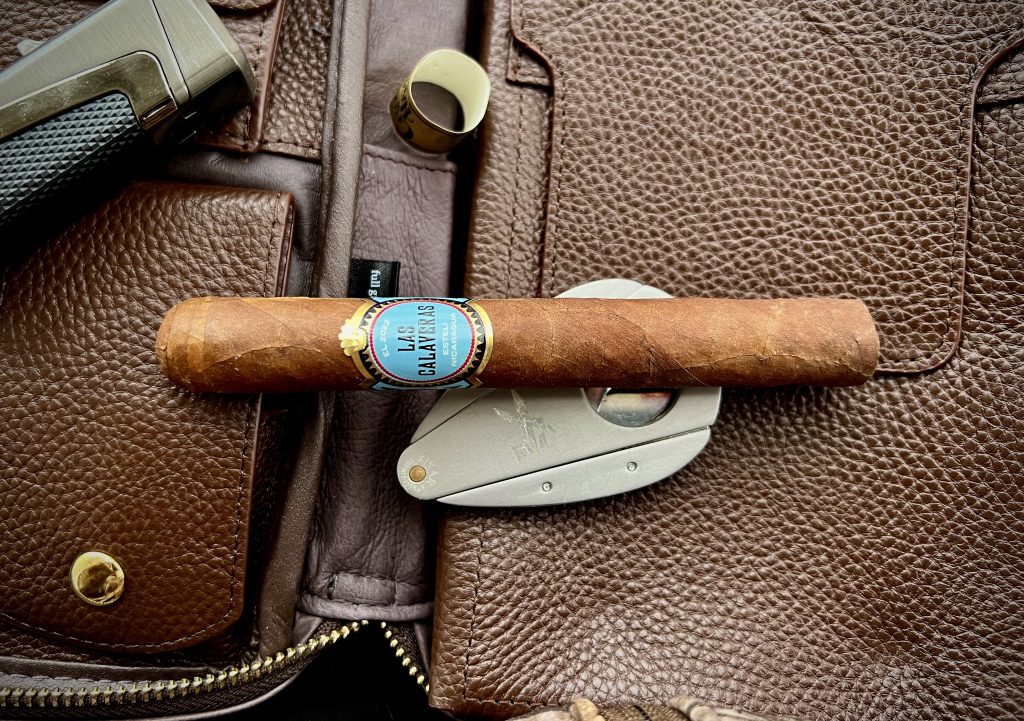 CONSTRUCTION
The wrapper features a milk chocolate with a reddish hue color. The veins are minimal and has a slight oily sheen, but it is barely noticeable. When squeezing cigar, it feels spongy and there are some noticeable soft spots. The seams are tight and features are very neat triple cap. There are dark swirls of tobacco in the foot. 
AROMA

The aroma is a very funky barnyard and a very sweet tobacco. Off the foot, you get those same noted but it smells just a bit richer.
COLD DRAW

A lot of muted flavors on the draw, there is a note that reminds my of cherry sour patch kids initially but fades very quickly into a neutral tobacco. It has an open draw which I attribute to the soft spots felt when squeezing the cigar.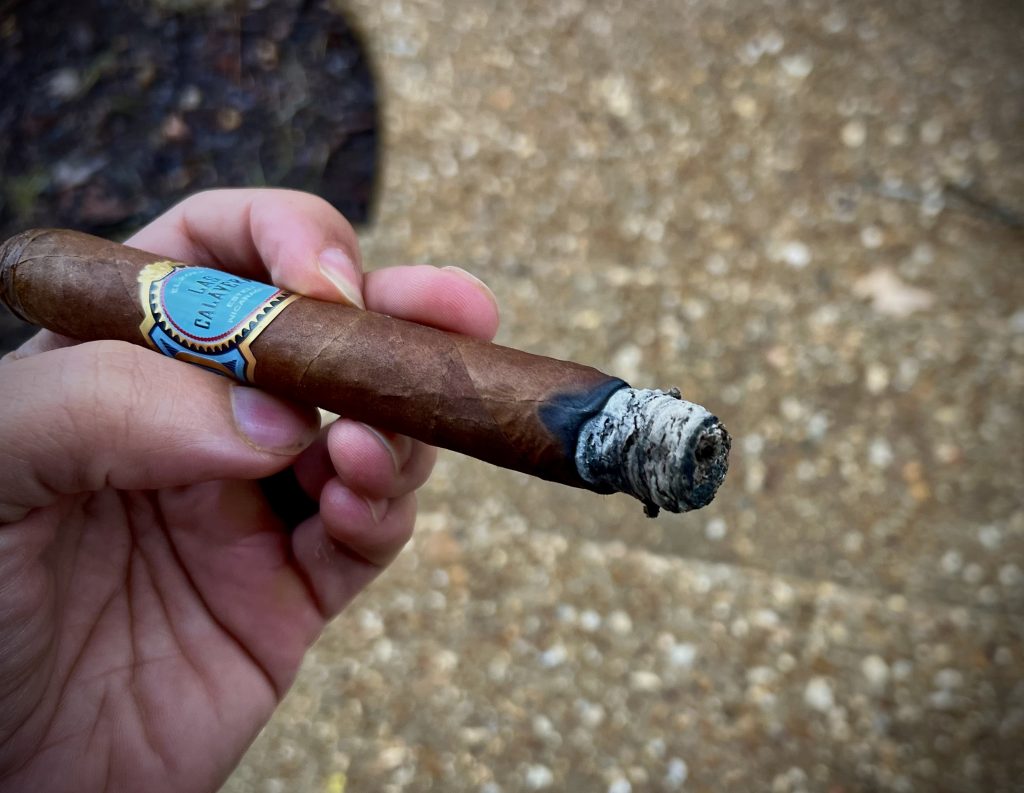 LIGHT & DRAW
Cut:  Small punch
Fire:  Torch
Milk chocolate, think Cadbury milk chocolate richness and oak. There is a mild pepper on the retro with a subtle transition to cedar on the finish.  The finish is creamy with a slight bitter orange peel and cedar note mixed in. The draw is perfect and I really enjoy how effortless it is smoking this cigar. Definitely a medium bodied stick.
SMOKE

This cigar has great smoke output with big plumes after every draw. The smoke is thick and lingers for a while. 
FIRST THIRD
>> cedar, creamy coffee, oaky bourbon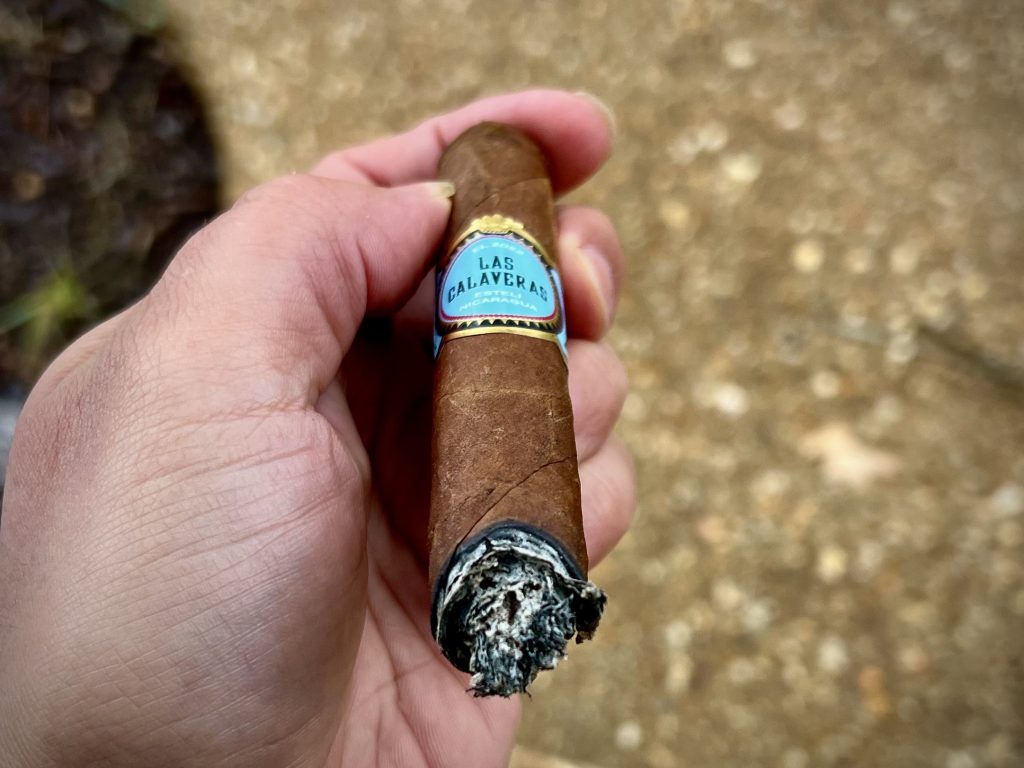 There are some slight runs in the burn heading into the first third but no real issues so far. I noticed some flakiness but not to the point that it actually bothers me. A smooth cedar note moves to the forefront of flavors, followed by a creamy coffee. The ash fell off about an inch in. The retro gets a little spicier with cayenne thrown in with clove. Cream and cedar notes hitting the very back of my throat with a feint white pepper following close behind on the finish. After taking a draw I feel like I just drank a really creamy and oaky bourbon, it reminds me of eggnog. The perfect draw continues with big plumes of smoke with a wavier burn that corrects itself fairly quickly. 
SECOND THIRD
>> black licorice, black tea, milk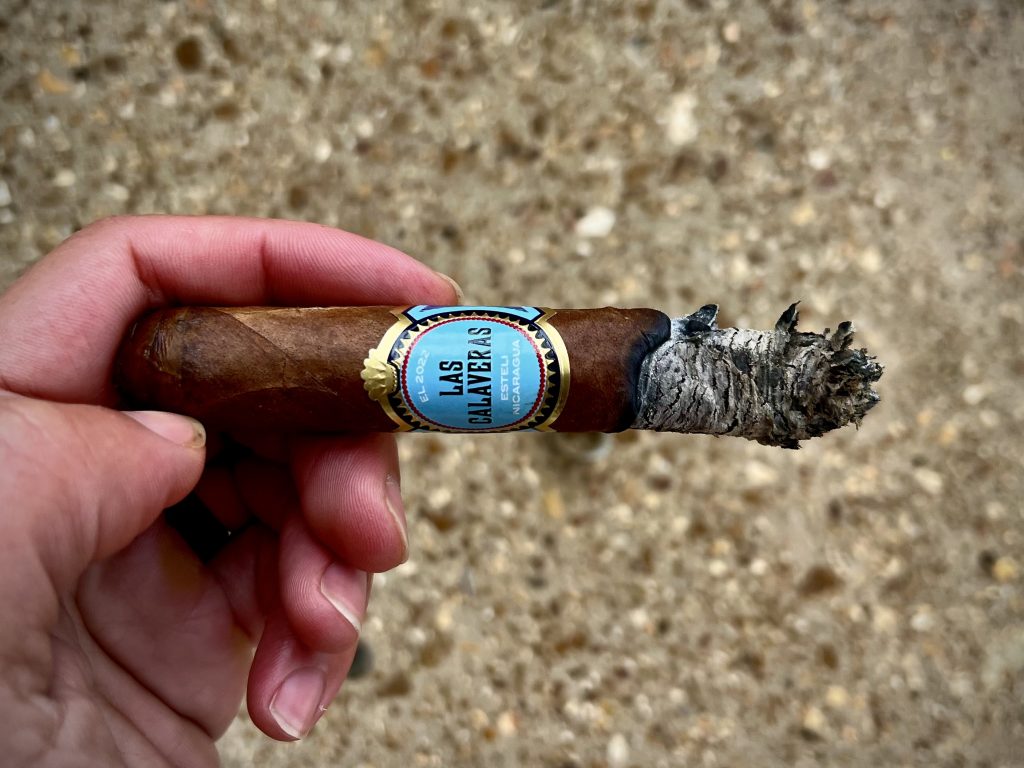 Some flakes are falling off the ash. There is a bitterness moving to the front of the palate that reminds me of black licorice with no sweetness. The  oak with cream note really doubles up in the second third. The retro hale is still creamy with barely any pepper this time. I have never had this combo before but the best way to describe it is steamed milk infused with tobacco leaves. The finish is a creamy black tea with a little bite at the end. I expected this cigar to be peppery  as it is coming out of the My Father factory but the pepper is really tame in this cigar. I love the smoke output and the tameness of spice in this third. It's a very savory cigar. 
FINAL THIRD
>> spicy chocolate, oatmeal cream pie, cayenne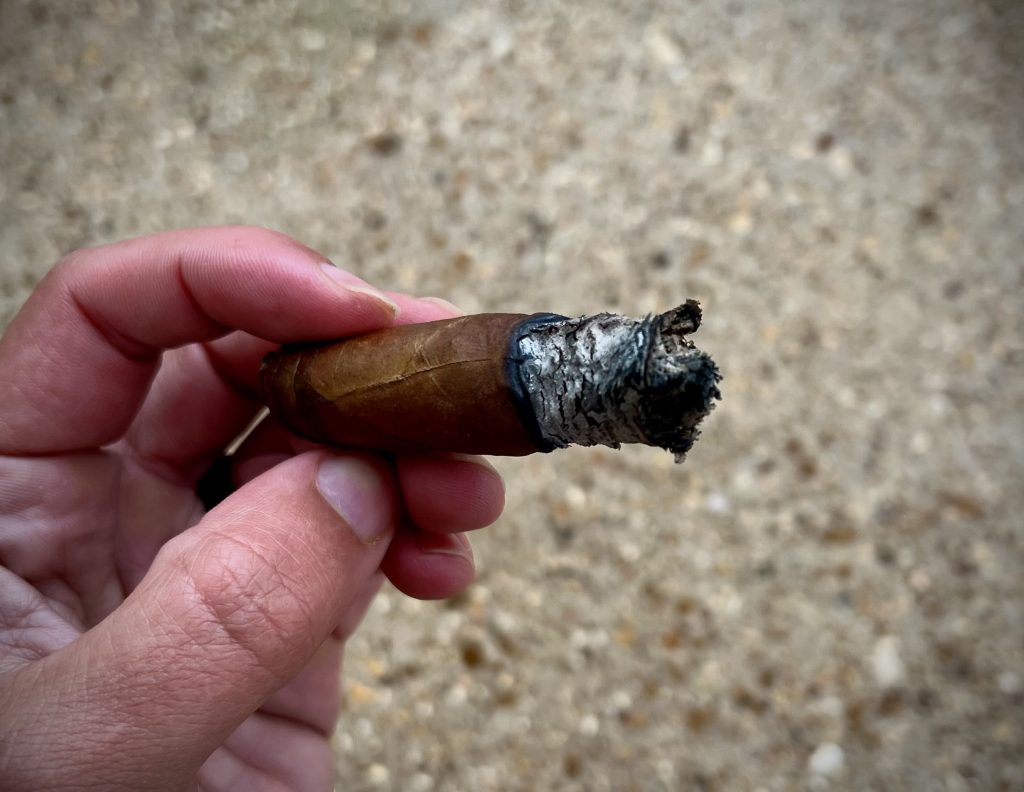 The ash holds on a little longer than before. No issues with the burn as it remains fairly straight. On the palate, the spice really amps up. It's like a spicier bitter milk chocolate. The cayenne spiciness brings a warmth that is welcomed in this colder weather. Frothy milk infused with sweet tobacco on the retro. The feint pepper notes on the retro are interesting as the finish includes a baking spice with a feint cayenne. There is also a silk creaminess to the finish that is slightly sweet. Remnants of the black tea linger as well. It's like a oatmeal cream pie sandwich for a split second on the finish. There are still tons of smoke with each draw. It's definitely gets richer as I burn through the cigar. The spice on the cigar continues to get turned up along with the cream. 
FLAVOR PROGRESSION
I really enjoyed the flavor progression of this cigar. Most notably, the spiciness that gets turned up throughout the cigar. I liked how it was very tame in the beginning and let you pick out more subtle notes. When the pepper starts to increase later in the cigar it morphs those subtle flavors into some more bold and in your face flavors that are still very good. One thing that really hooked me with this cigar is the creaminess, I did not expect it and I want more of it. I am struggling to decide whether I like this or the 2021 LC better. 
BURN EXPERIENCE
The cigar had some initial runs in the burn but nothing that triggered me to do any touch ups. I will say that the flakiness I experienced was a a tiny bit annoying but it is hard to focus on that flaw when the flavors are so interesting.
RATING BREAKDOWN
0.75 / 0.80 … Craft & Aesthetic
0.48 / 0.50 … Pre-Light Characteristics
0.50 / 0.50 … Lighting Process
7.00 / 7.70 … Smoking Experience
0.50 / 0.50 … Personal Enjoyment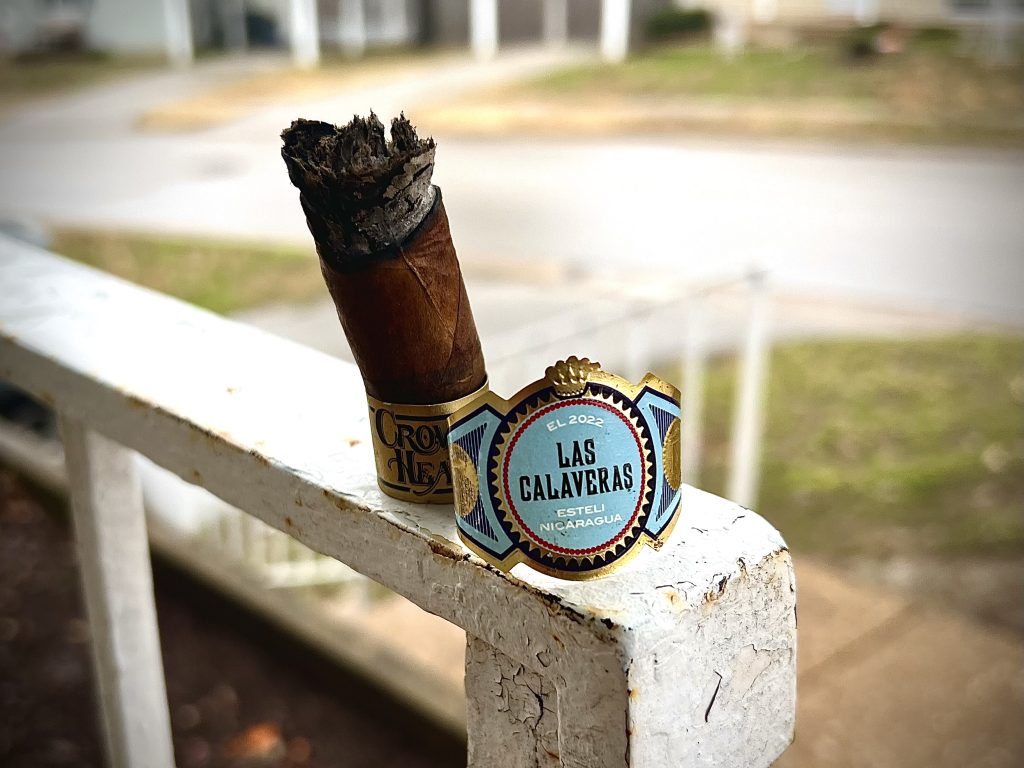 SUCKS THAT IT'S A LIMITED EDITION.
I wish that this was a regular production cigar from Crowned Heads. I can confidently say that it is better than any regular production offering they  have. That is not to say that the regular production lines are bad, they are just not as good as this cigar. This is a box worthy cigar and not because it is a really good cigar but because it is a really good cigar that will not be produced next year, so buy them while you can. 
SIMPLY STOGIES RATING:  9.23 / 10.0