Alright, first things first; it would be weird if they weren't, right? I am not the biggest Crowned Heads fan, but I dont avoid them either, and if I see one on the shelf I haven't smoked in a while, I will pick one up. With that in mind, I had a conversation with the Simply Stogies Most Smokiness and Grand Poobah himself – James Giehm, where he mentioned to me some fly-by-night internet cigar review site – three-quarter, or maybe half-ass wheel or something along those lines – gave the Le Pâtissier a 76 rating. This piqued my interest. Would what I consider a pretty good cigar brand, a couple of well-known blenders, and a decent cigar factory produce something that was really that bad? So I went to square wheel dot com (using a VPN so it would not show up in my browsing history) and was astonished at what I read and saw.
There were more photos of a cigar for the paid advertisement surrounding the review than there were of the actual cigar being reviewed, but okay, we all have to eat and keep the lights on, right? Then reading the review, everyone wants to know the impetus for the cigar's name as they have great stories behind them. For most blenders, it's probably akin to naming a child. Le Pâtissier is a continuation of the Le Carême line, inspired by French chef Marie-Antoine Careme. I believe the only other connection they share is the same wrapper. But the other review dedicated what I thought was a bit too much of the review to the previous cigar, not the one which was the subject of the review. Maybe the Le Carême review did not get enough clicks. Who knows?
Anyhow, my biggest beef with the review is that they stated the cigar was over humidified; so much so that it was difficult to remove the cigar from the cellophane and to light the cigar. Why, then, would one continue the review process? Obviously, there were issues and what you were smoking was not in the condition that the blender or the factory intended it to be enjoyed. The bottom line is, if I wipe my ass with a cigar and then say it tasted like shit, should I give it a bad rating? If you are not sure, the answer to that question is a solid no.
If we are going to review a cigar for the three or four of you reading this, then we owe it to you to get it right. We ask that you take the time to read it because we are narcissists and think our opinion is the correct one. We also owe it to the blender, the torcedores, and the factory to get it right.
VITOLA:   Lonsdale 
SIZE:   6-1/2″ x 44
ORIGIN:   Nicaragua
FACTORY:   Tabacalera Pichardo
WRAPPER:   Connecticut Broadleaf
BINDER:   Nicaragua
FILLER:   Costa Rica and Nicaragua
STRENGTH:   Medium – Medium+
SOURCE:   
Fox Cigars
WHERE:   
Cabin on the River
WHEN:   
Wednesday
DRINKS:   
Water
WEATHER:   
Stormy
HOW MANY CIGARS SMOKED:   
5
RELEASE TYPE  Limited Release
ORIGINALLY RELEASE DATE  December 2021
Typical Box Size:     Boxes of 20
Production Totals:  Unknown
VITOLA BREAKDOWN
o Le Pâtissier  (6-1/2″ x 44)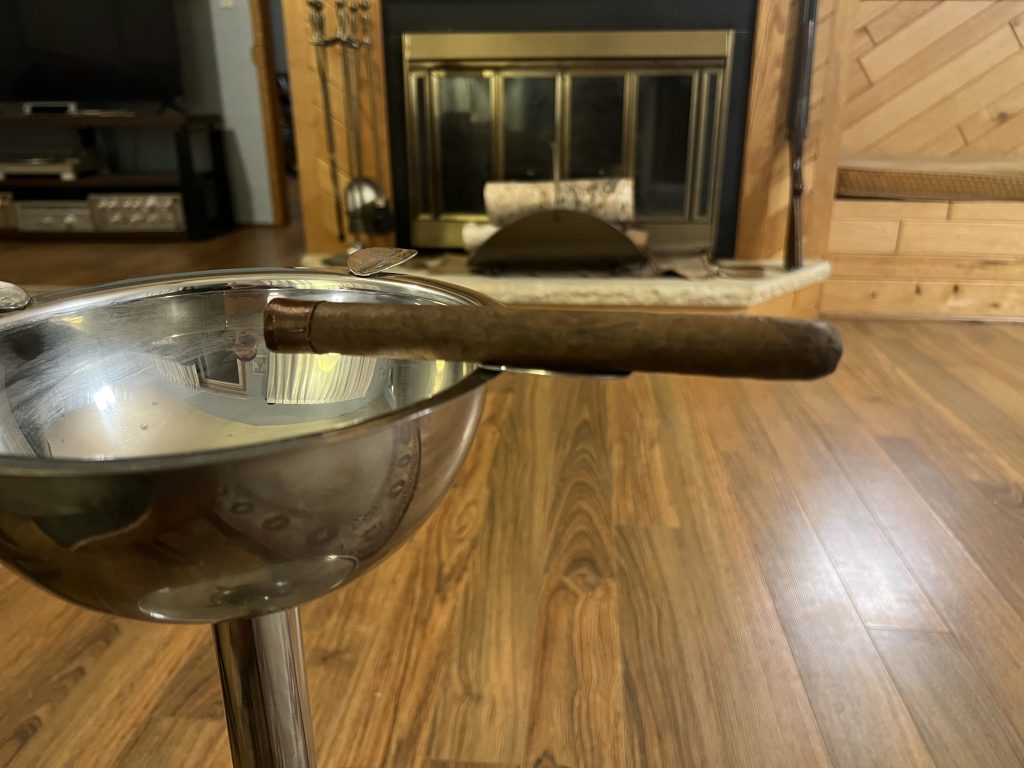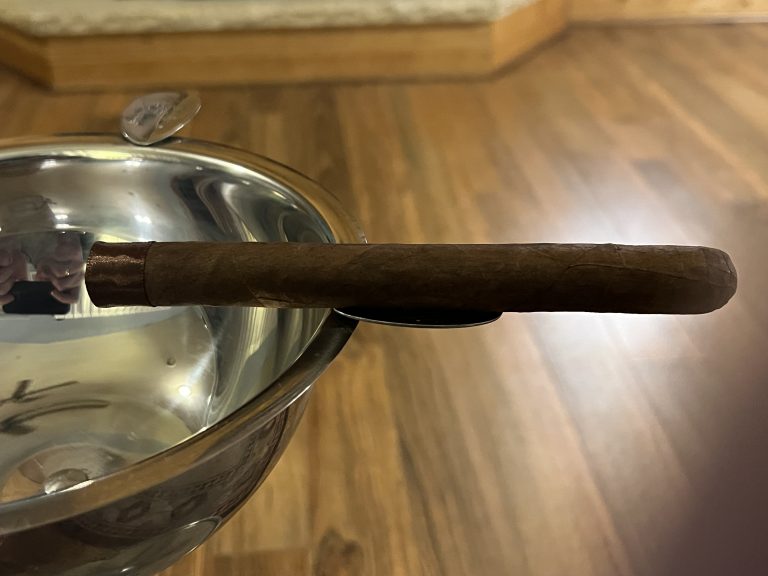 At first glance, the Le Pâtissier may appear bandless but once the cello is removed, we find a creamy brown silk foot band. I appreciate a simple band that does not hide a quality wrapper, and this cigar has a wrapper that deserves to be on full display.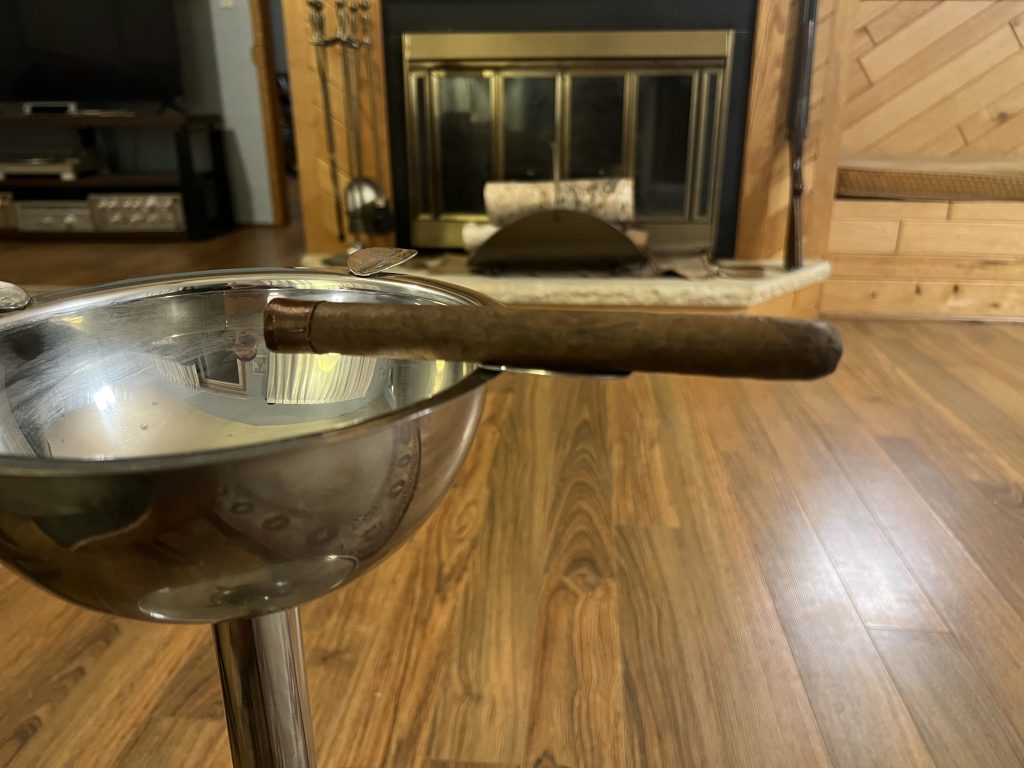 CONSTRUCTION

The cigars I smoked for this review, and the others from this box, were all very well constructed. I believe some have referred to the wrapper as a Grade A Connecticut Broadleaf, and I would not be able to disagree with them. Dark, rich, oily, this looks like a cigar that is in my wheelhouse. I think one familiar with Tabacalera Pichardo, and the various cigars produced by them, has come to expect a finely crafted cigar. We are not let down by the fine torcedores there with this cigar.
AROMA

I found, in addition to my favorite smell in the world – straight tobacco, hints of fresh hay with a touch of sweetness that I had a hard time putting my finger, or snout, on. This made me anticipate the cigar even more as I wanted to light it up and see what that sweetness turned into.
COLD DRAW

A few post-cut draws passed the same sweet notes of fresh cut hay and light tobacco flavors easily, but with just enough resistance that one expects in a well-made cigar.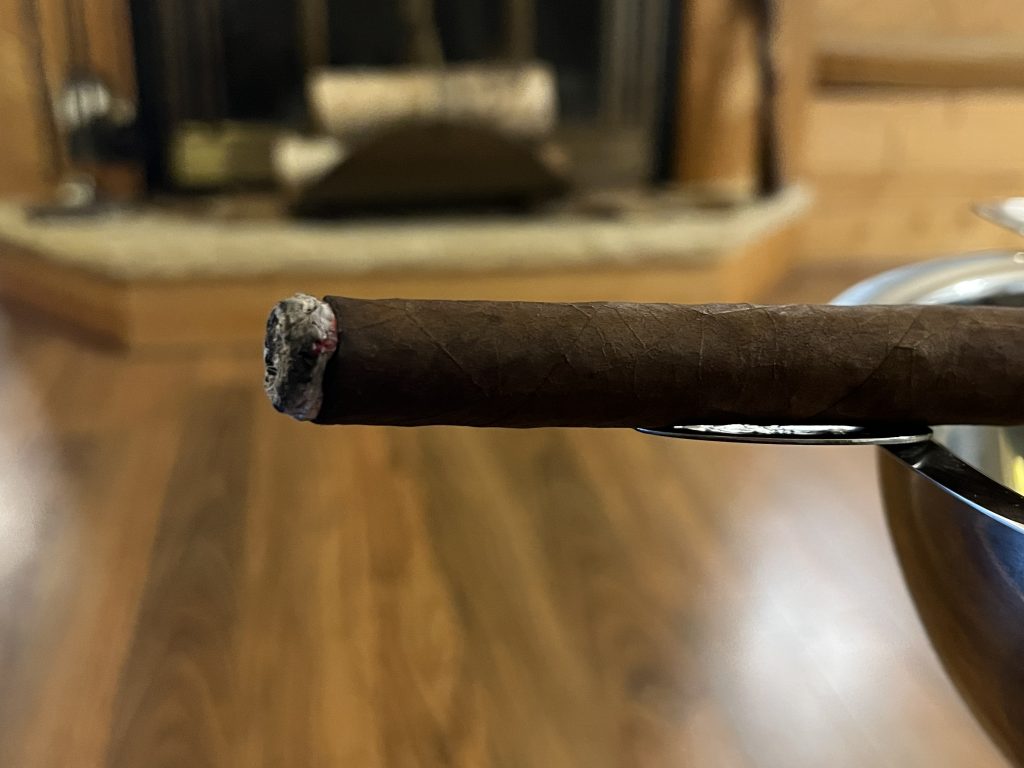 LIGHT & DRAW
Cut: Generic Straight Cutter.
Fire: Trusty twelve dollar three flame vertigo jet, never fails me.
I am not generally a smoker of the smaller ring gauge cigars, so I over toasted the first one of these I ever lighted. Once I corrected my flaws, these things took a quick toast and a fast and easy light. The burn line had a sharp mascara edge, and it appeared I got it lighted evenly.
SMOKE

On the light, I experienced smoke output that seemed on par with a cigar more in the 50ish ring gauge, but that tapered off to what I would say was an appropriate amount of smoke for this gauge and carried all of the flavors perfectly.
FIRST THIRD
>> Herbaceous, Citris, White Pepper adding to the Tangy Herbaceousness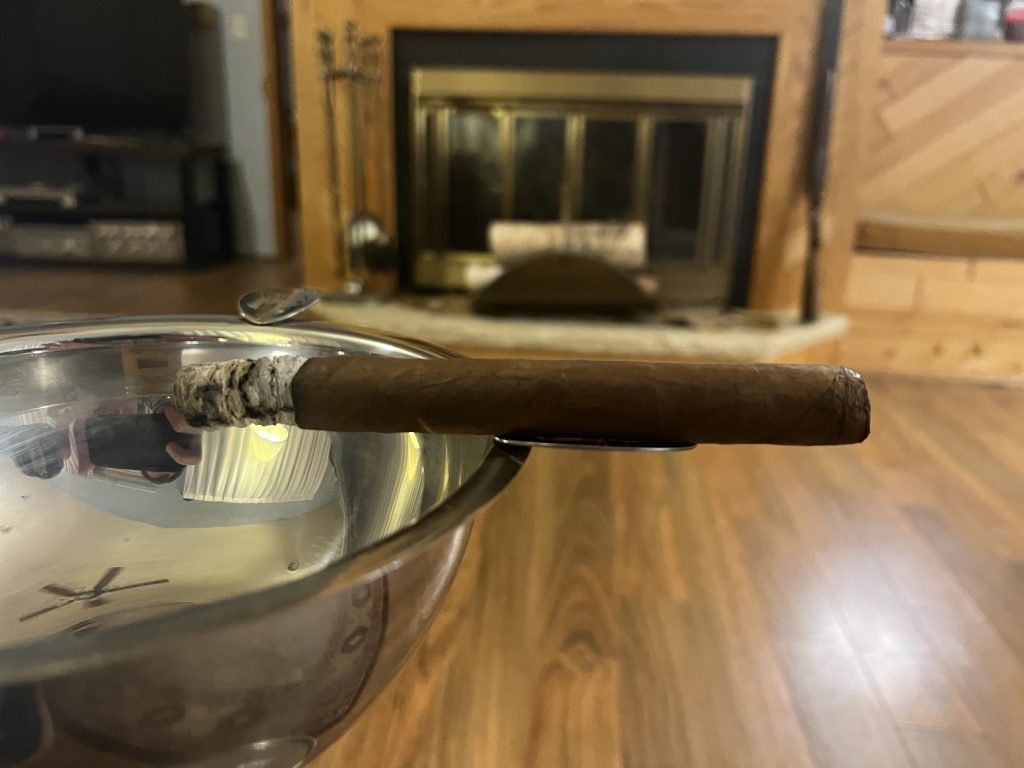 What the heck is that?? That's not a typical flavor?? Oh wait, I know what that is. Herbaceous. Crap. Now I have to look that up to make sure I am spelling that correctly… What else do we have in here? There is a tangy Citrus and some White Pepper; this should be a fun one! The ash has gotten a little fuzzy, but I think it may be affected by my ceiling fan. Burn is straight and even so far.
SECOND THIRD
>> Leather, Cedar, Toasted Nuts, Herbaceousness more Sweet than Tangy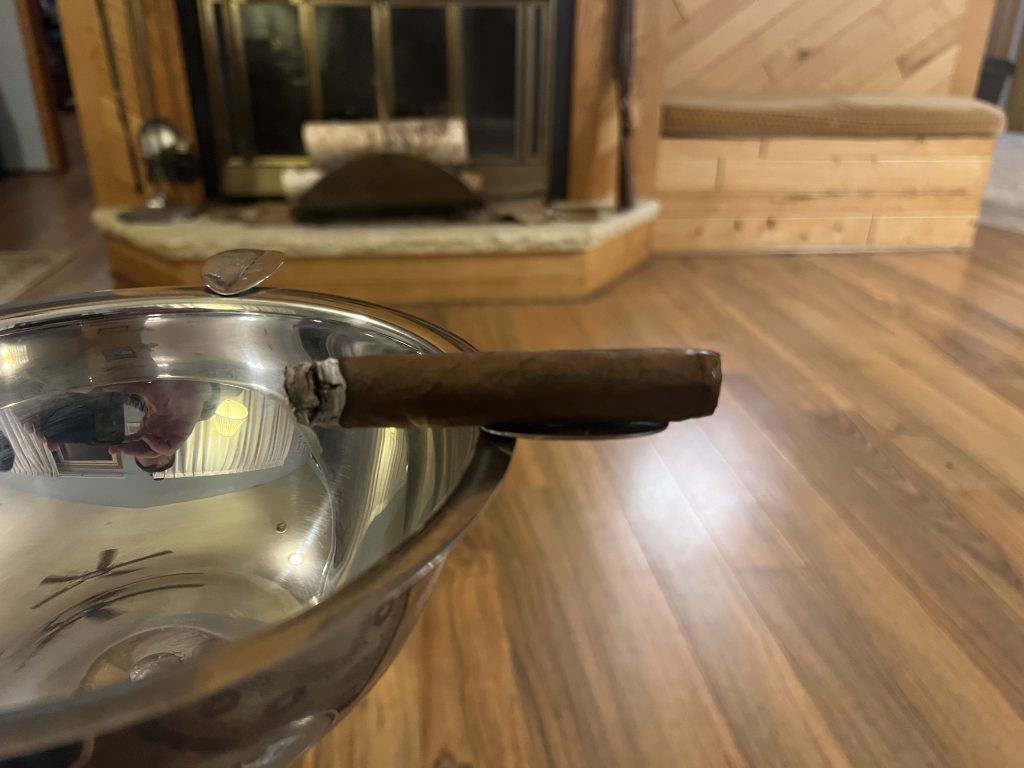 That Herbaceous is still there, as it is such a unique flavor, one is tempted to say it stands out, still front and center. Leather, Cedar, and a Toasted Nuttiness which is more of a Walnut than the typical Almond flavor I find in most cigars complementing it.
FINAL THIRD
>> Herbaceous, Dark Caco, Dark Roasted Coffee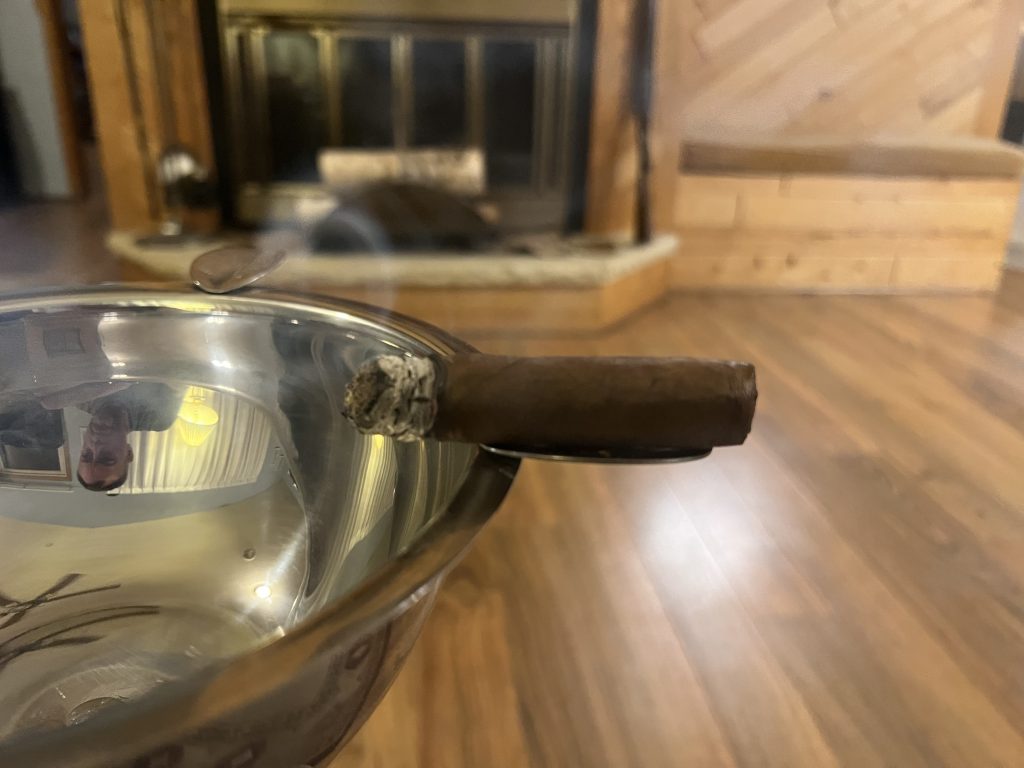 Still with the Herbaceous, but weaving its way onto my palate beginning late in the second third but coming into their own now is a Dark Caco and Dark Roasted Coffee.
FLAVOR PROGRESSION
If you want to know WTF some crackpot cigar reviewer, who you laugh at with the gang down at the lounge, is talking about when they use the term "herbaceous," find one of these cigars and smoke it. Then you, too, can sound pompous when describing the herbaceous flavor to your friends. That "H" word and flavor are constant throughout the entirety of this smoke. I appreciate that if I am going to smoke a cigar. I don't necessarily need or really want it to change dramatically every third. If I did, I would smoke three different two-inch cigars. That said, there are other flavors in this cigar that compliment that steady underlying drumbeat: Citrus, Pepper, Leather, Cedar, Cacao, and Coffee. As I sit here listening to some classic punk, I can't help but use the analogy that the herbaceous flavor is exactly that, the heavy drumbeat that all of the other instruments, i.e., flavors, use as the basis to make a great song.
BURN EXPERIENCE
You know the burn experience was phenomenal when you don't need to mention it anywhere in your review. The only issue I had was when I overly toasted the first one of the Le Pâtissier I smoked.
RATING BREAKDOWN
0.75 / 0.80 … Craft & Aesthetic
0.49 / 0.50 … Pre-Light Characteristics
0.50 / 0.50 … Lighting Process
7.50 / 7.70 … Smoking Experience
0.45 / 0.50 … Personal Enjoyment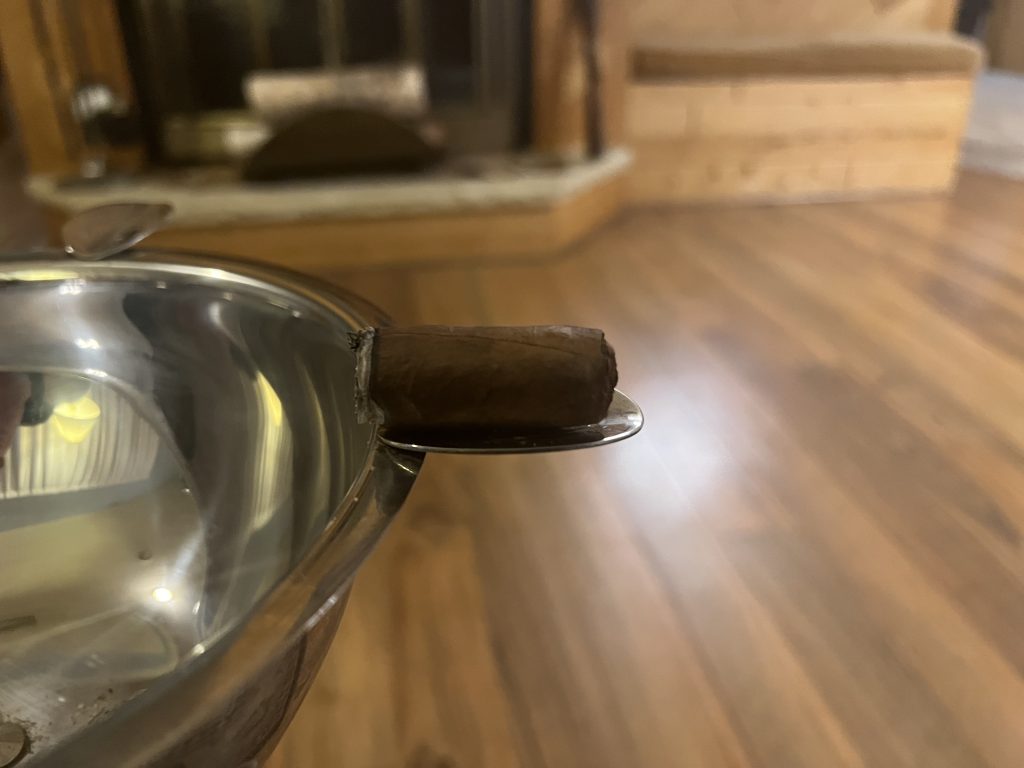 It Might Not Be Perfect, But It Sure Isn't 76 Or WTF Is Herbaceous.
WTF is herbaceous, other than what I felt was every seventh word in this review? According to tastings.com, it is a tasting term used to describe a distinct herbal or vegetal aroma or flavor. These notes can range from grass to lavender to bell pepper to eucalyptus. Think flowery, but with that sweet tobacco flavor that we all love.

This review was due to His Most Smokiness, the Grand Poobah James, two months ago, I can claim a two-week exemption for having the rona, but most of the delay was due to sheer incompetence. For the sake of whoever the two of you are that read this, I will try to do better.

The opinions expressed here are solely my own, and opinions are like assholes. Everyone has one, and they generally stink, even if waxed and bleached.
SIMPLY STOGIES RATING:  9.69 / 10.0