I was lucky enough to spend some time with Luciano Meirelles, co-founder and CEO of Luciano Cigars, while at the My Old Kentucky Herf. As luck would have it, it was just a couple of months removed from when ACE Prime (now Luciano Cigars) released three new sizes of Luciano The Dreamer. I got to ask the man himself, which size was his favorite. When He told me the Hermoso No. 4, I bought a box and asked for him to sign it. It was the first time I ever asked for a box I bought to be signed. I geeked out just a bit. I had planned to get to this review soon after last year's 2022 PCA Trade Show. Unfortunately, it was just one of those things that kept getting pushed back and pushed back. I finally got it on the docket and was excited to jump into Luciano's favorite size of this blend. 
VITOLA:   Hermoso No. 4
SIZE:   5″ x 48
ORIGIN:   Nicaragua
FACTORY:   Tabacalera Pichardo (now known as Luciano Tobaccos S.A.)
WRAPPER:   Ecuadorian Habano 
BINDER:   Nicaraguan
FILLER:   Nicaraguan & Peruvian
STRENGTH:   Medium+
SOURCE:   
Small Batch Cigar
WHERE:   
Home lounge/studio
WHEN:   
February 16 @10:00am
DRINKS:   
Ice Mountain Spring Water
WEATHER:   
Outside: Who cares? Inside: 70%
HOW MANY CIGARS SMOKED:   
4
RELEASE TYPE  Regular Release
ORIGINALLY RELEASE DATE  March 2022
TOTAL PRODUCTION
Typical Box Size:     Boxes of 15
Production Totals:  Unknown
VITOLA BREAKDOWN
o  Hermoso No. 4  (5″ x 48)
o  Toro de Lux  (6-7/8″ x 50)
o  Belicoso  (5-1/2″ x 52)
o  Lancero (7-1/2″ x 38)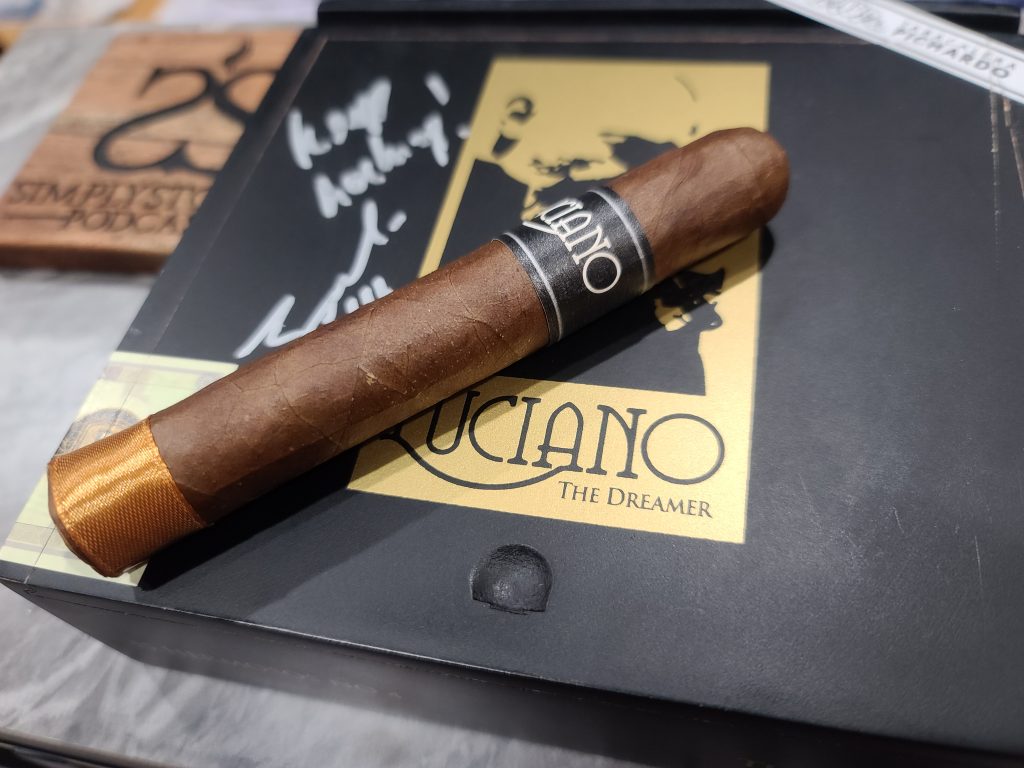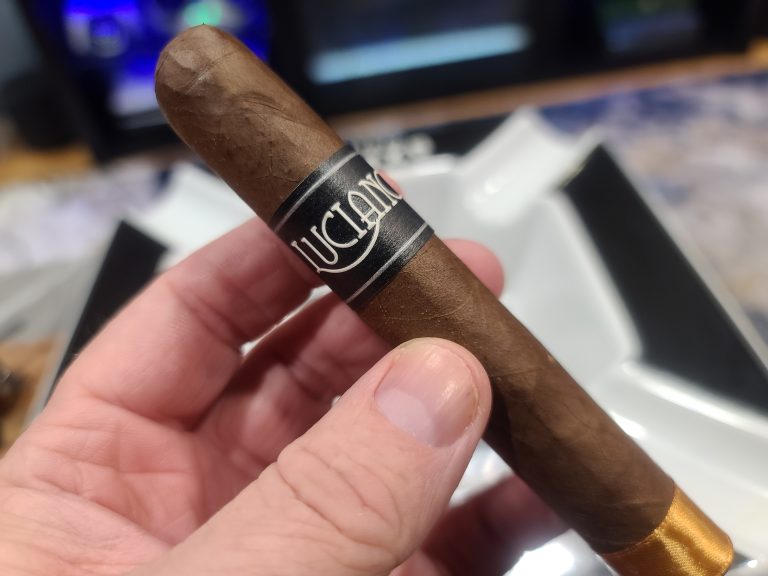 The band is simple, yet elegant. A black and white design that has "Luciano" in large font across it. In smaller font are the words "Fiat Lux" on the back of the band. That of course being Latin for "Let there be light." The gold ribbon at the foot adds a touch of elegance to the presentation.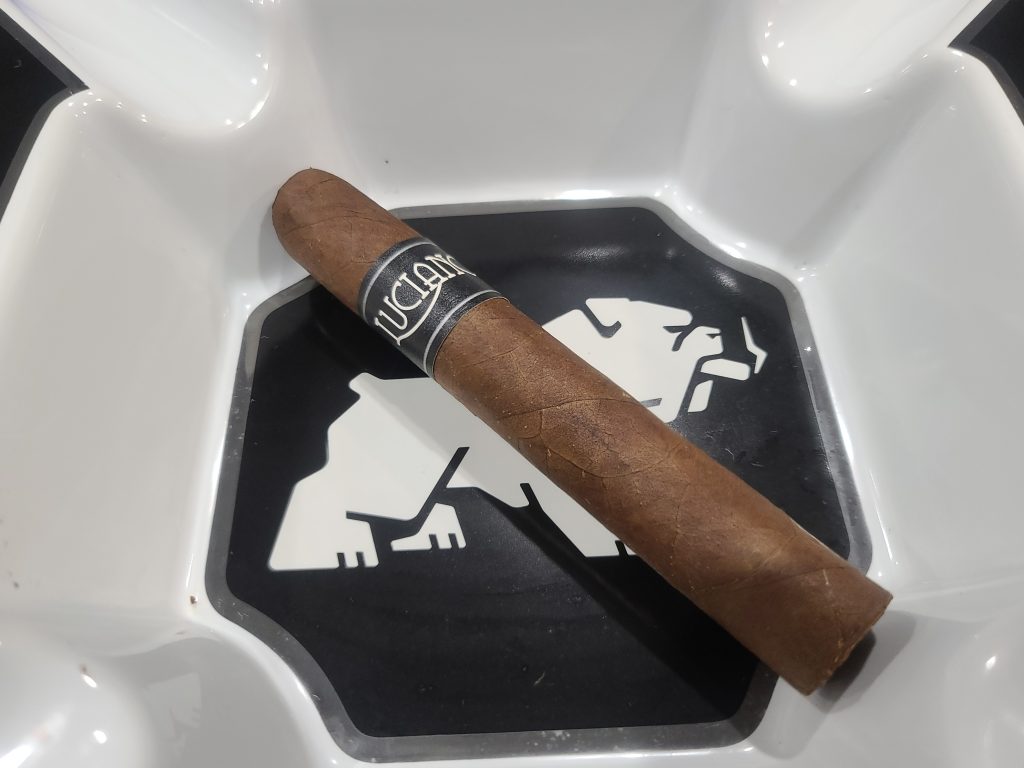 CONSTRUCTION

The Hermosa no. 4 appears to be expertly capped. The Ecuadorian Habano wrapper is a dark shade of milk chocolate. There is a bit of mottling on the wrapper. It feels smooth to the touch and does not have much tooth to it. There are dark pockets of oil and a nice oily sheen to it.
AROMA

The wrapper gives off notes of cedar and tobacco. The foot has a wonderful, rich notes of honey, fruit, and sweet tobacco.
COLD DRAW

The cold draw holds a sweet floral note against a sharp tanginess that I can't quite place, while bread and nuts provide the backdrop. The draw is almost perfect, with just the right amount of resistance.
LIGHT & DRAW
Cut: Les Fines Lames LE PETITE cigar knife
Fire: ST Dupont Hooked
Notes of chocolate and nuts are immediately noticeable. There is a funky earth note that comes through, as well. The retrohale is black pepper and spices. A herbaceous note lingers on my palate.
SMOKE

The smoke is creamy and thick with each draw. At rest, the cigar gives off a steady stream of smoke .
FIRST THIRD
>> Cocoa Powder, Roasted Nuts, Black Pepper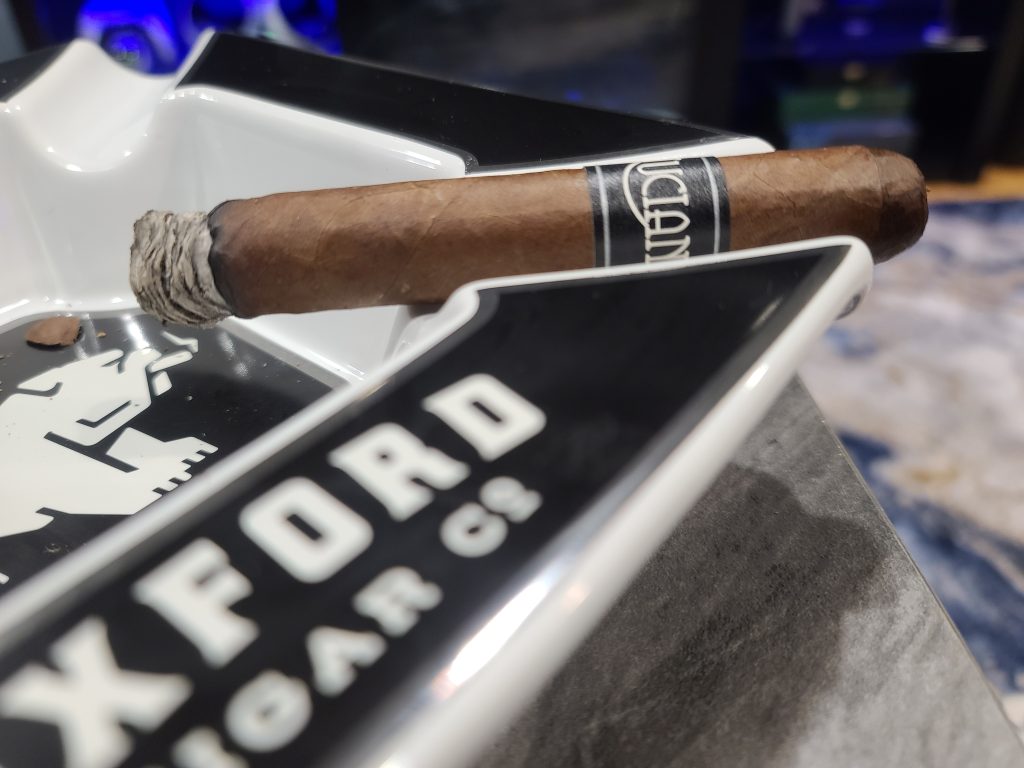 Chocolate, earth, and baking spices begin the initial third. There is a hint of caramel and nuts that linger on my palate. As I sit, in-between draws, the caramel and nutty notes seem to meld into a herbaceous and a slightly sweet, almost floral note. The burn line is less than straight but not quite wonky. The ash is grey with black streaks. It doesn't appear to be compact, but there are no flakes to be found. The flavors are complex and not without nuance. Cocoa powder, a hint of roasted nuts, baking spices, a dash of cayenne, and now honey. That last note really brightens up this first third. The cayenne pepper becomes more prominent and works with the black pepper on the retrohale.
SECOND THIRD
>> Coffee, Herbaceous, White Pepper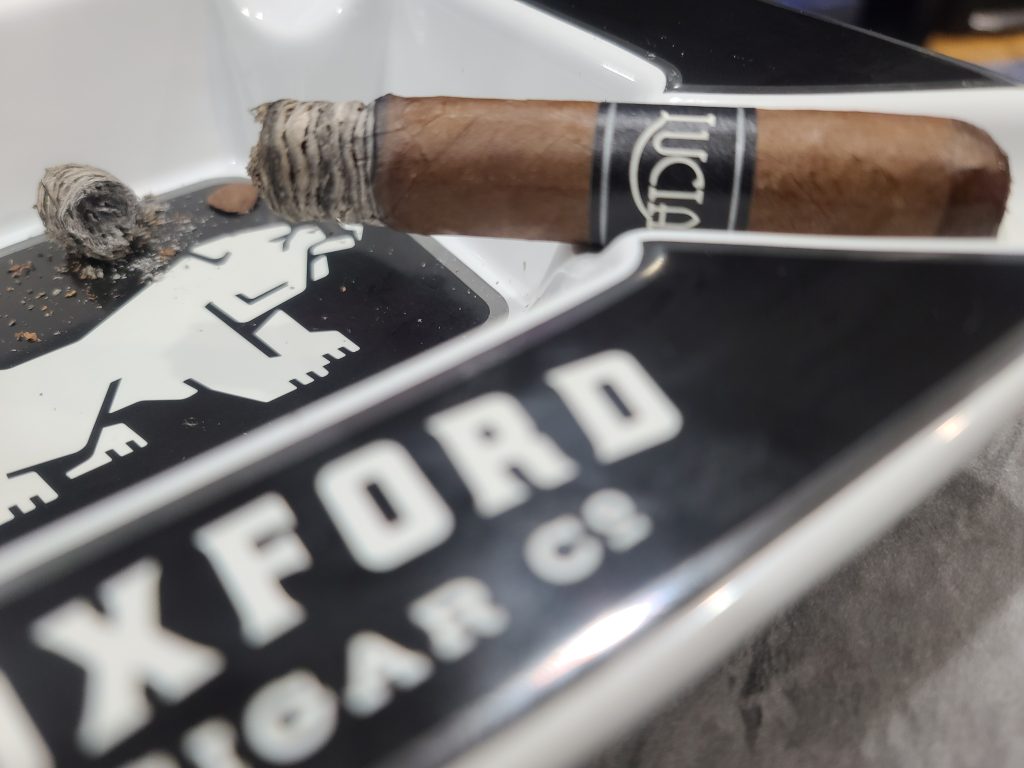 The middle third begins with a grassy note and light roasted coffee. Nuts remain constant and a hint of sweetness comes through. The baking spices pull it all together. It almost reminds me of a cinnamon roll. The retrohale is a light note of white pepper. The coffee note really starts to come through. It compliments the nuttiness and baking spices, making it a decadent combo. The burn line has evened up nicely and the dark grey ash looks more compact. The sweetness found during the beginning of this middle third has all but disappears. What's left are grassy and herbal notes, coffee, and baking spices that linger on my palate. A woody note begins to come through at the tail end if this third.
FINAL THIRD
>> Fruit, Red Pepper, Black Pepper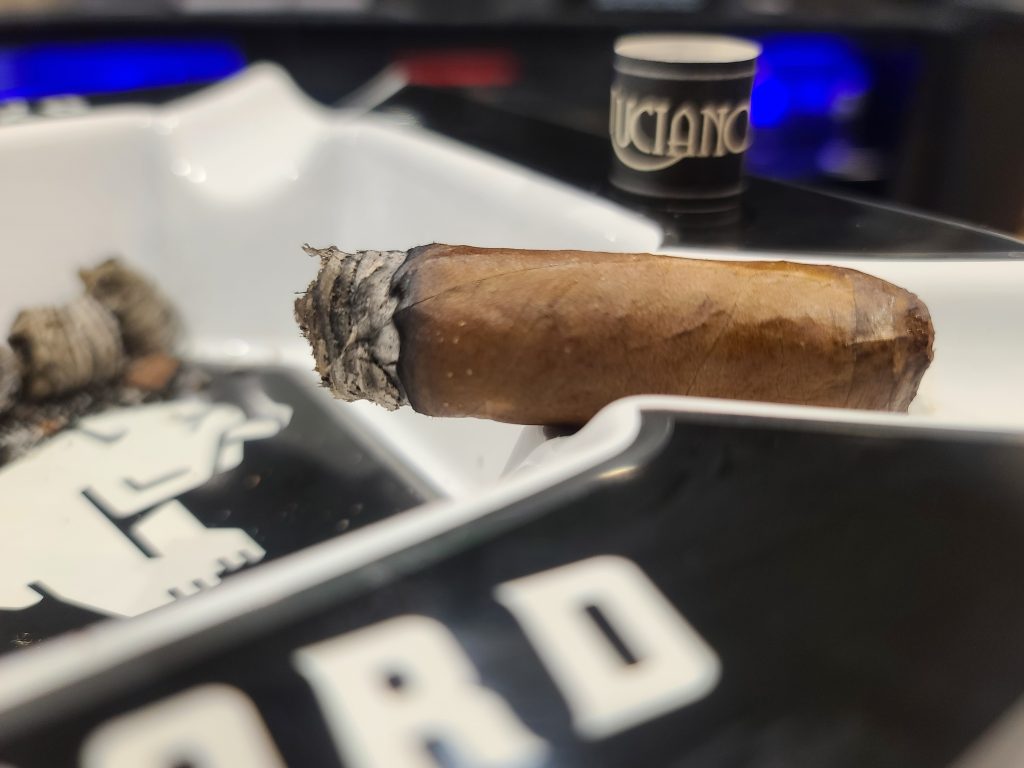 Black coffee, caramel, campfire, and dark chocolate begin the final third. Red pepper lingers on my palate. There's a fruity note that starts to shine through. It's rich and decadent. Maybe fig? Black pepper rules the retrohale once more. The fruit and coffee compliment the harshness of the campfire. Maybe campfire isn't the right descriptor? There's a funk to it, like burning damp leaves or mushrooms. That is to say, there is as much wood as there is earth in the campfire note. The burn line is magnificent! A dark and even line of mascara that is juxtaposed against the dark grey of the ash. The ash is still compact and not the least bit flakey. Espresso, charred wood, and roasted nuts finish out the Hermoso No. 4.
FLAVOR PROGRESSION
Luciano The Dreamer Hermoso No. 4 is firmly in the medium+ profile: not too mild and not too full. Right in the "Goldilocks Zone." It also moves back and forth in that zone with ease. Going from notes of coffee and earth, to herbal tea and fruit, and then back again. The Hermoso No. 4 delivers in terms of both complexity and nuance. The notes of coffee vacillate between lightly roasted to black and also have notes of chocolate, tea, honey, earth, and fruity. Each note supporting the next. 
BURN EXPERIENCE
None of the cigars smoked for this review required a touch-up or relight. In fact, the burn was rather unremarkable. That's not always a good thing, but when it comes to reviews, it might be. While the burn line was even, it did have moments of being less than razor sharp. However, the ash was compact, save for the first 1/4″ of one of the samples. 
RATING BREAKDOWN
0.70/ 0.80 … Craft & Aesthetic
0.46 / 0.50 … Pre-Light Characteristics
0.50 / 0.50 … Lighting Process
7.10 / 7.70 … Smoking Experience
0.47 / 0.50 … Personal Enjoyment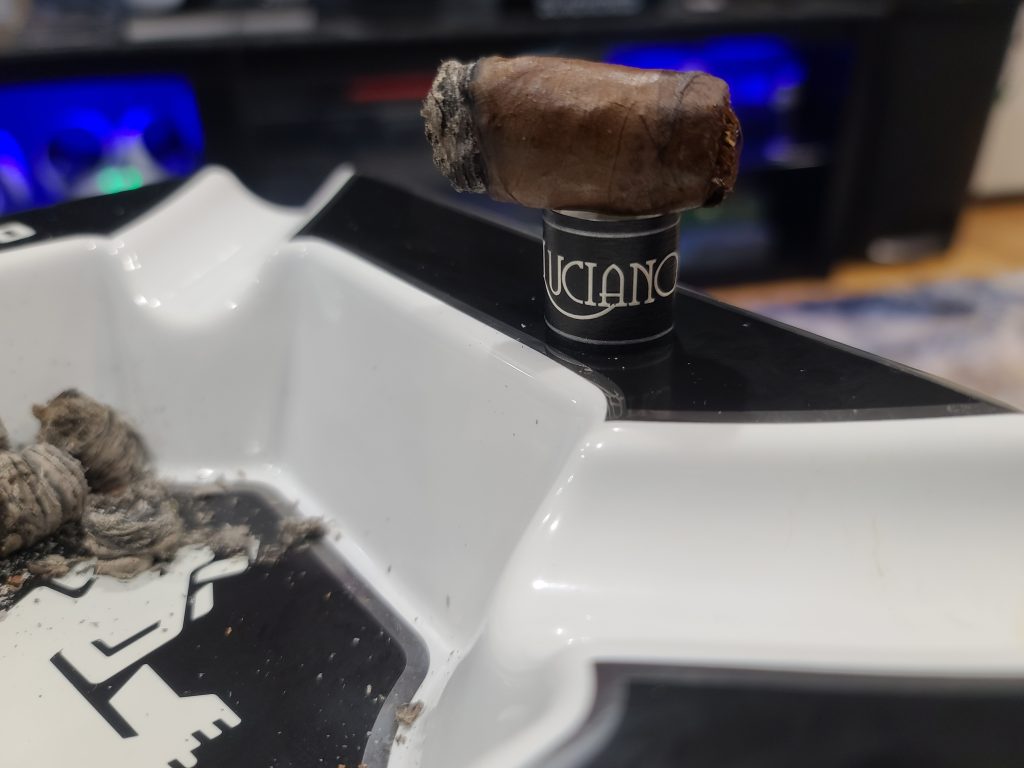 A BEAUTIFUL EXPERIENCE.
Hermoso ("beautiful" in Spanish) No. 4 could not be a more fitting name for this size of Lucian The Dreamer. While I enjoyed the original lancero size, this vitola is really accentuates the blend. While it's a medium+ profile the Hermoso No. 4 is versatile and can be enjoyed as a morning cigar, afternoon treat, or even a dessert cigar. The flavor notes compliment each other from light to finish and provide the smoker with an unparalleled smoking experience. 
SIMPLY STOGIES RATING:  9.23 / 10.0