Micallef announced at the end of May, 2023, that they would be releasing their first new blend since 2020 called the Micallef Black at the PCA Trade Show in July. While it won't get a wide release until July, there are several retailers who have had access to "pre-release" events and have been able to sell the Micallef Black. I was fortunate enough to get my hands on a box through one of these pre-release events. If I'm being honest, I smoked one ROTT (right off the truck) and knew that I had to do a review on it. 
I've been a fan of Micallef for years, but their portfolio always seemed to lack a special cigar that was full-bodied. That's not to say that their line-up wasn't full of flavor. I enjoy the Micallef A and the Leyenda has always been one of my favorites. Their Connecticut was the first cigar that I was able to detect a butter note in. However, none of those give a full-bodied smoking experience. Dan Thompson, President of Micallef Cigars, says, "With Micallef Black, our intention is to present a cigar that exudes power, confidence, and a touch of allure. Moreover, we are thrilled to offer this exceptional blend at an unbeatable value." At $8.00 MSRP for the Toro and $7.00 MSRP for the Robusto, did they deliver on their vision?
VITOLA:   Toro
SIZE:   6″ x 52
ORIGIN:   Nicaragua
FACTORY:   Micallef Cigars SA
WRAPPER:   Mexican San Andres
BINDER:   Ecuadorian Habano
FILLER:   Nicaraguan
STRENGTH:   Full
SOURCE:   
Press Release
WHERE:   
Home Lounge & Studio
WHEN:   
June 16 @11am
DRINKS:   
Ice Mountain bottled water
WEATHER:   
An air conditioned 70°
HOW MANY CIGARS SMOKED:   
5
RELEASE TYPE  Regular Release
ORIGINALLY RELEASE DATE  July 2023
TOTAL PRODUCTION
Typical Box Size:     Boxes of 25
Production Totals:  Unknown
VITOLA BREAKDOWN
o  Toro  (6″ x 52)
o  Robusto (5″ x 52)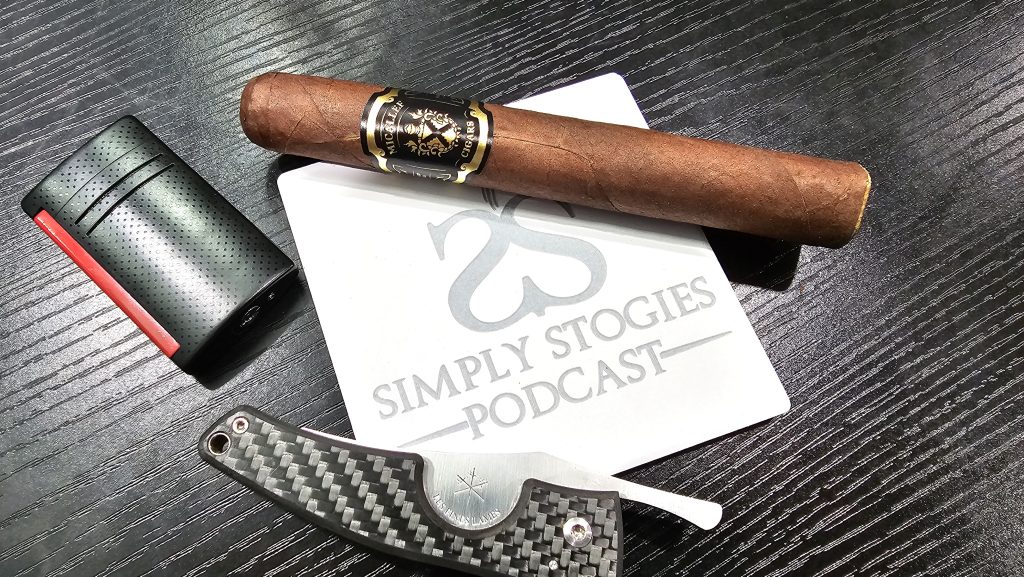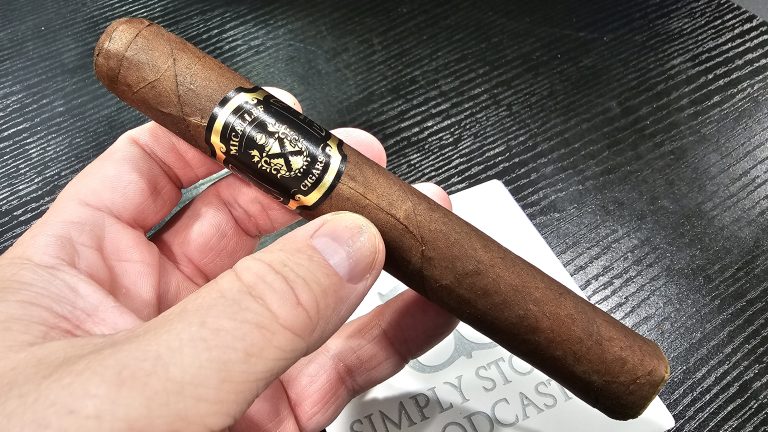 Now, if I'm being honest I haven't really been a fan of Micallef's color scheme the last couple of years. Red, white, and blue just seemed too easy. Don't get me wrong, I've always loved the crest logo. I didn't realize how much I hated the color scheme until I saw the Micallef Black band. Elegant, understated, simple, and just plain gorgeous! The black with gold accent is striking and more "grown up" than previous iterations of their bands and logo.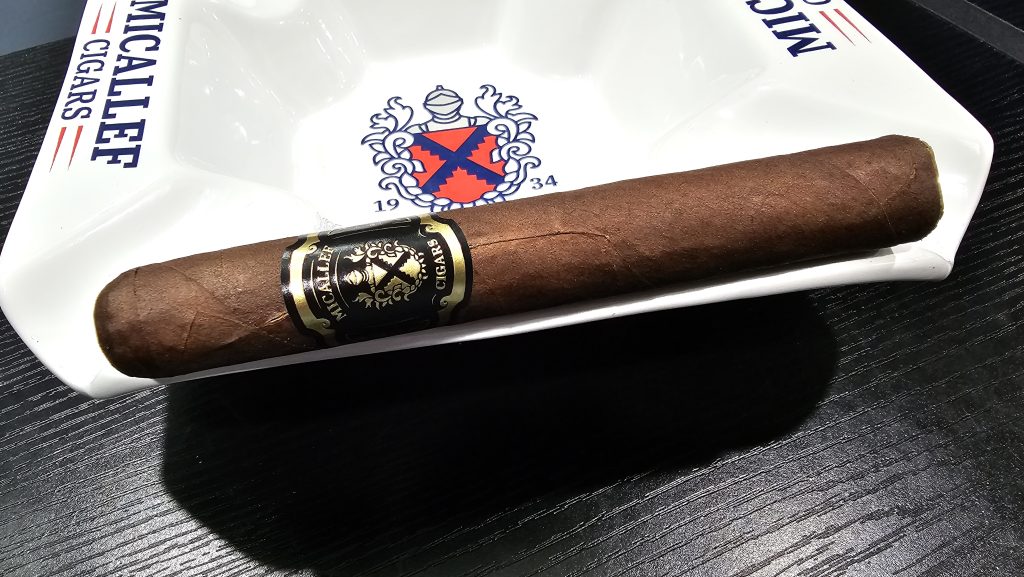 CONSTRUCTION

The Micallef Black is rough to the touch and toothy. The wrapper is maybe just a shade or two darker than a Hershey's chocolate bar. The seam is visible as it wraps around the length of the cigar. Several veins criss-cross the wrapper. The triple cap is expertly applied. In short, it's of the same quality that I've come to expect from Micallef and the Gomez Sanchez family.
AROMA

The wrapper is straight barnyard. Under the initial note of barnyard is a cedar note. The foot sweet tobacco, barnyard, and a hint of a floral note. Intoxicating.
COLD DRAW

The draw is almost perfect. Notes of blackberry, graham cracker, and iced tea shine through the cold draw. The sweet and herbal notes are tantapizing!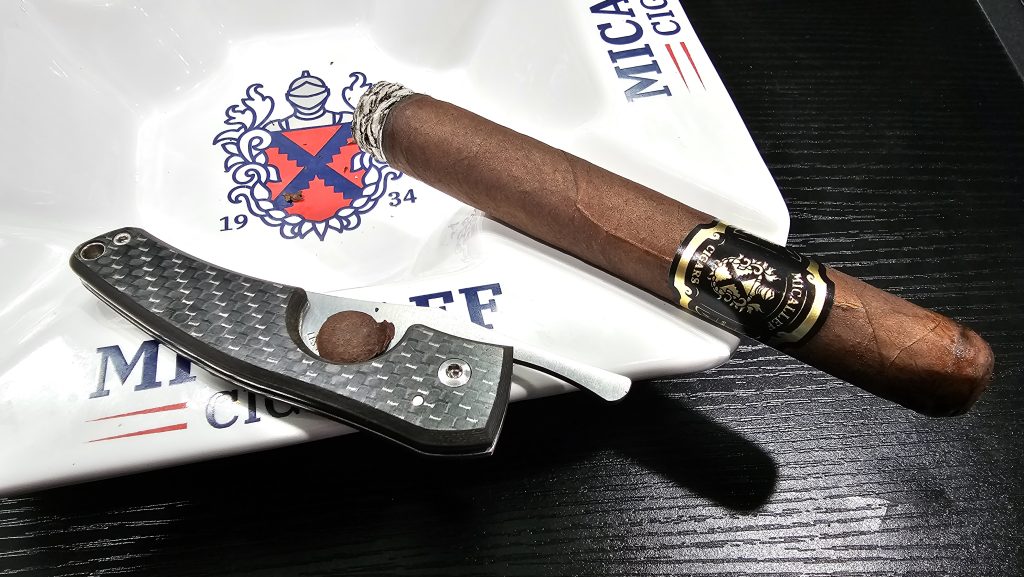 LIGHT & DRAW
Cut: Les Fines Lames LE PETITE cigar knife
Fire: ST Dupont Minijet
Chocolate, coffee, baking spices, leather, and pepper bombard my senses on the initial light. It's not overwhelming, but it certainly lets you know what might be in store. A buttery caramel sweetness lingers on the palate. For as full bodied as it is, the Micallef Black is a smooth smoke.
SMOKE

The smoke is thick and luscious. It coats my palate. My lone complaint is that it's a touch on the dry side.
FIRST THIRD
>> Leather, Wood, Black Pepper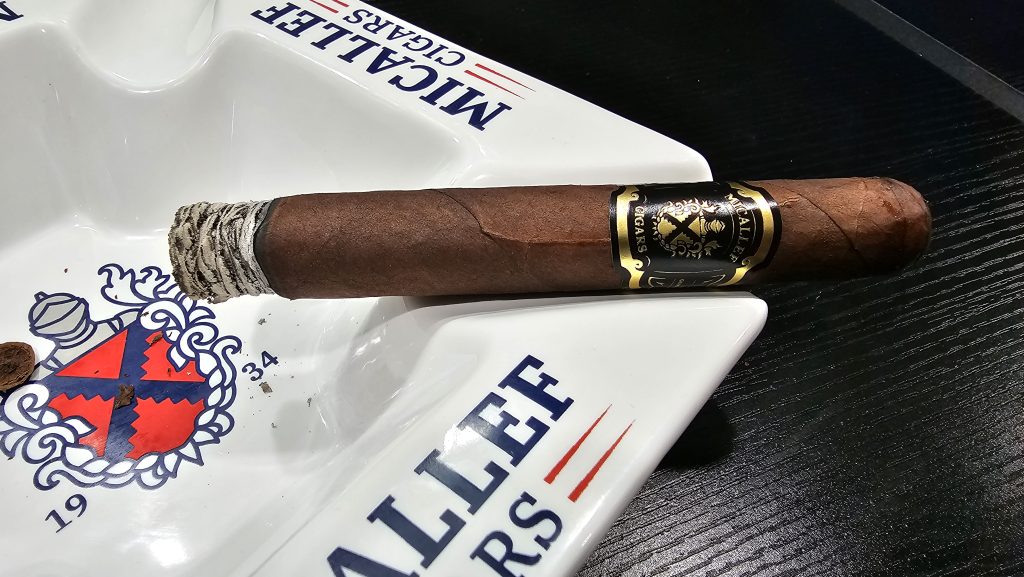 Leather, wood, baking spices, and cayenne pepper are surrounded by a subtle sweetness that lingers on my palate. Big notes of black pepper blast through the retrohale and claws at the back of my throat. There is a saltiness that begins to emerge. Chocolate takes over for leather, and begins leading the charge. The smoke output remains constant, but it has become creamy, adding a smoothness to the Black. The burn is razor sharp. The ash is less compact than I like, and grey with streaks of black. Wood now becomes the dominating flavor note. As I get to the middle of the first third, everything begins to mellow out. A note of avocado oil adds depth and richness to the wood and chocolate notes. A hint of nuts begins to overtake the sweetness. It's an intoxicating array of flavors, as a floral note lingers on the palate. 
SECOND THIRD
>> Avocado Oil, Espresso, White Pepper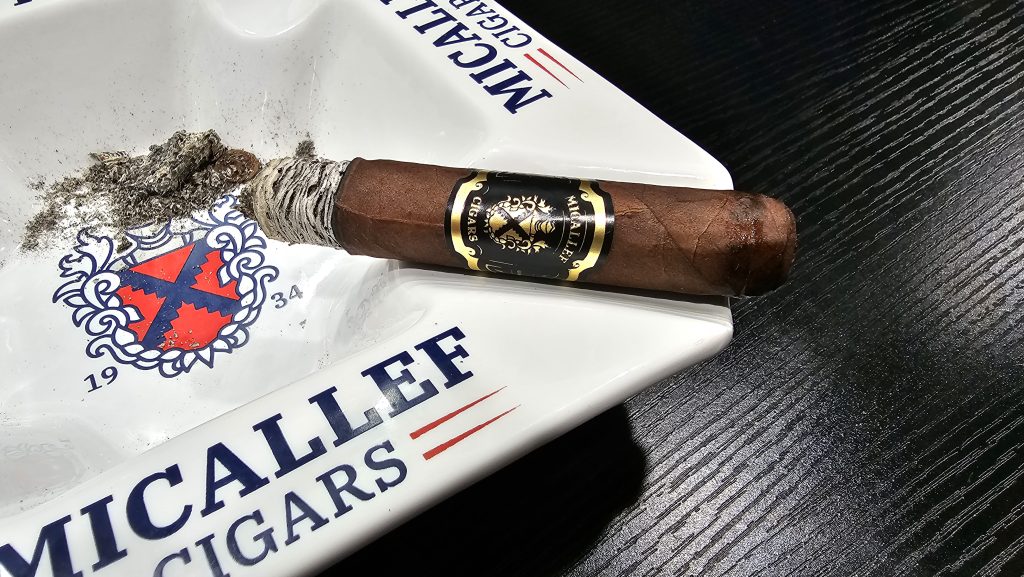 Butter, caramel, citrus, and honey begin the middle third. White pepper and baking spices on the retrohale. The boldness almost seems medium now. It is a departure from the intensity of the first third. That said, the Micallef Black is not without flavor. The notes are rich and complex. Subtle hints of nuts and wood round out the beginning of the second third. The ash is still holding strong…it's not quite flakey but not compact. Regardless, the burn line is straight. I gently tap the ash and it explodes into the tray. The Black seems to take note and the flavors begin to ramp up: espresso, leather, pepper and nuts all come alive. The buttery note holds them all up. It's a decadent experience. A sweet fruity note joins the avocado oil in the background. The burn line got a bit wavy, but the Micallef Black straightens back up. The smoke is "chewy" and satisfying. The ash on this middle third is much more compact. Interestingly, it is white now instead of grey. Smooth. Damn smooth. Chocolate, charred wood, butter, and honey round out this middle third. Nuanced note of citrus rounds out the middle third.
FINAL THIRD
>> Coffee, Campfire, Black Pepper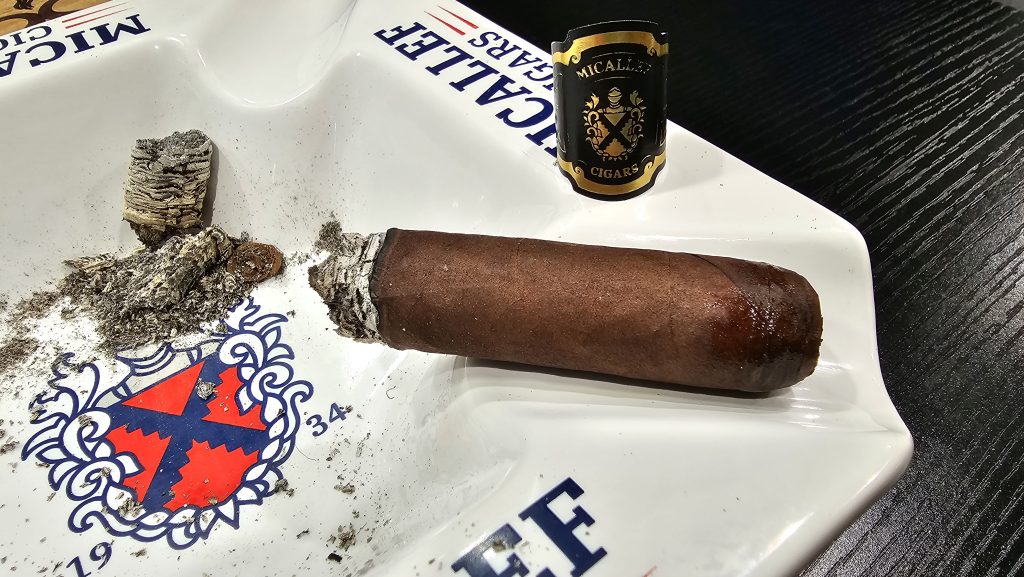 The final not starts off with notes of espresso, salt, campfire, and black pepper on the retrohale. There is a rich sweetness that lingers on my palate. A nuttiness hides underneath it all, weaving in and out. The leather that was so prominent in the first two thirds has retreated, allowing even more nuanced flavors of baking spices and pepper to shine. The Micallef Black remains a smooth smoking experience. The ash is cmpact and the burn has a slight wave to it. Dark chocolate adds its voice to the chorus of nuanced and complex flavors. Chocolate, spice, and everything nice – baking spices, black pepper, campfire, and now an almost mushroom-esque meatiness. Avocado oil still lurks in the undercurrent. The Micallef Black ends just as boldly as it started – chocolate, coffee, nuts, baking spices, a touch of leather, a hint of fruit, and black pepper on the retrohale.
FLAVOR PROGRESSION
The Micallef Black progresses through a myriad of flavors – chocolate, dark chocolate, wood, charred wood, campfire, mushroom, honey, salted butter, fruit, nuts, and pepper. Baking spices and leather come and go throughout the experience. Nuanced and complex flavors that shift and change from light to nub.
BURN EXPERIENCE
The burn was as flawless as you can get. Each cigar smoked never needed a touchup or relight. The smoke started a bit dry but quickly became creamy and satisfying. The ash was a bit flakey in the first third of each cigar smoked, but ended compact.
RATING BREAKDOWN
0.77 / 0.80 … Craft & Aesthetic
0.50 / 0.50 … Pre-Light Characteristics
0.50 / 0.50 … Lighting Process
7.00 / 7.70 … Smoking Experience
0.50 / 0.50 … Personal Enjoyment
THE MICALLEF BLACK IS THE PERFECT AFTER DINNER TREAT.
The Micallef Black demands your attention. It isn't subtle about it, either. If you're not paying attention you will miss the subtle citrus notes and changes from nuts and leather to mushroom and honey. The entire experience is smooth and elegant. The Micallef Black proves that after dinner cigars don't have to be bold just for the sake of being bold. The Micallef Black is now my favorite Micallef cigar, overtaking the Leyenda. This is a must try from Micallef!
SIMPLY STOGIES RATING:  9.27 / 10.0