Arnold André is a German cigar company that has been around over 200 years. Founded in 1817,  Arnold André is primarily known for their machine made cigars; however, they began making premium hand rolled cigars in 2011. They currently have two lines: The Monstosa line has a natural and a maduro and their Terra Nova line uses Kentucky Fired Cured tobacco in it. The company announced in January of this year that they would be distributed by United in the US.
VITOLA:   Toro
SIZE:   5-7/8″ x 50
ORIGIN:   Dominican Republic
FACTORY:   Arnold André Dominicana S.R.L.
WRAPPER:   Ecuadorian Connecticut Shade
BINDER:   Mexican San Andrés
FILLER:   Dominican and Indonesian
STRENGTH:   Mild to Medium
SOURCE:   
Oxford Cigar Company
WHERE:   
My deck
WHEN:   
June 3
DRINKS:   
Ice Mountain bottled water
WEATHER:   
78° & 19% humidity
HOW MANY CIGARS SMOKED:   
3
RELEASE TYPE  Regular Production
ORIGINALLY RELEASE DATE  2011 (released in US Market 2022)
TOTAL PRODUCTION
Typical Box Size:     Boxes of 20
Production Totals:  Unknown
VITOLA BREAKDOWN
o  Toro (5-7/8″ x 50)
o  Robusto  (4-7/8″ x 50)
o  Churchill  (6-3/4″ x 50)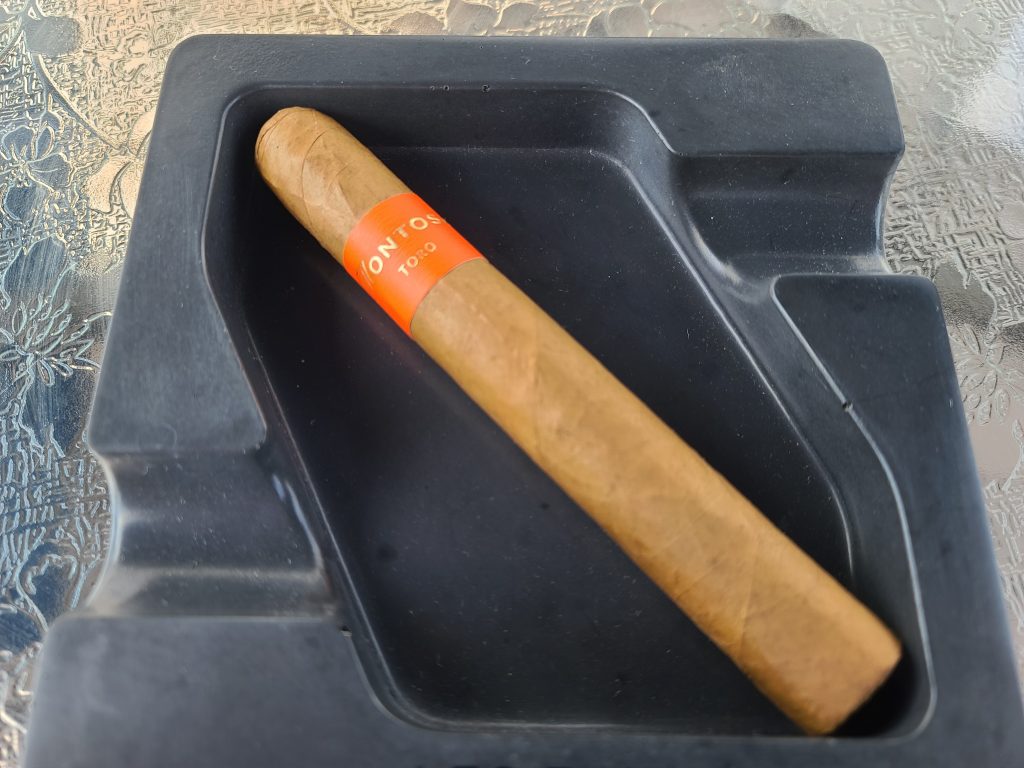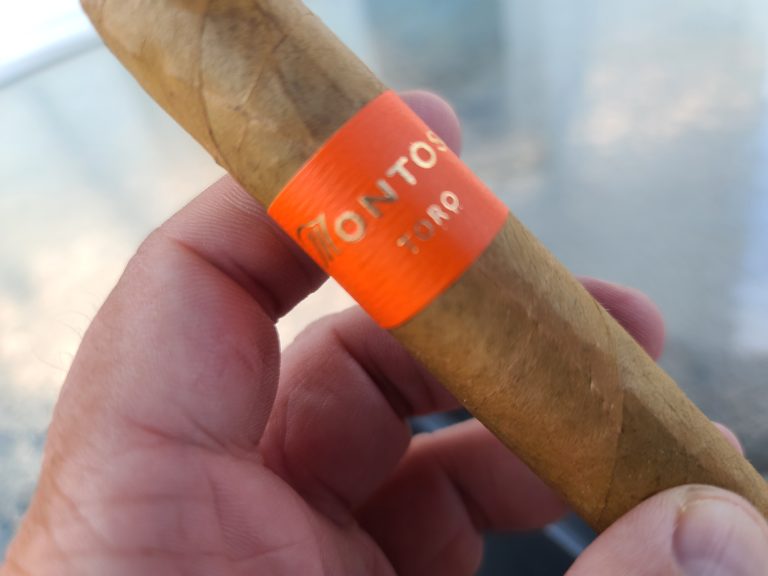 The Montosa band for the their Natural is orange with gold accent. Orange and gold. It is, in my humble opinion, a bit too much. The orange is bright and loud. It's also a bit on the simplistic side, stating only the name of the brand and the size in gold. The band feels like thick card stock paper. The pros are that the orange stands out in a humidor and the cost of the band is kept low. The con is that it does look a bit chintzy.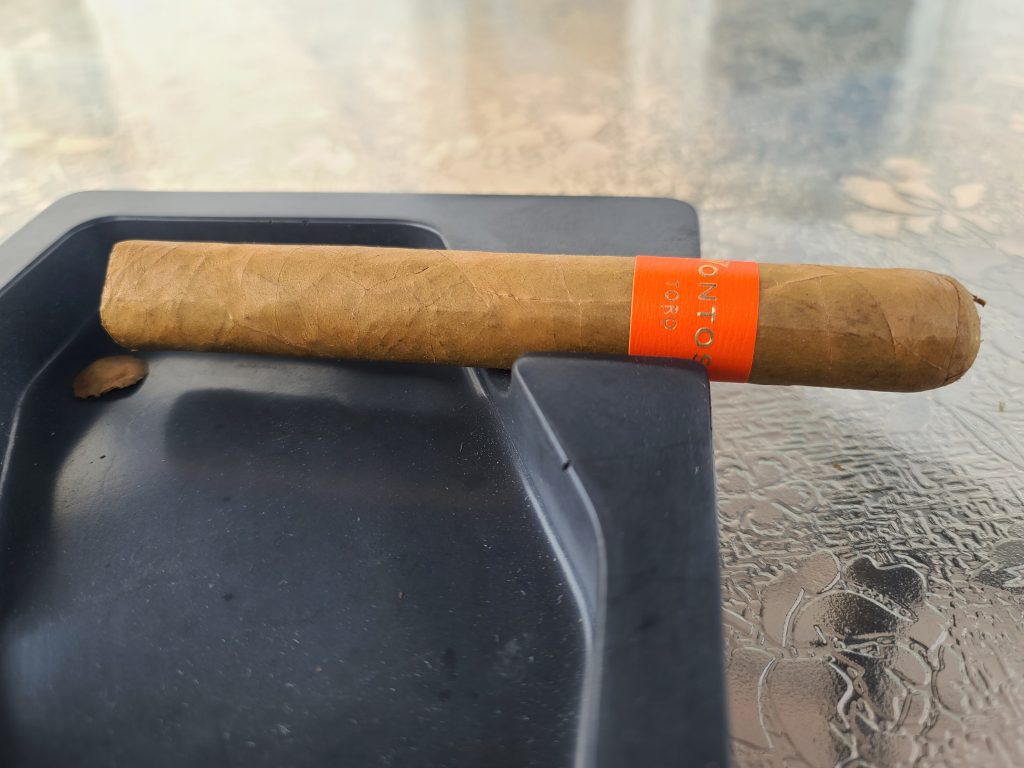 CONSTRUCTION

The Ecuadorian Connecticut Shade wrapper is a light shade of caramel. It has several veins but feels smooth to the touch; in fact, it feels very delicate. As I run my fingers up and down the wrapper, there are no obvious hard or soft spots. There is just enough give as I squeeze it between my fingers. The cap has a rustic vibe to it – not quite thrown on haphazardly and not quite expertly applied. 
AROMA

The wrapper is straight barnyard. It smells like I'm walking through a zoo in the middle of summer…and that's not a bad thing. The foot is more interesting, with notes of fruit, sweet tobacco, and a floral note all wafting from it.
COLD DRAW

The cold draw is a bit confusing. Citrus is the dominant note, but the others seem more elusive: there is a floral component, a bit of fruit, and an almost mineral type quality to all of it. As for the draw itself, it's near perfect. It has just the right amount of resistance.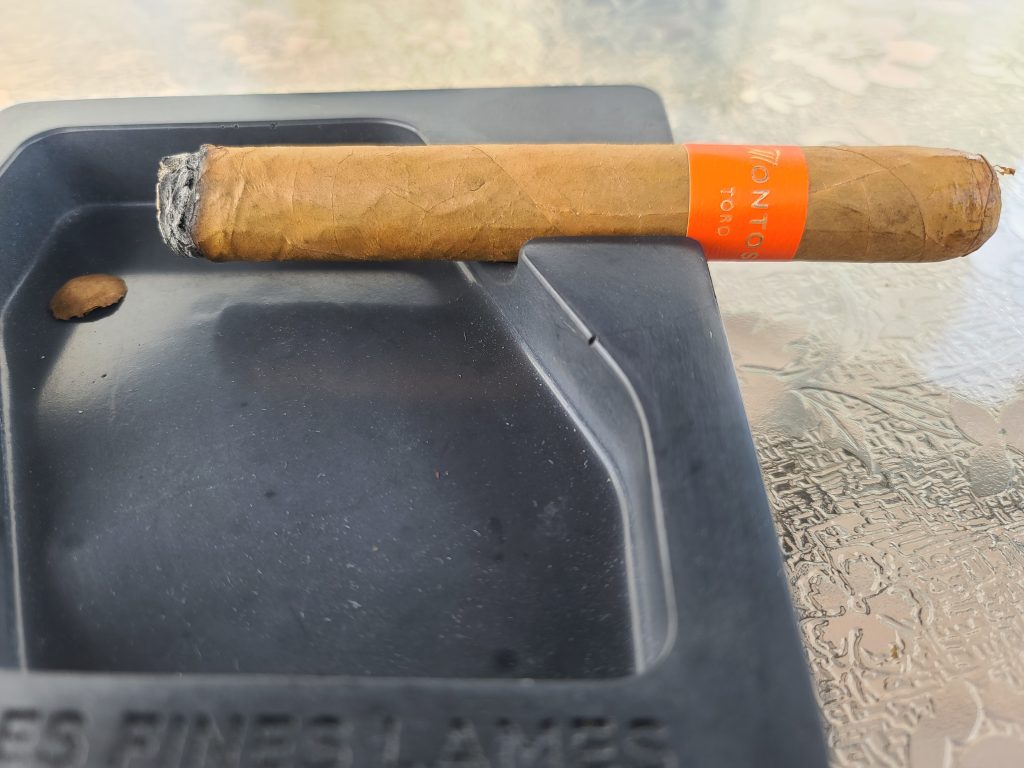 SMOKE

The smoke production is wonderful. The Montosa Connecticut isn't spewing smoke like a locomotive, but it is a very satisfying amount. The smoke is rich and creamy. Coating my palate and leaving me satisfied. 
FIRST THIRD
>> Avocado Oil/Butter, Wood, Black Pepper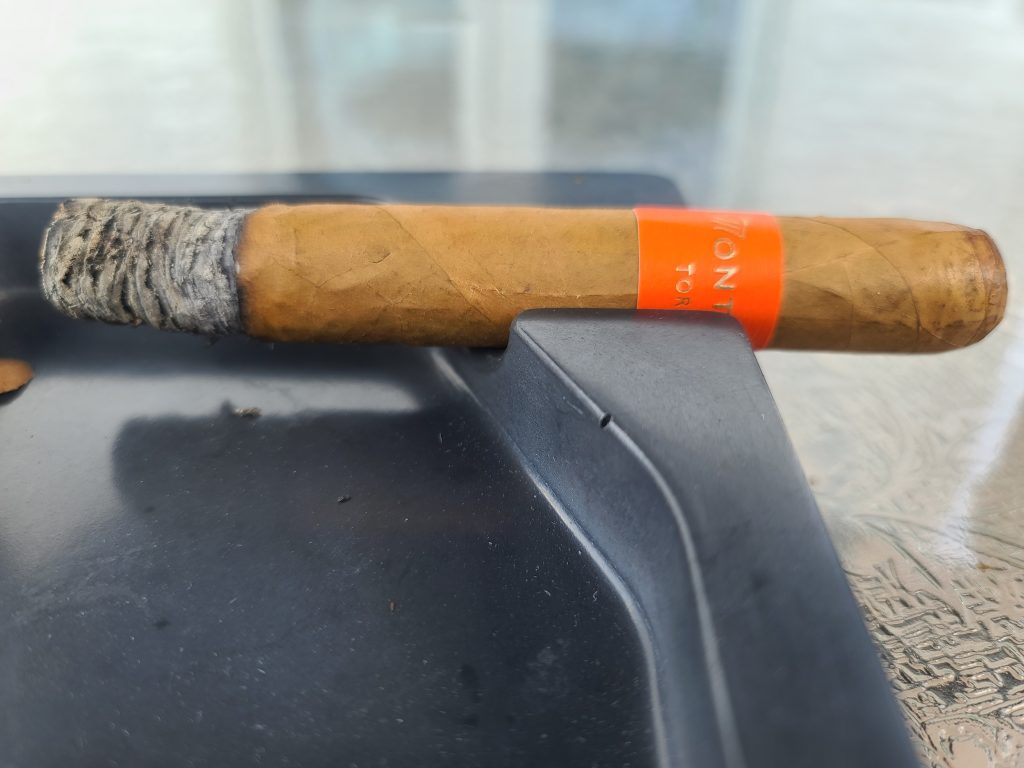 As the initial punch of pepper calms down, I find myself wishing it didn't. Notes of salted butter, coffee, and caramel open the first third. The barnyard from the initial light is there, but it is accompanied by a floral note that is amazing. Black pepper rules the retrohale, but is more subdued than the initial light. There is a little bit of nuttiness coming through now, too. The burn line is straight enough, but far from razor sharp. The ash, for its part, is dark gray with black streaks and compact. A note of wood makes itself known and begins to drown out the subtleties of coffee and caramel. It's still smooth and the note of avocado oil remains steady. The sour barnyard note is still hanging around. There is a herbaceous (thanks Randy) note beginning to mingle with the others, that really starts to bring everything together.
SECOND THIRD
>> Herb Butter, Chocolate, White Pepper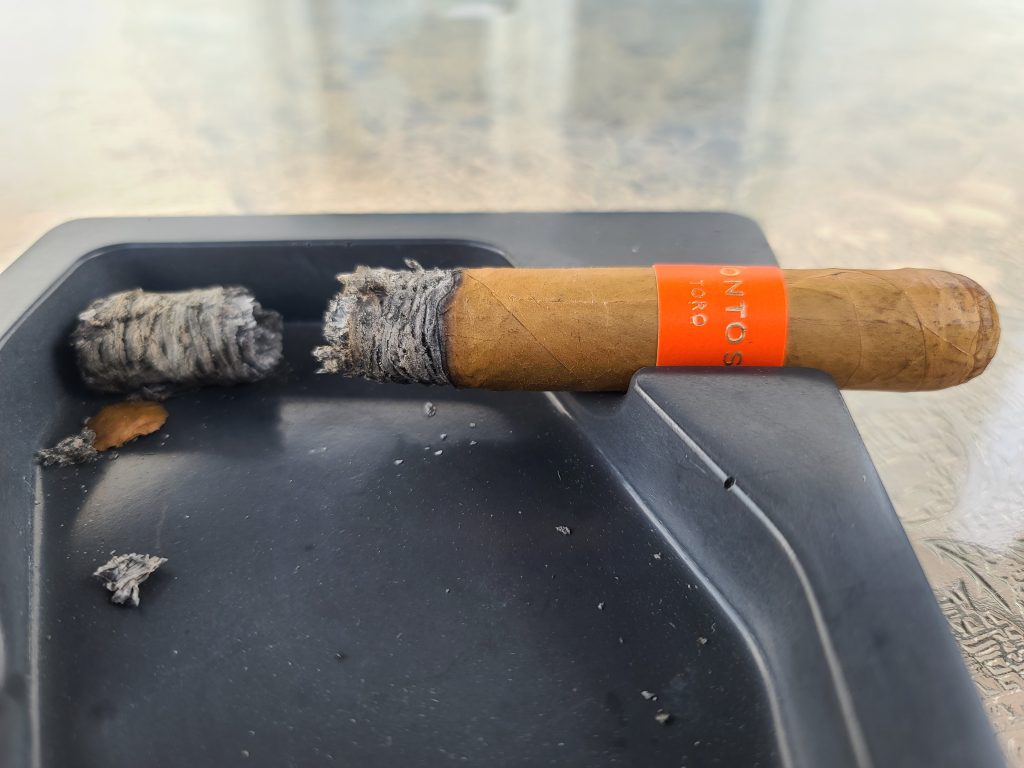 The second third begins with a rich chocolate note, salted nuts, butter, and a coffee note. If I'm being honest, it's very much like the first third. The wood note weaves in and out of the others, but has a slightly more charred flavor. A note of honey begins to poke through the richness. The burn line is pretty wavy at this point, but not what I would call uneven. The ash, which I deposited in the tray earlier, is just a bit flakey where it broke, but mostly compact. White pepper on the retrohale. Butter and herbs are the main note now. There's a bit of fruit on the finish. A bit of red pepper and honey linger on the finish. The burn line has self-corrected to razor sharp. I am impressed with the construction. The smoke is a bit on the dry side now, forcing me to sip my water.
FINAL THIRD
>> Butter, Chocolate, Black Pepper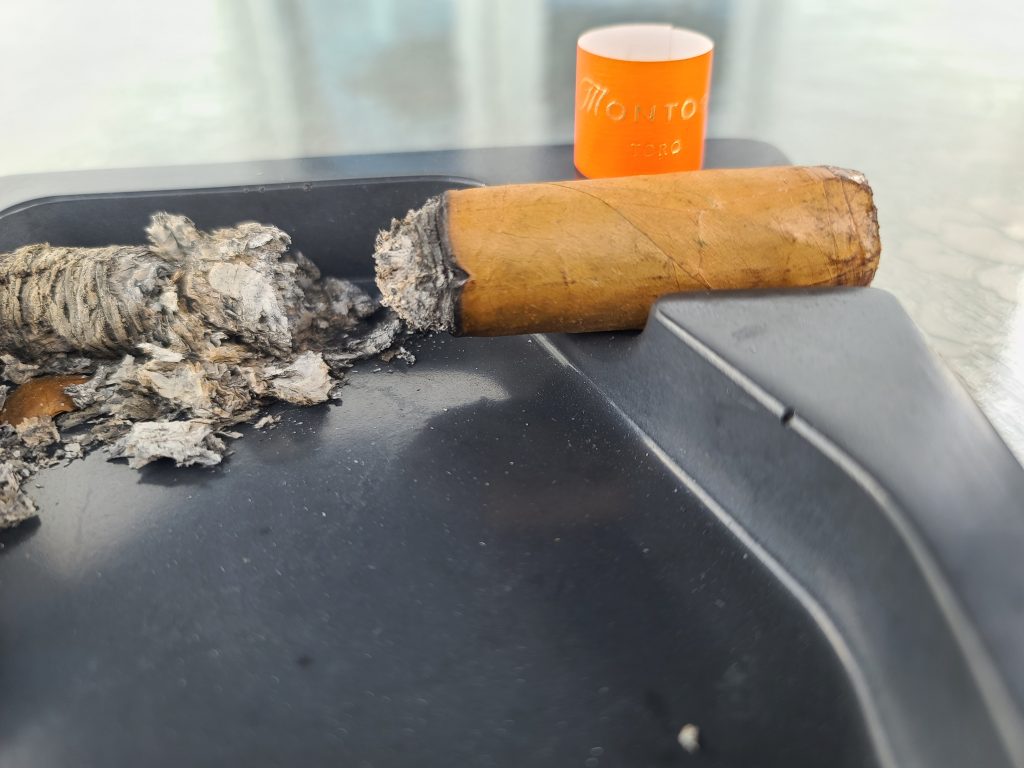 Butter, herbs, and the bite of red pepper. Not a bad way to start the final third. The ash just crumbles as I deposit it in the tray. The burn line is fairly straight. Notes of chocolate, fruit, and nuts still mingle with the others. There's a bit of leather that starts to come through and works well with the chocolate. Black pepper returns to the retrohale. A note of citrus finally changes things up enough for me to take notice. Charred wood, salted nuts, citrus, and white pepper make for a nice change of pace. Chocolate and avocado oil still linger on my palate and provide a nice contrast of flavors.
FLAVOR PROGRESSION
The flavors throughout the Montaso Connecticut are fairly constant – chocolate, butter, wood, pepper. The subtleties are where this cigar shines. The middle and final thirds saw notes of citrus, red pepper, and nuts come and go with varying degrees of intensity. The middle third, for me, was the star of the show. The other two thirds were good, but just didn't have that same oomph. The problem was that the butter (or avocado oil), herbs, and chocolate were always front and center. And while the subtle notes made it far from boring, it was just more of the same in each third.
BURN EXPERIENCE
I have certainly smoked cigars that had worse burns; and I've certainly smoked cigars that had better burns. No touchups or relights were required. Nor did I have to babysit the burn. In my book, that's a win. But for review purposes, the burn wasn't razor sharp. Should you, dear reader, not buy or try a cigar because the review said the burn wasn't razor sharp? No. You shouldn't. Your mileage may vary.
RATING BREAKDOWN
0.60 / 0.80 … Craft & Aesthetic
0.45 / 0.50 … Pre-Light Characteristics
0.50 / 0.50 … Lighting Process
6.92 / 7.70 … Smoking Experience
0.48 / 0.50 … Personal Enjoyment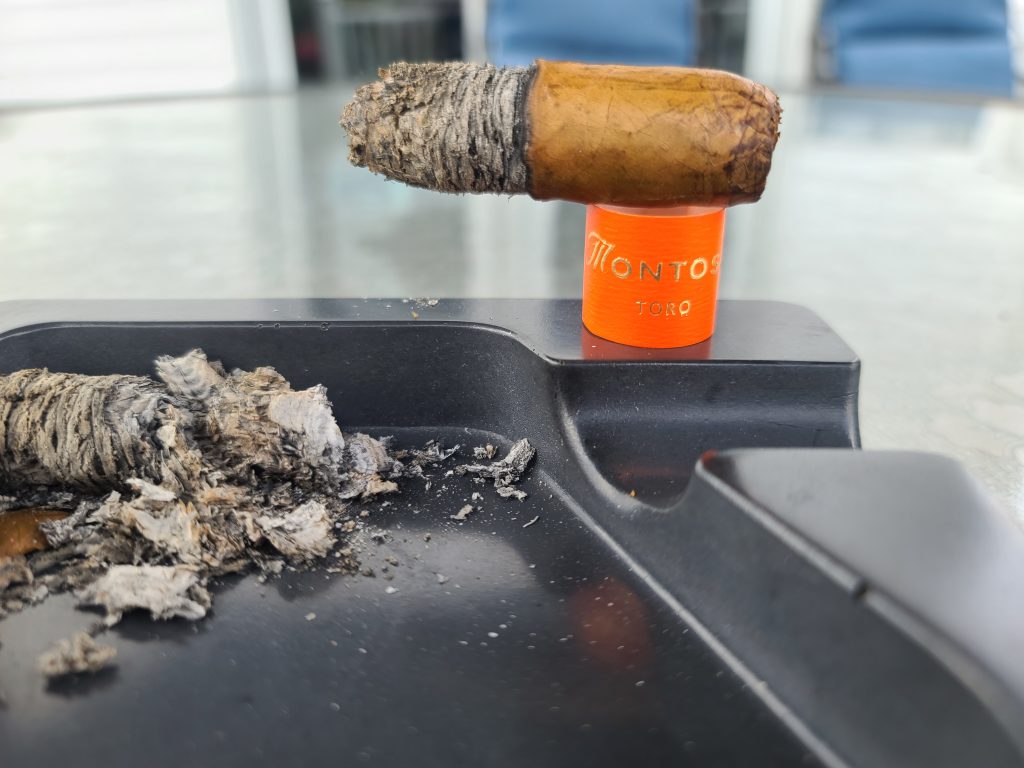 COLOR ME SHOCKED.
For a cigar that's pretty non-descript, the Montosa Natural Toro is an eye opener. It's straight-to-the-point band design and over the top color scheme was, if I'm being brutally honest, kind of a turn off. To be fair, the Montosa Maduro isn't much better, with its Christmas green and gold color scheme. But the Natural was hiding complex and nuanced flavors under the strong notes of herb butter, chocolate, and pepper. The Montosa Natural isn't the old-school Connecticut, but follows the new line of thinking that says, "Your mild and medium cigars don't have to be one note." While the strong flavors can be monotonous, the subtle notes are what make the Montosa Natural a must try. If we were scoring based on price, then the Montosa Natural would be a solid BUY. This mild to medium smoke is definitely a TRY!
SIMPLY STOGIES RATING:  8.95 / 10.0