Tim Ozgener is a well known name in the industry. Most will recognize the name from a few years ago as head of CAO cigars. Things happen in the cigar industry and some people just have to take a hiatus. Rumors in the industry hinted to an "Ozgener Return" and it was finally solidified during the 2022 PCA Tradeshow. 
VITOLA:   B-55
SIZE:   5 1/2 x 55
ORIGIN:   Nicaragua
FACTORY:   Tabacalera Pichardo
WRAPPER:   Ecuadoran Sumatra
BINDER:   Ecuadorin Connecticut and Nicaraguan Jalapa
FILLER:   Nicaraguan Esteli, Jalapa, and Ometepe
STRENGTH:   Medium+
SOURCE:   Multiple online resources
WHERE:   Cabin on the River
WHEN:   Saturday Afternoon
DRINKS:   Water
WEATHER:   Sunny and Breezy
HOW MANY CIGARS SMOKED:   3
RELEASE TYPE:  Regular Production
ORIGINALLY RELEASE DATE:  2022
TOTAL PRODUCTION
Typical Box Size:     Boxes of 20
Production Totals:  Unknown
VITOLA BREAKDOWN
o  B-55  (5 1/2″ x 55)
o  B-54  (6 1/2″ x 54)
o  B-52 (5″ x 52)
o  B-50  (4″ x 50)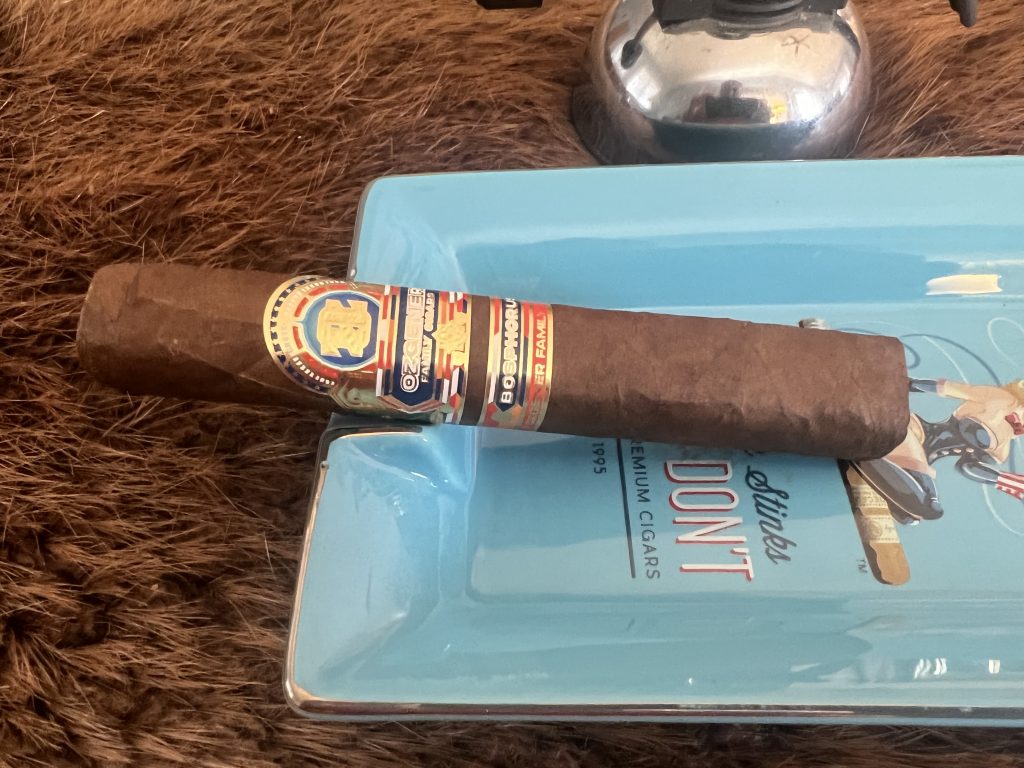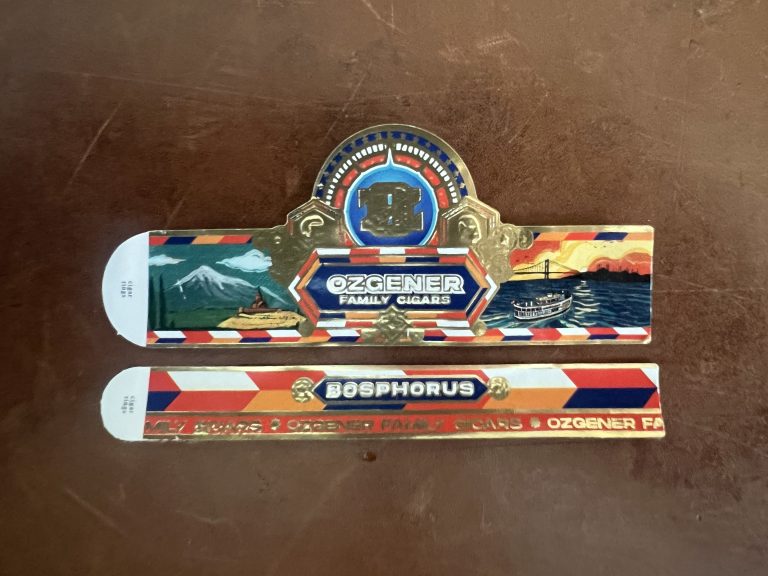 The cigar is swaddled in a two-piece band separated by a narrow window to show the wrapper underneath them. The upper band has the O overlayed over the Z on a blue background ringed by red, gold, and blue rings, with the Ozgener Family Cigars name below it.  The second band is a little more subdued, with the Bosphorus name on a blue field, and repeats the Ozgener Family Cigars name below it on a red field. For me, the band is just too much, too much design, too much gold, and just too much overall. Everything becomes muddled, hard to decipher, and too gaudy for my taste.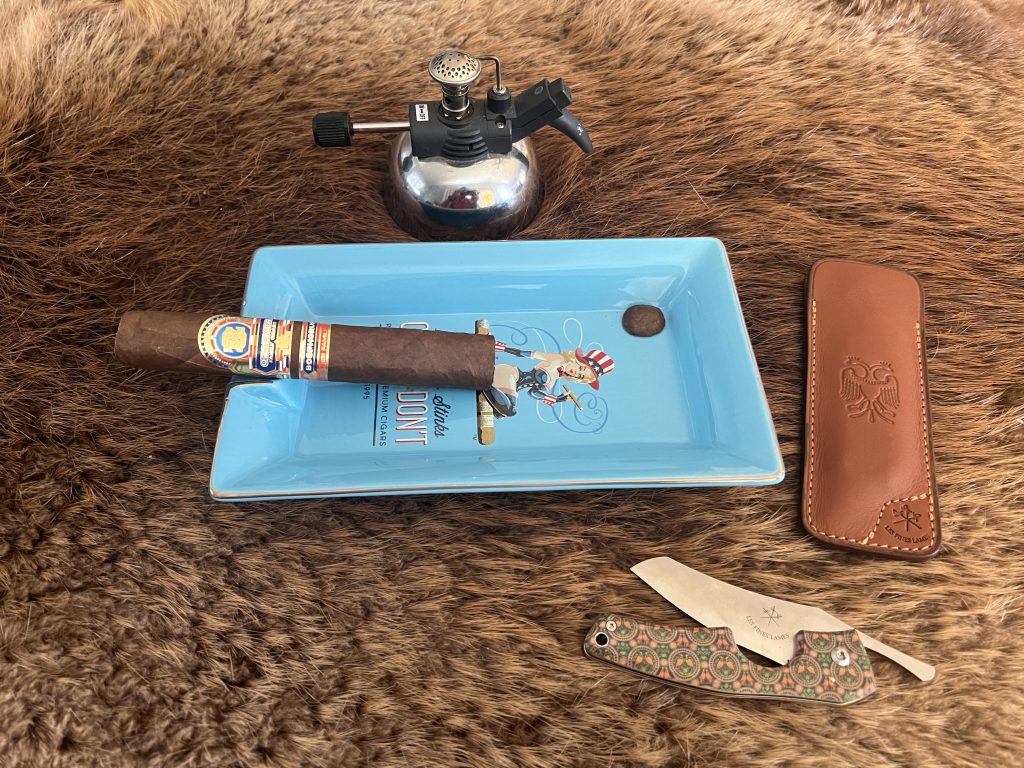 CONSTRUCTION

The Ecuadorian Sumatra wrapper is a beautiful shade of brown with light veins running through it. I found no soft spots or hard "lumps" during my ham-handed fondling of the cigars before smoking. Once again, Tabacalera Pichardo has turned out a well-crafted cigar.
AROMA

Barnyard comes out strong, with a hint of leather and charred wood in the background.
COLD DRAW

A few post-cut draws passed the cold draw flavors through the tobacco at an acceptable level of resistance.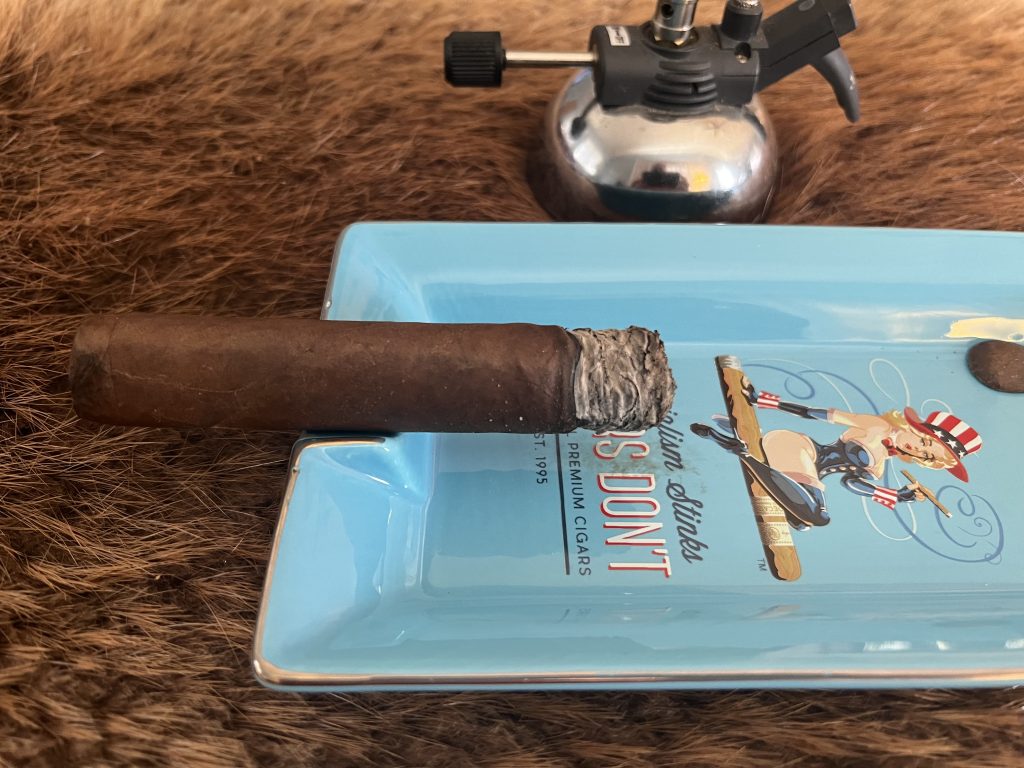 LIGHT & DRAW
Cut: Les Fines Lames, aka the "finger chopper"
Fire: Rocky Patel teapot lighter
Toasting and lighting were easily accomplished. The burn line had a sharp mascara edge. On the first cigar, it looked as though I got it lighted evenly, but then it went askew on me in the first three-quarters of an inch, straightening up right at the start of the first third. This was when the ash lunged off the cigar's end without warning, leading to a quick vacuum break. The other two smoked for this review burnt well and held their ash.
Initial flavors of dried lemon peel, black pepper, and caramel came through in a creamy smoke that was easy on the retro-hale.
SMOKE

Generous amounts of smoke came out of this stick right away. This continued to the end carrying the flavors to the palate nicely.
FIRST THIRD
>> Floral notes, cedar, and leather.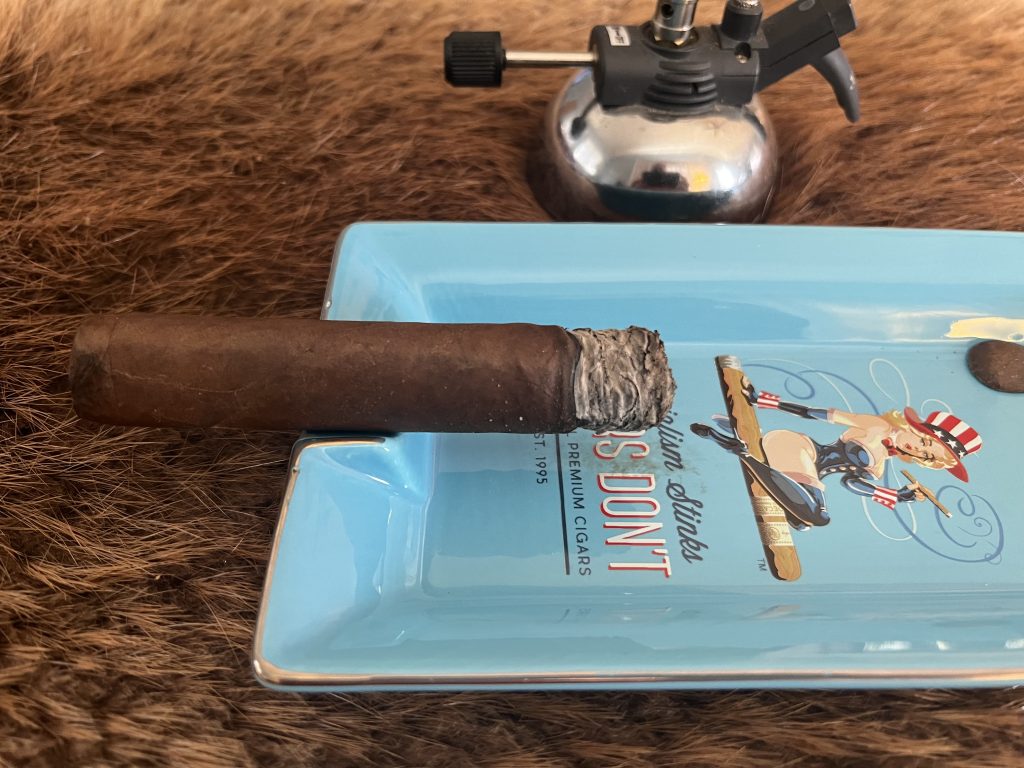 Getting into the first third, the dried lemon peel from the initial light and draws transforms int to a base floral note with a charred cedar and leather saltiness. We are still producing plenty of creamy smoke. The burn line comes and goes in its evenness, but the smoke is cool and carries the flavors nicely.
SECOND THIRD
>> Fresh hay, cedar, charred wood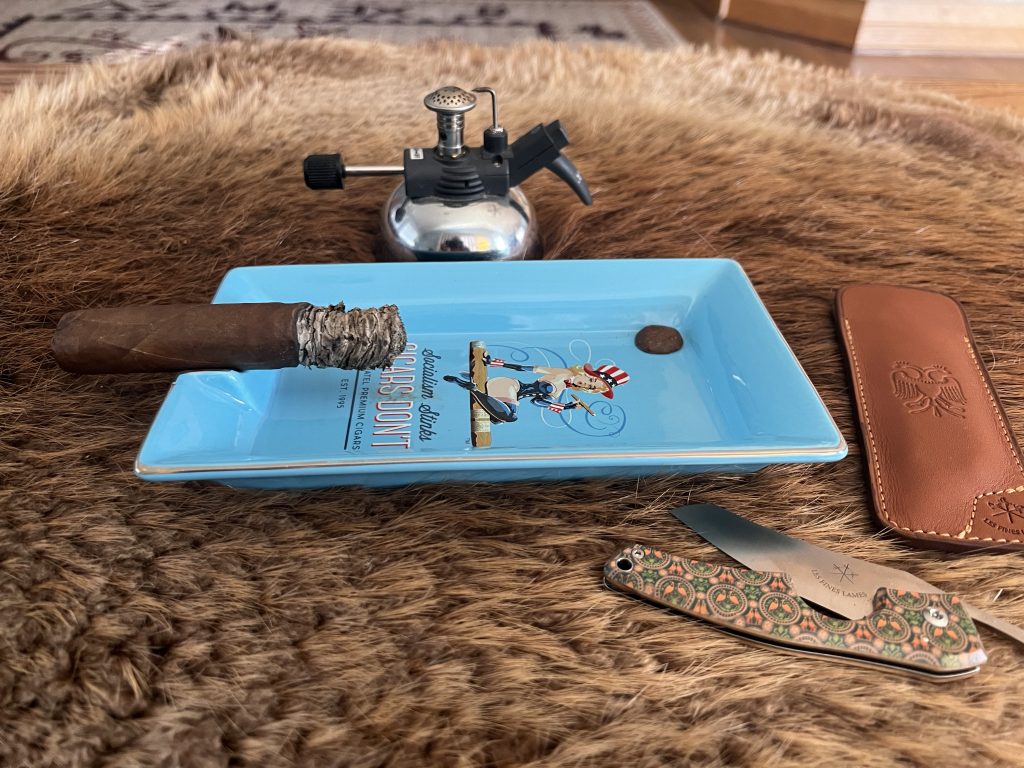 The second third transitions the floral notes into fresh hay, with the cedar remaining the same as the first third, and some charred wood sneaks into the scene. Later into the second third, we find some floral herbaceous lingers in the background. The burn line continues to wander about drunkenly, although it does not go farther than a quarter of an inch at the time.
FINAL THIRD
>> Herbaceous, Cedar, Leather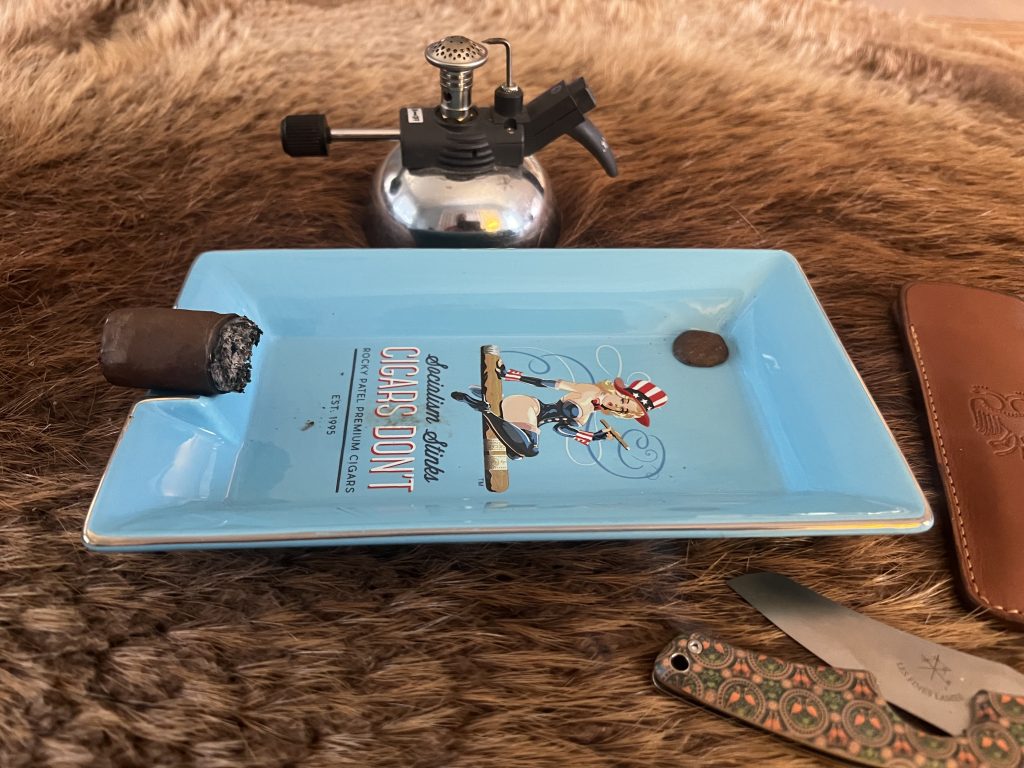 Finishing up in the final third, I come across the floral notes coming into a full-on herbaceousness, followed up with the cedar and some leather. Making a sneaking appearance are some slight notes of burnt caramel. The burn line is no better in the final third than previously encountered. Halfway through the last third, I am required to relight several times.
FLAVOR PROGRESSION
Cedar, hay, leather, floral, and citrus. What more could you want?
BURN EXPERIENCE
The first cigar lit a bit wonky and burnt uneven for the first three-quarters of an inch. When it finally did even out, the ash promptly departed the cigar without warning; it burnt well through the second third and finished well, needing a couple of touch-ups with the lighter at the end.
All three cigars had some uneven burn lines throughout the whole length and required several relights late in the final third. The ash was departing of its own volition at regular intervals, so I resorted to tapping it off so as not to burn my shirt. This is not a problem for me as I try to normally tap and shape my ash as I usually smoke.
RATING BREAKDOWN
0.70 / 0.80 … Craft & Aesthetic
0.48 / 0.50 … Pre-Light Characteristics
0.40 / 0.50 … Lighting Process
7.10 / 7.70 … Smoking Experience
0.40 / 0.50 … Personal Enjoyment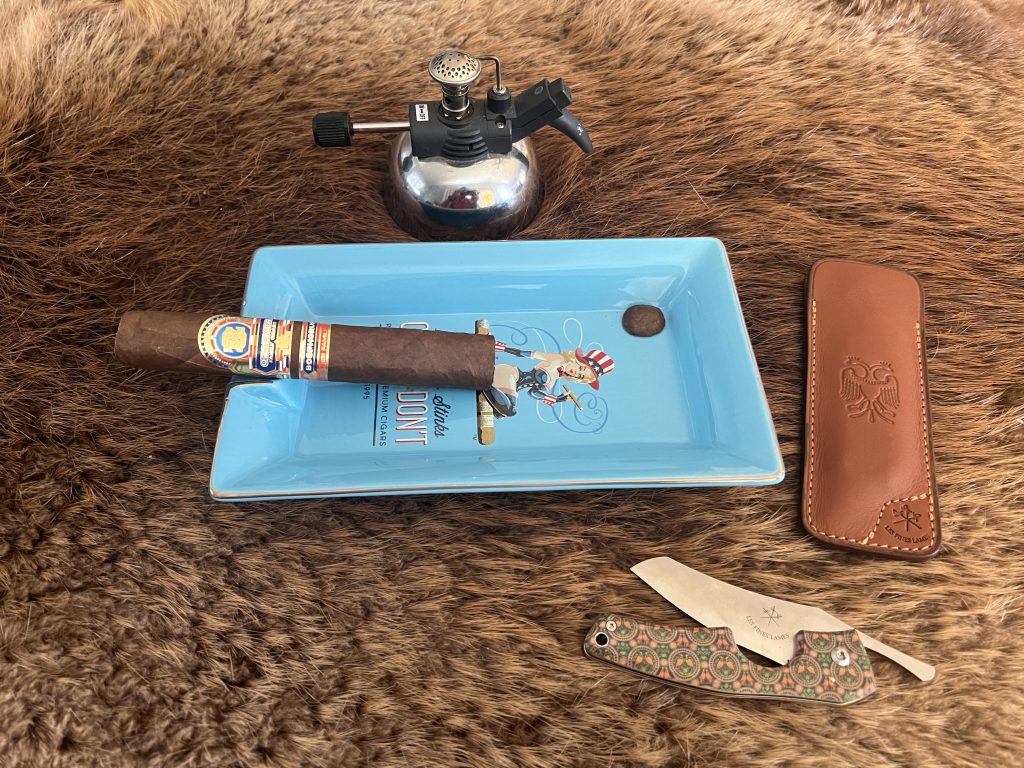 Everyone has to start somewhere, except Tim Ozgener; he has to start over somewhere.
I believe that for Tim Ozgener, this is not a bad start, or re-start, to what we should all hope is a good run of cigars to come.
While I found the blend was pretty good, the issues with the burn line and the relights required detracted from the smoking experience. These could all be easily blamed on a poor mixing of the leaves before the bunching process, but I am not sure I can lay this all at the feet of Tabacalera Pichardo as I have only had good experiences from the factory in the past.
Bottom line, give it a try and get in on the ground floor of Ozgeners journey. I am sure it will be interesting to see what he comes up with in the future.
Since this is a review of a cigar and not the National Enquirer, I will forgo any drama that might surround this cigar or the Tim Ozgener that stems from his relationship with Crowned Heads or Luciano Cigars. Let us just hope that we can all act like adults and they can keep making great cigars, including the Ozgener Family Cigars, that we can enjoy.
SIMPLY STOGIES RATING:  9.08 / 10.0