I can remember the first time I tried the Padrón Damaso no. 15 at David's Fine Tobaccos. I saw them sitting next to the other Padróns and it stood out like a sore thumb. The light Connecticut wrapper next to those deep, rich Maduro wrappers and velvety smooth natural wrappers called to me. The Damaso No. 15 box was very different from Padrón's normal box designs: a white lid adorns the box as to signal "I am different than other Padróns!" It was also the only Padrón in cellophane. I was intrigued and had no choice but to try it. 
There seems to be some bias, in some circles at least, against the Padrón Damaso. For some it is almost sacrilegious for Padrón to make a milder cigar. For this cigar enthusiast however, it is a revelation. Admittedly, I love Connecticut wrappers and milder cigars in the morning with a good cup of coffee. As my palate has expanded and changed over the last few years, I have found some of the mild cigars that I once enjoyed are now boring and not as enjoyable as they once were. The Padrón Damaso line has made my morning cigar experience interesting again. 
VITOLA:   No. 15 (Toro)
SIZE:   6″ x 52
ORIGIN:   Nicaragua
FACTORY:   Tabacos Cubanica S.A.
WRAPPER:   Connecticut
BINDER:   Nicaragua
FILLER:   Nicaragua
STRENGTH:   Medium
SOURCE:   
Small Batch Cigar
WHERE:   
In the garage huddled next to the heater
WHEN:   
February 17, 2021
DRINKS:   
Death Wish Coffee Valhalla Java Odinforce Blend
WEATHER:   
17° and 58% humidity
WHAT'S ON:   
Smoking and Drinking in Space
RELEASE TYPE  Regular Production
ORIGINALLY RELEASE DATE  July 2015
TOTAL PRODUCTION
Typical Box Size:     Boxes of 20
Production Totals:  Unknown
VITOLA BREAKDOWN
o  No. 15   (6″ x 52)
o  No. 8   (5-1/2″ x 46)
o  No. 12   (5″ x 50)
o  No. 17   (7″ x 54)
o  No. 32  (5-1/4″" x 52)
o  No. 34  (56″ x 52)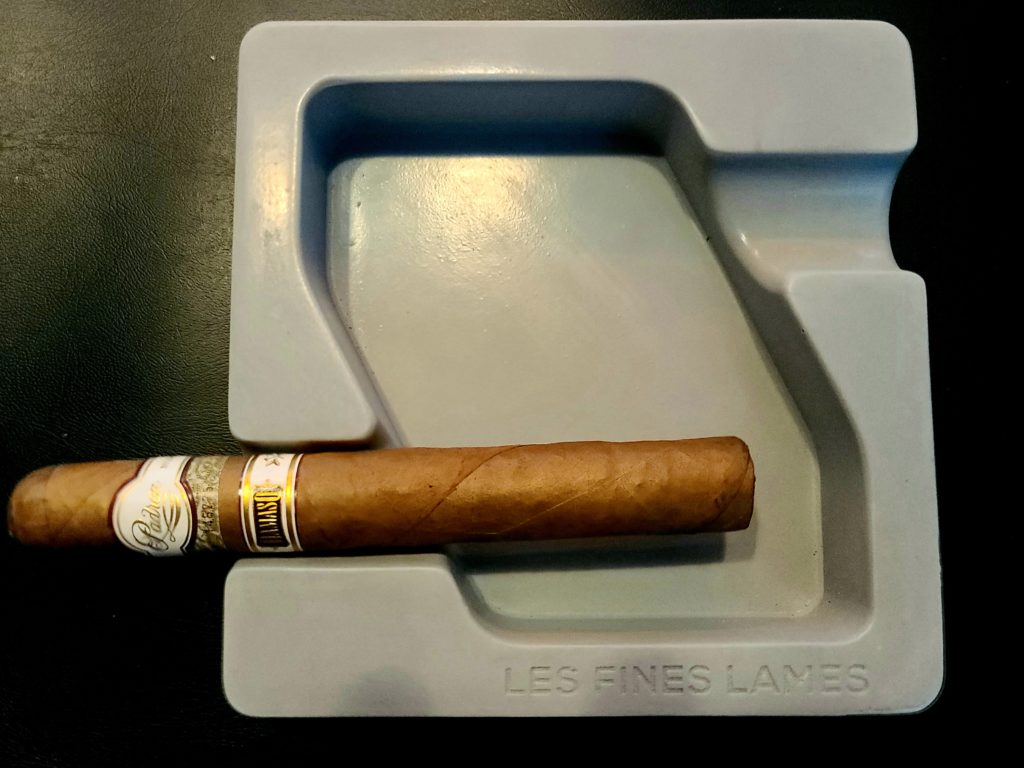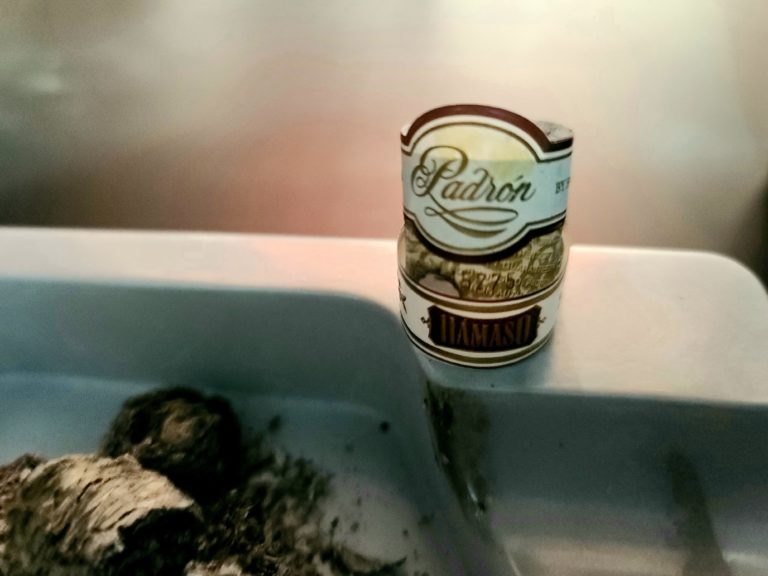 The band is similar in style to the box. In fact, the only thing that the Padrón Damaso No. 15 has in common to other Padróns is that it has the serial number beneath the main band. The main band sports a white background, instead of the usual burgundy, with the gold Padrón logo atop. The second band is also white with gold accents. The gold Damaso logo sits on top of the usual Burgundy background. It looks like a Padrón from the Bizzaro universe.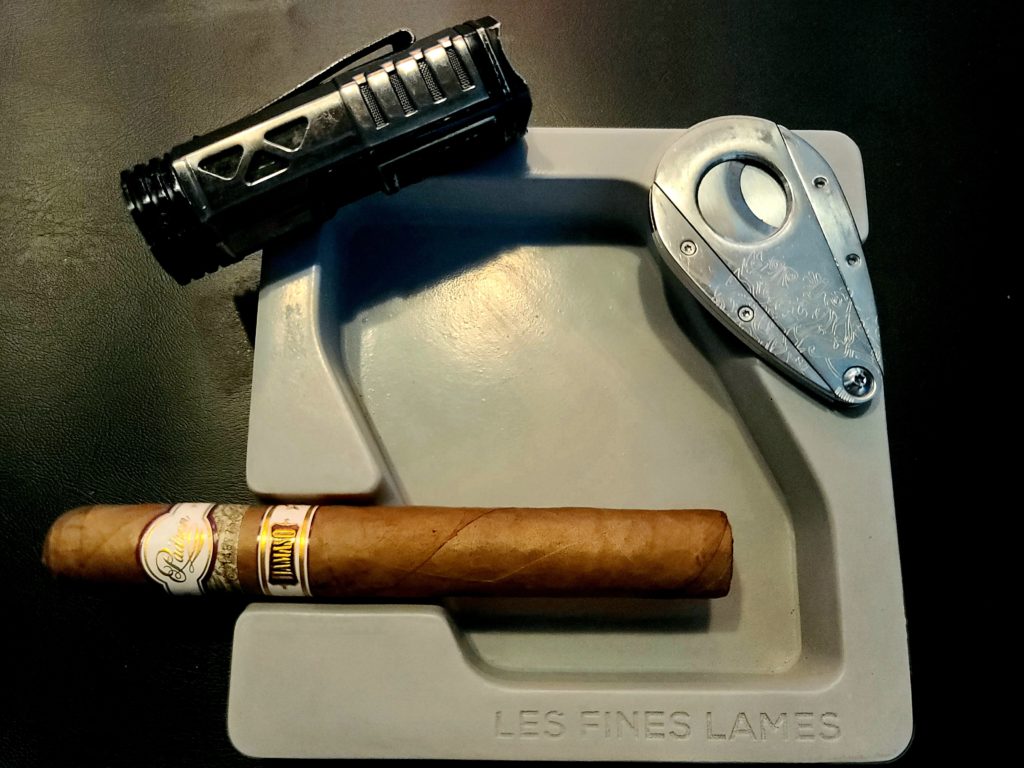 CONSTRUCTION
The Padrón Damaso No. 15 is a looker! A beautiful caramel color and smooth to the touch. There is one visible seam and relatively few veins. It is elegant looking and what you would expect from any Padrón cigar.
AROMA
There is faint scents of barnyard, hay and tobacco. It has been my experience that any cigar that gives off even the slightest whiff of barnyard is one that I should pay attention to because it is going to be great. My expectations for this cigar are high.
COLD DRAW
On the cold draw I pick up notes of salt, dry grass and tobacco.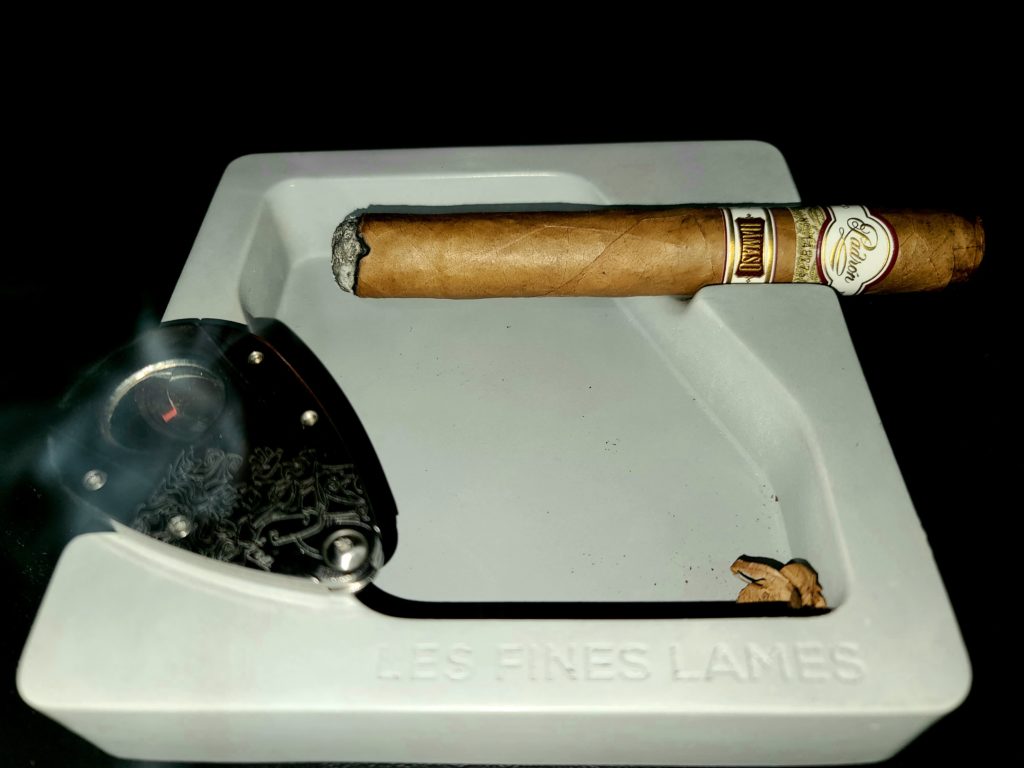 LIGHT & DRAW
Cut:  Xikar Xi3
Fire: Xikar Tactical 1
I know this will sound like a broken record, but the cut and light were effortless. No issues whatsoever. 
SMOKE
The Damaso No. 15 puts out smoke like any other Padrón. It is a very satisfying amount and creamy. It coats the palate allowing you taste the cigar.
FIRST THIRD
>> Black Pepper, Chocolate, Cedar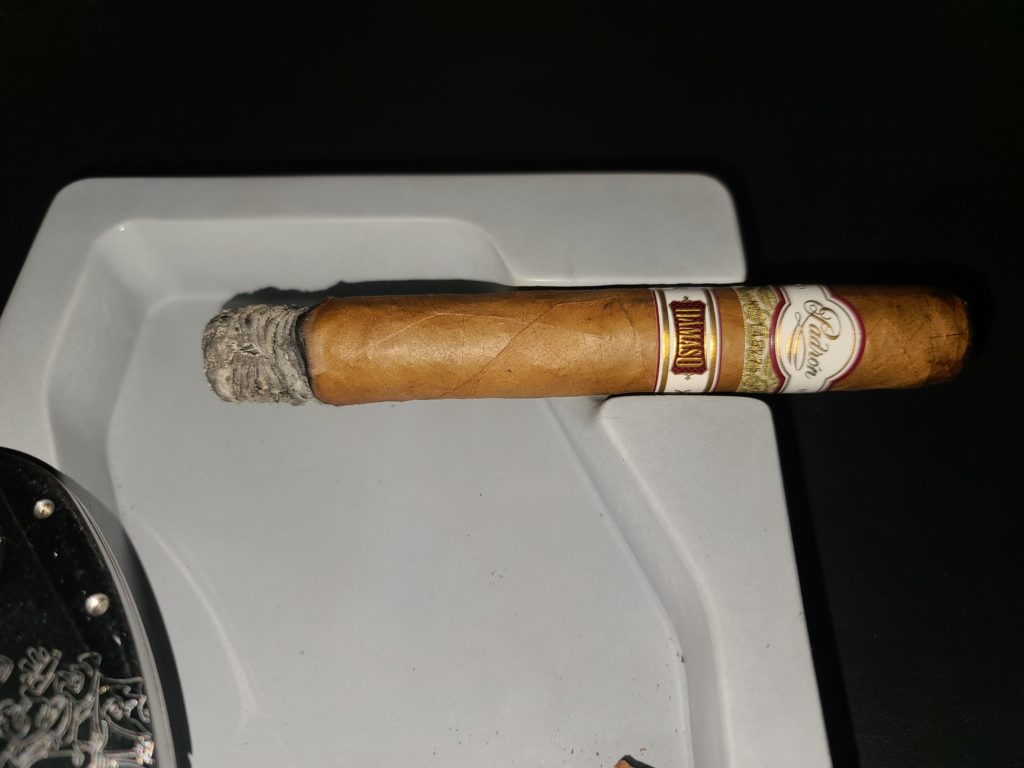 The burn is less than straight as I begin. There is a big blast of pepper initially. This isn't your daddy's Connecticut. It's a Padron and you will not forget that. It calms down early on. Notes of milk chocolate and cedar join the pepper on the retrohale. The Damaso will pair well with almost any coffee. For me, it brings out the pepper and grass notes in the cigar. The smoke is creamy and plentiful. With as dry as it is in February, the creaminess of the smoke is more apparent than usual. Cayenne pepper weaves in and out as I smoke the Damaso. This is spicy and I love it. Not something I'm normally used to in a Connecticut. Compared to other Connecticut wrappers, the Damaso punches you in the face instead of gently kissing you awake. It shouts "WAKE THE F*CK UP AND LOVE ME!" The burn line corrects itself but is far from razor sharp. I'll keep an eye on it. The ash is stacked like a roll of nickels and not at all flakey. The ash prematurely breaks from the cigar with no mess. I attribute this to the uneven burn. The first third ends rather mildly, considering how it started. Still sweet and full of pepper.
SECOND THIRD
>> Espresso, Nuts, Baking Spices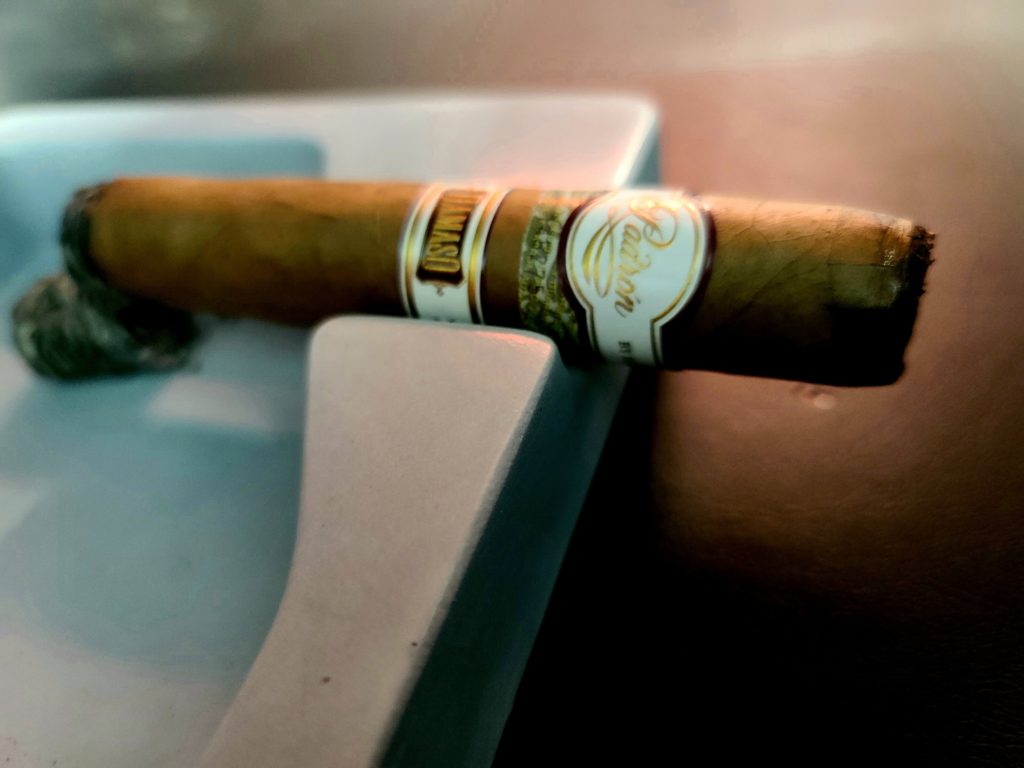 If the first third was what you needed to wake-up in the morning, the second third is the reason to stay awake. Much more subtle and nuanced than the first third. Dark chocolate, espresso and nuts begin the middle third. There is a lingering sweetness that comes and goes. Baking spices have made their entrance on the retrohale. Complex is a great way to describe this cigar so far. It is a Padron after all. The burn has corrected itself and is razor sharp. It's like smoking a cinnamon roll with coffee. The bitter espresso/dark chocolate note cuts the sweetness perfectly. The ash again falls into the ashtray prematurely, but this time it flakes a bit as it does. Still, the ash is in the ashtray and not on my coat, so that is a win. The wonky burn is back. Perhaps I'm savoring this cigar more than smoking it?
FINAL THIRD
>> Charred Wood, Baking Spices, Graham Cracker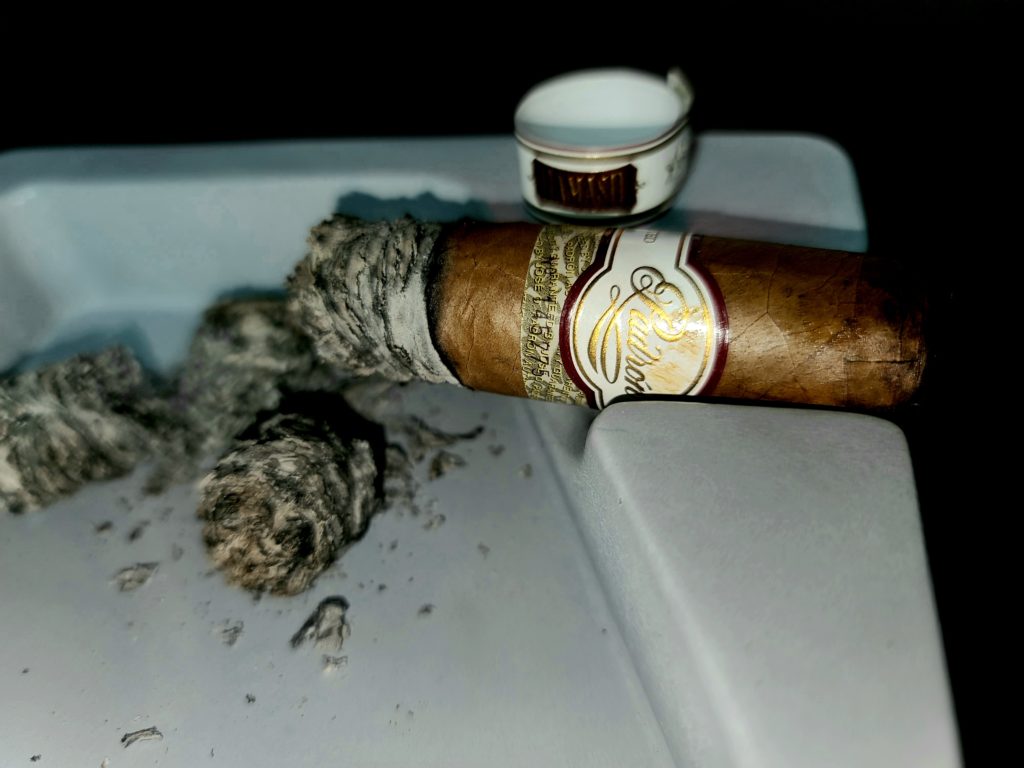 Campfire/charred wood heralds the final third. Baking spices still dominate the retrohale. There is almost a graham cracker sweetness now and I am reminded of s'mores as a kid. Coffee begins to overwhelm the sweetness, but it's still there on the back end. This is a very smooth ending to the Damaso. The burn continually self-corrected but has never stayed very straight. The ash in the final third has held on remarkably well compared to the first two thirds. Wood and dry grass come through at the very end but still very smooth. Pepper again comes through on the retrohale. I love when a cigar allows you to revisit flavors you experienced early in the experience and the Damaso does just that.
FLAVOR PROGRESSION
The Padrón Damaso No. 15 is, in this reviewer's opinion, the gold standard for what a Connecticut should be. The initial notes of pepper immediately tell you that this is not your normal Connecticut wrapper experience. The flavor progression is bold and complex, while still being nuanced and interesting. Each third brings multiple tasting notes that keep the smoker engaged and wanting more.
BURN EXPERIENCE
I smoked two Padrón Damaso No. 15s for this review. Only one burned less than stellar, especially for a Padrón. The burn lines for all three were never razor sharp, so I included my worst experience in what you read above. Still, when compared to other cigars, the Damaso didn't burn that badly but when you pay for a Padrón you expect Padrón quality every time. 
RATING BREAKDOWN
0.79 / 0.80 … Craft & Aesthetic
0.49 / 0.50 … Pre-Light Characteristics
0.50 / 0.50 … Lighting Process
6.75 / 7.70 … Smoking Experience
0.49 / 0.50 … Personal Enjoyment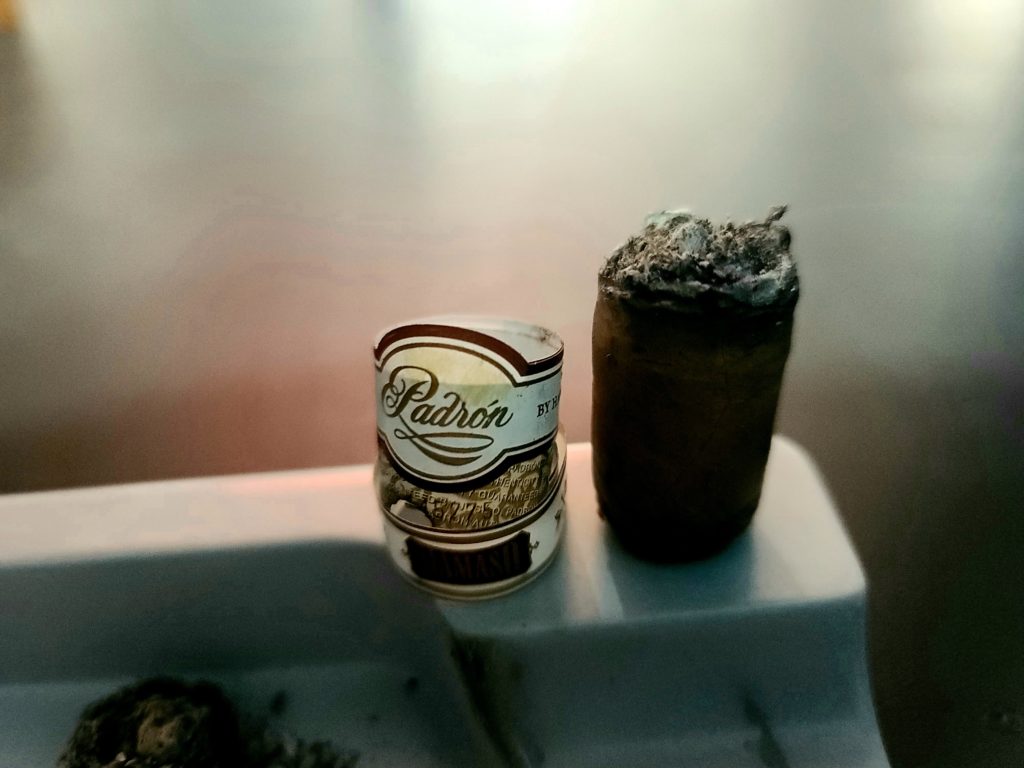 A PADRON WRAPPED IN A CONNECTICUT.
I've had those who do not like Damaso line tell me, "It's like someone took a Padron and wrapped it in a Connecticut." My answer is always, "Well, that's exactly what it is." That is not a bad thing. For those of us who still enjoy cigars that tend to be more mild or medium, this is a great alternative to some of the more (subjectively) boring Connecticut wrappers on the market. Padron is synonymous with excellence in the cigar world and their Damaso line of cigars is no different. 
SIMPLY STOGIES RATING:  9.02 / 10.0
I love reading other reviewers' thoughts on the cigars I'm smoking and reviewing – it helps to show that no one review is perfect and there's always different opinions and tastes out there.  Here's how my review stacks up with some of the best in the biz.
Halfwheel
Cigar Coop
Katman
Blind Man's Puff
Halfwheel
Vitola Reviewed:  No. 15
Rating:  87
[ link ]
Cigar Coop
Katman
Blind Man's Puff