A few months ago, my buddy came into town to visit me in Atlanta, GA. During his visit, he pulled out a Perdomo sampler. Within the sampler was the 10th Anniversary Champagne blend. This blend is noted for the exquisite color of the bourbon barrel-aging, called out on Perdomo's website. The color on this particular blend is one that stands out, so it stands to reason that is why it is named "champagne." This particular blend is the best selling cigar from Perdomo as  the cigar is rich and smooth just like an expensive champagne.
I have never expanded my Perdomo pallet beyond the 10th Anniversary Champagne, but I often keep a few of these cigars to give out to friends, and they have always enjoyed their time smoking them. Today, I look forward to keeping one of these cigars for myself as I explore the 10th Anniversary Champagne
VITOLA:   Robusto
SIZE:   5″ x 54
ORIGIN:   Nicaragua
FACTORY:   Tabacalera Perdomo, "El Monstro"
WRAPPER:   Ecuadorian Connecticut
BINDER:   Cuban-Seed Nicaraguan
FILLER:   Cuban-Seed Nicaraguan
STRENGTH:   Mild – Medium
SOURCE:   
Perdomo Website
RELEASE TYPE  Regular Production
ORIGINALLY RELEASE DATE  2014
TOTAL PRODUCTION
Typical Box Size:     Boxes of 25
Production Totals:  Unknown
VITOLA BREAKDOWN
o  Robusto  (5″ x 54)
o  Purito  (4-3/4″ x 38)
o  Figurado  (5″ x 56)
o  Corona Extra  (5-5/8″ x 46)
o  Magnum Tubo  (6″ x 50)
o  Epicure  (6″ x 54)
o  Super Toro  (6″ x 60)
o  Torpedo  (7″ x 54)
o  Churchill  (7″ x 54)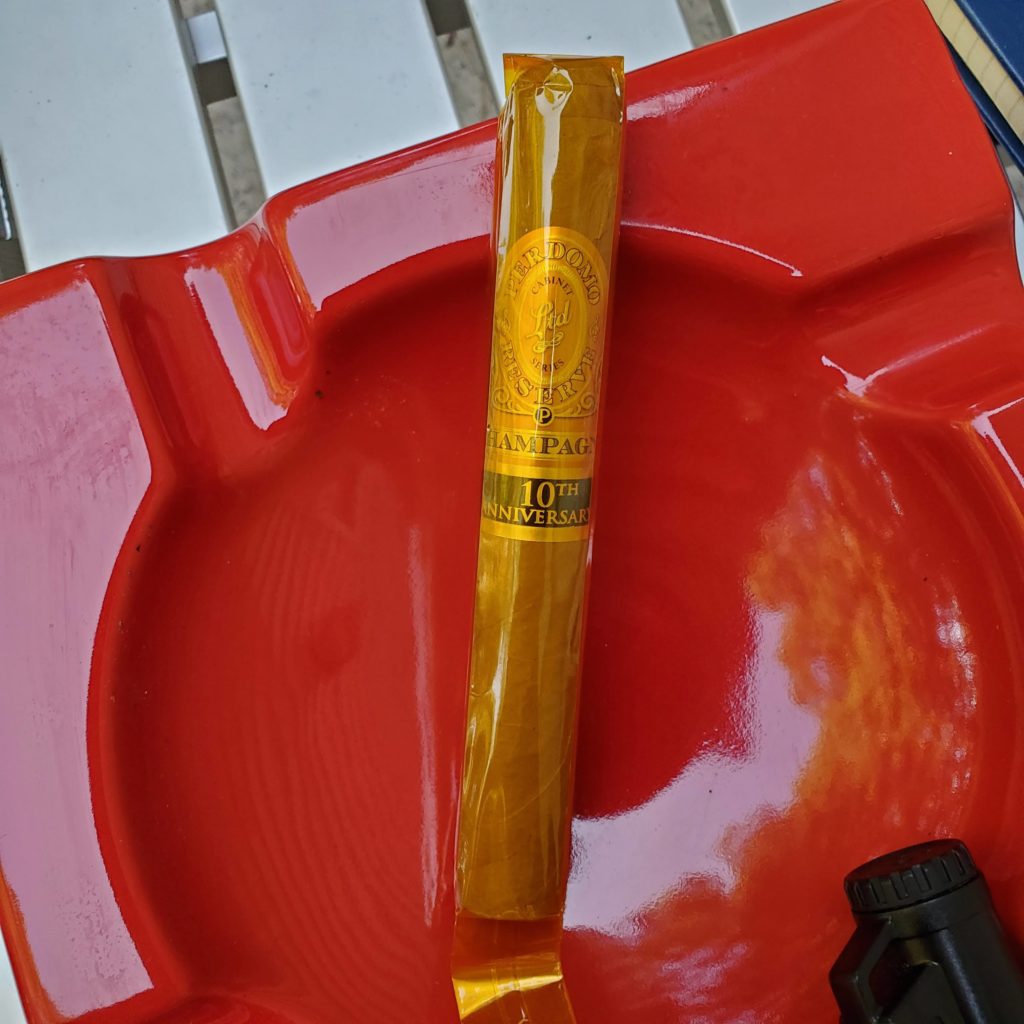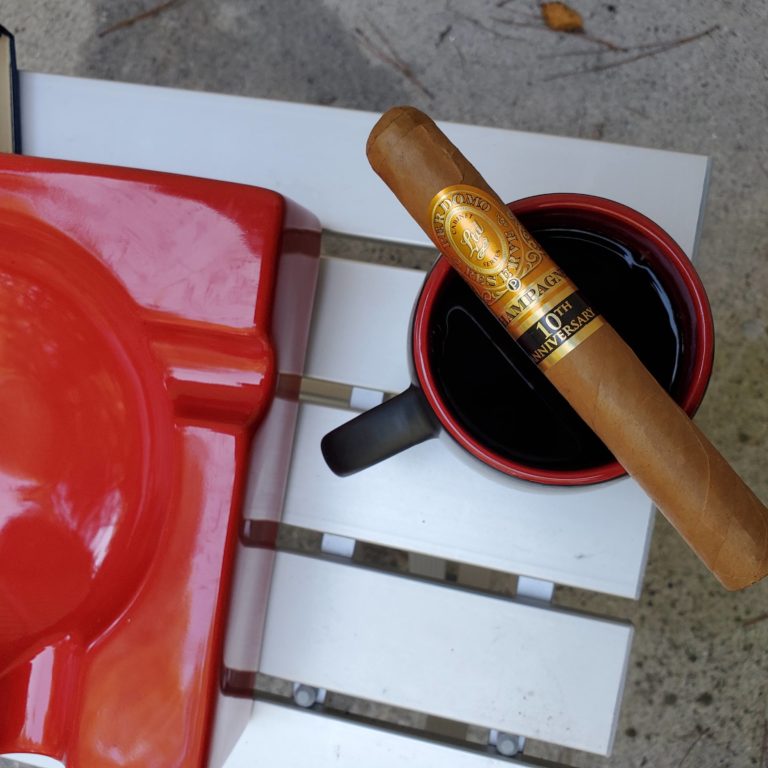 Pulling the cigar out of the champagne colored cellophane, the band is simply stunning and elegant. The band seems to shine and sparkle, almost as if there were champagne bubbles in the band. The bubbly yellow letterings transition into a sparking and pearly bottom. The black band contrasts all of the yellow and forces my eyes to focus on the the "10th Anniversary" written on the bottom of the band. I know this section is suppose to focus on the band and not the leaf, but the Connecticut wrapper's butterscotch coloring seems to blend into the band and make the champagne yellow pop.
I usually prefer my bands to have more than just one color, but this band is perfect for one of Perdomo's best selling line. Cheers to me as I light up this cigar.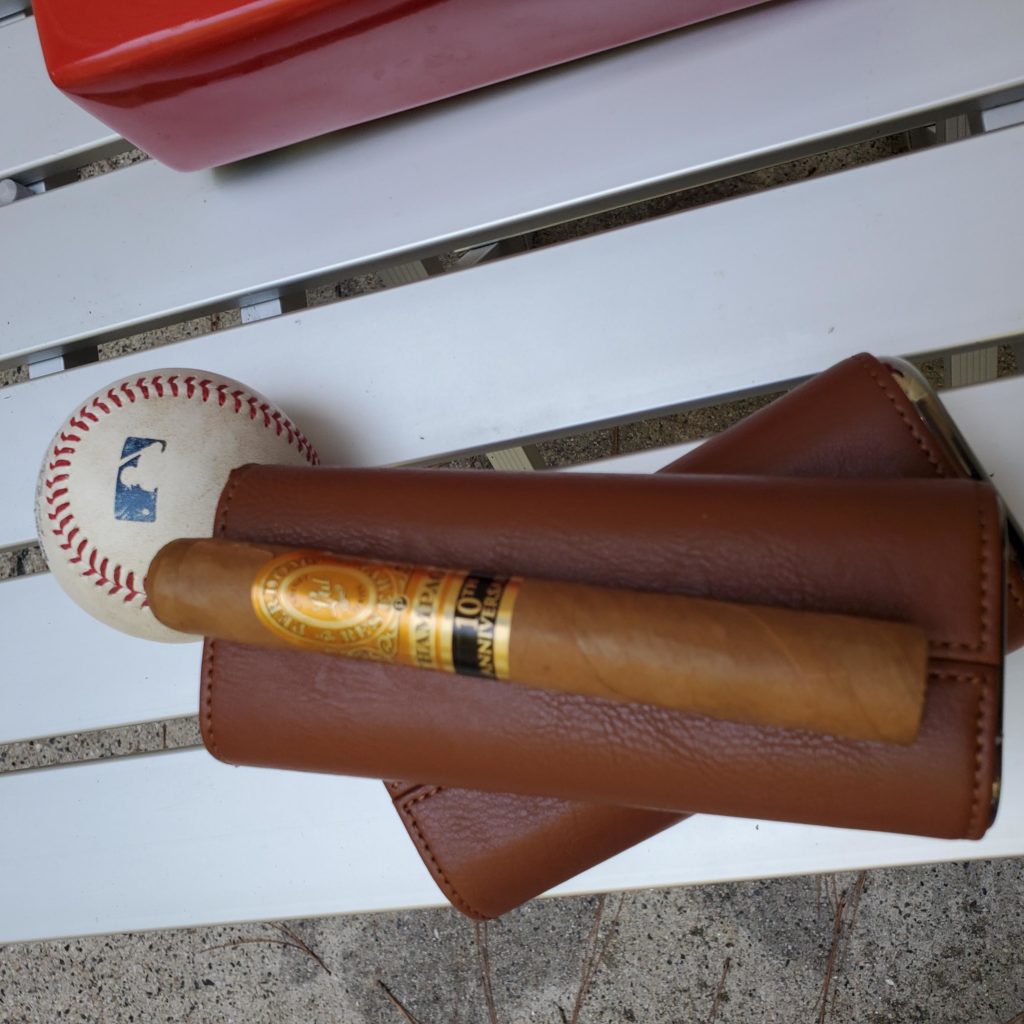 CONSTRUCTION
The wrapper is a beautiful in its butterscotch coloring. Holding the cigar, the wrapper feels extremely silky and soft, as if the cigar was celebrating being selected for this morning's smoke and coffee paring. Pressing on the cigar, the cigar has the forgiveness of a flower petal, as it springs back into shape after releasing. With my fingers, I can tell there will be great air flow in the 10th Anniversary cigar.
AROMA
Perdomo Champagne 10th Anniversary has an extremely light smell. A light and airy tobacco smell wafts through the dense morning air. The tobacco is complimented by a light sweet and nutty note. 
COLD DRAW
This cigar is an open freeway, allowing for air to easily travel through the cigar with very little effort. Immediately, a light and buttery note transforms into a white chocolate finish.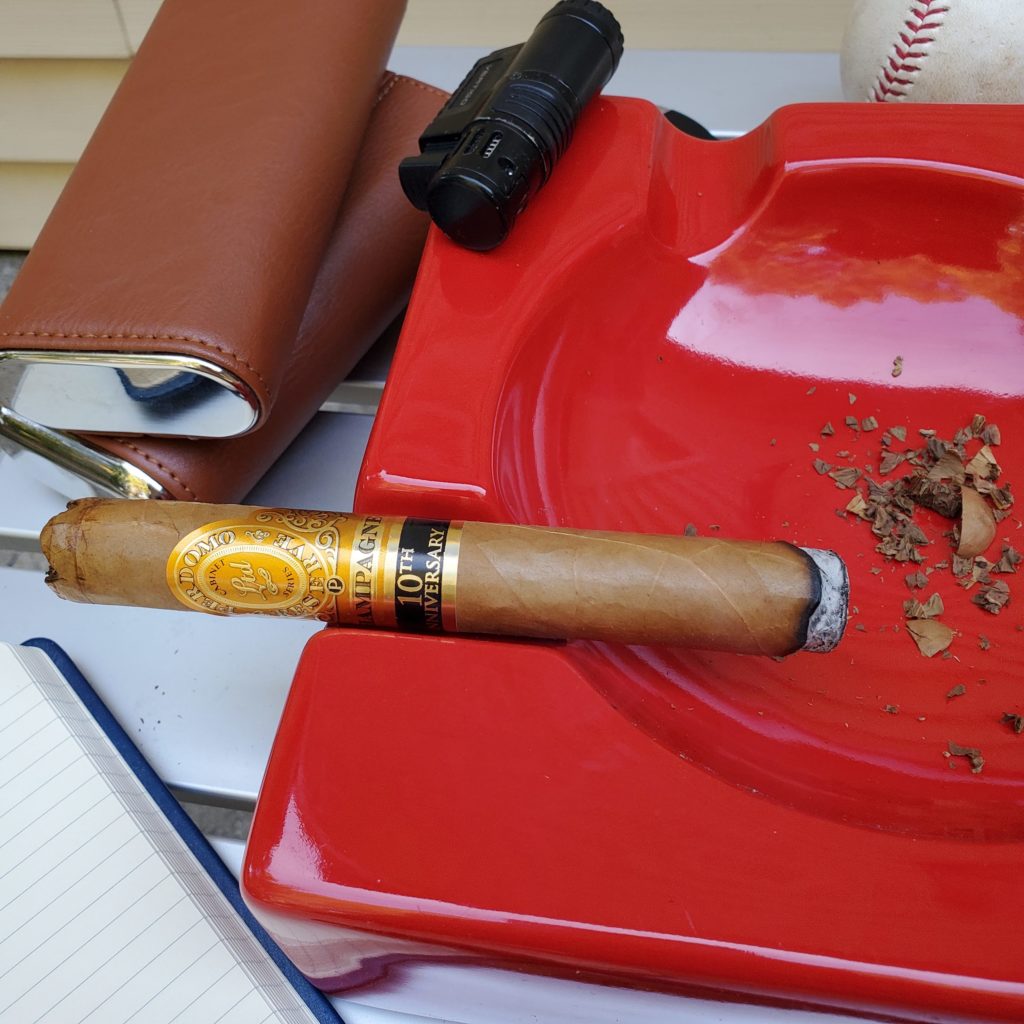 LIGHT & DRAW
Cut:  Colibri SV — V-Cut 
Fire:  Vertigo Hawk
I don't know what compelled me to get crazy this morning and make a double v-cut, or "crown cut,", but I wanted something different from my normal v-cut (as I'm not the biggest fan of a straight cut). As I take my first taste and fill my mouth effortlessly with smoke, a buttery note on the cold draw is very noticeable. a white chocolate note playfully compliments the butter. Cedar begins to creep up on my pallet. This cigar is perfect for this cool, fall morning.
SMOKE
The double v-cut and wonderful construction leads to a billowing, beautiful smoke. The Perdomo Reserve 10th Anniversary Champagne is providing a creamy and milky mouth feel. Maybe I'm going crazy? Maybe it's because I have not had my first cup of coffee yet? Regardless, I could swear the smoke had a champagne color as it danced through the air.  I stare at the cigar and notice that the burn line is starting out razor sharp.
FIRST THIRD
>> Butterscotch, Hay, White Chocolate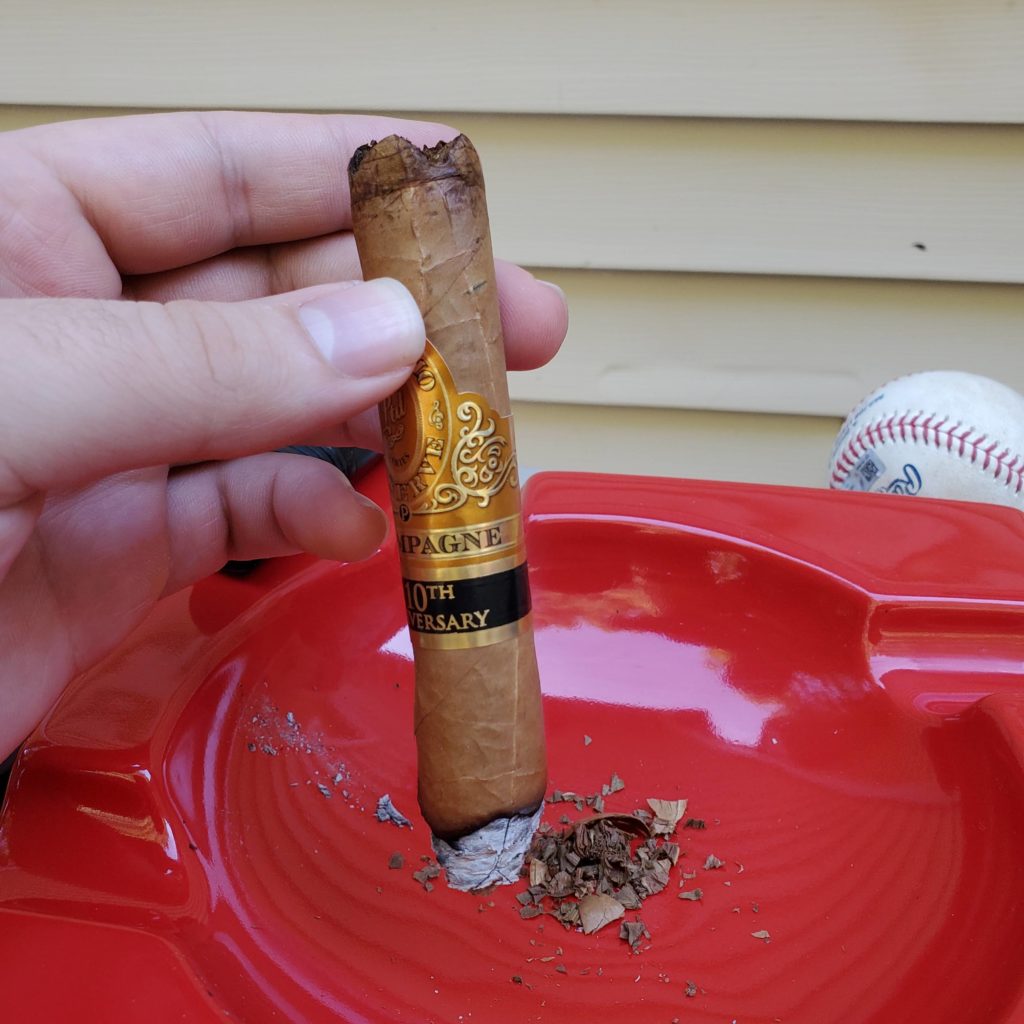 I knew this cigar would be light and buttery, and I could not believe how flavorful this cigar would be. Butterscotch and white chocolate are flavors that keep popping up in my mind over and over, as I enjoy the first third. Even though these are usually rich and sweet flavors, Perdomo has managed to mellow out richness and provide a beautiful tasting note in this tobacco. Another light and earthy note creeps through the cigar, which I believe ties together the flavors. I taste hay. Don't think barnyard; instead, picture yourself in a horse pasture, early in the morning, and with tall grass up to your waist. The sun begins to dry the morning dew and toast the grass, providing the beautiful and aromatic aroma of hay. The burn line starts to waver, causing a little bit of concern, but I will let this cigar try and correct itself..    
SECOND THIRD
>> White Pepper, Cedar, Butter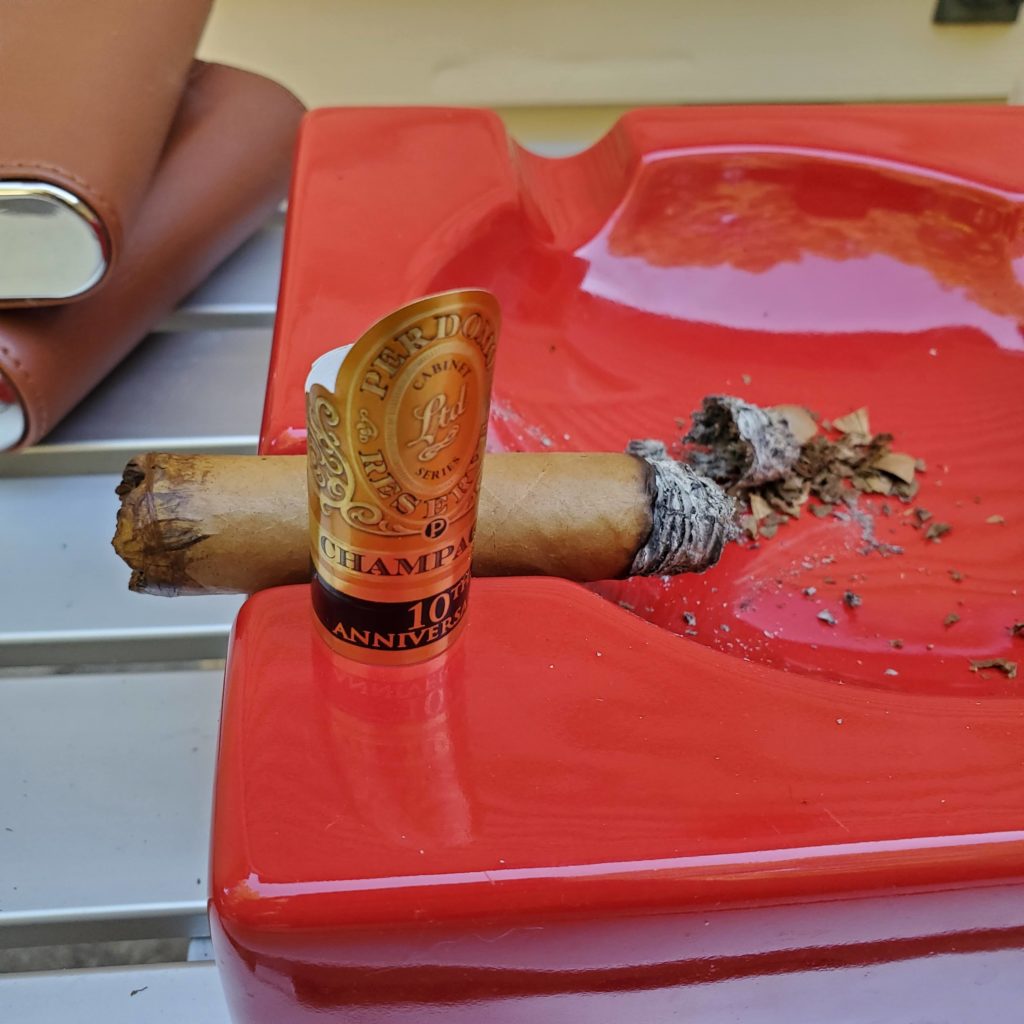 A white pepper note comes bursting through the mellowed sweetness. The pepper is not spicy at all, but again mild and  is mixing exceptionally well with the buttery notes. I am slightly reminded of a shortbread note;  however, I feel more confident describing the combining element as a cedar note. The cedar comes branching off of the hay notes of the first third, but matures to cedar. The smoke is still creamy and thick, like I am making a rich butter cream icing for the tailgate this weekend. The burn line has evened out to a sharpness that I am use to. I am having a difficult time building up the ash on this cigar, but today I do not want to manage ash so I do not mind.
FINAL THIRD
>> Butterscotch, Floral, Nutty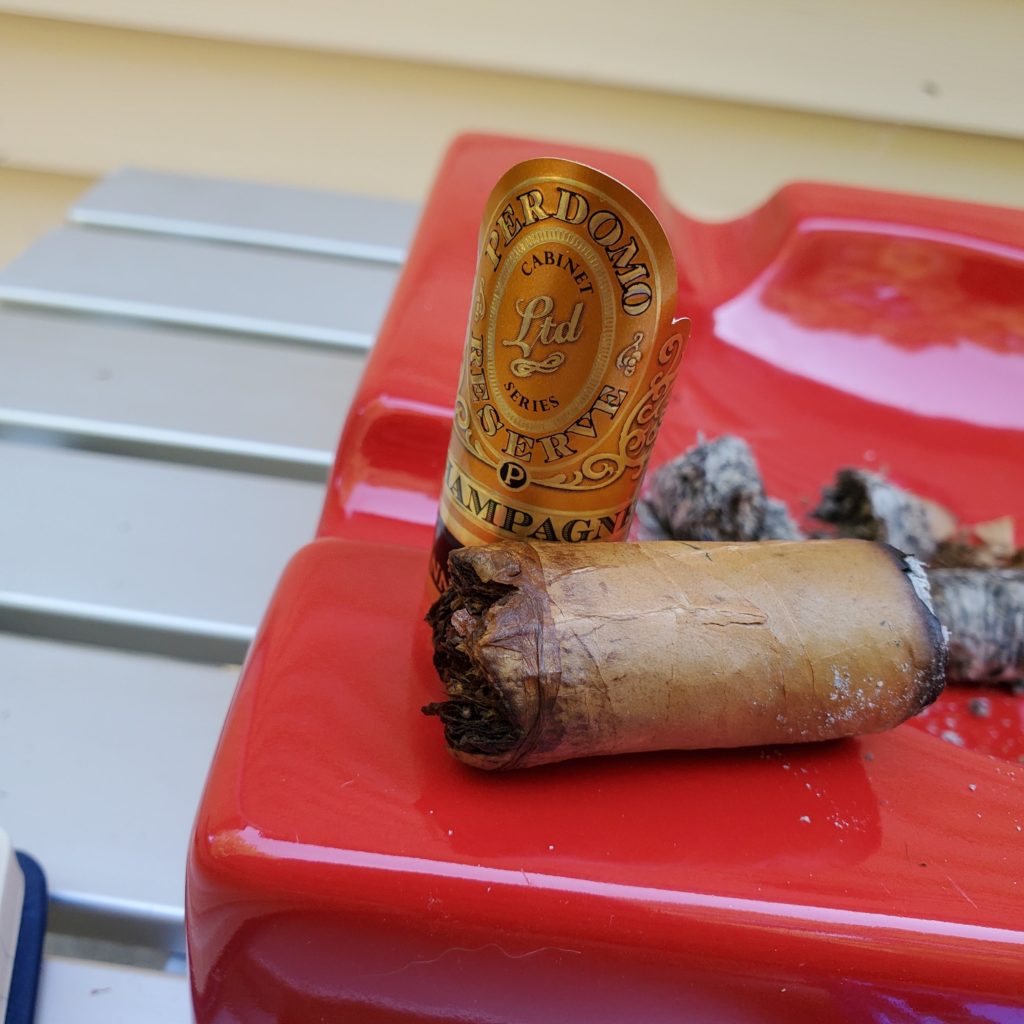 Butterscotch comes, yet again, to the forefront o. I think of this final third. At this point in the morning I am getting a little tired of this light buttery smoothness. I finished my dark roast coffee and I am craving something more bold to cap off the morning smoke. A nuttiness provides a little bit of a texture and note to explore, which actually pairs extremely well with the coffee or a bourbon later in the day.  I may have eaten my words, but a mystery and hard note to pin down finishes of the final third. I end up calling this final note floral, but this is not the rose floral or an aromatic floral from a candle shop. This floral reminds me of yellow wild flowers in my uncle's driveway, which is right next to the horse pasture. The burn line started to drift again, but nothing crazy became of the burn line.
FLAVOR PROGRESSION
The Champagne 10th Anniversary starts off as a complex dessert in the first third with butterscotch and white chocolate. The middle third starts to experiment with the dessert recipe by adding white pepper and a defined cedar note. The final third tries to correct and go back to where the flavor started by having a butterscotch and nutty taste.
BURN EXPERIENCE
I mentioned I had issue building ash in this cigar, which I believe relates back to my wavy burn line in the first third. This cigar managed to get a hold on the burn line and reign it back in, but the line was never tight. I did not have to touch up the cigar and the cigar provided excellent smoke, but I was a little disappoint on the ash not being able to be built up without focusing on that task.
RATING BREAKDOWN
0.80 / 0.80 … Craft & Aesthetic
0.46 / 0.50 … Pre-Light Characteristics
0.40 / 0.50 … Lighting Process
6.39 / 7.70 … Smoking Experience
0.42 / 0.50 … Personal Enjoyment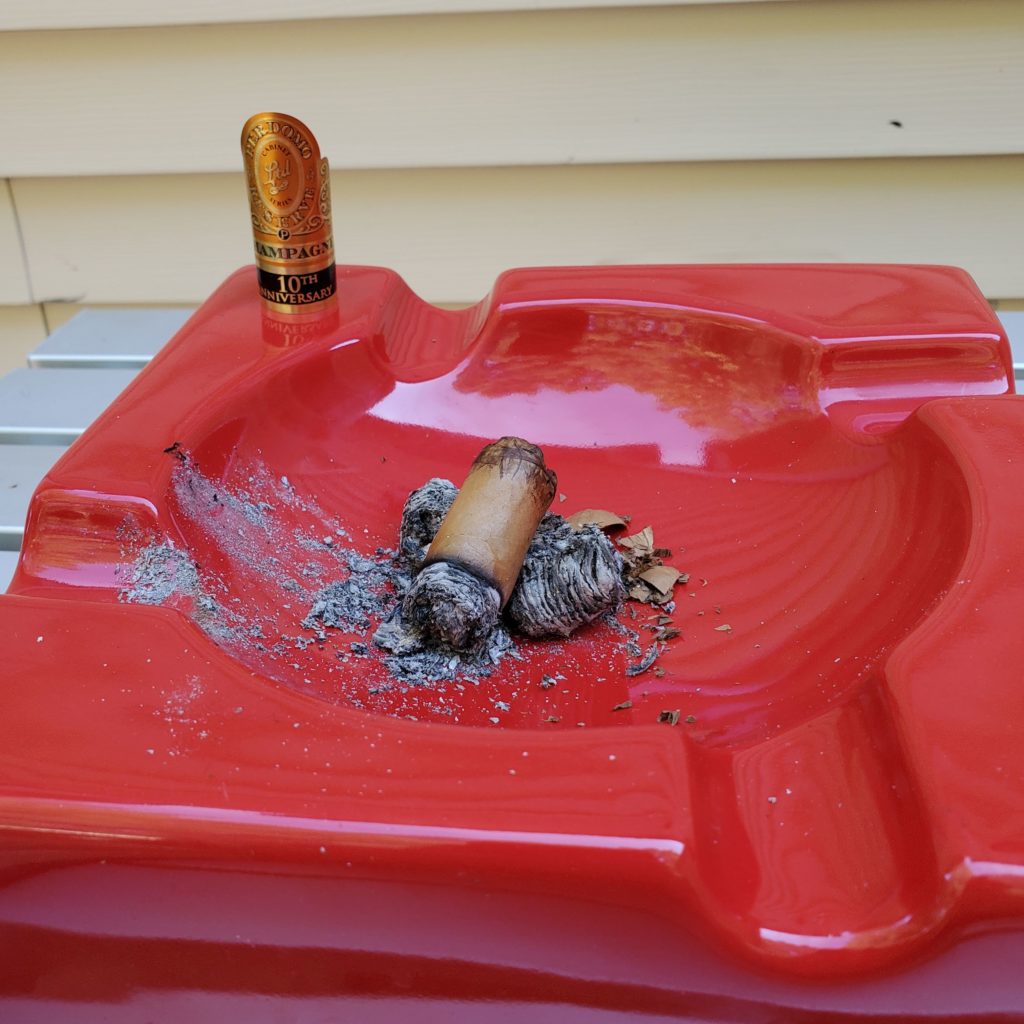 THE BUTTERSCOTCH BARRAGE.
I can see why the Champagne 10th Anniversary is Perdomo's best selling cigar. I enjoyed this cigar for its lightness which is a nice break from the full-bodied cigars that I usually smoke, which is also why I love to hand these out to my friends who are new to cigars and get scared by bold flavors. The butterscotch profile is a fantastic pair for a scotch, but I do regret and would recommend not drinking dark roast coffee with this cigar. I grew tired of the repeated flavors and was left wanting something a little more bold and much less repetitive.  
SIMPLY STOGIES RATING:  8.47 / 10.0