For those that do not know, the "Read Meat Lovers Club" was birthed at Tulane University as a response to the wholly un-American Club S.A.V.E., Students Advocating Vegetarian Eating. Soon Mr. Evan Darnell, or the Secretary of Steak, "SoS," was holding monthly meetings, and the club had reached 300 red meat-loving red-blooded members.

Post-graduation, the SoS found himself in Florida and got the hunger for some tasty read meet and fellowship, so the club was re-established. The Club has grown into a dynamic and philanthropic origination hosting events for its members dubbed "Steaksmen." In their own words, they are Club whose members all have the desire to beef, drink, smoke, and laugh, these being the core of every Steaksmens existence. Check them out at rmlclub.com.

Of course, being in south Florida, the Steaksmen were deep in cigar country, which led to their Red Meat Lovers branded cigars. The 2022 release dubbed "The Beef Stick" follows the 6 X 56 Toro Gordo blend from 2018 and 2019 and the 6 X 52 Toro "Meat Box Pressed" from 2020 and 2021.

I smoked one of the 2021 releases I received while at the 2022 Rocky Mountain Cigar Festival and found it to be a pretty good smoke, so when I saw this latest release was available from Smoke Inn, I had to pick some up. They even came with a Jack Links beef stick.
VITOLA:   Parejo
SIZE:   6″ x 48
ORIGIN:   Nicaragua
FACTORY:   NACSA 
WRAPPER:   USA Connecticut Broadleaf No. 1 Dark
BINDER:   Mexican San Andreas Negro Oscuro
FILLER:   Nicaraguan and USA
STRENGTH:   Full
SOURCE:   
Smoke Inn
WHERE:   
Down by the river, although in a house, not a van.
WHEN:   
Evening
DRINKS:   
Twinnings Black Tea
WEATHER:   
21° chilly degrees outside, 68° inside
HOW MANY CIGARS SMOKED:   
3
RELEASE TYPE  Limited Release
ORIGINALLY RELEASE DATE  November 2022
TOTAL PRODUCTION
Typical Box Size:     Butcher Paper Wrapped Bundles of 10
Production Totals:  Unknown
VITOLA BREAKDOWN
o  Parejo (6″ x 48)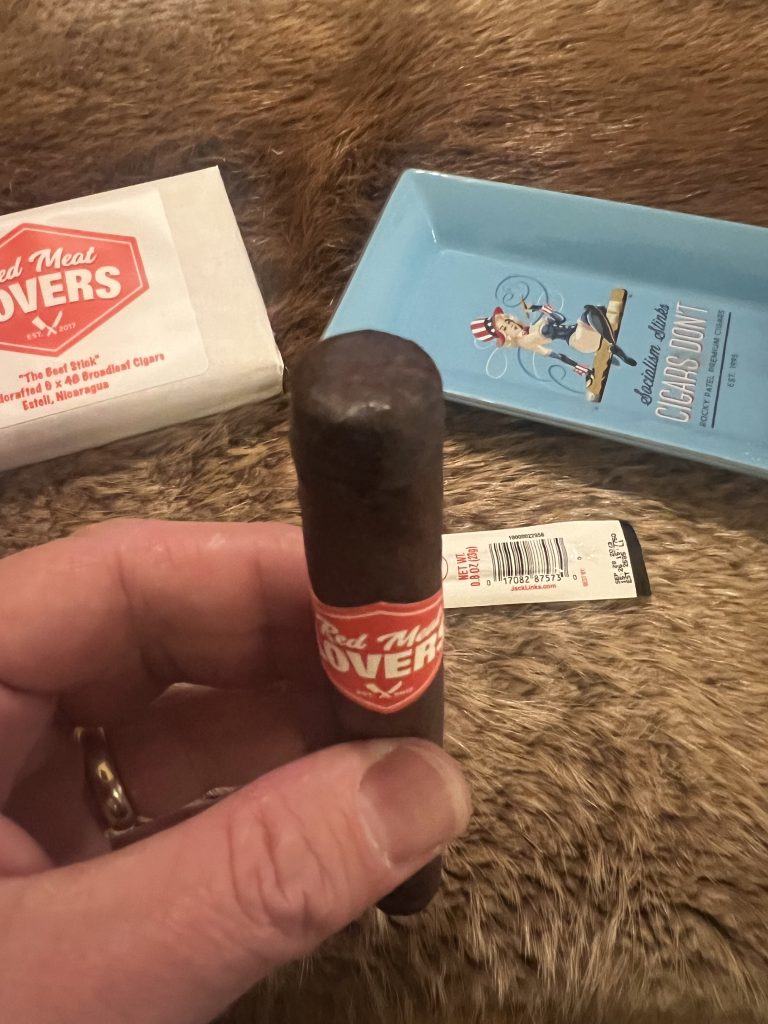 Classic Butcher Shop Logo, that pretty much sums it up, the Red Meat Lovers Club nailed their logo, and it lent itself to a perfect cigar band. Not flashy and full of gold leaf, but not drab and almost unrecognizable like some. The red and white RMLC logo with its crossed butcher knives just pops.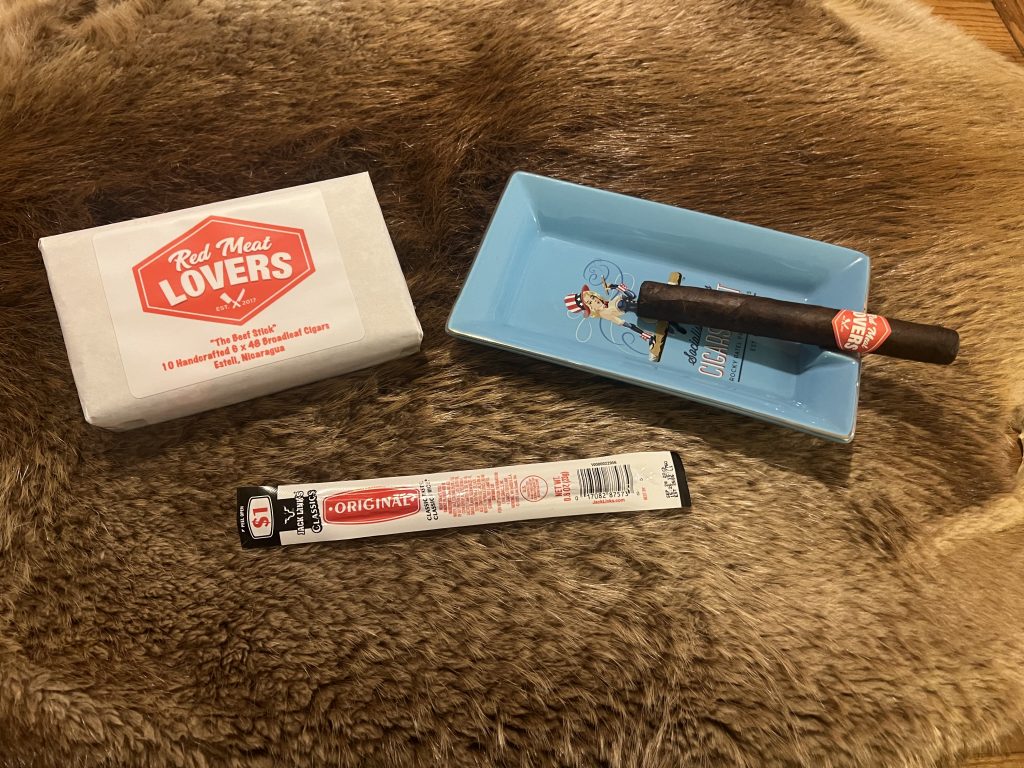 CONSTRUCTION

When you hear Connecticut Broadleaf wrapper, most folks think of a lighter shade of tobacco leaf. This particular leaf has that "No. 1 Dark" designation and is genuinely a dark-looking, beautiful oily leaf that shimmers in the light. I found the cigars firmly rolled, with an attractive flat head and closed foot.
AROMA

The outward aroma of this stick is all tobacco with hints of cacao nibs and just the ever-so-light touch of charred wood.
COLD DRAW

The closed-foot construction hinders the cold draw. I opened the foot up on one of the cigars to get a draw so I could evaluate the unlighted flavors. When I opened the foot, I found appropriate resistance to the cold draw—notes of heavy tobacco and a slight barnyard mustiness, almost a bready flavor.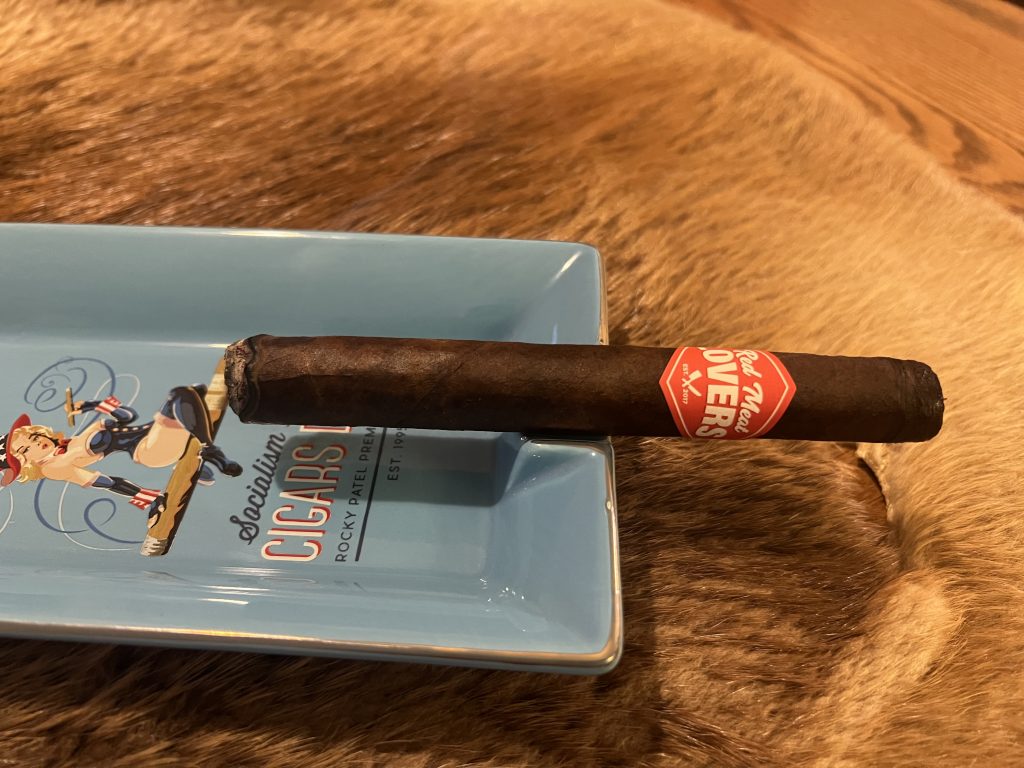 LIGHT & DRAW
Cut: Straight Cut
Fire: Three-Burner Vertigo
The first post-light draws produce mouthfuls of creamy smoke carrying leather and charred cedar. There is also some black pepper in there, but not enough to burn my nostrils on the retro-hale.
SMOKE

There is just more than a hint of smoke that comes from the cigar while it is at rest in the ashtray, but upon the first hint of taking a puff, vast amounts of creamy and flavorful smoke are produced for your enjoyment.
FIRST THIRD
>> Leather, Charred Wood, Fresh Hay, Black Pepper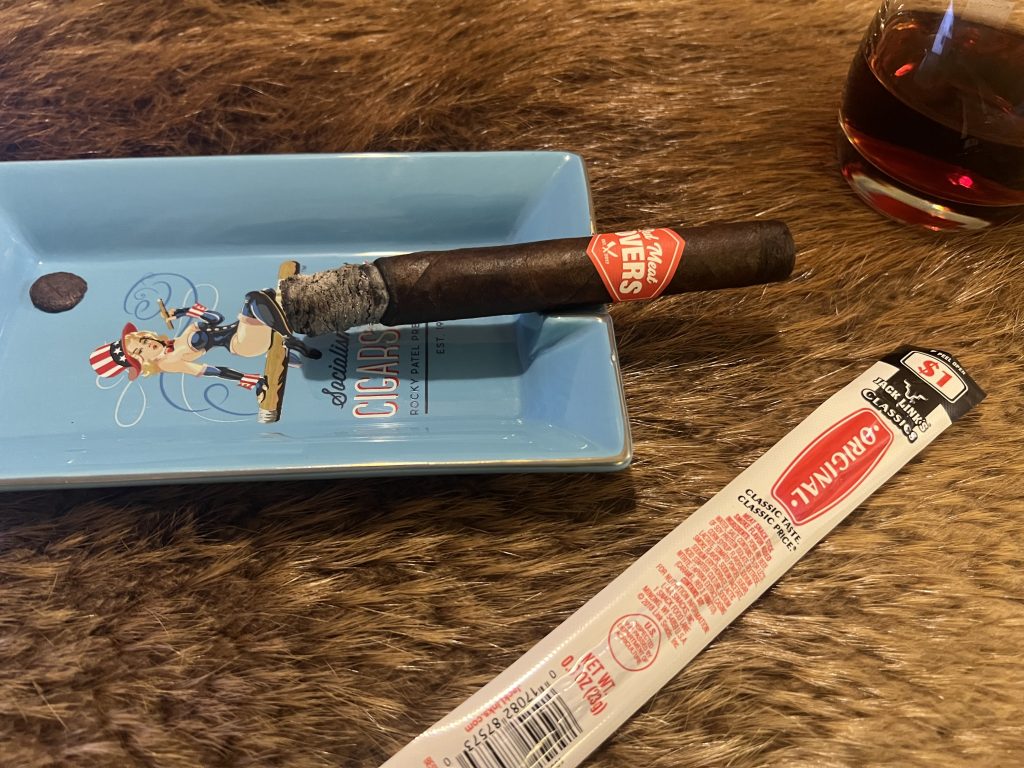 Once we get through the first bit to clear any torch-induced burning of the oily leaves, the stick starts to come into its own. Fresh hay adds a lightness to the leather and charred wood, and the pepper notes are calming down. This cigar retro-hales and orto=hales without any stinging or burning. The smoke is still plentiful and creamy. The burn is just ever so slightly wavy; nothing to get concerned about. On my last big puff of the first third, I lost the ash to the floor, surprisingly not on my shirt. Maybe that is a plus?
SECOND THIRD
>> Charred Wood, Dried Fig, Black Pepper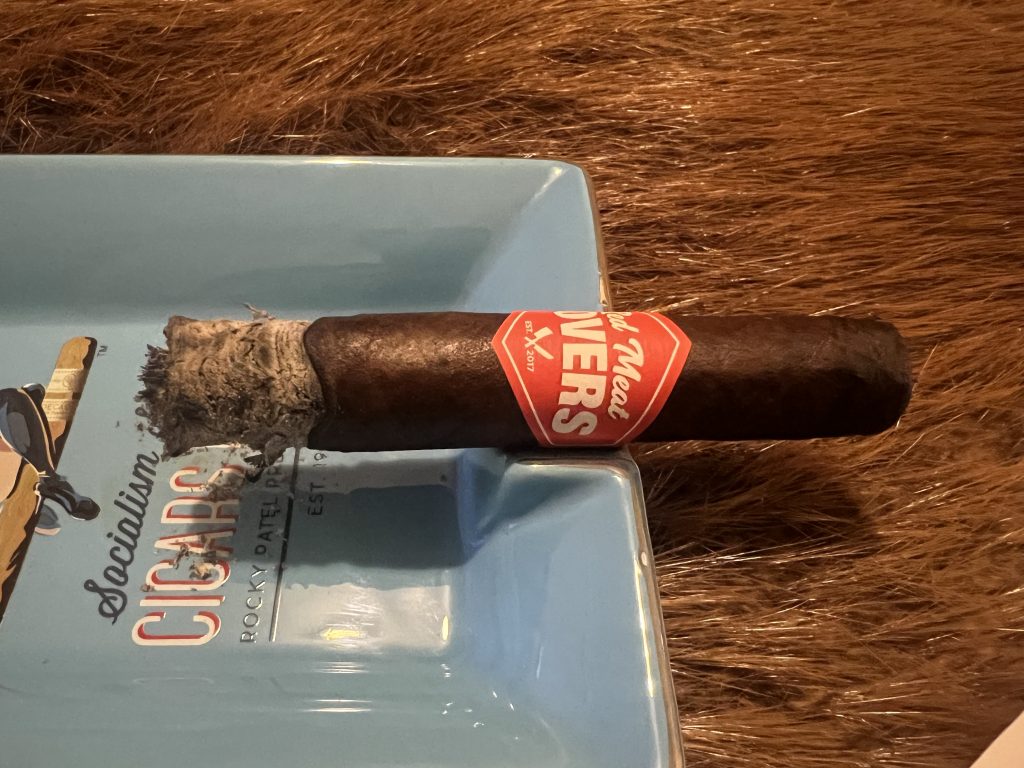 Is it the middle third or the second third? I guess it's both. We continue this journey with the constant note of charred wood, possibly cedar, with a dried fig sweetness and just enough black pepper to be noticeable. The retro-hale remains smooth and creamy. The Ash is holding on for now, although it looks a bit fuzzy here and there. This is a full-flavored and full-bodied cigar. The darkness of the wrapper, binder, and fillers make this a true powerhouse.
FINAL THIRD
>> Charred Wood (ish), Leather, Black Pepper, Baking Spice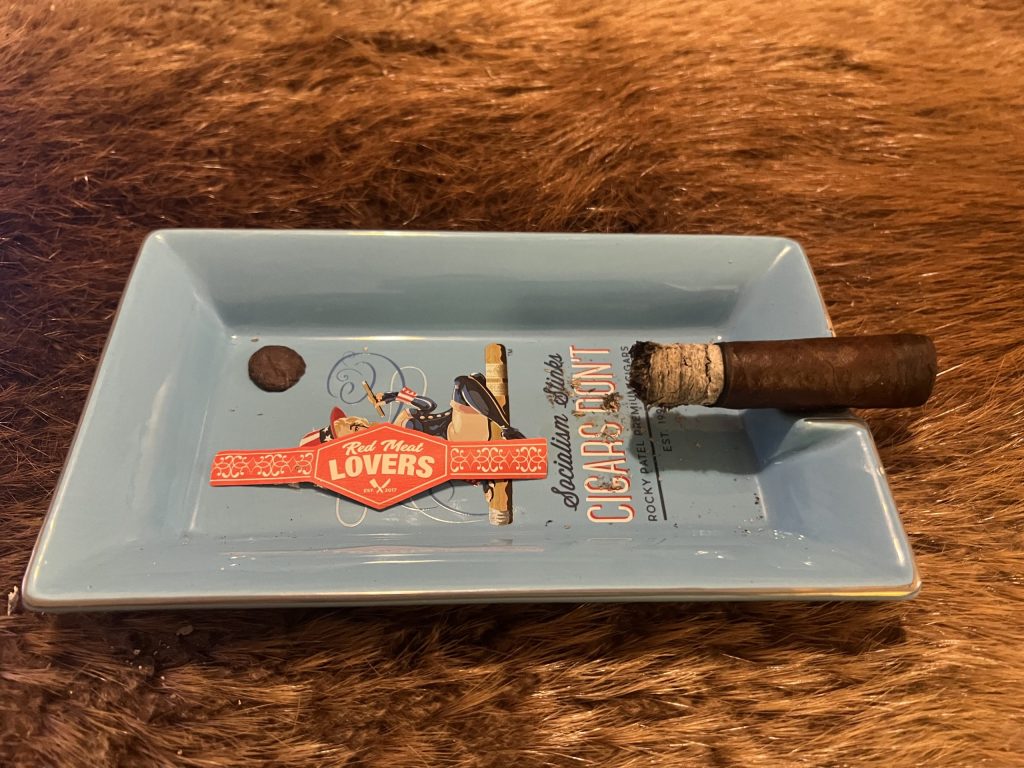 The final third of the Beef Stick. The charred wood notes from snout to tail made sense for a cigar made for a steak-loving club. The charr dropped off slightly in the final third; it is more wood than char. The leather picks back up, while the sweetness of the dried fig disappears into mouthfuls of thick creamy smoke. Along with the black pepper, there is a hint of baking spices that come onto the palette.
FLAVOR PROGRESSION
I hate to see this end, I am a full-bodied smoker on the regular, so this was in my wheelhouse from start to finish, a truly rich and complex smoking experience. Savory, that's a good word for it. The first third begins with rich and savory leather and charred wood. The second third loses the leather, but the charred wood continues with a hint of rich sweetness that I could best describe as dried fig. In the final third, the charr starts to fade, leaving more woodiness with a hint of char, and the leather returns.
BURN EXPERIENCE
The construction of the Red Meat Lover is excellent and on par with what we have come to expect out of something from Dunbarton Tobacco & Trust. Even with its slight waviness, the burn line is crisp and well-defined by the black mascara-like ring. There was never a need for a touch-up or re-light, even though the cigar almost looked unlit seconds after setting it in the ashtray.
RATING BREAKDOWN
0.78 / 0.80 … Craft & Aesthetic
0.45 / 0.50 … Pre-Light Characteristics
0.50 / 0.50 … Lighting Process
7.50 / 7.70 … Smoking Experience
0.45 / 0.50 … Personal Enjoyment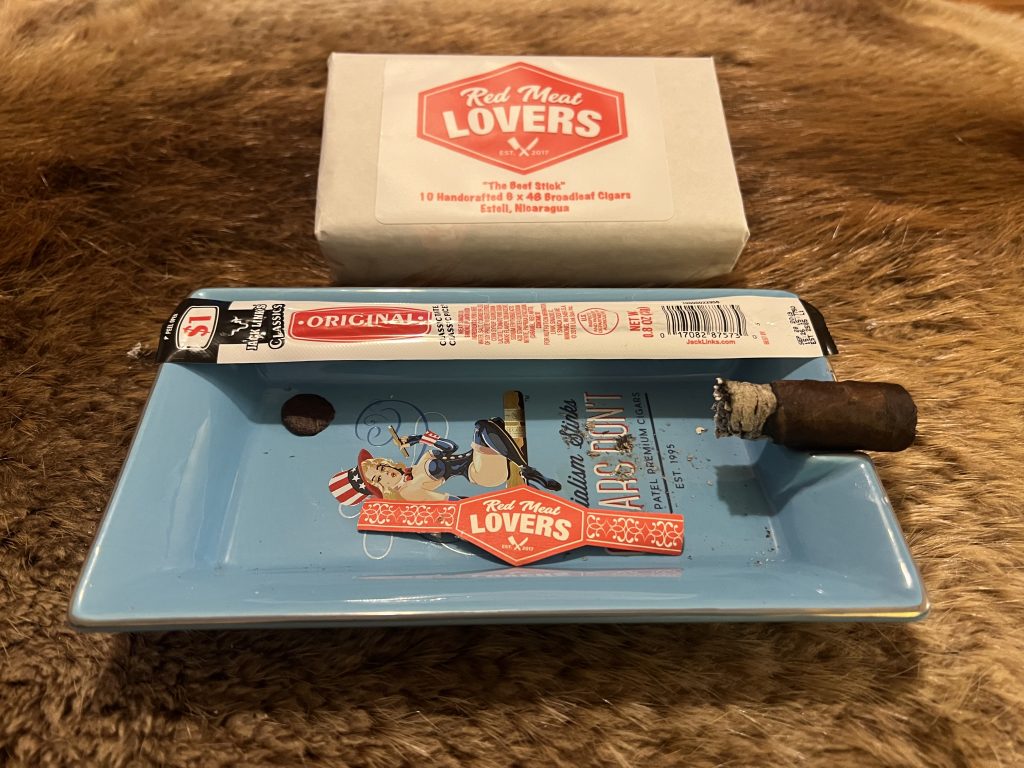 THE RED MEAT LOVERS 2022 EDITION IS ONE I WILL MISS WHEN IT IS GONE.
I have a mental image of Steve Saka with a fistful of ribeye steaks in one hand and one of these in the other. It might even have been his meat sweats that gave the wrapper that beautiful oily sheen. Whatever it is, I like it. I regret only picking up two bundles, looking at the Smokinn.com webpage, they still have some bundles left for $142.50, one less now…

Big James will say I gave this a rookie score, but he is a lover of the meat, so he will appreciate this smoke. It has a distinctive meatiness to it. This is one stick I could enjoy while eating a nice steak.
SIMPLY STOGIES RATING:  9.68 / 10.0