The Smoke Inn has partnered with Dunbarton Tobacco & Trust and the Red Meat Lovers Club to bring us a delicious Red Meat Lovers Cigar. This stick is duly called the "Beef Stick". The cigar is meant to be savory and pair perfectly with any meat dinner-especially a nice T-bone steak. Both the cap and the foot are flat and closed on this medium-sized parejo. The cigar is limited-edition and deposits are being accepted now for expected delivery in November, 2022. 
According to the Red Meat Lovers Club collaborator Steve Saka; "This is a unique take on the Red Meat Lovers' liga. The blend has been tweaked to make it a stronger variant of the puro that delivers a spicier, fuller pop on the palate, yet remains true to the core earthy, meaty flavor profile."
VITOLA:   Parejo – "Beef Stick"
SIZE:   6″ x 48
ORIGIN:   Nicaragua
FACTORY:   Dunbarton Tobacco & Trust
WRAPPER:   Connecticut Broadleaf No. 1 Dark (Maduro)
BINDER:   San Andres, Mexico: Negro Oscuro
FILLER:   Nicaraguan & U.S.
STRENGTH:   FULL
SOURCE:   Dunbarton Tobacco & Trust
WHERE:   Iowa Cigar Co. / The Great Smoke Inn
WHEN:  Early April
DRINKS:   Coronitas
WEATHER:   Wet & Chilly
HOW MANY CIGARS SMOKED:   2 – Event Exclusive, Must Pre-order Online 
RELEASE TYPE  Exclusive Brand – Limited
ORIGINAL RELEASE DATE  November, 2022
TOTAL PRODUCTION
Typical Box Size:     N/A
Production Totals:  Limited Edition
VITOLA BREAKDOWN
o  Parejo "Beef Stick"  (6″ x 48)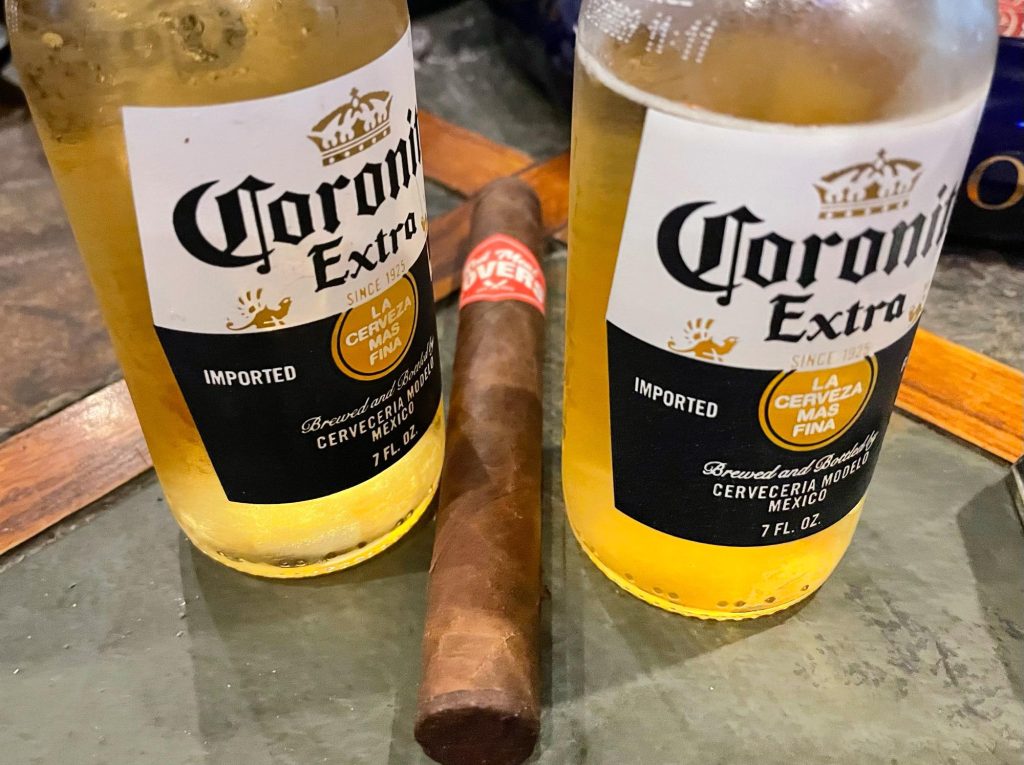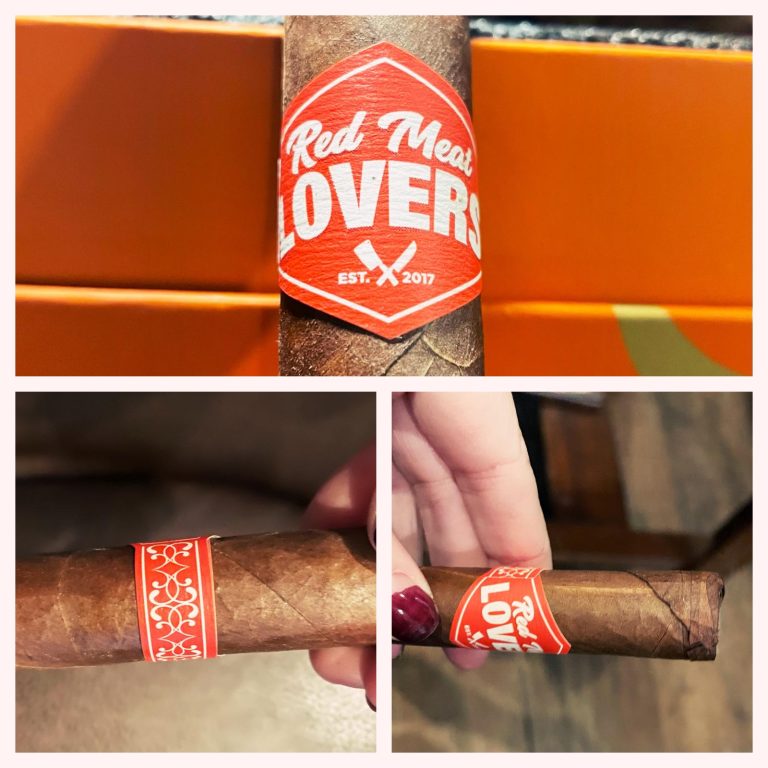 The diamond shaped band featured a bright red and white façade with with whimsical swirls on the back. The front has the Red Meat LOVERS moniker with "Red" and "Meat" in thick cursive lettering with a prominent "LOVERS" name in bold block letters. Below the LOVERS lettering were figures in white – two butcher knives crossed together. "Est. in 2017" appears in small case letters on either side of the knives. This isn't the most fantastic band I've seen, but it is exclusive and it does tell you clearly and exactly what you are smoking.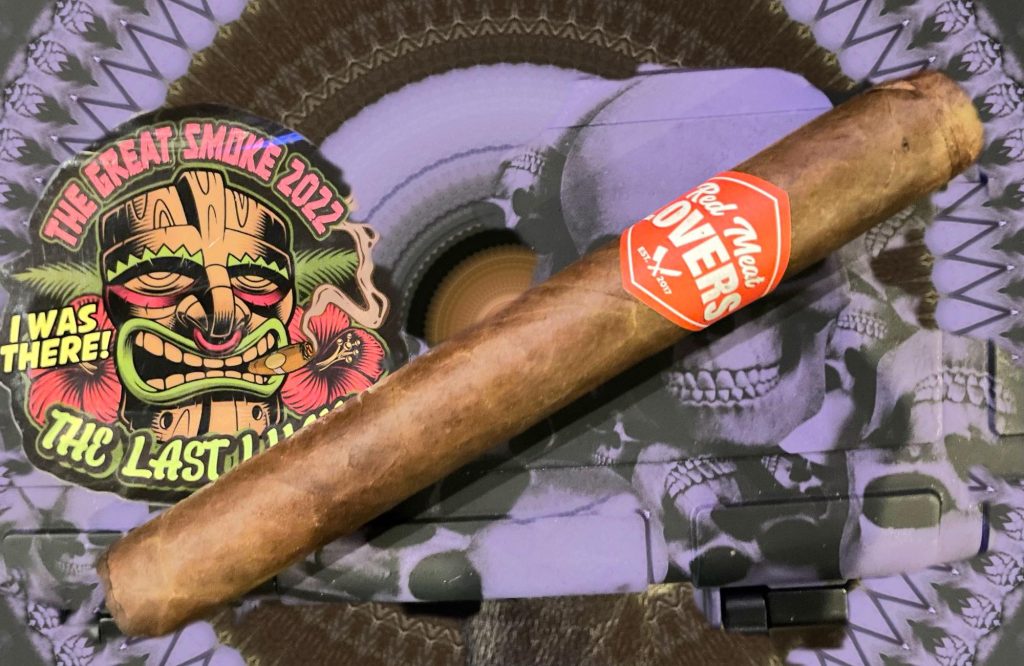 CONSTRUCTION

Construction at the cap and at the body is unfortunately inconsistent. The body is a smooth, dark Andres wrapper with little vein to be seen or felt. There is that lovely "squish" that I very much enjoy in a well-humidified cigar. The cap, however, is distinctly lined and it eventually cracked. Now, I DO know how to properly cut a stick and I DID NOT sever below the cap. However, the cap still unraveled and was eventually torn off to avoid it going into my mouth. Disappointing. The body is beautiful but the cap needs some work. This was a problem on each stick I tried so I do not believe is was just a bum in the pack. Annoying, but I digress. 
AROMA

A faint scent of beef, pepper, and some sense of sweetness escapes from the foot and the body but you really have to look for it. 
COLD DRAW

The cold draw is mildly spicy with a touch of smoky-ness. I like the flavor of the wrapper but I can't quite put my finger on what it tastes like. Maybe….meat?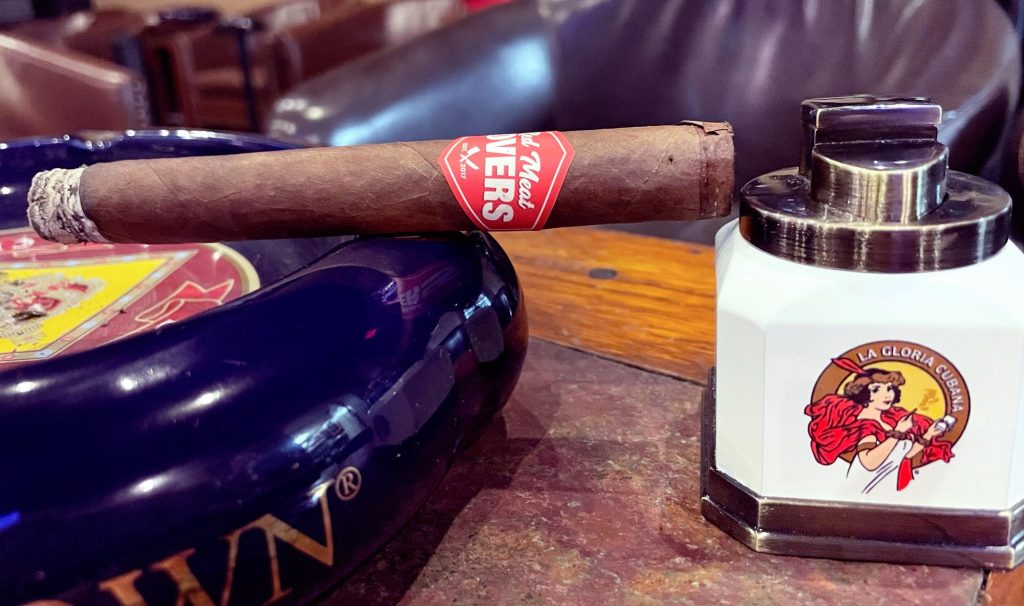 LIGHT & DRAW
Cut:  Basic table top multi-cut cutter
Fire:  La Gloria De Cuba hexagonal lighter (pictured above)
The cut is crisp and solid. No indication of unwrapping – yet. The stick takes a little longer to light because the flat foot is encased in wrapper but once lit, it stays lit which I appreciate. The first few puffs are a little harsh but still enjoyable with an immediate flavor of meat and black pepper. I chose a Corona to smoke the first stick with and  I switched to a dark stout for the second. I would recommend a darker liquor or beer for the Beef Stick. And of course, some meat dish! (Red, not white). 
SMOKE

The Beef Stick is not a "big billowy cloud" type of cigar but more "subtle entrails of smoke" type. Yes, I just used "entrails" in a review. See: Michael Scott of Dunder Mifflin "oaky afterbirth." Anyway, the smoke is pleasant and doesn't burn the nostrils or the eyes. You won't look like a cool teenager vaping with giant clouds of smoke, but you will look like a refined cigar smoker with just a bit of cloud emanating from the foot. 
FIRST THIRD
>> Pepper, Hickory, Molasses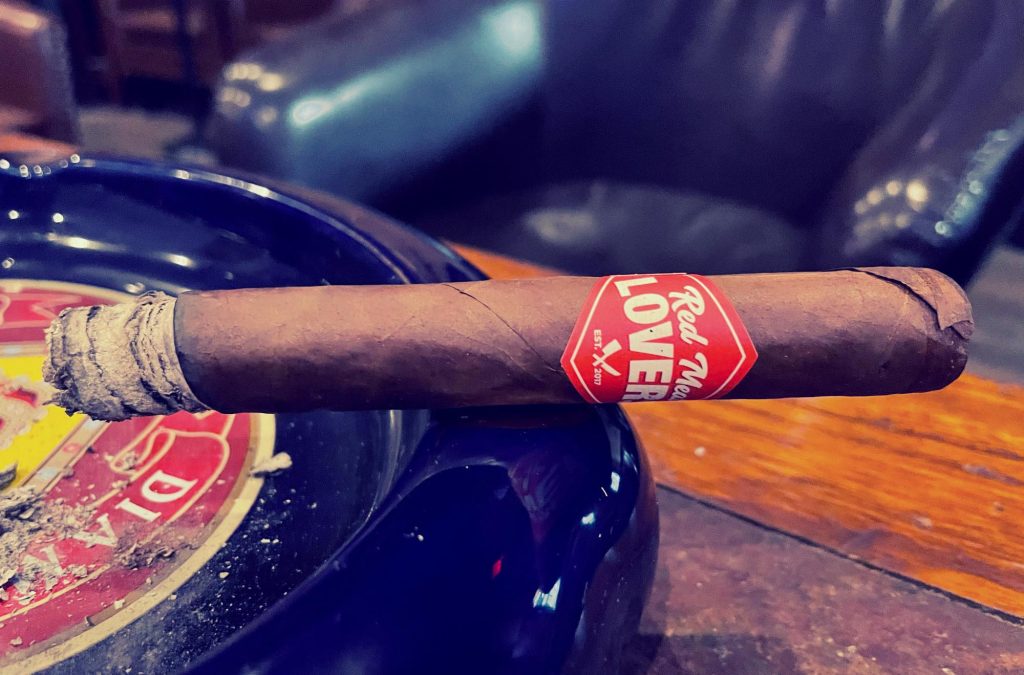 The first third smokes great. No need to re-light and a consistent ring of ember around the foot let me try my hand at "growing the ash" to see how long I could balance a nice column of insulating ash. I am not surprised by the flavors I encounter because the Red Meat Lovers Club and Steve Saka hit it right on the money with that they are trying to create. I taste first black pepper, but not harsh, some hickory smoke, and just a top touch of sweet molasses. Very pleasurable combination of flavors right off the bat and I'm glad I traveled all the way to Florida for the Great Smoke Inn to get some of these sticks. Yay, me. 
SECOND THIRD
>> Steak-ish Umami, Dark Cocoa, Pepper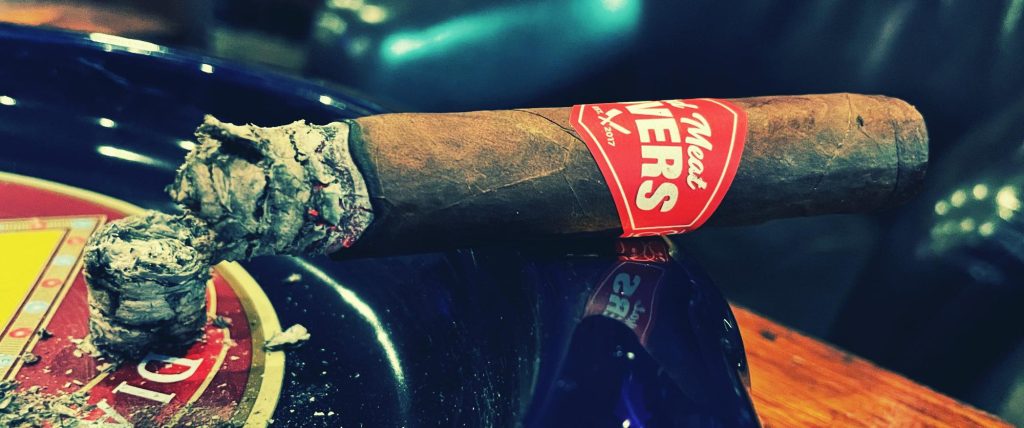 Moving into the second third, the flavor profile becomes a bit more complex. The pepper is still present, but it moves toward the back of the stage while an "umami" or meaty flavor like a medium rare steak takes center. I also sense a decent amount of dark chocolate. Now, I do NOT like dark chocolate, it is bitter and gross and deserves to live in the trash. However, when tempered with the meat and the pepper, that bitterness is greatly reduced. As for construction during the smoking experience, no signs of danger and cracking – yet. The ring still remains consistent as far as burn and I did manage to get a decent column of ash as well. Though, as you can see, I must have twitched my wrist and the ash fell. I don't know how you guys do it with these stick-long ash columns! Send tips. Thanks.
FINAL THIRD
>> Earth, Pepper, Chicory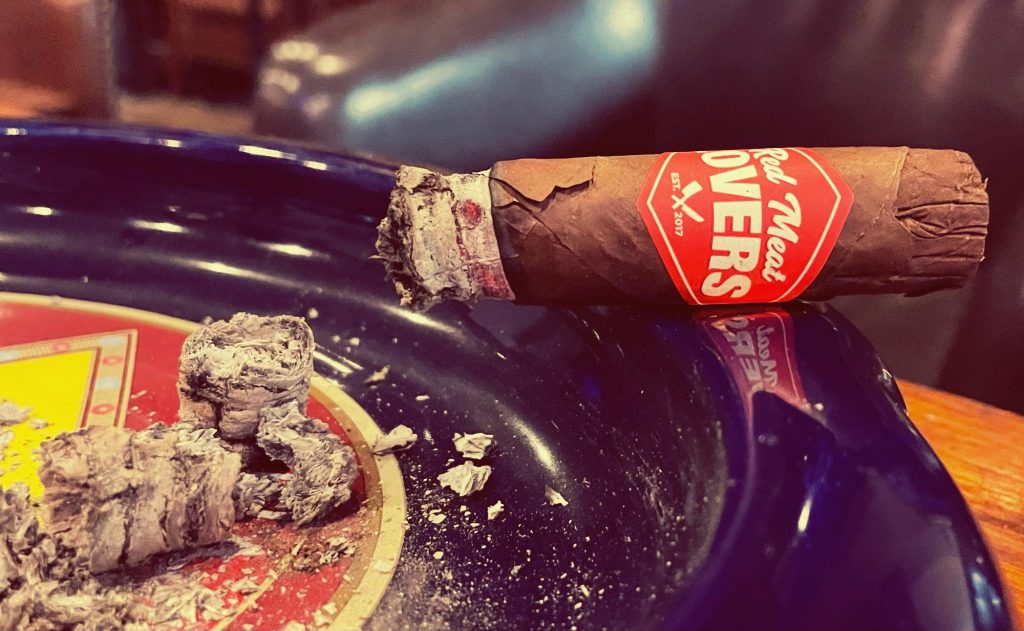 Dang it, just look at that ugly little crack near the ash and the cap is completely mutilated by the final third. Ugh! However, the taste of the stick is still going strong and still remains very good. The classic earthy flavor moves to the forefront, the molasses returns, the pepper remains consistent, and the hickory is replaced with a pleasant chicory flavor. Though the wrapper literally falling apart is super disappointing, I still like the Beef Stick for delivering on it's promise of meaty goodness. 
FLAVOR PROGRESSION
While not particularly complex, the Beef Stick is consistent in flavor profile. Some cigars, honestly, try to do too much as far as expectation of flavors throughout the smoke but this cigar was given a basic task and it delivered – meat and heat that can't be beat. I appreciate the addition of the molasses to temper the strong pepper and it works well. 
BURN EXPERIENCE
First and second thirds were a great burn. The ring of fire was consistent with no problems at all. The stick stayed lit throughout the session and I have no complaints with the first and second. Now, the final third is where I encountered some construction problems that required me to smoke on the binder which no one wants to do and it messes with the detection of flavor progression. However, it was still tasty even if ugly. 
RATING BREAKDOWN
0.50 / 0.80 … Craft & Aesthetic
0.40 / 0.50 … Pre-Light Characteristics
0.40 / 0.50 … Lighting Process
6.50 / 7.70 … Smoking Experience
0.50 / 0.50 … Personal Enjoyment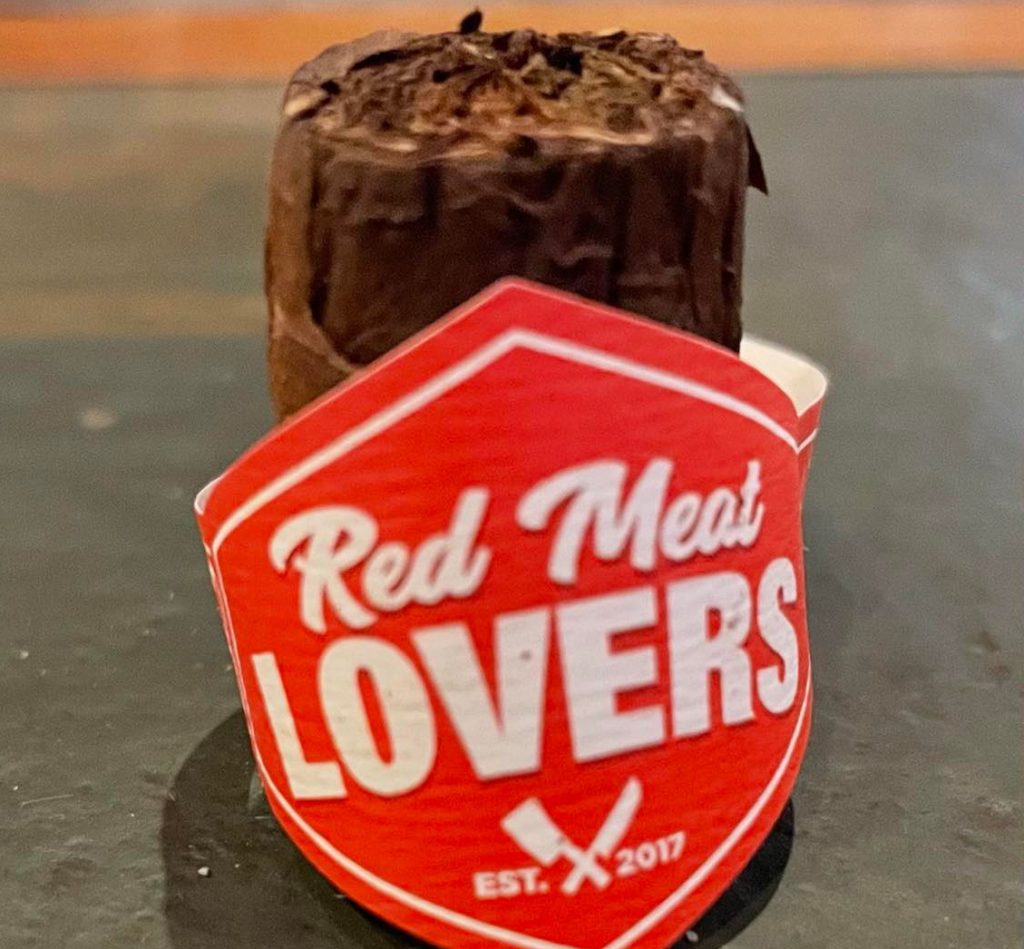 Catch The 'Meat Sweats' With The Red Meat Lovers Club's "Beef Stick."
The  Red Meat Lovers club is based around four core beliefs of enjoyment: "(1) the Secretary of Steak believes all friends, coworkers, and strangers must come together over copious amounts of the glorious beast; (2) cigars are a perfect accompaniment to smoke together and tell stories; (3) when in the company of cigars, beef, and friends, we raise glasses and toast each other's accomplishments; (4) we have one common goal…to make sure we are stronger as a group." I love this! The best thing about cigars is the inevitable comradery that comes along with them. The Beef Stick is a fun, exclusive, and enjoyable cigar to add to your humidor. 
SIMPLY STOGIES RATING:  8.3 / 10.0