Full transparency: there isn't a lot of information out there about this brand by Davidoff. When you Google search for Seleccion de Fabrica by Davidoff the only thing that comes up are links to buy the cigars from Oxford Cigar Company. What I could gather about the Seleccion de Fabrica Connecticut by Davidoff was found there and on the label of the bundle. Which is why despite the Oxford Cigar Company claim that it originated in the Dominican, I put the factory as Davidoff's factory in Honduras. The label on the bundle says they rolled at "Diademas Lona Franca." That resulted in even fewer hits from Google. Regardless, here is what I know:
The Seleccion de Fabrica uses three different fillers, a Criollo binder and a Connecticut wrapper from the Dominican Republic. The line consists of the Connecticut, a Habano, and a Maduro. The cabinet consists of five bundles of ten cigars. The line is part of the Davidoff Private Label Program. As far as I can tell, Oxford Cigar Company is the only online cigar shop to carry these blends.
VITOLA:   Toro
SIZE:   6″ x 50
ORIGIN:   Honduras
FACTORY:   Diadema Cigars de Honduras, S.A
WRAPPER:   Dominican Republic
BINDER:   Criollo
FILLER:   San Vincente, Habano Corojo, and Corojo 99
STRENGTH:   Mild to Medium
SOURCE:   
Oxford Cigar Company
WHERE:   
Home Studio/Lounge
WHEN:   
September 17 @10AM
DRINKS:   
Ice Mountain Bottled Water
WEATHER:   
70° & 70% RH
HOW MANY CIGARS SMOKED:   
3
RELEASE TYPE  Regular Release
ORIGINALLY RELEASE DATE  Unknown
TOTAL PRODUCTION
Typical Box Size:     Cabinets of 50 or Bundles of 10
Production Totals:  Unknown
VITOLA BREAKDOWN
o  Toro (6″ x 50)
o  Robusto  (5″ x 50)
o  Torpedo  (6-1/4″ x 54)
o  Gordo  (6″ x 60)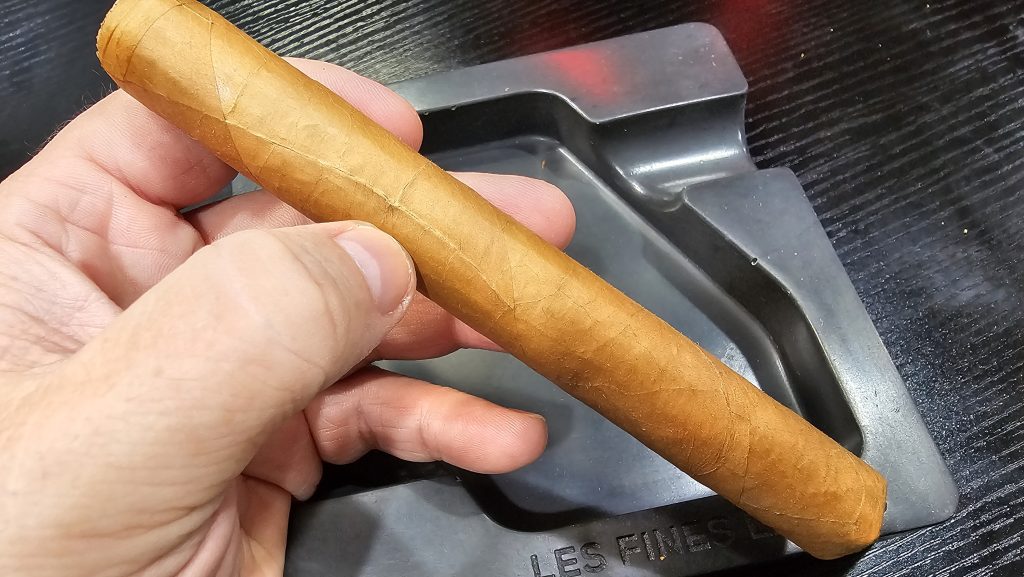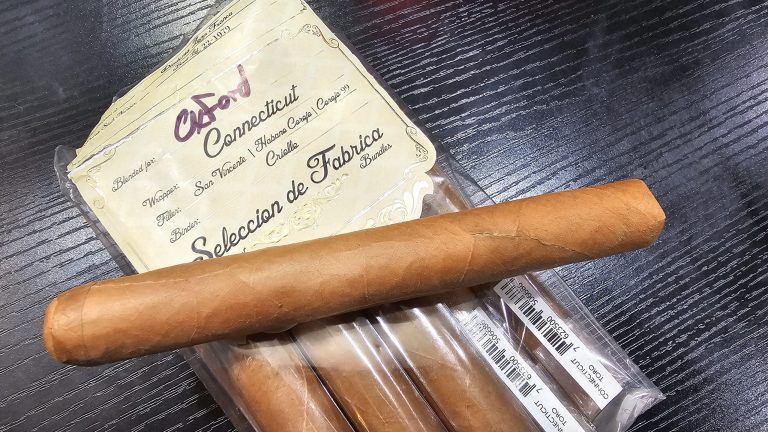 The Seleccion de Fabrica line sports no band; rather, Davidoff opted to make the label on the bundle the source of information for the cigar. The handwritten "Oxford" on the label tells you who these were blended for. The label is ornate and color coordinated depending on the blend you're smoking.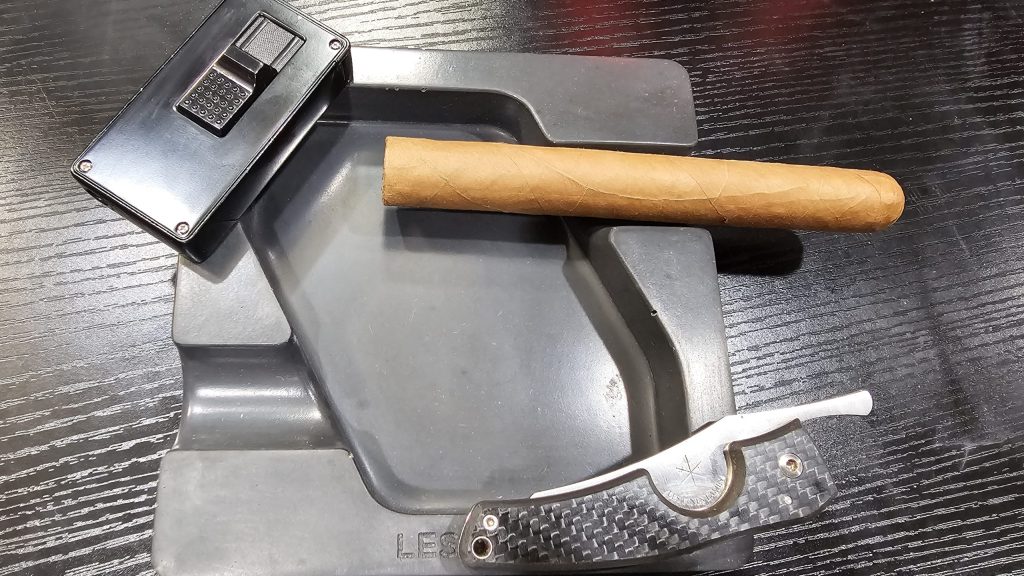 CONSTRUCTION

The Connecticut wrapper is smooth to the touch. Veins crisscross the cigar, giving character to an otherwise non-descript cigar. The wrapper also has some dark spots, but I wouldn't say its toothy. It is oily, as the sheen is quite visible. The triple cap is expertly applied. 
AROMA

The wrapper gives off a solitary note of barnyard, but man is that a great smell. It's a smell that I normally associate with really good cigars, and with few exceptions. The foot gives off notes of sourdough, sweet tobacco, fruit, vanilla, and barnyard. There's a lot going on here. The dichotomy between foot and wrapper is intriguing.
COLD DRAW

The cold draw reveals notes of cereal, chocolate, and a hint of baking spices and fruit. It's reminiscent of some sugary cereal from my youth.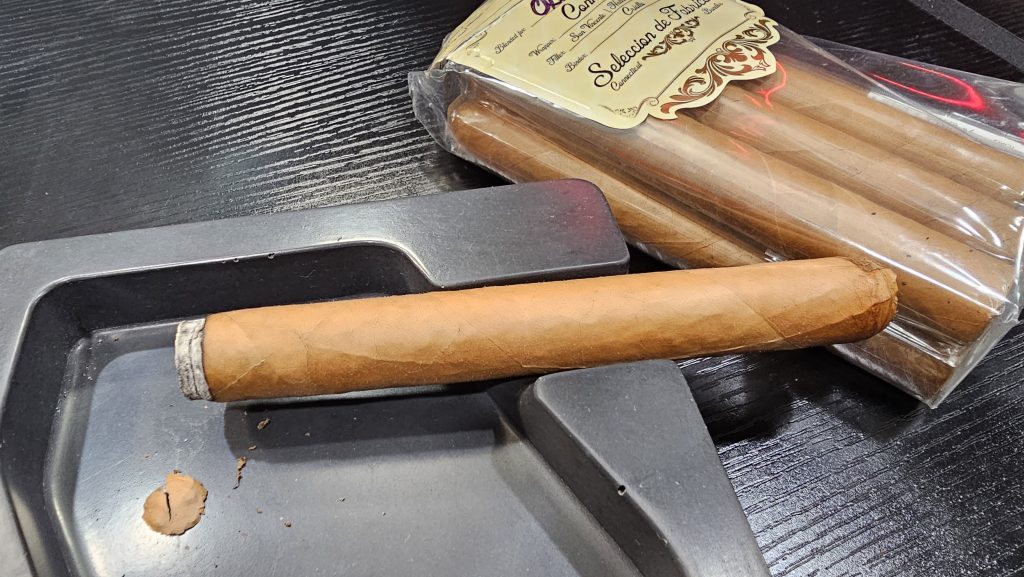 SMOKE

The smoke is creamy and sumptuous. I feel like I could almost chew it. It coats the palate, leaving a great mouth feel.
FIRST THIRD
>> Chocolate, Graham Cracker, Black Pepper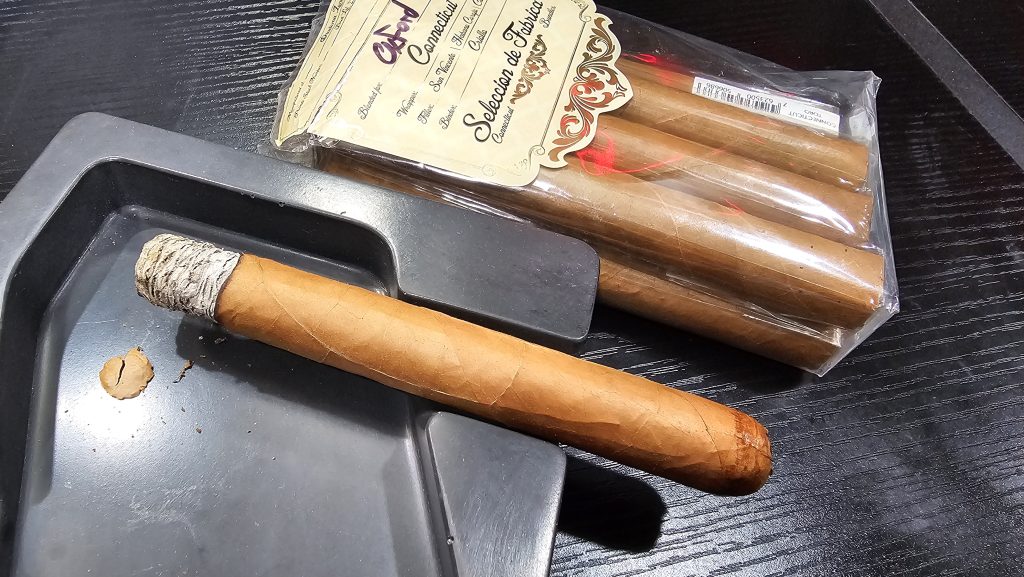 Chocolate, fruit, baking spices, and black pepper begin the first third. The burn line is sharp and the ash gray and compact. A sharp note of cedar breakthroughs the richness of the other flavors. There's a sweetness that lingers on my palate. These are simple flavors, but there is a depth to them. They mingle with one another very well. They are balanced and compliment each other. Milk chocolate and graham cracker lead the charge. There's a raisin-esque note that comes and goes between the black pepper and baking spices. Cedar lingers on the palate. The ash is still beautiful and compact, but begins to show a flake or two. The burn line is still sharp. Midway through the flavors are consistent: wood, chocolate, fruit, baking spices, graham cracker. Sweet and spicy. There's a bit of saltiness that seems to accentuate the other flavors.
SECOND THIRD
>> Caramel, Baking Spices, Vanilla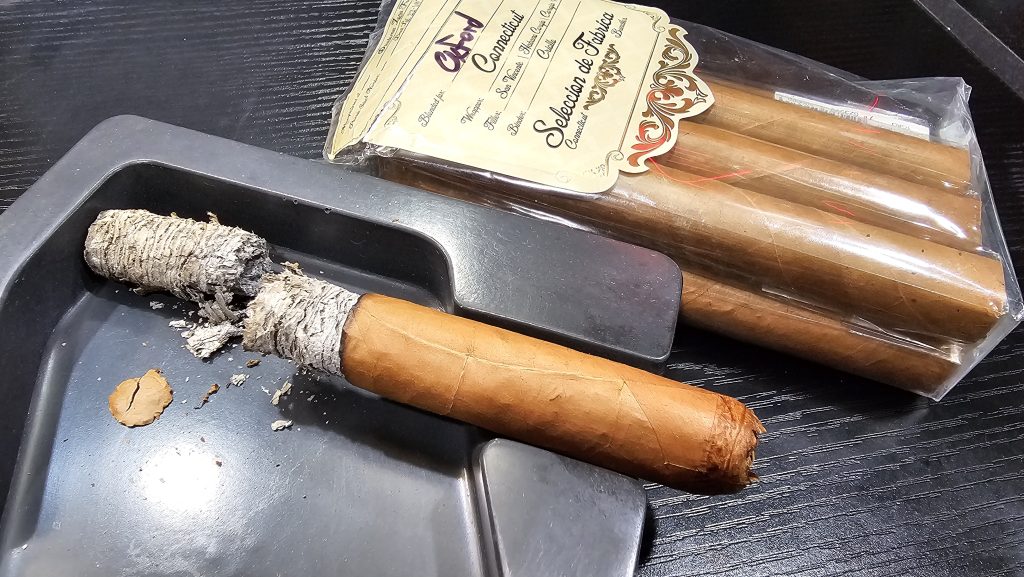 The middle third begins with salted nuts, a musty wood note, a touch of vanilla, and white pepper on the retrohale. Baking spices are still hanging around, but they aren't as prevalent as they were in the first third. Cedar lingers on the palate. The ash is getting a bit flakier. The burn line is still razor sharp. The flavors of this middle third are good, but seem much more mild than the first third. Caramel, salted nuts, nutmeg, hints of vanilla and raisin, with just a touch of chocolate. The spicy cedar is the backbone that holds the other flavors up. The spice begins to slowly build, adding depth to the more mild flavors. A smooth note of avocado oil slides in, adding to the already creamy composition. Chocolate and pepper make a comeback.
FINAL THIRD
>> Charred Wood, Red Pepper, Fruit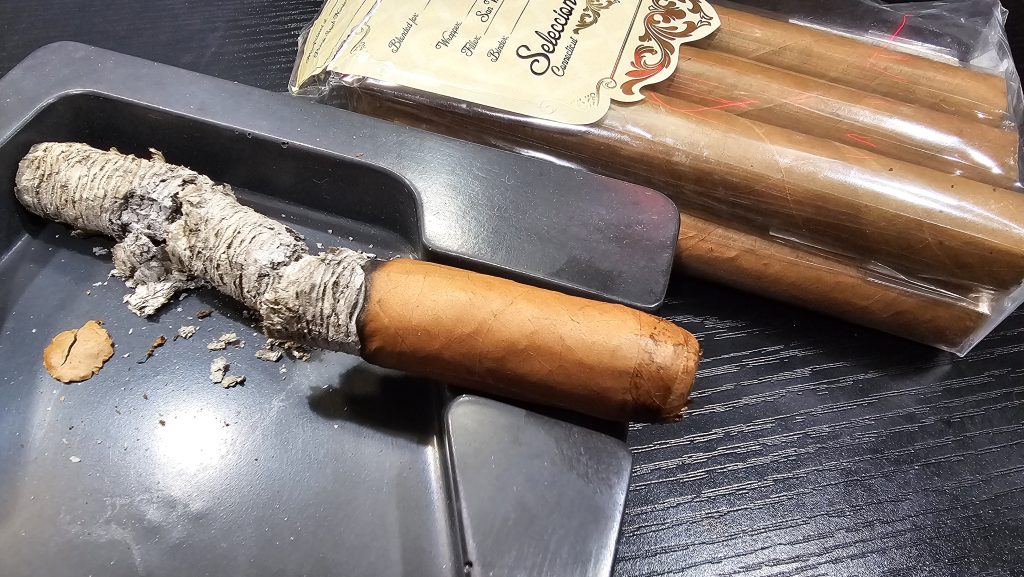 Black pepper's return to the retrohale, heralds in the final third. Butter, cinnamon, nuts, and bread start off the finale. Red pepper and a fruity sweetness I can't quite place linger on my palate. As I mull over the flavors, it occurs to me that it is citrus. Lightly charred wood adds a depth of flavor that was missing for most of the middle third. The ash is consistently white with a few streaks of black. It is flakier, but not so flakey as to be a problem. The burn continues to be almost razor sharp. Butter and wood with a hint of citrus continue to dominate. There is a touch of honey and vanilla riding in the undercurrent of flavors.
FLAVOR PROGRESSION
The Seleccion de Fabrica Connecticut is a mild to medium bodied experience that does not lack for flavor. Creamy notes of chocolate, caramel, backing spices, fruit, nuts, and earthy notes all meld together. The pepper and spice on the retrohale keeps you on your toes as you smoke through the cigar. There are noticeable transitions at each third, and enough complexity and nuance to keep the attention of aficionados who do not usually enjoy a "lighter" smoking experience.
BURN EXPERIENCE
It isn't often where I have few complaints about the burn experience of a cigar. Usually, this is where I nitpick a little. You can tell by the photos that the ash flaked when it fell from the cigar. But it was never an issue, As the Seleccion de Fabrica Connecticut burned, it was compact gorgeous. The three cigars smoked for this review were obviously well constructed. Honestly, if someone told me that these were Davidoff "seconds," I'd believe it. The construction was just on point. 
RATING BREAKDOWN
0.60 / 0.80 … Craft & Aesthetic
0.50 / 0.50 … Pre-Light Characteristics
0.50 / 0.50 … Lighting Process
7.00 / 7.70 … Smoking Experience
0.50 / 0.50 … Personal Enjoyment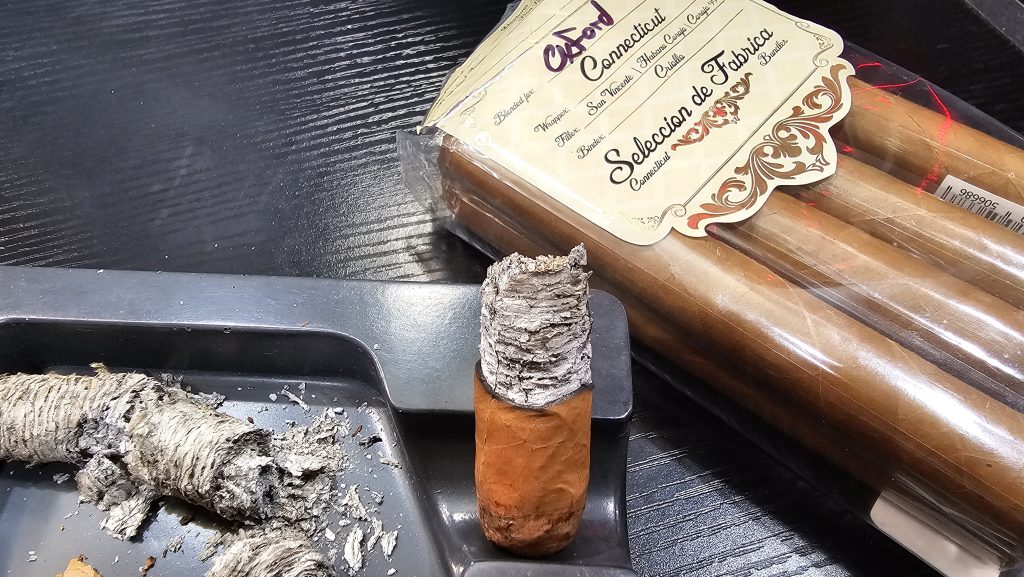 ALL YOU NEED TO KNOW IS "BY DAVIDOFF"
Davidoff is ubiquitous with luxurious and well crafted premium hand-rolled cigars. So it should be no surprise that their unbanded Connecticut from the Private Label Program is a banger. The $7.00 cigar smokes and tastes like a $15.00 cigar. While we don't typically take price into account, if we did, the Seleccion de Fabrica Connecticut would score well about a 9.5. When you talk about price-to-value, a sub $10.00 cigar that delivers a smoking experience that is commensurate with a price point that is double, you know you're talking about a really good cigar. While I can not speak to the Habano or Maduro, the Connecticut is more than worth the price of admission.
SIMPLY STOGIES RATING:  9.1 / 10.0