The Stolen Throne Call to Arms is the second regular production release for Stolen Throne Cigars, and the follow-up to their highly successful Crook of the Crown release. The sophomore offering from Stolen Throne Cigars is comprised of a gorgeous Sumatra wrapper over Nicaraguan binder and filler). It is a full-bodied, medium to medium-full cigar experience that should not be missed.
Stolen Throne is as boutique as they come. Lee Marsh and JR Cannon started Stolen Throne in 2019 and have made a concerted effort to put quality over quantity. That effort has translated into some of the best cigar experiences out there.
VITOLA:   Corona
SIZE:   6″ x 46
ORIGIN:   Nicaragua
FACTORY:   Tabacalera Flor de San Luis (Esteli, Nicaragua)
WRAPPER:   Sumatra
BINDER:   Nicaraguan
FILLER:   Nicaraguan
STRENGTH:   Medium/Full
SOURCE:   
Cigar Federation
WHERE:   
Deck at home
WHEN:   
September 30, 2020 @1pm
DRINKS:   
Ice Mountain bottled water
WEATHER:   
Warm fall day
WHAT'S ON:   
The quiet of an afternoon
RELEASE TYPE  Regular Production
ORIGINALLY RELEASE DATE  July 2020
TOTAL PRODUCTION
Typical Box Size:     Bundles of 20
Production Totals:  unknown
VITOLA BREAKDOWN
o  Corona  (6″ x 46)
o  Robusto  (5″ x 50)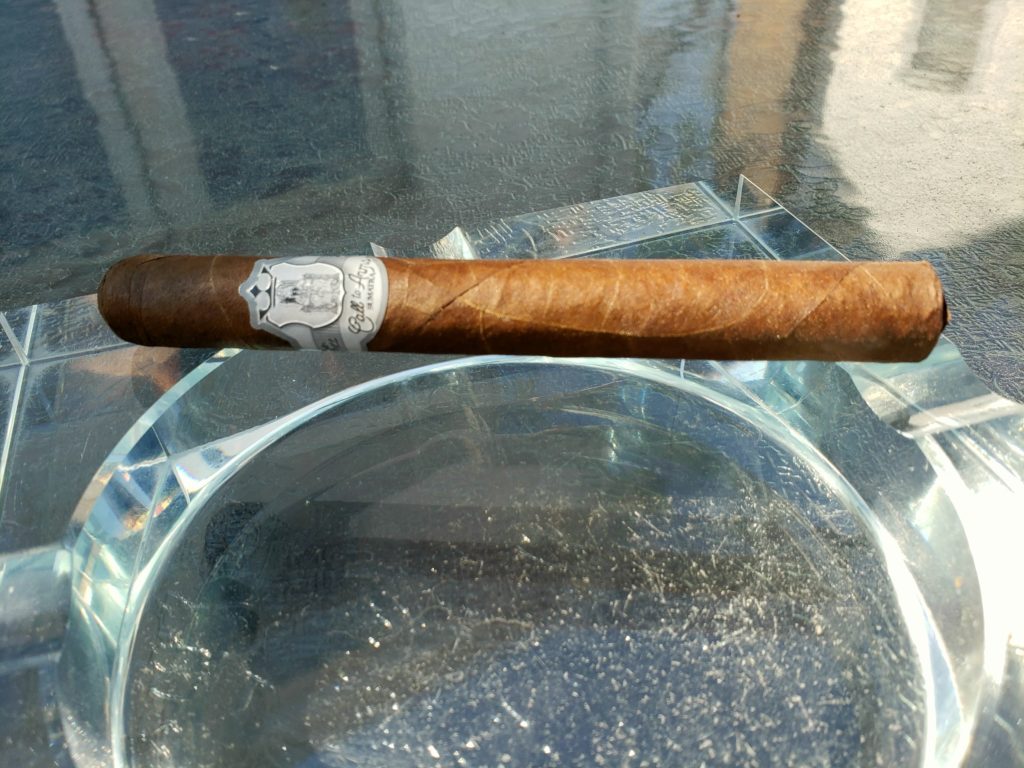 RESEARCH & BACKGROUND INFO
Lee Marsh purposely blended this to be unique from their initial release, the Crook of the Crown. 
Instead of chasing a certain flavor profile, Lee Marsh chooses to work with the tobacco that is available to him.
Just as their initial release, the Call to Arms does not come in a box, but their next regular production will.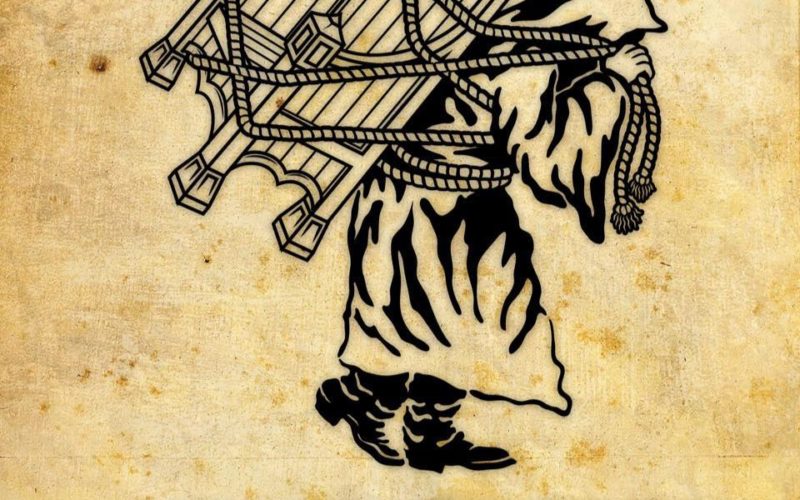 I had the opportunity to spend some time chatting with Lee Marsh of Stolen Throne Cigars. We talked about how Stolen Throne came to...
Read More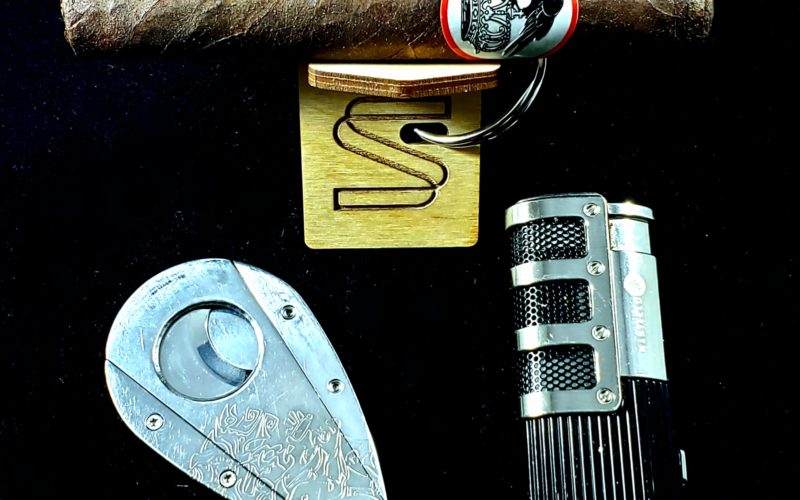 I welcome SimplyStogies.com lead cigar reviewer, Mike Breig, back to the show. Before we dive into our reviews, we discuss Micallef Cigars shipping a...
Read More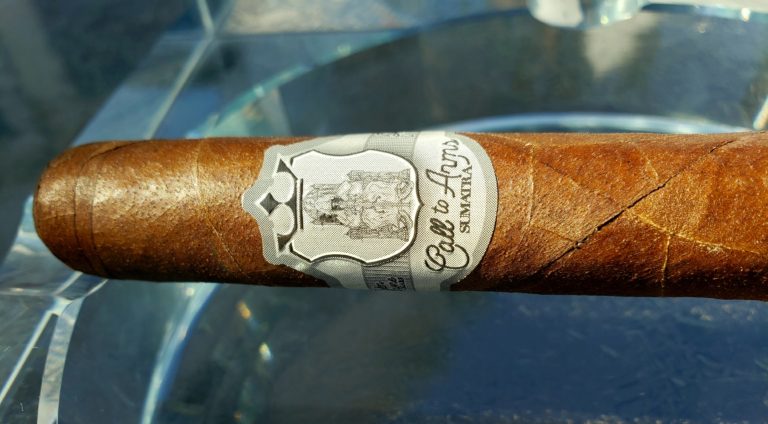 Just as the blend is a departure from their initial release, so is the band. The Call to Arms band is a bit more subdued than the bright red band found on the Crook of the Crown release; instead, the Call to Arms settles on shades of gray with black accents. While the colors are less eye catching, the design itself is more intricate. Sporting a coat of arms that has the brand's mascot sitting upon a throne, with sword between his legs, and a crow (what I can only assume is a call-back to the Crook of the Crown band) on his shoulder that sits above the name of the cigar. As if that were not enough, the band also announces what wrapper the adorns the cigar with "Sumatra" written in all caps.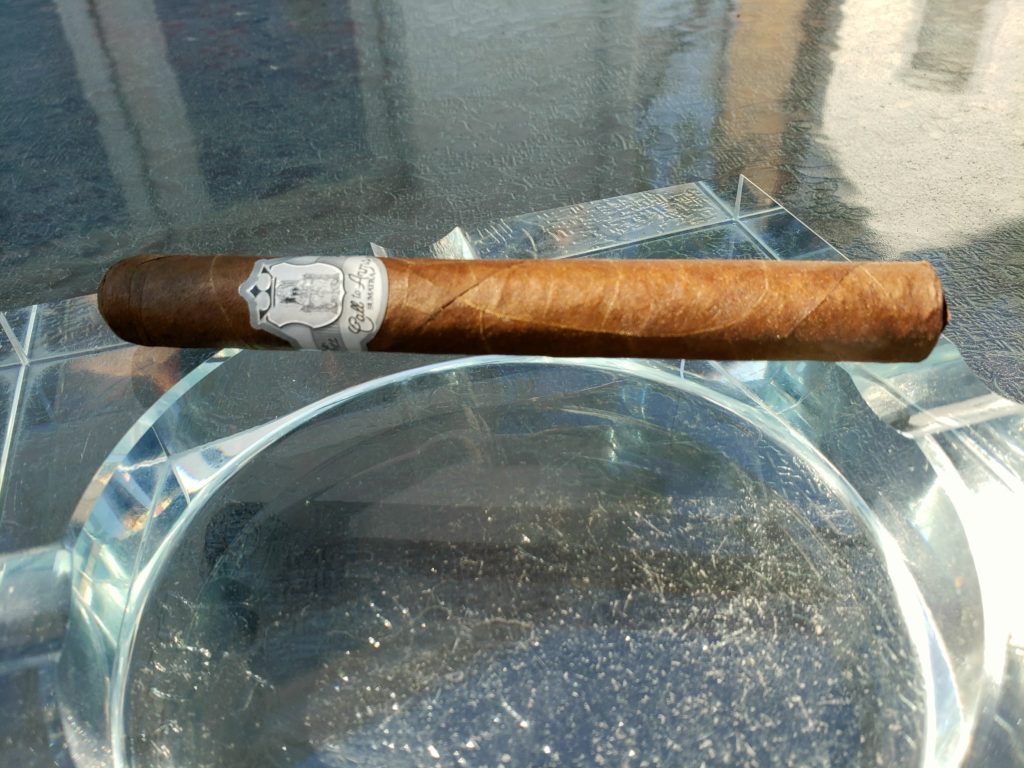 CONSTRUCTION
The pictures make you think that the caramel colored Sumatra wrapper would feel rough to the touch. Pictures lie; nor do they do justice to the beauty that is found in the wrapper. A rich light brown, darker than a connecticut but much lighter than a maduro, Sumatra wrapper that is smooth to the touch.
There are a few visible veins, but beautifully wrapped. A few squeezes to look for soft or hard spots and the cigar immediately bounced back. 
The head appears to be expertly wrapped and the foot is semi-closed. That is not something I have seen on many cigars. I am intrigued and can not wait to get a taste of this wrapper!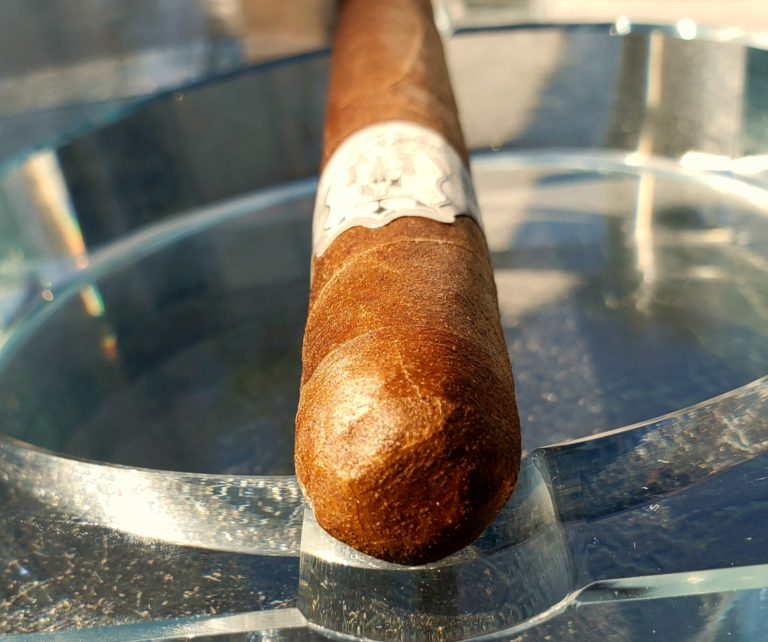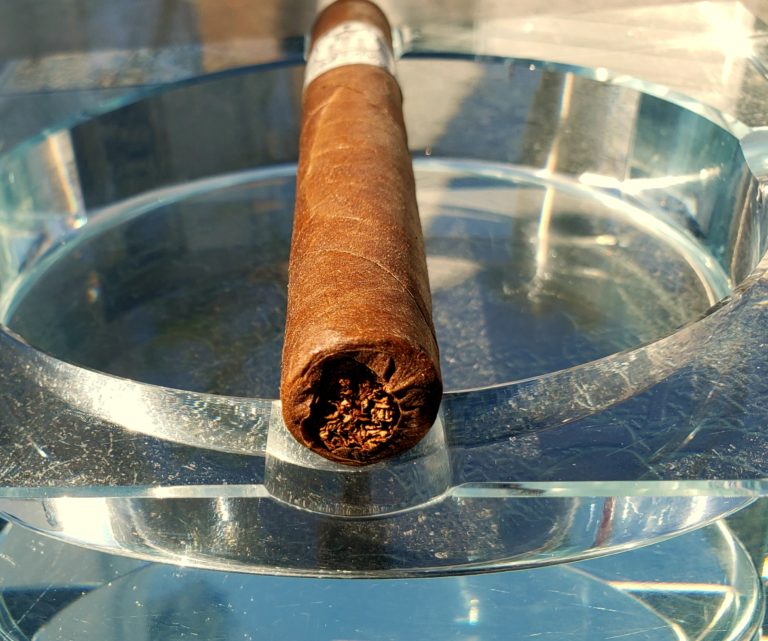 AROMA
Notes of cedar and tobacco are immediately noticeable. I also get a sweet note, grass, and (of course) tobacco. The smells are inviting and make my excitement grown even more to light the cigar.
COLD DRAW
The cold draw is effortless. That is not to say that there was no resistance, rather that there was the perfect amount of resistance. Again, my excitement grows to light the Call to Arms. Am I going to be let down?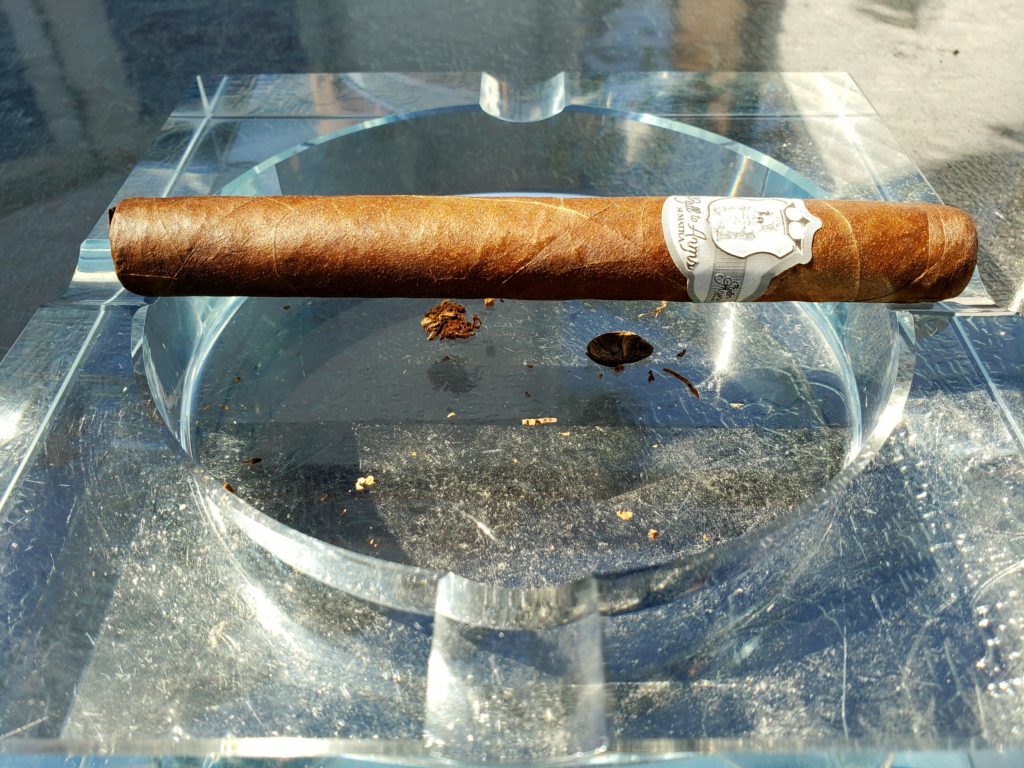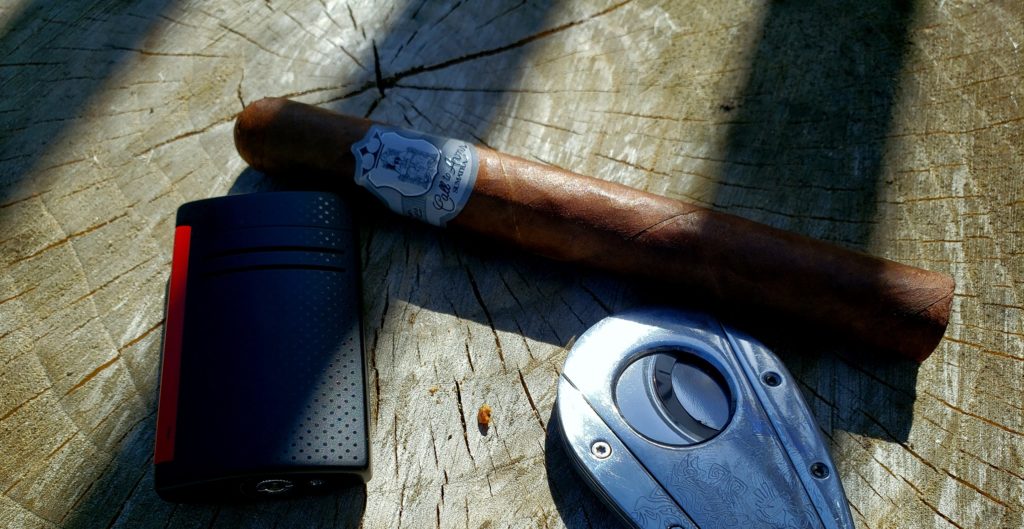 LIGHT & DRAW
Cut:  Xikar Xi3
Fire:  ST Dupont Maxijet
The light is easy and allows me to focus on the first flavors that hit my palate. Is that salt? It is. Salted nuts to be precise. The smoke is creamy and the finish is smooth. Then a bit of pepper. Nothing overwhelming but a hint. Enough to notice. It is a perfect start and absolutely raises my expectations for this cigar even more.
SMOKE
White wisps of smoke escape from the lit foot. This does not blast out smoke like the Crook of the Crown. No, this is more subtle; or maybe subdued is a better word. There is a satisfying amount of smoke with each draw, that coats your mouth and delivers every flavor the blender intended.
FIRST THIRD
>> Salted Nuts, Milk Chocolate, Red Pepper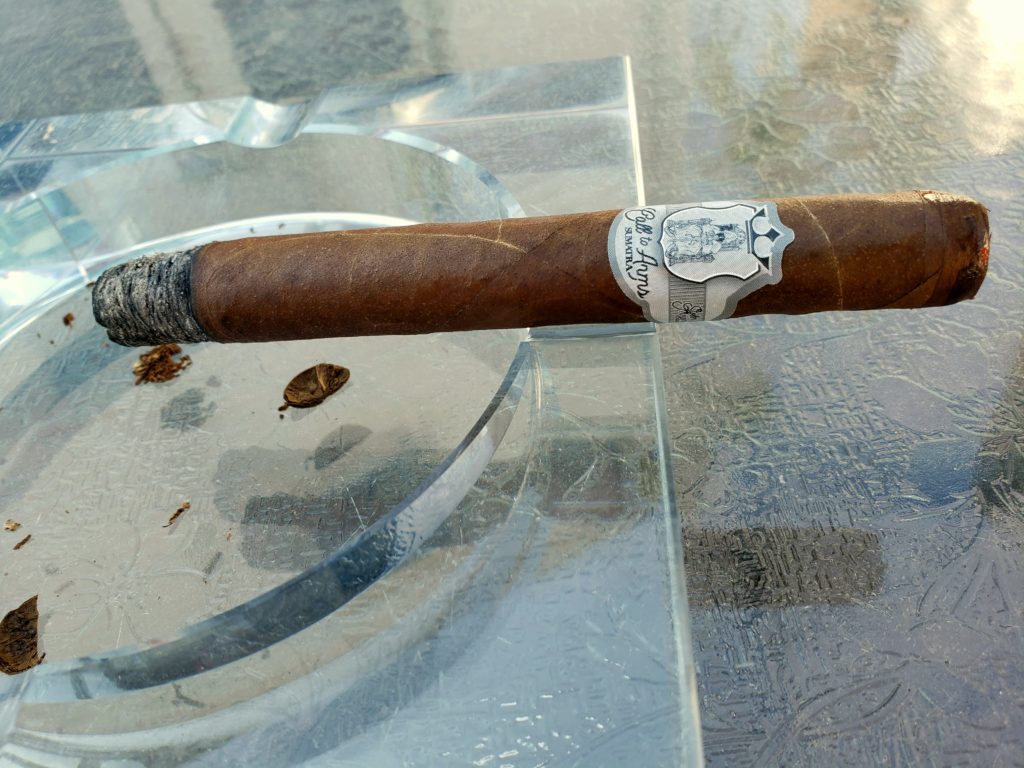 The very first note I got from the Call to Arms was salted nuts…and that was just from the initial light! The smoke was creamy and oh-so-pleasant. I immediately get lost in the experience. That's when notes of leather and red pepper flake appear. The retrohale is spicy but not overpowering. Chocolate starts to make itself known about halfway through the first third. There is a creaminess that permeates the experience so far. 
I look down and get distracted by the ash. It reminds me of neatly stacked dimes, if dimes were dark gray and white. A perfect compliment to the band. The burn is as razor sharp as anything I have smoked recently. I am more than impressed with the Call to Arms thus far. My lone complaint being that the ash fell off after an inch. Is that really a complaint?
SECOND THIRD
>> Milk Chocolate, White Pepper, Graham Cracker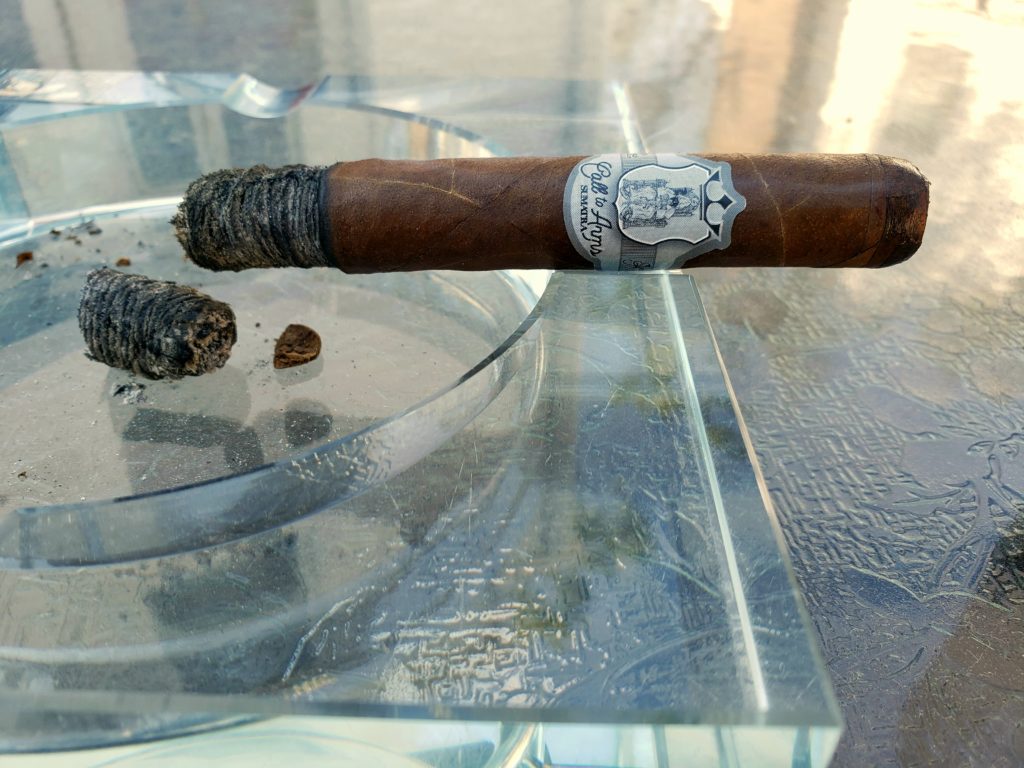 The chocolate note becomes more prominent and then fades away; it weaves in and out of the second third expertly. Sometimes it is almost a dark chocolate but never bitter, always sweet, just more rich. I detect white pepper on the retrohale now. As the second third begins to wind down I taste something new. I try to determine what it is. Is it caramel? Is it honey? I finally land on graham cracker and decide to stop over-thinking it. 
I continue to be impressed with the color and shape of the ash. Even when it falls it is not flaky. It holds together so well. The burn is nothing less than amazing. The color reminds me of spent charcoal after an afternoon of grilling. This experience is just as gratifying. Almost razor sharp with no touch-ups required. 
FINAL THIRD
>> Earth, Coffee, Leather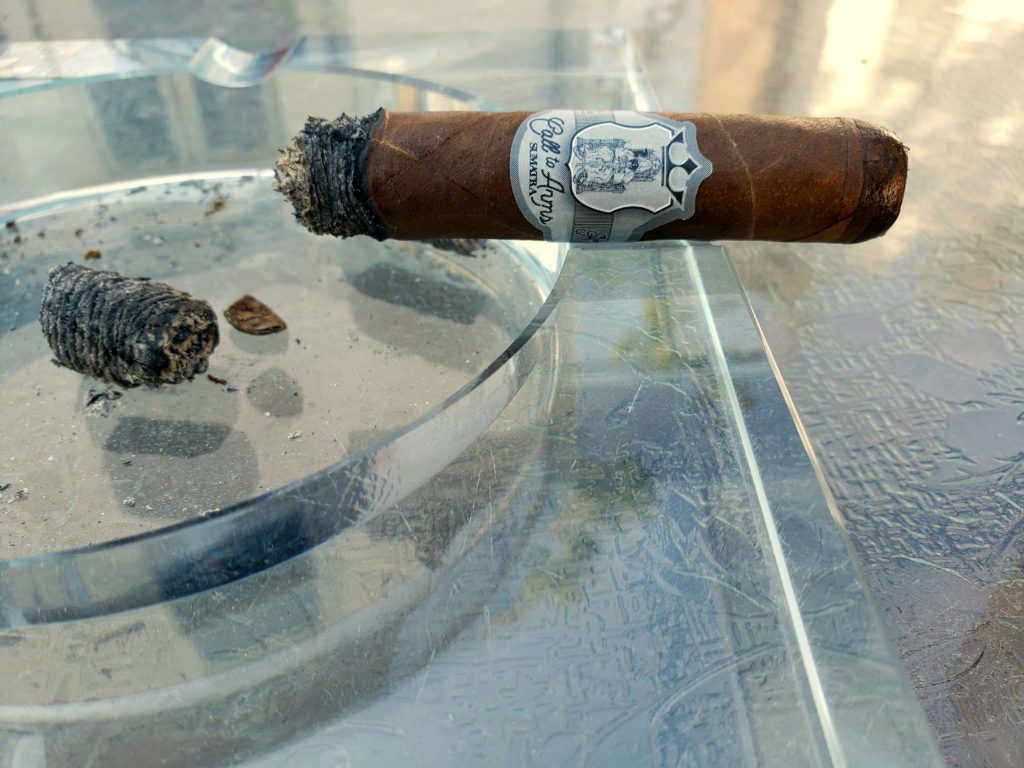 While the strength has ramped up, it is not a pepper bomb. Saltiness has stayed pretty consistent in each third, but now I am getting a great earthy note that has piqued my interest. Pepper on the retrohale works with the almost musty like quality of the earthy note. The leather has been meandering in and out since the middle third and it is nothing short of fantastic. I nub this beauty. Spice dances on my tongue as a final note of dark chocolate hits me as the Call to Arms gives up the ghost.
The burn in the last third was wavy for a few minutes, but it self-corrected and, in the end, was razor sharp. Absolutely no touch-ups or relights needed. The ash always held on for about an inch, was never flaky, and looked impressive.
FLAVOR PROGRESSION
There is a lot going on with the Call to Arms: Salt, nuts, cream, chocolate, leather, dried fruit (that I detected in my second cigar), pepper, spices. A lot. The cigar never overwhelms you or bashes you over the head with one dominant note; instead, it takes you on a journey through each third of the cigar. 
BURN EXPERIENCE
The burn was fantastic. I never had to touch it up or relight the cigar. It was razor sharp for 90% of the smoke and only a bit wavy in the last third. Again, my lone complaint is that the ash never held on for more than an inch. Thankfully, it always landed in the ashtray.
RATING BREAKDOWN
0.78 / 0.80 … Craft & Aesthetic
0.45 / 0.50 … Pre-Light Characteristics
0.46 / 0.50 … Lighting Process
7.05 / 7.70 … Smoking Experience
0.50 / 0.50 … Personal Enjoyment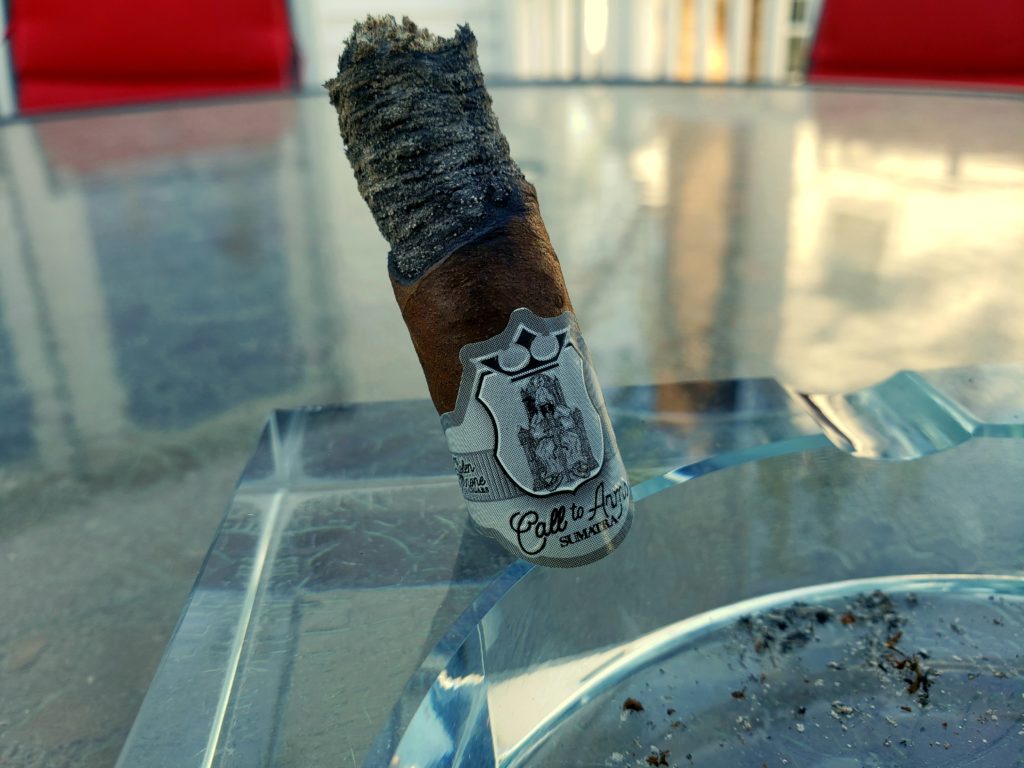 A Call to Flavor.
Lee set out to make the Call to Arms something different than the Crook of the Crown. Well, mission accomplished. The sophomore offering from Stolen Throne is certainly different than the Crook of the Crown but not in a bad way. The profile from this Sumatra wrapped beauty is rich and complex. It is an "anytime" cigar. The Call to Arms can be enjoyed first thing in the morning with a hot cup of joe, in the afternoon after a light lunch, or in the evening after a steak. It is as versatile as it is complex. Another home run from the gentlemen at Stolen Throne Cigars!
SIMPLY STOGIES RATING:  9.24 / 10.0