Cigar Scanner
The Cigar Lab Co.

PRODUCT TYPE
ORIGINALLY RELEASED

STILL IN PRODUCTION
 
CLAIM/GIMMICK BREAKDOWN
Cigar Inventory Application
2015
Yes
o  Scan your cigar and learn about it
o  Track your cigars/Virtual Humidor
o  Find local B&Ms
o  Cigar ring gauge tool
o  Share your reviews and experience with others
o  Control your humidor's conditions Anywhere, Anytime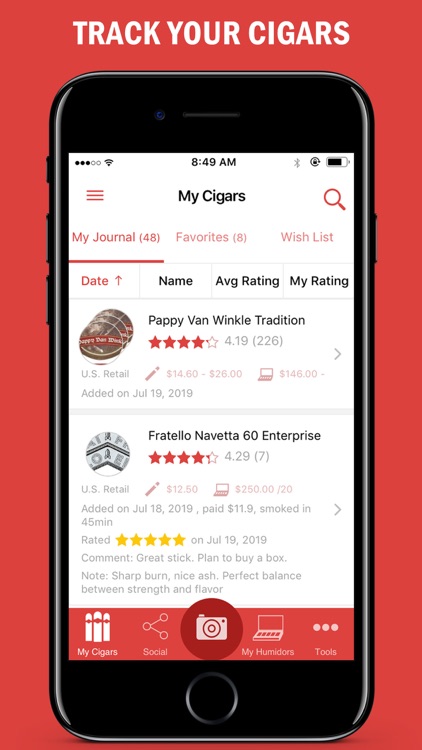 RESEARCH & BACKGROUND INFO
The Cigar Scanner App boasts a database of over 13,000 cigars, including Cubans.
The company claims there have been more than 1.5 million scans as of July of 2019.
There are over 500,000 cigar reviews on the app.
The Cigar Scanner app is available on various app stores (Google Play, Apple's App Store, ect..) and designed to be used on your phone. However, Cigar Scanner can also be accessed on your PC at cigarscanner.com. Cigar Scanner is designed to quickly and easily identify your cigars, accurately track your cigar inventory, as well as connect you with other cigar smokers. The app has hundreds of thousands of reviews of cigars and a plethora of cigar tools that can come in handy when you need them. 
The application is also designed to work with Cigar Scanner's wireless hygrometers. These are sold through Neptune Cigars and are reviewed here.
The Cigar Scanner app is designed to effortlessly keep track of your cigar inventory. With their "scanner" (your camera and their database) they can quickly help you identify your cigar, just by the band. Their database has (almost) everything. While you may not always find the latest release of your favorite boutique brands, you will find every vitola, of every line, of every "mainstream" brand. While the Cigar Scanner app may not have the some of the more boutique brands right away, there is an option to have their team identify the cigar if the app is unable to find it based on the picture you "scanned." You also have the option of creating an entry yourself. This allows you to accurately track your inventory without waiting on their team to identify the cigar and add it to their database.
Once you've found, or entered, the cigar and vitola you're putting in your humidor, you just add the number you're putting in it. Have more than one humidor? No problem. Cigar Scanner allows you to create multiple humidors in order to accurately track just where you stashed that hard to find stick. 
Beyond just tracking your inventory, the Cigar Scanner App allows you to learn about the cigars you're putting in your humidor. If the application has your cigar in its database you'll be able to find the following: Manufacturer, Origin, Strength, Wrapper, Wrapper Color, Binder, Filler, Length, Ring Gauge, and Shape. It will also give you a description of the cigar, and any user ratings and "Most Used Adjective From User Reviews." The Cigar Scanner App was designed for both new cigar smokers and experienced aficionados.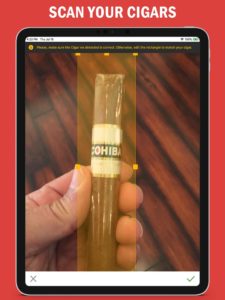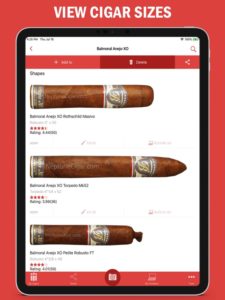 SOCIAL MEDIA
Cigar Scanner is designed to be more than just an inventory tracking app. The application is designed to act much like a social media site. The site allows the user to post pictures, post reviews, and interact with others who have posted. This gives you the ability to see what others rate the cigar you're smoking.
OTHER THINGS
Cigar Scanner also compiles a list of "Frequently Used" descriptors for cigars that have received reviews on the app. This is an especially helpful feature for those who are still developing their palates, as it gives a good baseline for some of the flavors they may be tasting. They also have a ton of great tools available on through the app. The most useful of these tools being their Wrapper Colors and Ring Gauge Tool to help you identify the cigar you're entering into the app.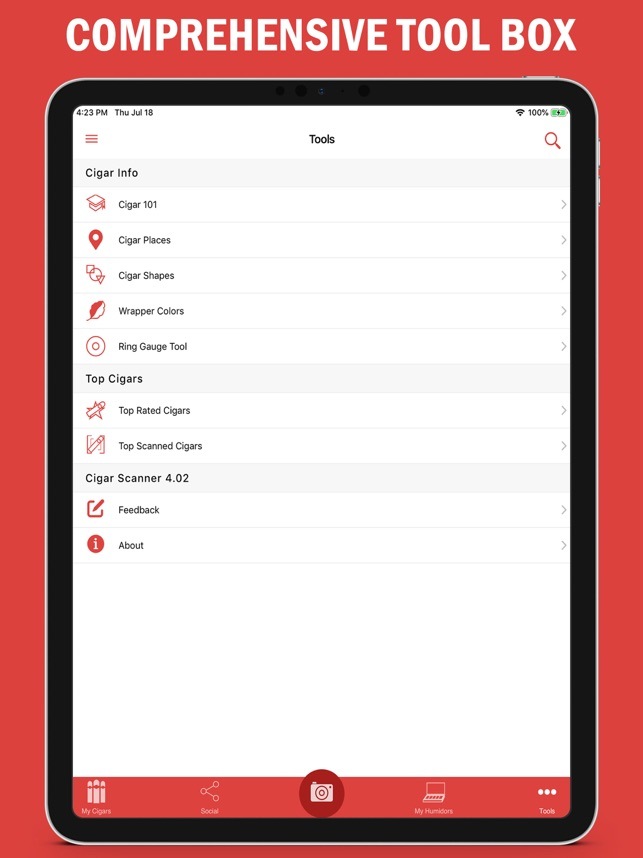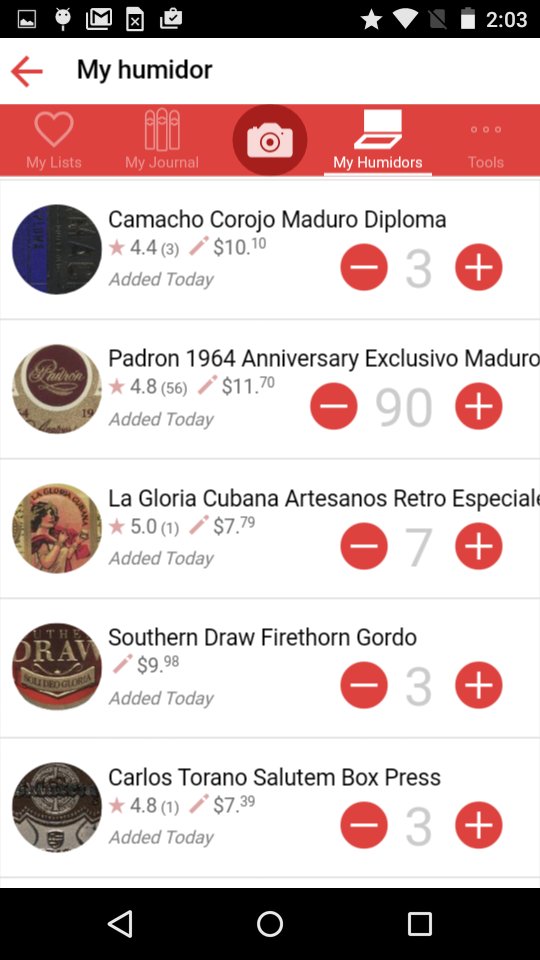 USE
This is where the rubber meets the road…or where the match meets the foot. How does the app work? Is it useful? Will this work for every aficionado? Here is where this reviewer got lucky. I've been using the Cigar Scanner App since I started this hobby. This application has helped me keep track of and manage my cigar inventory from 5 cigars to over 800. I've used this app to identify cigars, identify specific vitolas, and to help develop my palate by reading user submitted reviews. While the app does a lot for users, one question remains; how does it perform?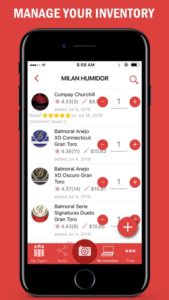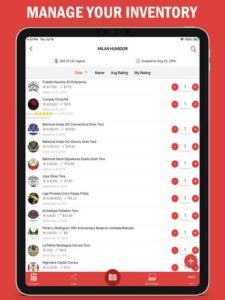 PERFORMANCE
With so many different aspects to this application, I need to break it down to individual aspects of the app and how they perform. The main aspect of this app is inventory tracking. For that, this app performs beautifully. It allows you to easily add to or remove cigars to your inventory, from existing entries. The key is "existing entries." If you fail to find the cigar using a photo of the cigar you plan to add to your inventory, you can try the search function. (NOTE: Their staff will attempt to identify the cigar by the band and size based on the pic, but can take a few weeks.) The search function can help you find your cigar, or at least narrow down what it might be, if you know the manufacturer/brand and can identify the shape and size.
The responsiveness of the app is where I have my only complaint. However, the responsiveness may be based on the number of entries in your humidors. This means that someone who has several hundred entries may experience longer-than-usual loading times. Of course, this could just be an issue with the Android version of the application. Regardless, adding and removing cigars from the app can take a bit of time. In a world where we expect applications to work seamlessly and without hesitation, this app seems to get bogged down every time I open the application. 
Another issue that I encountered is when moving an entry from one humidor to another. After recently having to upgrade to, yet another wineador, I decided to move some of my inventory around to create some more space. While I could go into an entry, click the "Add To" button, select the new humidor, and a new entry with the exact number of cigars was created, it did not transfer the original date that the entry was added. Also, there is no "copy and paste" option. This, coupled with the load times, resulted in it taking an entire afternoon to transfer and delete entries from the old humidor to the new humdior.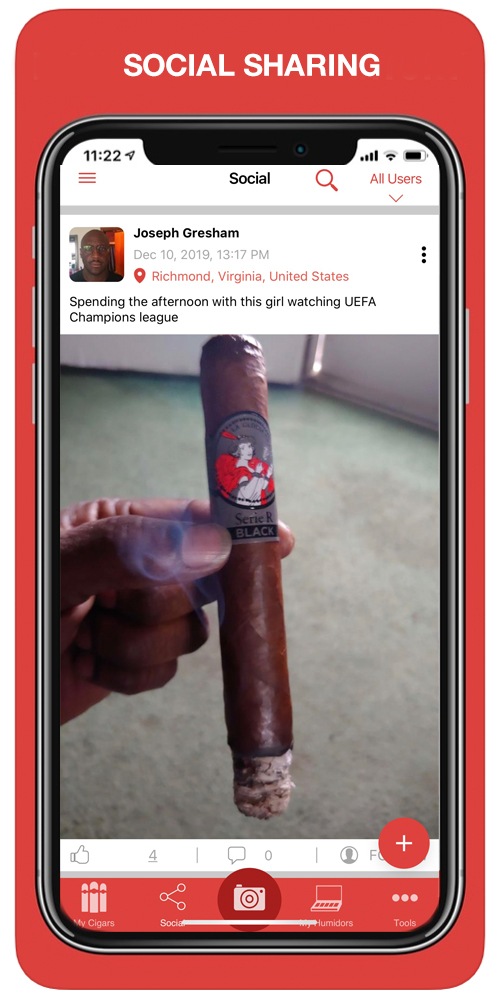 SOCIAL MEDIA
This is a great concept, but does it do something different than existing social media? The answer is "yes and no." The "yes" comes from the reviews, scores, and tasting notes of the cigars. This app puts all of those things all in one place. There's no need to search Facebook groups, Instagram hashtags, or website reviews. You can simply view the social posts of other users who have shared their experience with a specific cigar.
The "no" comes from the need of a such thing. While it's a great concept, I have to wonder how much (if at all) this slows down the database. 
B&M FINDER
This isn't something that I would use regularly. In fact, I may have only opened it up for this review. I was a bit shocked to see that my city had 16 locations marked under "Cigar Places." My city has only 2 shops that sell cigars from a humidor, and both are not cigar shops. It appears that the application looks for anything that has the word "Tobacco" in it and lists that as a "Cigar Place." 
PRODUCT PERFORMANCE
There is a lot to like about this application: accurately tracks your inventory, learning tool, the ability to share your experiences with other users, ring gauge tool, shape tool, and the ability to identify cigars by a picture within a reasonable margin of error. 
REAL WORLD EXPERIENCE
It does what it says it can do. Plain and simple. The application can slow down to infuriatingly load times when adding, removing, or moving cigars to other humidors. However, the ability to accurately track your inventory without building a spreadsheet of your own, is priceless. If you already have a large amount of cigars (200+) in your inventory, you may want to skip this app. If you're new, or have only a few stogies in your stash, then this app is for you!
RATING BREAKDOWN
Product Design  ………………………………………………  0.4 / 0.5
Product Usefulness  ………………………………………..  0.6 / 0.8
Setup Process  ………………………………………………..  0.5 / 0.5
Product Experience  ………………………………………..  7.0 / 7.7
Personal Enjoyment  ……………………………………….  0.5 / 0.5
INVENTORY CONTROL.
Unless you love spreadsheets, detailing your smoking experience on several different applications, and using a notebook to mark-down your smoking observations…you'll love this app. Cigar Scanner allows you to do all of these things at your fingertips. It also teaches you about what you're smoking while giving you the option to share your thoughts with other Cigar Scanner users. I would HIGHLY recommend this application to new cigar smokers and experienced aficionados alike. There is not another cigar application on the market that does everything Cigar Scanner does as well as Cigar Scanner does it.
SIMPLY STOGIES RATING:  9.0 / 10.0