MANUFACTURER:  Colibri
PRODUCT NAME:  Julius
PRODUCT TYPE:  Soft

CURRENTLY IN-PRODUCTION:  Yes
CLAIM / GIMMICK:   "An elegant introduction to your next cigar"


RESEARCH & BACKGROUND INFO
MSRP is $125.  Searching online I didn't find a whole lot of fluctuation from that price point. 
I was specifically looking for the black and gold model to match my Colibri 90th Year Anniversary Special Edition V-Cut cutter.
I mostly found product descriptions from online vendors.
Colibri's website describes this lighter better than anyone, and it's absolutely true that in order to enjoy your cigar you need the proper instrument.  The Julius is named in honor of Colibri's founder Julius Lowenthal and built on his legacy of innovative design, impeccable craftsmanship and acute attention to detail. 
The Julius double flame soft lighter has a nice diamond-patter grip that feels right in you hand.  Ignition is achieved by rolling an over-sized vertical roll bar that takes absolutely zero effort to put into motion.
Here are the highlights from Colibri's website: 
Angled flame
Pachmayr grip
Soft Flame
Easy-to-read blue fuel level window
Wind resistant
Altitude tested up to 12,00 feet
Designed in New York by Colibri
Refillable butane
Gift box included
Two-year warranty
PRESENTATION
Without getting into the whole backstory, the presentation upon opening the box was extremely disappointing. One of Colibri's highlights was an included gift box. The box that the Colibri Julius comes in does look nice. It's protected by a thin cardboard sleeve which seems to be the normal for the company. The problem for me came when I opened the box. The lighter is just sitting there in a little plastic zip bag which is folded over hindering the presentation even more. I expected so much more when opening the box of a $125 lighter, so much more that right away I found myself wanting to hate this product. 
If someone from Colibri reads this review: Please improve presentation! Take a few notes from a company that uses a piece of fruit for a logo, sells electronics at a ridiculous price point and somehow brainwashes me into constantly buying their products because from the moment I open that box I completely forget what I paid for it.
CONSTRUCTION & DURABILITY
Only due to the presentation, my initial thought on the construction was very critical. Finally, as I got over it, I realized that the Colibri Julius is actually built really well. It has just the right amount of weight to feel very comfortable in your hand and in your pocket. It has a diamond grip texture keeps it from slipping around in your hands. The latch that connects the lid to the body is solid as solid can get. It has a flint lock that keeps your flint securely in place but moves easily enough when you will need to replace it. The ignition wheel is probably weakest part of this lighter, but that's not a bad thing at all. In fact, It too feels like it's supposed to be there and built to withstand time. 
The only thing I don't like about the construction of the Colibri Julius is the easy-to-read blue fuel level window. I don't find it so easy to read in the slightest bit.
With all that said, I've been carrying the Colibri Julius around for a few weeks straight now and it is not showing any early signs of wear. I'm actually quite impressed. I honestly thought it would have scratches and paint would be missing by now, but it still looks brand new. Don't get me wrong, I do my best to keep my lighter separated from other metal objects like keys, but it does happen from time to time.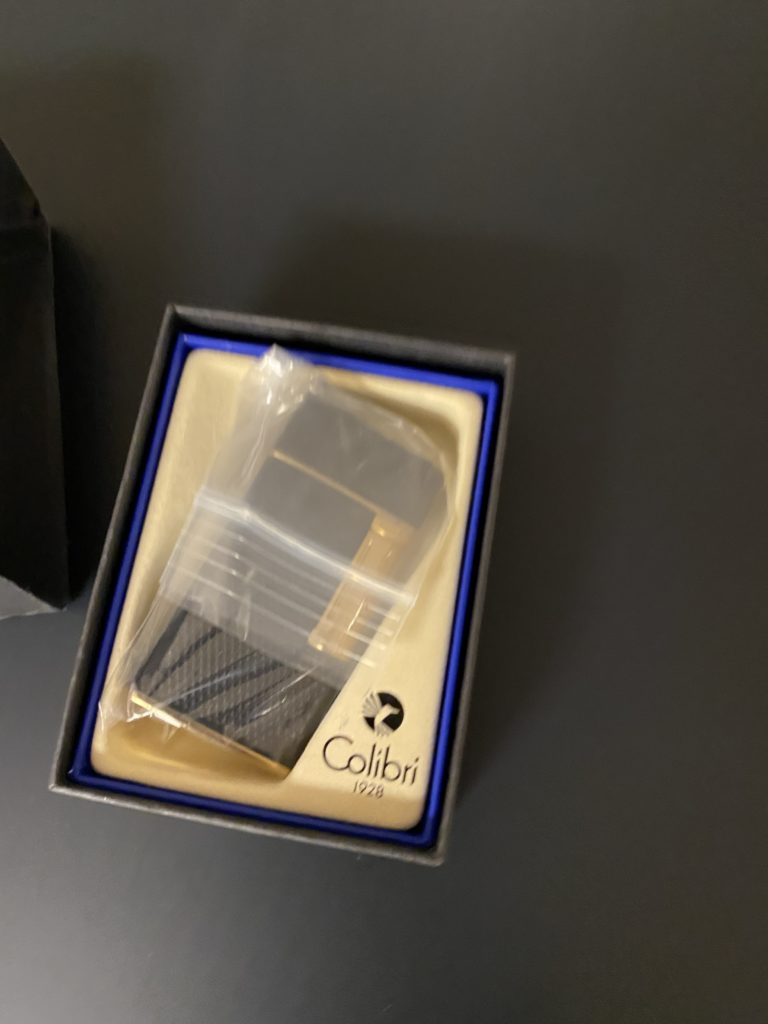 PRODUCT USE
The past four months have been busy so I have not had too many opportunities to sit back and enjoy a cigar.  However each time I lit up a cigar, I have used the Colibri Julius. 
I find myself having to take a second to plan out the ceremony of lighting my cigar.  The flame shoots out of the lighter horizontally and because heat rises the flame turns quickly to a vertical position.  I've caught myself holding the lighter wrong which produces a burning sensation in my hand. 
PERFORMANCE
The Colibri Julius performs very well.  I'm not 100-percent sold on the claims of "wind resistant" and "altitude tested at 12,000 feet".  It does have some trouble staying lit with a good breeze.  A Zippo style lighter will perform much better in wind than the Julius has thus far.  I have not taken the lighter near 12,000 feet yet, but I'm sure I will this summer when I go back into the Rockies for some hiking. 
Overall, It's a really nice lighter and I get a compliment from anyone who notices it.  It does make me feel richer than I really am when I use it.  I have noticed that when lighting a cigar in controlled environment that I get a really good burn on the foot of a cigar generating a much better or more even smoke.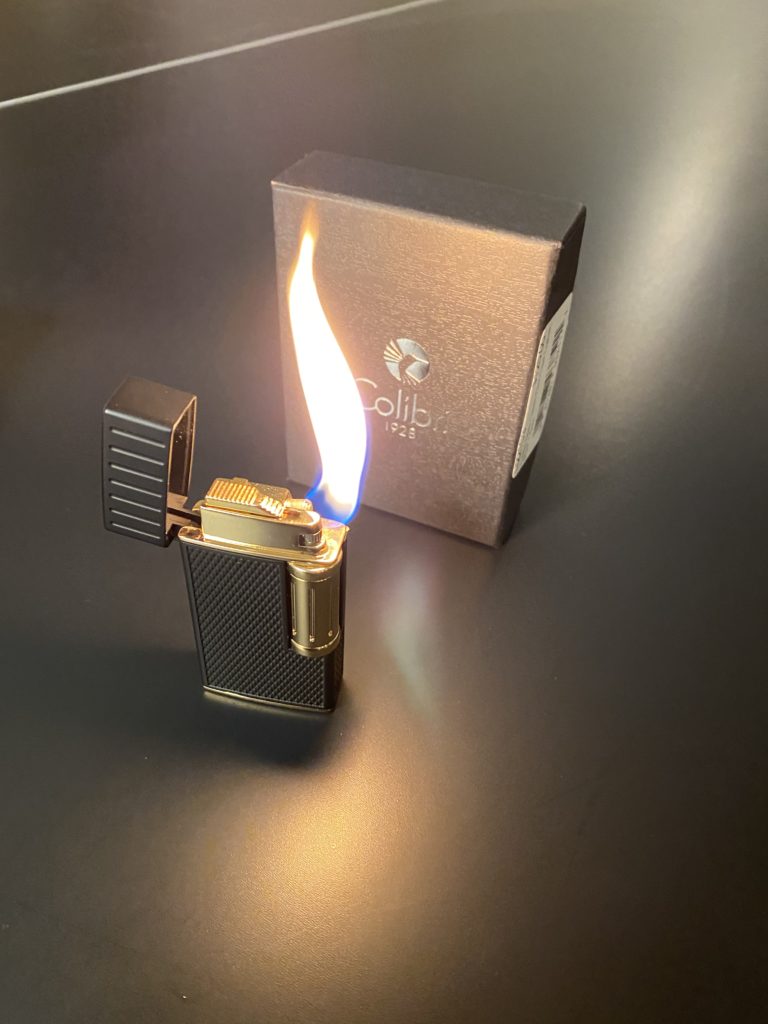 PRODUCT PERFORMANCE
The Colibri Julius is a beautiful soft flame lighter that works really well in a climate controlled environment. It's the type of lighter that will make any accessory hound envious. If you let someone else use it to light their cigar, watch it closely as they will probably try to slide it into their own pocket. It's beautiful and functional.
REAL WORLD EXPERIENCE
The Julius does not seem to do well in any type of wind, but you can get it to work. Optimal performance is in a controlled environment such as inside your favorite cigar lounge. 
FINAL THOUGHTS
The Colibri Julius is a beautiful lighter that performs really well in a controlled environment and I do recommend pulling the trigger and getting one if you have been  thinking about it. Do yourself a favor and get it as cheap as you can. When it arrives, get it out the packaging faster than pulling a bandaid off a hairy arm or you might get hit by the poor packaging / presentation bug like I did. Honestly, if I could rate packaging / presentation it would get a zero.

RATING BREAKDOWN
Product Design  ……………………  0.8 / 0.8
Product Usefulness  ……………..  0.4 / 0.5
Setup Process  ……………………..  0.5 / 0.5
Product Experience  ……………..  4.5 / 7.7
Personal Enjoyment  …………….  0.4 / 0.5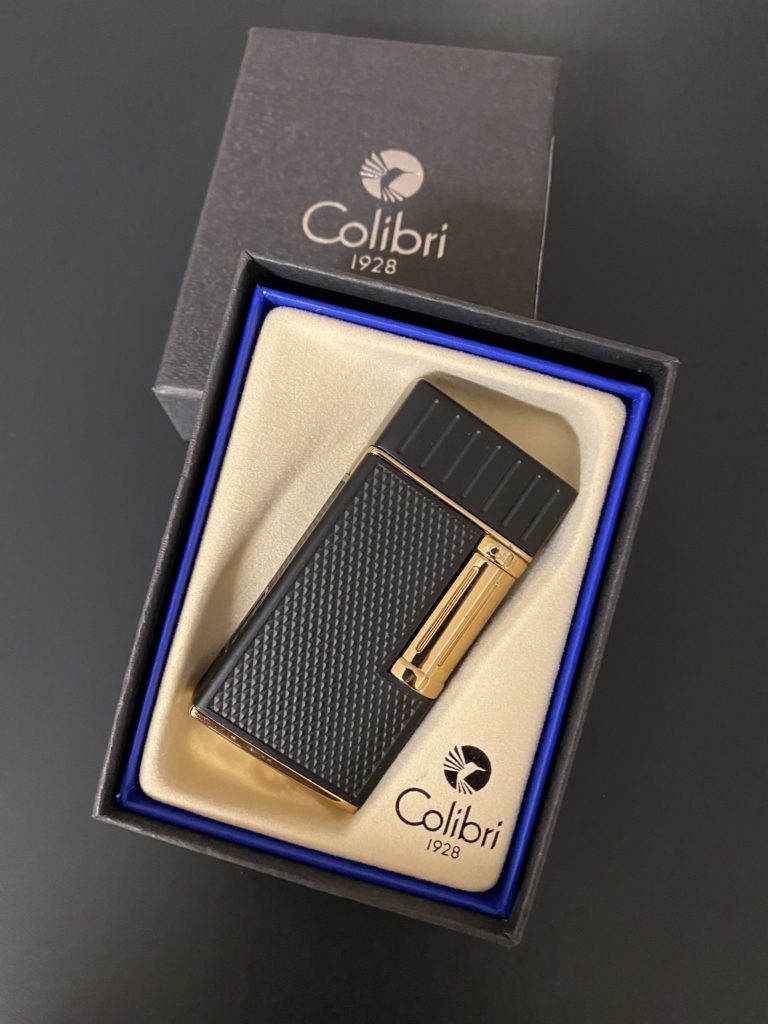 SUPER MODEL DRESSED IN A TRASH BAG.
The Colibri Julius is a well built sexy double soft flame lighter.  It's one that you'd be proud to introduce to your friends – Just don't bring up what she was wearing when you met her.  They will laugh. 
If your the type of person that likes cigar accessories and your willing to spend $100-$125 there's a good chance you will appreciate everything the Colibri Julius is.  The Colibri Julius would have scored higher if they would have put thought into the initial presentation and offered more than a two year warranty.
SIMPLY STOGIES RATING:    6.5 / 10.0