In the last decade HP Lovecraft has had a revival. Once relegated to the black fingernail polish set, now even your mom and maybe your baby is passingly familiar with Cthulhu and the concept of the Eldritch horror. And maybe why the person behind the expansive literary exploration of dread is not to be celebrated. His mythos has been a driving force in board games, video games, and of course webcomics. So it comes no surprise that the author, a devoted pipe smoker, was celebrated with a line of pipe tobaccos, The Old Ones from C&D.
The Old Ones series blending premise is to use less common oriental condimental tobaccos Katerini and Kasturi to liven up some standard blend styles. In the spirit of forthrightness I have tried and found wanting three of the other blends in this series. Awakened Elder, an English blend with the cigar like Kasturi had a vomit note that ruined the whole blend. Mad Fiddler Flake tastes like smoking redhot candies, which is not bad per se, but not something I ever find myself reaching for. Dreams of Kadath, a kitchen sink blend, has touches of carpet and glue. Eldritch Horror indeed. However it is my (unpaid) profession to smoke and review pipe tobacco, so I'm willing to venture into the dark once again, with just a torch, er, bic lighter, to light my way, as I investigate this Lovecraftian mystery.
BULK or TIN:   Tin
SIZE:   50g
ORIGIN:   USA
BLENDING HOUSE/PRODUCER:   Cornel & Diehl
BLENDING COMPONENTS:   Virginia, Katerini, Perique, Black Cavendish

STRENGTH:   5/7
SOURCE:   smokingpipes.com
WHERE:   
Flyover country
WHEN:   
October 2021-July 2022
DRINKS:   
Water
WEATHER:   
Usually a warm sunny day
WHAT'S ON:   
The eerie stillness of early evening
RELEASE TYPE  available
ORIGINAL RELEASE DATE  2018
SPECIAL RELEASE  N
AVAILABILITY BREAKDOWN
o  Tin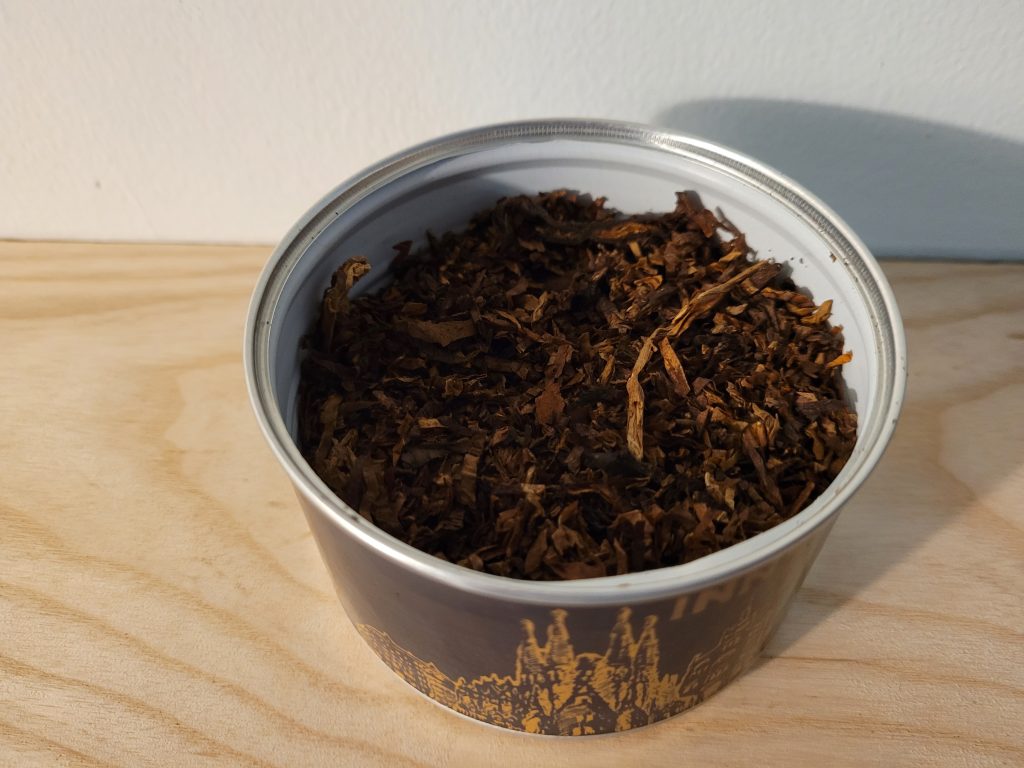 RESEARCH & BACKGROUND INFO
Part of C&D's Old Ones series meant to commemorate the works of HP Lovecraft, a noted pipe smoker
The Old Ones series theme is to highlight some lesser used Oriental types, Kasturi, and Katerini
The Old Ones original release included 5 tobacco blends: Awakened Elder, Dreams of Kadath, Innismouth, Mad Fiddler Flake, and Miskatonic Mixture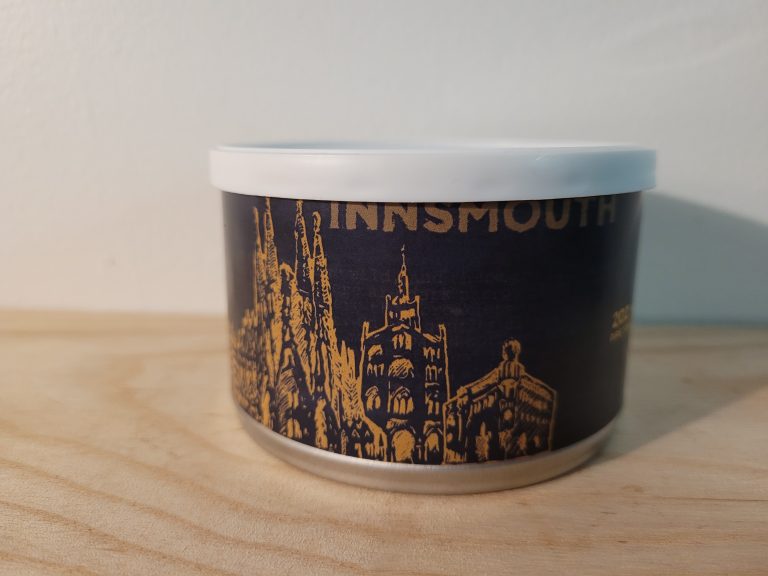 The Old Ones series all keep to the same style, a monochrome lithographic-esque drawing, bold sans serif lettering, on a black label. For Innismouth, the most Virginia forward of the group, they've chosen a fitting sickly yellow. Peering closely you can see faint lettering on the background, obviously taken from Lovecraft, but it is faded to the point of obscurity. I think they've done an exceptional job capturing the tone of a Lovecraft themed tobacco.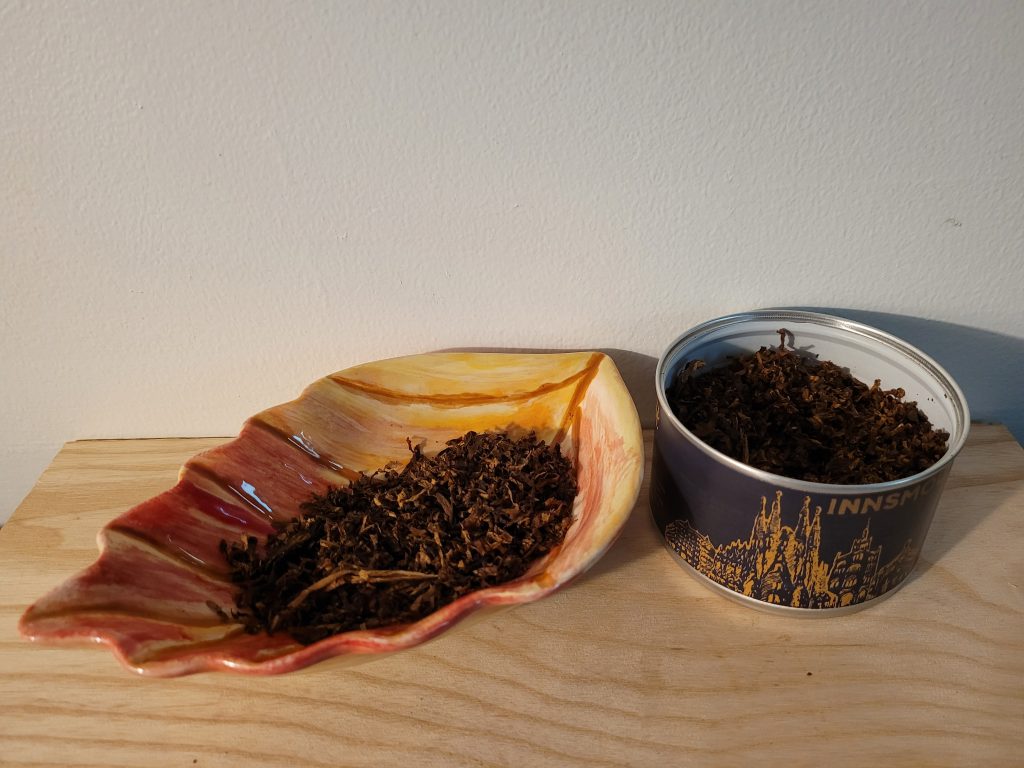 LOOK & FEEL OF THE LEAF
Innismouth is predominantly tawny leaf with some dark brown strands. The cut is a wispy ribbon, not quite shag. The moisture is perfect, not dry, not wet. This gives the blend a very springy feels.
TIN AROMA
Innismouth has a surprsingly deep and dark aroma considering it's constitutive parts, with a heavy chocolate covered raisin aroma, with some earth and must.
LIGHT & DRAW
Packing Style:  The near shag cut of Innismouth makes this effortless to pack, I would just pluck a big pinch and squeeze it into the pipe. It's incredibly springy, which means using more than two pinches may be tempting, but difficult. Your tamper will be a constant companion.
Fire:  Cosmic Taco Bic
SMOKE & ROOM NOTE
Innismouth issues a fairly thin smoke which is typical for Virginia dominated blends.
The room note. Let's see. Are you old enough to remember when smoking in bars was allowed? Think of rolling into a poolhall some Friday around 11:26 PM. That stench of chain smoked unfiltered Camels would impact your central nervous system with all the subtlety of a Wile E. Coyote dynamite gag. Innismouth, with its Virginia-Oriental base hits that note perfectly, much to my and my wife's dismay.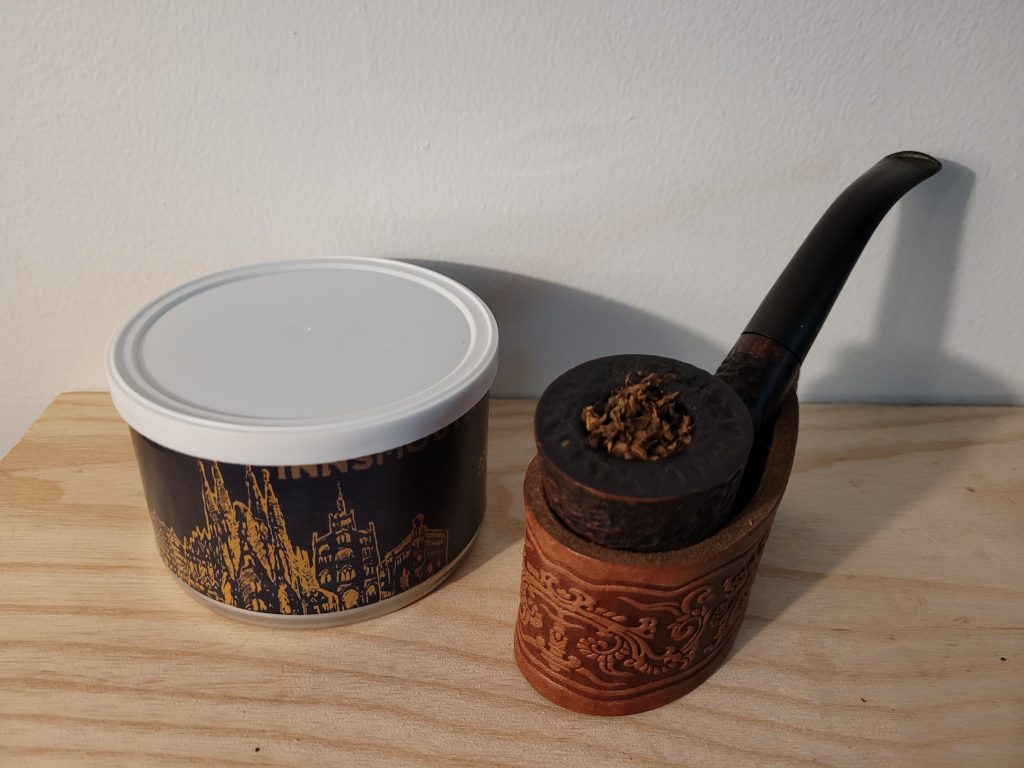 Musty, with a lightly sweet hay. Lemon, salt, and butter. Just a bit of pepper. It grows more sour, white vinegar joining the lemon. The smoke has an oily mouthfeel. The pepper begins to rev up about a quarter through the bowl, with a vegetal quality. It's watercress actually. If you've never had watercress, think a peppery fresh spinach. If you've never had fresh spinach I suggest consulting a cardiologist at your earliest opportunity. Halfway through the sweetness and sourness begin to fade but don't entirely disappear; hay, tea, butter, and toast take the fore. Moving into the last quarter the lemon-vinegar shoots back ahead on top of the breakfast tray, with a good pinch of salt. Towards the very end the sweet-sour-salt flavors almost disappear under hay, toast, cedar, and earth.
This was okay. The hay-butter-toast trifecta is my polite way of saying this tastes like a cigarette. Drying time is unlikely to do anything for this blend, so I'll try one of my other VA dedicated pipes.
SECOND BOWL
>> Big Ben Nautica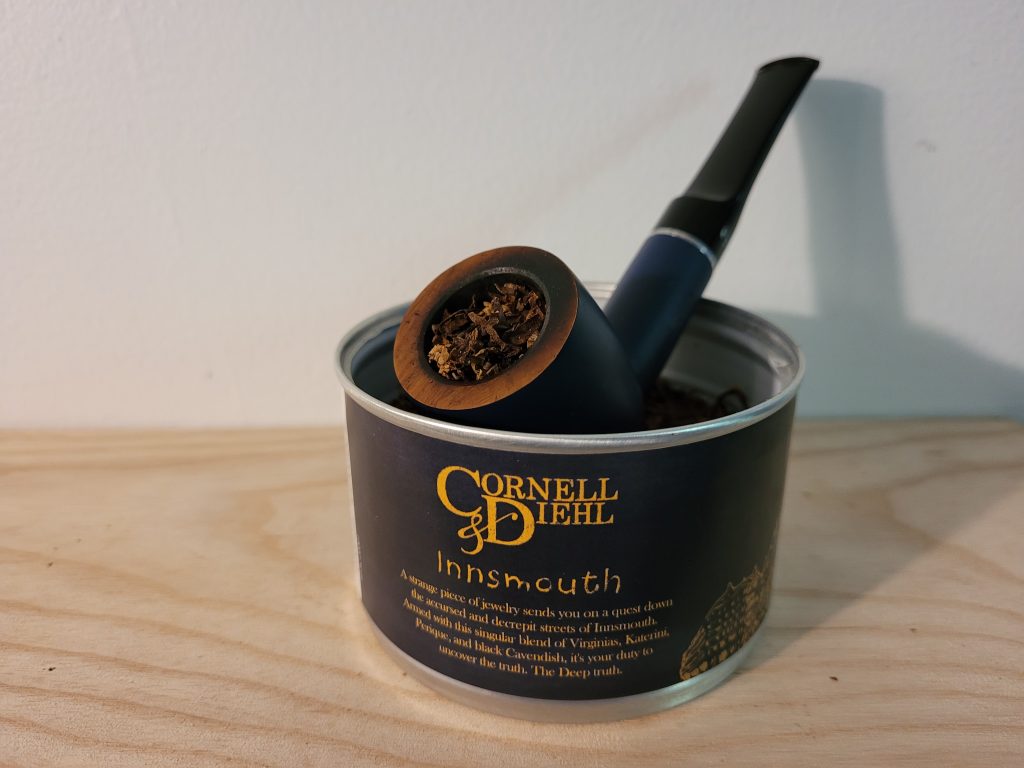 Hay. Butter, salt, and a gentle sweetness. Fairly salt and vinegar. And a dollop of sour cream. Hay and grass, but also very sharp and salty – lemon zest and white vinegar again. An earthy base adds depth. Sour cream, hay, and earth wraps the sweet-sour-salty flavors with a warm richness. Cedar. Sage, well that's new to me. Edges around the cigarette flavors. A pepper creeps through the sage and cedar over earth, hay, vinegar, and lemon zest. The lemon ramps up its intensity in the second half, with the sweetness and salt balancing it well. In the final third the sweetness drops a tad and earthy base returns, along with a bit of bitter cedar, nuts, and oak. 
My Nautica is dedicated to VaOri blends but I started with my Brigham as it's usually able to make any Virginia taste its best. However I find the slightly wider aperture of the billiard unifies the experience with Innismouth, making it much more enjoyable. The lemon is brighter, the cedar and earth come earlier, and the pepper is better dispersed. 
For the final bowl I'll smoke it in my widest Virginia pipe.
THIRD BOWL
>> Handcarved Mr. Brog Kit pipe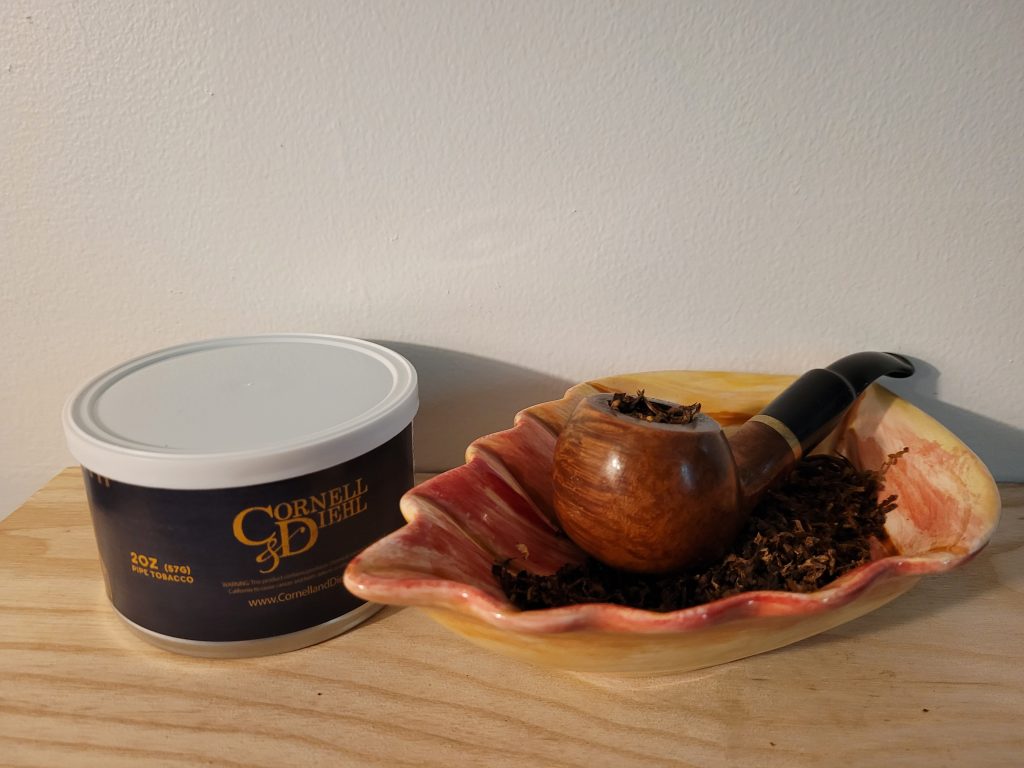 Sweet and salty hay. Raisin bran. Smidge of pepper. The vinegar arrives fast and strong. This bowl is the sweetest I've had yet from Innismouth, at a medium-high sweetness. Creamy and musty. Strawberry. Butter, hay, and incense. Strawberry-lemon-vinegar. This is quite fruity. Stays that way to about the midpoint, when the peppery watercress comes through. Then earth gets shoved underneath the strawberry-lemon-vinegar-salty-sweet-hay. It stays at this excellent plateau until the last quarter. At this point the vinegar and lemon-strawberry grows as the sugar and salt back down, allowing the earth, cedar, and hay base to speak more clearly, with that herbal pepper weaving through the whole experience.
In general I have found that most any Virginia blend will taste better in a narrower pipe. The opposite is true for Innismouth. The wider the bowl the better the disparate elements can work together.
FLAVOR PROGRESSION
Innismouth starts mild, sugar-salt-sourness builds to the halfway point, then expands with earthy-cedar base notes. The wider the bowl, the more cohesive the experience is, but the development remains the same.
BURN EXPERIENCE
With it's near shag cut Innismouth burns easy, quickly, but cool. It never went out and never gave any tongue bite.
SIMILAR BLENDS
At it's worst, any Camel cigarette. In that vein, Dunhill's Ye Olde Signe is the closest I can compare Innismouth when it's um, not living up to it's potential we'll say. It reminds me other extremely lemony-sweet Virginias like Sutliff 707, Samuel Gawith Golden Glow, and MacBaren Virginia No 1. It may be a bit closer to another C&D standby, the Virginia-Oriental flake Sunday Picnic.
RATING BREAKDOWN
0.50 / 0.50 … Craft & Aesthetic
0.40 / 0.50 … Tin Aroma
0.50 / 0.50 … Lighting Process
7.00 / 8.00 … Smoking Experience
0.25 / 0.50 … Personal Enjoyment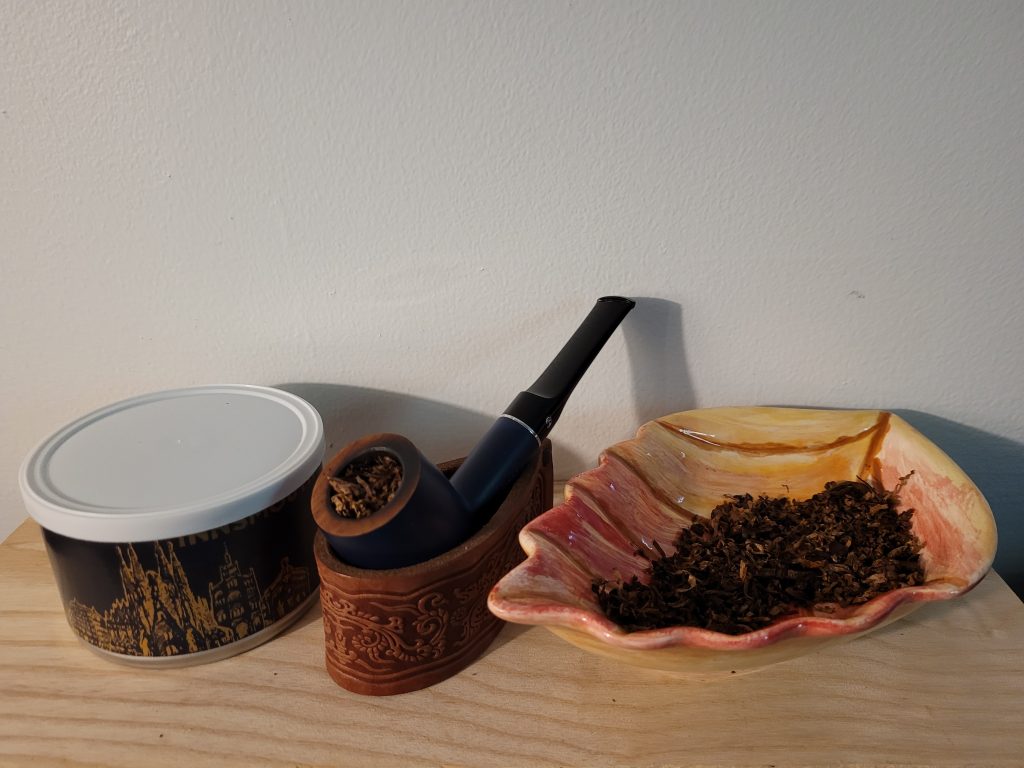 I AM IN LOVECRAFT FLAVOR COUNTRY.
C&D Innismouth is a gimmick tobacco, trying to tap into the sub-cultural icon suddenly thrust into the mainstream, using a less common condimental tobacco. But it is a very good gimmick tobacco.  The Katerini brings to the lightly periqued Virginia a herbal character, along with some cedar and earth. This distinguishes Innismouth from the numerous VaPer blends out there. Unlike many of C&D's other gimmick tobaccos, Innismouth is not a limited release but is widely available. And thankfully unlike my experience with the other Old Ones, this had no off flavors or strange blending choices, so finally there's a Lovecraft themed tobacco I'm not scared to smoke.
SIMPLY STOGIES RATING:  8.25/ 10.0