There two things you can't evade, death, taxes, and worn out adages. Three things then. But at least with tobacco you can try to avoid them. One common ploy in the tobacco business is to take cigarette tobacco, scratch out cigarette, slap pipe on there, and avoid paying the revenue man his share. If you find yourself in a gas station in the States you'll see large, dirt cheap bags under the cruel blue fluorescent flicker. Do not buy this. It is the lowest form of tobacco sold legally.
However, there are some reputable blenders that have offerings that are for both your pipe and rolled up in paper. Half and Half is the most well known of these, but most of the big houses have a product or three that could be easily used for one or the other interchangeably. Daughters and Ryan though has a full suite of these high quality dual purpose tobaccos. Like the subject of today's review, the aptly named Two Timer. Now I have no interest in trying to roll up anything, but I will give this pure burley blend a go in a couple of my pipes.
BULK or TIN:   Bulk
ORIGIN:   US of A
BLENDING HOUSE/PRODUCER:   Daughters and Ryan
BLENDING COMPONENTS:   Burley

STRENGTH:   4/7
SOURCE:   tobaccopipes.com
WHERE:   
Rural America
WHEN:   
March – April 2022
DRINKS:   
water
WEATHER:   
windy and cold, windy and warm
WHAT'S ON:   
The howl of the spring breezes through streets
RELEASE TYPE  available
ORIGINAL RELEASE DATE  2010-2011
SPECIAL RELEASE  N
AVAILABILITY BREAKDOWN
o  Bulk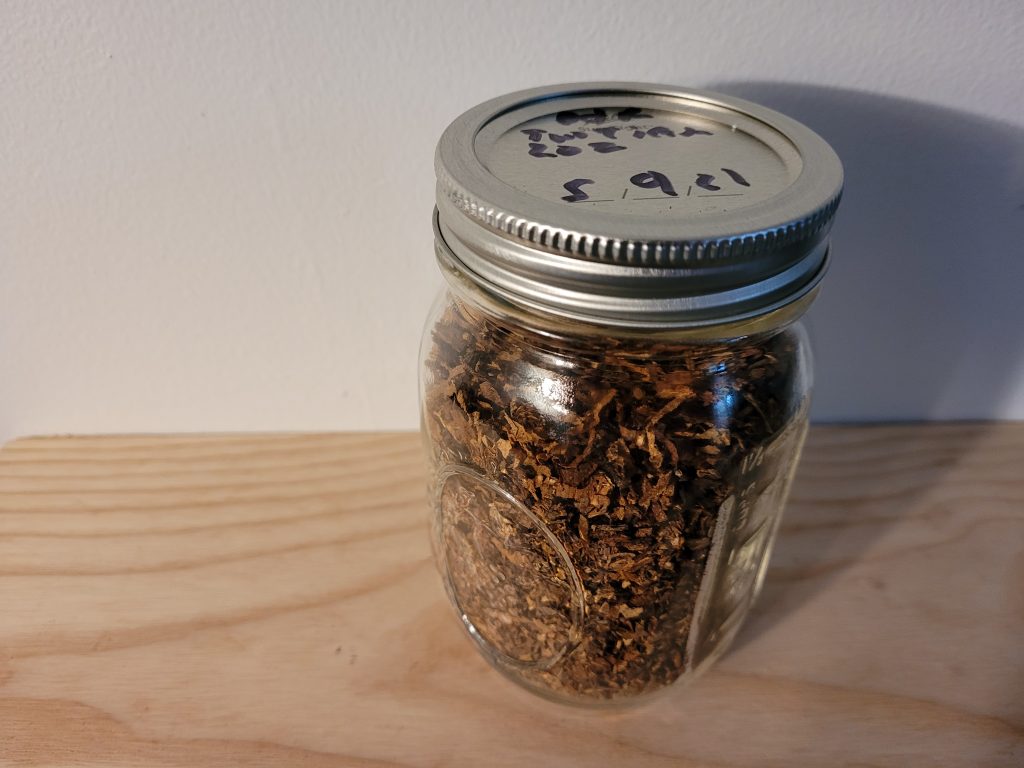 RESEARCH & BACKGROUND INFO
Two timer is the lone burley blend from D&R
It's pure burley 'Double-toasted'
Comes from Mark Ryan, the man who saved perique
Is meant to be both good for pipe tobacco and hand rolled cigarettes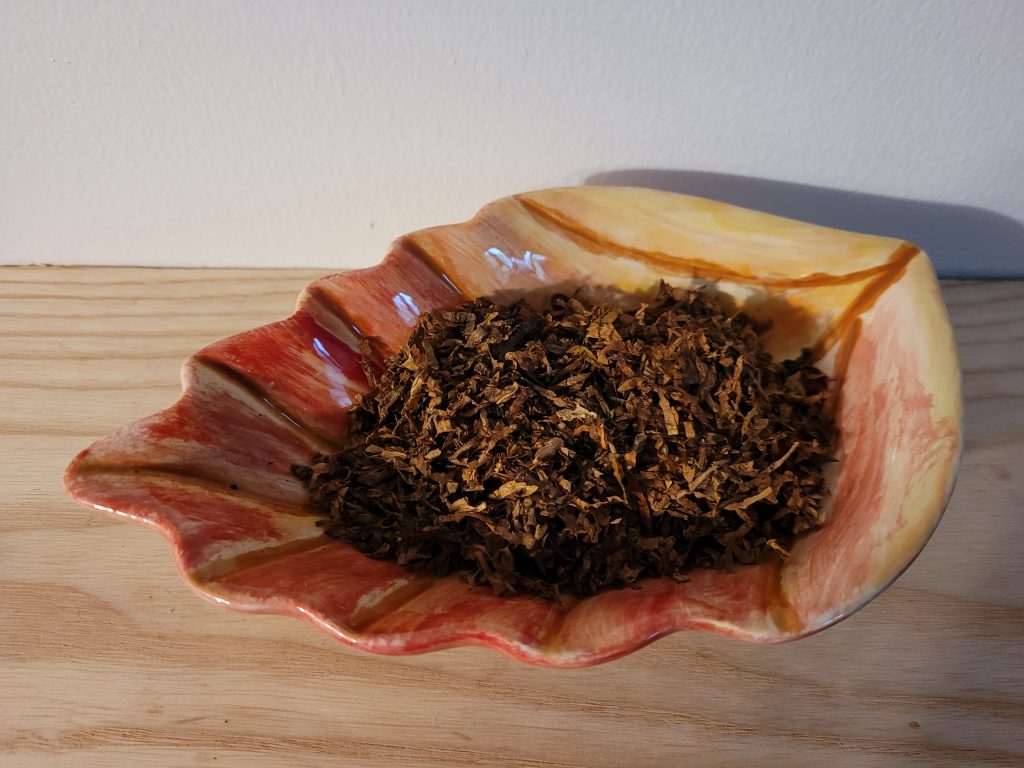 LOOK & FEEL OF THE LEAF
It's burley, burley, and more burley. The short thin ribbon is a consistent milk chocolate color. To the touch it's springy and light, but very dry. It's very light, my 2 oz takes up as much space as 4 oz as any other ribbon.
TIN AROMA
Lightly sweet cocoa, hazelnut, and molasses, with a slight milkiness about it.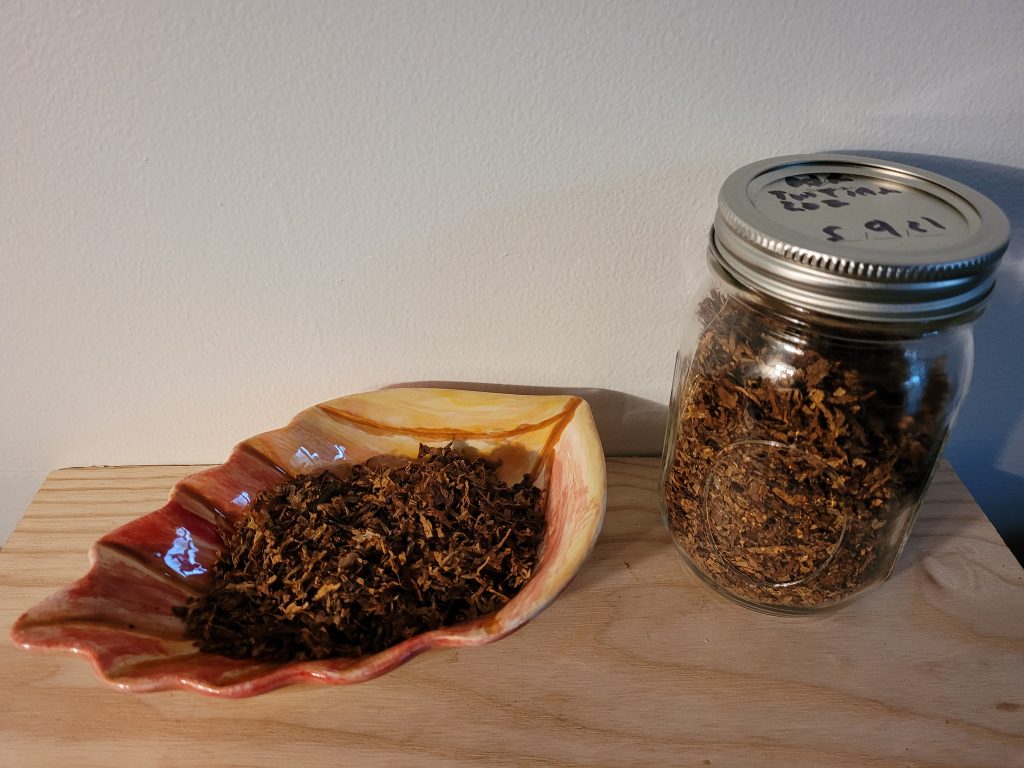 LIGHT & DRAW
Packing Style:  Two Timer is so fluffy you really have to cram it in there, I've put 4 pinches into a pipe where I normally just go with one.
Fire:  Cosmic Taco Bic
SMOKE & ROOM NOTE
Two Timer has absolutely perfect mechanics. It takes the light well, burns easily if rather quickly, and doesn't bite at all. The smoke issuing from it is mild, a bit toasty-cocoa-leather.
FIRST BOWL
>> Briarworks Buckeye, no dry, one pinch pack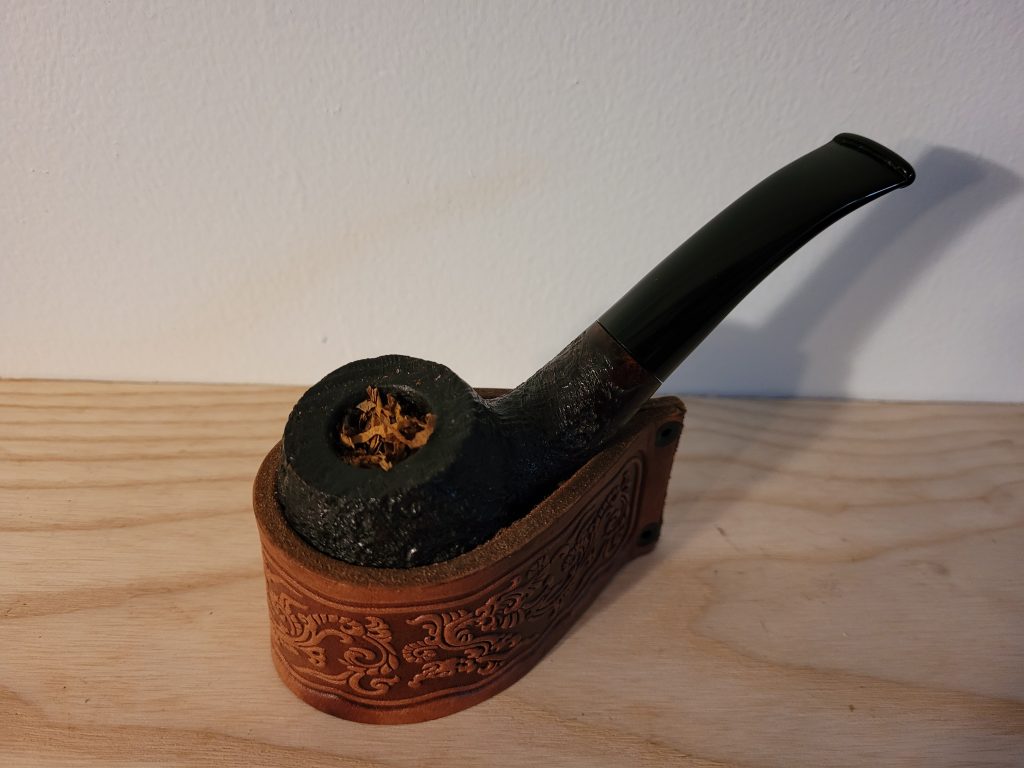 Mildly nutty and lightly sweet. Salty. Oily hazelnuts and light cocoa. Black pepper. Both dark coffee and cola. It's very rich, like a peppery cigar. Mild fruits and vinegar. It's mostly hazelnut through the center of the bowl. A light hickory comes in two-thirds of the way through, as it grows even oilier. Heavy cream. Hazelnuts, pepper, lightly sweet, with a tinge of red fruit, and light minerals. Consistent through the end.
That was delicious…for about ten minutes. It's time to crank up the pressure.
SECOND BOWL
>> Briarworks Buckeye, no dry time, very heavy pack.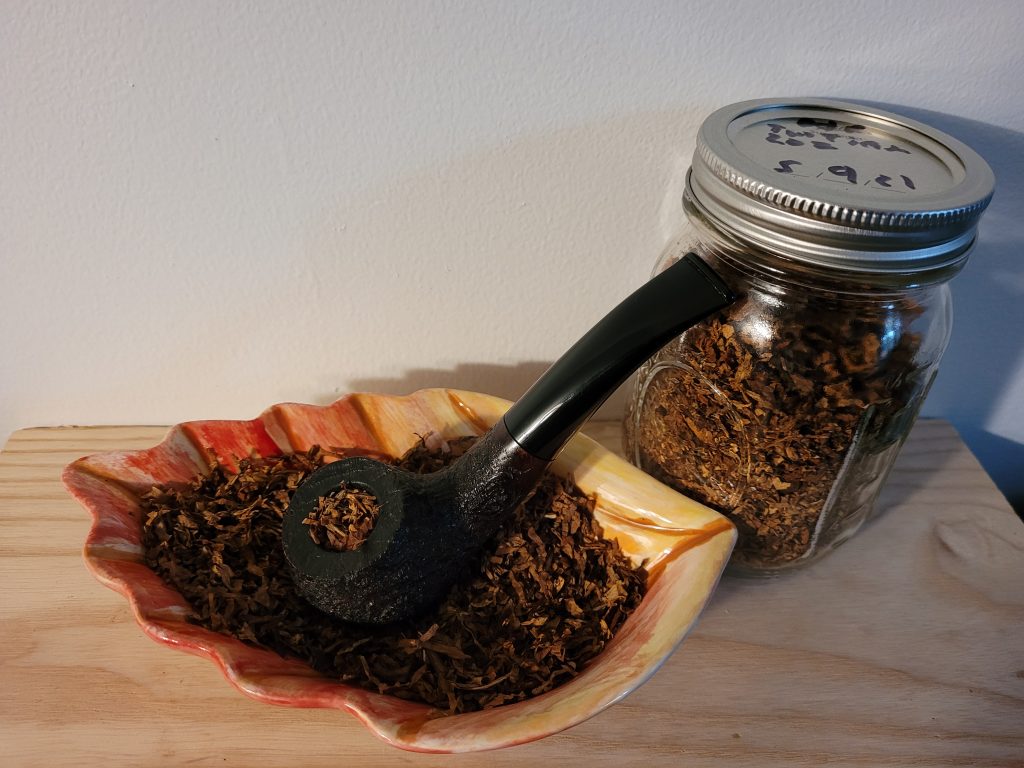 Hay, butter, sweet, and nutty. The smoke is quite oily. Hazelnuts, light salt, some vinegar, minerals, and red fruit. The flavors are consistent but grow to the point of full richness, quite like a cigar in its intensity. Heavy cream and apple peels come through. Black pepper comes over on top of all this. Quite consistent. Around the halfway mark hickory, oak, and coffee come in, joining with the hazelnuts, salt, cream, vinegar, and cocoa powder.
This burned much longer, cresting the 20 minute mark. It was quite consistent and similar to the first bowl, but the longer burn time was more enjoyable and I could suss out a few more notes.
THIRD BOWL
>> Boswell Billiard, no dry time, very firm pack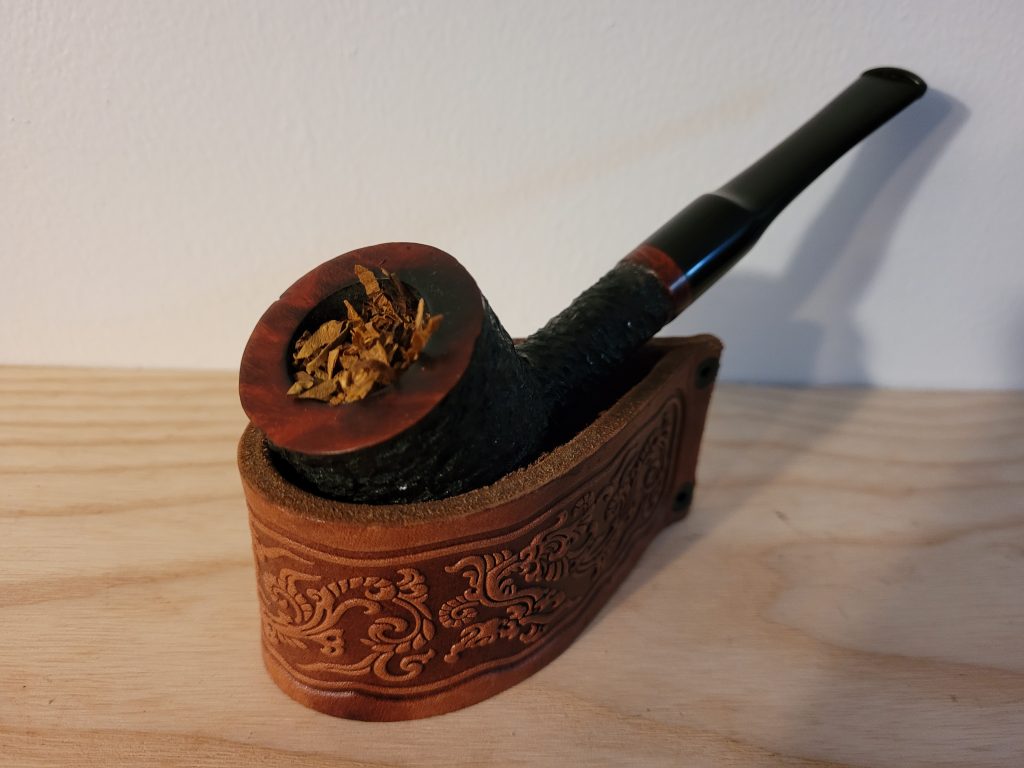 Cocoa and red fruit, no not red fruit, Swedish Fish. Quite sweet. Hazelnuts, loads of salt, milky. Oily smoke as always. Some black pepper starts in light, then grows quite spicy quickly. Fruity, heavy cream, cocoa, medium roast coffee, and a touch of anise. Cayenne, coffee, leather. Grows woody, cedar and oak specifically. Quite lactic all the way through, hazelnuts, and mediumly sweet. Swedish fish and red wine vinegar. The pepper grows all the way to the end.
With a firm pack and a larger bowl even more flavors can be detected. It also let the pepper reign, which is not to my personal tastes, but it's there for those who prefer a burley blend that bites back.
FLAVOR PROGRESSION
Generally Two Timer starts light, a bit fruity with some cocoa. The pepper picks up through the middle. Then the last third turns darker with hickory and oak flavors.
BURN EXPERIENCE
Like most burleys this burns fantastically, but quite quickly. Be sure to pack this as heavily as you can manage.
SIMILAR BLENDS
Both the taste and burn rate of this reminds of of Semois. The classic burley flavors with the fruit and pepper is evocative of Peter Stokkebye 702.
RATING BREAKDOWN
0.30 / 0.50 … Craft & Aesthetic
0.30 / 0.50 … Tin Aroma
0.50 / 0.50 … Lighting Process
7.40 / 8.00 … Smoking Experience
0.30 / 0.50 … Personal Enjoyment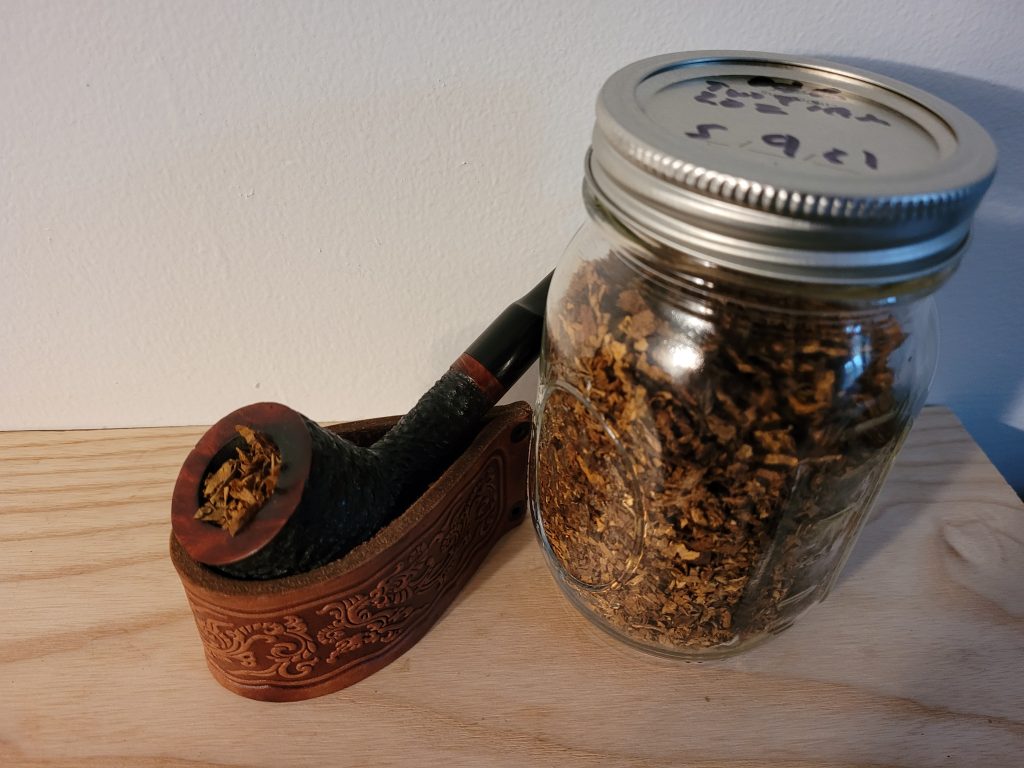 NOT HALF BAD.
I cannot attest to how Two Timer is rolled up in a cigarette, but as a classic burley pipe tobacco, it's quite good. It arrives at a moisture perfect for smoking, and smokes perfectly, if quickly. For a pure burley, Two Timer presents an array of flavors, from red fruits, or at least red fruit flavored candies, to heavy cream, minerals, pepper, hickory smoke, oak, and of course the heart of any good burley, cocoa-nutty flavors. This is not the type of burley for a Sir Walter Raleigh, Lane Ready Rubbed, or other sweetened burley devotee. Neither will it displace Solani Burley Flake or Wessex Burley Flake from burley aficionados' rotations. But it is a great every day kind of smoke.
 
SIMPLY STOGIES RATING:  8.8/ 10.0