I remember when I first smoked the Liga Privada No. 9 years ago. My local lounge said there were some production problems and they would not be getting any in for quite some time. I waited for a couple months and then I finally was able to grab one. Smoking this cigar for the first time changed my view of cigars. Whenever I bought something in the lounge it was always an Ashton or house stick. The flavor of this cigar was different from everything that I smoked and it became the cigar that would open me up to trying everything.
From the Drew Estate website: "Liga Privada" means "private blend" and was crafted for the manufacturers personal humidors. No. 9 signifies the blend where the flavor and character are perfectly balanced. It is aged a full year and is guaranteed to be flawless in every way by Drew Estate. The wrapper in hand fermented for over 18 months and four pairs of hands are allowed to produce only 250 cigars a day. The cigars are aged a year before they are sold.
The Liga Privada No. 9 line competes with some notable cigars from other companies and they are very similar. The two other companies that have cigars that are similar are Dunbarton Tobacco & Trust and Foundation. Steve Saka from Dunbarton and Nick Melillo of Foundation both use to be employees of Drew Estate who were also heavily involved in blending some of the most  well know cigars Drew Estate has to offer.
VITOLA:   Robusto
SIZE:   5″ x 54
ORIGIN:   Nicaragua
FACTORY:   La Gran Fabrica Drew Estate
WRAPPER:   Connecticut Broadleaf #1 Darks
BINDER:   Brazilian Mata Fina
FILLER:   Honduran and Nicaraguan Cuban Seed
STRENGTH:   Medium-Full
SOURCE: Retailer
WHERE:   Back Porch
WHEN:   November 25, 2022 @ 4 PM
DRINKS:   Water
WEATHER:   Cool Breeze and Sunny
HOW MANY CIGARS SMOKED:   3
RELEASE TYPE  Regular Production
ORIGINALLY RELEASE DATE  2007
TOTAL PRODUCTION
Typical Box Size:     Boxes of 24 & 48
Production Totals:  UNK
VITOLA BREAKDOWN
o  Robusto  (5″ x 54)
o  Coronettes (4″ x 32)
o  Corona Viva (6″ x 46)
o  Flying Pig (3.9″ x 60)
o  Belicoso (6″ x 52)
o  Toro (6″ x 52)
o  Corona Doble (7″ x 54)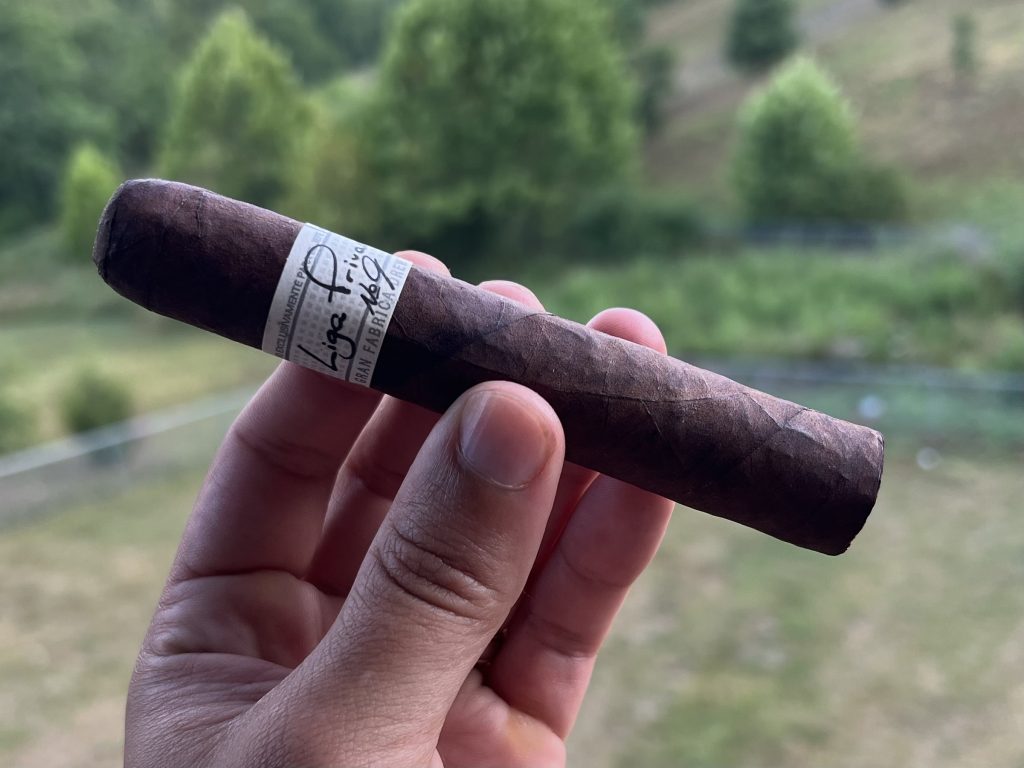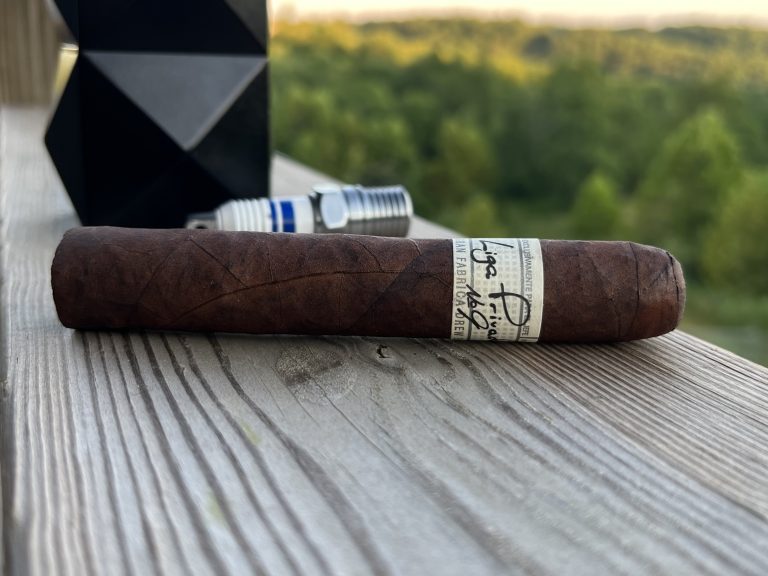 The band design of all Liga Privada cigars is straight forward and simple. I believe the intent behind the design is to give an exclusive feel. The hand written font always makes me believe this was created for personal use and not for sale. The simplicity of a note written on a fairly plain band really leads your eye to the dark broadleaf wrapper which is the point.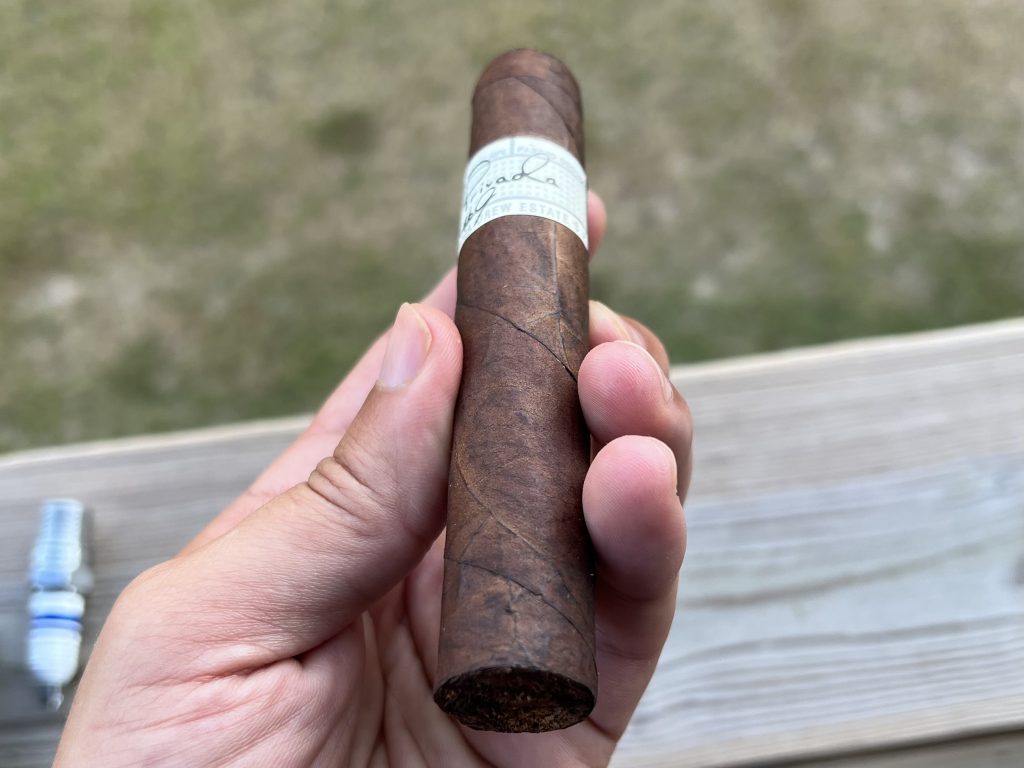 CONSTRUCTION

The No. 9 is rustic and dark like a piece of chocolate. Veins are minimal and the wrapper is fairly oily and looks velvety at first glance. The cigar has little give when squeezed and feels bumpy when running your finger across it. There are a couple soft spots which I found to be the case with most of the Liga Privada line. It usually does not cause burn problems and the draw is always wide open. There is a very neat double cap at the top.  
AROMA

The aroma coming off the cigar is like potpourri and barnyard. It also smells unbelievably sweet but sweet like sugar and nothing else. The barnyard aroma really dominates the senses.
COLD DRAW

The cold draw reminds me of smarties candy and maybe a little tobacco. There is no much to pull out as far as notes but I was surprised by the smarties note. The amount of air that is pulling through is perfect, just a bit of resistance and almost effortless.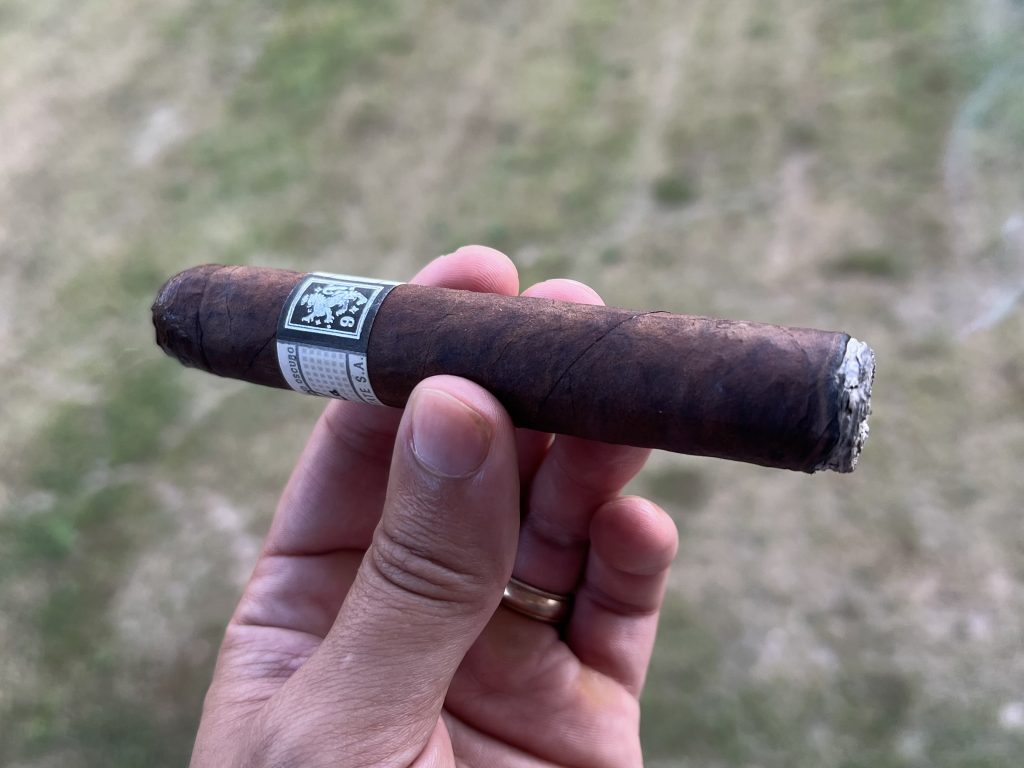 LIGHT & DRAW
Cut:  Punch
Fire:  Torch
Right off the bat you get notes of smooth aged tobacco and chocolate, a spicy red pepper retro hale, and sweet earthy coffee finish with no harshness. The draw is absolutely perfect.
SMOKE

Big plumes of thick smoke. The smoke just pours of the foot of this thing. It is one of my favorite characteristics of most cigars from Drew Estate. When I first started smoking I  always appreciated the smoke output of Liga's. It was so easy to smoke these cigars.
FIRST THIRD
>> Milk Chocolate, Coffee, Nutmeg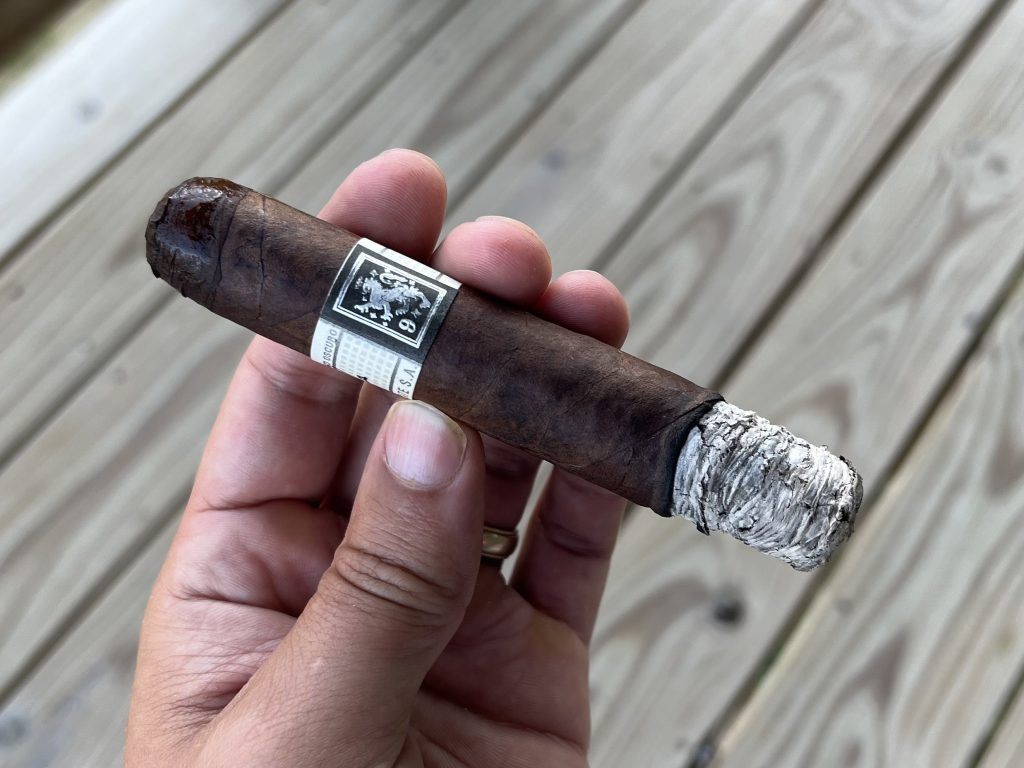 Creamy milk chocolate with coffee dominates the palate in the first third. Earth really takes a back seat. The retro has tamed down to a baking spice with nutmeg front and center. Cocoa powder on the finish with a feint white pepper on the back end. This cigar is reminds of a mocha made with Cadbury milk chocolate. The draw is still perfect, thick smoke fills the air,  and the ash is fairly straight with no flaking. 
SECOND THIRD
>> Earth, Dark Chocolate, White Pepper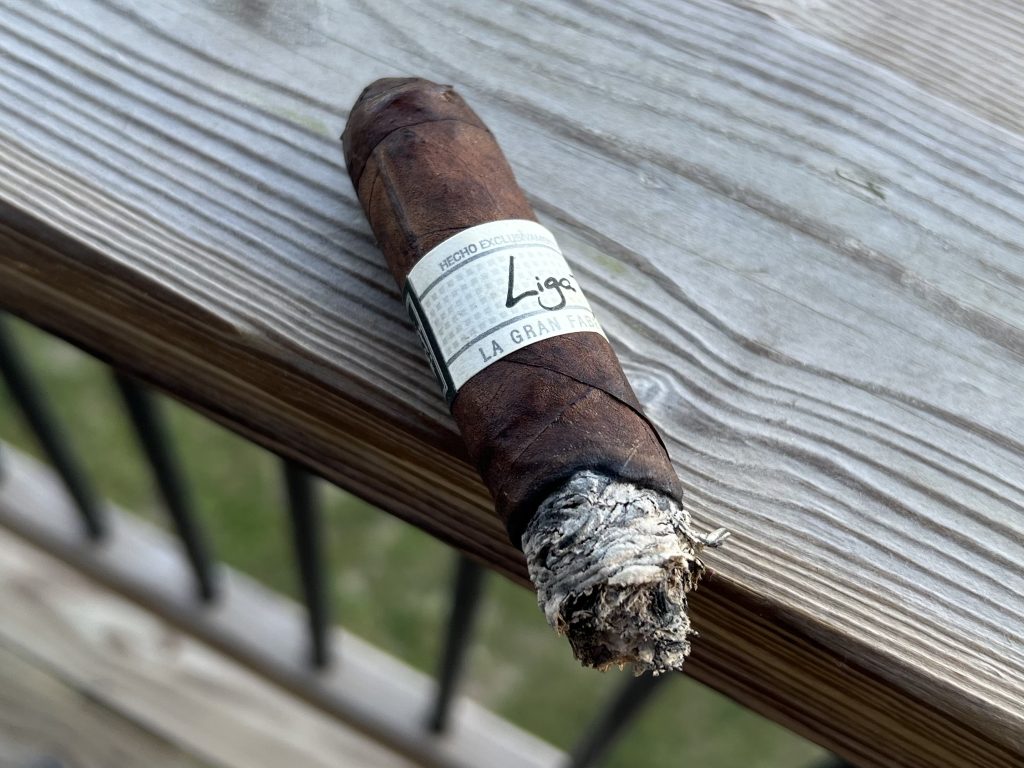 Earthiness shifts to the front but is matched by a smooth aged tobacco with a dark chocolate as a foundation. The retro hale is a creamy mix of nutmeg with a little white pepper coming in a few seconds after. Black coffee mixed a little bitter chocolate on the finish. The creaminess disappearing.
FINAL THIRD
>> Red Pepper, Cuban Coffee, Chocolate Cream Pie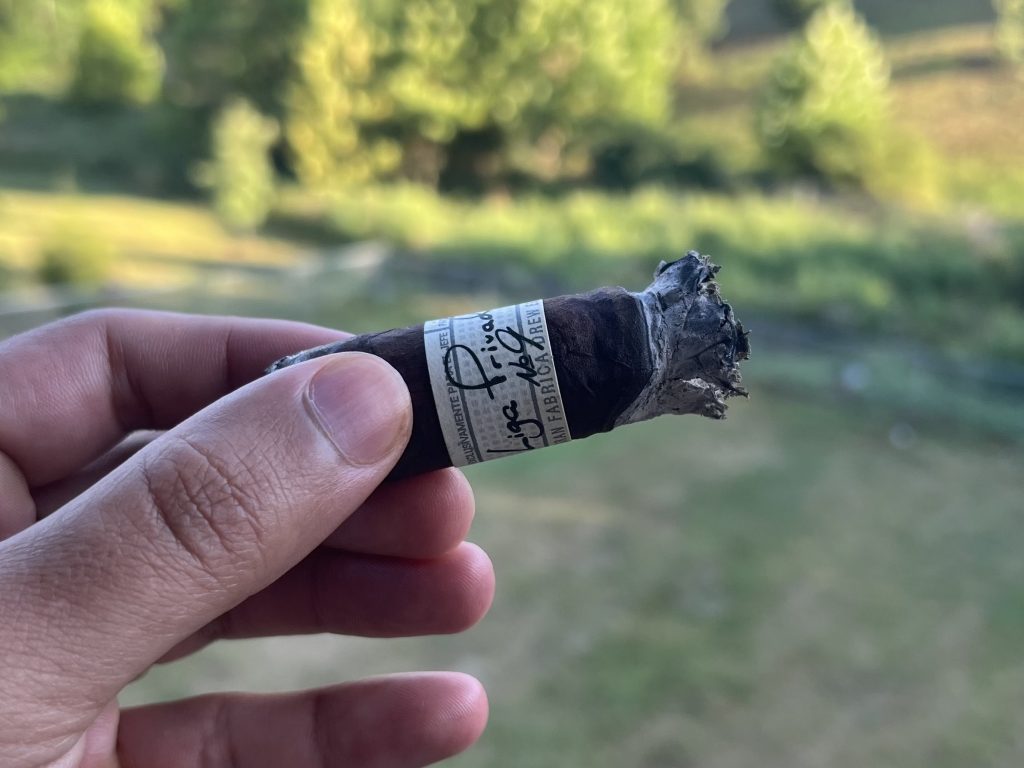 I set the cigar down for two minutes and noticed that it almost went out. The burn got a little wonky in the last third but corrected itself quickly. On the palate this cigar reminds me of a cafecito. It's bitter, earthy, sweet, and just a little creamy. Red pepper moves to the front on the retro with Nutmeg and fades into chocolate cream pie finish.
FLAVOR PROGRESSION
This cigars has all the flavors that I want. There aren't huge shifts of flavors but variations of the flavors experienced right from light up. The chocolate foundation moves from milk chocolate to dark and bitter chocolates latter on. The spice in the cigar jumps from nutmeg to a sweet red pepper and back to a nutmeg dominated baking spice. There is just enough variation to keep me interested and enough consistency to make the Liga Provada No. 9 one of the most balanced cigars you could ever smoke.
BURN EXPERIENCE
While the burn was semi wavy in this sample with no need for touch ups I did have one cigar that I had to monitor and touch at least twice. Of all the No. 9's I have smoked I never had any major issues but you have to expect some wonky burns with an artisan product like hand made cigars. Overall, the burn was fairly straight and provided a stress free experience.
RATING BREAKDOWN
0.70 / 0.80 … Craft & Aesthetic
0.50 / 0.50 … Pre-Light Characteristics
0.50 / 0.50 … Lighting Process
7.50 / 7.70 … Smoking Experience
0.40 / 0.50 … Personal Enjoyment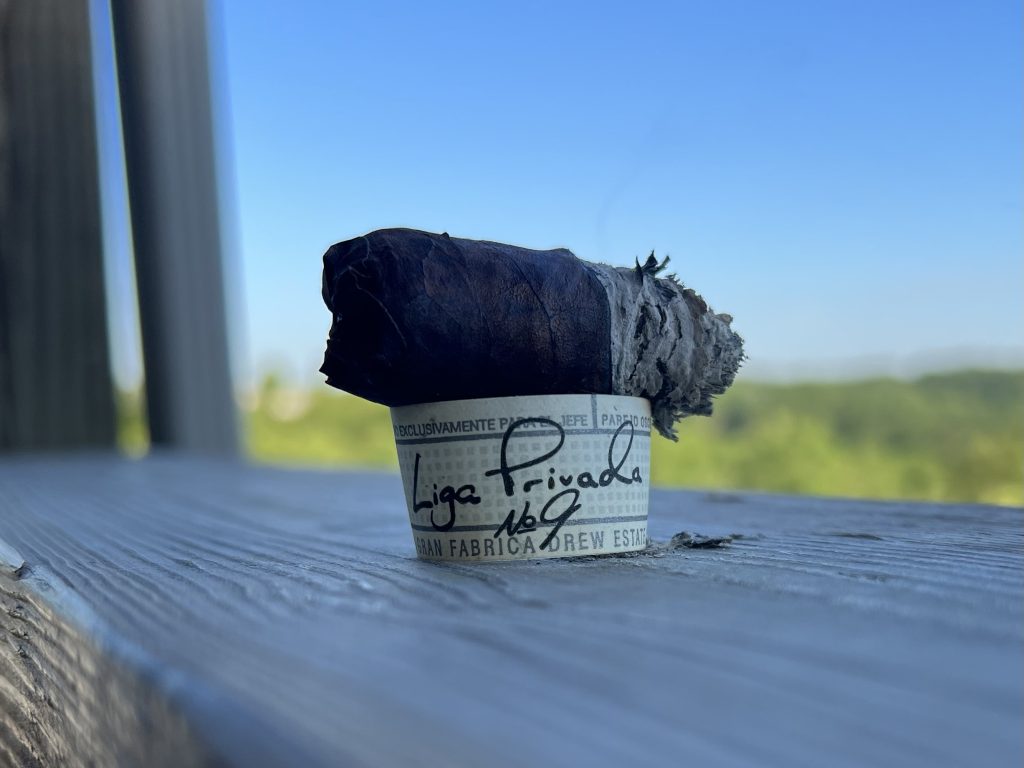 A Must Try For Every Cigar Enthusiast.
The flavors are so good with different note variations throughout the cigar. It's complex and perfectly bold. The smooth aged tobacco coupled with ample smoke and flavors at a medium strength level make this cigar a great choice for someone who is diving into the cigar hobby and seasoned veterans  alike. You should always have these in your humidor! 
SIMPLY STOGIES RATING:  9.6 / 10.0