VITOLA:   Lancero
SIZE:   7″ x 42
ORIGIN:   Nicaragua
FACTORY:   Tabacalera Aromas de Jalapa
WRAPPER:   Ecuadorian Habano
BINDER:   Nicaraguan
FILLER:   Nicaraguan Corojo & Criollo
STRENGTH:   Medium
SOURCE:   
Cigars At Your Price
WHERE:   
Three-Season Porch at Home
WHEN:   
July 01, 2017 at 11 PM
DRINKS:   
Templeton Rye – 4 year
WEATHER:   
Low 80s – light rain
WHAT'S ON:   
Just started 'The Fall' on Netflix
RELEASE TYPE  Limited Production
ORIGINALLY RELEASE DATE  June 2015
TOTAL PRODUCTION
Typical Box Size:     Boxes of 25
Production Totals:  200 boxes; 5,000 total cigars
VITOLA BREAKDOWN
o  Robusto  (5″ x 50)
o  Toro  (6″ x 52)
o  Lancero  (7″ x 42)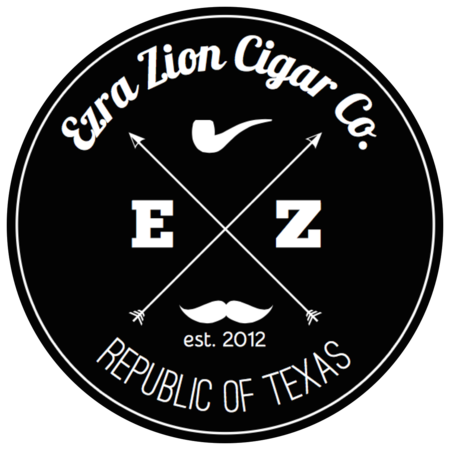 RESEARCH & BACKGROUND INFO
According to Kyle Hoover (co-owner of Ezra Zion and generally cool dude) "We are constantly trying to challenge ourselves in our blending. The next cigar has to be better than the last. All My Ex's is a blend that we've been working on for over a year to perfect."
Noel Rojas, owner of the producing factory, said of the blend: "When I tried the All My Ex's blend I told Chris and Kyle, 'This is the best cigar I've ever made at this factory'."
In case you're not familiar, the cigar's name refers to country legend George Strait's 1987 classic "All My Ex's (Live in Texas)". The tune is an icon in the genre and seems to be a source of pride for Texans. It makes sense that Ezra Zion would use it as the name of a cigar they produced to be emblematic of the Republic of Texas.
Check out this great video showing one of these bad boys getting rolled!
All My Ex's comes in three vitolas: robusto, toro & lancero. Lancero is the rarest of the three at only 5,000 cigars produced. Ezra Zion also followed up the successful release of the All My Ex's with a maduro version.
When this cigar was introduced in 2015, the Ezra Zion logo was brand new. They seemed excited to debut it as it's prominently featured on both the band and the box.
The 'new' logo itself is quite interesting. For a cigar manufacturer, it seems to lack … you know … cigars? That said, maybe that would have been too obvious to slap a couple stogies on there and call it a day. I'd be curious to hear how they settled on a mustache, arrows and pipe. While it could easily be confused for something generated on a hipster logo creator, I think Chris & Kyle were going for a traditional Texan Ranch marker. It's simple and iconic – both are welcome characteristics on a quality cigar band.
Usually I think plugs to social media aren't needed on cigar bands/boxes because the curious smoker will find them regardless. I think Ezra Zion was anxious to promote their new look and slapped the @EzraZionCigars on the side.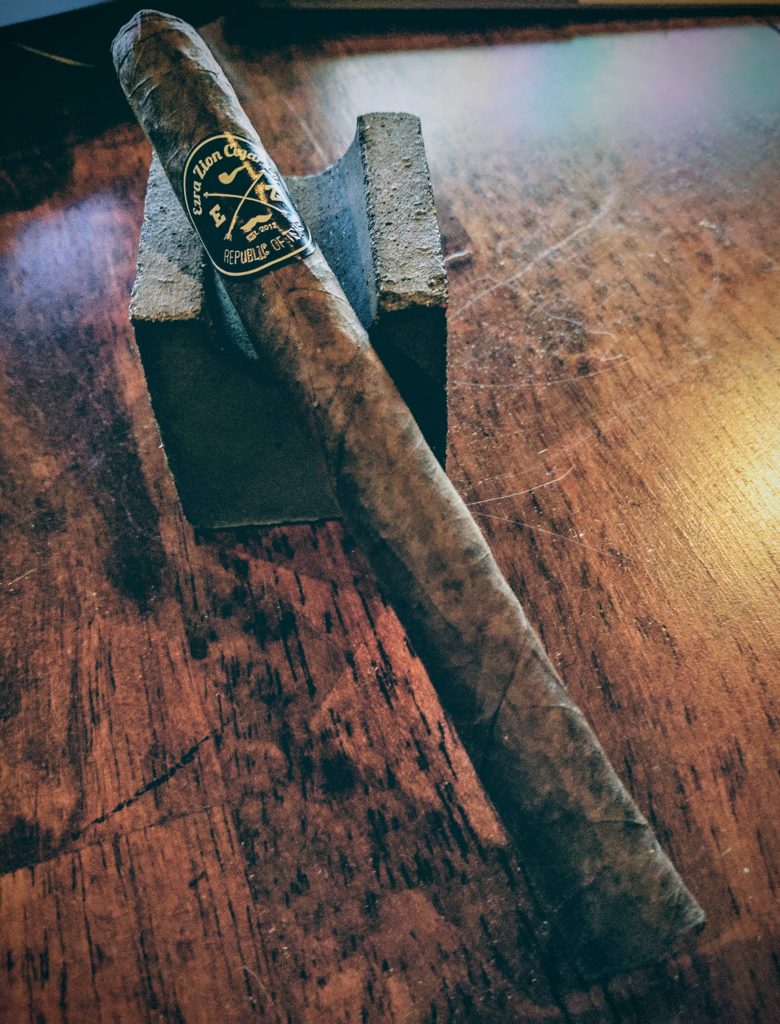 CONSTRUCTION
The construction is spot on. The habano wrapper features perfectly executed seams and there are no lumps, bumps, raised areas etc. There's a great variation of color throughout the wrapper. I've never thought as to whether that's a good thing or bad thing but it creates a very attractive looking stogie. The foot is well packed, save for one small void and the cap melds seamlessly into the body.
I did a careful inspection of the body and there were not discrepancies laying below the wrapper. The cigar has a good firmness to it. For a lancero, it feels sturdy and dense – which I appreciate.
AROMA
Off the foot, I get some raisin, light caramel, coffee and nougat with just a little zest.
COLD DRAW
The cold draw flavors are relatively muted. There's some light raisin and that's about it for me. The draw itself is great – a little tight but should be good to go.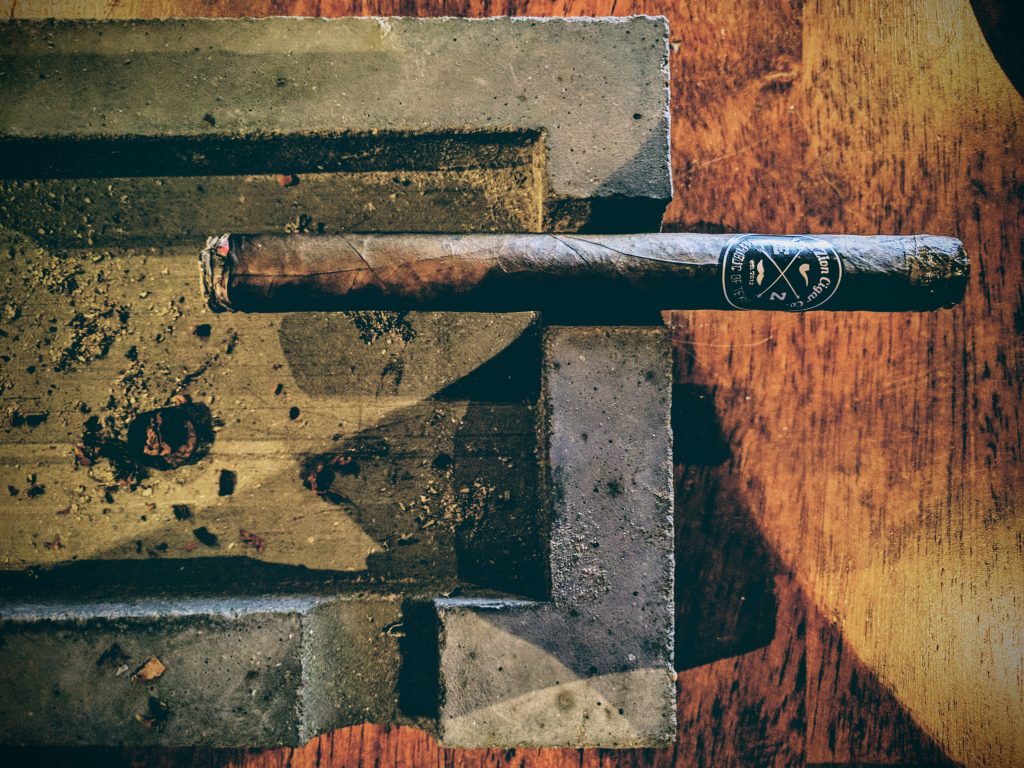 LIGHT & DRAW
I snipped the tip and put fire to it with my single-torch ST Dupont – stogie lit up beautifully.  Right out of the gate, there's just a hint of black pepper that's primarily over-powered by rich cream and chocolaty/caramel notes.
The draw is great – good clean one that offers a smidge of resistance, which is nice. The burn line is a little weird – let's see how that holds up.  The first couple layers of ash are a light chalky gray.
SMOKE
The smoke production is a little low when resting but more than ample while puffing.
FIRST THIRD
>> smooth, creamy, mocha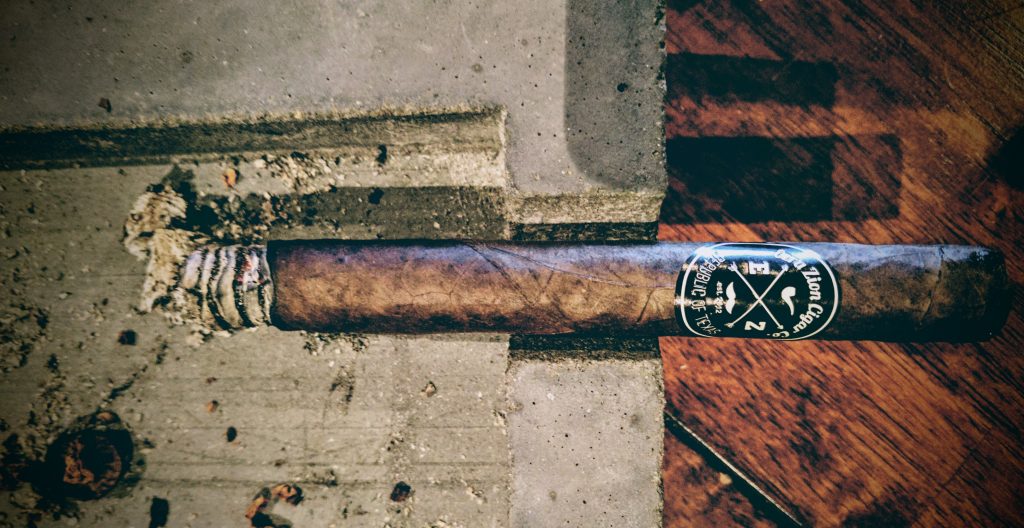 The All My Ex's is super smooth. Lots of creaminess to this profile right away.  There continues to be just a small hint of pepper but so far all the flavors lean towards mocha/cream and a subtle woodiness.  The burn line has stabilized more or less and the ash builds solidly.
SECOND THIRD
>> savory, oak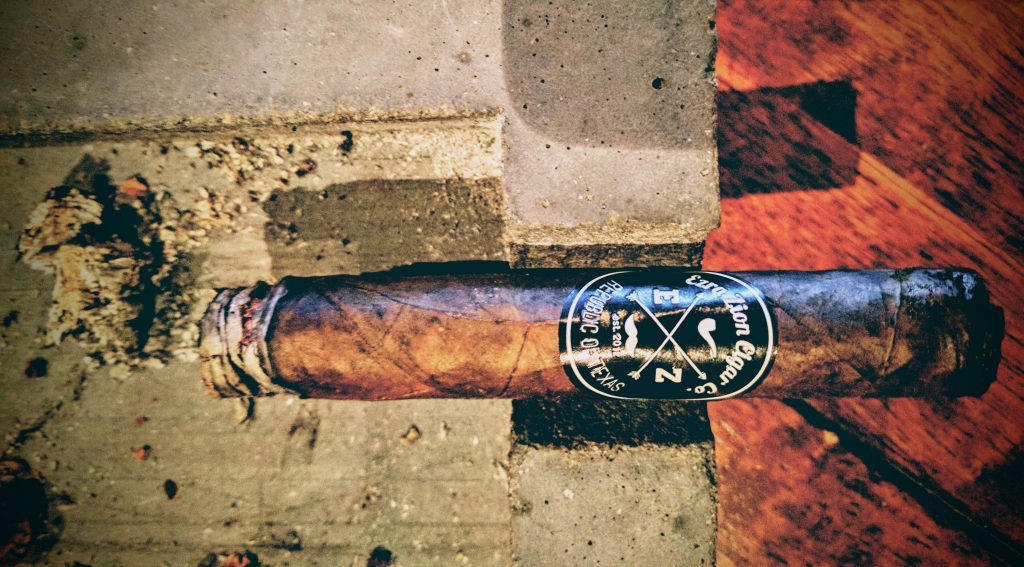 The sweet creaminess is waning a bit for a more savory profile. There's also an oaky woodiness to it.  The draw continues to be very good – nice and open.  As the cigar has burned, the burn line is correcting very well to a nice razor sharp burn.  The ash has been consistently a grey, chalky color.
FINAL THIRD
>> smooth, barnyard, earth, roasted mushroom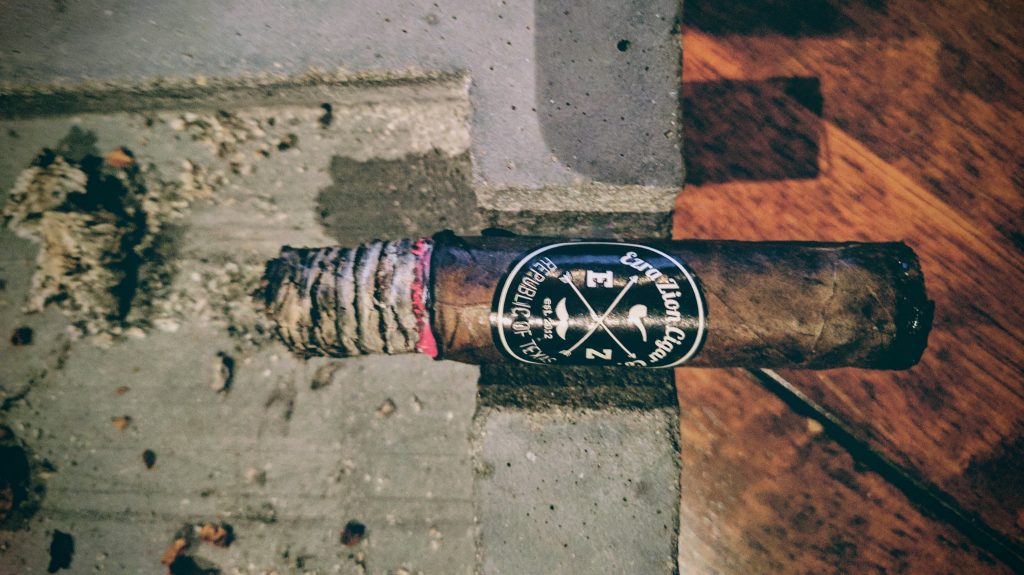 As the final third hits, I've noticed that the All My Ex's is an extremely smooth and pleasant smoke. It has progressed well from a slightly sweeter stick to a more savory flavor – all backed up by a very nice cream undertone that marries the flavors together. New to the palate is a bit of barnyard and earthiness – maybe like roasted mushrooms with some thyme – maybe I'm hungry.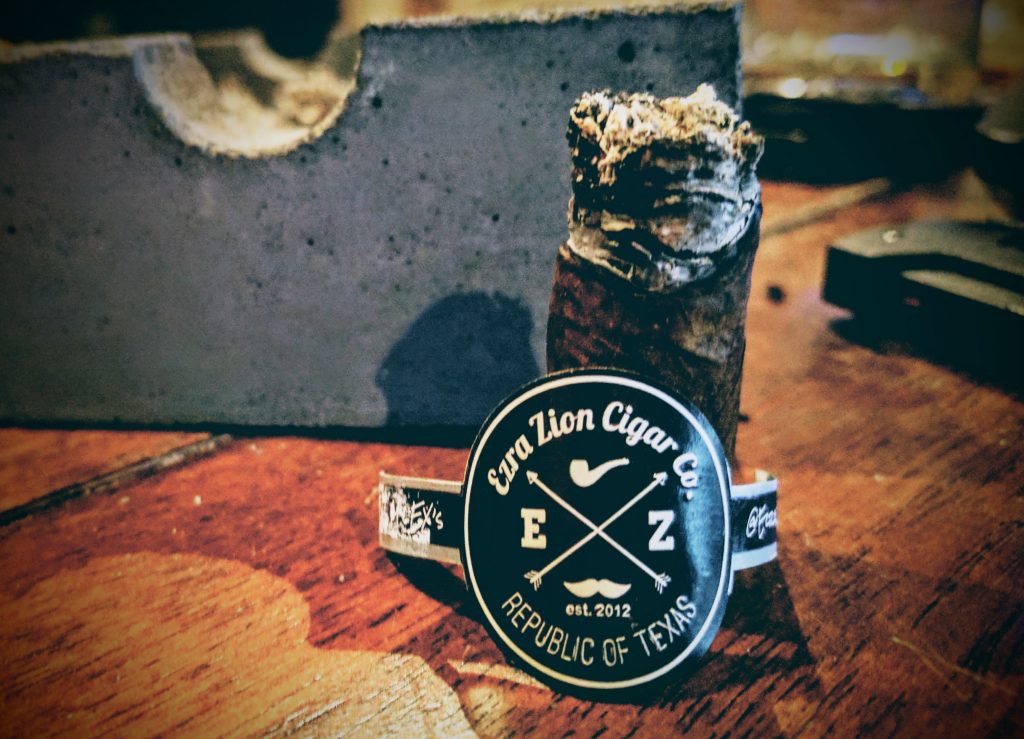 MY EX IS COMPLEX.
This All My Ex's lancero is a very nice, enjoyable smoke.  The cigar can easily fly under-the-radar as it's subtle, complex flavor progression is very smooth and transitions so smoothly it's easy to miss.  I feel like this is a great smoke for those times you don't necessarily want to mind a stogie carefully and when you're not looking to overwhelm your tastebuds.  This could be an excellent cigar for someone favoring lighter-bodied smokes, who is looking to venture into heavier bodied cigars.  I recommend this cigar to anyone and will be getting plenty more to keep on hand and share! 
SIMPLY STOGIES RATING:  8.2 / 10.0