VITOLA:   Robusto Gordo
SIZE:   5″ x 54  (unconfirmed)
ORIGIN:   Nicaragua
FACTORY:   Undisclosed
WRAPPER:   Nicaraguan Corojo Rosado
BINDER:   Nicaraguan
FILLER:   Nicaraguan
STRENGTH:   Mild – Medium
SOURCE:   
Ezra Zion's website
WHERE:   
Three-Season Porch at Home
WHEN:   
July 5, 2017 at 9 PM
DRINKS:   
Virgil's Root Beer
WEATHER:   
Humidity finally broke – low 70s with a cool breeze

WHAT'S ON:   
Spotify – "Jazz Vibes" Playlist
RELEASE TYPE  Limited Edition
ORIGINALLY RELEASE DATE  May 2017
TOTAL PRODUCTION
Typical Box Size:     Packs of 5
Production Totals:  610 cigars
VITOLA BREAKDOWN
o  Short Gordo  (5″ x54 – exact size unconfirmed)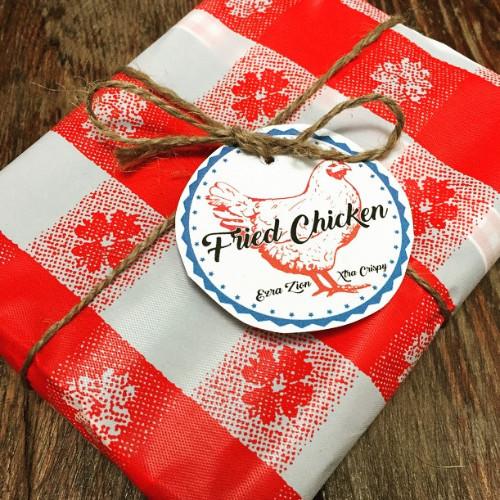 RESEARCH & BACKGROUND INFO
The Xtra Crispy is a follow up to the super successful, extremely small (200 cigars!) batch of Fried Chicken.  This was the first small batch cigar Ezra Zion ever released.
Like it's predecessor, the Xtra Crispy is a Nico Puro and uses tobacco from regions and farms of the country that Ezra Zion doesn't typically use to blend.
The original used an 'experimental' Corojo Claro wrapper; I'm sure that was good but I love the Corojo Rosado Kyle and Chris selected for the new release.
While the wrapper changed, the blend has remained the same and been aging since the original release.  I haven't tried the OR, from reading the descriptions, I feel like the aging process has helped to tame and marry the flavors wonderfully.  I'll likely let my remaining few sit for a while and see if additional years help to emphasize this.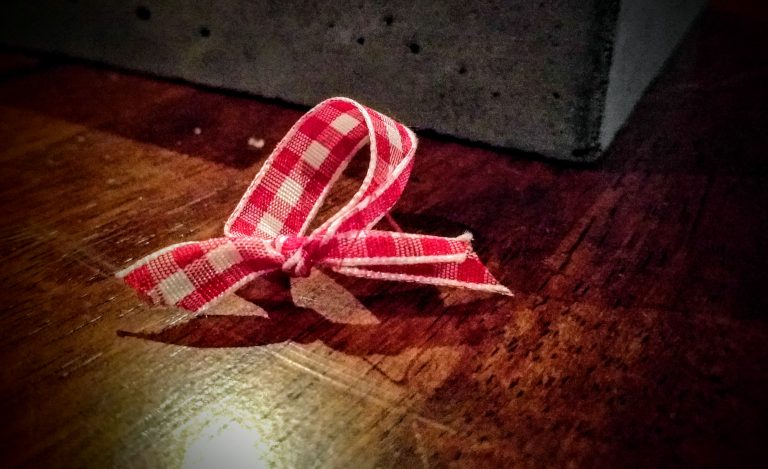 If I've said it once, I've said it … well, almost every Ezra Zion review – Chris and Kyle have a knack for creating iconic, very simply stated bands that convey the thought behind their cigars.
The band adorning the Fried Chicken Xtra Crispy is a plain piece of red/white plaid fabric that instantly conjures picnic blankets and/or Daisy Duke in her cut-off jean shorts and tied up top.   The band is simple and iconic but I will fault Ezra Zion for my typical complaint of a lack of immediate transparency on who made the awesome cigar I'm smoking. While it's not a problem for the seasoned smoker, it cause a bit of a goose chase for newbies.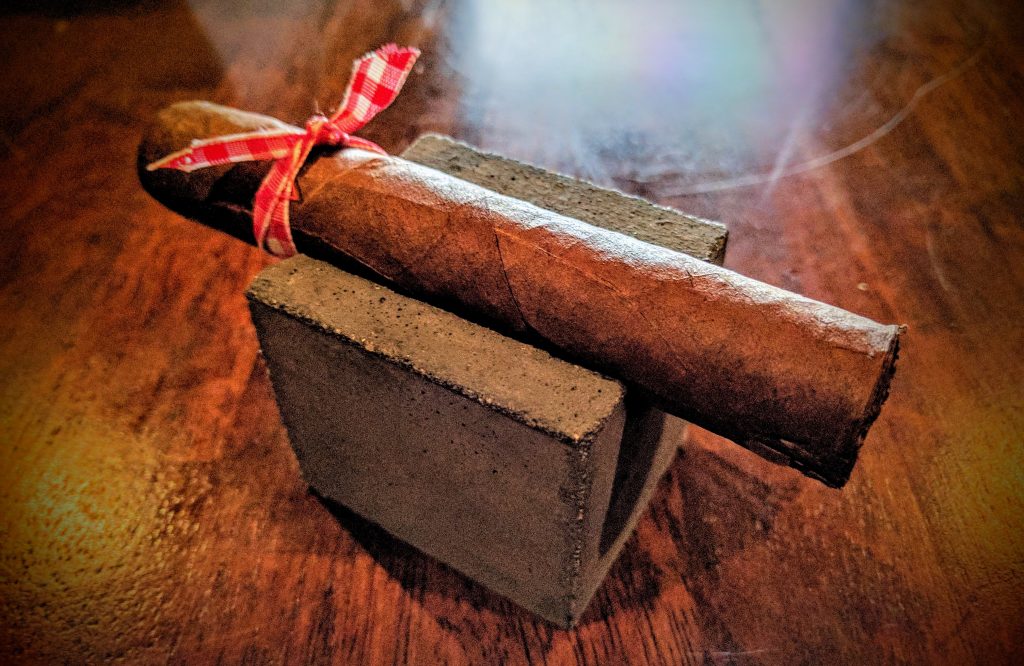 CONSTRUCTION
This is a perfectly made cigar – no question about it.  Regardless of your personal preference to the brand, it is undeniable that Ezra Zion produces some of the most well-made cigars in the industry.
Fried Chicken Xtra Crispy is a very stout cigar – like a fat robusto.  It is wrapped in a Corojo Rosado leaf that is nearly perfectly smooth.  There's a couple veins that a just barely raised – other than that, smooth as a … well, pick your own cliche.  The cap has a couple lumps in it but that doesn't detract from how flawlessly it blends into the body.  The foot is very well packed and showcases a quite dynamic range of color – browns of every shade, from near-white to near-black.  A light inspection doesn't turn up any soft spots or inconsistencies under the wrapper. Did I mention how pretty this cigar is?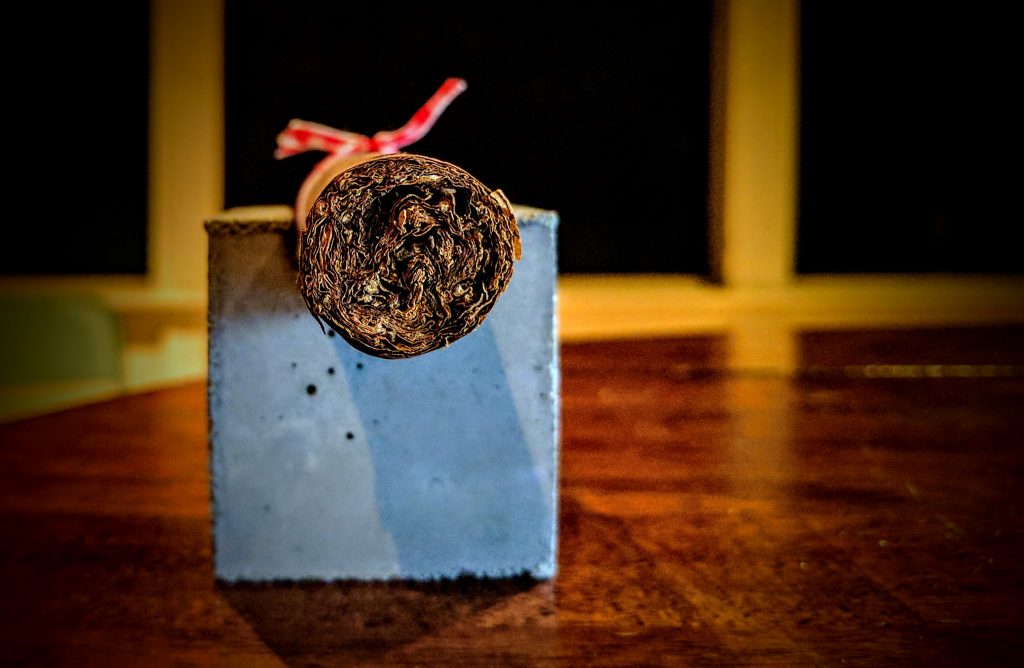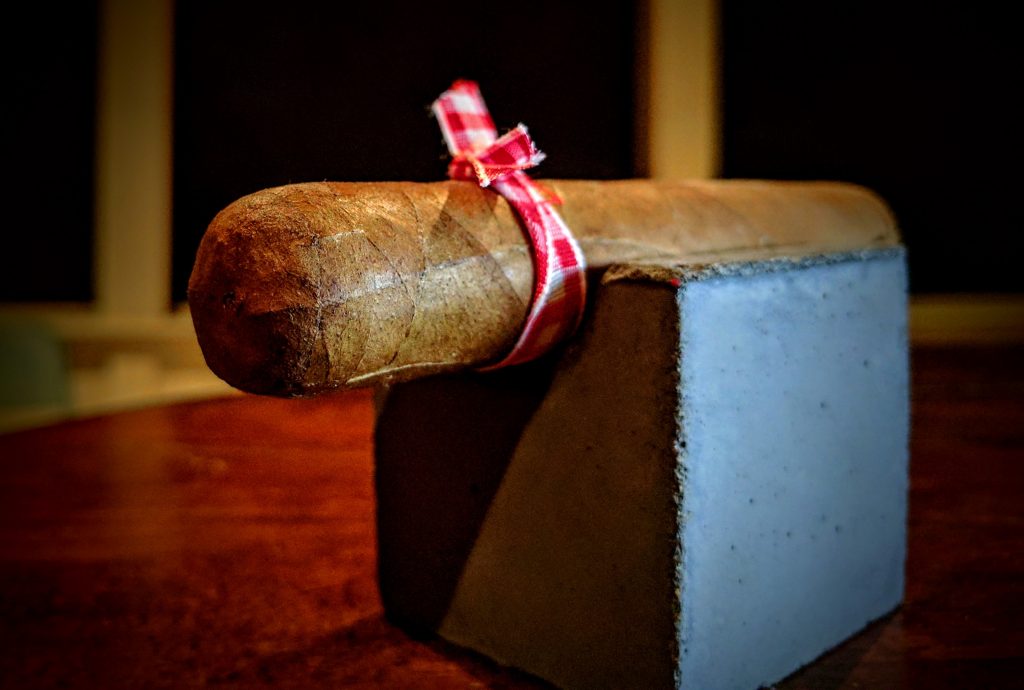 AROMA
The aroma off the foot has some very light characteristics – black currant, fresh strawberry, a light woodiness and fresh cut grass/hay.
COLD DRAW
The cold draw is a little tight – here's hoping some heat opens it up a bit. First flavors are sweet – maybe honey, cherry and vanilla. Nothing earthy, woody or spicy happening here.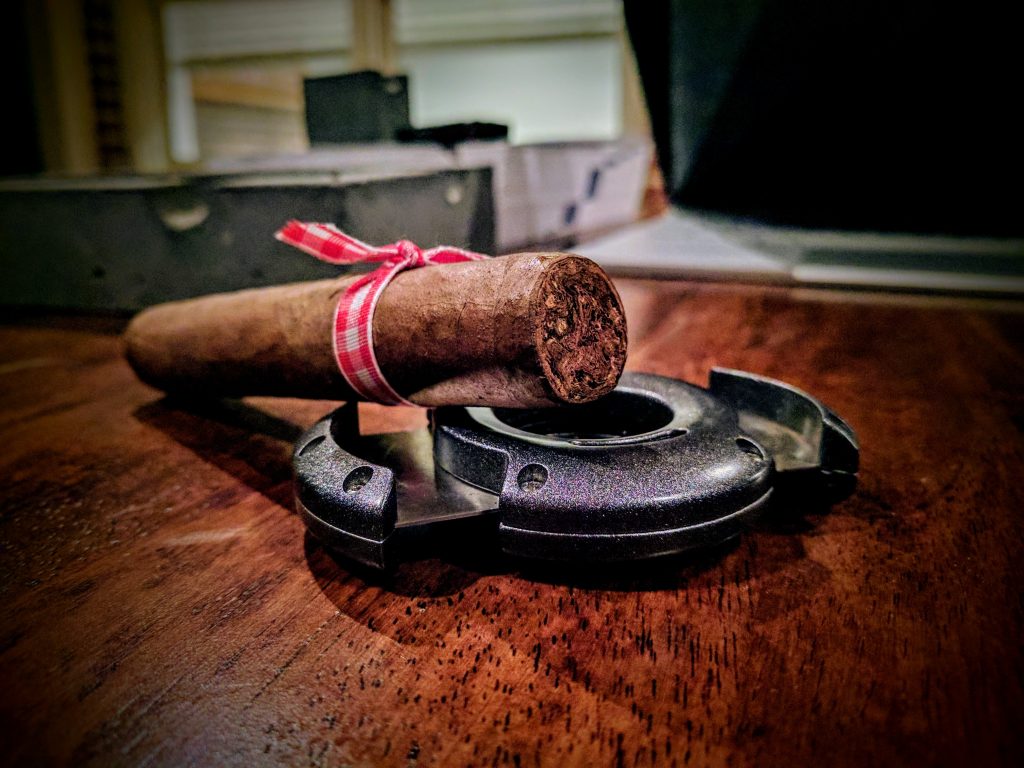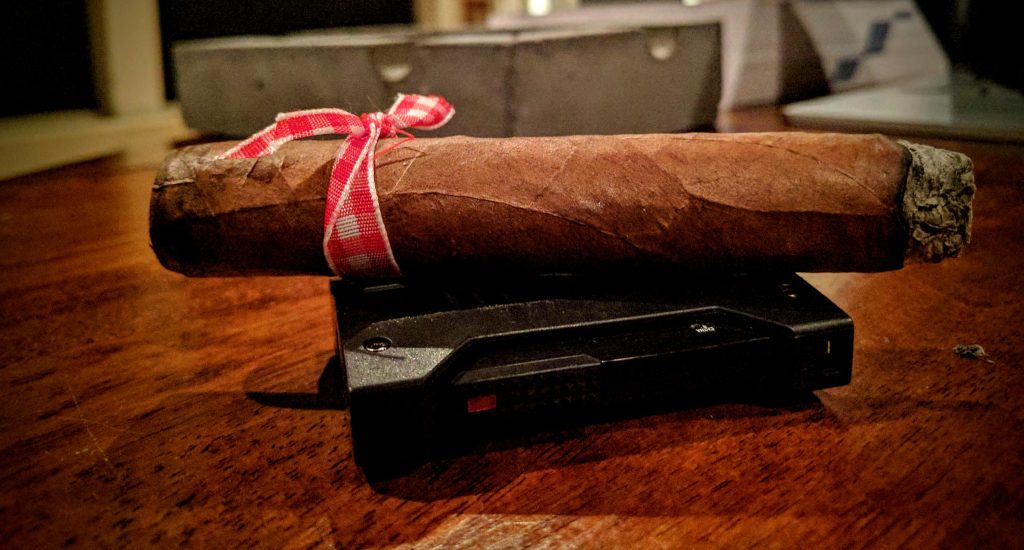 LIGHT & DRAW
Cut:  Xikar XO
Fire:  S.T. Dupont Defi Extreme
I remove the cap with my XO Xikar – I gotta say that I was a skeptic about these cutters and it continues to make these gorgeous clean cuts time after time – I highly recommend them, especially if you can find a deal.  I put some flame to the foot and after minimal effort my Fried Chicken is smoking like a charm.
The first few puffs are completely absent of any harshness.  It's an immediate rush of a thick, rich molasses-like sweetness.  The draw remains unenjoyably tight and if it stays as such, I'll probably try to fix it with my Perfect Draw tool.  About 1/2 inch into the cigar and the burn line is essentially perfect.  The ash is very sturdy – a chalky grey color.
SMOKE
So far the smoke production is on the lighter side of medium. It's enough to be satisfactory but it leaves you wishing there was just a little more of that wonderful smelling very light grey smoke.
FIRST THIRD
>> Leather, cream, cedar, light pepper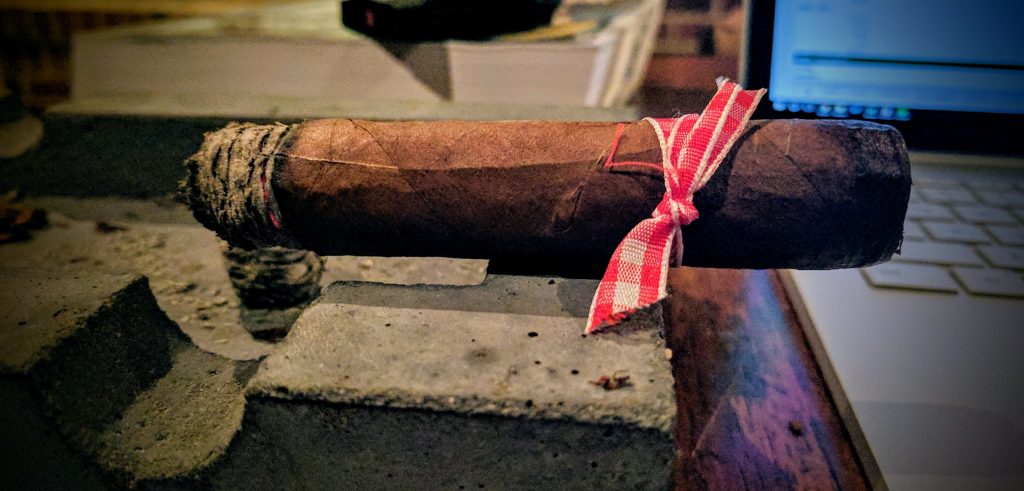 As the first third gets going in earnest, the draw has opened up just slightly.  It's still a little too tight for my taste, but I will continue to be patient before correcting.
A tiny hint of pepper has crept into the flavor profile.  It's definitely noticeable as a light linger on the tongue.  The sweetness has waned a bit and been replaced by a distinct leathery tone backed by cream, light cedar and a little anise/cinnamon spice.
The burn continues to be razor sharp.  I lost the first 3/4″ of ash but it stacked very well and remains a solidly packed stack.
SECOND THIRD
>> Cedar, leather, molasses, cream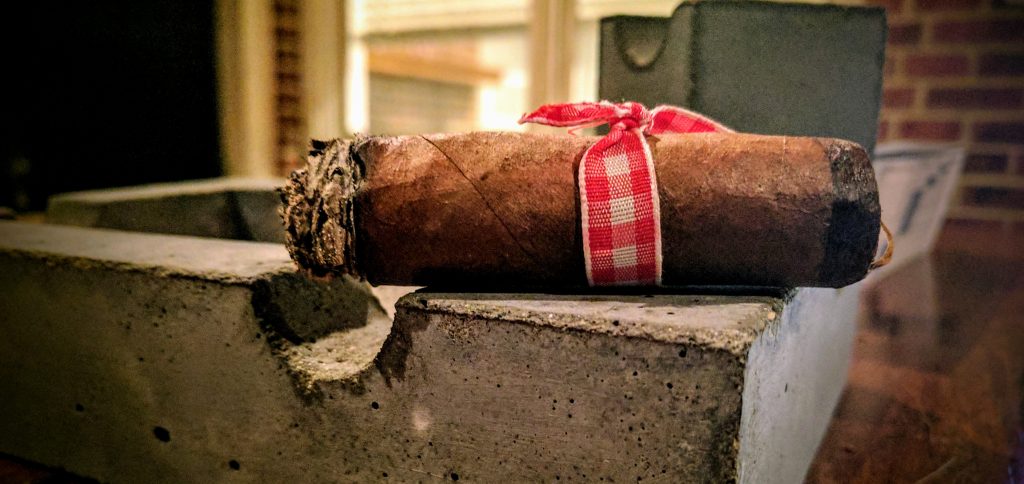 This is a super interesting cigar.  The flavor continues to dance from savory to sweet.  From pepper/cedar/leather to caramel/molasses – all the while very creamy and robust.
The draw remains a little tight but has actually opened up nicely.  I'm glad I didn't go for a re-cut or impale it with the Perfect Draw.  Fried Chicken's burn line is impressive – precise and razor sharp at about the half way point.  
This ash really is a thing of beauty.  While the layers aren't as distinct as you'll find in some other cigars and the ash is definitely not pure white, it proves to hold well, and all-in-all just be quite aesthetically pleasing.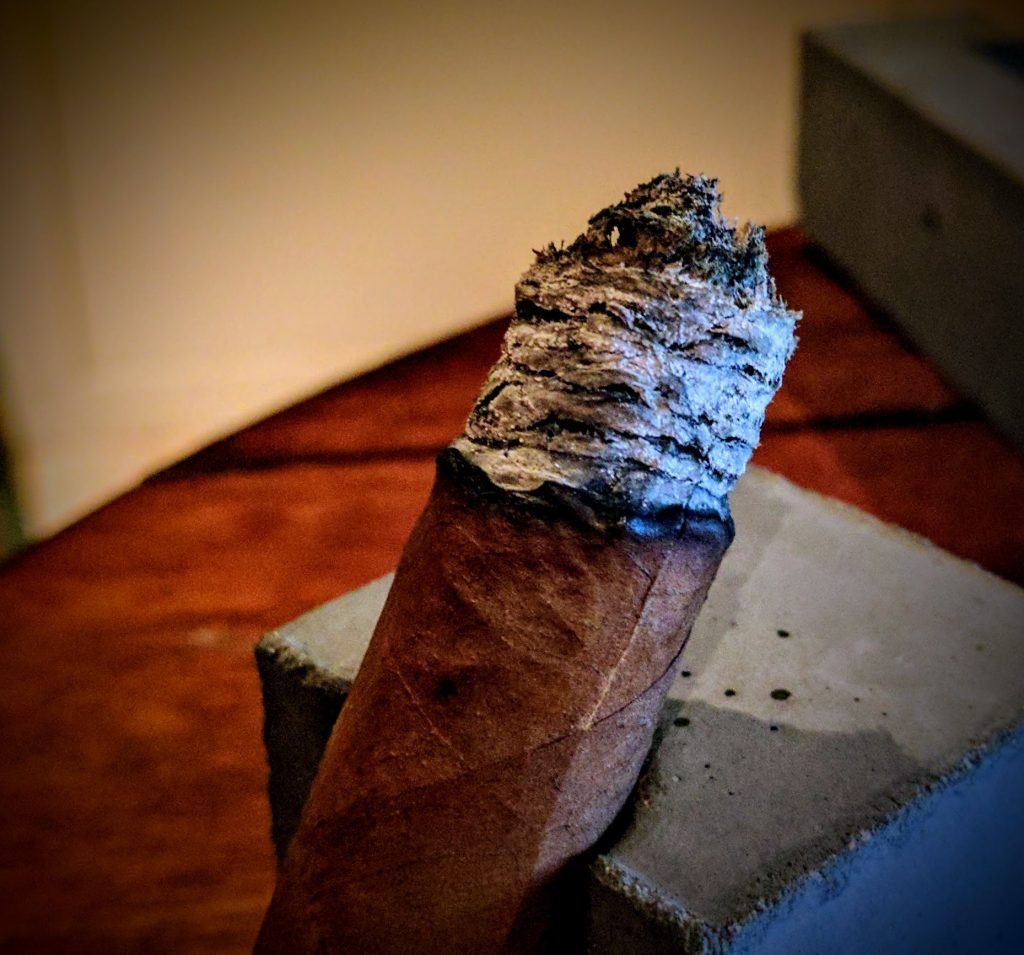 FINAL THIRD
>> Savory, burnt marshmallow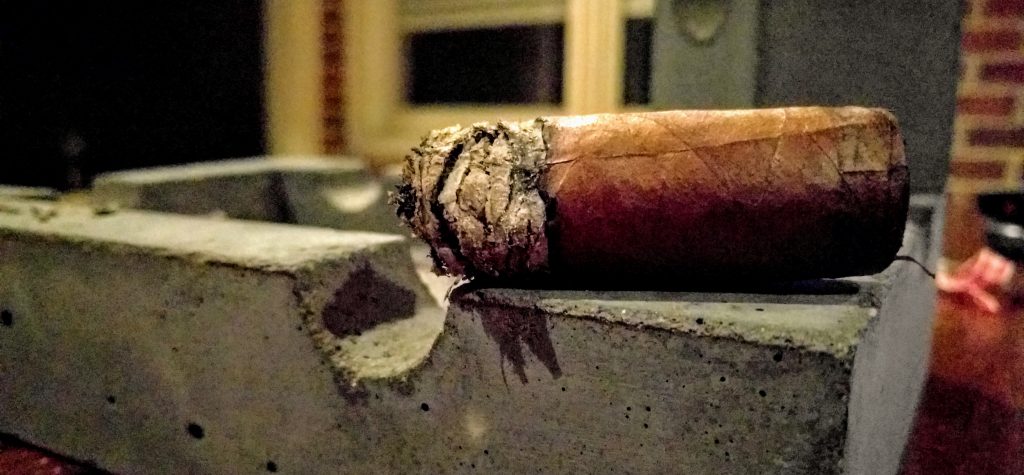 As the final third hits, so does just a hint of spice and smokiness.  The flavors continue to shift from savory to sweet – it's definitely an immediate savoriness followed by a long extended mouthfeel of thick, sweet, creaminess. (and some char) – think toasted/burnt marshmallow.
Finally, in the last third the draw is basically right where it should be.  It's open but still offers just a bit of resistance.  Right down to the nub, the burn line requires no attention and has been razor sharp.
FLAVOR PROGRESSION
The Fried Chicken Xtra Crispy progresses through its flavor profile flawlessly – starting with a careful balance of cream, vanilla and leather and constantly wavering from savory to sweet. The flavors are continually shifting in a mesmerizing manner that keeps the smoker engaged and always curious as to what will come next.
BURN EXPERIENCE
The Fried Chicken Xtra Chicken was a flawless smoke.  At no point was the burn line a concern and it burned at a steady clip allowing the flavors to showcase themselves beautifully.
RATING BREAKDOWN
0.80 / 0.80 … Craft & Aesthetic
0.42 / 0.50 … Pre-Light Characteristics
0.44 / 0.50 … Lighting Process
7.65 / 7.70 … Smoking Experience
0.50 / 0.50 … Personal Enjoyment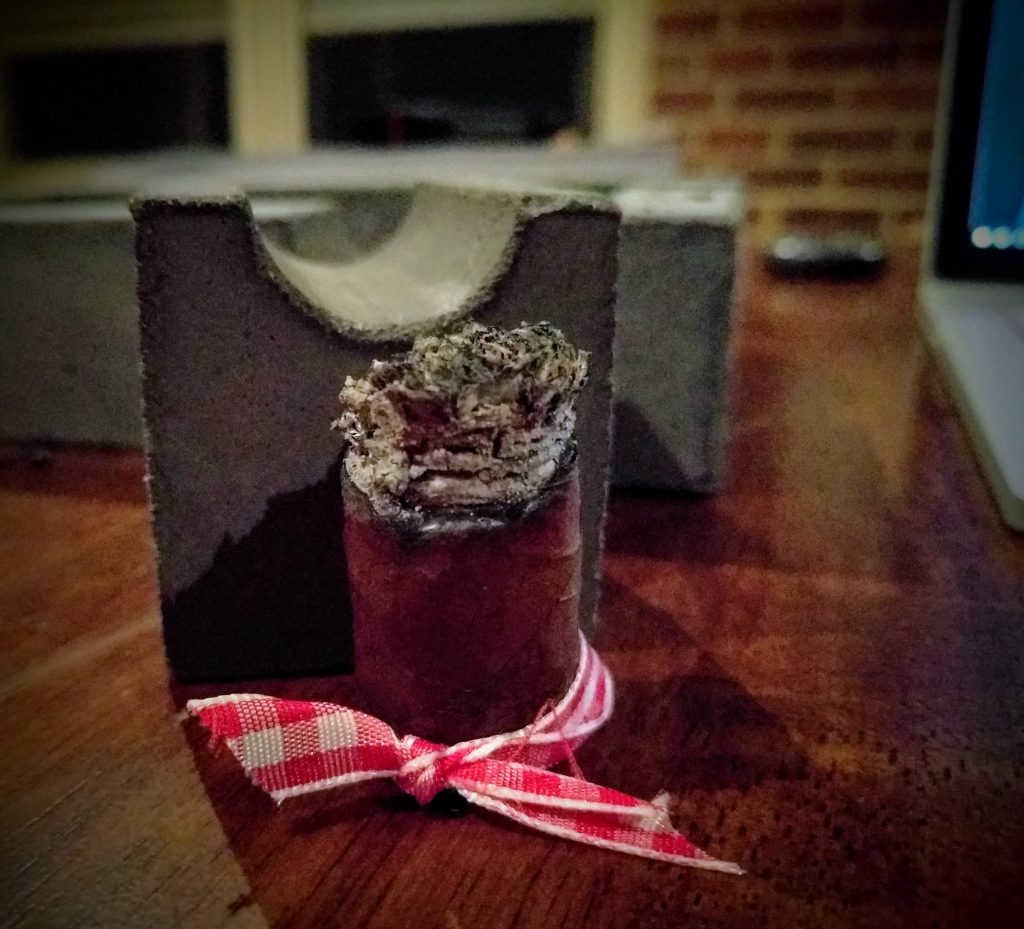 MORE CHICKEN PLEASE!
The simple appearance of Ezra Zion's Fried Chicken Xtra Crispy really fooled me into thinking this would be a lighter, casual smoke with mild flavors.  Man, was I wrong!  The entire cigar plays a pleasant game on the palate – continually shifting from savory leather & cedar to an awesome sweet molasses & toasted marshmallow.  I thoroughly enjoyed every aspect of the stogie – the construction is spot-on, the flavors are interesting and captivating.  Highly recommended and deeply regretful I only grabbed a fiver. 
SIMPLY STOGIES RATING:  9.0 / 10.0