VITOLA:   Short Toro
SIZE:   5-3/4″ x 52 (unconfirmed)
ORIGIN:   Nicaragua
FACTORY:   New Order of the Ages (NOA) – Esteli, Nicaragua
WRAPPER:   Nicaraguan Habano
BINDER:   Undisclosed
FILLER:   Undisclosed
STRENGTH:   Full
SOURCE:   
Fellow BOTL Nick L.
WHERE:   
Three-Season Porch at Home
WHEN:   
June 19, 2017 at 10 PM
DRINKS:   
Sam Adams Lager
WEATHER:   
Cool summer night – low 70s with no precip
WHAT'S ON:   
Black Mirror
RELEASE TYPE  Limited Edition
ORIGINALLY RELEASE DATE  OR release date unknown; re-released May 2017
TOTAL PRODUCTION
Typical Box Size:     Packs of 5
Production Totals:  Original release – 850 cigars; Second release – 370 cigars
VITOLA BREAKDOWN
o  Original Release – Toro  (6″ x 52)
o  Second Release – Short Toro  (5-3/4″ x 52) (unconfirmed)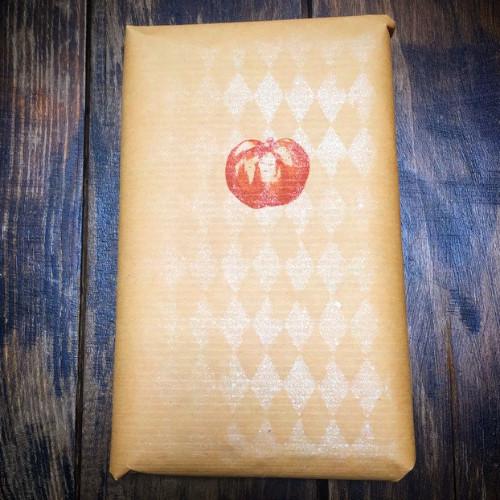 RESEARCH & BACKGROUND INFO
Like most of Ezra Zion's stuff, these are extremely limited. They seem to do a great job of pacing their releases to drive demand – as these sell out nearly instantly.
The Punkin' Pies were the first collaboration between Ezra Zion and Noels Rojas at his brand new factory in Esteli – the New Order of the Ages (NOA).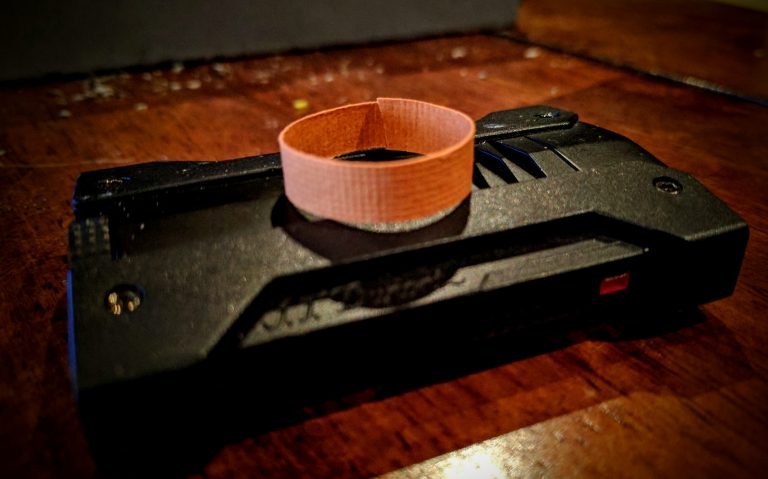 I always enjoy the typical simplicity of Ezra Zion's bands but my usual, very minor complaint persists. While I certainly appreciate the modesty of not slapping your name in giant font all over a beautiful cigar, it makes it painfully hard for new smokers or people new to the brand to figure out what they're smoking.
All that out of the way, the single, thin orange fabric band is wonderfully simple and understated. It ties into the pumpkin, fall theme perfectly.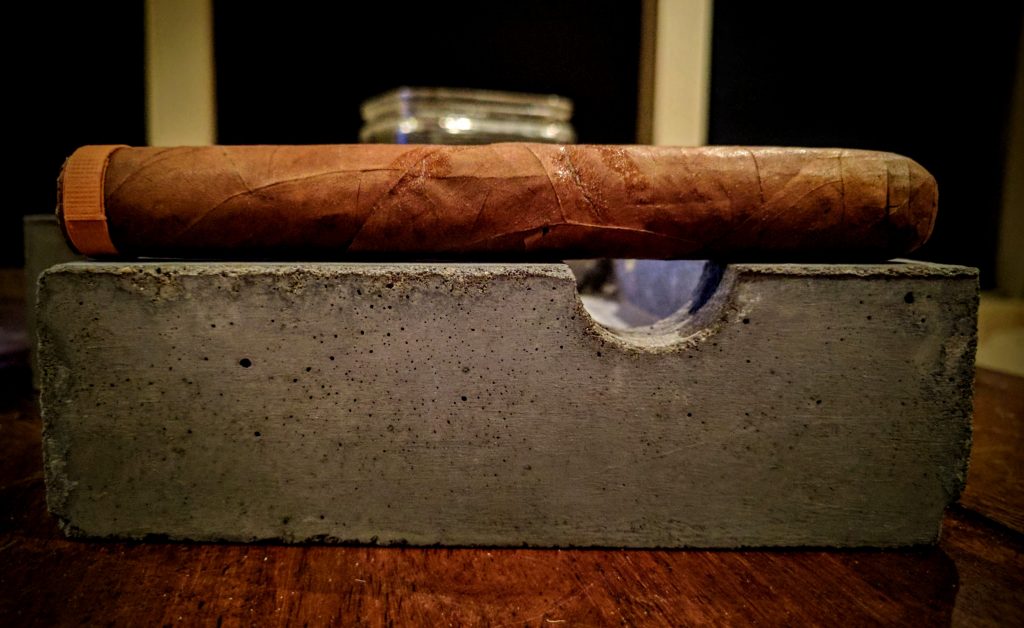 CONSTRUCTION
It is likely just this stick, but the habano wrapper was unraveling badly.  When I pulled it out to smoke, I hit it with some repair glue and let it rest a couple more days.  Hopefully, it shouldn't affect the experience too drastically.  The wrapper itself is a beautiful medium brown shade.  I did a light inspection and found no soft spots or lumps.  The triple cap is a little uneven but nothing terrible.  Ezra Zion went with a closed foot on this – so not too much insight to be gleaned from that perspective.  Personally, I always appreciate the rustic aesthetic of a closed foot.  Overall, the cigar feels nice in the hand.  It's a little too short to technically be a traditionally-sized toro but the size and weight feel at home and comfortable in the hand.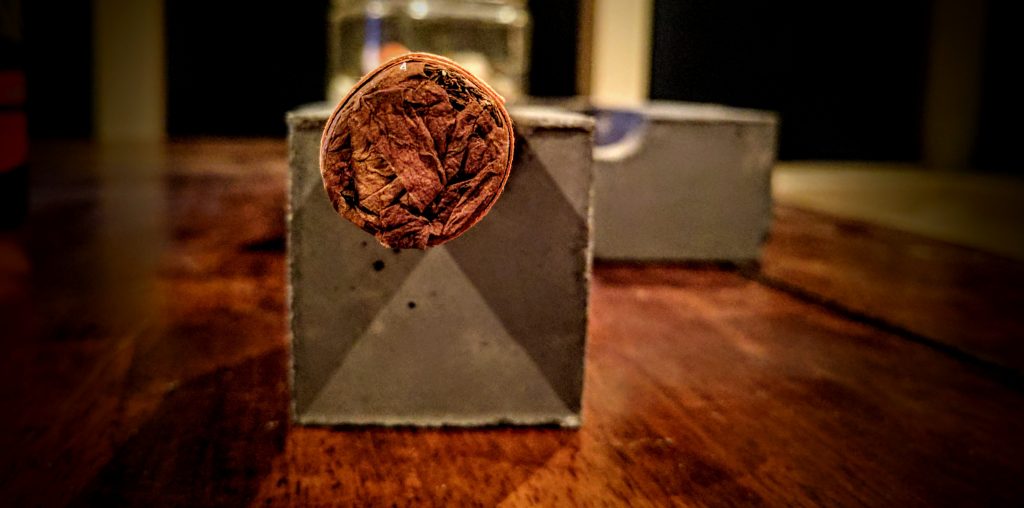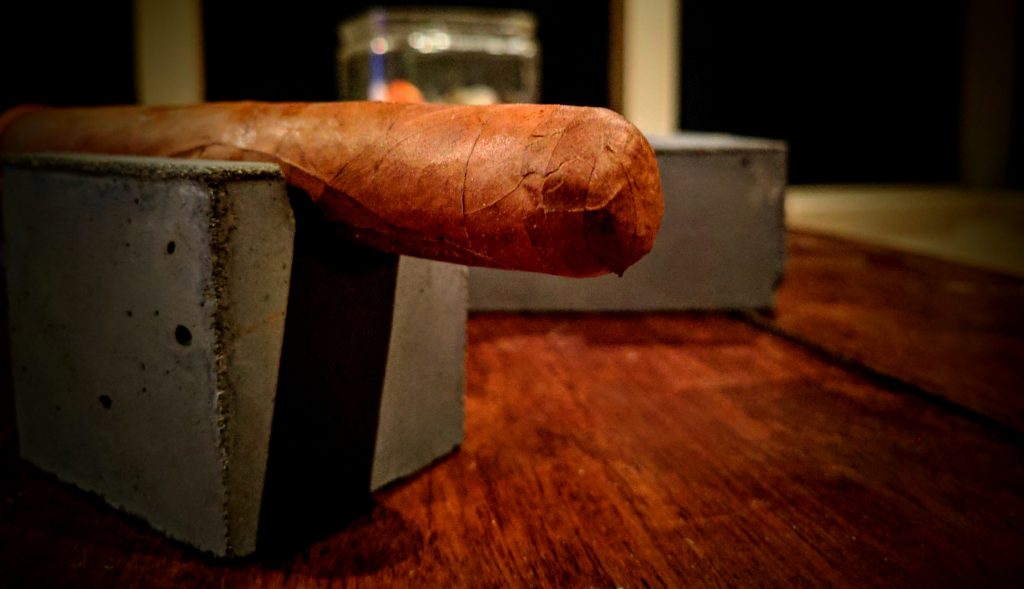 AROMA
While the closed foot eliminates some of the possibilities here – the cigar definitely has a nice light aroma to it.  Hay and some light barnyard are also noticeable.
COLD DRAW
Right away, orange zest and honey hits the tongue. Some definite hay and cold tea as well.  The draw is open with a decent resistance, presumably from the closed foot.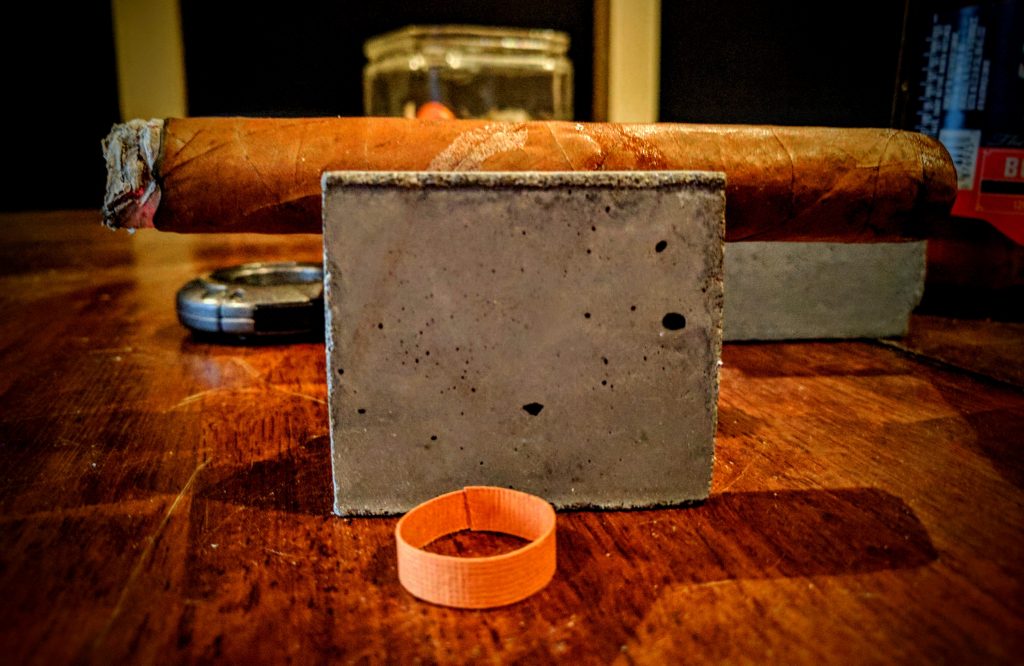 LIGHT & DRAW
Cut:  Xikar XO
Fire:  S.T. Dupont Defi Extreme
Clip the cap off easily and put fire to the foot.  There is a decent amount of sharp red pepper spice right away.  It's not overwhelming, just maybe not the first thing I would have guessed for a cigar named "Punkin' Pie" – but I guess that criollo/habano pairing should have been my warning!  
The draw opens up slightly and is great.  There is a clean, crisp burn line – which hopefully continues.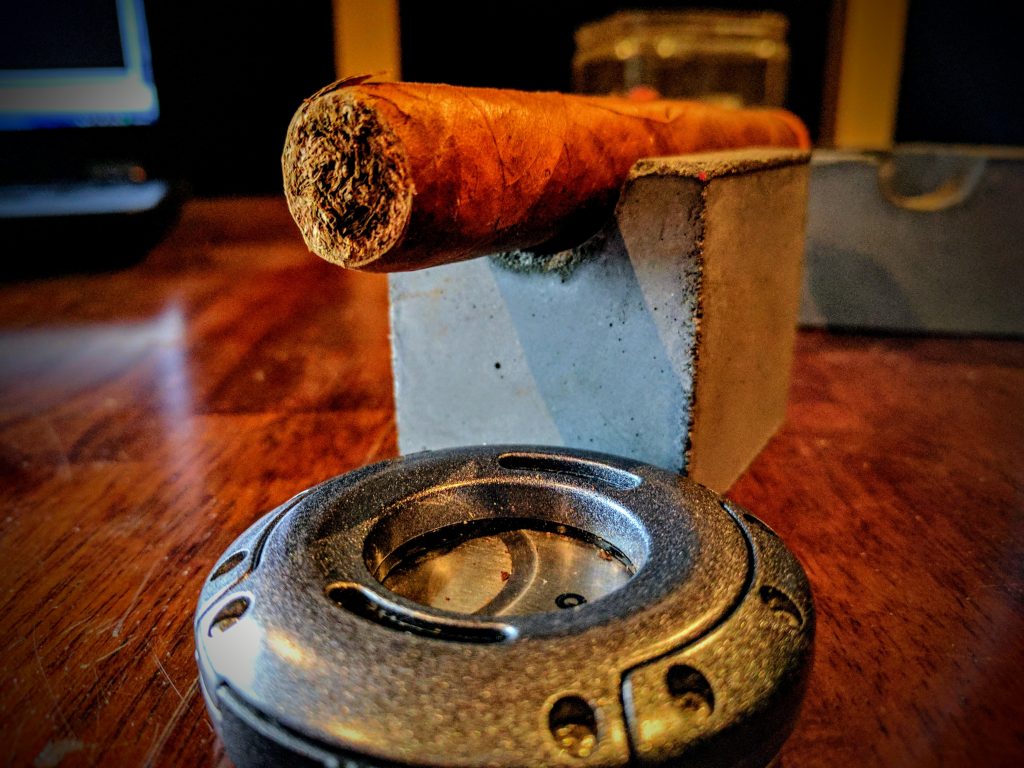 FIRST THIRD
>> Peppery pepperness, baking spices, zest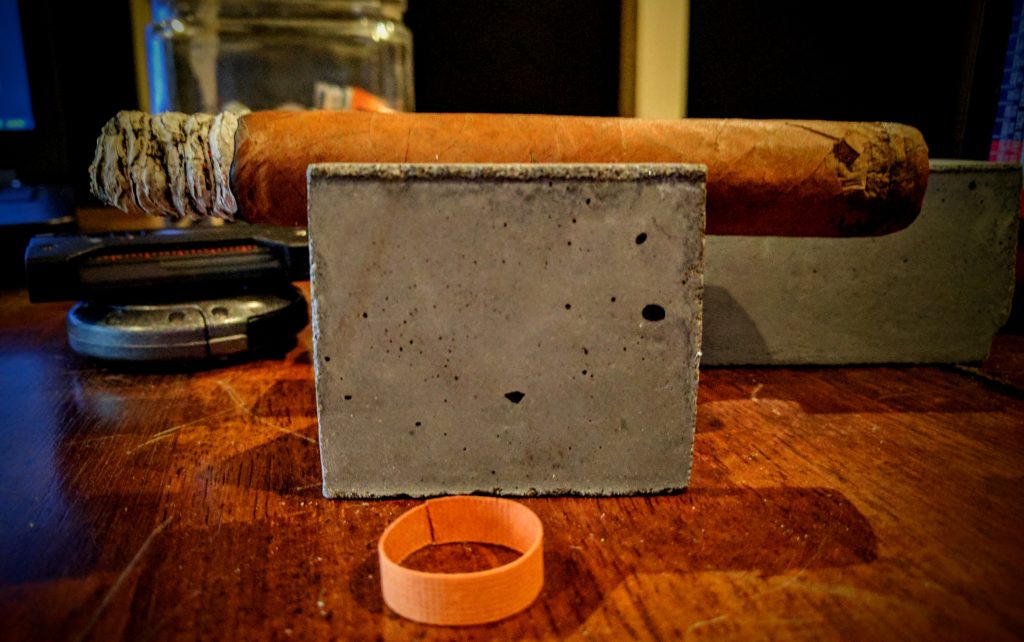 The red pepper dies down a bit as the first third progresses and is joined by cinnamon.  There's maybe a bit of baking spices and a little citrus zest.  The retrohale brought tears to my eyes and about put my on my ass!  White ash continues to stack well along an impeccable razor burn line. 
SECOND THIRD
>> Pepper, cream, cinnamon/baking spices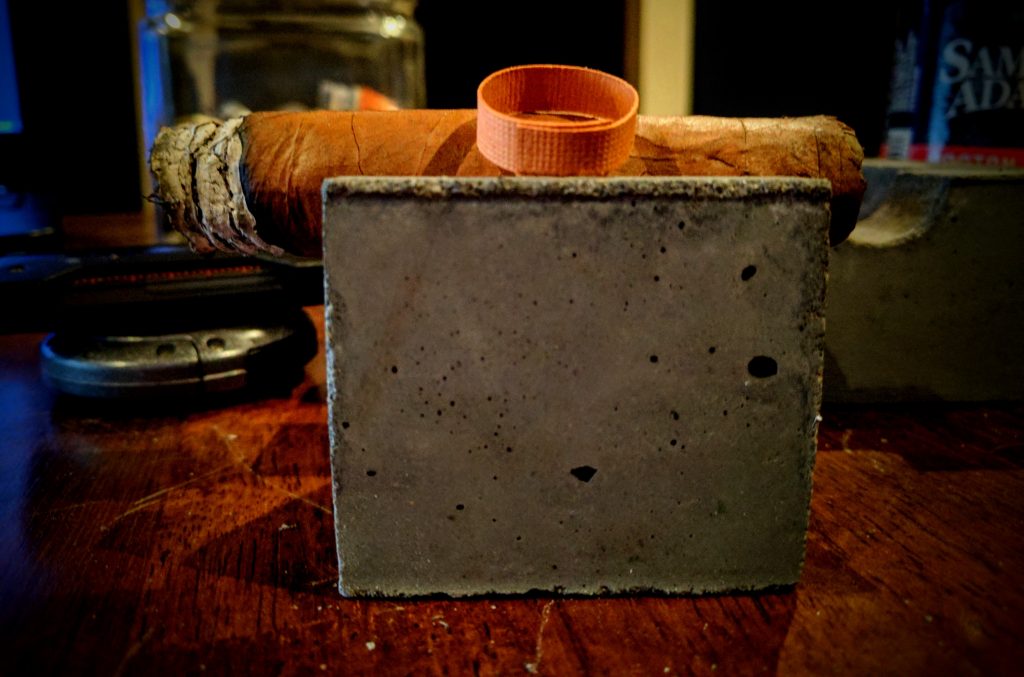 The pepper fades slightly and there is a creaminess creeping in with a very subdued sweetness.  Cinnamon and other baking spices are still heavily present.   The draw continues to be effortless and just about perfect.  
The burn is becoming a little wavy – but this is also where the wrapper was glued. I'll give the cigar the benefit of the doubt as the construction and burn has been flawless so far.   I narrowly avoided ashing on my lap as the cigar likes to ash itself after about 1/2″ of build-up.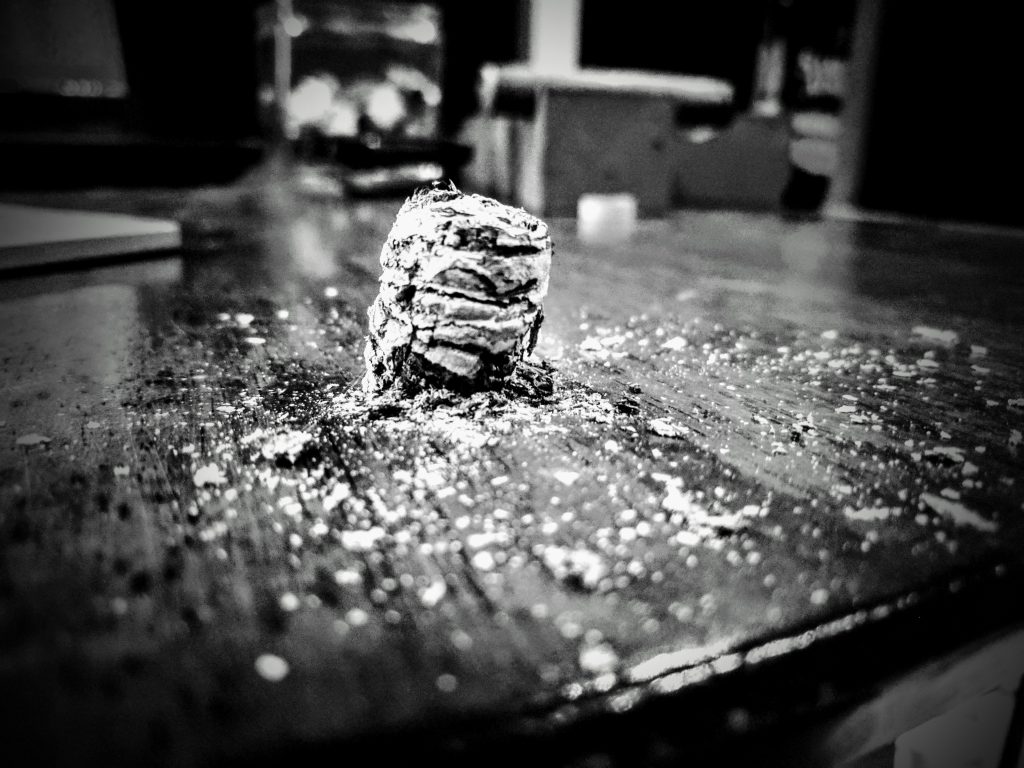 FINAL THIRD
>> More pepper, light cream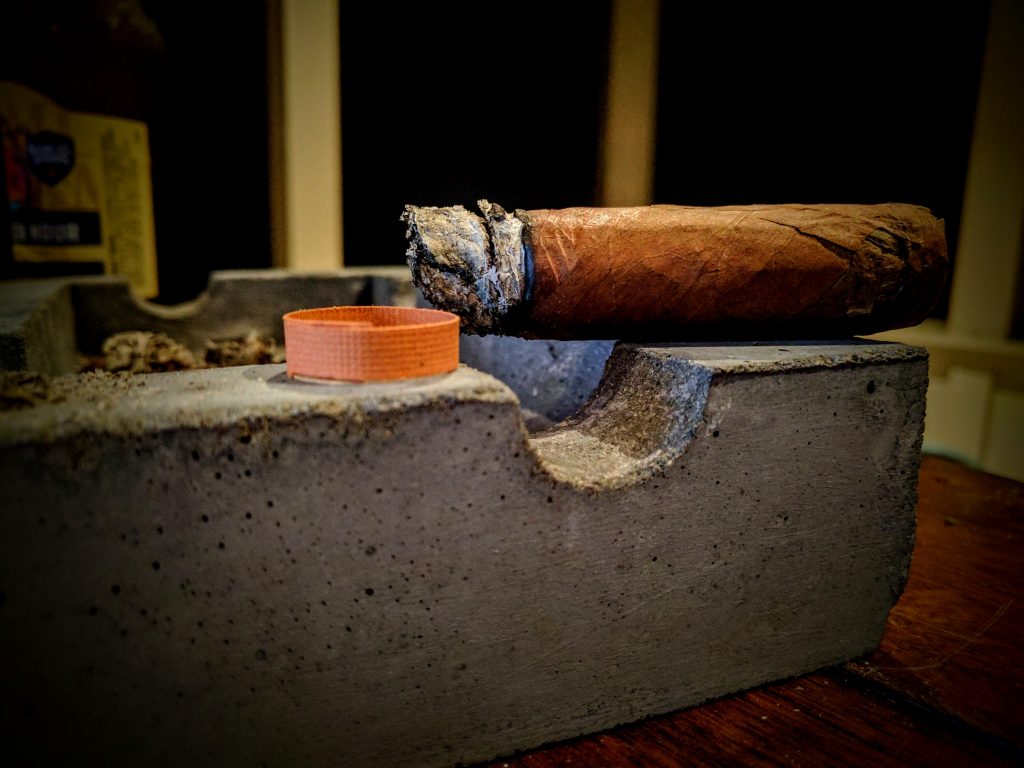 The red pepper shifts back into the dominant position and overshadows the underlying (preferred) creaminess.  Any sweet flavors are hard to detect as the heat from the pepper just sits on your tongue.  I will say that if you can smoke this stogie nice and slow, the pepper dissipates significantly – it's still there but the other creamier flavors pop a little more. 
The burn rate however makes smoking the Punkin' Pie a little more complicated than it should be.  The cigar wants to burn fast, but the flavors want it to go slow and cool.  I did a minor touch-up to correct the burn starting to tunnel on me a bit.  Again, nothing terrible, but I try to avoid touch-ups during reviews to keep the purest flavors possible.
FLAVOR PROGRESSION
Punkin' Pie starts with a peppery bang.  The flavors feel like they want to follow the cigar's namesake but either the blend, burn rate or some combo of both won't let the tastes morph into the pumpkin pie goodness I was expecting.
BURN EXPERIENCE
The burn rate itself was fine.  However, it needs to be considered in the context of the cigar's flavors and in this instance the burn rate seemed to hinder the flavor development.  Despite the wrapper's condition, the cigar burned very well – no major touch-ups or relights required.
RATING BREAKDOWN
0.70 / 0.80 … Craft & Aesthetic
0.50 / 0.50 … Pre-Light Characteristics
0.50 / 0.50 … Lighting Process
5.36 / 7.70 … Smoking Experience
0.17 / 0.50 … Personal Enjoyment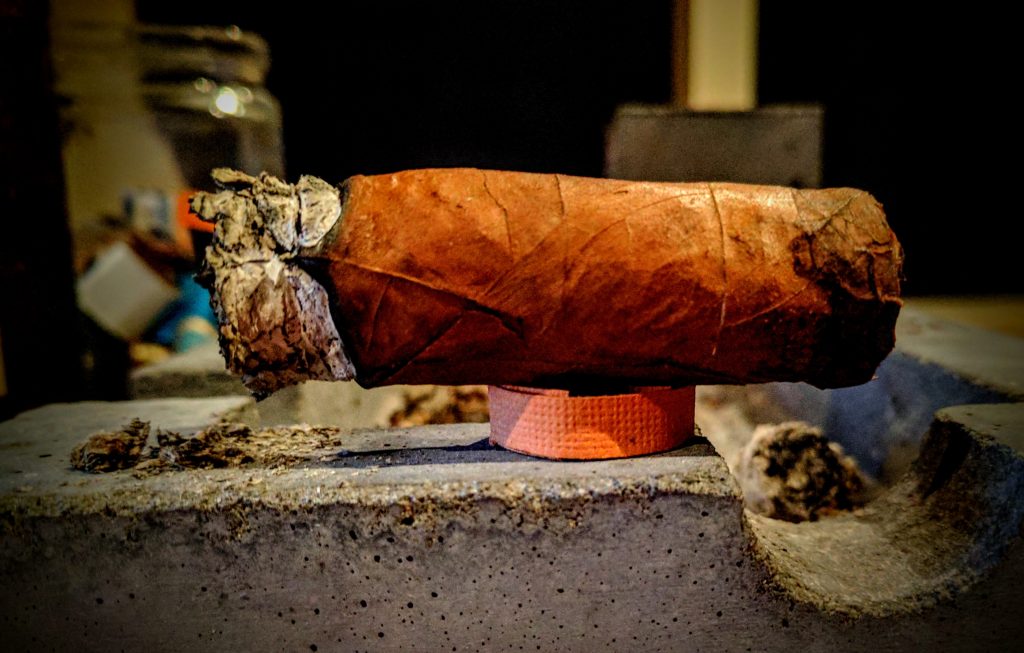 PEPPER PIE.
I'm conflicted with my final thoughts on Ezra Zion's Punkin' Pie.  On the one hand, it's a fantastically made cigar and for what it is, it's great.  However, this is literally like taking a bite of pumpkin pie and getting a mouthful of spicy jambalaya.  If it followed through on the Thanksgiving dessert theme I had hoped for, I would have easily given it a much better rating.  The cigar's burn rate was counter-productive to its flavor profile – a fast burning cigar paired with flavors that need time and a cool, slow burn to develop.  At the end of the day, this is a solid spicy stick that would pair well with some post-big meal apple cider around an autumn fire – but I think I'd still be wondering why it isn't named 'cajun country.' 
SIMPLY STOGIES RATING:  7.2 / 10.0