VITOLA:   Box-Pressed Toro
SIZE:   6″ x 52
ORIGIN:   Nicaragua
FACTORY:  MATASA
WRAPPER:   Nicaraguan Sun-Grown Habano – 2006 Vintage (Cuban Seed)
BINDER:   Nicaraguan – 2006 Vintage (Cuban Seed)
FILLER:   Nicaraguan Seco, Ligero & Viso – 2007 Vintage (Cuban Seed)
STRENGTH:   Medium
SOURCE:   
Cigar Federation
RELEASE TYPE  Regular Production
ORIGINALLY RELEASE DATE  May 2012
TOTAL PRODUCTION
Typical Box Size:     Boxes of 21
Production Totals:  Undisclosed
VITOLA BREAKDOWN
o  The Great Communicator (5-1/2″ x 50)
o  Wall Down  (6″ x 46)
o  40th  (6″ x 52)
o  President  (6-3/4″ x 54)
o  Peace by Strength  (7″ x 48)

RESEARCH & BACKGROUND INFO
On a somber note, if you've ever wondered where the name "Ezra Zion" came from, it is the name's of each of the founding partners deceased children.  Sad, but now you know.
While some of the specifics of the blend is top secret, we do know it's all grade 'A' tobacco in this Nico Puro.  All tobacco is Cuban seed and from the 2006/2007 harvest, which means it aged about 5 to 6 years prior to being released. At this point, the tobacco has aged for almost 10+ years.
In case it's not obvious, Ronald Reagan was the 40th president of the US.  I recently watched an online review where a guy pronounced it "ray (pause) gun" the whole video – so I figured it's worth mentioning – this is honoring the late president, not Marvin Martian's weapon of choice.  Side note: CNN's 80s documentary does an awesome job summarizing Reagan's presidency and definitely worth a watch on Netflix.
The Honor Series is the second cigar ever produced by Ezra Zion and was introduced at the 2012 IPCPR show to some pretty high praise.
The Honor Series band is a thing of beauty that looks like it belongs on a decorated officer's uniform.  I studied memorial architectural design for a bit in school and this has a memorial-style aesthetic to it.  The color scheme, the use of fonts/scripts and use of secondary band are all fantastic and befitting of a cigar meant to honor a president.
CONSTRUCTION
This cigar is gorgeous.  The horsehide brown Habano wrapper is soft to the touch and applied perfectly.  It takes a careful eye to track down the seams – which are completely flat.  The wrapper is also absent any significant veins.  It has a soft firmness to it – giving just a little when compressed.  There were no deviations under the wrapper – everything felt uniform, no hard or soft spots.
The cap is a work of art – symmetrical with a deep shoulder descending into the body.  The foot displays a nicely packed blend that looks promising.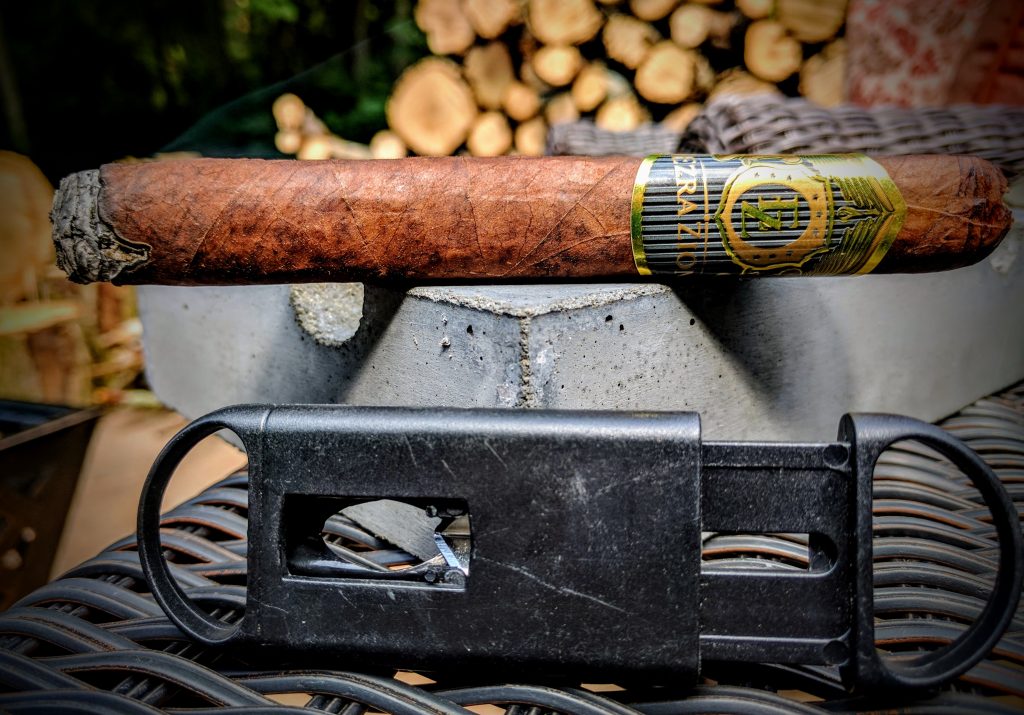 LIGHT & DRAW
This is the first time I've v-cut a cigar surprisingly.   I'm typically a fan of straight-cuts but figured I would test out the V today.  It produced a great, open draw with almost no resistance.
The first few flavors to note: light pepper, chocolate and nutmeg – kinda like a cool, hot chocolate.  Also, some lingering orange zest.  So far the burn is very wavy – I'll be patient and see if it starts to correct itself.
SMOKE
The ash is a loosely layered grey/white and seems to be stacking well for the first half-inch or so.
FIRST THIRD
>> Sweet, cream, caramel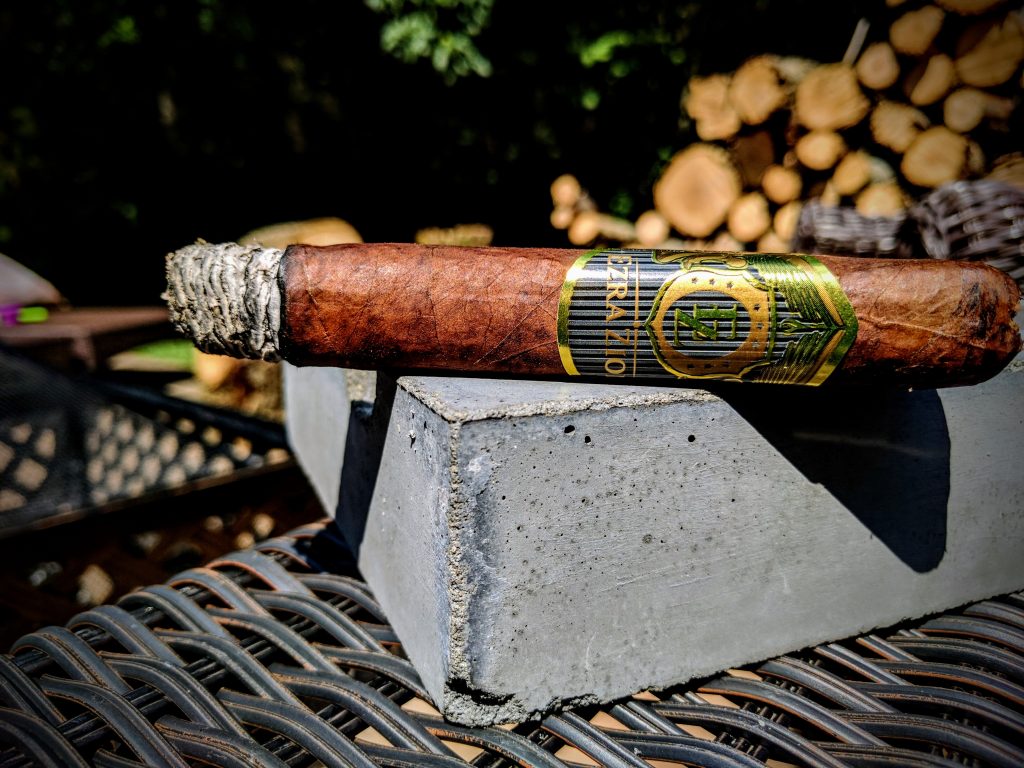 The first third of the Reagan packs a lot of rich carmelly sweetness that is pairing very well with my coffee.
The draw continues to be open and enjoyable.  After a rough start, the burn line is slowly course-correcting and while slightly wavy is generally evening out.  As is the norm, I ashed directly onto my lap around 3/4″ in.  The color remains a very light shade of grey with layers of grey and white stacking well.
SECOND THIRD
>> Molasses, espresso, cream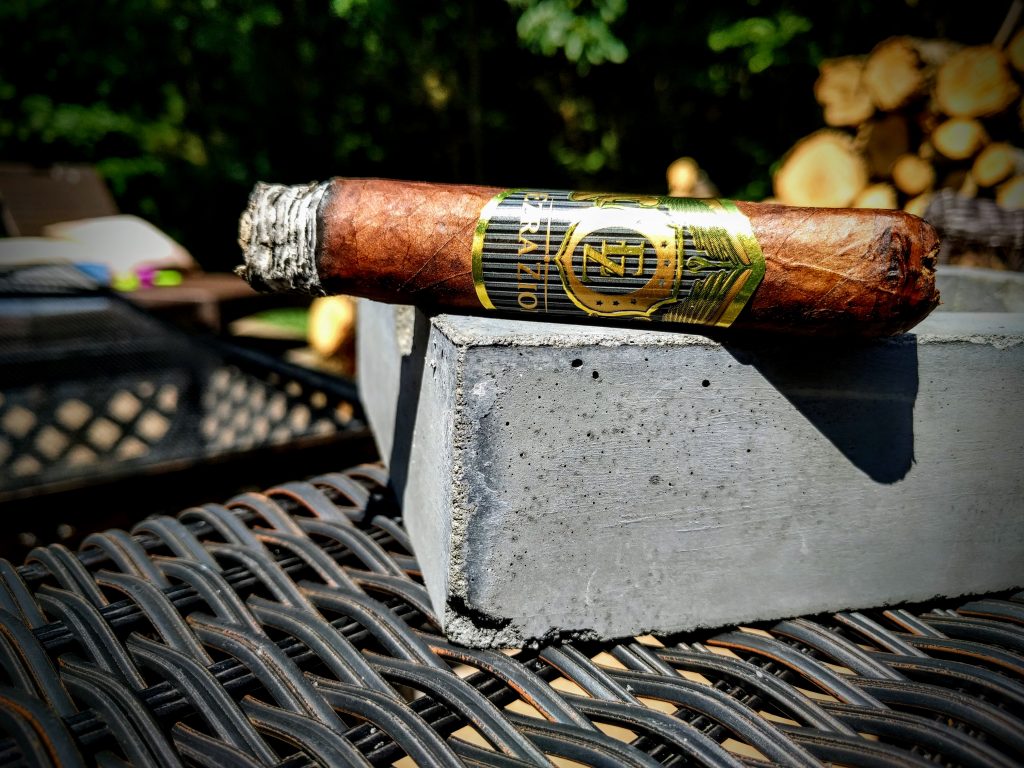 I'm tasting a little more pepper per puff now, but a nice thick molasses-like sugariness.  A slight bitter quality, like espresso/black, strong (good) coffee is also present.  There are some more hearty flavors creeping in that I'll be curious to see how they develop as the cigar progresses.  Some rich, creamy, butteriness mixing in as the second third comes to a close.
As it hits the second third the burn has basically corrected itself to be very linear.  No complaints any more!
FINAL THIRD
>> Wood, espresso, chocolate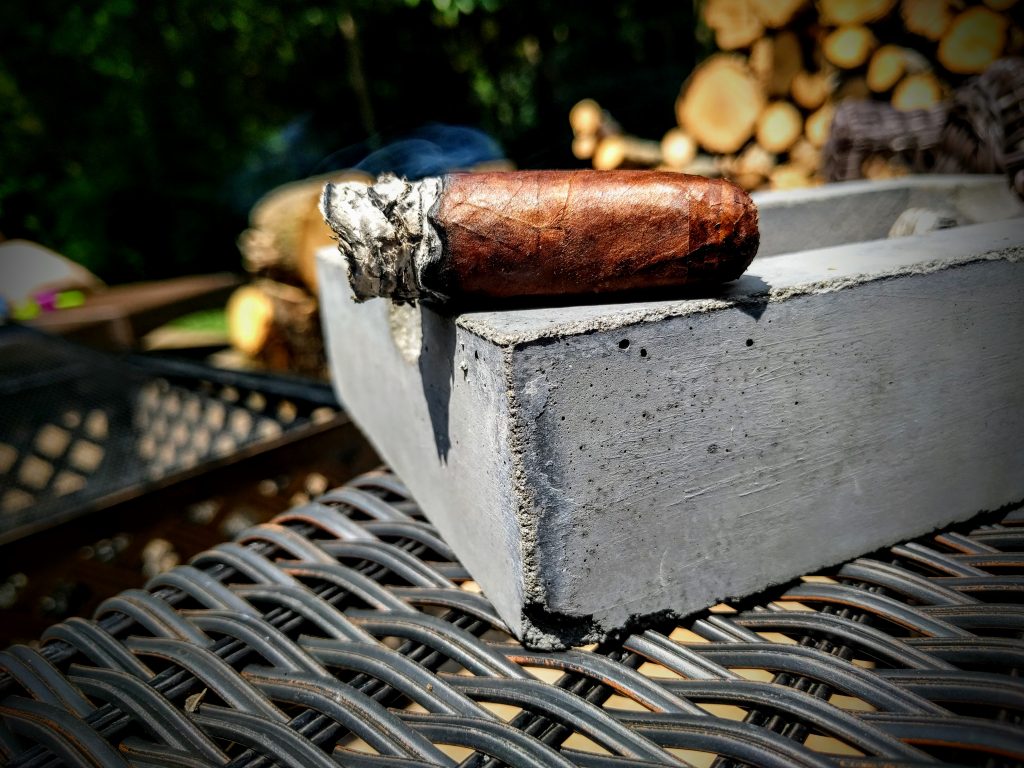 There's a woodiness quality as the last third kicks in.  I'm having trouble placing a specific species of wood – it's just a general wood note.  Espresso and light chocolate notes also round out the flavor profile.  There is just a little lingering briny pepper tied into the still present creamy, thick molasses on the finish.  The finish on this cigar is fantastic – really keeps you wanting to come back to it.
Right as the third started, a relight was needed.  Otherwise, this has been smoking excellently.  A lot of reviews noted significant burn issues, but that's not been the case here – maybe the age has helped to let the cigar mellow and as oils, etc. are released the burn has gotten better?  Maybe that's just made up mumbo-jumbo – but I'm going with it.
The ash has been very manageable throughout the smoke, typically ashing at every inch or so.
FLAVOR PROGRESSION
The 40th progressed excellently from a nice sweet caramel to some more savory wood and bitter espresso notes.  The cigar was never monotone or boring and the slight complexity was enough to hold my interest from first light to nub.
BURN EXPERIENCE
There were only some minor touch-ups and one relight needed throughout the smoke – but that seemed to be unique to my experience (which is all I will rate it on).    Overall, good smoking experience!
RATING BREAKDOWN
0.73 / 0.80 … Craft & Aesthetic
0.50 / 0.50 … Pre-Light Characteristics
0.44 / 0.50 … Lighting Process
6.70 / 7.70 … Smoking Experience
0.33 / 0.50 … Personal Enjoyment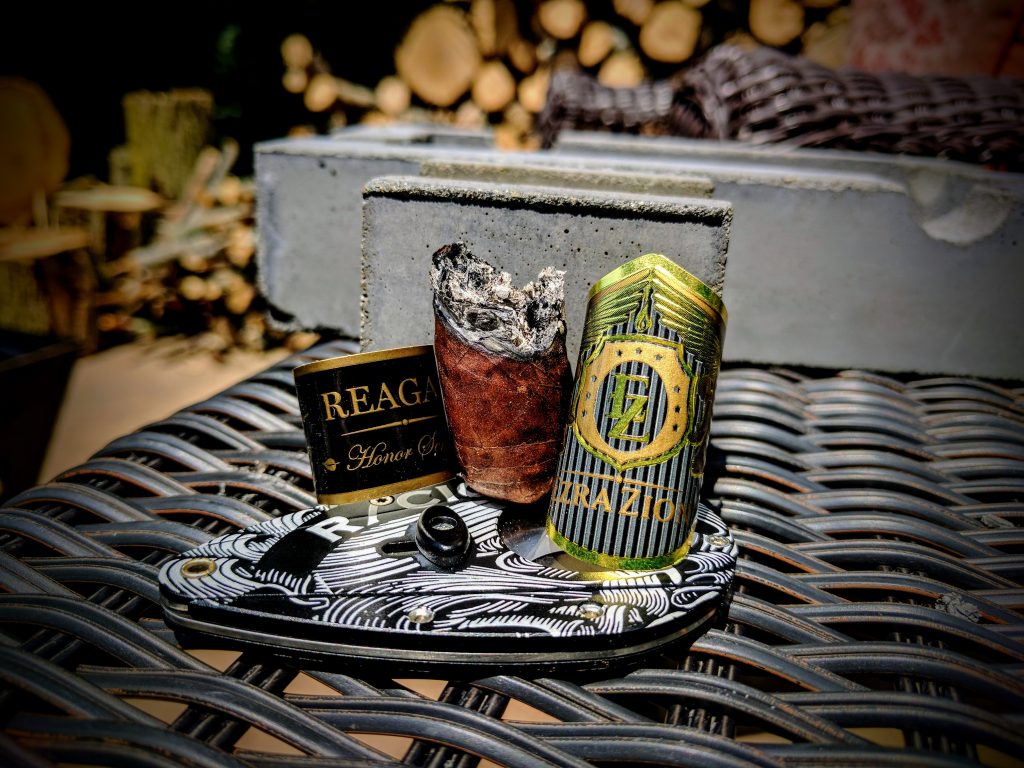 EZRA ZION – "MAKE MORE OF THIS CIGAR!"
OK … That was a terrible reference to Reagan's 'Tear Down This Wall' speech.  I apologize.
The Reagan Honor Series "40th" was impressive.  The only real knock on it was that while the flavors did progress, they seemed aimless.  That might read as a bad trait but the persisting flavors were delicious – coffee, chocolate, molasses, pepper, light brine and wood – all coming and going as they pleased.  The construction was flawless and the overall experience was exceptionally enjoyable.  I'll be reaching for more of these as they pair equally well with an early morning coffee and late night bourbon.  Fantastic second offering from Ezra Zion!
SIMPLY STOGIES RATING:  8.7 / 10.0