Enjoying Cigar Leaf in one's pipe is more difficult than you would expect. Everyone's first instinct is to deconstruct a cigar, load it into your pipe, and enjoy the creamy, heavy cigar smoke with all the convenience of pipe smoking. This isn't going to be pleasant. The burn will be wonky and the taste will be harsh and off. You'll quickly determine that all that hooey about cigar blending and construction holds water. It's not just the tobacco which makes a cigar a cigar, it's how it is layered and rolled together.
Professional pipe tobacco blenders have tried incorporating just a bit of cigar leaf into their mixtures, including the subject of today's review, GL Pease Key Largo. As a rule, they pair the cigar leaf with burley. Burley is the tobacco varietal which is used for cigars, though the leaf grown for pipe tobacco is cured and processed in a much different manner. However, they share a medium to high nicotine content and a taste profile reminiscent of coffee, chocolate, nuts, leather, and earth. These mixtures hope to marry the form of pipe tobacco with the heavy satisfying smoke of a cigar. GL Pease eschews tradition, pairing the cigar leaf with Latakia, Turkish, and Virginias. In this review we'll discover how Key Largo's innovative approach manages to bridge the pipe and cigar divide.
BULK or TIN:   Tin
SIZE:   2 oz and  8 oz tins
ORIGIN:   USA
BLENDING HOUSE/PRODUCER:   GL Pease in the C&D Factory
BLENDING COMPONENTS:   Cigar Leaf, Cyprian Latakia, US Red Virginia

STRENGTH:   5/7
SOURCE:  smokingpipes.com
WHERE:   
The mountains of Pennsylvania
WHEN:   
November 2021-February 2022
DRINKS:   
water
WEATHER:   
Ice, snow, and frigid temperatures
WHAT'S ON:   
The crack of shovels into iced over snow
RELEASE TYPE  available
ORIGINAL RELEASE DATE  July 2008
AGE WHEN SMOKED  2 years
SPECIAL RELEASE  N
AVAILABILITY BREAKDOWN
o  Tin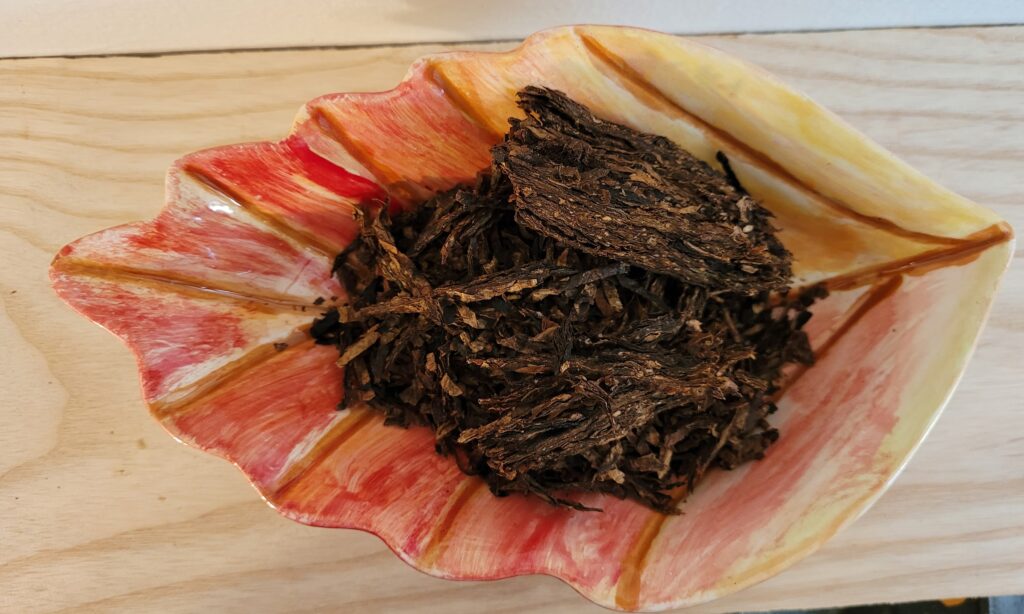 RESEARCH & BACKGROUND INFO
Part of GL Pease's Heirloom Series
Like all the Heirloom series, this blend is named after a classic film
Key Largo is the 2nd GL Pease Cigar blend, after 2002's Robusto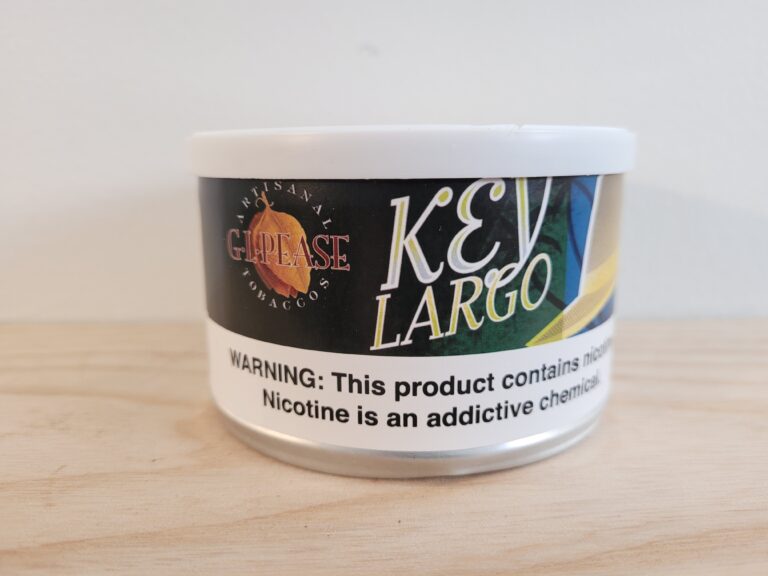 As with all GL Pease blends, the tin art of Key Largo is minimalistic and quietly elegant. The text of Key Largo is a hat tip to the film's 1948 movie posters.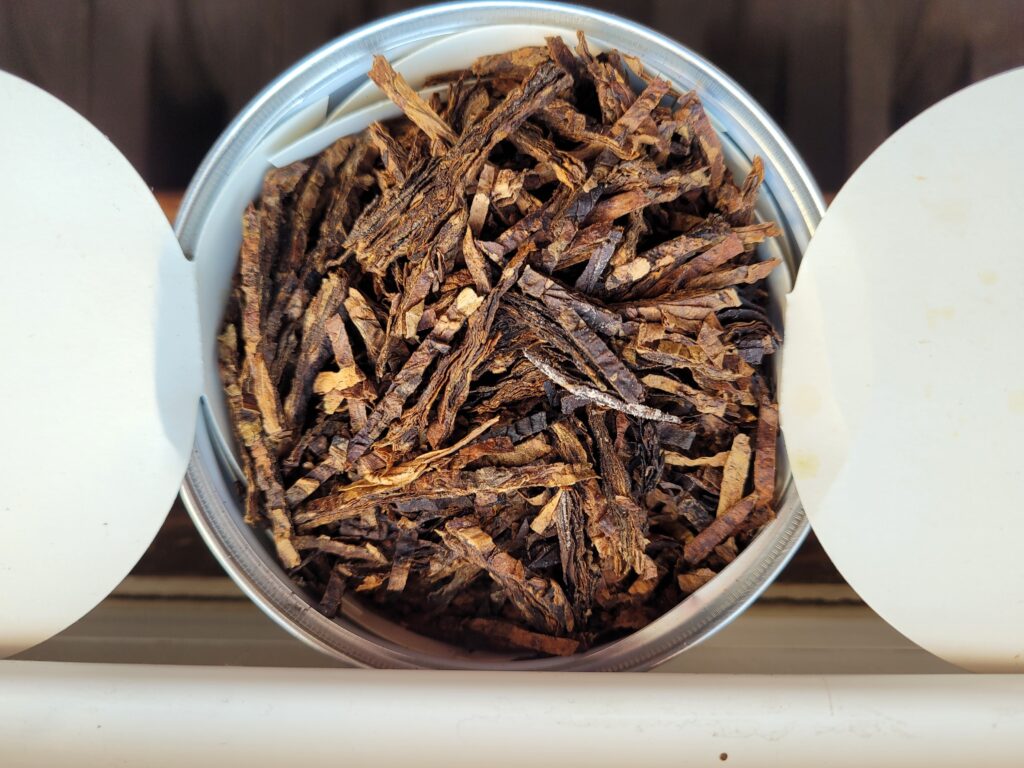 LOOK & FEEL OF THE LEAF
Advertised as a broken flake, that's kind of a stretch. I found two large clumps of 'flake', a bunch of crumbled flake, and maybe 2-3 actual broken flakes. It's thick cut and heavy and you can tell some moisture is held in the leaf. The color is a very pleasing chocolate brown, offset by dots of light tan.
In a second tin of this I found something that looks quite a bit like mold to me, but when I reached out to customer support they assured me it was undissolved anti-fungal powder. Which despite their reassurances is not something I want to find in my tobacco nor put in my pipe.
TIN AROMA
Smoke, salt, and earth
LIGHT & DRAW
Packing Style:  I used my lazy single pinch method, but found it was best for giving the leaf a very thorough rub out first.
Fire:  Cosmic Taco Bic
Key Largo seems easy enough to smoke right from the tin, but try smoking it like that and you'll find it's deceptively moist, requiring numerous relights. You can dry this out for a few hours or if you aren't as patient, you can rub the rough flake out until it's almost shag, which I found smokes even better than the dried leaf.
SMOKE & ROOM NOTE
With cigar leaf in the blend, you'd expect a thick, luscious smoke, but it's just maybe a touch creamier than your average burley blend. 
The aroma has a touch of woodsmoke and a distinct cigar quality to it.
FIRST BOWL
>> 2 hours dry time, Boswell's Buckeye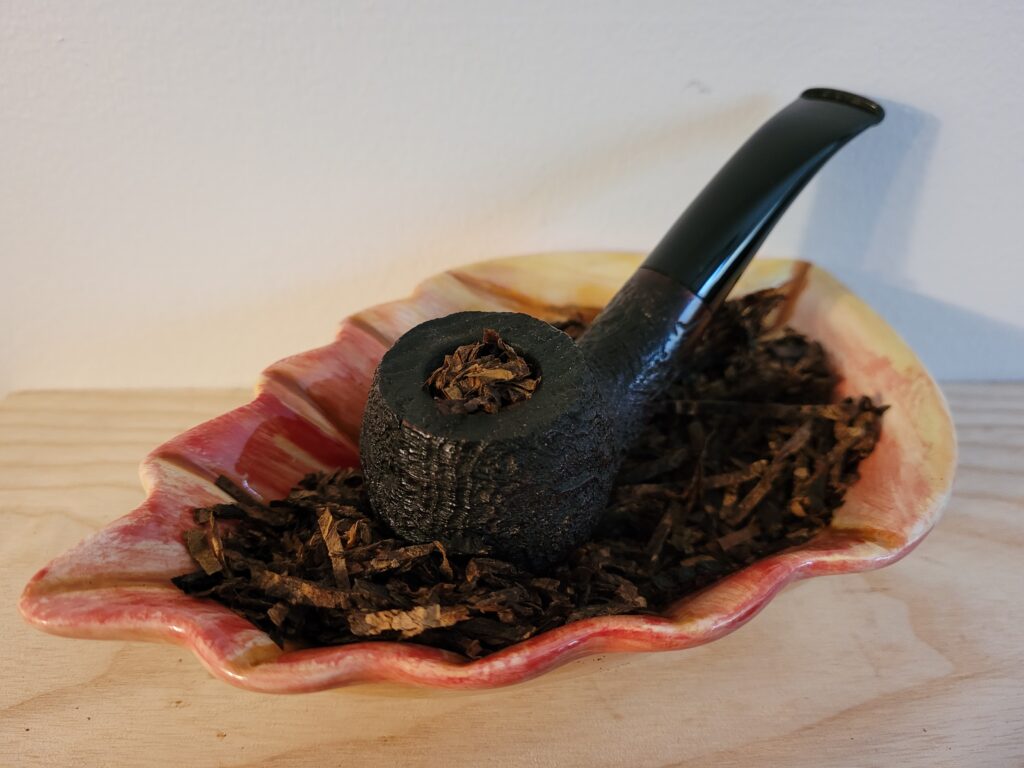 Hickory and mesquite, coffee, and earth. Salty with a touch of vinegar. Heavy cigar flavors, coffee, leather and earth, and richness. Hazelnuts and cream. It has a sourness, but not straight vinegar, more of a sour cream tang with a strong vegetal side. Hay and nuts. Black pepper, oaky, with a bitter undertone. Cream, earth, and dark chocolate. Spinach or maybe other greens with that bitterness. Grows a bit sweeter, with a splash of vinegar. Red fruits with a sour smoky-florality. Whole wheat sourdough. Ends strongly with a return to classic cigar flavors of coffee, earth, leather, and black pepper.
This was quite a flavorful smoke, delivering upon the promise of cigar flavors, but unlike a cigar it went out every few minutes, despite the anticipatory 2 hour dry. More drastic measures will be employed for my next bowl.
SECOND BOWL
>> 1 day dry, Boswell's Billiard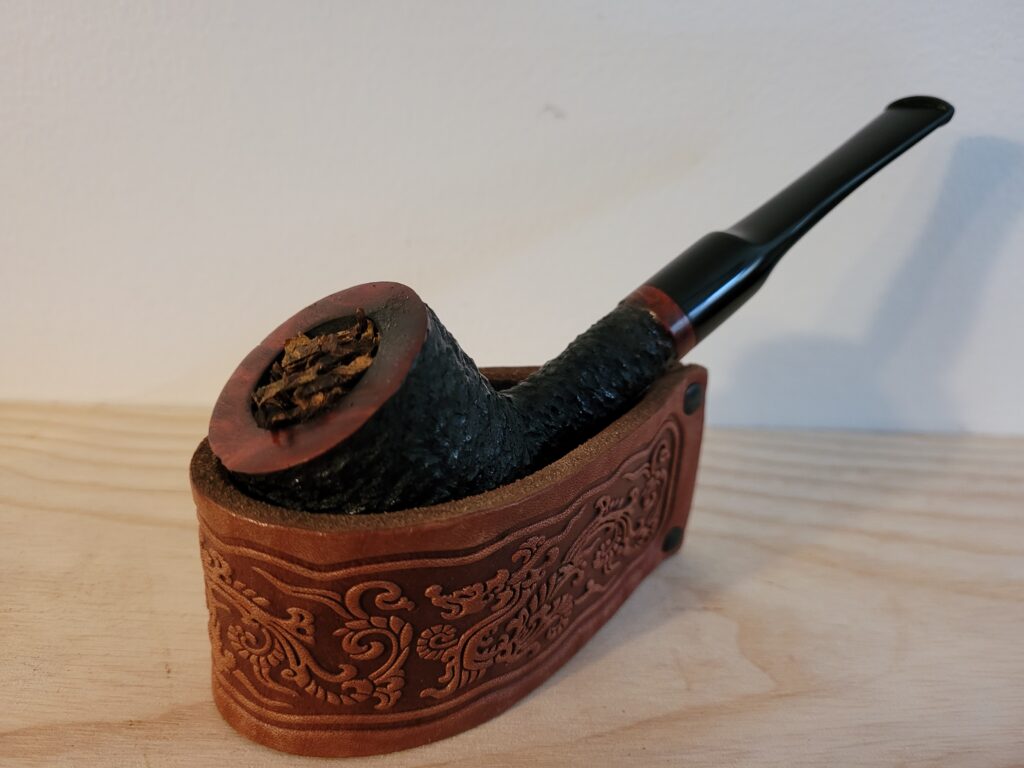 Leather, earth, cocoa, nuts, cream, and coffee richness, again evoking all the qualities you'd get from a classic cigar, along with a big blast of black pepper. There's raspberry jam to balance the richness. Oak, tea, and a hint of mesquite. Vinegar and salt for a moment. Malty, and a salted caramel over earth and oak. Must, vinegar, sourdough, yeasty bread. Returns to cigar territory, earth, nutty, and cocoa. It has a pleasing mineral aspect, The pepper reappears with a touch of jam, strong must, and dark coffee.
This burned much better than the previous bowl, but maybe there is a way to smoke this without having to prepare a day prior?
THIRD BOWL
>> Rubbed out exceedingly fine, Boswell Billiard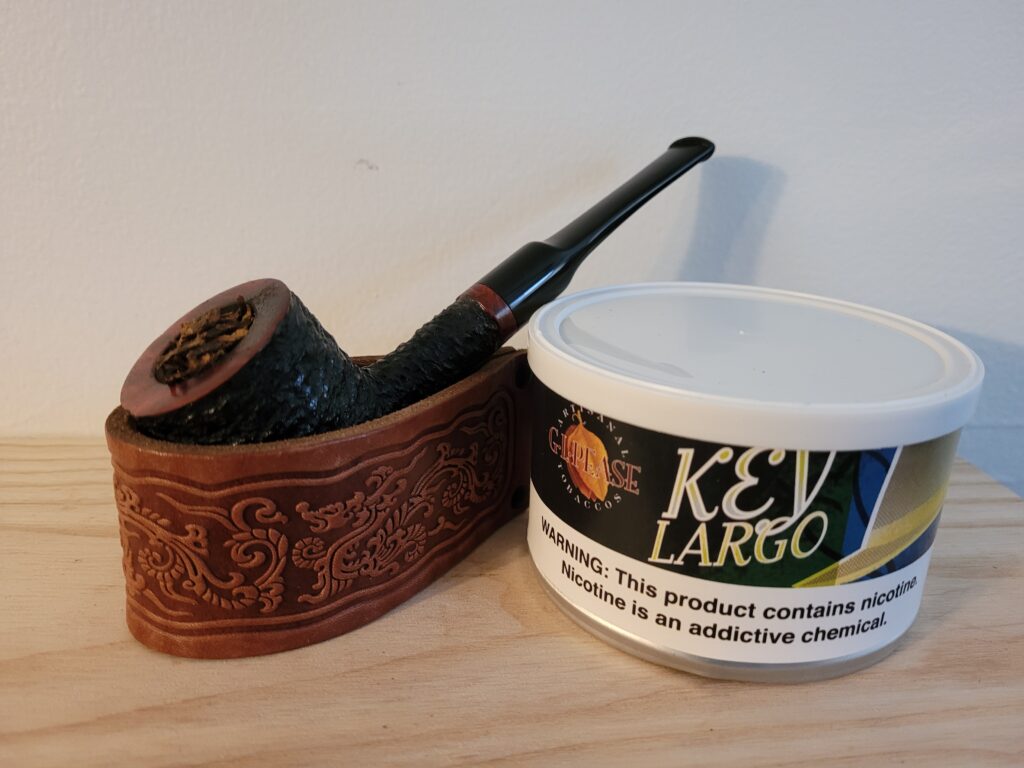 Sweet malty pepper, leather, and earth. Raspberry jam and must. The smoke is quite oily. Tastes like a habano wrapper, with the strong leather and pepper. Creamy, salty, with a bright lemon peel. Woodsmoke and wheat bread. This is quite like chewing sweet hay, with a mug of lemonade, sitting next to a campfire while smoking a cigar. Oily pepper. Sweet and the must of old books. Medium roast coffee. It grows creamier with a strengthening vinegar and salt. Coffee and cigar, oily, creamy, Sourdough bread, sugary, and oaky.
This performed much better and the flavor was richer and punchier.
FLAVOR PROGRESSION
Key Largo starts out very cigar like, shifts into a sweeter and sour mix, then returns to cigar and coffee to complete the arc.
BURN EXPERIENCE
Without extensive drying time or an aggressive rubbing out of the flake this doesn't want to catch light or stay lit at all, but with either of those in hand it's quite manageable.
SIMILAR BLENDS
I can't help comparing this to the one other cigar blend I have had, C&D Billy Budd, which has a similar makeup but the cigar leaf tastes watered down compared to Key Largo. It's also akin in flavor to to C&D Burley Flake #4, with the cigar leaf being replaced by dark fired Kentucky.
RATING BREAKDOWN
0.05 / 0.50 … Craft & Aesthetic
0.10 / 0.50 … Tin Aroma
0.20 / 0.50 … Lighting Process
6.50 / 8.00 … Smoking Experience
0.25 / 0.50 … Personal Enjoyment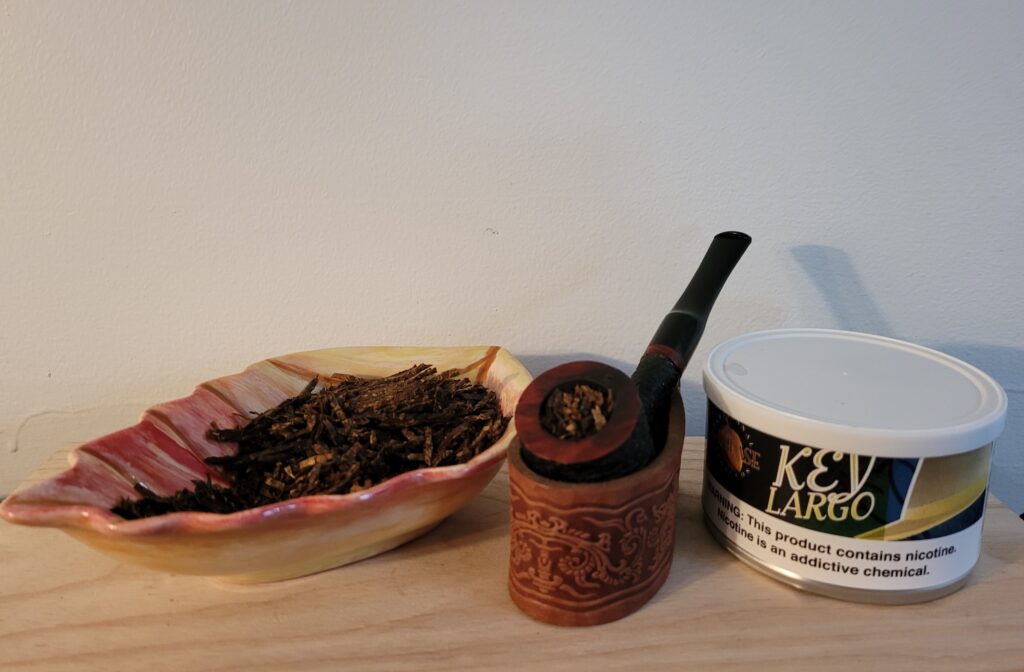 A GOOD FIFTY CENT CIGAR.
In Key Largo GL Pease has achieved the difficult accomplishment of delivering a pipe tobacco blend that truly tastes of cigar. Not like a cigar as there are still the hallmarks of pipe tobacco, with the smoky Latakia, and vinegar from the Virginia, but there is enough here to hold you over if you really want to burn a stick but time, money, or company don't allow the real thing. At MSRP of $14.25 giving 20-30 bowls per tin, that gives you a pretty good cigar experience for around fifty cents which can't be beat.
SIMPLY STOGIES RATING:  7.1/ 10.0