There have been a few cigars put out by Altadis by AJ Fernandez. These blends go all the way back to 2017 when the H.Upmann by AJ Fernandez was released with a sumatra wrapper. Then in 2019, the H. Upmann 175th Anniversary was released and was a highly rated cigar also by AJ Fernandez. With the Heritage, AJ Fernandez used a Brazilian Mata Fina wrapper and I have always been a big fan of Mata Fina. We will see if this one stacks up against some already well established cigars from Altadis and AJ Fernandez.
VITOLA:   Toro
SIZE:   6″ x 54
ORIGIN:   Nicaragua
FACTORY:   Tabacalera AJ Fernandez Cigars de Nicaragua S.A.
WRAPPER:   Brazilian Mata Fina
BINDER:   Nicaragua
FILLER:   Nicaragua
STRENGTH:   Medium to Full
SOURCE:   
Retailer
WHERE:   
Outside
WHEN:   
April 16th @12:00pm
DRINKS:   
Early Times Bottled in Bond
WEATHER:   
Sunny & Warm
HOW MANY CIGARS SMOKED:   
5
RELEASE TYPE  Regular Production
ORIGINALLY RELEASE DATE  January 2022
TOTAL PRODUCTION
Typical Box Size:     Boxes of 20
Production Totals:  Unknown
VITOLA BREAKDOWN
o Toro  (6″ x 54)
o Corona (5-1/2″ x 44)
o Robusto  (5″ x 52)
o Torpedo (6-1/8″ x 52)
o Churchill  (7″ x 54)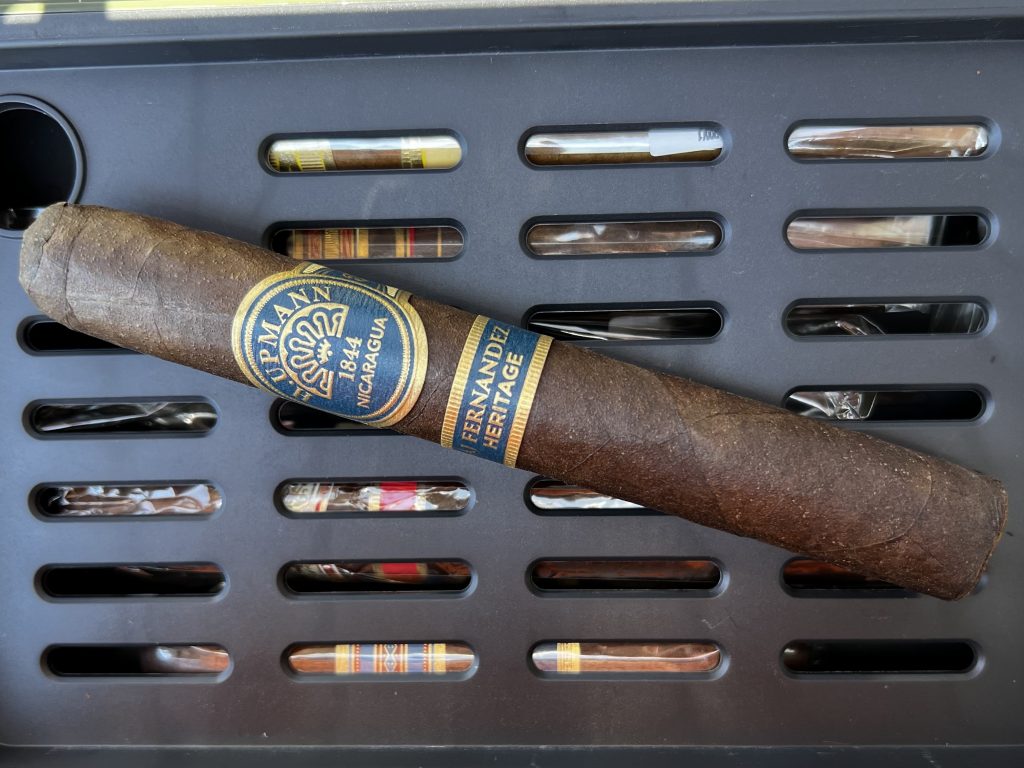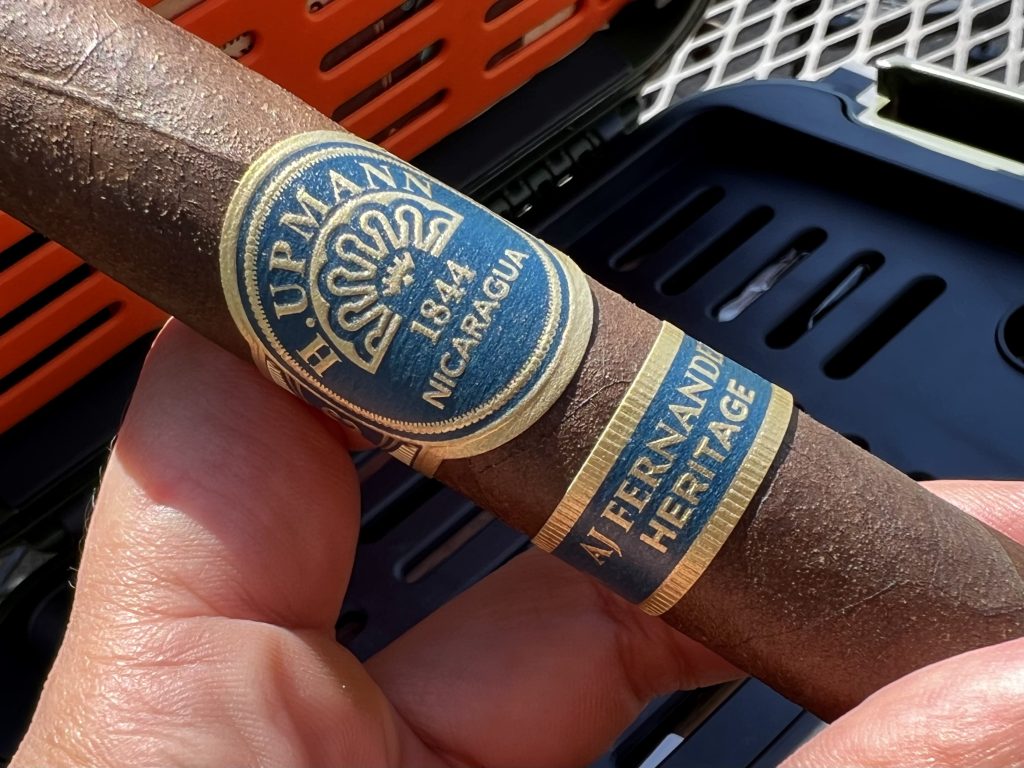 There's nothing really special about this band design it looks like every other H. Upmann band. I can appreciate the consistency in this brand and how they make small alterations to the text, bands, and colors. The navy and gold really compliment the darkness of the wrapper.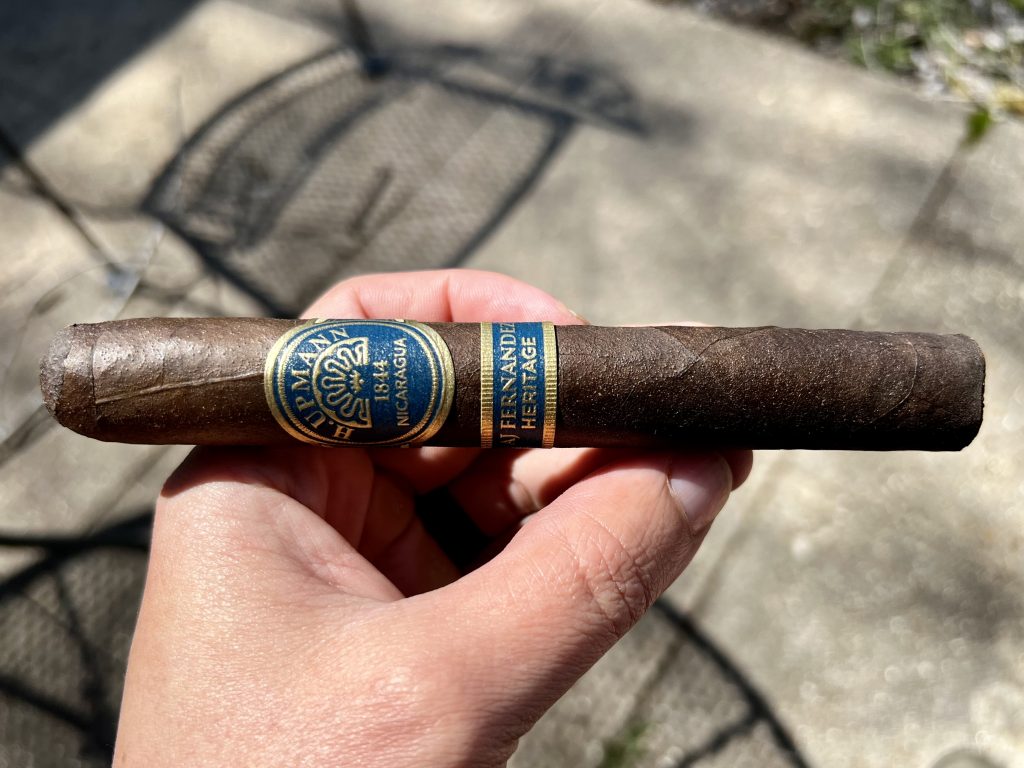 CONSTRUCTION
If I were to browse any humidor with a decent selection, this is a cigar that always stands out. It's dark, toothy, the seams are tight, and a firm consistent pack throughout the body of the stick. Not every one of these I smoked had the same firm pack but I also would not say that they had bad construction either. In this particular cigar, there are some small imperfections near veins that look like holes and there are also a couple bumps showing through the wrapper. 
AROMA

The aroma on the body of the cigar almost reminds me of sour patch kids, or some sort of sour candy. This is a note I do not get to often when smelling cigars. Maybe it is that it emits such a strong funky barnyard scent that it becomes sweet and sour. It's actually really interesting and I just kept smelling it. On the foot, there is spice present like a cayenne mixed with that same sweet and sour candy.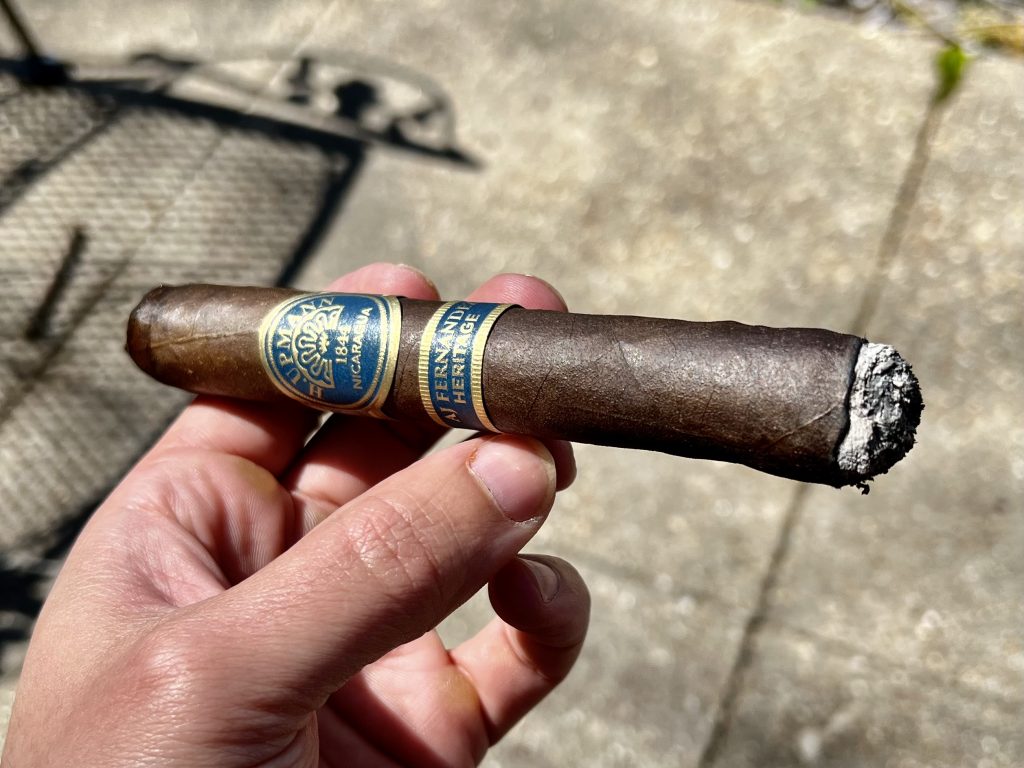 LIGHT & DRAW
Cut:  Straight
Fire:  Torch
The draw is really nice and open with just a tiny bit of resistance. With such a firm pack on most of the samples, it's surprising to see how open the draw is. This was the case for all of the cigars I smoked and it is the reason I  smoked so many more of this particular cigar than I usually do. It is an incredible consistent stick.
SMOKE

You really can't ask for anything more as far as smoke output is concerned. The open draw allows you to take in so much smoke and what you are left with is huge plumes of really thick smoke.
Right off of light up you get a ton of earthiness. On the back end of that earthiness, you get a spice that hits the back of your mouth and it almost reminds me of a numbing effect from Chinese peppercorn, but with the flavor of just a more mild black pepper. I'm surprised about how mellow the retro hale is. There is actually not much to it besides earth and chocolate with some chalkiness in there. It's very tame. 
FIRST THIRD
>> Earth, White Pepper, Polvorone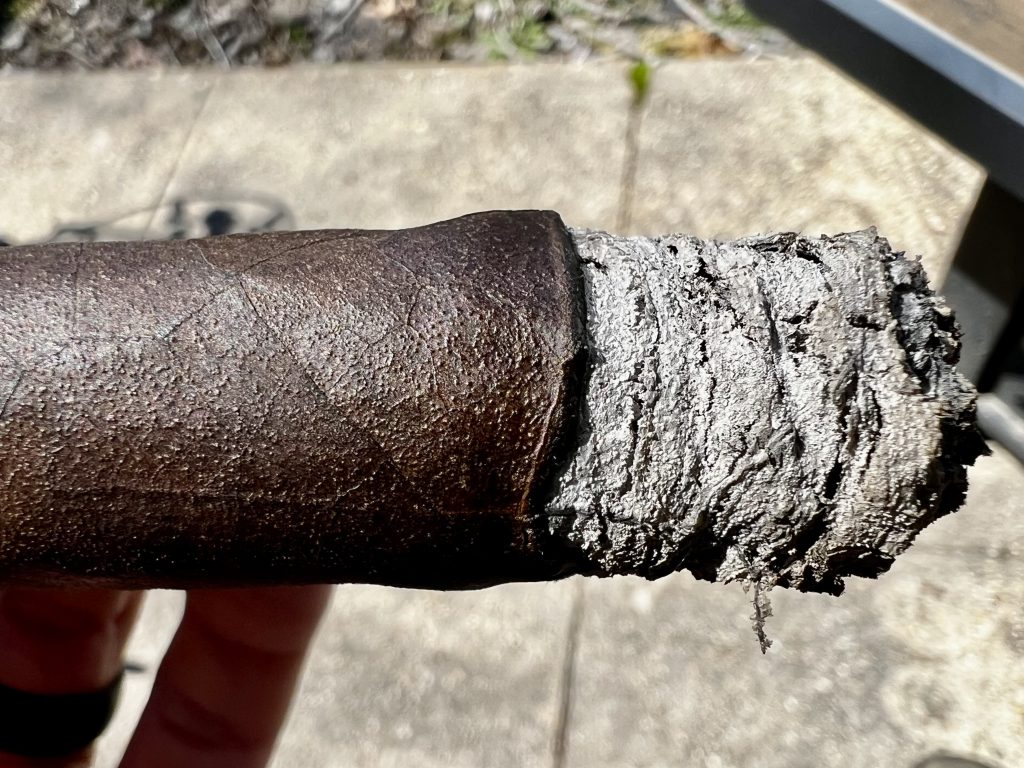 I enjoy the quick transitions from light up to the first third. The earthiness and spice gets kicked down a notch and makes room for a more meaty note. It reminds me of hot roast beef and cream, in a very subtle way. There is some earthiness on the backend as well. On the retro there is a little more spice present, like white pepper, but it isn't harsh and does not sting the nostrils at all. The finish is smooth and almost sweet and very dry at the same time. This reminds me of a Filipino candy named Polvorone. The ash is fairly compact and very bright. I always appreciate seeing the tooth in the ash that was the wrapper. I have had no issues with the burn, even though I dropped the cigar and the wrapper cracked.
SECOND THIRD
>> Powdered Cocoa, Black Pepper, Lemon Zest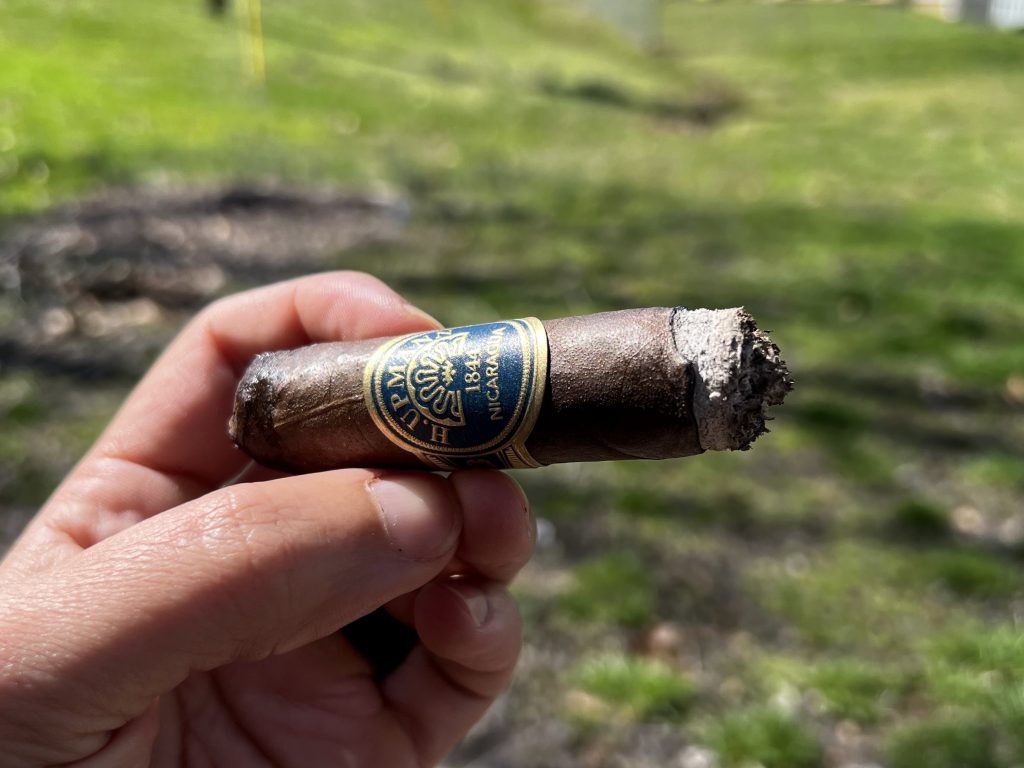 The ash hangs on for a solid inch and a half. The burn continues to be straight, smoking this cigar is just effortless which is all I really want when I am unwinding at any point in the day. You can start to feel a little bit of give in the cigar if you squeeze it but it's still pretty firm to the touch. The second third shifts a little bit and the primary note that stands out is powdered cocoa. There is no real sweetness and it is just a little bitter. On the back end of that powdered cocoa note you get a deep deep earth. The retro is just a little bit spicier almost like black pepper mixed with a dash of cream. The finish is not as smooth as the first third but it is also not as dry. My mouth is actually watering after every draw. I got a whisp of lemon zest at the along with damp earth at the very end of the finish. This was a nod to the sour note from the aroma of the cigar before I lit the cigar up. Still no issues with the burn. I left it sitting for about five minutes and didn't have to touch it up and could pick up right where I left off. 
FINAL THIRD
>> Sweet Tobacco, Earth, Cream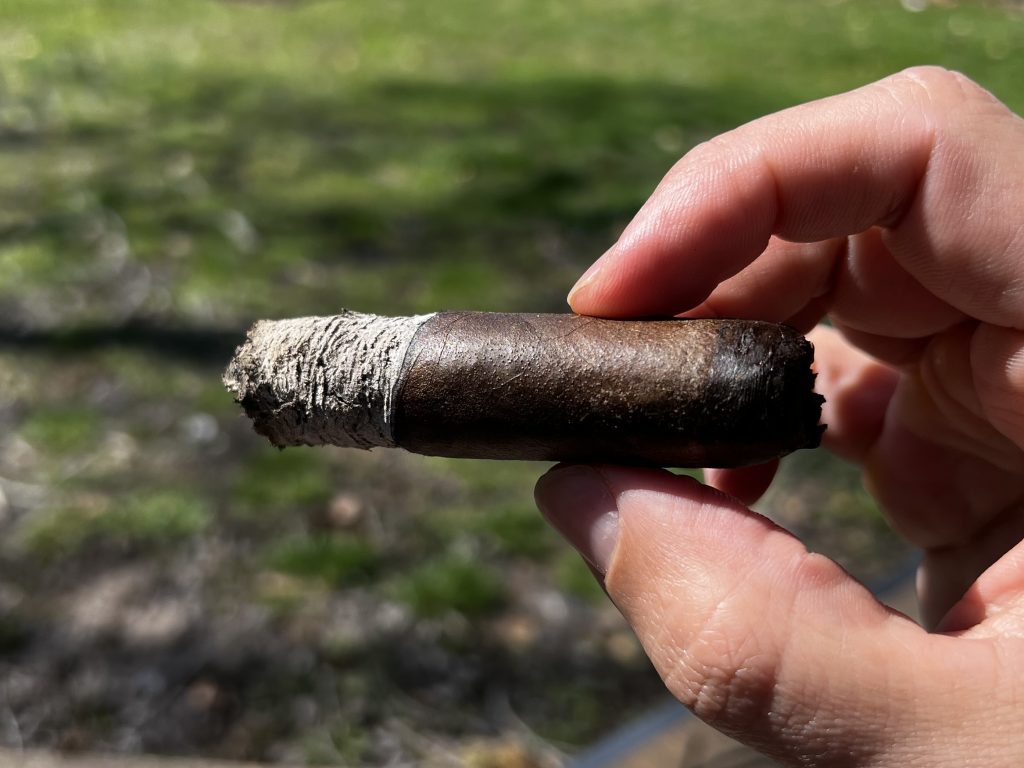 Heading into the final third, the sweetness that I was looking for throughout the cigar finally made an appearance. It is not overly sweet and provides a really nice balance of sweet tobacco, earth, and cocoa powder. The retro is not nearly as spicy as a second third and offers more of a sweet cream note. I did not expect the finish to change that much but I am getting a tiny bit of black licorice on the backend mixed with that deep earth found throughout the smoke. I really enjoy how smooth the cigar is, despite being almost overly earthy at times. In the first parts of the cigar, I felt like I needed a drink of water after taking a few draws, but that is not the case heading into the last third. Getting to the nub there is a lot more semi sweet chocolate moving in and taking over the earthiness.
FLAVOR PROGRESSION
I thought that the flavor progression of the cigar was very nice. It started out how I expected a cigar this dark to start out, earthy with some spice. The base of earthiness provided a foundation in which all other flavors could make themselves noticed. While the earthiness might be a bit much for the mild to medium smokers, it wasn't incredibly overwhelming for a smoker like me who likes a lot of variety in the sticks I smoke. This cigar really hit a sweet spot in its balance of spice and earth with the addition of some predictable nuances that provided relief from the solid foundation of bold flavors.
BURN EXPERIENCE
The construction of the cigar was flawless for every single one I smoked, that is not something I experience too often. Hopefully, you find the same consistency as I found in this stick. While it is not the first cigar that I reach for in my humidor, I know that I could give this to someone and tell them exactly what to expect. From the burn, to the smoke output, this is a cigar that I can recommend to anyone that likes deep flavor and an effortless smoking experience. Despite my rookie mistake of dropping the cigar and the wrapper cracking, the cigar still preformed well. 
RATING BREAKDOWN
0.70 / 0.80 … Craft & Aesthetic
0.40 / 0.50 … Pre-Light Characteristics
0.50 / 0.50 … Lighting Process
6.40 / 7.70 … Smoking Experience
0.30 / 0.50 … Personal Enjoyment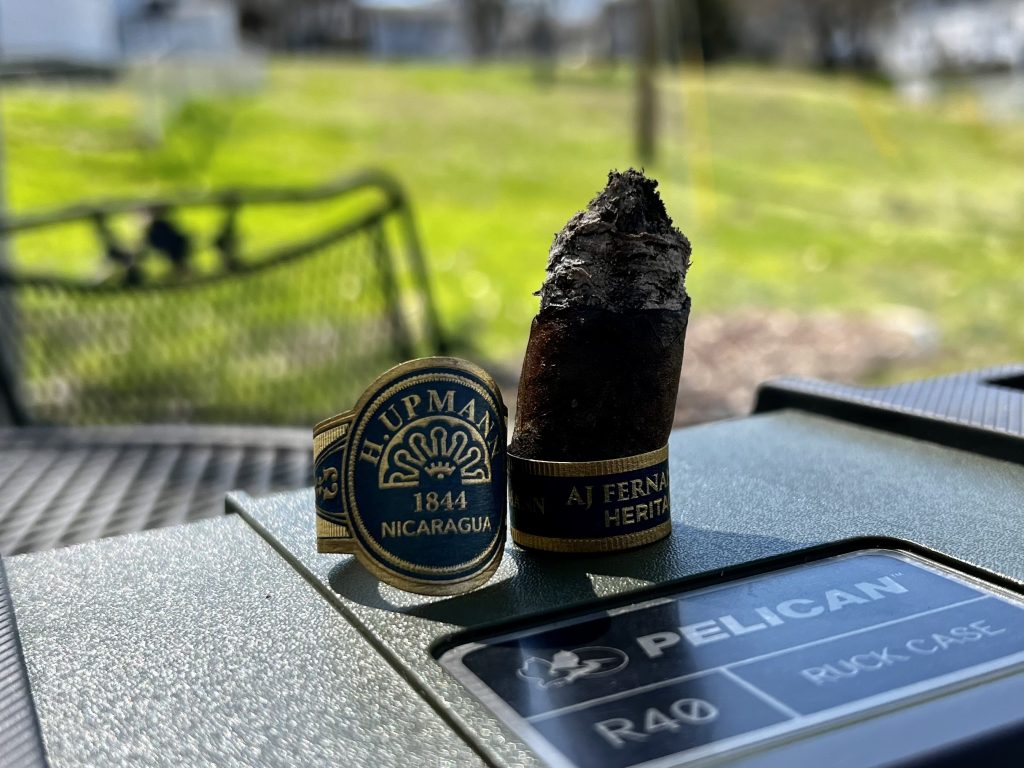 CONSISTENCY IS KEY.
This is a cigar that I would keep at least 5 of in my humidor, and not necessarily smoke them fast. If you like to keep a mild, medium and full cigar in your rotation, this is definitely something to consider for your full option. It reminds me of a lot of other AJ  Fernandez sticks, and that is not a bad thing, but it was really the consistency that kept me interested in the cigar. While it won't knock your socks off, it is good enough to buy all round 5 or 10 in case you feel like smoking something bold and dark.  
SIMPLY STOGIES RATING:  8.3 / 10.0