I have heard about Lampert a few times but if you aren't completely in tune with the cigar industry, it is possible that you have not heard of this company. Lampert Cigars was founded by the lawyer Dr. Stefan Lampert. His first cigar line was MY CIGAR LAB and while on vacation he wanted to create and cigar that would compliment an aficionados vacation trip. The notes that came from this cigar lead Stefan to the name Ocean Breeze. Taste is subjective, what one tastes in a cigar will most likely not be what another tastes. It takes a true connoisseur to pick out notes that translate to the consumer.   
VITOLA:   Robusto Grande
SIZE:   5″ x 54
ORIGIN:   Costa Rica
FACTORY:   Tabacos de Costa Rica  
WRAPPER:   Ecuadorian Habano 2000
BINDER:   Ecuador
FILLER:   Nicaragua, Peru, Undisclosed Country
STRENGTH:   Medium
SOURCE:   
Retailer
WHERE:   
Outside
WHEN:   
July 1, 2023
DRINKS:   
Early Times Bottled in Bond
WEATHER:   
Sunny, warm, and breezy
HOW MANY CIGARS SMOKED:   
4
RELEASE TYPE  Regular Production
ORIGINALLY RELEASE DATE  2022
TOTAL PRODUCTION
Typical Box Size:     Boxes of 10
Production Totals:  UNK
VITOLA BREAKDOWN
o  Robusto Grande  (5″ x 54)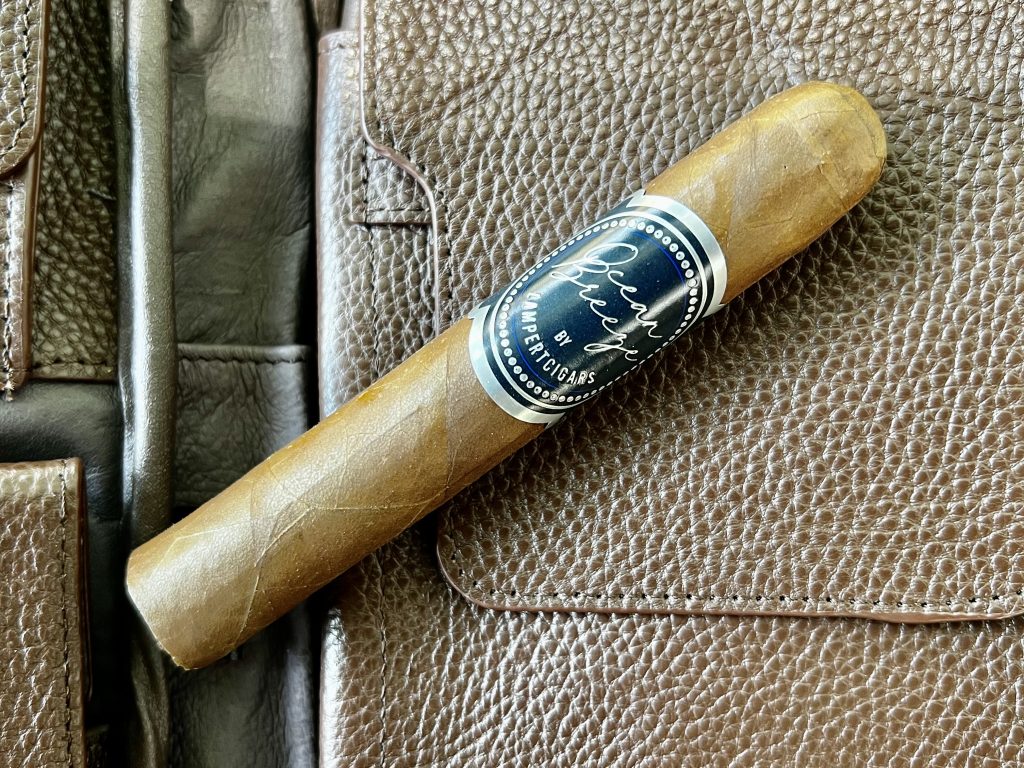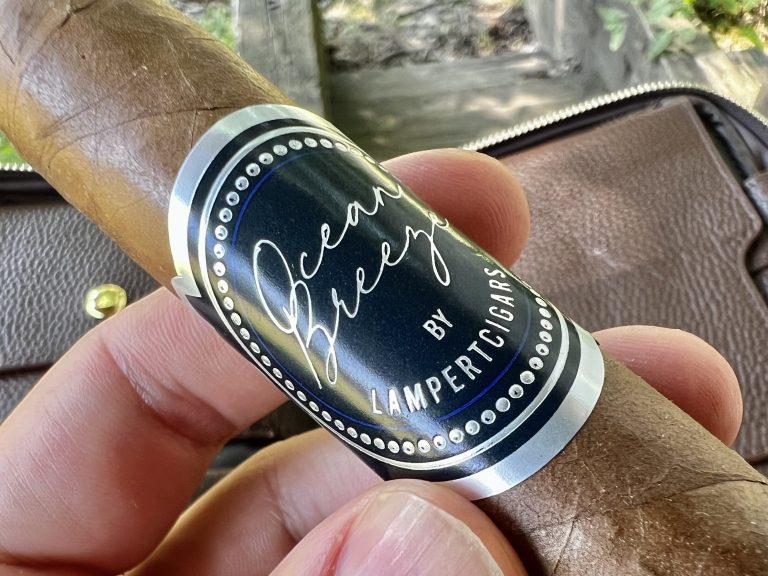 The band is not as impressive as the construction of this stick. While I don't think that a band makes a cigar more enjoyable, it is always nice to look at a nicely designed piece of paper while you smoke. The Ocean Breeze band is generic and incorporates some tribal shapes that symbolize a breeze. At first glance, the color way is boring with black, silver, and blue throughout the band but if you think about it a little deeper the silver represents smoke with the blue symbolizing the ocean. The black could represent the vast ocean, but that's just a guess.  Not a terrible design if you give it some thought but I do think it could be executed better.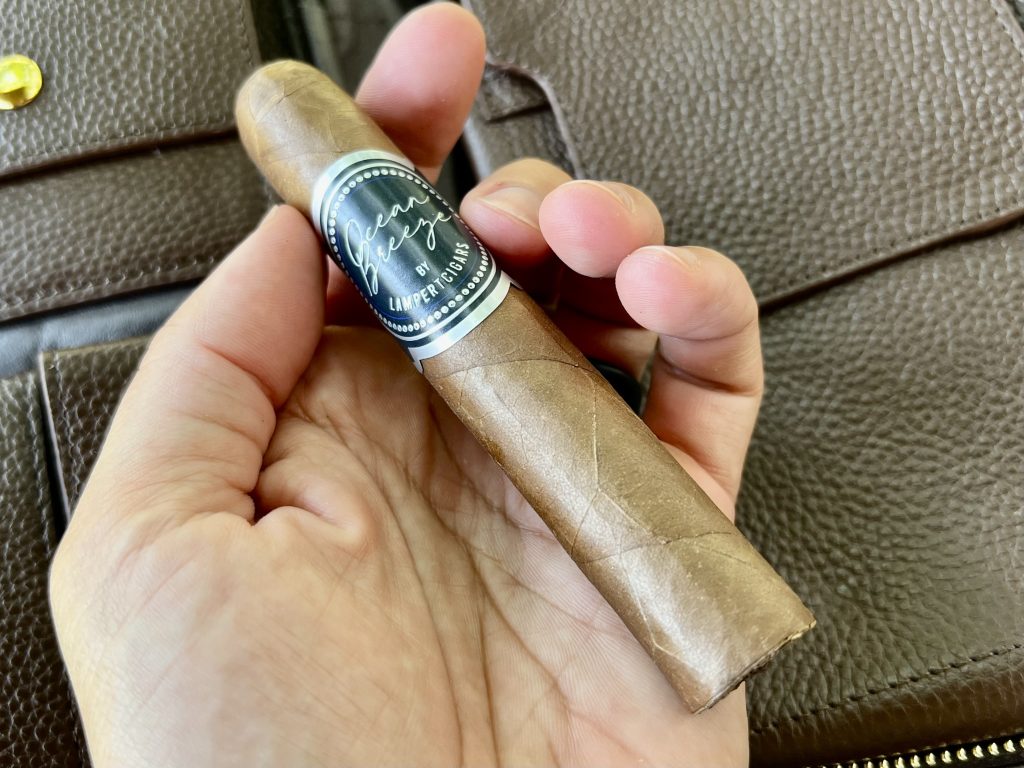 CONSTRUCTION

This cigar is neat in every way. It's just a nicely constructed stick with tight seams, minimal veins, uniformity in color, and a cap applied with surgical precision. The pack is consistently dense with a little give in every part of the cigar. The wrapper has a nice oily sheen.
AROMA
The aroma on the body of the cigar smells like sandalwood, earth, sugar, with a little leather thrown in the mix. The foot is very different presenting musty earth and feint citrus peel aromas.
COLD DRAW

The draw has the perfect amount of resistance . The cold draw offers big blasts of cedar with some saltiness. It is rare to find a cigar with a salty note but when I do it always catches my interest.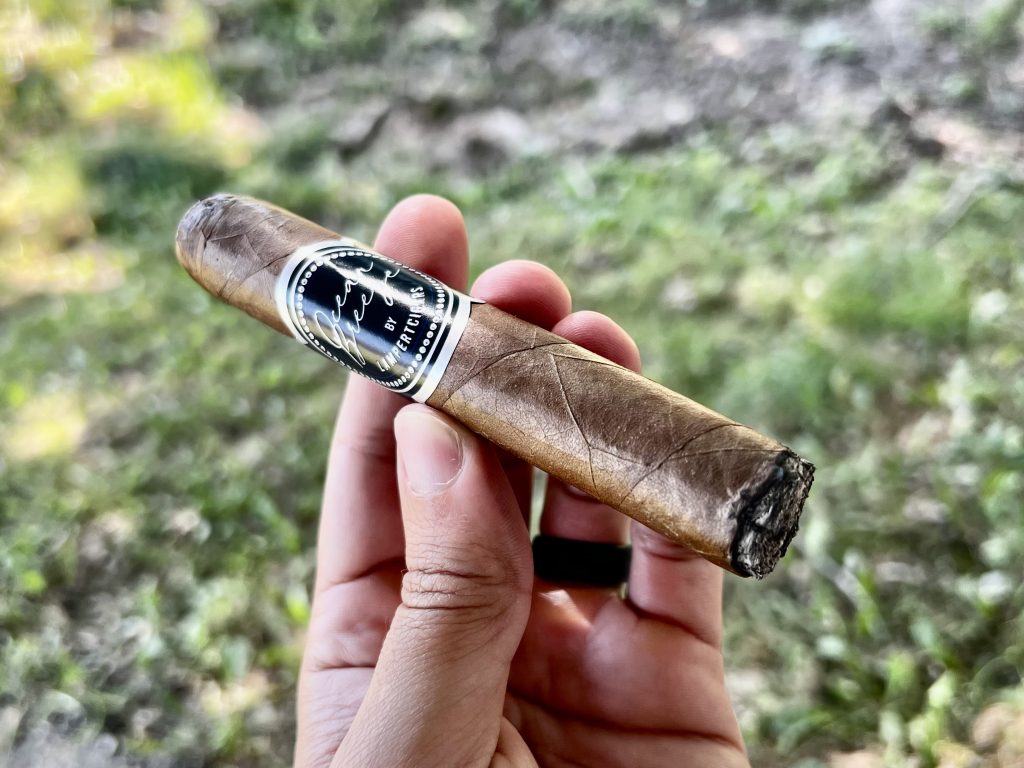 LIGHT & DRAW
Cut:  Punch
Fire:  Three Burner Torch
The flavors are very subtle off light up. Drawing from the cigar is effortless and the smoke output is great. Rustic bread mixed with bitter cocoa and earth. The retro hale is spicy and buttery with some minerality on the back end. Big cedar and oak notes on the finish. Great start!
SMOKE

The smoke comes out in big plumes but it is not as thick and luxurious as I prefer. It's light and airy, it lets you know you are getting a great draw by how much smoke you blow out. I can barely draw and still get a good amount of smoke.  
FIRST THIRD
>> Salt Water Taffy, Cedar, Cream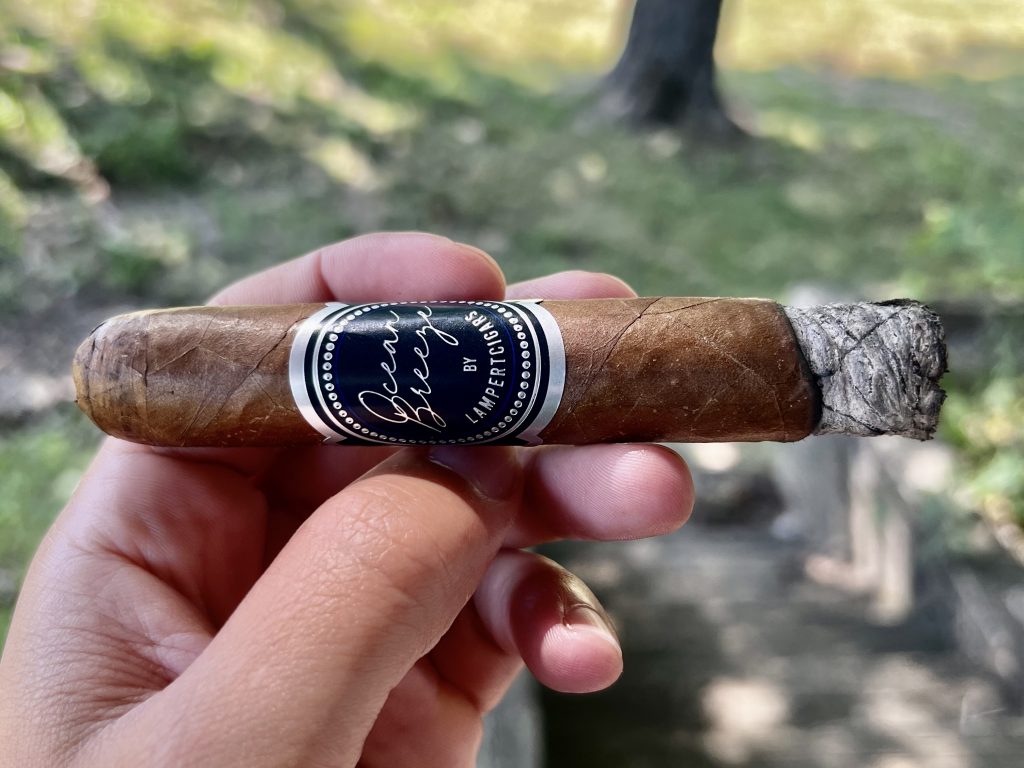 The burn is wavy as I get into the first third, I did have to tend to it a little and it quickly corrected. The ash is gray and compact. I hope the rest of the cigar is as good as the first third. The flavors open up to a sweet salt water taffy that is a mix of cedar and cream. The retro is buttery and creamy with some white pepper on the front end. The finish is light but lingers for about 5 seconds. The bread note comes back with butter and chocolate. This is a medium bodied stick with some great flavor so far.
SECOND THIRD
>> Suede, Cocao, Salt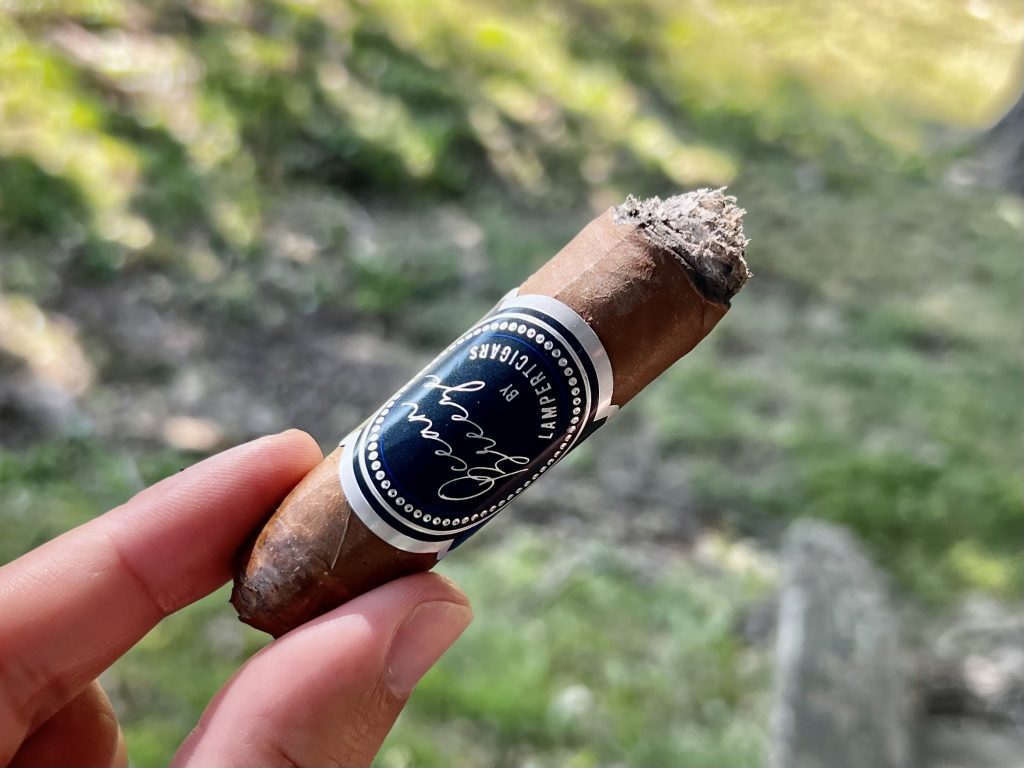 No issues with the burn in the second third and the ash is strong. The main flavors transition to a rich cedar and whisps of floral notes, there is still a slight sweetness but not as apparent as the first third. The retro still has a buttery note but more of a suede note is taking over. I like how the flavors really pop in the beginning of the draw and retro and taper off in the finish. The finish is not boring by any means, it's just clean. Cedar with bitter cocoa and cream like an upscale cow tail candy. There is still a saltiness to the cigar which makes its name make sense.
FINAL THIRD
>> Honey, Almonds, Buttery Croissant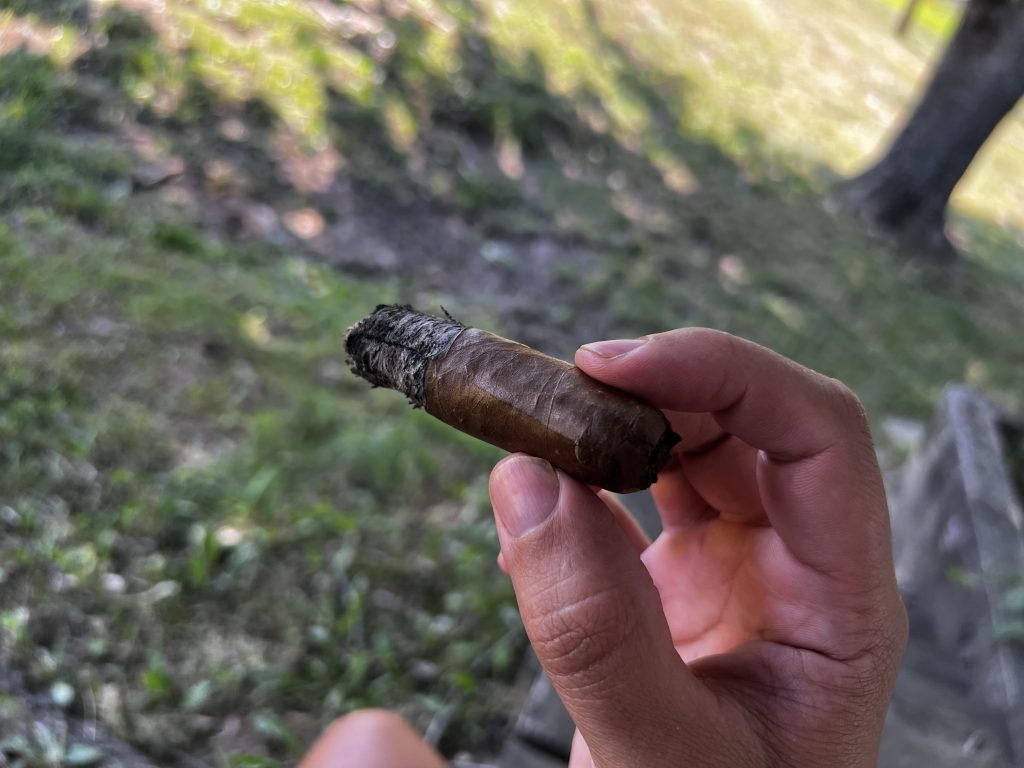 Burn is steady and the smoke output is as good as the first third. This is just an easy cigar to smoke. Great for hanging out with friends or just relaxing by yourself and trying to pick out all the notes. Honey and almonds take over the last third with a salty cedar close behind. The retro is still buttery with stronger oak notes. The finish right after the retro is where the salt note really stands out followed by a buttered croissant. Unreal finish to a cigar that has been a true pleasure to smoke.
FLAVOR PROGRESSION
The flavor progression of this Stick is just classy. The saltiness echo's throughout the cigar but does not overwhelm you. The flavors are rich but not too rich. The taffy note really caught my attention in the first half and after that the honey and almond really got me hooked.
BURN EXPERIENCE
Construction was great. While there was a small bit a waviness in the final stock I reviewed, I never had any problems with the previous 3. I would not call it flawless but these cigars have great construction.
RATING BREAKDOWN
0.45 / 0.80 … Craft & Aesthetic
0.50 / 0.50 … Pre-Light Characteristics
0.50 / 0.50 … Lighting Process
7.40 / 7.70 … Smoking Experience
0.45 / 0.50 … Personal Enjoyment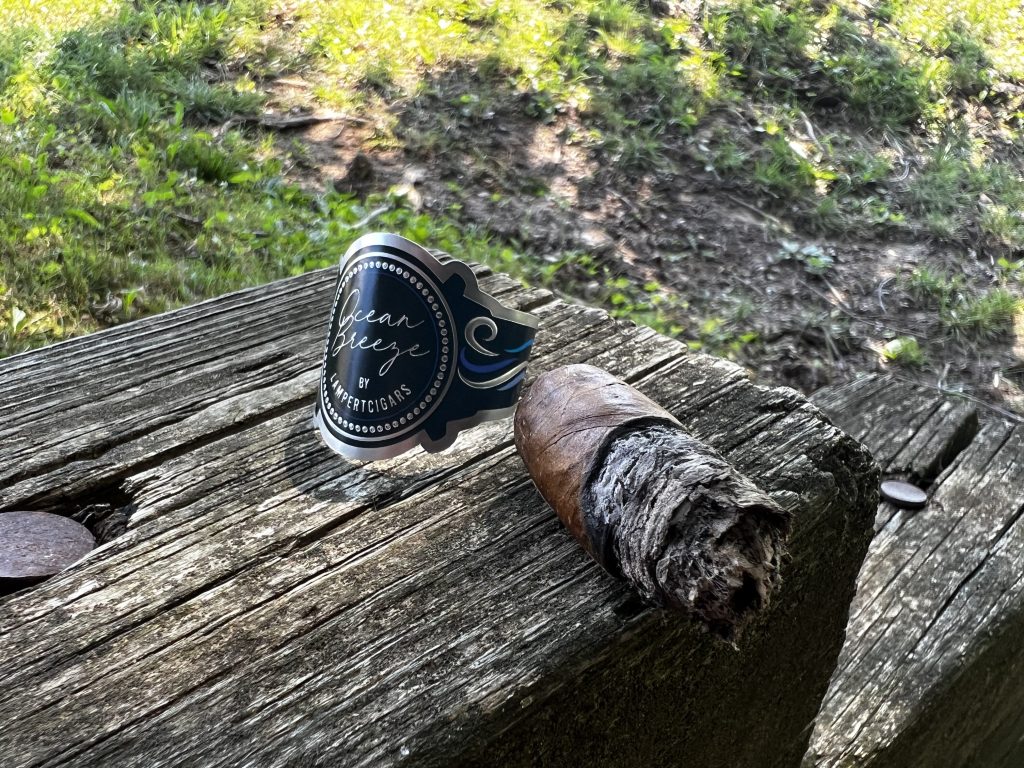 Look Out For Lampert!
Unbelievable, this is definitely a box worthy cigar. It's approachable for the beginner and great for a seasoned aficionado. This is by far the best medium bodied stick I've smoked this year. The name of the cigar makes complete sense after smoking it several times. If I could have one stick to smoke during a beach vacation, this is it! 
SIMPLY STOGIES RATING:  9.3 / 10.0