VITOLA:   Churchill
SIZE:   7″ x 47
ORIGIN:   Nicaragua
FACTORY:   My Father Cigars S.A.
WRAPPER:   Ecuadorian Sancti Spiritus (pelo d' oro & criollo)
BINDER:   Nicaraguan Double-Binder (specifics undisclosed)
FILLER:   Nicaraguan blend w. some Pelo de Oro
STRENGTH:   Mild
SOURCE:   
Party Source
WHERE:   
Back Patio at Home
WHEN:   
April 11, 2018 @ 10 PM
DRINKS:   
Sam Adams Noble Pils
WEATHER:   
High 50s – finally some warmer weather
WHAT'S ON:   
WGR550 – Catching up on Sabres locker clean-out
RELEASE TYPE  Limited Production (former? annual release)
ORIGINALLY RELEASE DATE  May 2017
TOTAL PRODUCTION
Typical Box Size:     Boxes of 10
Production Totals:  1,000 boxes produced (10,000 cigars total)
VITOLA BREAKDOWN
o  2015 – Churchill  (7″ x 47)
o  2016 – Robusto  (5-1/2″ x 50)
o  2017 – Churchill  (7″ x 47)
RESEARCH & BACKGROUND INFO
For those that don't know, L'Atelier is owned by Tatuaje founder/owner Pete Johnson.
Leading up to the first Cote d'Or release in 2015, Johnson worked closely with the Garcia family to develop a phenomenal tobacco crop – Pelo de Oro.
Pelo de Oro can be very hard to farm and use for production for a few reasons: 
(1) The soil environment that it's best suited to is hard to maintain
(2) The crop is typically more susceptible to mold
(3) It typically produces very low yields 
Many avid cigar smokers may know that Pelo de Oro has been banned from the magic isle of Cuba due to its proclivity for mold growth.
What the heck is Sancti Spiritus?  Apparently it's a blend of criollo and the coveted Pelo de Oro tobacco.
"Pelo de Oro" is Spanish for "golden hair".  The tobacco itself is known for a trademark strength and mildly sweeter flavor.
"Cote d'Or" is actually French for "Gold Coast".  It's a reference to the French wine-growing region of Burgundy – mostly known for its world-renowned pinot noirs.  The region can be very finicky to grown pinot grapes in so it is a fitting name for the notoriously difficult to work with Pelo de Oro tobacco produced under the French import label.
The Cote d'Or was rolled in a churchill vitola the first year and third year with a robusto sandwiched in for the sophomore year.
The 2017 edition reverted back to the 2015 in terms of vitola and blend.
As far as I can tell, the Cote d'Or line seems to be taking a regrettable hiatus.  It has not been released since 2017.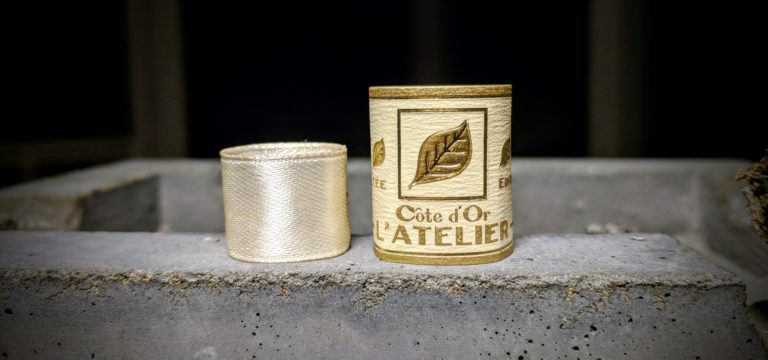 The bands found on L'Atelier's Cote d'Or ooze the elegance you'd expect from a fairly spendy limited release cigar.   The foot is dressed up with a white gold colored satin band.  I always appreciate the attention to detail and consideration that goes into deciding when a cigar merits a satin foot band.  
The primary band is located at the traditional position closer to the cap.  It is a simply designed off-white or cream-colored band accented by gold leaf for all the text and graphics.  The graphics are simple – a boxed in gold leaf – found on all L'Atelier's non-Surrogates lines.  The paper used for the band feels rich and thick – similar to something you'd print business cards or a wedding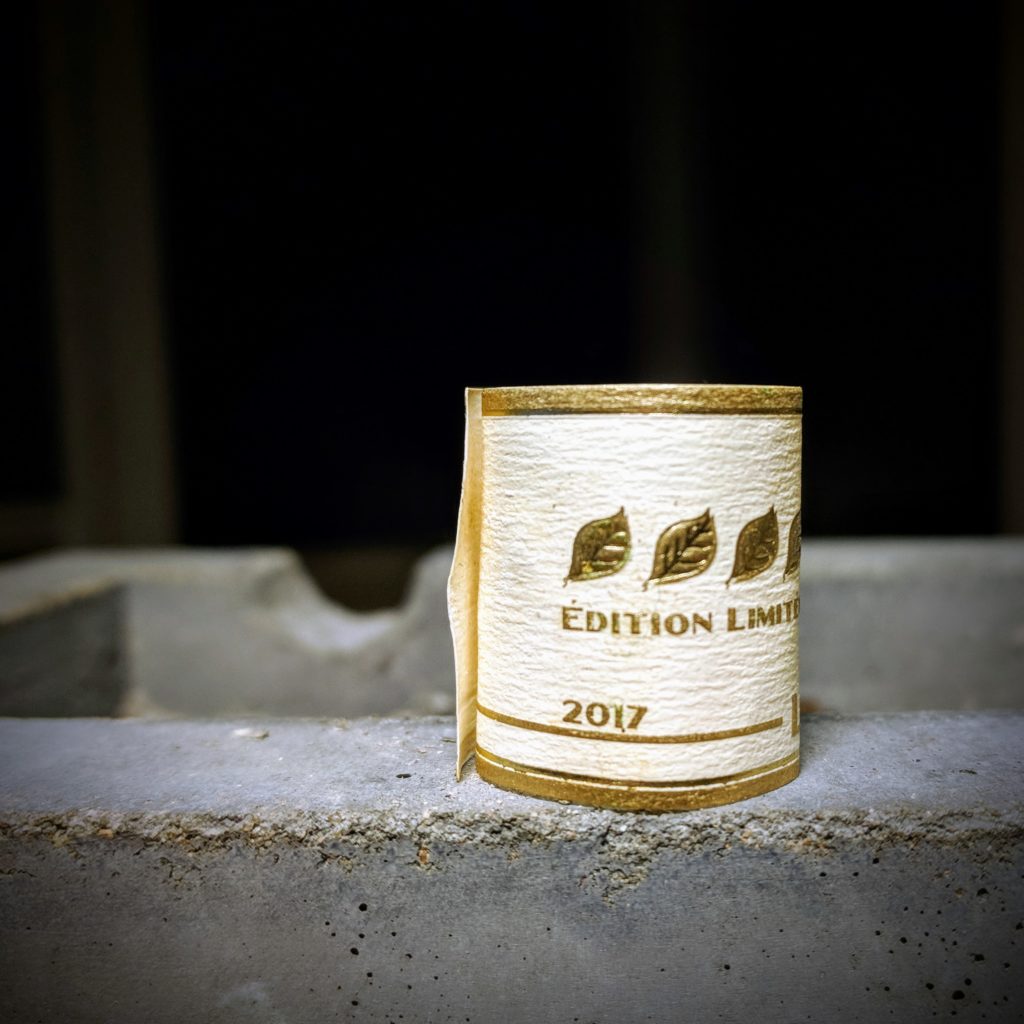 invitation on – think American Psycho business card analysis.  The brand name and special blend are noted on the bottom of the band and a small series of numbers on the back indicate the year of release.  The release year is an amazing detail for those like me who are notorious for forgetting to label their cigars with the date purchased – especially useful since the designs of the 2015 and 2017 bands is very similar, if not identical.  While muted and easy to glance over, I appreciate the band design and feel it's very appropriate to the cigar's format, theme and overall line design.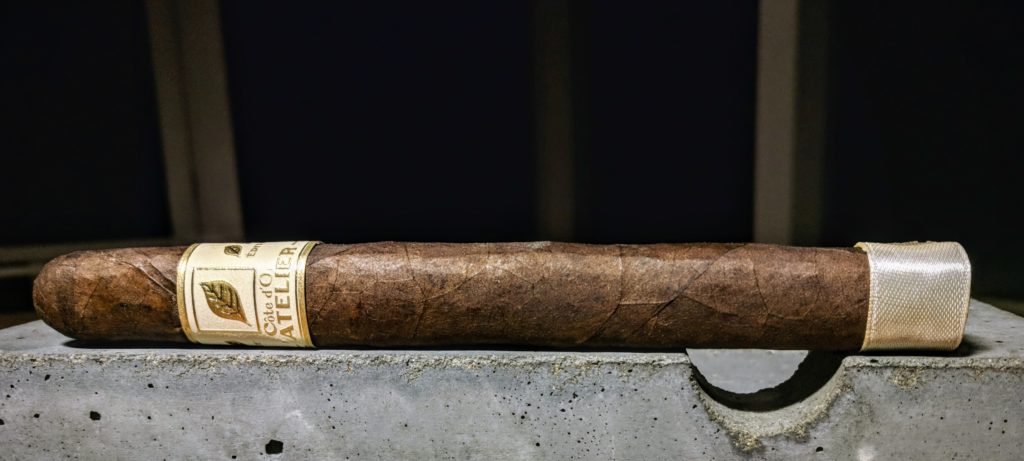 CONSTRUCTION
L'Atelier's third iteration of their limited edition Cote d'Or annual release is wrapped in an absolutely gorgeous dark, chocolate Ecuadorian Sancti Spiritus leaf.  The Sancti Spiritus wrapper is also used on L'Atelier's Selection Speciale releases.  It's usually a darker priming leaf which brings more complex flavoring.  The wrapper is relatively matte in finish with several veins spanning the entire length or body of the cigar.  The seams are obvious from the color variation but sit very flat and smooth overall.
The cigar itself is fairly light to hold – which for a big ol' churchill is unexpected. Maybe it's the lightly designed band playing tricks on my brain but for a churchill, the Cote d'Or really feels dainty.
The cap is flawlessly applied.  The shoulders fall deep into the body and there is virtually no distinction to indicate a border between the cap and the wrapper.  The foot appears to showcase a well-packed cigar with some decent color variation throughout.  There are a couple chunks but I'm hoping they won't present any issues.
Usually the vitola or shape of a cigar doesn't warrant much critique or praise.  However, in the case of the 2017 Cote d'Or, it's really a beautifully rolled cigar.  It uses a very nicely executed soft box-press that I can appreciate for a number of reasons.  Sometimes box-pressed cigars can be sloppy to cut and the caps can easily get mutilated.  The method of applying the triple cap on this stogie is masterfully done – everything snipped easily and perfectly. The other main reason I love this shape is trivial – but when resting you definitely don't need to worry about it rolling off the table or out of the ashtray – which is a relief for a spendy stogie like this one.  It also just feels 'right' in your hand – no better way to say it.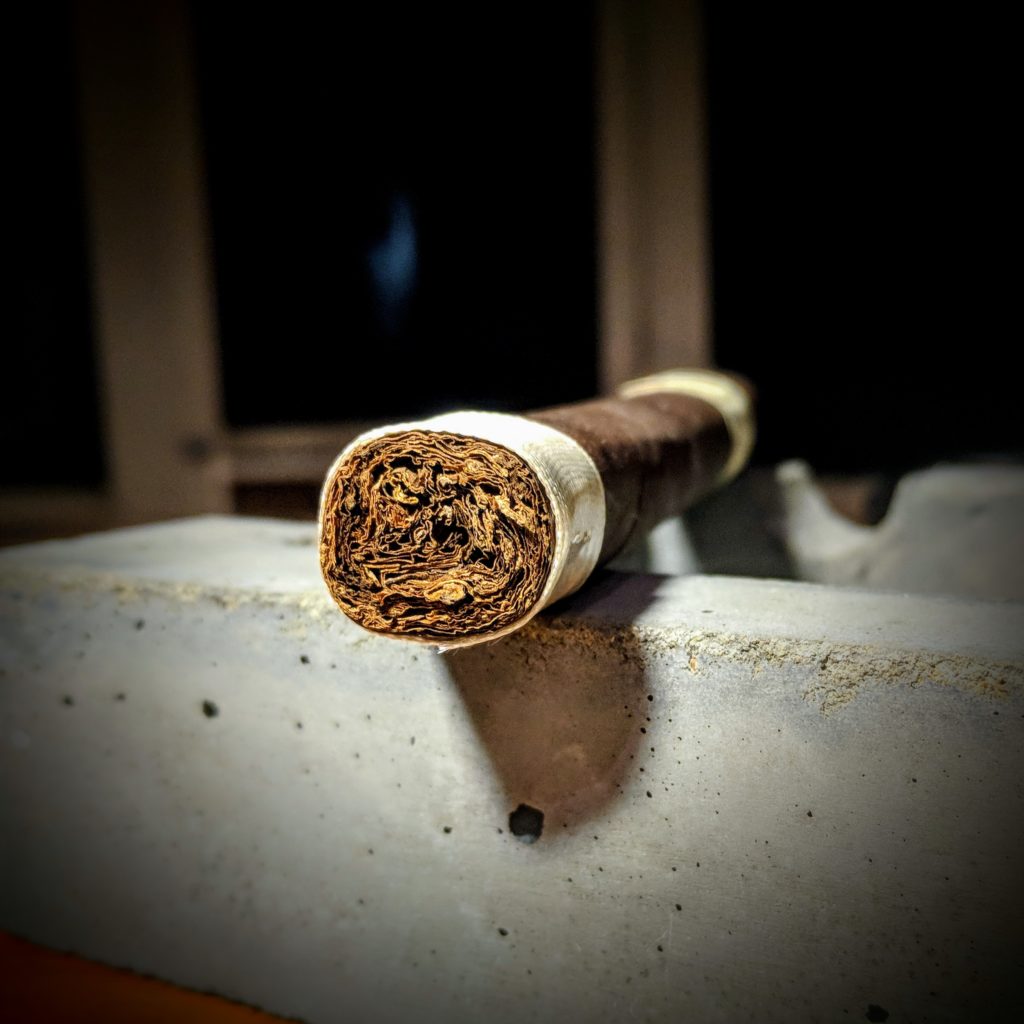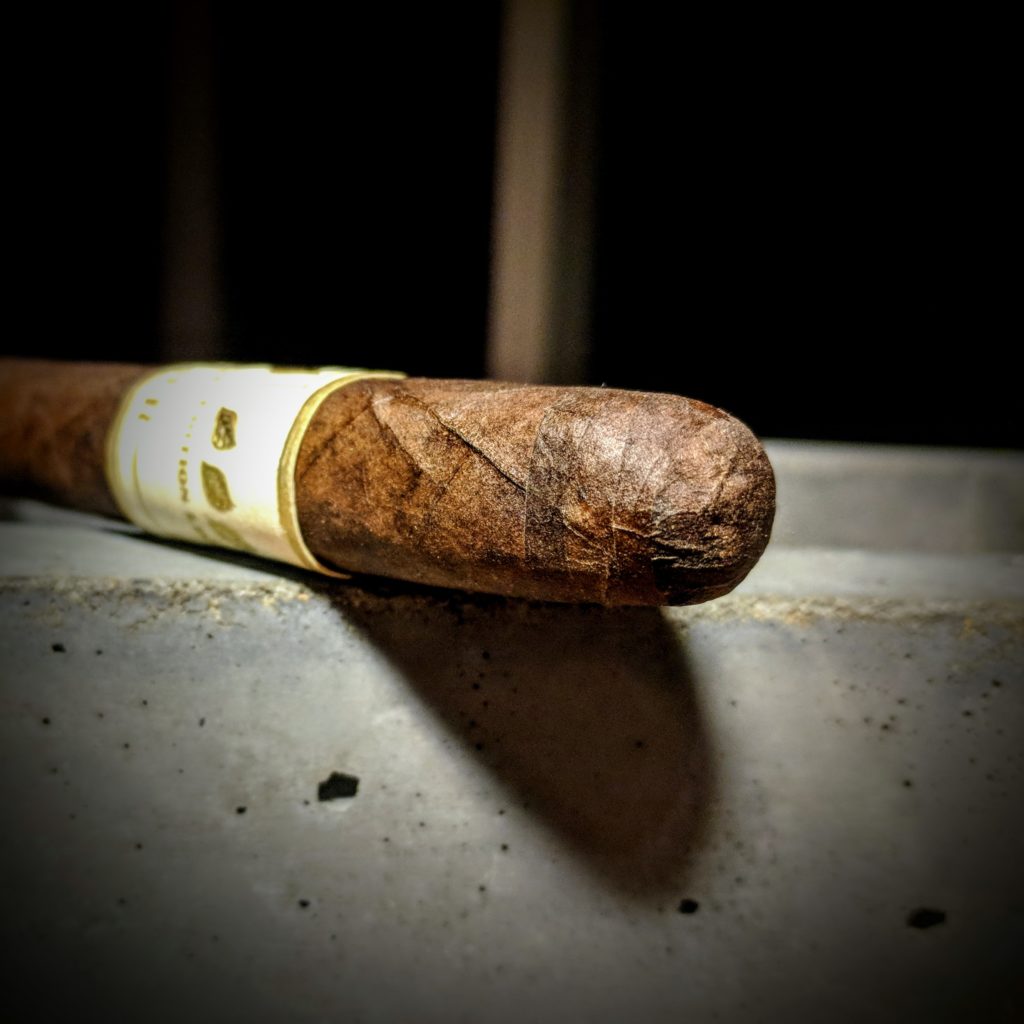 AROMA
There really isn't much on the nose – either from the foot or wrapper.  If I had to pick a particular aroma that stood out – it would be tobacco, graham cracker and cedar.
COLD DRAW
The cold draw is open and brings about some cedar, white pepper, and classic mild tobacco flavors.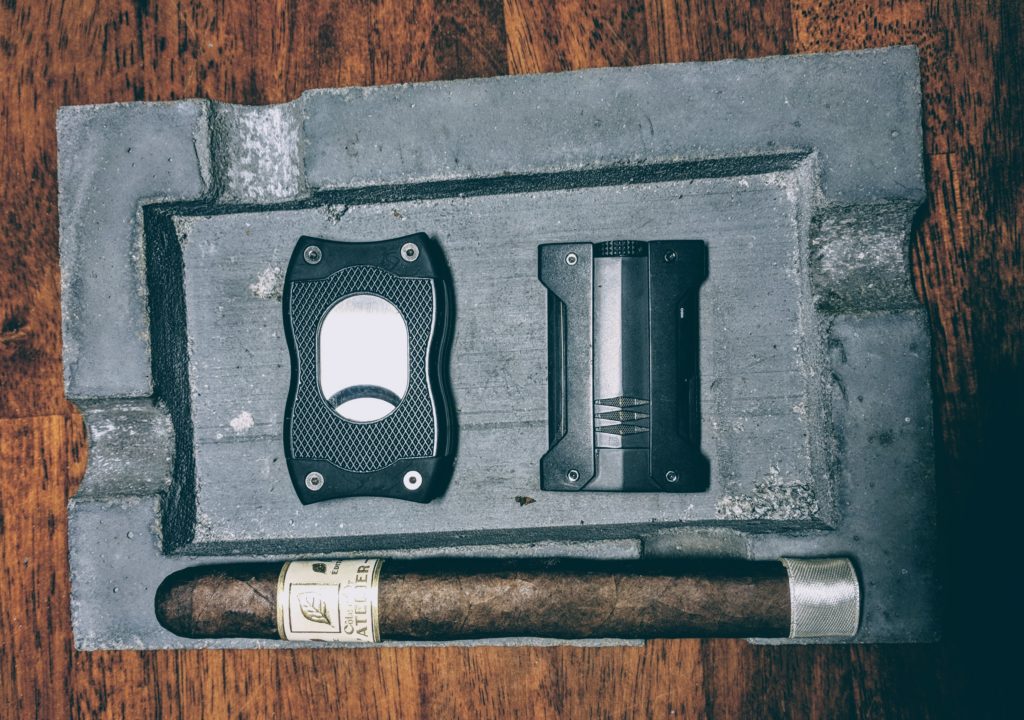 LIGHT & DRAW
Cut:  Colibri SV (v-cut)
Fire:  S.T. Dupont Xtreme Defi
The Cote d'Or lights up perfectly and evenly.  The first couple flavors to pop onto the palate are a light peppery harshness and some cinnamon-y baking spices.  All in all, a lighter-bodied start to the stogie.
The draw is open and offers not much resistance but still an acceptable level.  No real complaints to be made about the draw.  The burn is starting out magnificently – even, clean and sharp.  The ash is very light gray – bordering on white.
SMOKE
The smoke output on the Cote d'Or is definitely on the lower side.  A soft trail of light, white smoke gently flows from the cigar while resting.  When puffing, the stogie churns out a very pleasant volume of distinct smelling white smoke. It is a lighter smelling cigar that I found to smell fantastic throughout the smoke.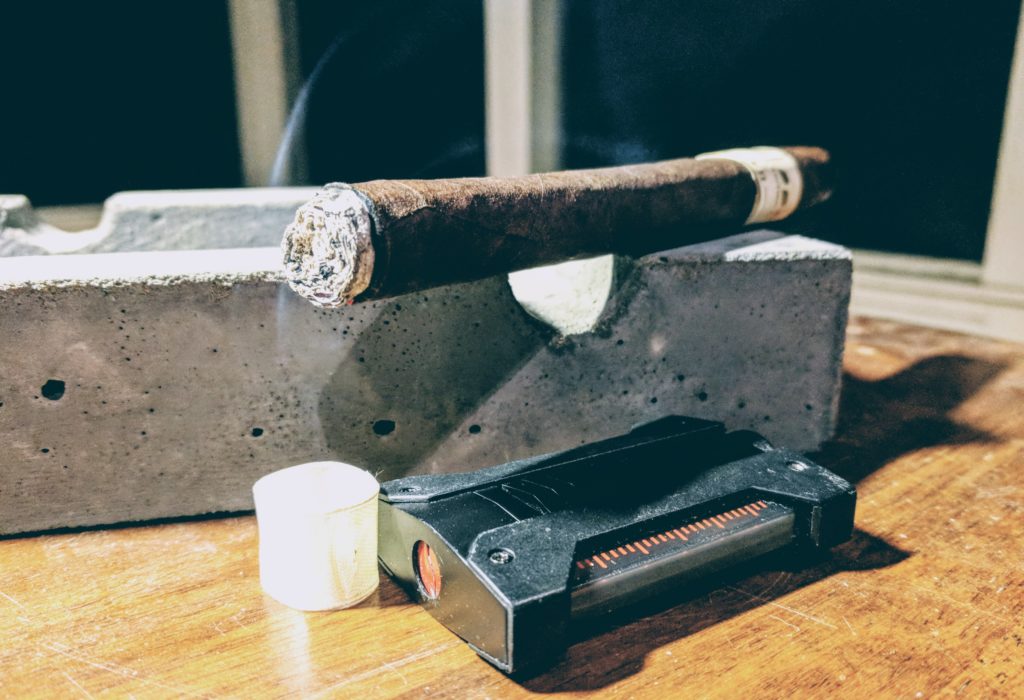 FIRST THIRD
>> baking spice, citrus zest, cedar/cocoa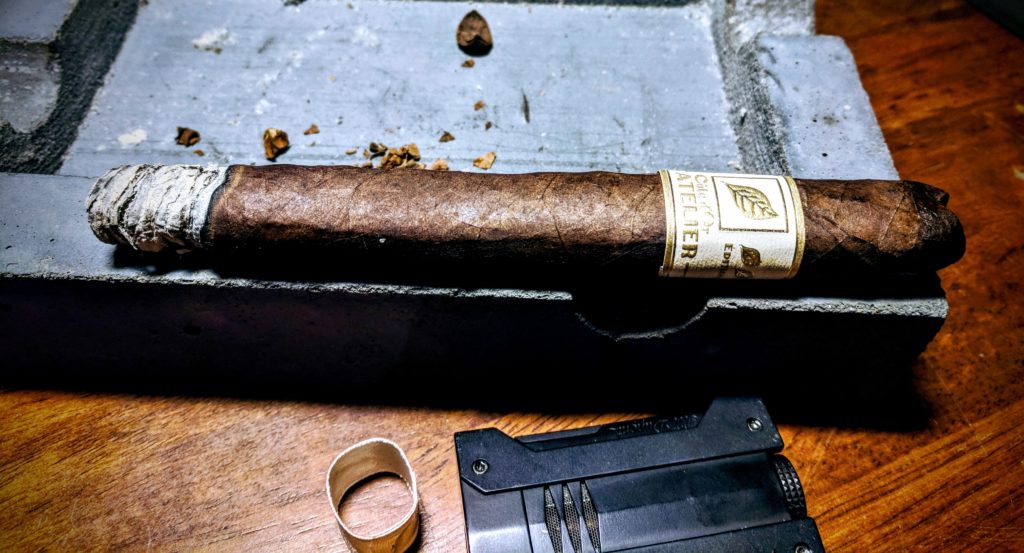 Any harshness or pepper found on the first few puffs have disappeared as the first third gets burning in earnest.  The flavors still carry a little zing to them but, to me, it's not a pepper or spice necessarily – it's more of a citrus-y zest with some baking spice.  It's very soft too – definitely not overly spicy or dominant on the palate.  There's some faint cedar and just a little light cocoa that sit in your mouth between puffs.
The draw continues to be open but enjoyable – certainly not the usual milkshake consistency typically sought after but by no means too open or loose.  The burn is impressively sharp.  There are almost no real deviations or trouble spots behind the nearly inch and a half long ash that has built up.  Things are off to a great start with the Cote d'Or.
SECOND THIRD
>> tea w/ honey, citrus zest, bread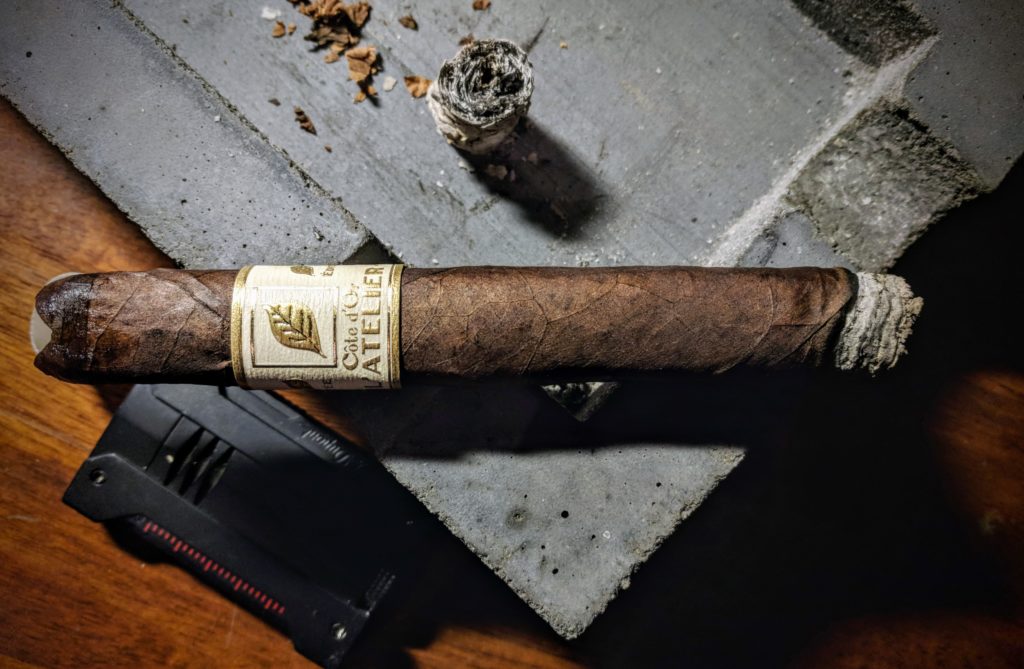 The zesty zing of the first third definitely continues as the second third kicks off.  I still don't get much pepper from the flavors – which have been prominently noted throughout other reviews.  For me, it continues to be citrus zest and baking spices that lead the flavors on the palate.  The profile is developing though and bringing some additional earthier notes as well as some bread/dough.  Wood (maybe still cedar?) play more of a role and is paired with some creamy earthiness.  There's also a bit of lingering sweetness going on – imagine tea with honey and a heavy dose of lemon.
Still no issues to report on the draw or burn – both are executing at very high levels so far.  The ash is consistently building to about an inch or slightly more prior to dropping.  It's a dense white ash that doesn't give much cause for concern about it randomly dropping on your lap.
FINAL THIRD
>> lemon, baking spice, cocoa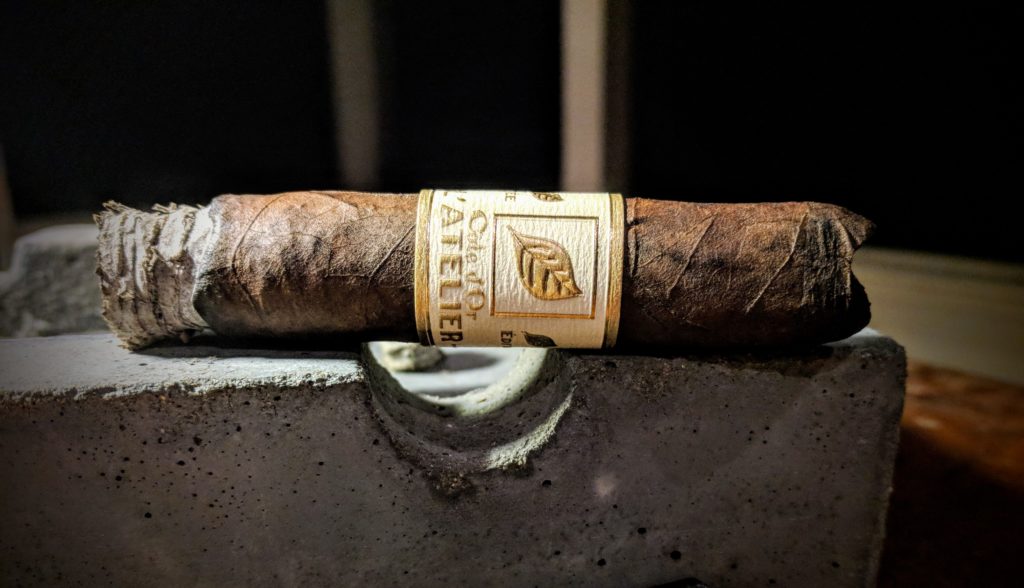 The lemony sweetness paired with the subtle baking spice is still a dominant force on the palate and it really is unbelievably great.  The flavors so far haven't departed much from those primary notes and, honestly, I'm just fine with  it. It continues to be complimented by random spurts of cedar and light cocoa/chocolate – but, again, I'm fine to do without those additional flavors at all.  One more addition to the palate that has crept in is a roasted nuttiness. The herbal, spicy, lemon/honey at the forefront – especially now that they've truly built on the palate – are phenomenal.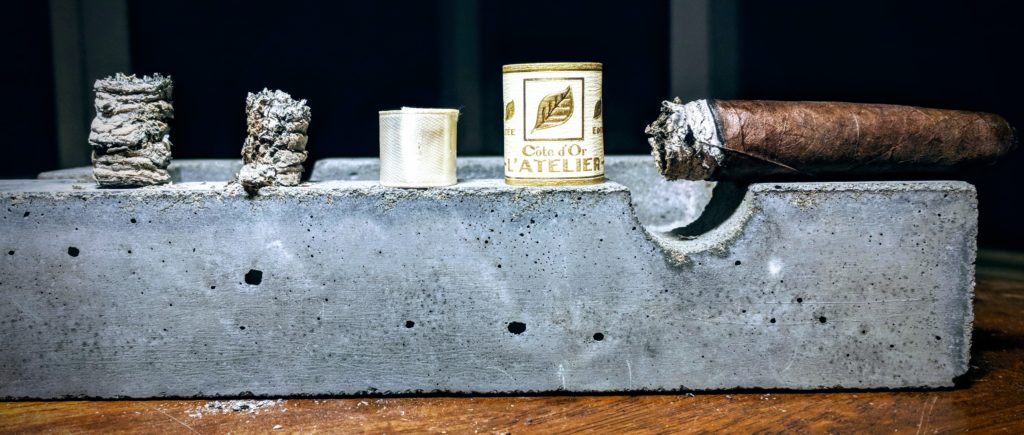 FLAVOR PROGRESSION
While L'Atelier's Cote d'Or never diverts too much from the citrus zest and baking spice flavor profile I've noted throughout the review, it does an awesome job building on those flavors to offer a seemingly simple but ultimately rich and complex experience.  By the end, I really wanted to grab a cup of tea to compliment the smoke perfectly.  This cigar is definitely not a three-course meal but sometimes it's best to hone in on what you want to do and do it well.  The Cote d'Or excels in this field.  It doesn't try to be what it's not, it sticks to a few truly great flavors and seeks to develop them.
BURN EXPERIENCE
If you did a word search on this review I probably used the word "perfect" too much.  It really sums up the experience.  The draw, burn, burn line and ash left literally nothing to be desired – a fantastic smoke from light up to nub.
RATING BREAKDOWN
0.78 / 0.80 … Craft & Aesthetic
0.42 / 0.50 … Pre-Light Characteristics
0.50 / 0.50 … Lighting Process
7.24 / 7.70 … Smoking Experience
0.50 / 0.50 … Personal Enjoyment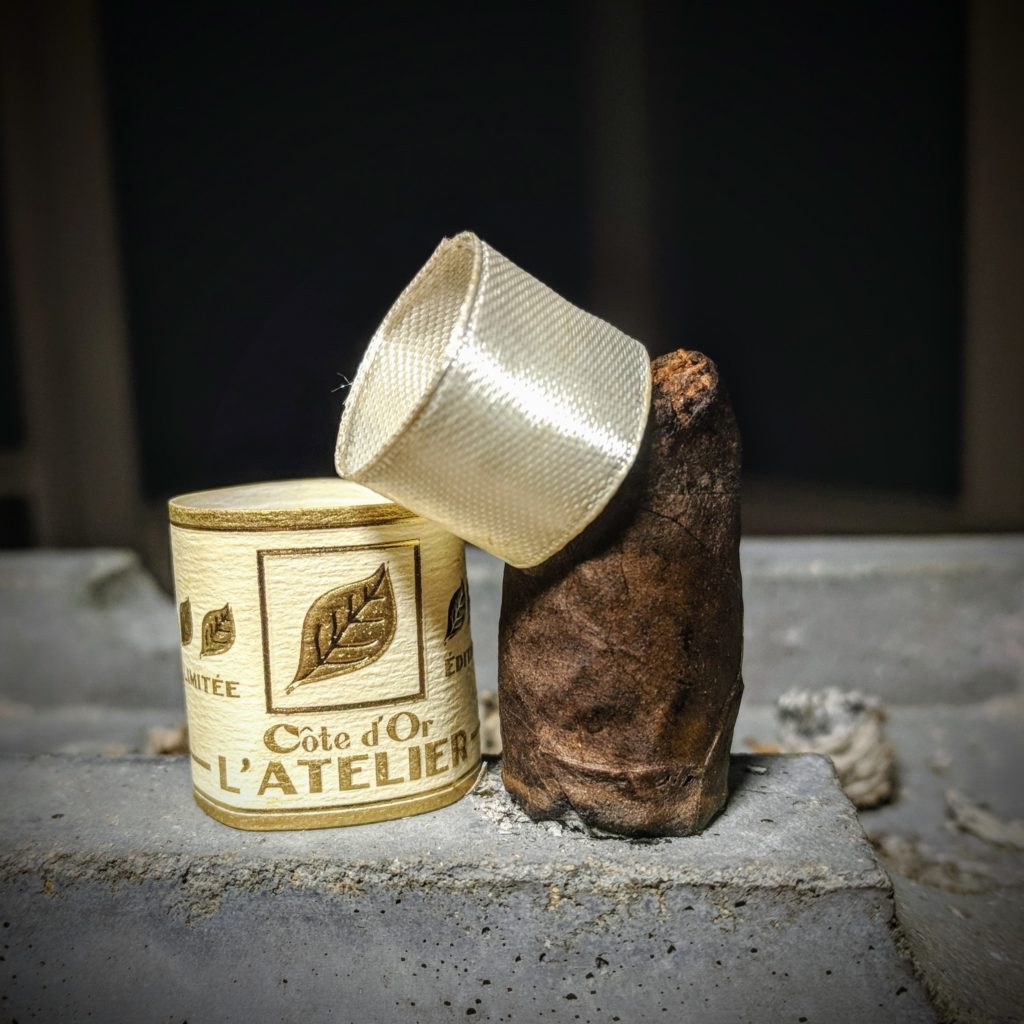 THE GOLD STANDARD.
I'll admit that I am not overly familiar with L'Atelier's full line of cigars but man … I will be digging into their line more!  The 2017 Cote d'Or was a superb introduction for me.  It really impressed with what I'll call a 'simple complexity' and flawless construction and burn.  The flavors were truly a unique experience and continued to build and captivate me throughout.  The burn itself never need correction or gave cause for alarm.
Not that I need more stuff on my 'watch list' but the annual release of Cote d'Or is definitely on my radar now.  At about $16 MSRP, it's a spendy stick for sure but certainly a worthy selection for any occassion. 
SIMPLY STOGIES RATING:  9.4 / 10.0
I love reading other reviewers' thoughts on the cigars I'm smoking and reviewing – it helps to show that no one review is perfect and there's always different opinions and tastes out there.  Here's how my review stacks up with some of the best in the biz.
The L'Atelier Cote d'Or 2017 is easily one of the highest rated cigars I've had the joy to review.  Outside reviews of it were mixed but universally praised the cigar.  As you can see, the range of ratings is minimal and generally average out (9.2) close to my Burn1 rating.  It's always interesting to see how other reviewers notes differ/align with my own.  In this instance, it seems we aligned more than differed.
CIGAR DOJO
CASA FUMANDO
LEAF ENTHUSIAST
BLIND MANS PUFF
THICK ASH
CIGAR DOJO
Vitola Reviewed:  Churchill Soft-Press
Rating:  92  (9.2)
http://cigardojo.com/2015/10/latelier-cote-dor-cigar-review/
CASA FUMANDO
LEAF ENTHUSIAST
BLIND MANS PUFF
THICK ASH